The Kamisato Clan's Housekeeper, Thoma, is a breath of fresh air in the Genshin pool of male characters who all look like they can't tell a broom apart from a sword. He knows how to cook, clean, sew, and fight; what else can't he do? Travellers first saw a glimpse of the 4-star Pyro character during the Inazuma arc, and many couldn't wait to get him on their team.
Are you planning to pull for this polearm 4-star character or skip to save gems for the upcoming banners? If you did already pull or are currently still wishing for Thoma, continue reading to discover the breakdown of his talents, playstyles, weapons, and artifacts. The best Thoma build is right here!
Breakdown of Talents and Playstyles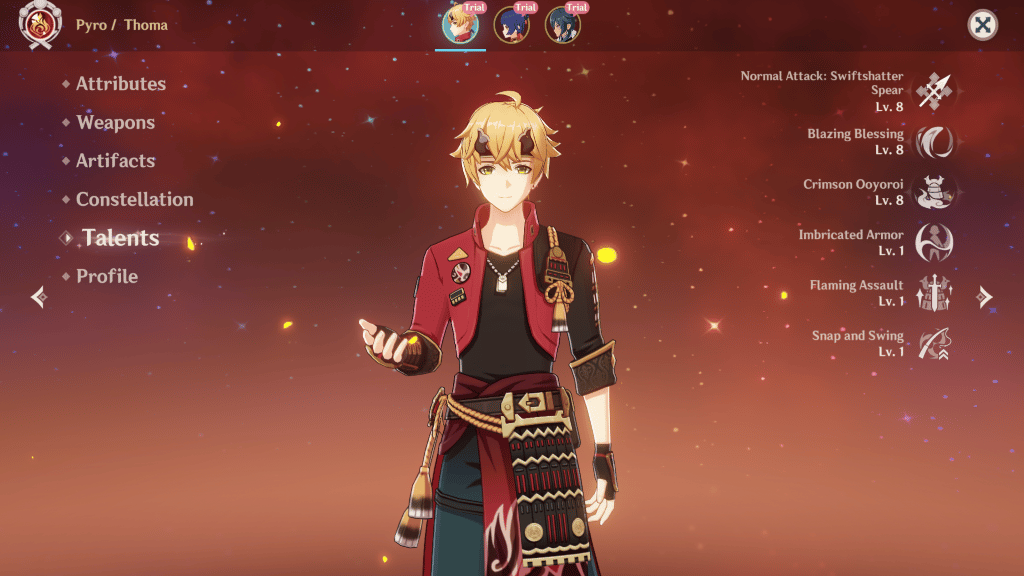 Thoma is best played as a Pyro shielder/support. His Elemental Skill and Burst create a translucent red shield around the active character that blocks incoming Pyro DMG and inflicts Pyro DMG on enemies.
First off, the Kamisato Clan's Housekeeper's Elemental Skill Blazing Blessing is a blazing barrier that scales off of Thoma's max HP. The barrier is reinforced and stacks whenever Thoma gets hit. On the other hand, Thoma's Elemental Burst Crimson Ooyoroi deals AoE Pyro DMG and summons another shield similar to AoE Pyro DMG similar to Xingqui's Rainswords.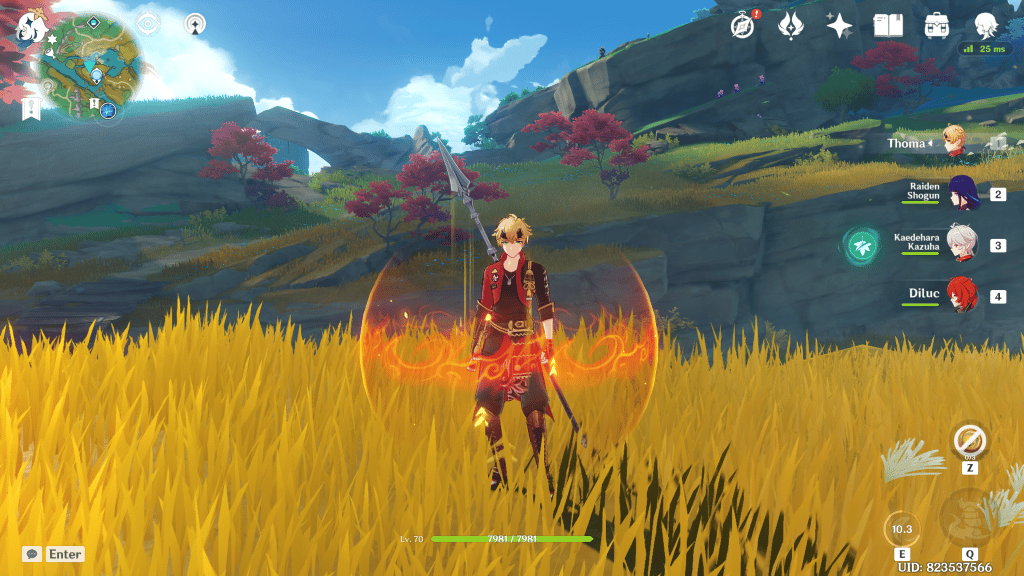 Typically, players can build Thoma as a DPS or a Pyro support/shielder. To make Thoma a DPS, you'll have to give up his shield's strength that relies heavily on HP. When you build Thoma as a DPS, you'll focus more on increasing his ATK rather than his HP. Meanwhile, you'll need a lot of HP and Energy Recharge when building Thoma as a Pyro support/shielder.
His Crimson Ooyori has an 80 Energy Cost, while his Elemental Skill has a 15-second cooldown, making it hard to spam both skills. Thankfully, his Elemental Burst does last for 15 seconds.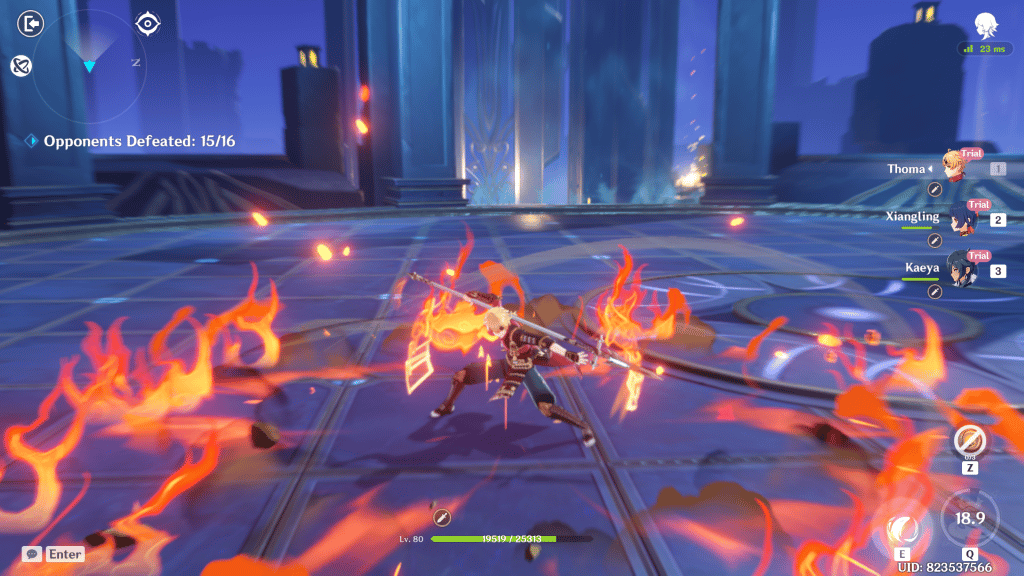 The optimal rotation for a Thoma team composition typically goes like this:
Use Thoma's Elemental Skill (E) to gain Energy and give your character a shield.
Switch to your DPS and attack while under Thoma's shield.
Switch to Thoma when his Elemental Burst (Q) is up.
Use Thoma's Elemental Burst (Q) to prolong the shield's duration.
Weapons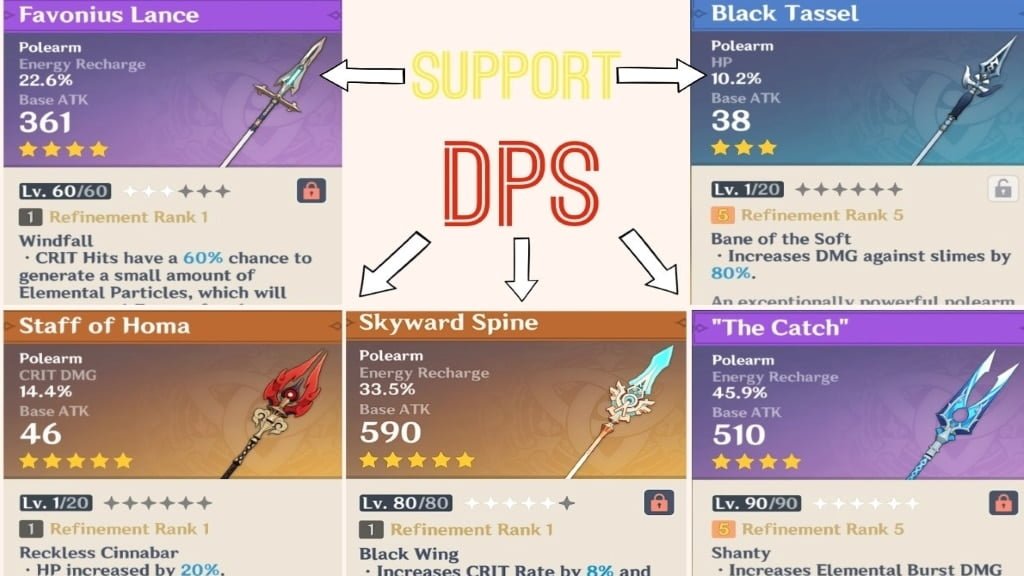 For a support/shielder Thoma, you can use these weapons. Favonius Lance has a great Base ATK and a lot of Energy Recharge, something Thoma can't function without when played as a support. Another weapon you can build for more tanky shields is the 3-star Black Tassel with an HP substat. However, you will need more Energy Recharge on your artifacts if you decide on a Black Tassel.
If you plan to build your Thoma as a DPS, you can go for "The Catch", which also has a high Base ATK and Energy Recharge. In addition, this free-to-play weapon has a useful skill that increases the wielder's Elemental Burst DMQ and Crit Rate.
If you haven't farmed "The Catch," now is the perfect time with Thoma in your party. His passive skill gives you a chance of getting double the fish when you fish. Convenient, right? No need to spend hours waiting for the Puffers to reset. Other good 5-star weapons for a DPS Thoma build are the Staff of Homa and the Skyward Spine.
Artifacts
After comparing Zy0x, Moba and Chill, and IWinToLoseGaming's in-depth Thoma build videos, we've come up with this guide to the best artifact sets for the Chief Retainer of the Kamisato Clan. You can use a couple of artifact sets for this 4-star polearm character based on his role in the party.
If you want to build Thoma as a damage dealer, you can use a 4-piece Emblem of Severed Fate artifact set. A 2-piece set increases your Energy Recharge by 20 %, while a 4-piece set increases your Elemental Burst DMG by 25%.
For a DPS build, you'll need an HP or Energy Recharge Sands. If you're lacking Energy Recharge substats on the other pieces, you can go for an ER Sands. If you already have a good amount of ER for Thoma, roughly around 200 and above, you can opt for the HP Sands. Get a Pyro DMG Bonus Goblet and a Crit Rate/Crit DMG Circlet.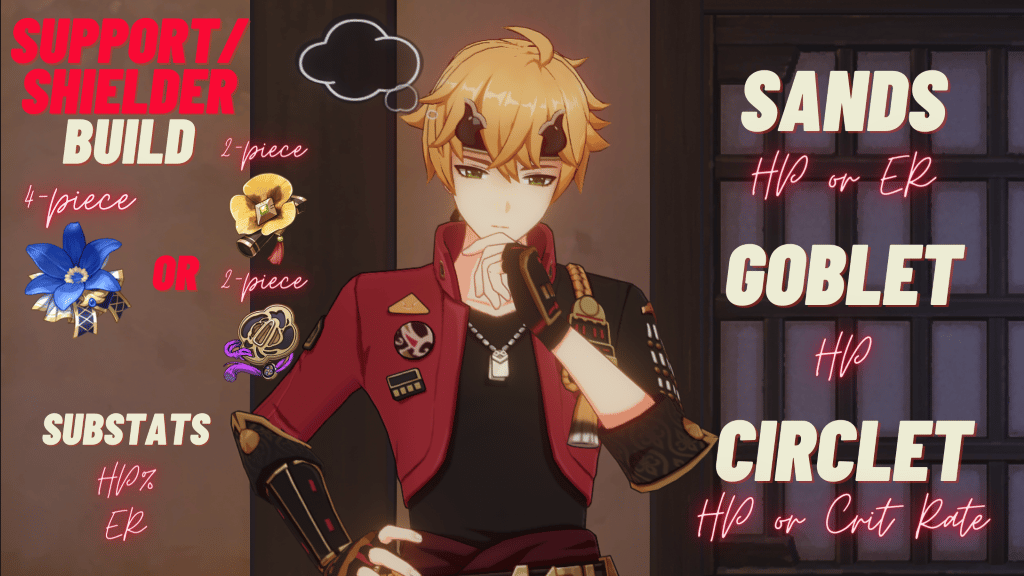 Next, for support/shielder Thoma builds, here are the artifact sets you can use. You can either use a 4-piece Noblesse Oblige or a 2-piece Emblem of Severed Fate plus a 2-piece Tenacity of the Millelith. With a 4-piece Noblesse set, you'll not only buff Thoma's Elemental Burst DMG by 20% but also increase your team's ATK by 20% for 12 seconds. If you don't already have a support running a Noblesse set in your party, this is the optimal time to make one.
The 2-piece Emblem paired with a 2-piece Tenacity is excellent for a support build that focuses on tanky shields. A 2-piece Tenacity increases the wielder's HP by 20%, perfect for Thoma that heavily relies on HP.
Same as a DPS build, you'd want to get either an ER or HP Sands, again depending on how much ER your Thoma currently has. Get an HP Goblet and Circlet. However, if you decide to use a Favonius Lance, you can opt for a Crit Rate Circlet to get the bonus Energy particles.
Conclusion
Are you excited for the upcoming Version 2.3 Special Program Announcement livestream? We hope this detailed build for the Kamisato Clan's Housekeeper, Thoma, gave you a good idea of what direction to take when building your new character. Stay updated to our page for new builds and other exciting news!