Being a full-time Twitch streamer is, by no means, an easy task. Moderating an audience of thousands (if you can ever get there), keeping track of subscribers, donations, chat spam, and making sure the Twitch stream is running fine while giving the viewers decent, competitive, entertaining gameplay is not an easy task.
If you, as a Twitch streamer, want to give a pleasurable experience to your audience and don't want to be absolutely overwhelmed by everything, then you're definitely going to need some Twitch bots integrated with your stream. In this article, we will talk about what Twitch bots are and the ten best Twitch bots available for streamers.
What are Twitch Bots?
Twitch Bots are extremely powerful moderation tools that can interact with users on your behalf and do things that would take your focus off the game if you had to do it yourself. This includes chat moderation, spam moderation, giveaways, votes, timers, counters, donation popups, and more.
They improve the overall user experience of the people in your chat and make the stream much more enjoyable for everyone. You probably don't need these add-on bots if you're starting on Twitch. But, as your follower count increases, moderation and keeping up with chat requests become extremely difficult.
How Can You Add Twitch Bots to Your Stream?
The process of adding a bot to your stream depends highly on the kind of bot you're trying to install. But, for most bots, the process is pretty simple.
All you have to do is log in to your Twitch account, go to the bot's website, and install it. The bot will ask for some common permissions, and you shouldn't have any issues authorizing them. On an unrelated note, if you aren't sure of how you can get Twitch Logs, here's how!
With that said, here are the 10 best Twitch Bots you can use for your Twitch streams.
Nightbot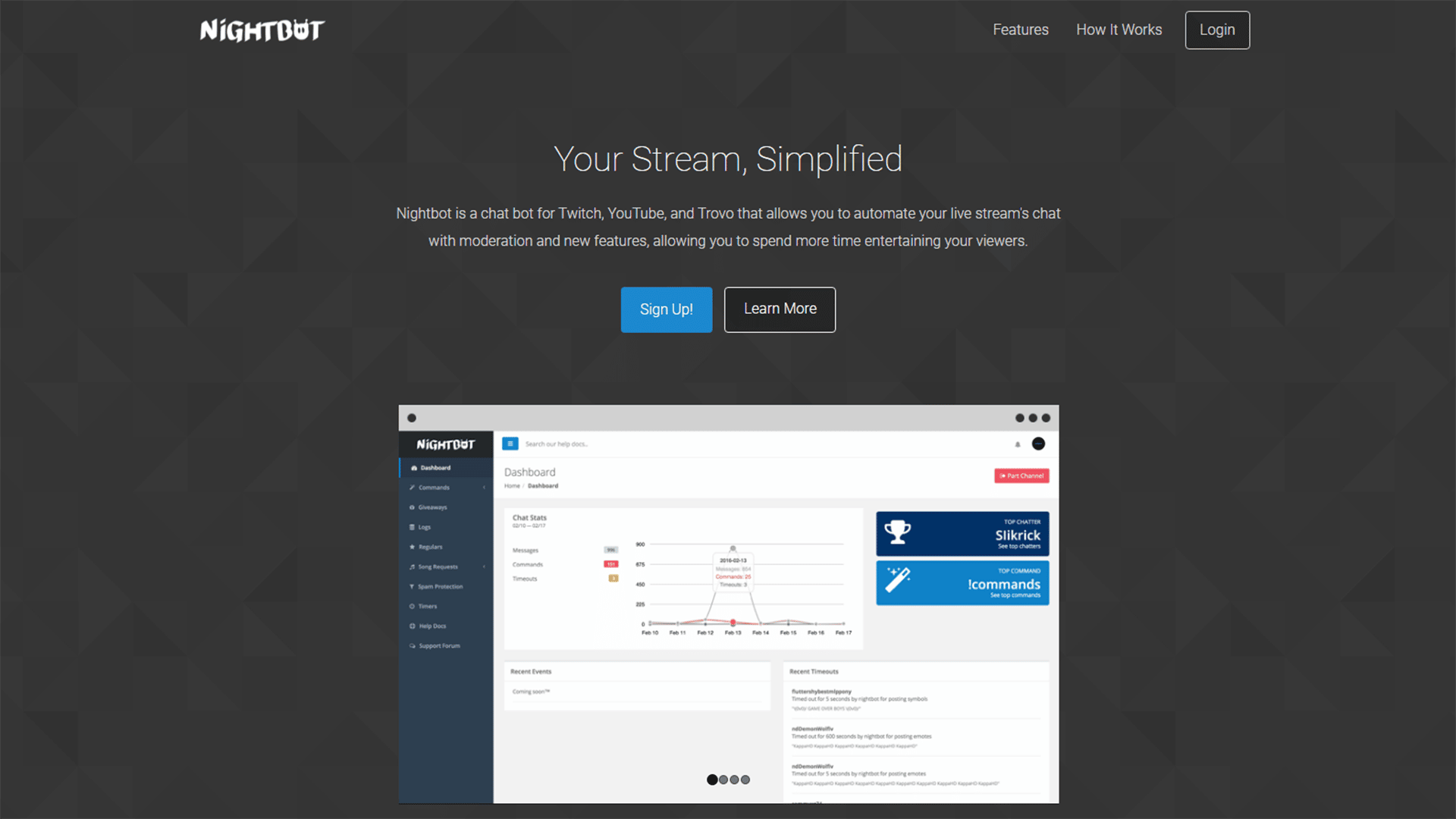 Interact with Song Requests, Giveaways, and Timed messages
Customizable API to integrate Nightbot into your own website
Complete chat logs to figure out why a user was banned
There are times when Nightbot fails to work properly
Nightbot is probably the most used Twitch bot in the world. Millions of streamers around the world use it because of its advanced moderation tools that help you take your focus off the technicalities and focus on 'entertaining your viewers' instead.
You're getting a long list of features; cloud compatibility. Advanced customization options, spam filters, custom commands, chat logs, and a tidy dashboard to manage everything.
Moobot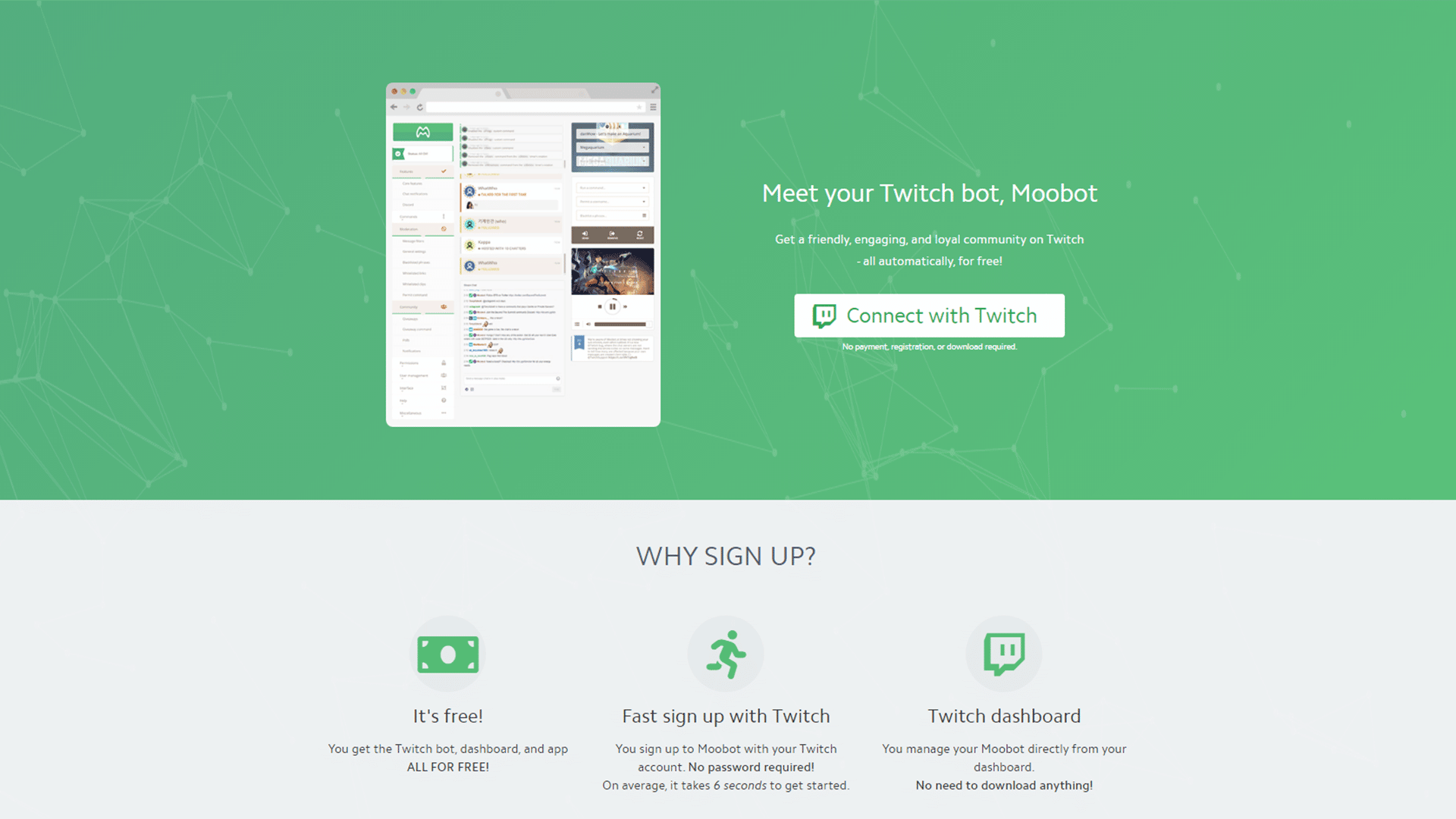 Song Requests, Giveaways, and Timed messages
No payment or download required
Collaborate with your mods by giving them access to Moobot
No custom APIs
Moobot is a major competitor of Nightbot, which performs the same functions as its better counterpart. Moobot is practically a personal mod that's going to be watching your streams 24/7 and moderating them due to its integration into the cloud.
The main idea behind Moobot is convenience. The app is free. You can just sign up to Moobot using your Twitch credentials and manage it directly from the Twitch dashboard. The best part about Moobot is that you can give access to the dashboard to your Twitch mods, so your job gets even easier.
Streamlabs Chatbot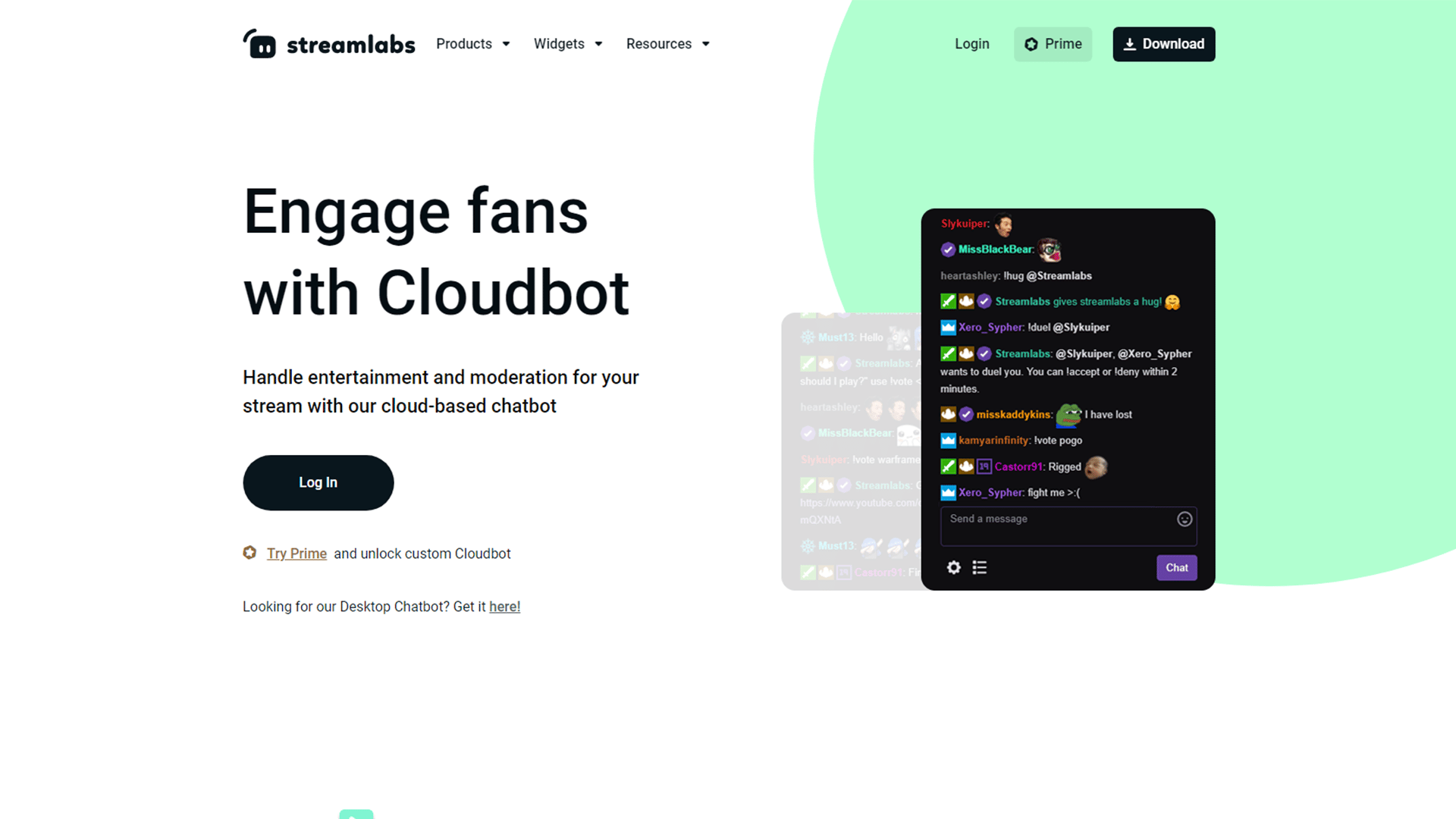 Available for both YouTube and Twitch
Comes with Discord and Streamlabs OBS integration
Custom sound effects to emphasize stream events
Only available for Windows (Sorry Linux users)
Formerly known as Ankhbot, the Streamlabs chatbot is an extremely powerful bot that was acquired by Streamlabs. This bot is particularly helpful if you're using OBS to stream since that also belongs to Streamlabs, and both are integrated naturally. Like some of the other bots on the list, it works on the cloud, so there's zero downtime.
Deepbot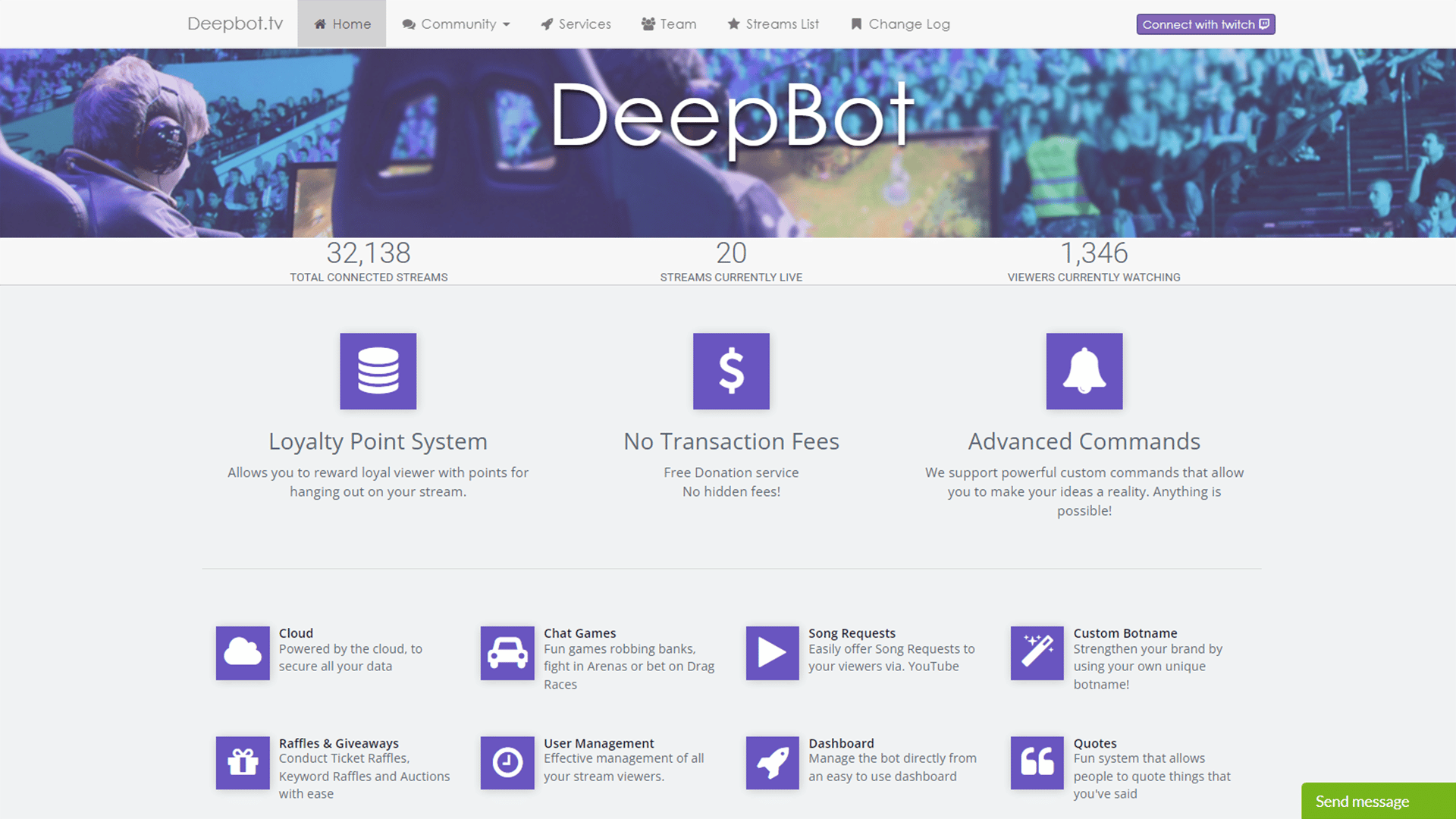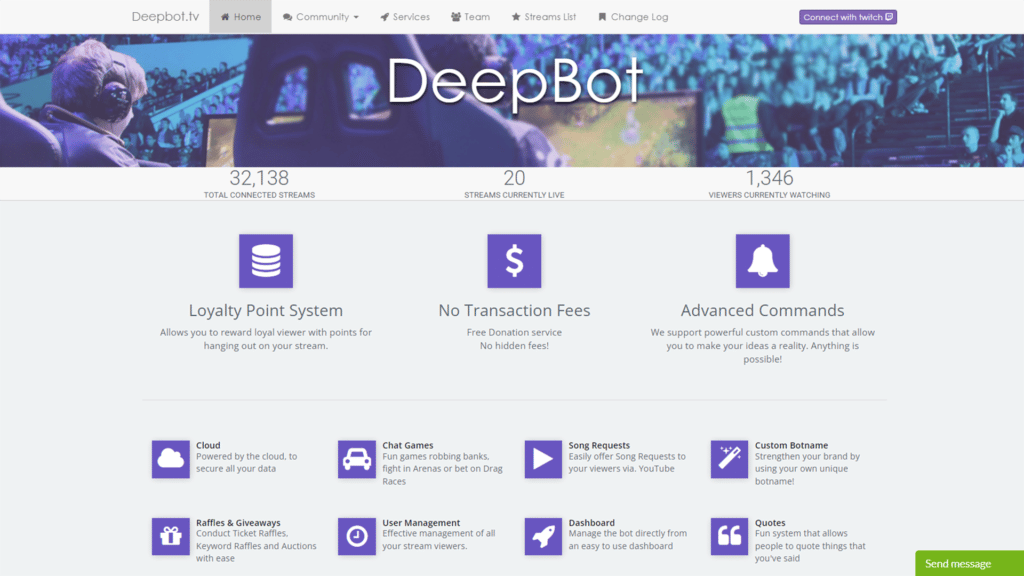 Comes with a ton of features other bots don't have
Convenient Discord integration
Fun feature allowing viewers to quote things you say
Subscription-based service
Deepbot is a great bot that is extremely underrated. It has a lot of useful features, but it never really got the popularity it deserved. It gives you all the basic tools that you could ask for from a bot; custom commands, custom donations options, votes, song requests, some mini-games to play with your chat, and much more. It also supports Discord integration, which is not something that even the bots ranked higher up on the list can do.
Phantombot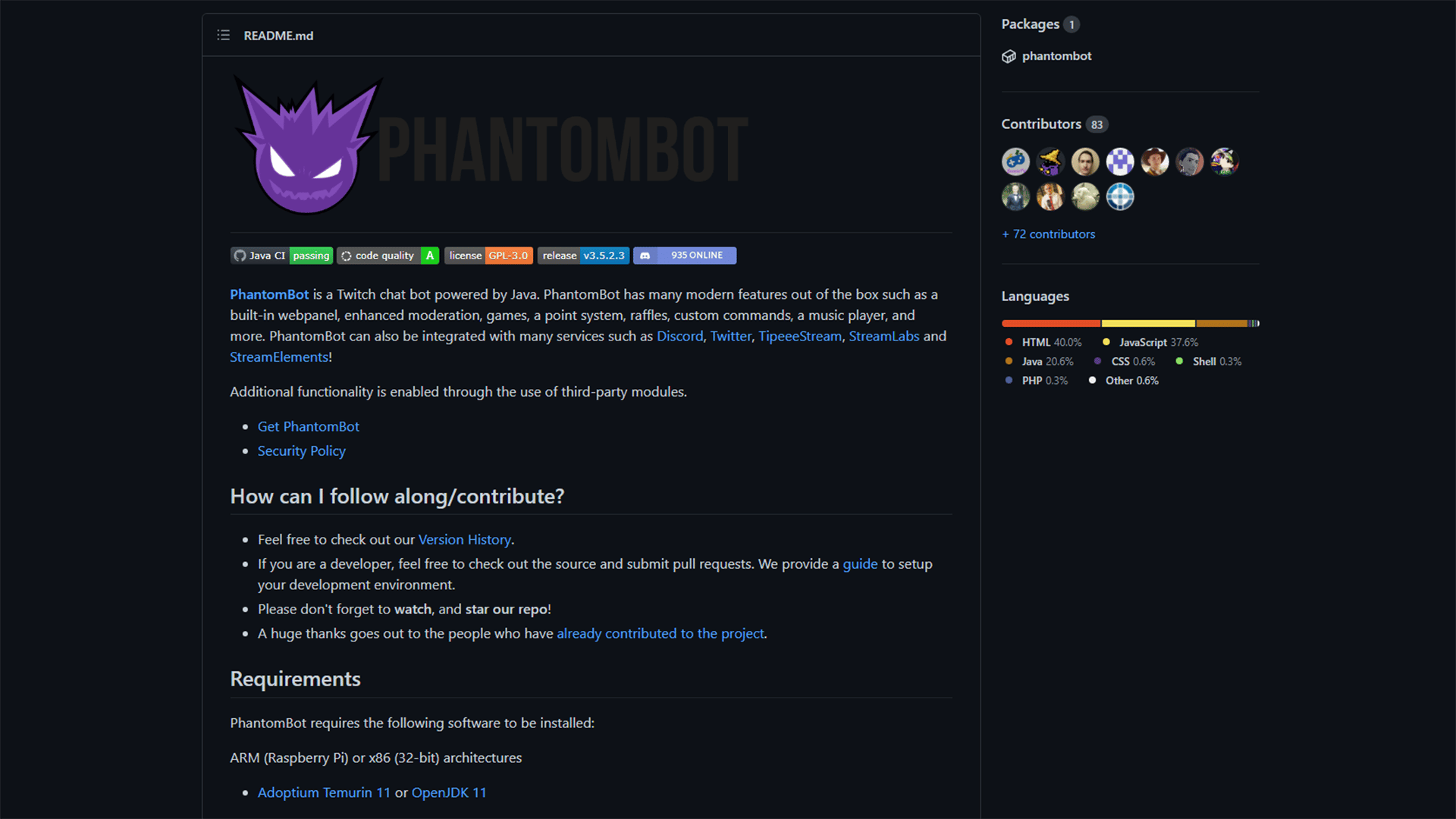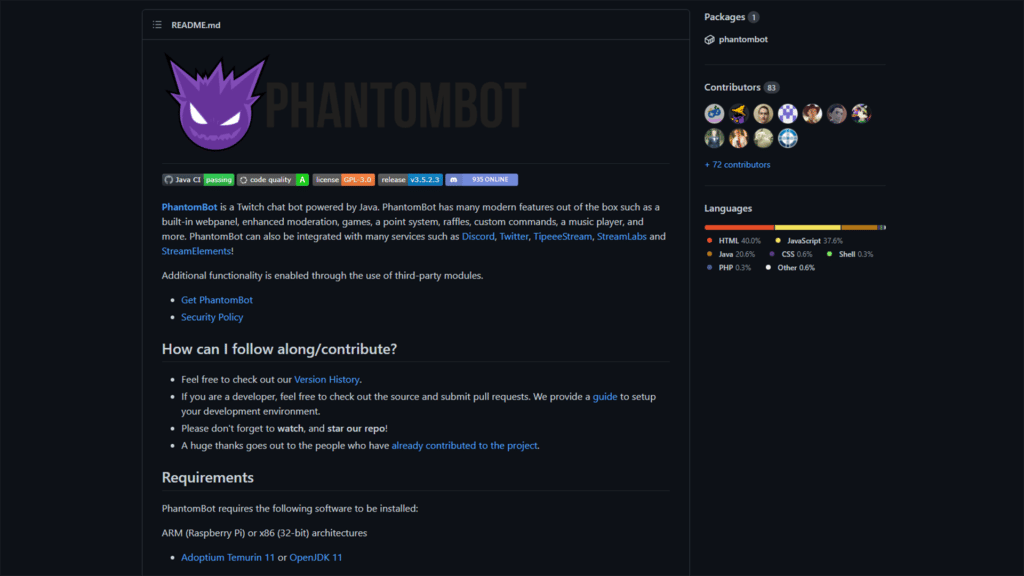 Fully open source and customizable
Integration with a bunch of tools popular amongst streamers
All the standard features common in Twitch Bots
Non-tech-savvy people won't be able to reap the full benefits from Phantombot.
Phantombot is an extremely powerful Twitch bot that is unique due to one reason; customizability. The app is totally open-source, meaning that you can add your own code snippets to the bot to make it even better and suit your scenario much more conveniently.
It does take some development skills though, so you should know what you're doing. You also get full integration with Discord, Twitter, TipeeeStream, StreamLabs, and StreamElements.
Wizebot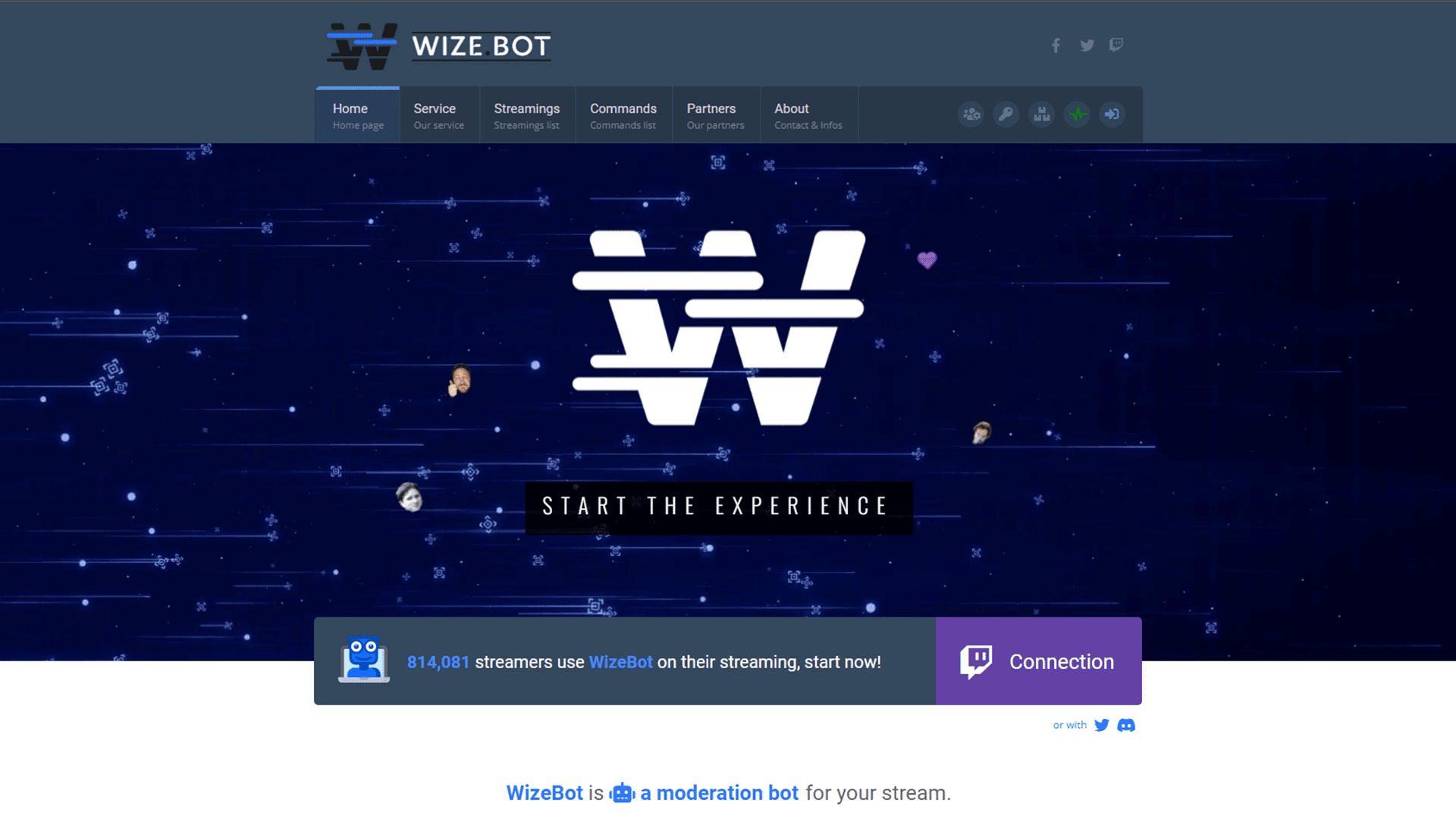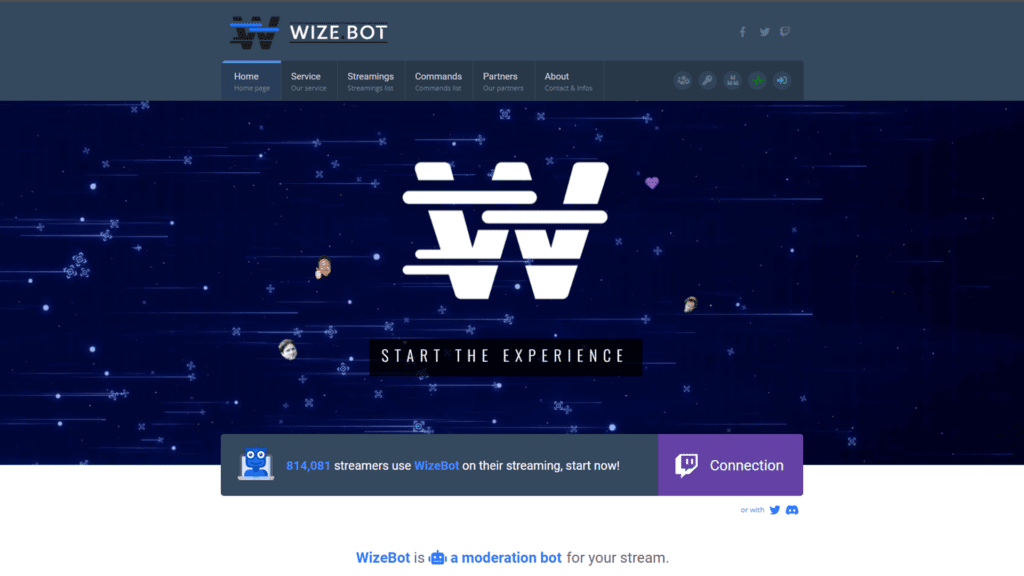 Included over a hundred features
Integrated over the cloud to ensure zero downtime
The choice of more than 800,000 players
Documentation might be too technical for beginners
Initially, Wizebot was the pet project of one person from France who coded the bot from the ground up. Today, it's being used in 800,000+ streams and gets over 300,000 visits per month. The number of features that the bot has would never make you believe that there's only one person behind it.
The best part about the app is the frequent updates. Wizebot is committed to giving you a single solution for all your Twitch-related requirements. So, if Wizebot doesn't have a feature you're looking for, check back, and there's a good chance it'll be added soon.
Coebot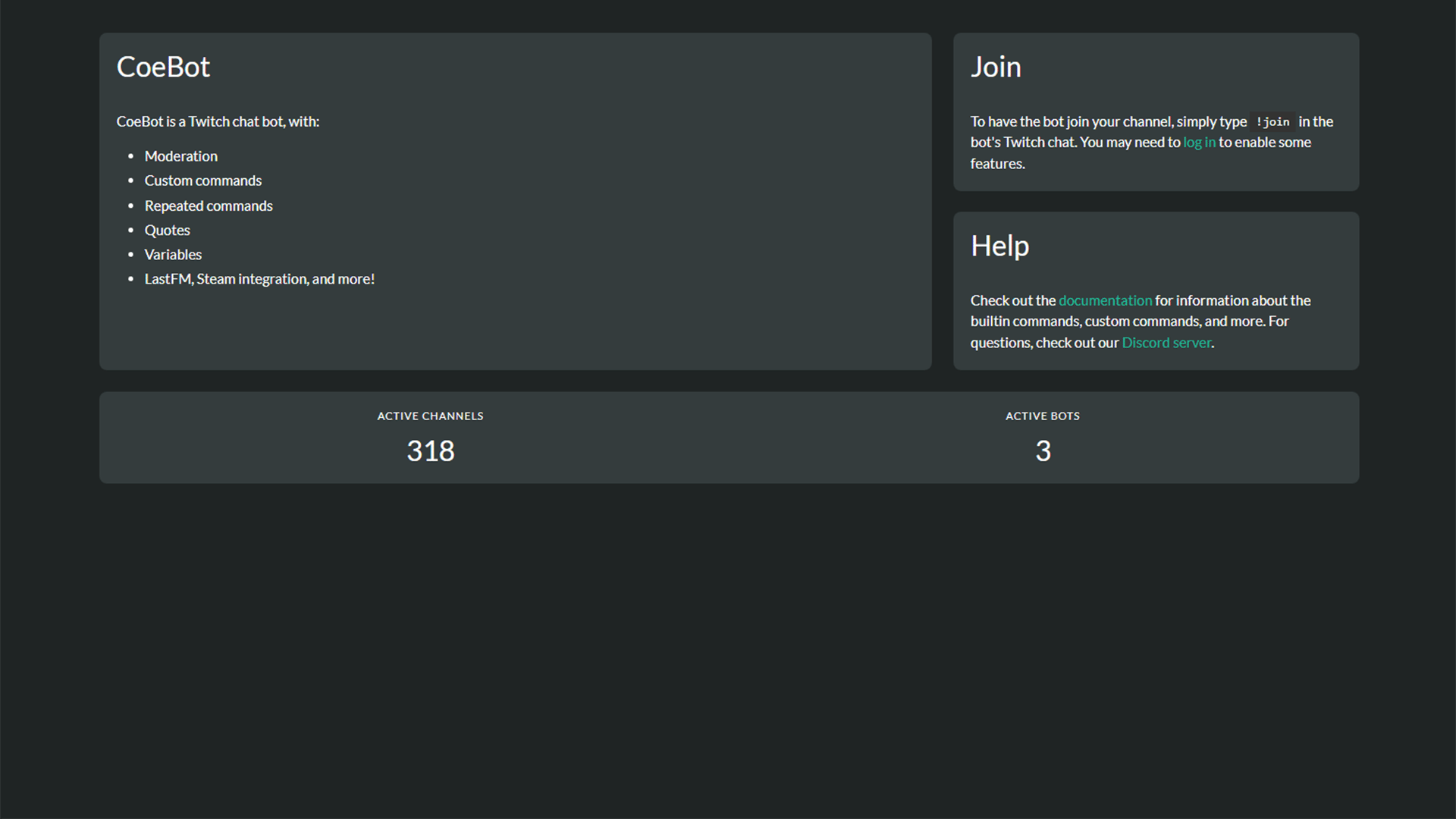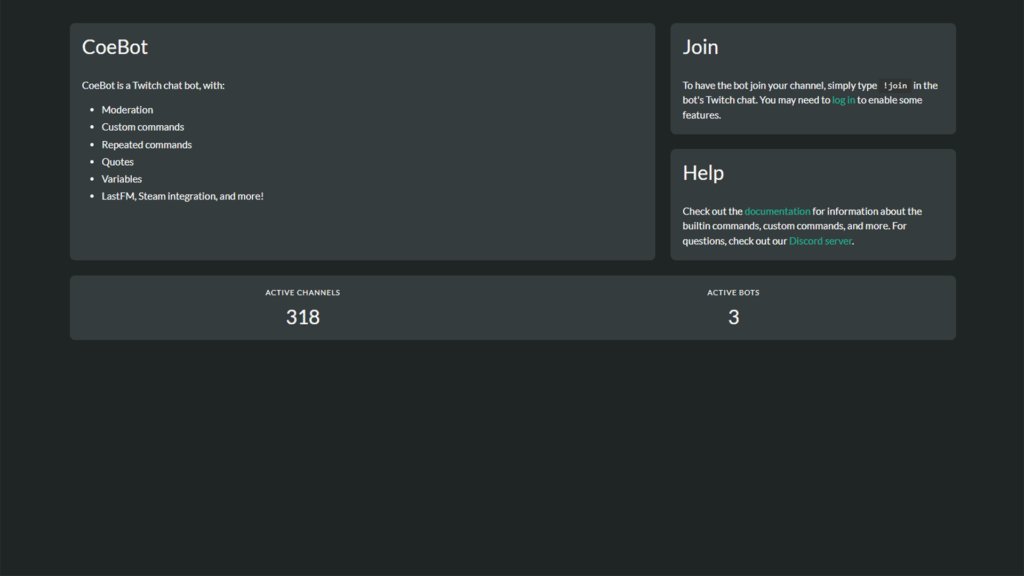 Includes all the handy features a streamer needs
Integrated with Steam
Completely free
Limited in terms of functionalities
Coebot is probably the smallest bot on this list that is being used in the least amount of Twitch streams, but it's fairly decent at the features that it does have. It gives you the basic moderation, custom commands, timed commands, stream quotes, and Steam integration. It's good at the existing features, which got it featured on our 10 best twitch bots list, but it lacks the usual bells and whistles that other bots have.
Botisimo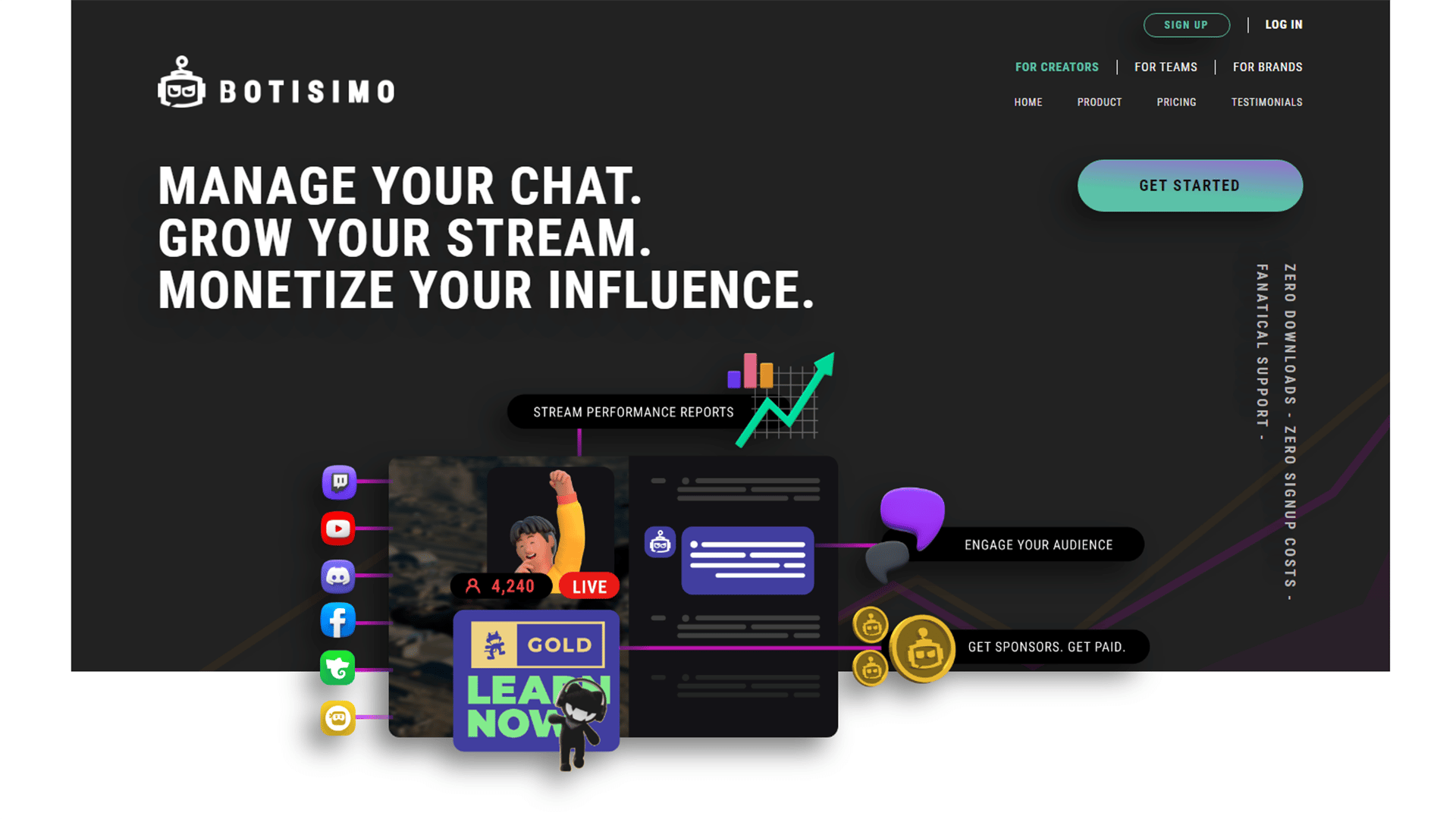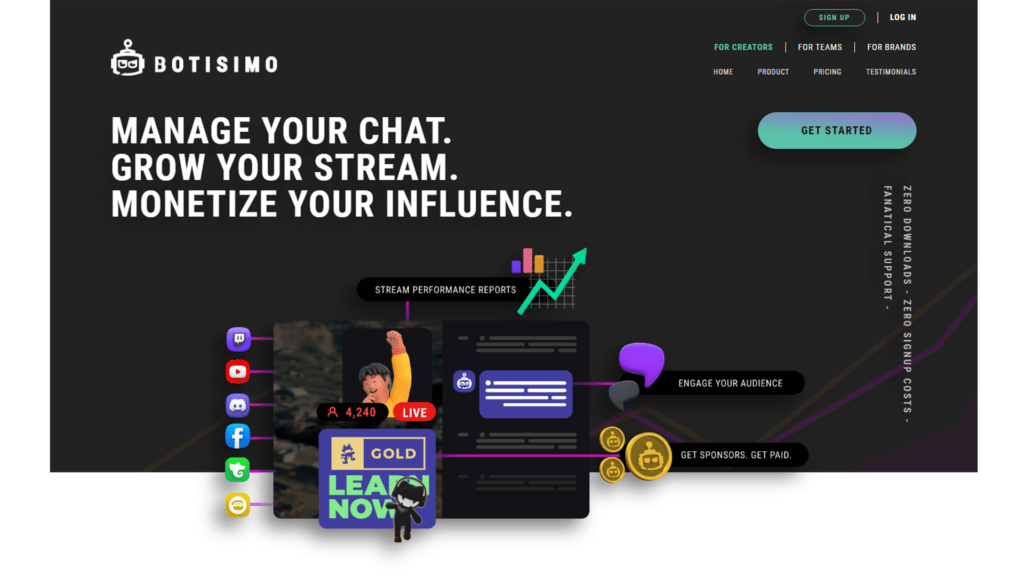 Filled to the brim with handy features
Offer loyalty points to viewers
Advanced moderation and spam filters
Limited chat log retention
Some features restricted with a paywall
Botisimo is extremely unique as far as the feature list is concerned. Custom commands, automation, timed messages, dashboard, stream reports, and a bunch of overlays; it has it all. You can even set up a custom donation page that gets you money directly into your PayPal account.
The best part is that Botisimo doesn't even take any fees. Apart from that, you can also earn rewards through the Botisimo Sponsorship program.
Stream Elements
Great for keeping chat engaged with mini-games
Twitter-to-chat connectivity
Built-in loyalty system
Not as popular or feature-rich as other bots
Stream Elements is another popular bot that's mostly used for its eye-catching overlays and animations. It has a bunch of spam filter presets that can help you keep your chat family-friendly.
There are about 30 default commands, but you do have the option to create custom commands as well. Stream Elements isn't really anywhere near the top of our 10 best Twitch bots, but it's definitely on the better end of the spectrum.
Stay Hydrated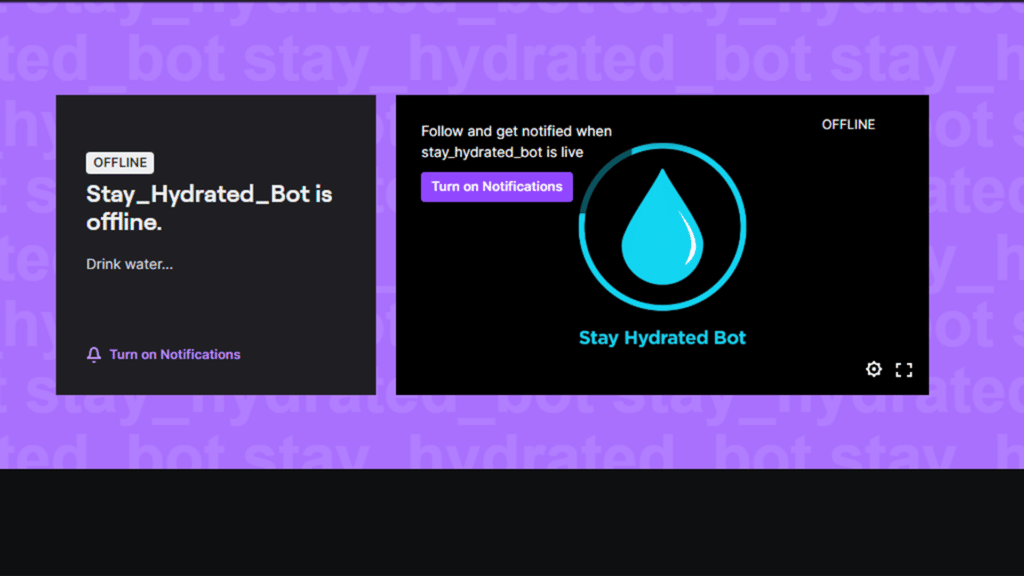 10/10 hydration
Probably just as useful as a fancy stopwatch
Are you constantly doing longer 6-10 hour streams but completely forget to hydrate yourself? Well, this bot is absolutely perfect for you. Just type in '!hydrate <your_username>' in the chat, and you'll get regular intervals from this bot to hydrate yourself.
10 Best Twitch Bots FAQs
Can I Install Multiple Twitch Moderation Bots?
There's a misconception that you shouldn't install more than one moderation bot since they might 'conflict' with each other. This is not true at all. There are very few cases where both bots might make similar decisions twice. But, other than that, there's little to no harm in getting multiple bots.
Does Twitch Allow Bots?
Yes, moderation bots and other spam filtering bots are perfectly safe. As a matter of fact, some of the popular ones are even endorsed by Twitch. However, if you use view bots, there's a fair chance you might get banned.
Do Popular Twitch Streamers Use Bots?
The answer is yes. Pretty much every remotely popular streamer on Twitch regularly uses bots in their streams. These include streamers the likes of Pokimane, Shroud, xQc, Dr.Disrespect, and virtually any other streamer you can think of!
Closing Thoughts
Every bot mentioned on our list can be called 'good' and has a specific use case that it is perfect for. The best way to pick one is to get a list of your requirements and see what would work best for you. If there's a bot that meets your requirements and gives you the features you're looking for, by all means, go for it even if it's ranked last on the list.