The USP-S is a popular choice among CS:GO players as the primary Counter-Terrorist pistol of choice. This is why many players are also in the market for a USP-S skin to complete their collection.
It can be hard choosing a great skin for the USP-S. Luckily, we're here to help you out. We've ranked the 10 best USP-S skins in CS:GO to help you make your pick.
The Traitor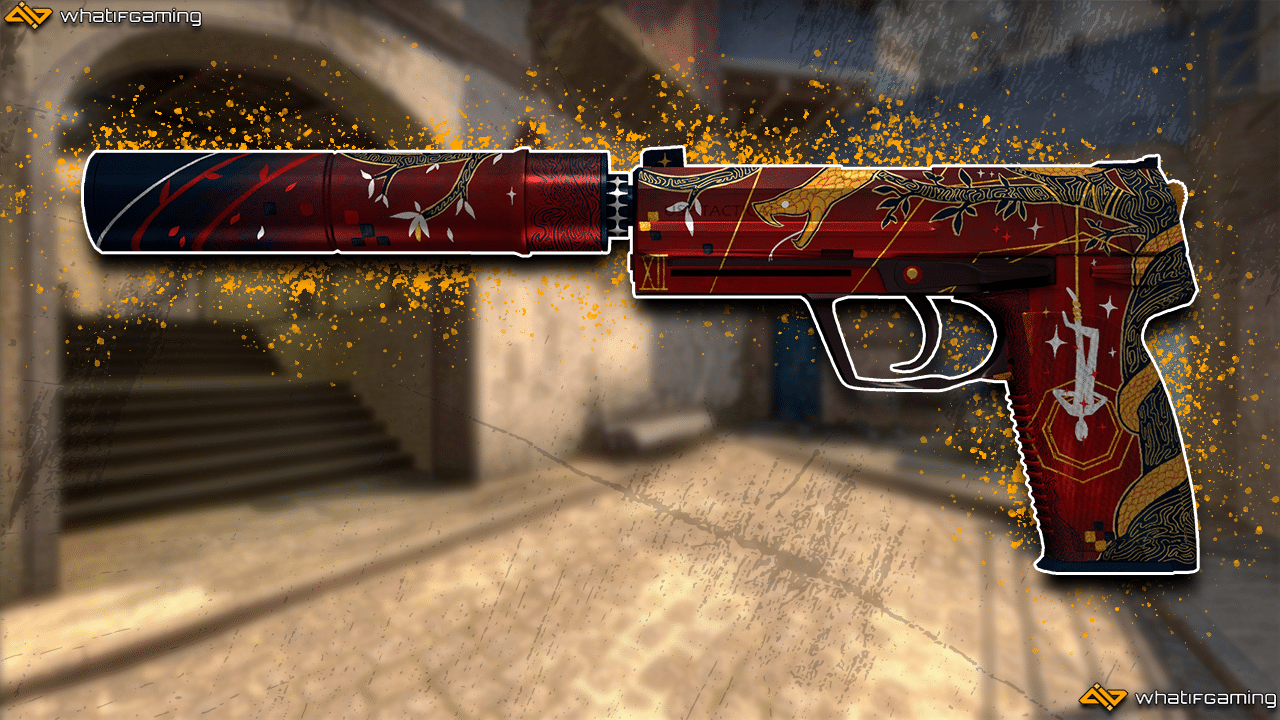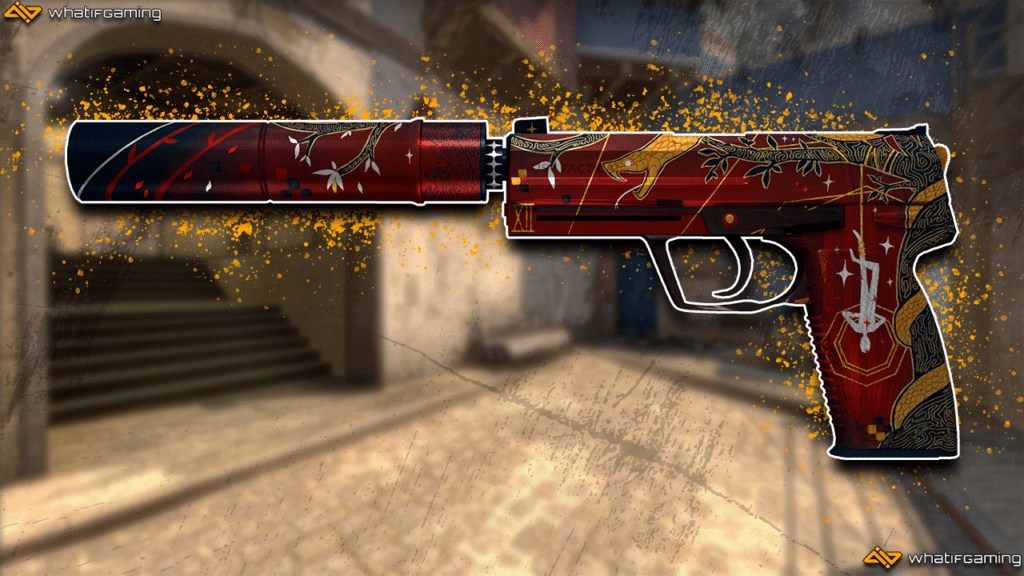 Date released: May 3, 2021
Price range: $9.00 – $185.00
Case: Snakebite Case
At the top of our list and the holder of the best USP-S skin in CS:GO, The Traitor. The Traitor USP-S skin features a sleek and majestic red finish. It's then completed by various gold and black accents. It really gives off this vibrant and elegant look.
Similar to The Emperor M4A4 skin, The Traitor is inspired by a tarot card, the Hanged Man. You can see the man hanging from a tree near the handle of the weapon. There's also a golden snake wrapped around the tree. You can also see "XII" or 12 in Roman numerals written on the USP-S, representing the number of the Hanged Man in the tarot deck.
Printstream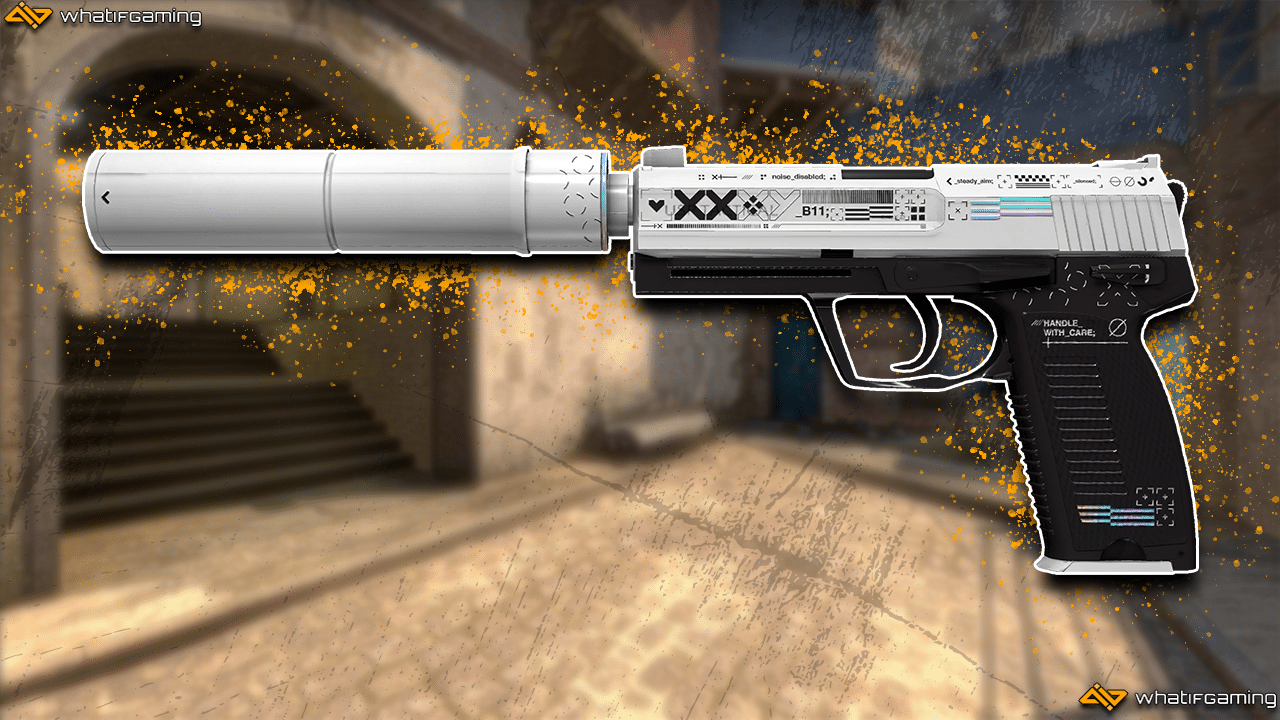 Date released: July 1, 2022
Price range: $41.00 – $455.00
Case: Recoil Case
Next up, we have a sleek and clean-looking USP-S skin in the Printstream. The Prinstream USP-S is one of the newest and most expensive skins on our list, but it's definitely worth it. The weapon has a pearly white finish with black accents for a silky smooth look.
The Printstream line has always been popular among the community, mostly known for its assassin-like weapons. The USP-S is no different. There are various inscriptions and symbols on the weapon, with "XXXY" as the primary one.
Kill Confirmed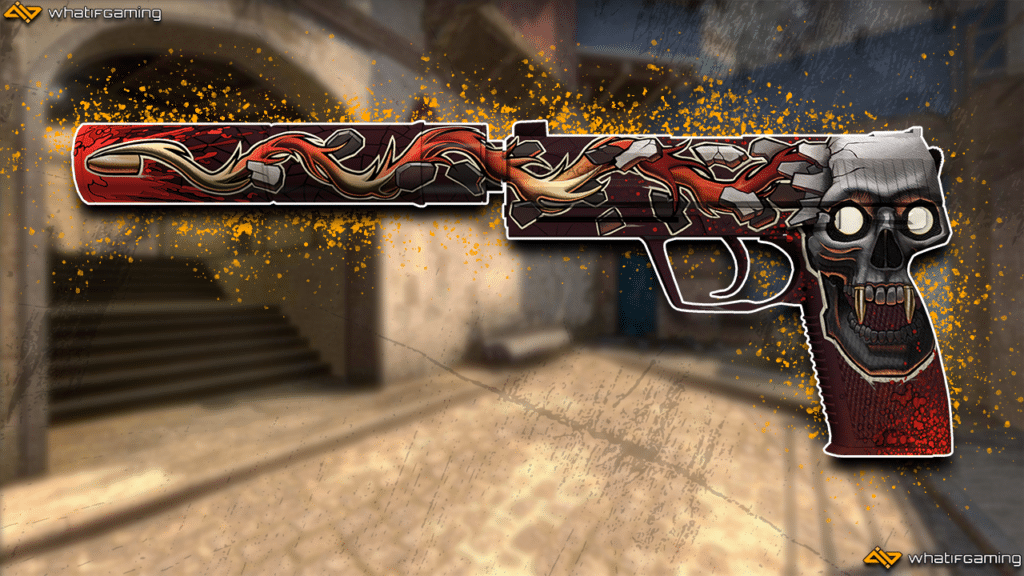 Date released: September 17, 2015
Price range: $35.00 – $585.00
Case: Shadow Case
We have another animated skin design featured in the Kill Confirmed USP-S skin. It's perfect for players who spend most of their time aim training to get those juicy headshots. Unfortunately, it's the most expensive USP-S skin out there, aside from Souvenir or StatTrak™ variants.
Kill Confirmed has a bloody red base color, a perfect fit for its theme. It has an image of a bullet passing through a skull, cracking the skull, and spilling blood everywhere. It's simple yet looks amazing and doesn't look too gorey because of its cartoony vibe. It's something that will definitely help you stand out in a lobby.
Neo-Noir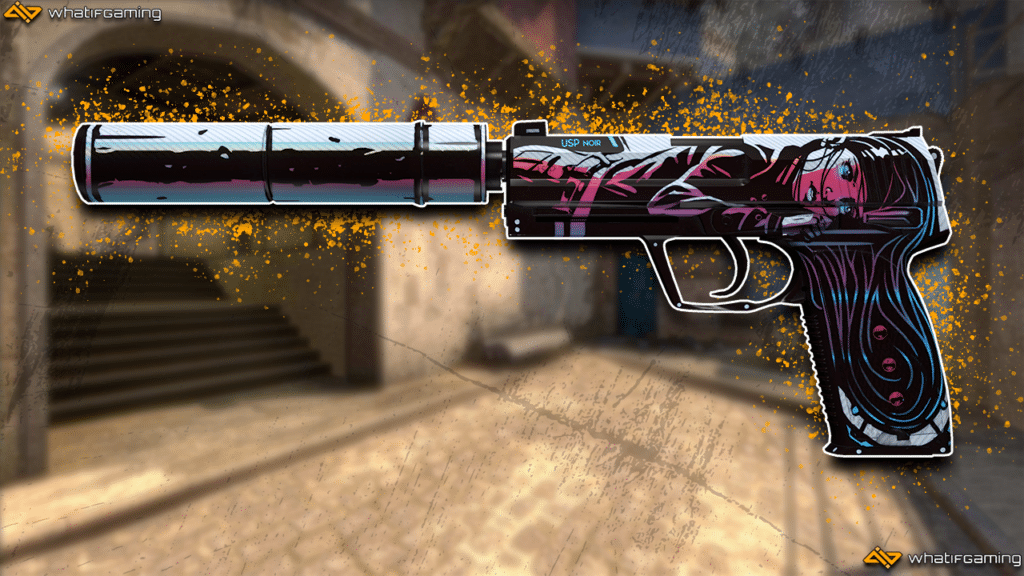 Date released: March 15, 2017
Price range: $10.00 – $136.00
Case: Spectrum Case
The Neo-Noir set is another popular skin line among the community. It features designs and characters inspired by the neo-noir comic style. This results in a very vintage look and feel, with only magenta and cyan colors popping from the black and white background.
The USP-S Neo-Noir features a white background with a comic-like finish. A girl can be found lying down with her head resting on the slide of the weapon with her hair flowing down the handle of the pistol. There's also a small cyan "USP NOIR" text near the barrel of the USP-S.
Monster Mashup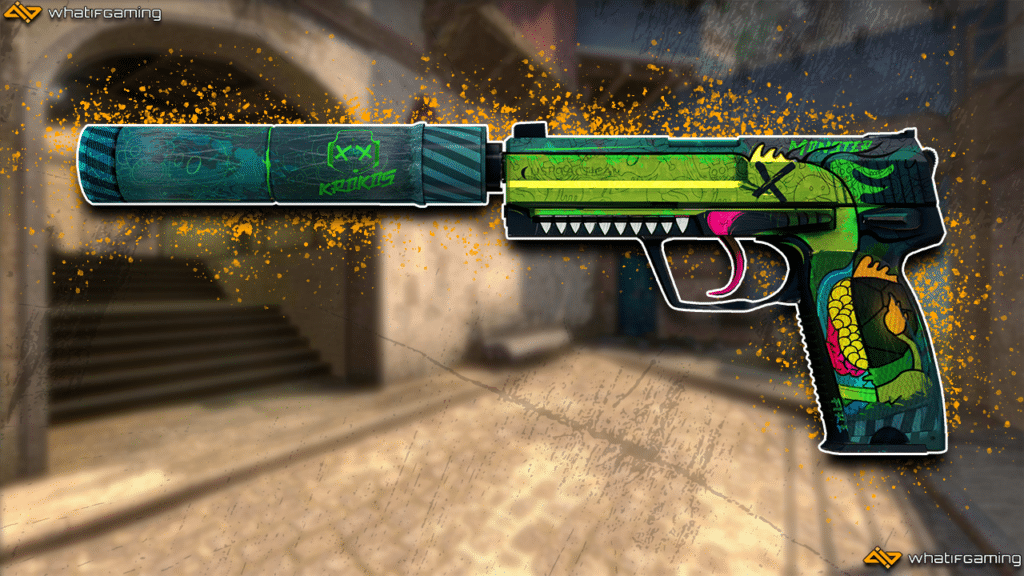 Date released: December 3, 2020
Price range: $10.00 – $76.00
Case: Operation Broken Fang Case
The Monster Mashup USP-S skin is a solid skin for people looking for a more cartoony and goofy vibe. It completely removes any dullness or seriousness of the standard USP-S and creates a very graffiti-filled weapon. No one's complaining, though.
The weapon is covered in various green hues, with the base color being a light green color on the body and a darker shade on the barrel. The trigger is then painted pink to make it look like a monster's tongue with teeth near the edge and an "X" for its eye. The rest of the weapon is covered in various drawings, figures, and inscriptions.
Cortex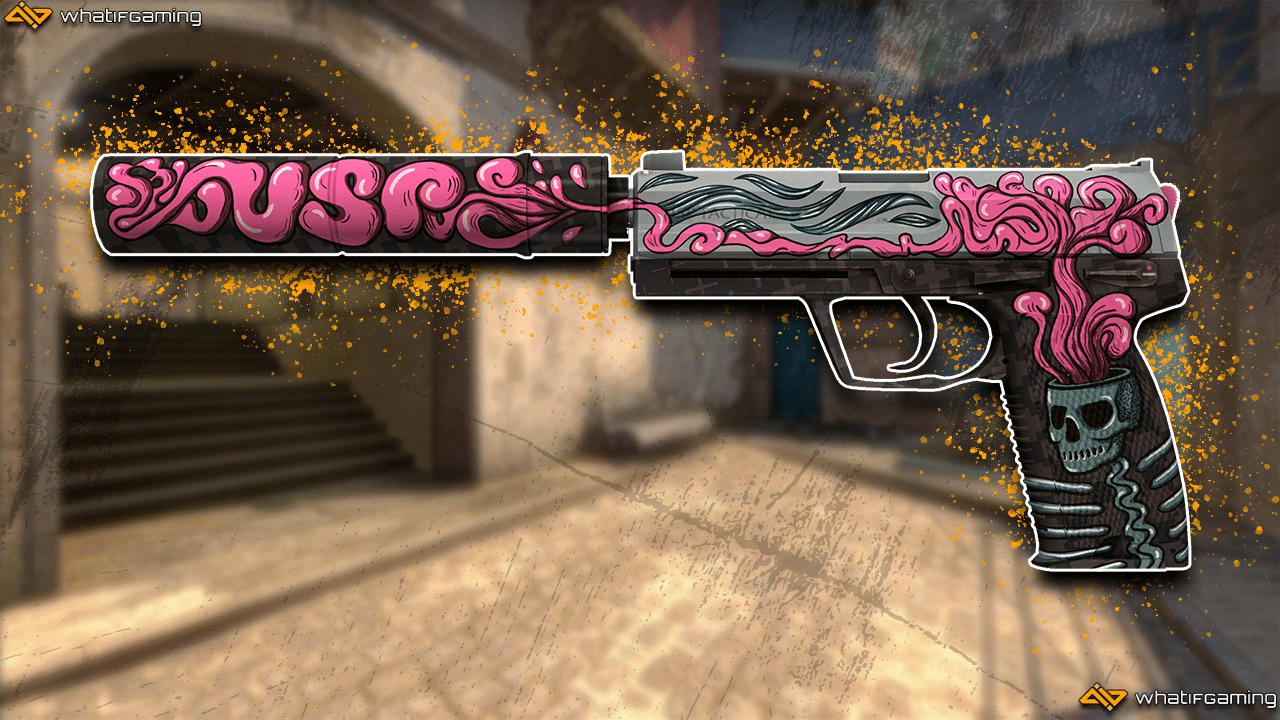 Date released: February 14, 2018
Price range: $1.50 – $28.00
Case: Clutch Case
The Cortex USP-S skin is a cheap yet great-looking skin. It's a great buy right after buying an expensive AK-47 skin and having some leftover Steam credits. It has a similar vibe to the Kill Confirmed skin we've mentioned above but with a more subtle design.
A skeleton can be found on the handle of the weapon, with its skull cut in half. The brains of the skeleton can then be found scattered all over the pistol in pink wavy lines. At the barrel, the brains form a "USP" as a finishing touch.
Ticket to Hell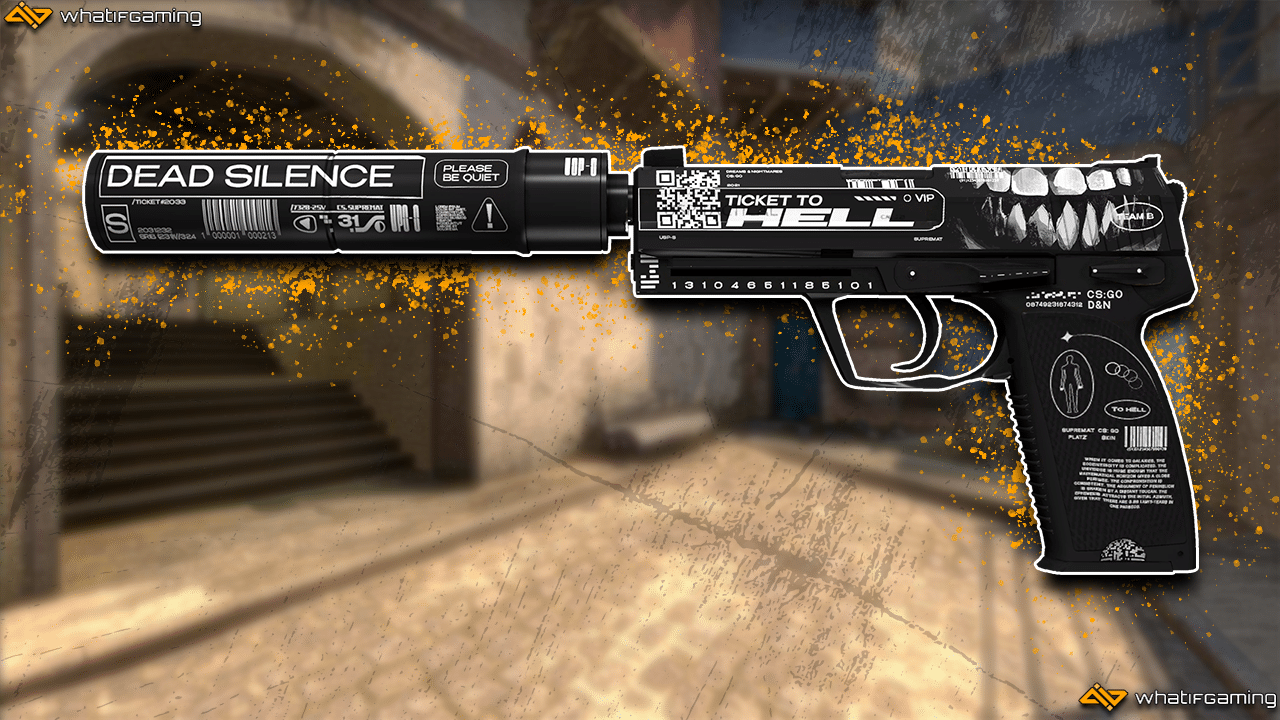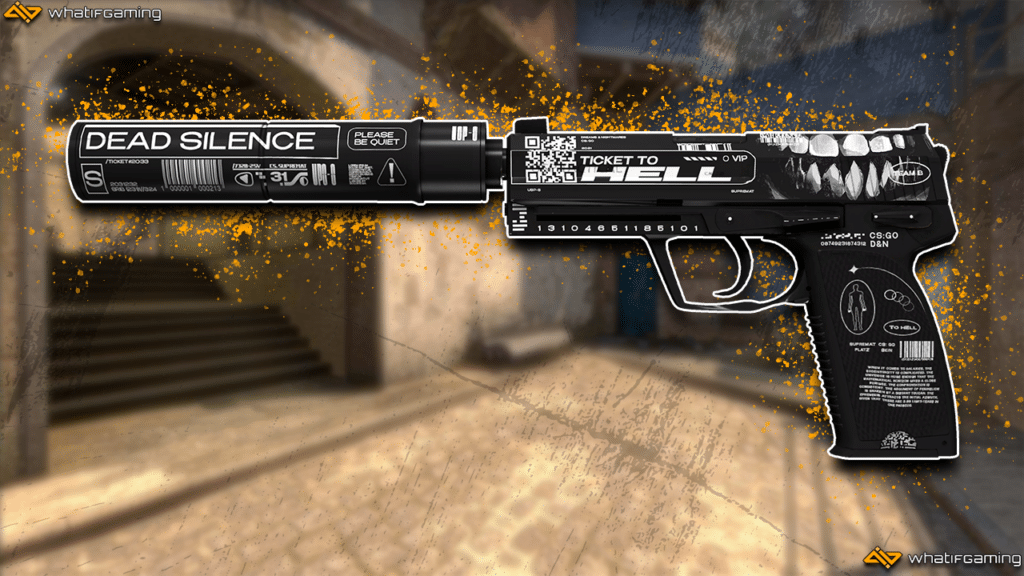 Date released: January 20, 2022
Price range: $0.35 – $12.00
Case: Dreams & Nightmares Case
Next up, we have a sleek skin with a black finish topped off with white accents. It's a very popular skin among the community because of its low price and its great look. It also comes from the Dreams & Nightmares Case, which is one of the best CS:GO cases to open right now.
The UPS-S Ticket to Hell has a very simple design. It's an all-black weapon with various white letterings, icons, images, and codes. Some of the elements include a creepy smile, "TICKET TO HELL," and "DEAD SILENCE" inscriptions, bar codes, and a QR code, among many others.
Purple DDPAT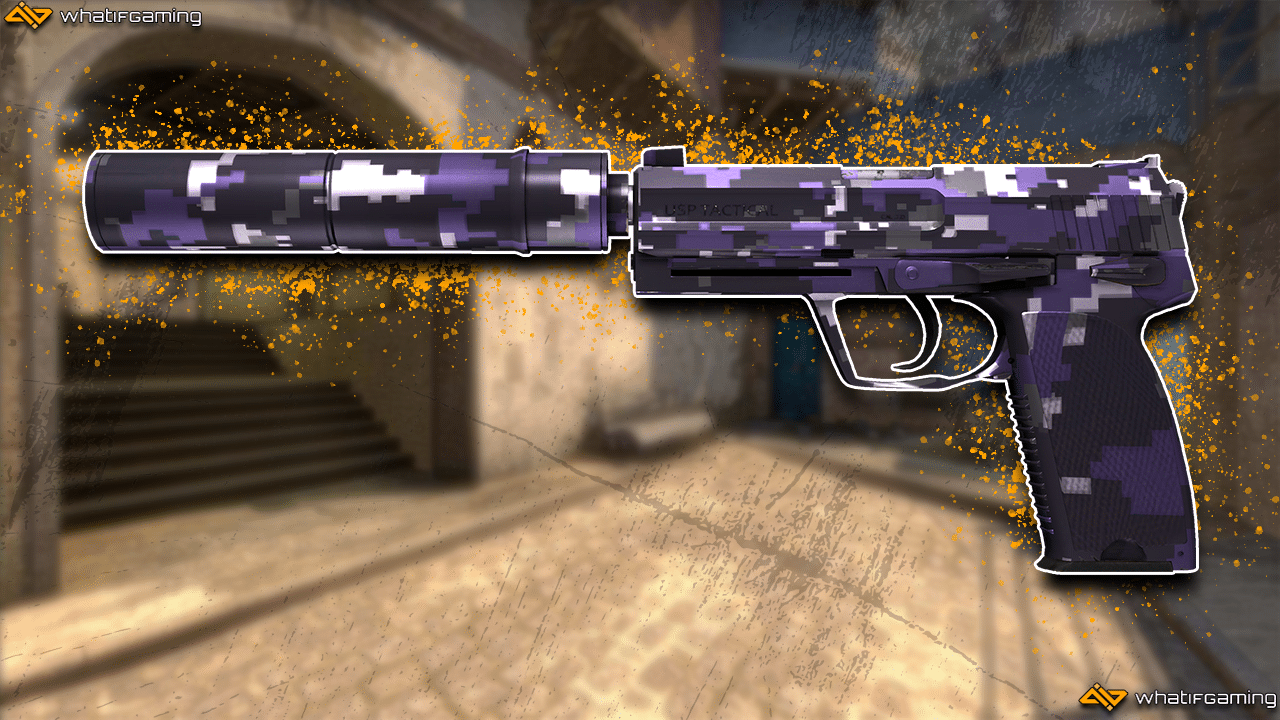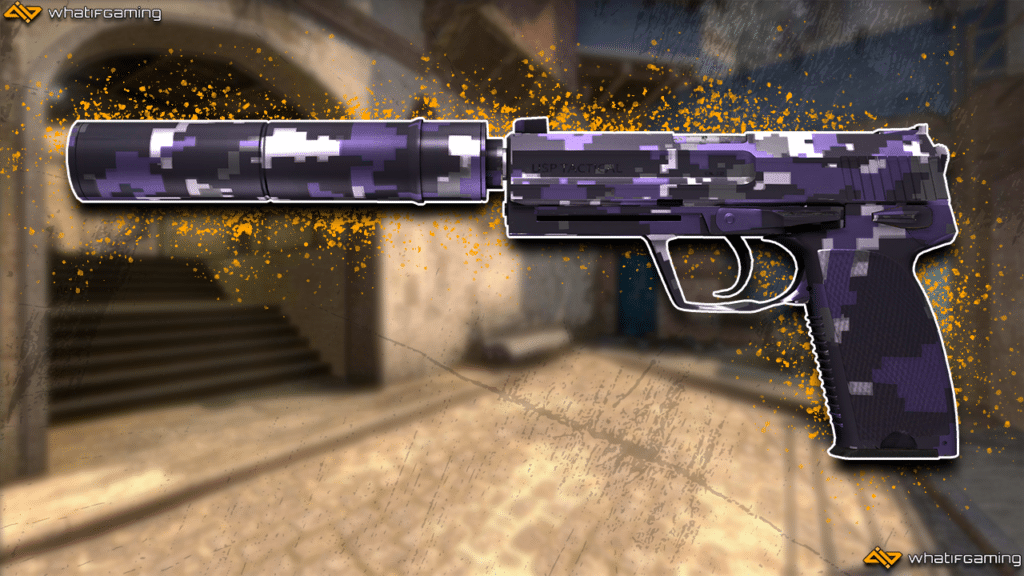 Date released: September 21, 2021
Price range: $9.00 – $14.00
Case: Stockholm 2021, Antwerp 2022, Rio 2022, and Paris 2023 Mirage Souvenir Packages
The Purple DDPAT USP-S skin features a different vibe from all the skins we've mentioned. It has more of a glitch-like, techy look with a militaristic feel in between. The pricing difference between Battle-Scarred and Factory New isn't that high, so I highly recommend going for Factory New for a clean look.
The base is covered in shades of black and purple. There are also various black, white, and gray accents with blocky textures to complete the look.
Cyrex
Date released: November 28, 2016
Price range: $1.00 – $13.00
Case: Glove Case
The Cyrex series of skins is typically known for its sleek black and red colorway and its cheap pricing. Luckily, the Cyrex USP-S skin didn't disappoint. It follows the same black base with some silver, red, and white accents found on the weapon.
It features a futuristic and modern style, reflected by its simple design. You can see a small CS:GO logo with the words "CYREX" and "USP TACTICAL" inscribed on the body.
Flashback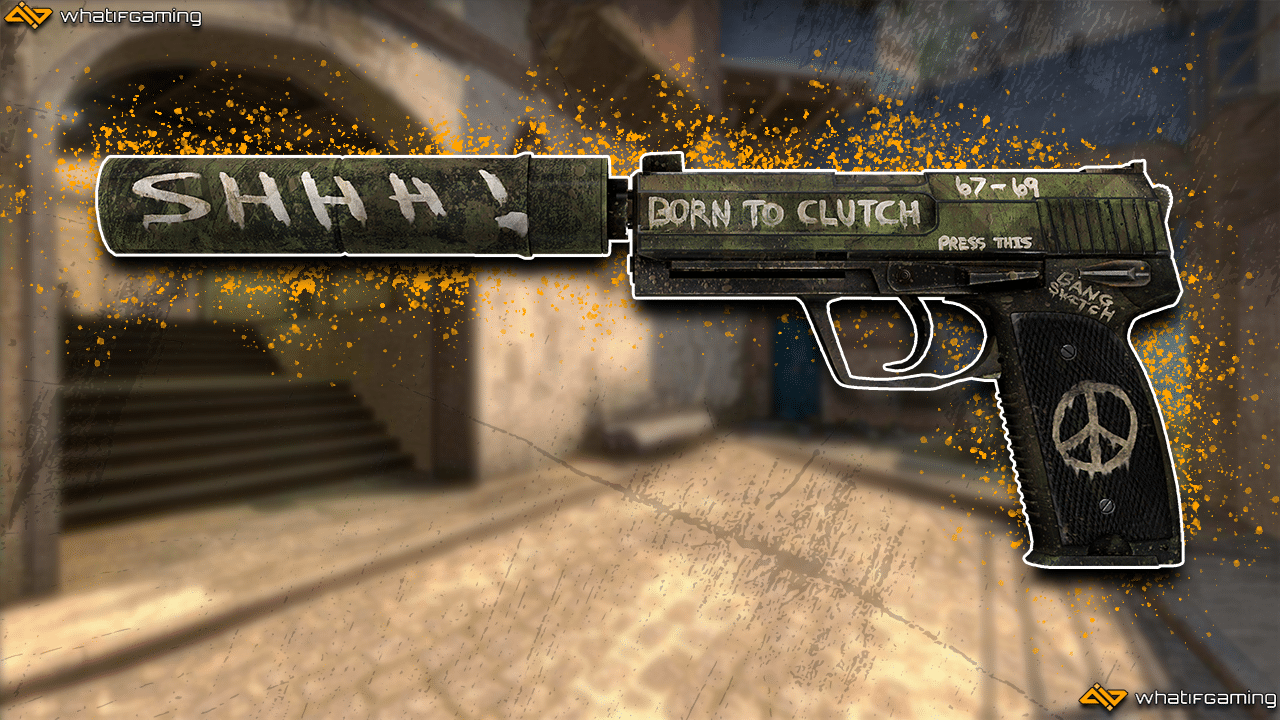 Date released: December 6, 2018
Price range: $0.60 – $3.00
Case: Danger Zone Case
Finally, we have an old yet beloved USP-S skin in Flashback. It's the overall cheapest skin on the list, with a Factory New condition costing a little over $1. It's the best USP-S skin for players on a budget, especially if you're looking to buy a StatTrak™ variant.
Flashback features a true military feel with its dark green and khaki-ish base color. It also has "SHHH! " "Born To Clutch," "Press This," "67-69," and "Bang Switch" written all over. It's then topped off with a peace symbol near the handle.
Conclusion
The Traitor is the best USP-S skin in CS:GO in our books because of its elegant look, classy design, and great pricing. It's definitely one of those skins that you won't regret buying.
What other USP-S skins do you think should've made the list? Comment them below.