V Rising pits players against a harsh gothic world and each other in a struggle for supremacy. It's a breath of fresh air that focuses on player skill while successfully blending elements from games like Valheim and Diablo into a cohesive whole. Being an undead overlord is better with friends. For that, you'll want to go with dedicated V Rising server hosting.
One of V Rising's standout features is impressive freedom in customizing every aspect of the game. The vanilla experience is a lot of fun. However, setting a server up and tinkering with stuff like the amount of damage the sun does to you, how the loot works, or how close two castles can be built ensures the game's longevity.
Why V Rising Server Hosting?
You could technically play multiplayer through Steam or run a dedicated server from home, but there are drawbacks. Lag can be an issue, and the game word shuts down as soon as the host decides to quit. Paying to run the game from an online server eliminates such problems since providers keep their servers online 24/7 and only shut them down to update the game to the latest version.
There's also the added security and access to technical expertise you get when signing up for such services. All providers guarantee protection from data breaches and DDoS attacks. Many have built user interfaces that help everyone from newbies to pros manage their servers more efficiently.
Some have excellent rates or customer satisfaction guarantees, while others attract with robust world coverage and thriving communities. Find the right mix of features for your own server by taking a look at our favorites.
Host Havoc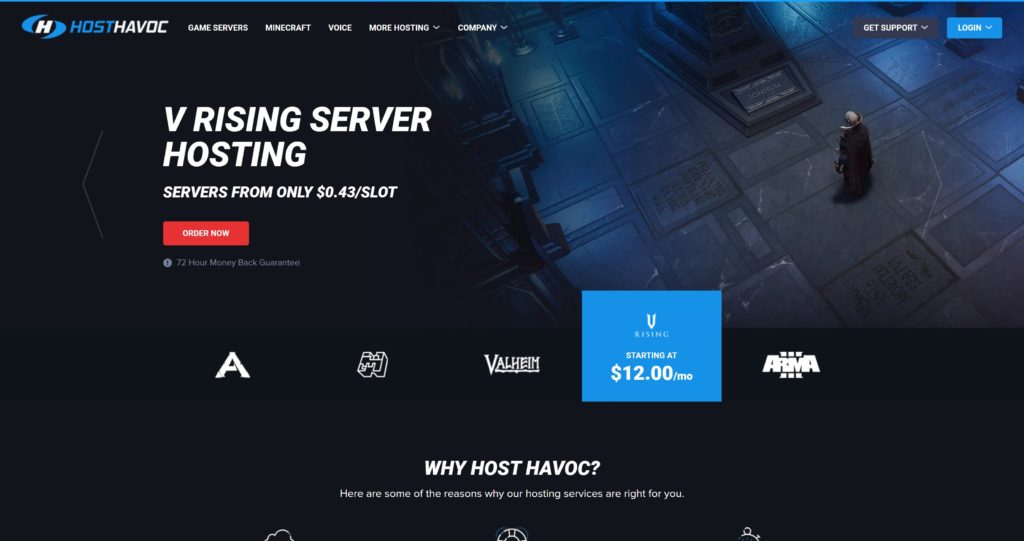 Want to sink your teeth into multiplayer gameplay with up to 69 friends and without fuss? Then Host Havoc is the ideal option. Ease of use is their main selling point since all you have to do is decide on the number of players who will brave the daylight alongside you to get the ball rolling.
Host Havoc has a 10-slot minimum, which will cost you $12/month if you choose to renew every month. Going for more slots significantly decreases the cost. V Rising servers typically host 40 people, which would cost just $21 without considering other forms of savings.
It's also possible to pay in three, six, or twelve-month increments. Committing to the game has its benefits since paying for a year comes with the best discount. There's no RAM limitation regardless of your requirements as Host Havoc allocates it automatically depending on the server's current capacity.
Host Havoc's data center coverage is excellent if you live in North America, Australia, or Europe. The only edge you can secure for your server when signing up is higher CPU priority, for which you'll have to pay extra.
Once you've nailed down the specifics, you can take advantage of Host Havoc's excellent control panel. It makes monitoring & backing the server up easier, speeds up mod installation, and provides straightforward file access.
Apex Hosting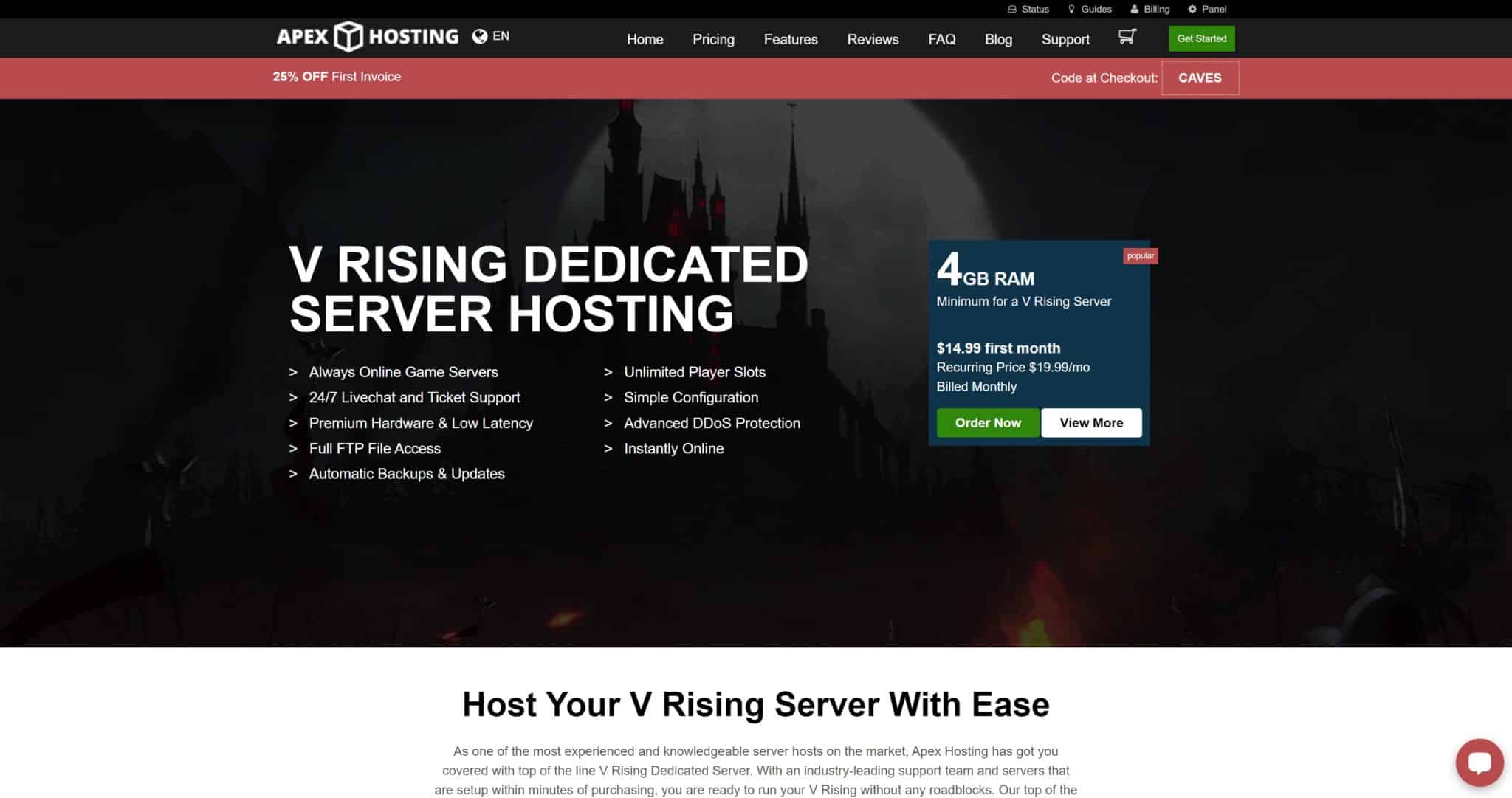 Apex Hosting is renowned for providing the most in-depth Minecraft server hosting, but their support for other games is equally stellar. Unlike Host Havoc's slot system, Apex rents servers based on the amount of RAM it uses. You have to get a minimum of 4GB to run a V Rising server, meaning you'll have to pay at least $20/month if you don't take advantage of the quarterly 10% discount.
That's not cheap if you plan on playing with only a handful of friends, so why go with Apex for your V Rising hosting needs? For starters, they have some of the best worldwide coverage in the business. Servers in Japan, Singapore, Israel, Turkey, and Brazil ensure minimum latency no matter where you are.
Then there's the matter of customization. You can set up the type of server you'll host during the signup process, as well as choose how much RAM you're willing to pay for. You get a free subdomain and can pay a small fee for a dedicated IP address.
Memory allocation ranges from 4GB to 10GB, the latter costing $50/month. You can pay $10 on top of that for the ultimate boost. That $60 gets you 16GB of RAM and, more importantly, ensures that your server will run on a high-end Ryzen processor from an NVMe SSD. These are available only to EU and US customers, though.
An excellent support system is another strong reason to go with Apex Hosting. They have round-the-clock live chat and an archive of articles on various aspects of V Rising hosting that gets updated regularly.
GPORTAL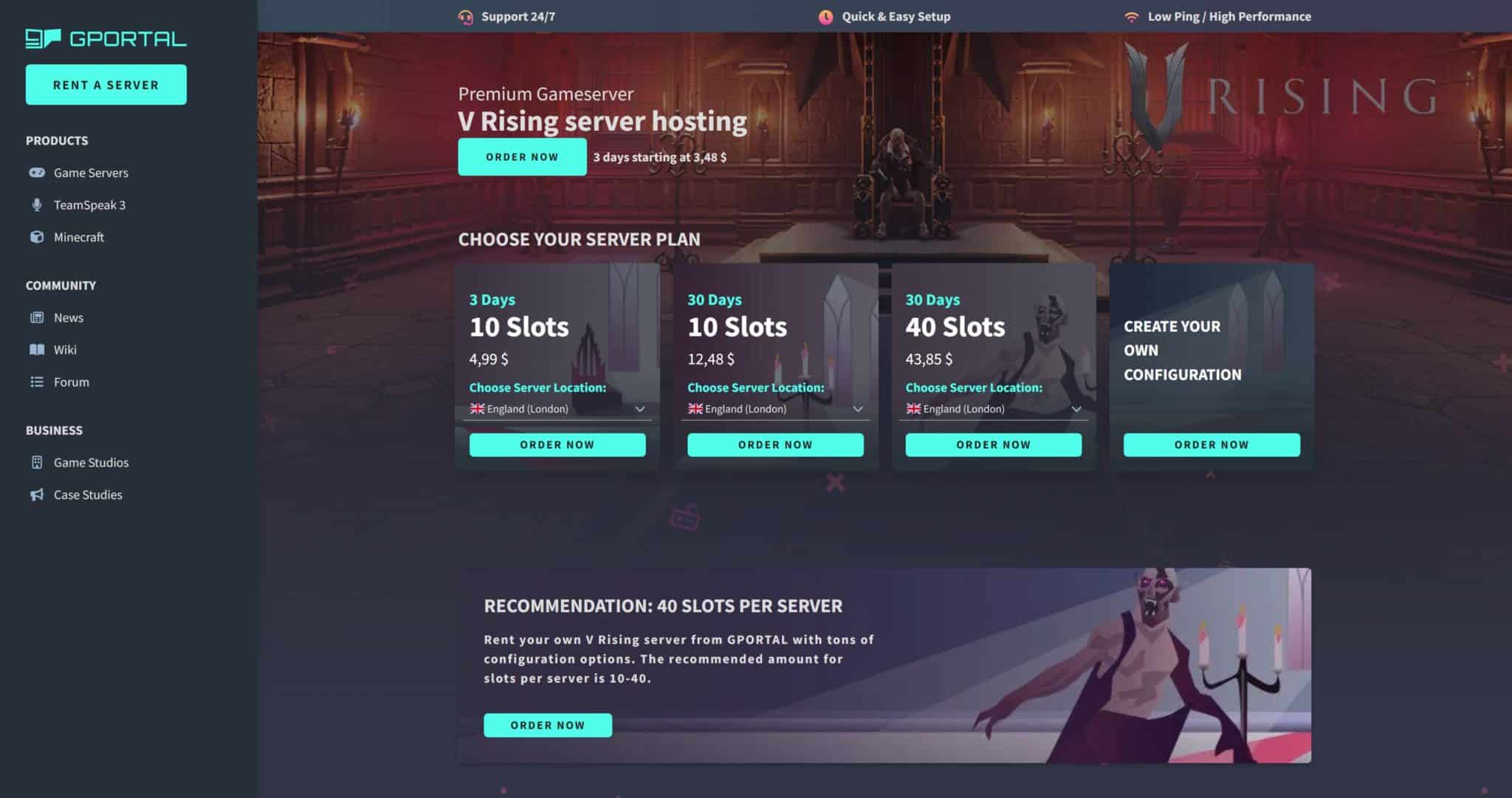 GPORTAL is Stunlock Studios' official V Rising server hosting partner, with good reason. They maintain one of the most active hosting communities on the web, have an excellent web interface, and offer various convenient payment options.
Partnering so close with the developers benefits users interested in running private games, like various server locations the world over. For example, they're the only provider with a V Rising server in South Africa. A lower ping means better odds of surviving yet another day, and such availability levels the playing field.
GPORTAL takes a game-specific approach to hosting. You pay per the number of slots for V Rising. In contrast, the payment plan for games like Project Zomboid is built around memory without slot restrictions.
Even though they state that 40 is the recommended maximum at sign-up, you can enable as many as 1,000 slots for some reason. Ten slots start at a competitive $11.50 and get 10-20% cheaper if you commit to 90 days up to a year. We're also fans of the 3-day trial. It lets you experience the game and how easy it is to set up a server on GPORTAL for a mere $3.50.
Both the web interface and support are top-notch here. GPORTAL has put a lot of effort into designing the interface and allowing easy access to game switching, file backups, mod management, and more. The support aspect is diverse since you can look for solutions on a wiki or ask other users via the active forum before resorting to support by phone or a ticket.
GTXGaming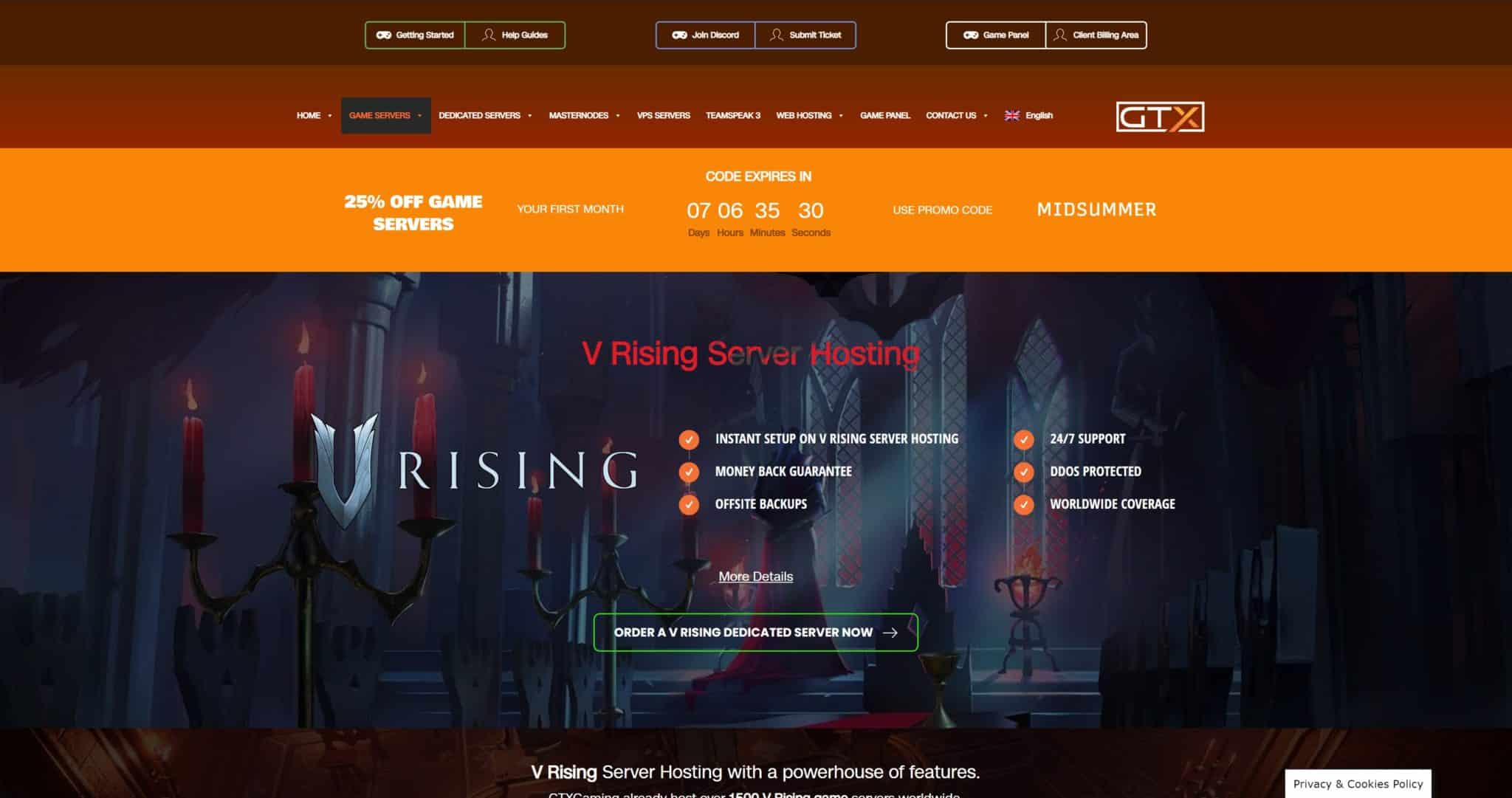 It's hard to stand out among the server hosting crowd since everyone offers similar benefits. GTXGaming's approach is to start with a setup that's as easy as the rest but gives you unprecedented freedom in configuring a server if you so wish.
The initial page you land on concerning their V Rising hosting options doesn't say much apart from the benefits of choosing GTXGaming. A 24h money-back guarantee is the most interesting since few competitors offer the same. Paying via various means, including several forms of crypto currency, is another.
Things get more interesting once you decide to order a server. Ten slots will set you back $12.50/month, and there are no savings if you need more. Committing to more time garners discounts, culminating in 15% if you pay for a year. Most hosting providers would call it a day at this point, but GTXGaming goes above & beyond.
You get a breakdown of everything that's included in your purchase – the amount of allocated RAM, the kind of CPU & disk the game will run on, how much free space you get for backups, etc. Best of all, you can improve every one of these for a nominal fee. Securing a higher CPU priority is in there, as is premium support that ensures minimum wait times for answers to your tickets.
Nitrado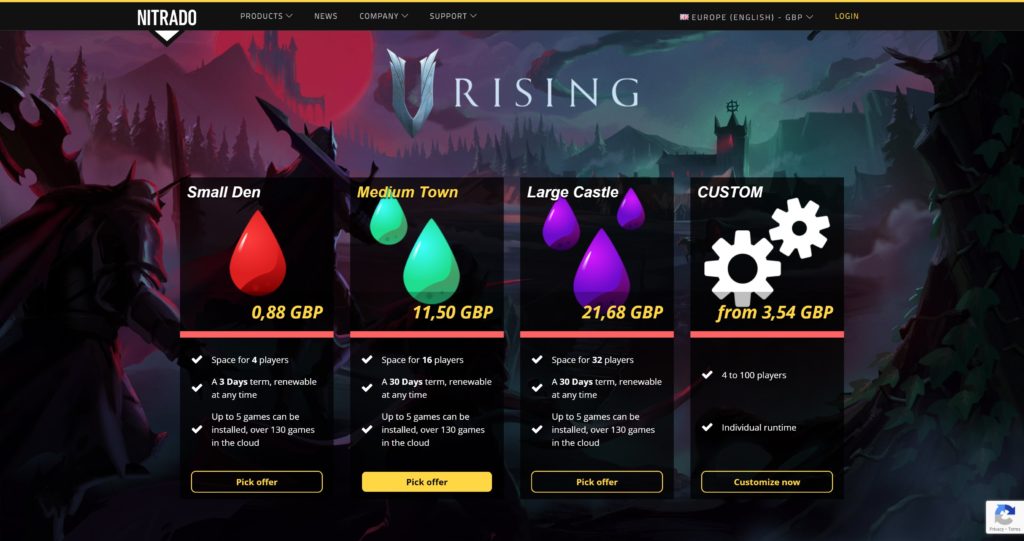 Another popular player in the hosting community at large, Nitrado provides comprehensive V Rising server hosting packages at irresistible prices. Couple that with a great support system & solid interface, and you've got a worthy alternative to more highly-placed competitors.
Like GPORTAL, Nitrado lets you dip your toes into V Rising's immersive world with a 3-day trial. It's even cheaper here at $1.30. The server will be restricted to four players, but small friend groups don't need more anyway. Two more preconfigured packages allow 16 or 32 players to take on boss challenges and bend the world to their will for 30 days for $16.90 and $32, respectively.
Nitrado's real power lies in the custom option. It's a real boon for small groups since four players can get a month of server uptime for less than $6. Alternatively, you can go all out and host 36 players for as many dollars. That and how much you want to prepay are your only options other than choosing a suitable location for the server. North America, Asia, Europe, and Australia have excellent coverage.
Similarities with GPORTAL continue through Nitrado's focus on customer support. They have a repository of V Rising-related articles to get you up & running as well as a forum where users talk about everything from modding issues to the best ways to avoid garlic. If that fails, there's always the old-fashioned tech support via landline in no less than nine languages.
Dathost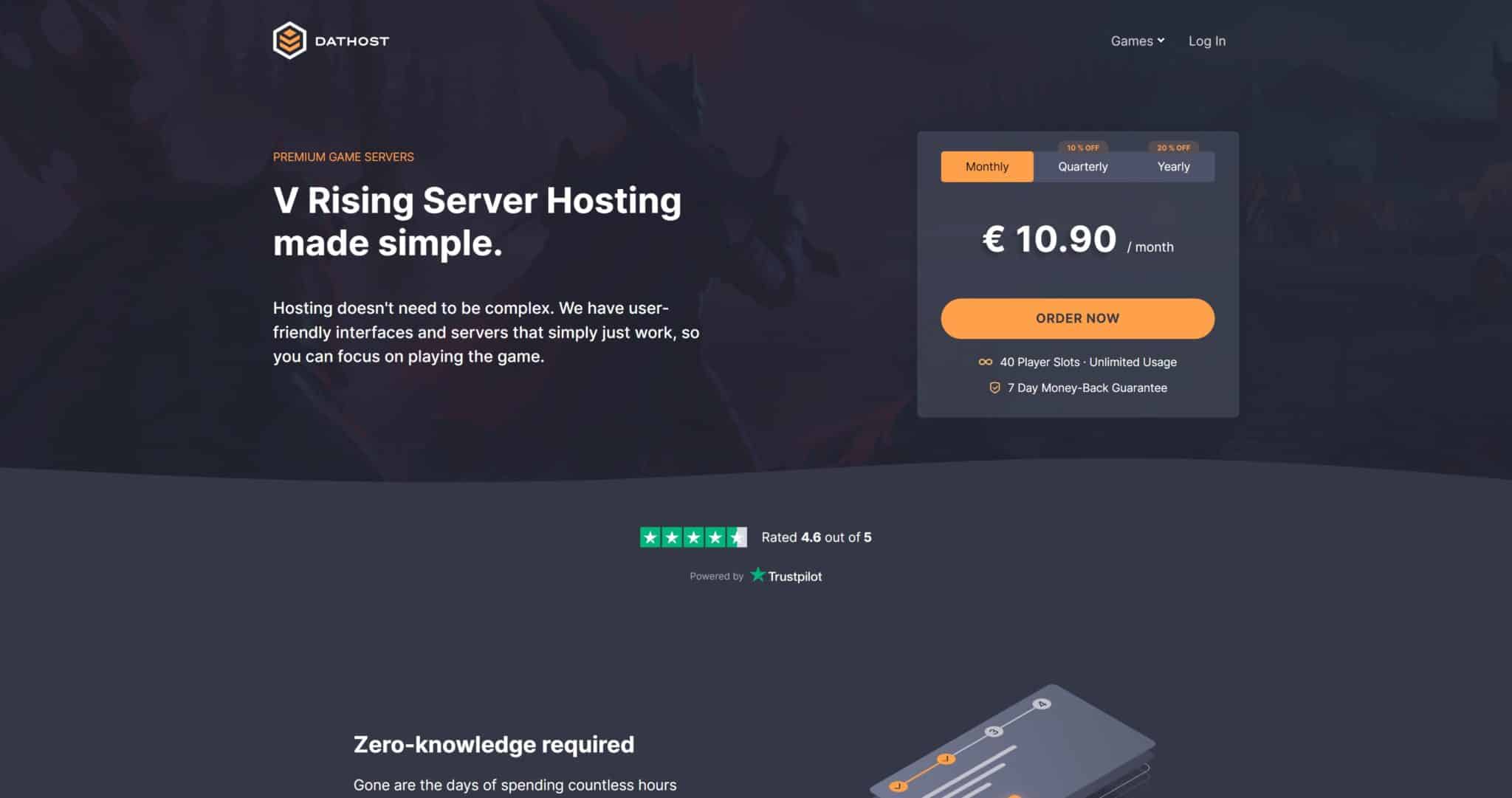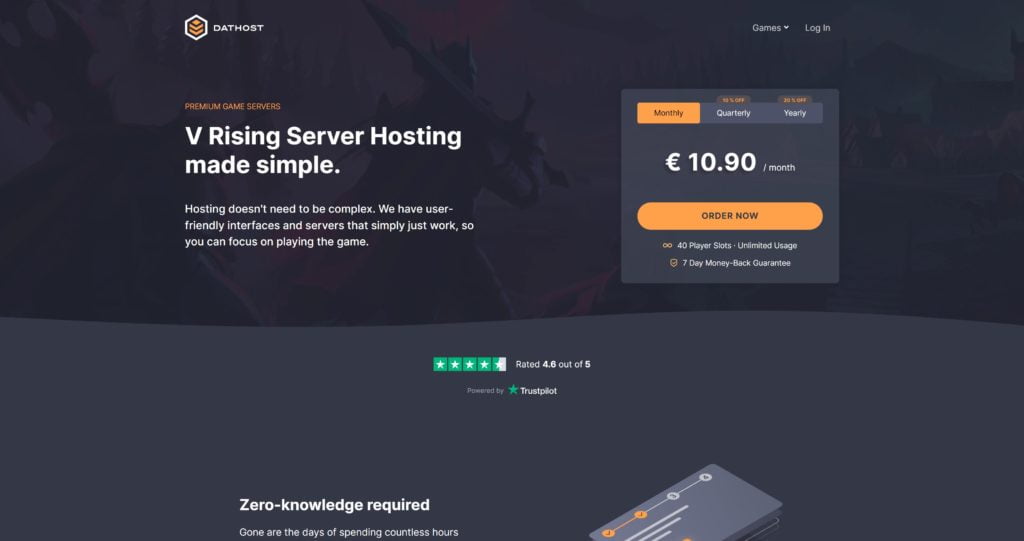 Do you want to grow your server to a sprawling 40-vamp hub with clans mercilessly duking it out in PvP? Then you need a hosting service that combines affordable pricing with customer care and a simple interface that lets you take control of various settings with ease. That's Dathost in a nutshell.
It's by far the most straightforward service on our list. You visit the site, check out the simple presentation, and sign up for a server. Dathost's biggest problem is a lack of scalability. You can only set up a 40-slot server and choose whether to pay monthly, quarterly, or yearly. The last option is also the best since you get 20% off.
Provided you have big plans for your game, Dathost may surpass other V Rising server hosting providers due to how cheap it is. Just £10.90 per month for a 40-slot server is a fantastic deal and far cheaper than any competitor offers. Moreover, Dathost's money-back guarantee lasts seven days, giving you plenty of time to set everything up and judge whether the investment is worth it.
There's not much you can do when setting the server up other than choose between Europe or North America as the location. Newcomers to server hosting users may find the streamlined approach reassuring. More experienced users might be disappointed with the lack of options, though.