Are you looking to change your Valorant name but can't decide on a good one? Here's our list of the best Valorant names and how to create your own.
Choosing your Valorant name is an essential part of your gaming experience. Your name is what other players get to see when you match with them in-game. People usually remember players with a godly aim and great names.
Coming up with your own amazing name can be quite a task. It can be hard to find a name that represents you and sounds great at the same time.
Luckily, we've got you covered. We compiled a list of the best Valorant names for you to use.
Best Valorant Names to Use
We divided the in-game names into five different categories. Feel free to jump to the specific category that you are looking for.
Anime Valorant Names
It's pretty common to use anime PFPs, but did you ever think of using anime names as your IGN? Both Asuna and Hiko got their IGNs from anime characters. At the same time, TenZ uses Killua and Alluka from Hunter X Hunter on his smurf accounts.
Check out some of these awesome anime-inspired Valorant names.
Itachi
Ryuu
Dio
Asuka
Daisuke
Fumiko
Haru
Hideo
Ichiro
Jiro
Hinata
Hisoka
Kaede
Kazuko
Zoro
Uchiha
Gintama
Uzumaki
Saitama
Luffy
Yagami
Ackerman
Kiyoshi
Michiko
Natsu
Raiden
Seiji
Shinobu
Shoto
Tadashi
Yuuki
Tetsuya
Wasaki
Sasaki
Jaeger
Freecss
Ichigo
Midoriya
Piccolo
Dabi
Yatogami
Tsunade
Kirishima
Genos
Akamaru
Ash
Mirajane
Aomine
Daichi
Kiyoko
Cool Valorant Names
Next, we have some cool in-game names. These could be cool references or cool-sounding names.
Hades
Zeus
Bullet
Kratos
Thor
Andromeda
Apollo
Achilles
Fenrir
Hercules
Nyx
Perseus
Pollux
Raijin
Scylla
Theseus
Anubis
Osiris
Adept
Alucard
Flicker
Shadow
Scar
Impact
Mystic
Blitz
Agitator
Ballistic
Doohickey
Elixir
Speck
Gambit
Hazard
Gizmo
Juggernaut
Dynamo
Cyclone
Cinder
Raven
Ember
Comet
Pollex
Quicksilver
Ruckus
Rascal
Apocalypse
Bizarre
Silhouette
Diabolic
Hyperbolic
Funny Valorant Names
Now, here's a list of some funny and light-hearted Valorant names. These are perfect names to use if you're not a tryhard and just want to enjoy playing the game.
S1MP
I am Noob
You Raze Me Up
Jett Revive Me
Okay Boomer
Ping Diff
Eco Fragger
ShaquilleOatmeal
Babushka
HowYouDoin
Not Tenz
No Aim
I Am Groot
YoruIsUseless
RazeShadowLegend
Valo Rant
Drop Me Skin
Open Up The Skye
GGGGiveMeACorpse
BotFrag
OneTonSoup
HardstuckSilver
GG EZ
CSGO Better
JudgeBestGun
GiveMeOmenBuffs
NerfOP
Odin Warrior
Teabag
Jett Or Throw
CheckUrCorners
LukeShiftWalker
IAmNotYourFather
Backseat Gamer
BelowAverageSova
No Aim Duelist
DEEEEEEZ NUTS
24/25 Reload
Anything For VP
Right-Click OP
Precise Gunplay
TenzSon
FreeDatBoiJayWon
BodyShotMachine
The Range Bot
AimAssist
Bros Before Hoes
Cereal Killer
Lowlight Machine
John Wick's Dog
Girl Valorant Names
Here we have some of the best in-game names for girls. Although some of the names in the other sections can also be used by girls. You can also copy some of the girl Fortnite names and make them into your Valorant IGN.
Angel Of Death
Valorant Queen
WonderWoman
QueenBee
Empress
Gamer Girl
Athena
Thalia
Aurora
Freya
Cleopatra
Cassiopeia
Dove
Pegasus
Harley Quinn
Black Canary
Storm
Kitty
Zatanna
Black Widow
Sakura
Hinata
Princess
Mikasa
Amber
Aura
Ayumi
Bliss
Bubbles
Candy
Ahri Gato
Maple
Blossom
ItsTheGamerGirl
Valkyrie
MissFire
Zelda
Princess Peach
Queen of Queens
Silent Beauty
Gamer Babe
Wonder Girl
Deadly Pink
Mamma's Girl
Daddy's Girl
Matcha Assassin
Panda Bear
Mademoiselle
Deadly Beauty
Enchantress
Sweaty Valorant Names
Next, we have some of the sweatiest and tryhard Valorant names out there. Feel free to choose one and climb the ranks.
Aimz
Smurf City
Phantom
Headhunter
Smurferino
Ghost
Fl1ckspeed
Mr. Wick
Ace
Sensei
Demigod
Flick City
Invincible
Scope
Richochet
Prowler
Rush B
Diablo
Clutch
Instalock
Empress
Aim Labs Guy
Nemesis
Hazard
Insomnia
Clix
Get Clapped
Finessed
No Mercy
Legend
OutForBlood
Kraken
Cannon
Smooth Operator
Solo Queue Demon
EatSleepValorant
AnythingForRR
Skull Crusher
Ice In My Veins
Berserker
Alpha
One Tapz
BloodEater
Psycho
Sheriff King
OneTapMachine
ThirtyBomb
Hard Carry
Craniax
Lethal Bullet
Badass Valorant Names
Finally, we have some of the best badass Valorant names you can use. These are intimidating-sounding and can instill fear in your opponents' hearts before the game even starts.
Wicked
Matrix
Proximity
Mercer
Lightning
Faceless
Reaper
Catalyst
Trigger
Wrath
Slither
Mamba
Prototype
Zephyr
Shooter
Scythe
Fearless
Retribution
Void
Venom
Titan
Vital
Nexus
Luna
Insanity
Doomsday
Chopper
Cryptic
Headshot
Black Blood
Eclipse
Omnipotent
Rampage
Flick
Conceited
Vixen
SketchZ
Dash
Speed
Onslaught
Torpedo
Charger
Rubble
Corrupted Soul
Wither
Surge
Slasher
Deranged
Slam
Scimitar
How To Change Your Valorant Name

Once you're done finding a name that you want, you'll have to change your Valorant name. Luckily, Riot allows you to change your Valorant name for free once every 30 days. This is a reasonable timeframe, especially considering that other games require you to pay to change your IGN.
Here are the steps to change your Valorant name.
First, make sure that your Valorant client is closed.
Open a browser and log in to your Riot account.
Once you've logged in, head on over to the "Settings" tab.
Under "Account Management," you can change your Riot ID and tagline.
Enter your desired Valorant name and tagline, and click on the "Save Changes" button.
The next time you open Valorant, you should be able to see your new IGN. Remember that the Riot ID must be at least 3 characters with a maximum limit of 16 characters. The tagline has a maximum of 5 characters. Do not include any offensive or disruptive words, or else Riot can force you to change your name.
Make sure that you choose an excellent Valorant name, or else you'll be stuck with it for at least 30 days.
How To Create Your Own Name
Creating your own Valorant name can take a long time. You have to find the perfect IGN that represents you and your game. Luckily, you can easily change your Valorant name every 30 days. This means that you have a lot of chances to find the perfect name.
Sometimes a Valorant name can just be plain and simple. Pros like Ethan, retluC, and mitch just use their real names as their IGNs, which has worked out great for them. Other times, you can just throw words together and make them make sense.
To make things easier, you can also use name generators. Generally, these are good places to start and can help you think of some new inspiration for your name. Here are a few of our recommended name generators that you can use.
SpinXO.com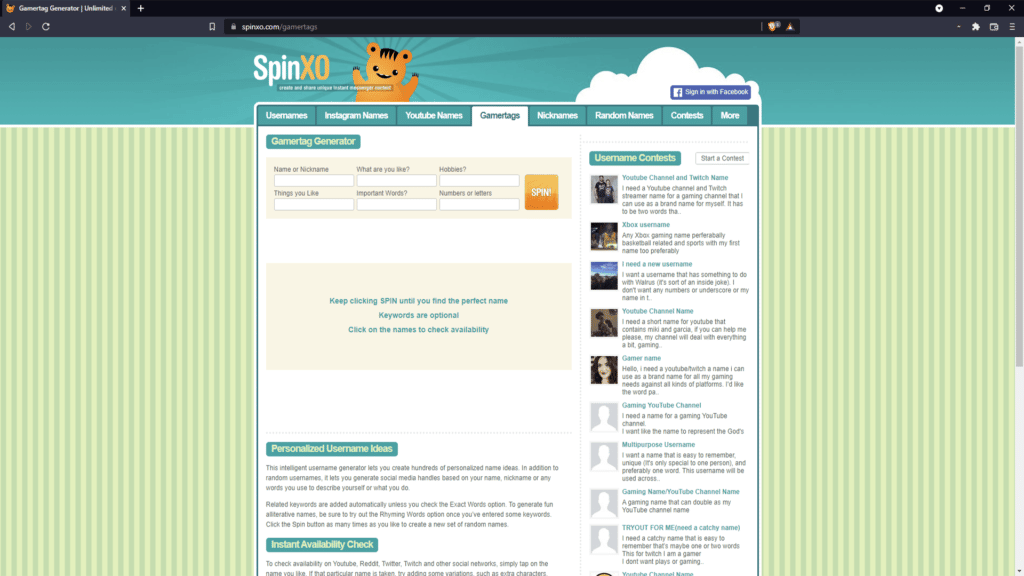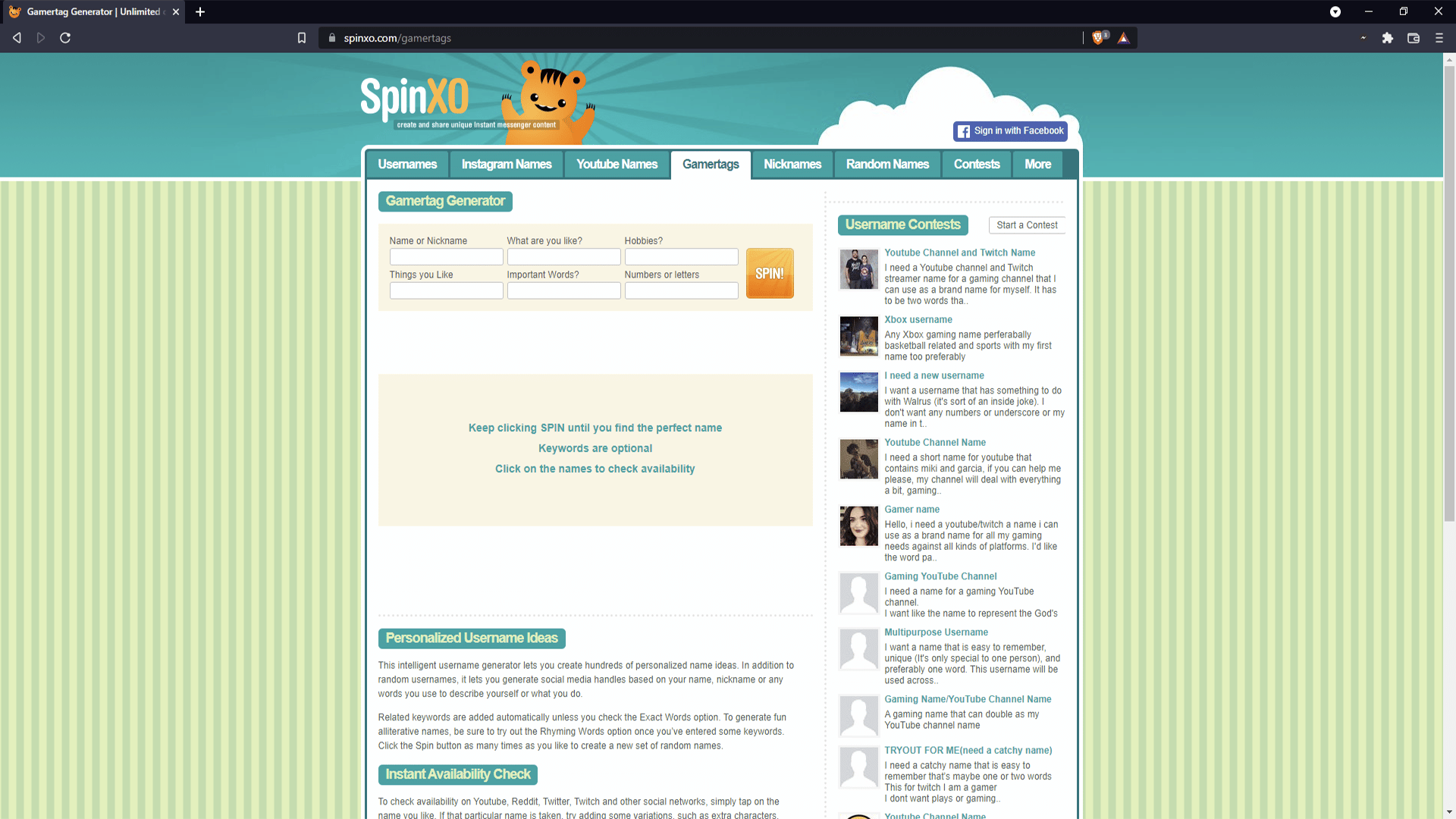 SpinXO is an excellent name generator website. It incorporates your hobbies, things you like, important words, and additional numbers or letters. The site automatically generates a few suggestions once you've added the things you'd like to include in your IGN.
Additionally, it also suggests some keywords that are related to the name you choose. These are great sources of inspiration that can help you create a unique Valorant name.
Name-Generator.org.uk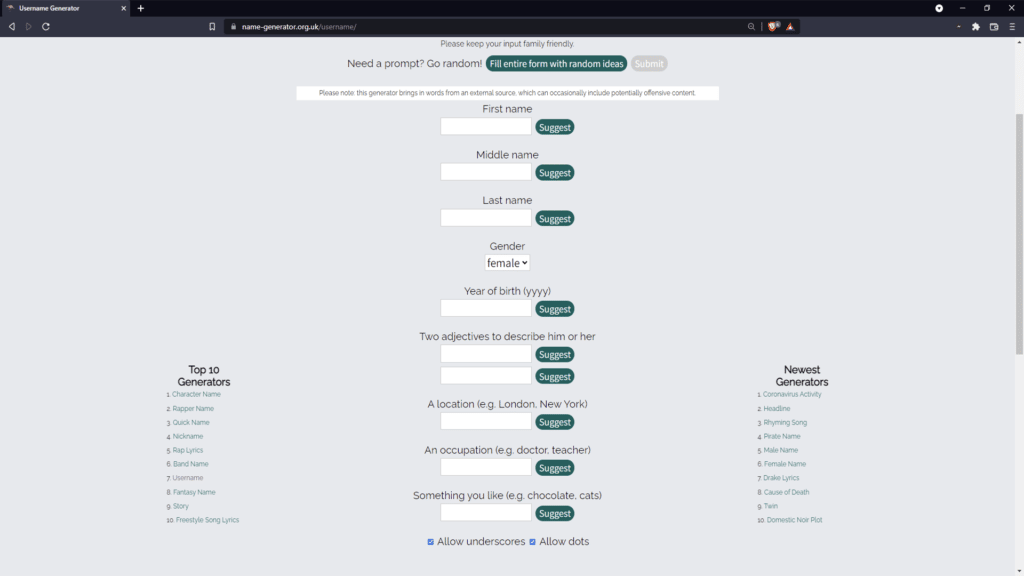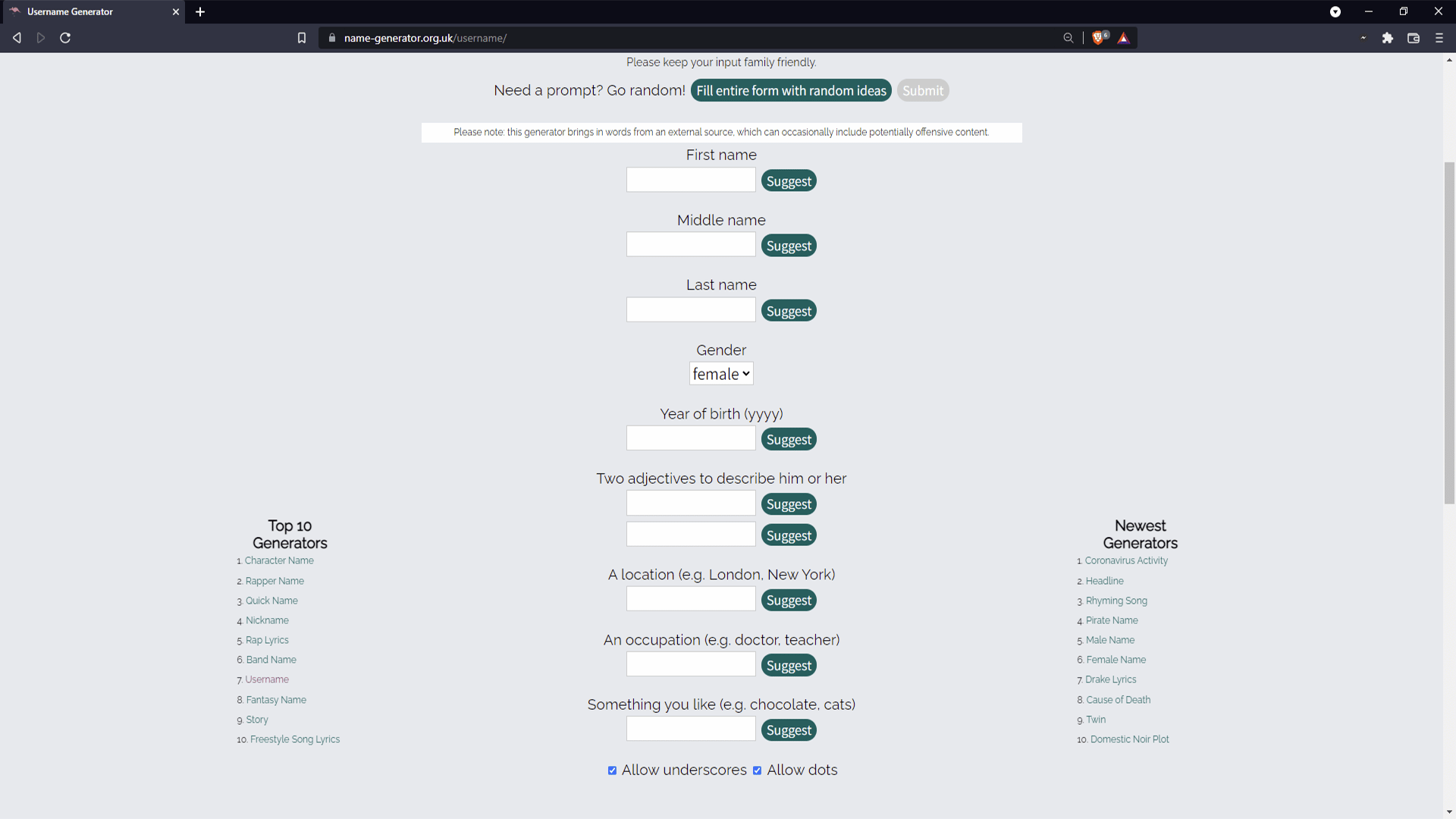 Name-generator is a more fun name generator. It asks things such as adjectives, nationality, body parts, an animal, and your name. The site then uses this information to generate a great IGN for you.
You can also just fill the entire form with random words and get some inspiration from the results.
Genr8rs.com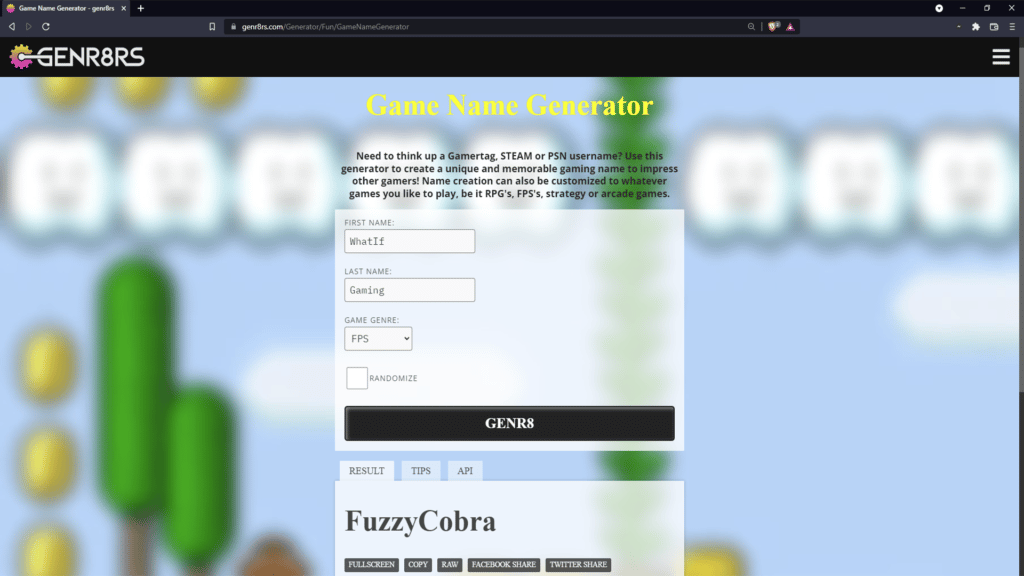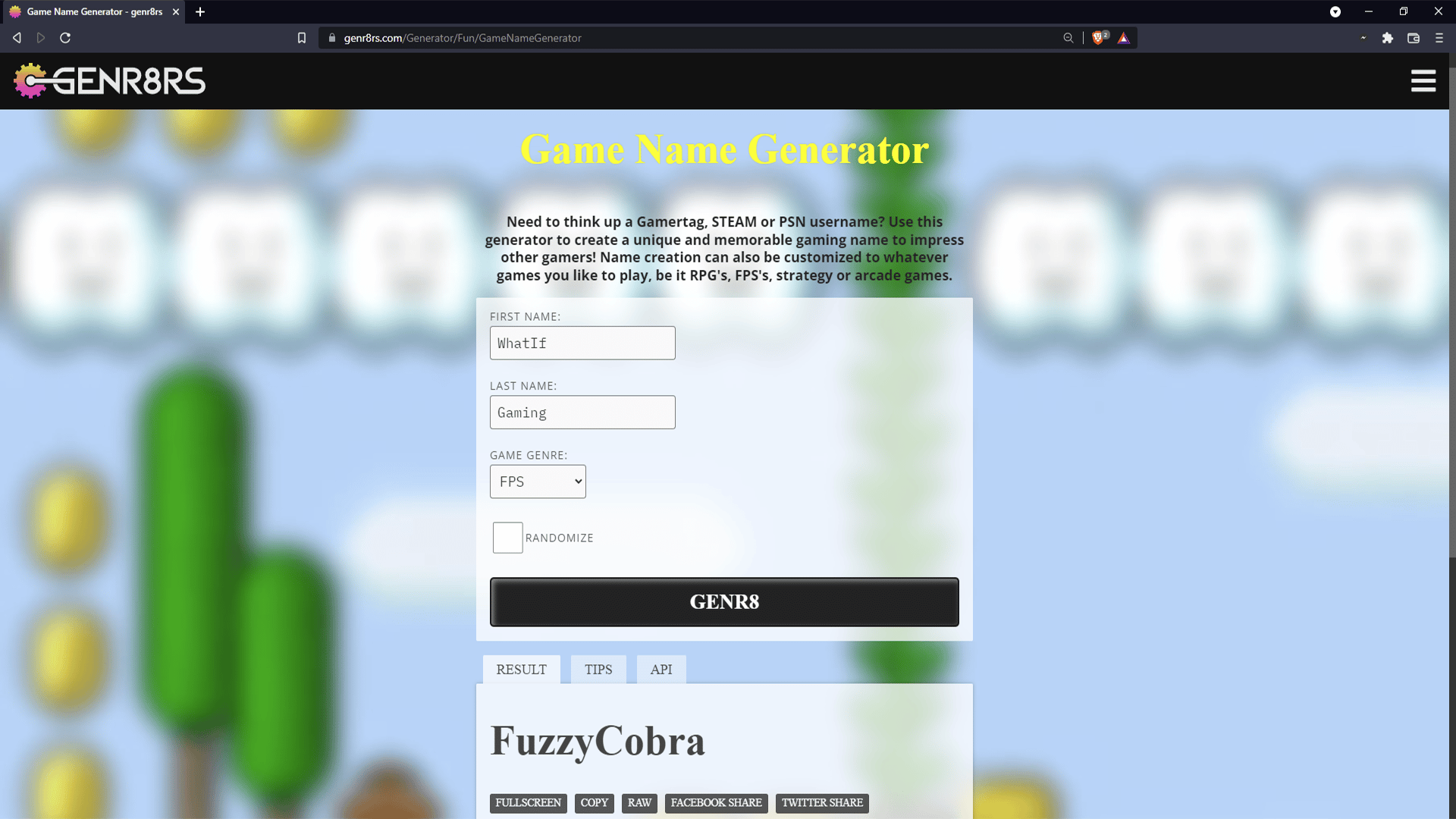 Finally, we recommend using Genr8rs.com. It's a quick and straightforward to use name generator that only asks your name and game genre. After that, all you have to do is click the "Genr8" button, and it suggests a username.
Unfortunately, it only suggests a single name at a time, so it might take a while before you find the best Valorant name for you. The names Genr8rs creates also make for some good Discord names if you are looking for one.
Those were our picks for the best Valorant names and how to create your own unique name. Hopefully, our guide helped you pick the perfect Valorant name for you.
Comment your current Valorant IGN down below!