Stats are something that shows a lot about a player. If you want to get better at a game, you will have to keep an eye on your stats and learn from your mistakes. Stat Trackers are something that helps you with that process by giving y
Stats are something that shows a lot about a player. They are great tools that you can use to identify how good of a player you are. You can also use stats to monitor your progress and growth. Stats are also a great way to prove who's the best Valorant player from your friend group.
We've tried our best to gather the best Valorant stat trackers around. This way, you'll have no trouble monitoring your stats.
Best Stat Trackers For Valorant
Here are five of the best Valorant trackers you can use to analyze your gameplay, understand the meta, and develop as a player:
Tracker.gg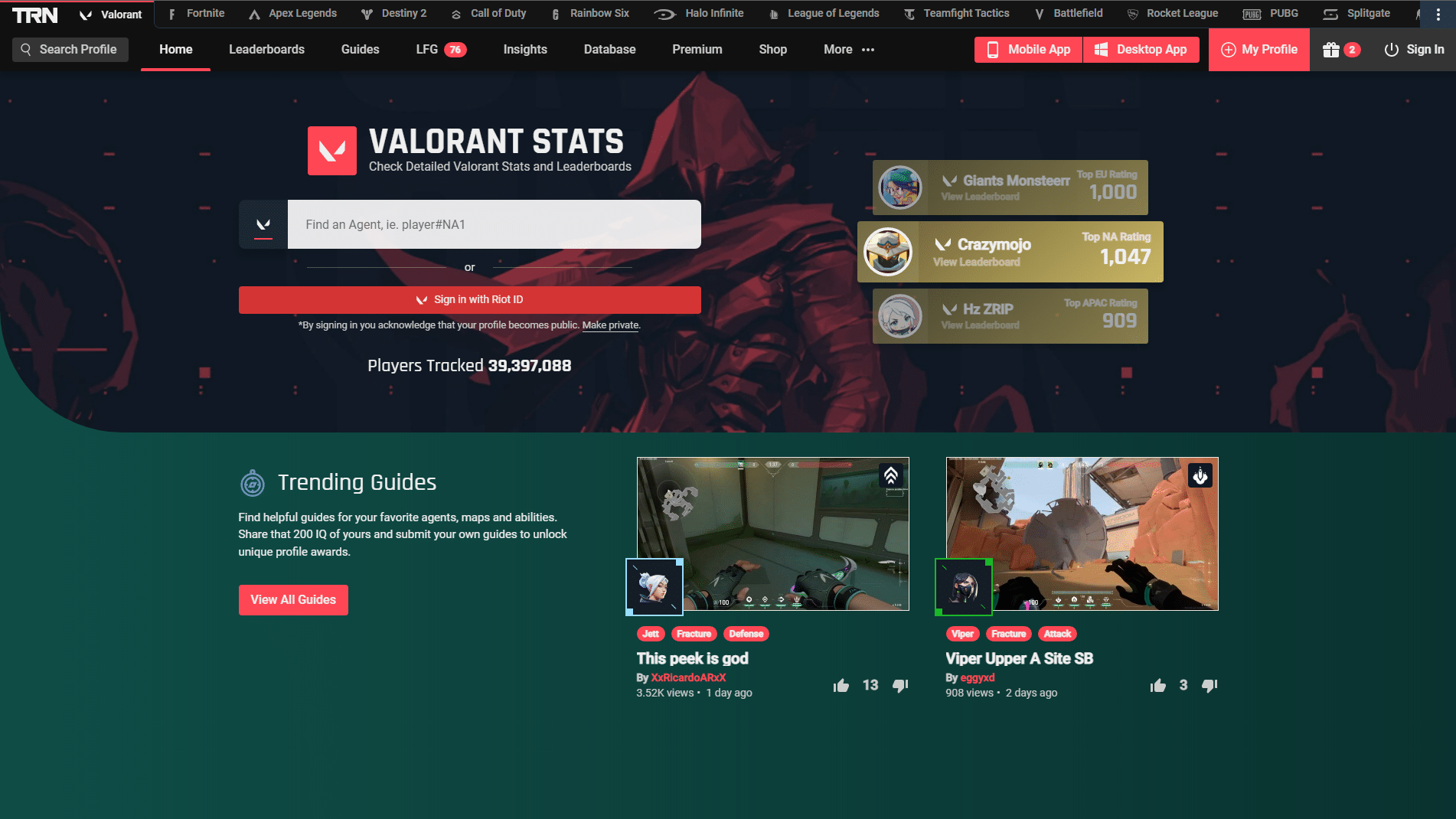 Can be accessed via their website, mobile app, or PC app.
Automatically tracks stats without having an app open.
Provides in-depth tracking with their Valorant Tracker app.
Some of your games may not get recorded if you don't have the app.
Requires you to download Overwolf and Valorant Tracker if you want the app.
Large in-app ads if you aren't subscribed to premium.
Tracker.gg is a brilliant Valorant stat tracker that I absolutely love. It tracks your stats even if you don't have an app open in the background, which is a game-changer for players with a low-end PC.
Tracker.gg also provides a variety of in-depth overall and act-based stats. This includes things from wins, KAST, KDA, score/round, first bloods, aces, and headshot percentage, among others. Not to mention their great Tracker Score metric that attaches a rating to your account and games, telling you if you're underperforming, above average, or overachieving for your rank.
They have a mobile app that you can use to learn about Valorant guide on the go. Their PC app through Overwolf is also a great way to get live stats using an overlay. It provides information about your team and enemies, allowing you to adjust on the fly.
Tracker.gg is one of the most comprehensive and complete Valorant stat trackers out there, which is why it sits at the top of our list.
Blitz.gg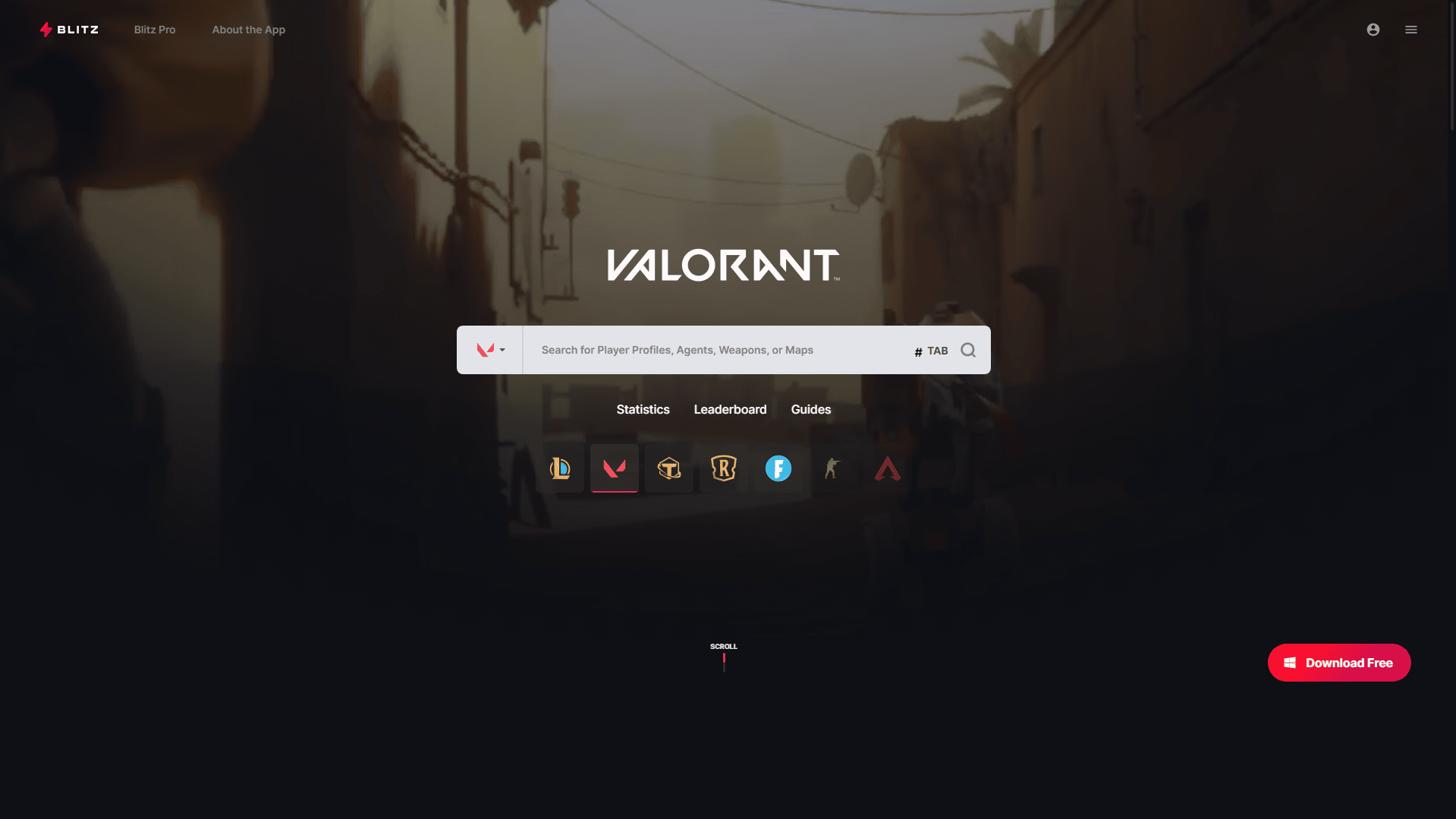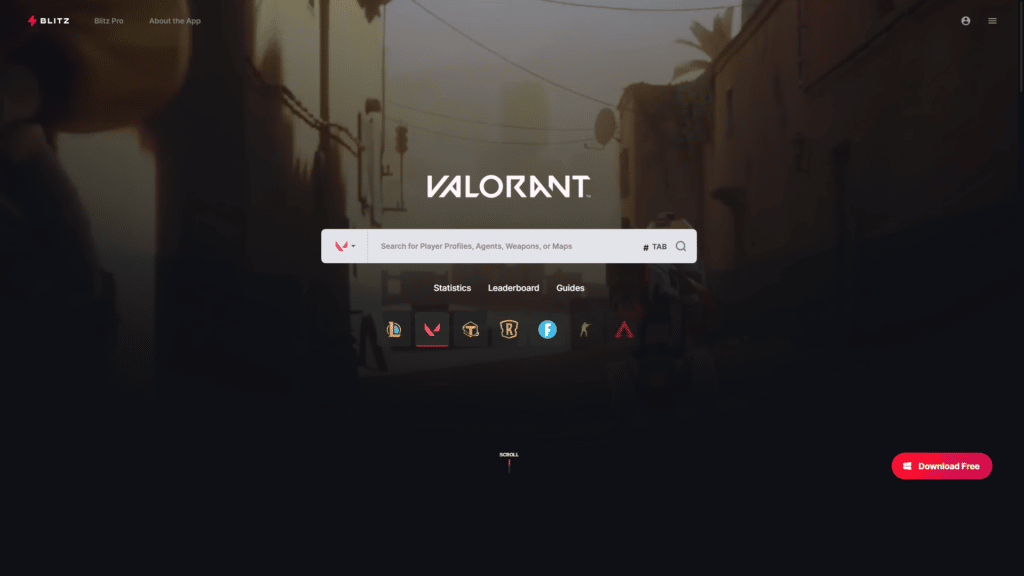 Provides an in-game overlay that allows you instant access to stats.
Offers in-depth stats across all Valorant games.
It also has a huge library of guides, tips, and pro players' advice.
Requires you to download an app.
It can take up a lot of system resources if you don't have a powerful PC.
You need to have the app open to track your stats.
Blitz has been one of the most consistent Valorant trackers out there with an insane amount of users. The app has been fine-tuned to ensure that it puts all the necessary stats in the hands of an amateur Valorant player. To use Blitz.gg, you'll need to download their app and have it running during your Valorant gameplay.
Blitz has a database full of stats for maps, agents, and weapons. They also have information regarding the most picked agents and their win rate for each map, among many others.
For individual stats, they cover everything from headshot percentage, win rate, KDA, and combat score, among others. They also have AI Analysis that tells you what you did worse or better for each game.
Blitz also has a fantastic in-game overlay that tracks and shows you your stats instantaneously as they happen. Blitz is an overall great Valorant stat tracker and is definitely cutting it close to being the top option.
SenpAI.gg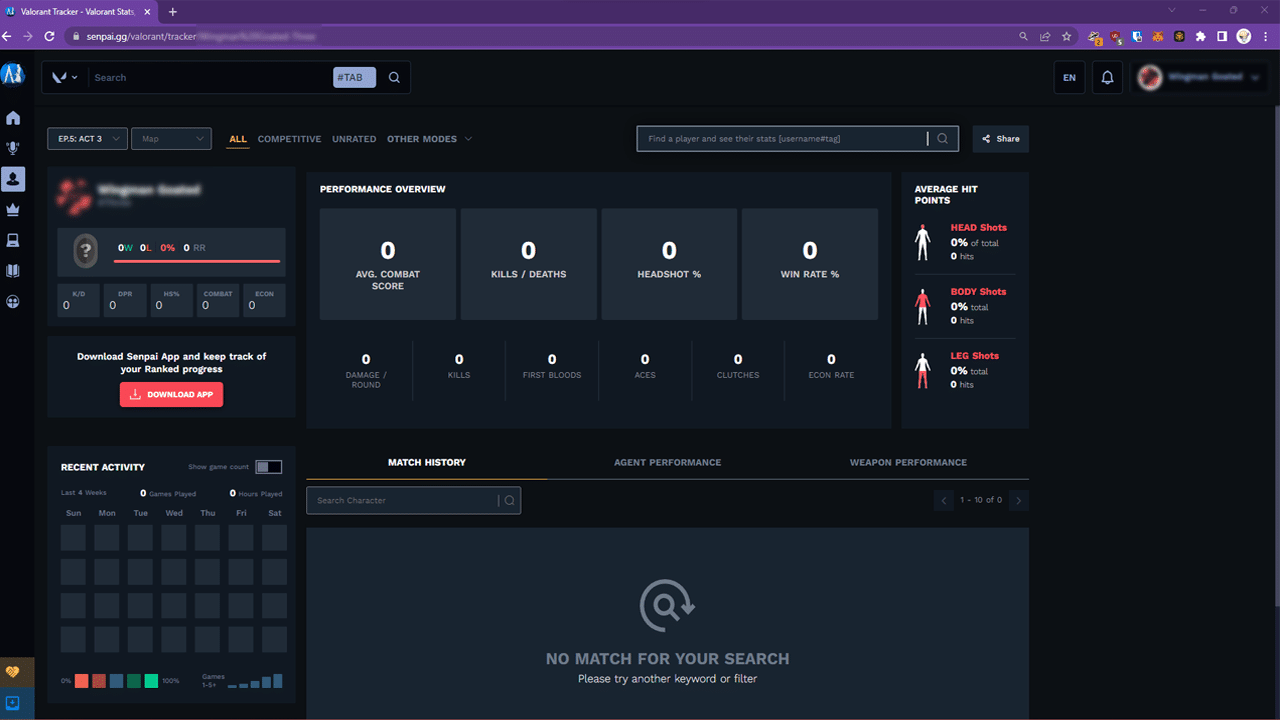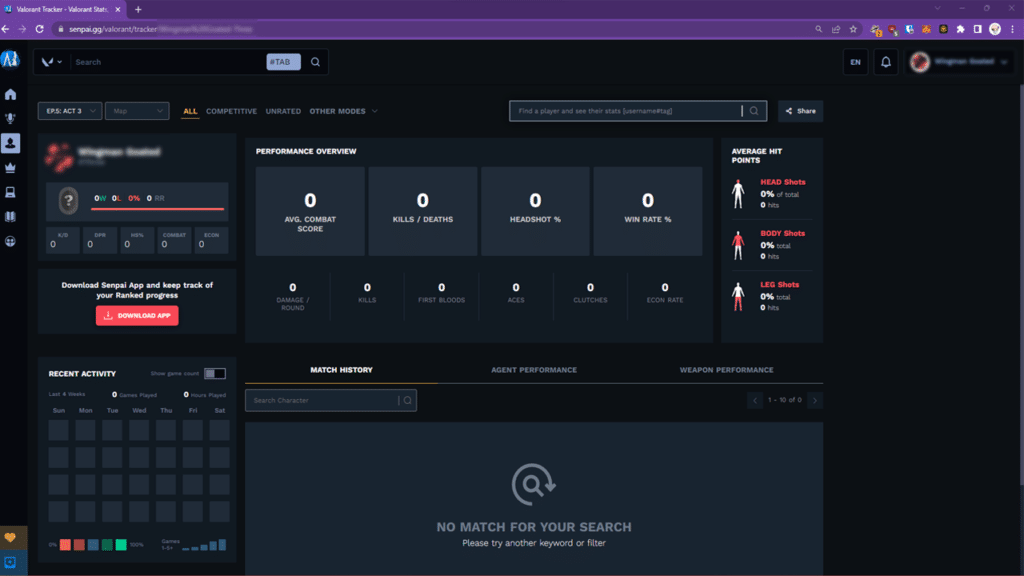 Supports multiple Valorant profiles to be added to the same account.
Offers an incredible voice assistant that gives you feedback within your games.
Can act as both a Valorant stat tracker and an AI coach.
Both the website and app are full of annoying ads.
There is no available live in-game overlay for Valorant.
Won't start tracking your stats unless you've already registered for an account and claimed your profile
SenpAI.gg is the next-level Valorant stat tracker. Its main feature is its innovative voice assistant feature that automatically gives you tips and insights about your game. This includes things such as synergies, low-health teammates, how many bullets are left, deaths within the game, and much more.
Of course, SenpAI.gg also provides stats like headshot percentage, average combat score, K/D ratio, and win rate, among others. There are also in-depth agent, map, and weapon stats.
SenpAI.gg also has a library of guides, which includes an explanation of the meta and global stats for agents, weapons, and maps.
Unfortunately, their site and app can sometimes be a bit buggy, mainly because they're still in their beta phase.
Dak.gg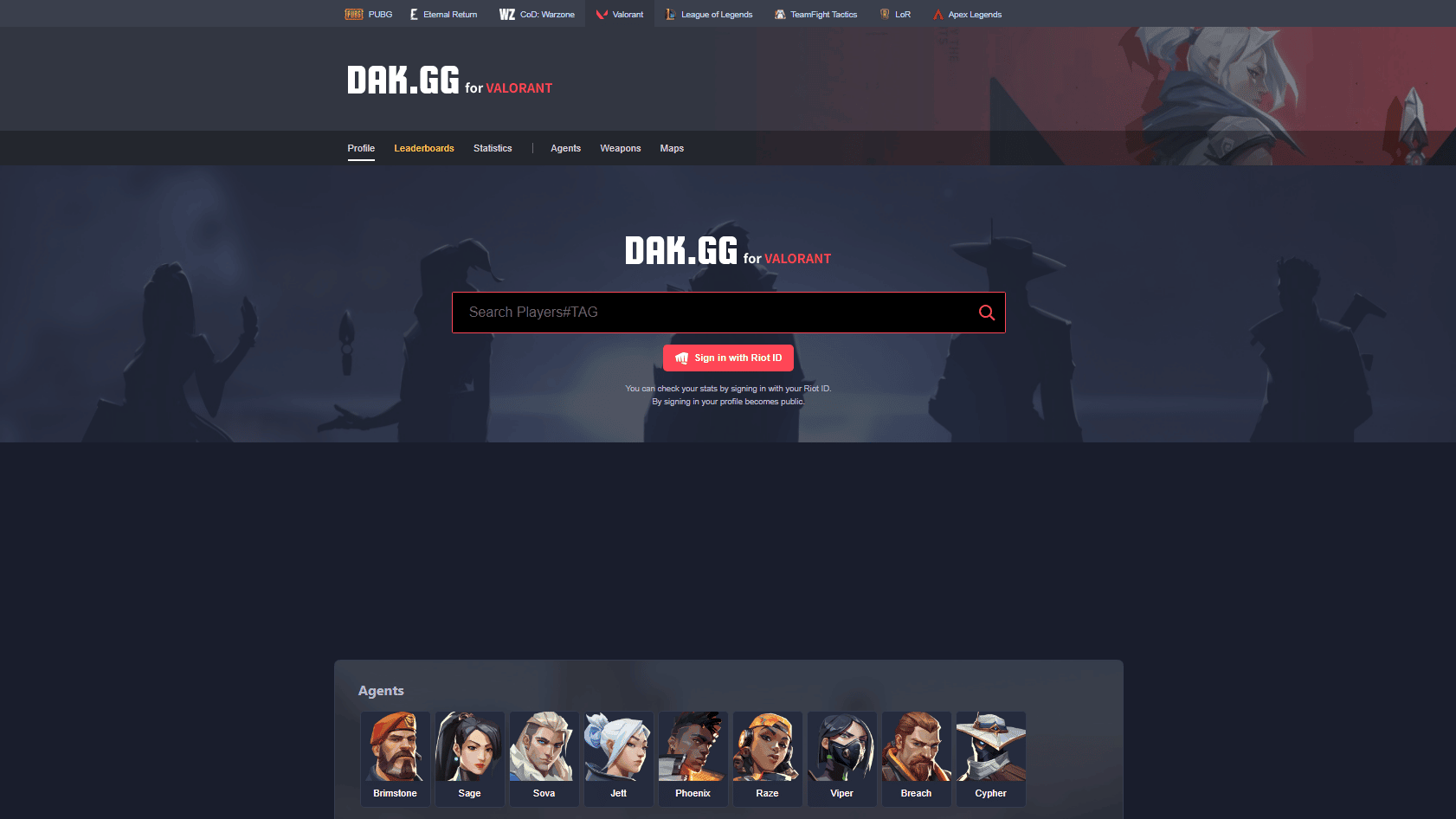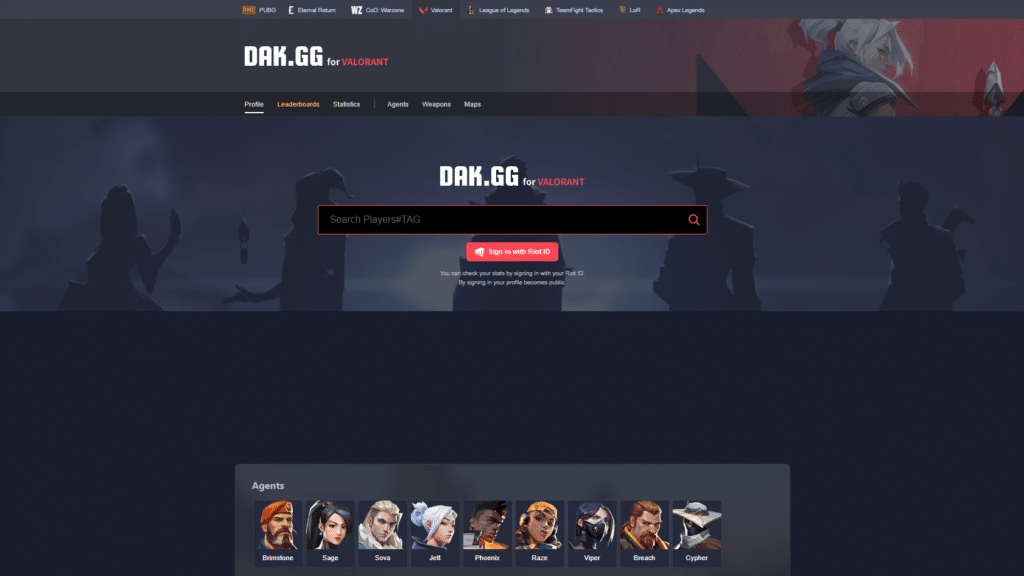 Automatically tracks your stats without an app running in the background
Easy to use and easily accessible.
Provides free Valorant stat tracking services.
Only allows you to view your account after logging in with Riot.
No in-game overlay or additional app for advanced stats.
Some matches may not be tracked
Dak.gg is a decent Valorant stat tracker. However, it lacks some more advanced features that the top trackers offer. It still tells you basic stats like win rate, ACS, KD, and headshot percentage. It also has a round details feature that tells you everything that happened throughout each round. Unfortunately, that's pretty much it.
The global top 500 leaderboards, stats for each agent, and the top agent comps that are picked the most are definitely nice to have. But they don't do much to improve your performance aside from maybe helping you choose a new Valorant agent to main.
Overall, it does have all of the basic things that you'll be looking for in a Valorant stat tracker. It should work well for players simply looking to find their stats and maybe flex it to a friend or two.
Mobalytics
In-depth player stats from around the world
Comprehensive library for agent lineups
Master Class guides from pro players
No in-game app available yet
Doesn't include premium features
Need to sync Riot account for stats
If you've been competing on the ranked ladder in any of Riot's games, there's a good chance you've heard of Mobalytics. With an emphasis on in-depth stats and player tracking, the app is well-known by players looking to climb. When it comes to VALORANT, their platform offers player profiles, leaderboards, a library of agent lineups by map, and more.
Mobalytics includes some unique tools that its peers do not have, such as Master Classes by fr0d, the coach of LOUD, and Brax, a streamer and former pro player for T1. Their profiles also include activity calendars to help you track your best and worst days, allowing you to really optimize your ranked journey to coincide with the days you perform best.
ValorantStats.xyz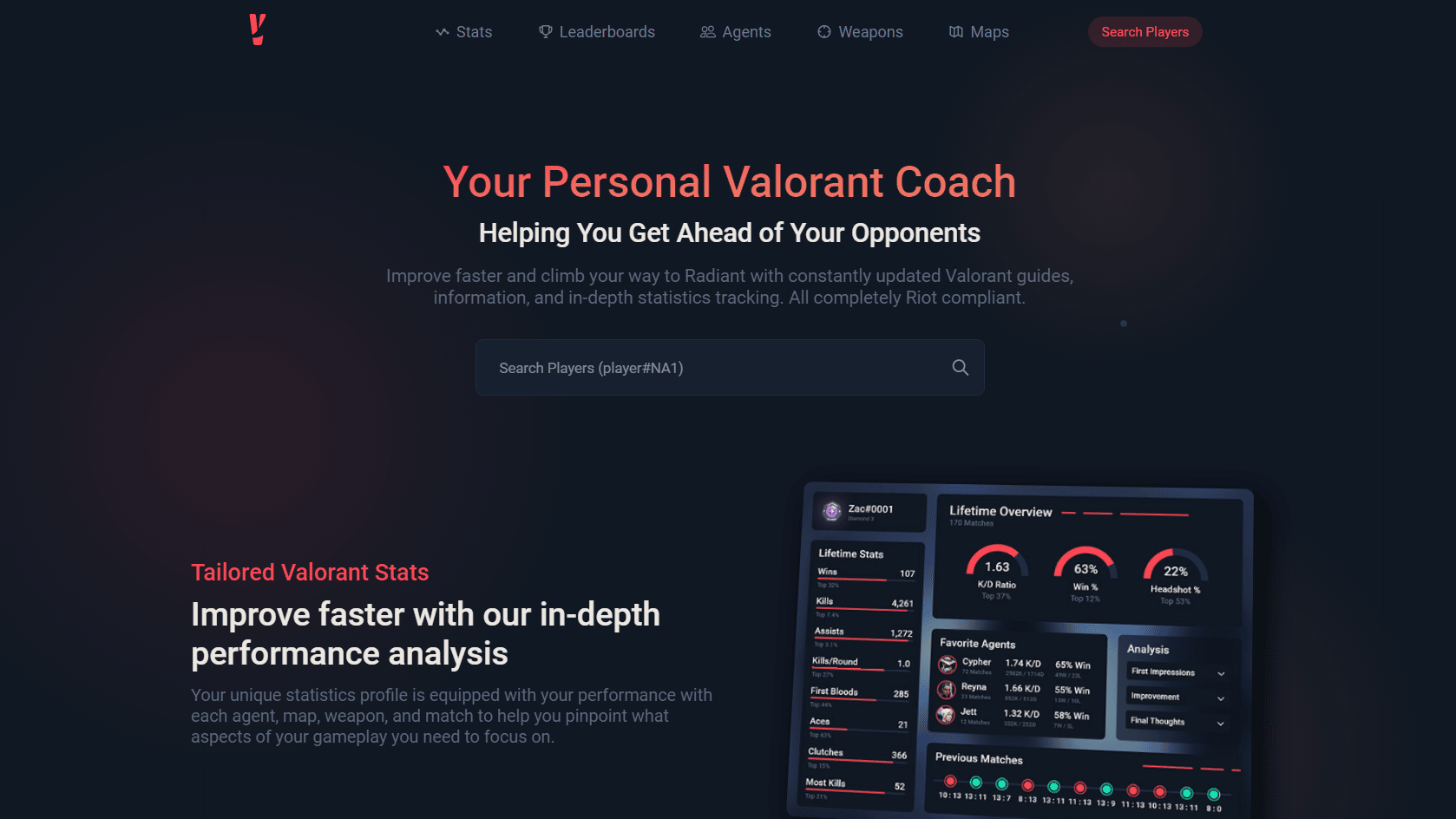 Provides all of the basic stats you want to see in a stat tracker.
Has a clean yet easy-to-understand UI.
Provides free Valorant stat tracking services.
Requires you to sign in with Riot to access your stats.
No in-game overlay or additional app for advanced stats.
Hard to search for your friend's or other players' stats.
Valorantstat.xyyz is a stat tracker that's pretty much as basic as it gets. It's perfect for casual players simply looking to find out their stats. It displays things like K/D ratio, win percentage, headshot percentage, favorite agents, and deadliest weapons.
The site also allows you to track all of your matches within a given act and shows you a detailed match summary. You also get some specific agent, map, and weapon information that allows you to find your main strengths and weaknesses.
One downside is that all stats are reset if you don't claim a specific profile. So make sure to authorize Valorantstats.xyz if you're looking to track long-term. Another reason why we have put this so low on the list is that it has sometimes been known to display wrong information and also has random bugs and glitches.
---
How to Use Stat Trackers in Valorant?
There are two ways by which we can use stat trackers in Valorant:
Website
The first method is simple. All you have to do is go to any of the above-mentioned websites and type in your name followed by the tagline to instantly access all of the information.
You can also choose to sign in to your Riot account to access your profile.
Client/Game Overlay
Note: These steps are for Tracker.gg. The method for the rest of the clients is pretty similar as well.
If you want quick access to the stat while you are playing the game, you can do that by using the overlay of the downloadable client for the stat tracker. To do that,
Go to the website and download the client.
Once you have it downloaded, Install the client.
Once you have it installed, run the game, and once you join a match, press the hotkey (Alt+T in this case) for the overlay and you should be able to see all of the stats.
---
Stat Trackers FAQs
Here are some of the most common questions surrounding stat trackers in relation to Valorant.
What Stat Trackers Do Pros Use in Valorant?
Tracker.gg and Blitz.gg are the most popular stat trackers among pros. They are the two services that offer the most to their users and extend their features beyond just simple Valorant stat tracking.
What is The Best Stat Tracker in Valorant?
The answer to that question is subjective. There are good things and bad things about all trackers, and it all comes down to personal preferences. If you ask us, we would tell you that Tracker.gg is the best stat tracker, closely beating Blitz.gg
Does a Stat Tracker Help Improve Your Aim?
No, a stat tracker is not a tool to improve your aim. You can get helpful insights about where you usually aim (head, body, legs), but that's as far as it goes. If you do want to practice and improve your aim, you can consider using something like an aim trainer that's made specifically for making your aim better.
Can I Get Banned for Using Stat Trackers?
Usually, the answer is no. Third-party stat trackers are usually browser-based so they're not interfering with your gameplay in any way. However, some apps do make you download their application which runs simultaneously with Valorant. However, if the app does not comply with Valorant's policies, there's a good chance you'll get banned.
Closing Thoughts
Tracker.gg is the best Valorant stat tracker in our eyes because of how easy it is to use. It also features an external PC app and a mobile app that offers a ton of extra features that other stat trackers don't have.
The other four trackers are also good in their own right. So make sure to check them out to see what fits your needs the most.