Riot Games regularly releases new skin lines and cosmetics to help keep the game interesting. They don't add any competitive advantage; they simply make your weapons look amazing. These cosmetics are a huge part of the game, and people are looking to wait just to get their hands on the best Valorant skins available. This is why many are left constantly checking their Valorant stores for updates.
Waiting for the skin you want can be a tedious task. You'll have to open up the game, log in, and go to the Valorant store. If it isn't there, you'll have to wait for the next rotation, do everything all over again, and hope it finally appears. However, waiting is definitely worth it once you get your hands on that precious Valorant knife skin.
Unfortunately, we can't control what appears in your Valorant store. However, we can help make checking it a little bit easier. Here are the best ways to check your Valorant store without opening up the game.
Best Ways to Check Your Valorant Store
Generally, you can check your Valorant store by manually logging into the game and going to your store. The Valorant store will always display four unique skins that you do not own and the currently featured bundle. Usually, there is only one featured bundle at a time, but there can be more during special events.
This method should be all right if you're planning on playing Valorant and logging into the game anyway. It's also fine if you aren't waiting for a specific skin and are okay with possibly missing skins that appear on your store.
However, I know that feeling of saving up money for that Valorant skin you've always wanted. It's going to be a long and gruesome process, especially if you aren't that lucky with the daily skin refreshes. Luckily, there are ways to make your life easier and allow you to check your Valorant store quickly.
Check Your Valorant Store Using Websites
Checking your Valorant store online is one of the easiest and fastest ways to find out if your most wanted skin has finally appeared. However, there are a few sites out there that will only steal your login information. So be careful which ones you log in with. Here's a safe website that we recommend.
Valorantstore.net is by far the most popular website that you can use to check your Valorant store. I mean, it's literally the name of the website. What more can you ask for? The service uses Riot Games' API to accurately show you the items in your store. This is also the same method used by most Valorant stat trackers to display accurate information.
Here are the steps to check your Valorant store using valorantstore.net:
You'll first have to connect your Discord account by clicking on the red "Discord" button on the upper left corner of the page. If you're already logged into your Discord account on PC, you'll only need to "Authorize" to continue.
Once you've successfully connected your Discord account, click on the "Settings" section. Here you can connect your Valorant account.
Fill in the correct login details, select your correct Riot Account Region, and then click "Submit."
Once you're done, click on the "Store" tab, and you should already see the contents of your Valorant store.
It displays the currently featured bundle, the four daily rotation skins, and the Night Market skins if it's available. Valorantstore.net also displays your current Valorant Points, Radianite Points, and the cost of each weapon skin on your store. It also allows you to directly share on Twitter with the press of a button.
All of valorantstore.net's code is publicly available on GitHub to ensure no funny business is happening behind the scenes. It's also trusted by thousands of users, with over 12,000 people in their Discord community alone.
Valorantstore.net also displays stats for each weapon that gets offered every day. This feature isn't for everyone, but if you're a huge stat head, you'll definitely appreciate this addition.
Next up, we have a project that was created by a high school (now college) student. At first, it was a small bot that was meant to be shared with friends. However, it grew over time and through the magic of social media. Once the Valorant community learned about its existence, it exploded in popularity due to its usefulness.
It's a bit more complicated to set up since it runs through Discord. But, once you have your account added and registered to the service, you'll never have to touch Discord again. Valorant.love also allows you to add multiple accounts and view Valorant stores without logging out.
Here are the steps to add your Valorant account to valorant.love:
Go to the site and log in via Discord.
Authorize the login and click on "Riot Accounts" under the Account Management section.
Click on "Add New Account." This will take you to a new web page with steps to invite the bot to Discord and register a Valorant account.
Invite the Valorant store bot on a Discord server and type in "/register" on any channel. The bot should then send you a PM on Discord.
Select your region, send in your username, and submit your password. It will also ask you for an encryption key. If you don't have the encryption key setting enabled, just type "n" to proceed.
The bot will then ask you if you want to save your login information. All you have to do is respond using the respective emojis, and you're good to go.
Once you're done adding your account, simply go to the valorant.love website, click on the "Skin Store" option, and choose your newly added Riot account. It will display all your available skins, and your available Radianite and Valorant Points.
Check Your Valorant Store Using Discord Bots
Another quick and easy way to check your Valorant store without launching the game is by using Discord bots. Discord bots are helpful tools that allow you to do various things via Discord. One of those things is checking your Valorant store.
Here are a few recommended Discord bots that you can use to check your Valorant store.
Valorant.love
Let's start off the list with a familiar name, Valorant.love. As we've mentioned above, Valorant.love requires you to connect your Discord account to fully use it. This also includes adding a bot to your server.
Since the bot is already on your server, you can use it to check your Valorant store. Simply type in "/store," and press enter on any text channel. This should be a pretty flawless process if you've already followed the steps above.
Unfortunately, the Valorant.love bot only displays a link to the Valorant.love website containing your in-game store items. It would've been nice to actually see a few photos or even just a bulleted list of the skins you get. At least it works, and it also has a Tweet button.
Even though the Valorant.love Discord bot doesn't exactly display the skins directly on your server. It's still worth mentioning because it's still a bot.
This next bot displays everything in your Valorant store directly on your chosen Discord server. It's perfect for those looking for a lightweight bot that's easy to use and instantly displays the information you need. It's a great bot to add to any Valorant-based Discord server.
Here are the steps you need to follow to check your Valorant store using the ValoMarket Bot:
Invite the ValoMarket Bot to your Discord server and give it the necessary permissions it requests.
Type "/login" into any open text channel and press enter.
Enter your login credentials in the username and password text box that appears, then submit.
Wait for ValoMarket Bot to process your credentials and return with the "Successfully logged in" prompt.
Use the Discord bot command "/shop" in a text channel.
Pray to the Valorant RNG Gods that you get your desired skin.
That's all you need to know. The ValoMarket Bot displays all four of the rotating skins available in your Valorant store. It also shows the prices in VP and how long before they get refreshed. Unfortunately, the bot doesn't support the featured bundles and doesn't show them alongside the other skins. You should still have enough time to purchase the bundles since they last for a long time.
ValoMarket Bot also supports switching between multiple accounts. This allows you to easily and quickly check the Valorant stores of your other accounts or your friends' accounts if they're comfortable sharing their credentials with you.
Valorant Shop is a basic Discord bot that allows you to see the current skins offered in your Valorant store. It sends photos of each skin, along with their corresponding price in VP. It also shows the number of hours left before the shop refreshes.
Aside from checking your Valorant store, the bot can also show you your current balance. Those are its main and only functions, which is why it's such a lightweight and easy-to-use Discord bot. It's simple, and it gets the job done.
Here are the steps to check your Valorant store using the Valorant Shop bot:
Invite the Valorant Shop bot to your server using the Discord link we've included above.
Go to a channel, type in "/login," and press enter.
Input the Valorant username and password of the account that you want to check out, then press enter. A "Successfully linked" prompt should appear if you entered the right credentials.
Type "/shop" in the channel and press enter. This can take a while, so make sure to give the bot some time to process. It should start sending the different skins and bundles currently available in your Valorant store.
Like the other websites and services on our list, the Valorant Shop Discord bot has its code publicly available on GitHub. This ensures that it's safe to use and that the developers aren't using the bot for things that the users don't know about.
Since valorantstore.net already requires you to connect your Discord account, it only makes sense that they also have a Discord bot. It's no surprise that the same creators of valorantstore.net also have a Discord bot and a mobile app. They truly are a huge help to the Valorant community.
Here are the steps to check your Valorant store using the Valorant Store Checker bot:
Invite the Valorant Store Checker bot to your preferred Discord server.
Use the command "/login" in any open text channel.
Input the right region and select "True" for the relogin option, then press enter.
A pop-up window should appear asking for your login credentials. Input your Valorant username and password, then submit. The bot should send a confirmation message if you've supplied the correct information.
Go back into the text channel and use the command "/store" to display your daily Valorant store.
The Valorant Store Checker Discord bot displays the featured bundle/s, your daily skin rotation, and their respective prices in VP. It also allows you to share your store with the press of a button. The button does take you outside of Discord, though.
It also shows if the Night Market is open or not, allowing you to know when skins are on sale. However, you'll need to use the "/nightmarket" command if you want to know the specific skins and their respective prices and discounts.
You can also check out the current featured bundle by using the "/bundle" command. This shows you the individual skins along with their prices. It also shows you the price of the bundle if you're looking to buy all of the skins.
Check Your Valorant Store Using Mobile Apps
The final method that you can use to check your Valorant store is by using mobile apps. This is for those people who really don't want to open Valorant or hop onto their computer.
It's also perfect for monitoring your daily skin rotations from afar from the convenience of your mobile phone. These apps are definitely handy to have, especially when you're away from your PC and can't check the Valorant store. Make sure to have a trustworthy friend ready to buy that skin you've been waiting for in case it finally appears.
First up, we have an app by a service that we've already mentioned above. Store Checker for Valorant is valorantstore.net's app that allows you to check your shop directly from your mobile device. Unfortunately, it's currently only available for iOS devices.
It's a free app created by Gordon Ng to allow the community to check their Valorant stores on the go. It also doesn't collect any data, allowing you to freely use the app without worrying about security breaches.
Here are the steps to use the Store Checker for Valorant app:
Go to your App Store on your device and search for "Store Checker for Valorant."
Download and install the app created by Gordon Ng.
Once the installation is finished, open the app, select the correct region, and log in using your Valorant credentials.
After logging in, you'll be prompted to download a few extra assets.
Once the download is finished, the app should automatically display your Valorant store.
The app displays the four daily rotation skins, along with their prices and the time remaining before the next refresh. Store Checker for Valorant also includes the Night Market (if available) and your current Radianite and Valorant Points available.
They also have a useful skin collection database that allows you to search for your favorite Valorant skins. Each entry shows the skin, its variants, and the tiers/ effects that come with it.
Store Checker for Valorant is created by players for players, which means they know the struggles in the daily life of a Valorant player. They also listen to the community, so if you have any suggestions or want to donate, make sure to check their Discord server out.
Finally, we have VShop for Valorant. This app can be used on both Android and iOS devices, allowing you to easily check your Valorant store no matter which device you use. It's also very lightweight, requiring only a few MBs worth of downloads. This makes it great even for low-end mobile device users.
Here are the steps to use the VShop for Valorant app:
Open your App Store (iOS) or Google Play Store (Android) and search for the VShop for Valorant app.
Download the app and wait for it to finish installing.
Open the app and sign in using your Riot ID. This should take you to the Riot Games website.
Log in using the Valorant account that you want to check and click submit.
After successfully logging in, the app will display the featured bundle first. Click on the burger menu in the top right corner and select "shop" to check your Valorant store out.
Like the other services on the list, VShop displays your daily skin rotations, their respective prices, and the amount of time before the next store refresh. It also displays the featured bundle, along with their respective prices.
It also has a Night Market tab that allows you to instantly see all your offered skins and their discounts and prices. One of the best things about VShop for Valorant is that they also include the guns' tier upgrades. You can watch videos that show the specific weapon skin's additional effects and animations. This really helps decide when choosing between skins in your store.
When Does the Valorant Store Refresh?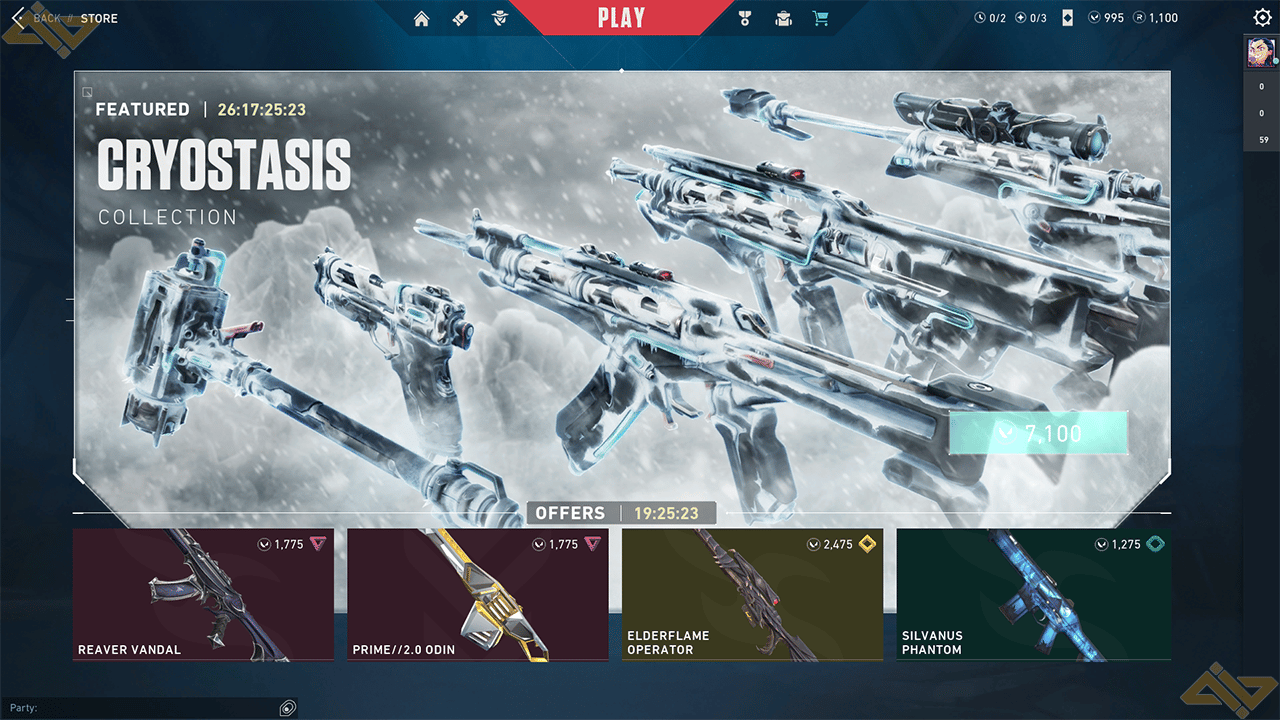 The Valorant store refreshes once every day at exactly 5:00 PM PST. Feel free to convert it to your local time zone since it should be the same no matter where you live. It's great to have it be a fixed time; at least you'll always know when the store refreshes.
The store always comes with four different skins from previous collections. This means that you'll at least get four chances at getting your preferred skin daily. If it doesn't appear today, just try and check the Valorant store again tomorrow.
Skin bundles are a different story, though. Riot Games usually releases a new bundle every patch, offering discounted rates and a variety of freebies if you decide to purchase the entire collection. This also means that most bundles last for around 2 weeks or until the next patch arrives.
Once a bundle exits the store, you can no longer purchase the bundle as a group, and the other cosmetic additions are forever gone. You can only hope for the skins to appear again in your Valorant store as part of your daily rotations.
Other times, Riot also releases limited-time bundles that usually last for longer than a patch. These are usually reserved for special events or collaborations in the Valorant world. A few examples include the Valorant Champions bundle and the Arcane Collector's Set. These skins will never return to the store and won't be included in the Night Market as well.
Skins included in any Act's battle pass will also never appear in the Night Market or your Valorant store. So make sure to complete that battle pass if you want a specific skin.
Conclusion
Those are all the different ways to check your Valorant store without even needing to open Valorant itself. All of these methods are tried and tested and should work for everyone. All you need is an internet connection, your Valorant login information, and a device to check your Valorant store.
Waiting for a skin that you've saved up for can definitely be a long and grueling process. Luckily, these different convenient methods make checking your Valorant store a lot easier. Let's just hope that you get good RNG and that you don't have to wait for long.
Did we miss another method to check your Valorant store? Make sure to comment down below.