Have you ever wondered how many games you've won over your whole Valorant history? Read our guide and find out the best ways to track your Valorant Win Rate.
Valorant recently celebrated its first birthday. That means that you've played Valorant for over a year now if you started from day one. That's hundreds if not thousands of hours playing one of the best tactical competitive shooters in the market today.
There are a ton of things still missing from Valorant. Players are asking for an in-game replay system, Valorant map queueing, and even built-in stats. At this point, Riot is still developing Valorant and slowly rolling out updates. It's only been a year, and most games take at least a few years before being 100% complete.
During the early days of Valorant, we weren't able to see any of the competitive ratings. Riot then updated it to have a Rank Rating, giving us a good idea for when we would get promoted or demoted.
All fans have to do is wait. I'm sure that Riot is working on all the important features and would release them sometime in the future. There are a few workarounds to some of the extra features, though.
Some services can help you track your stats by simply logging in or downloading an app. Here are some of the best ways to track your Valorant win rate.
Different Ways to Track your Valorant Win Rate
Since Valorant doesn't support tracking stats natively yet, we'll have to rely on third-party sites and applications. There are 2 main ways to track your stats. You can do it by simply signing in using your Riot ID on trusted sites. You can also simply download an overlay app and let it track your stats while playing Valorant.
Best Online Websites to Track your Valorant Win Rate
These trackers can fully be used and accessed using a browser. They also have mobile-friendly websites, which means you can check your stats on the go. These are two of the best ways to track your Valorant win rate using online websites.
Tracker.gg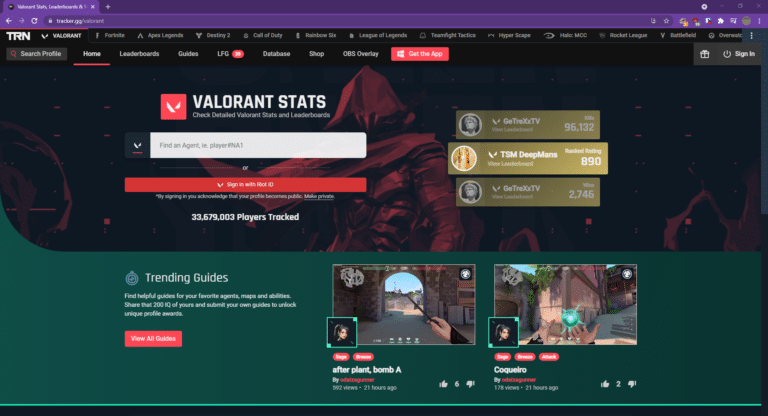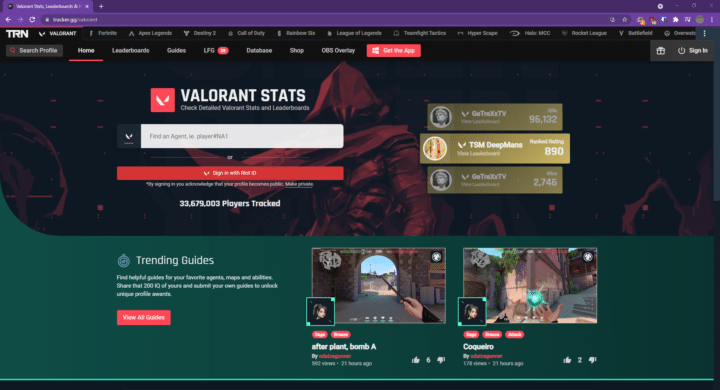 Tracker.gg is a website that can help you track your stats and win rate across all acts and episodes. All you have to do is sign in with your Riot ID, and it should automatically show your stats.
The stats all have separate tabs, divided into each episode, act, and one All Acts tab. It tracks your damage/round, K/D Ratio, headshot percentage, and your win rate. Some minor stats like kills, headshots, deaths, assists, clutches, flawless, most kills, and aces are also displayed.
You can also see your top agents, top weapons, and your win rate per map. Finally, you can also see your total time played, and the total number of matches played.
Tracker.gg also has other valuable features such as leaderboards, guides, looking for group (LFG), a database of all the items in Valorant, and useful OBS overlays for streamers. They offer most of these things for free and only require you to sign in to their website.
Tracker.gg is one of my personal favorites and the one I like using the most. It's easy, it's convenient, and it covers numerous games. It also tracks your stats for Fortnite, Apex Legends, Destiny 2, Call of Duty, Rainbow Six, and League of Legends, among many others.
I suggest using Tracker.gg for casual gamers who just want to find out their current stats. It's also a good start for people who don't want to download an application simply to track their stats.
Dak.gg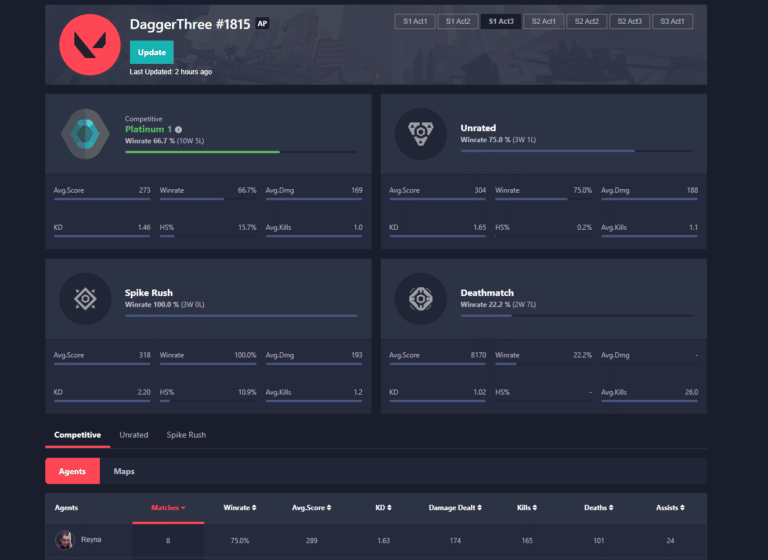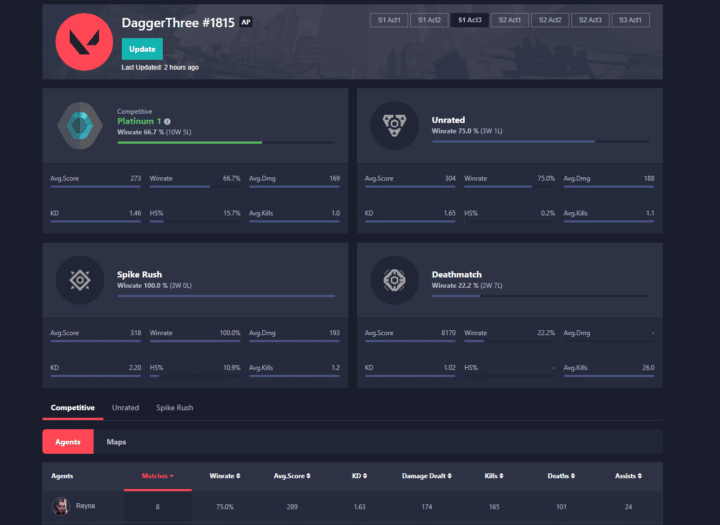 Dak.gg is another online-only stats tracker. It shares some similarities with Tracker.gg, but is overall simpler and tracks fewer stats. To use Dak.gg, you simply have to sign in with your Riot ID, and you should be good to go.
The site displays every stat from every episode and act. Unfortunately, it doesn't include the beta period and only shows stats from Episode 1 Act 1.
Dak.gg splits everything up into the 4 main game modes. These are Competitive, Unrated, Spike Rush, and Deathmatch. Each tab shows your average score, win rate percentage, average damage, KD ratio, headshot percentage, and average kills.
The competitive section also shows your current rank and the specific number of wins and losses for that particular act.
When you scroll down, you can see your most played agents for the act you chose. It also shows the win rate, average score, KD ratio, damage dealt, total kills, total deaths, and total assists for each agent.
There's also a "Maps" tab that contains your stats for each map, including the newest one, Breeze. Here you can see the number of matches, win rate, the total number of victories, total defeats, average score, and ADR per map.
Finally, there's a match history section that displays your previous matches. They are divided according to date and can be filtered based on the different game modes.
Overall, I think that Dak.gg is very straightforward and is great for people who want to see their stats right away. It's simple, easy, and fast. I personally don't like the UI that much, but it's good enough for basic use.
Best Overlay Applications to Track your Valorant Win Rate
These trackers require players to download specific applications and run them while playing the game. They give you a more in-depth breakdown and offer more useful features. These are two of the best ways to track your Valorant win rate using overlay applications.
Blitz.gg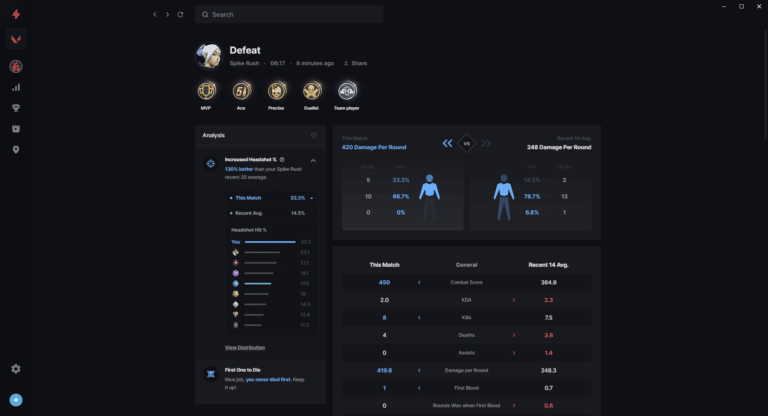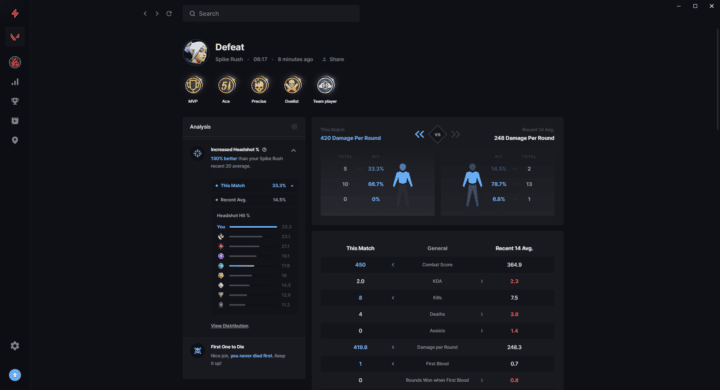 First of all, you'll have to download the Blitz app, which you can find using their website. After installing the app, you'll have to create a Blitz account. Creating an account is very straightforward, so you should be able to set one up in no time.
Once inside the app, you won't be able to see any of your stats. Simply open your Valorant account while the Blitz app is still in the background to display your stats.
These stats include your win rate, rank, KD ratio, damage per round, headshot percentage, combat score, and econ score. There's also a summary of your last 20 games together with win rate, KD ratio, average score, agent win rates, and average headshot percentage.
There are also some available metrics for agent stats, weapon stats, and map stats. Which is quite similar to the online or website trackers.
The best thing about Blitz.gg is the abundant availability of guides for each agent. This allows players to learn lineups on the fly for different agents for each map. This can greatly help you increase your win rate and have the edge over your opponents.
Valorantics.gg on Overwolf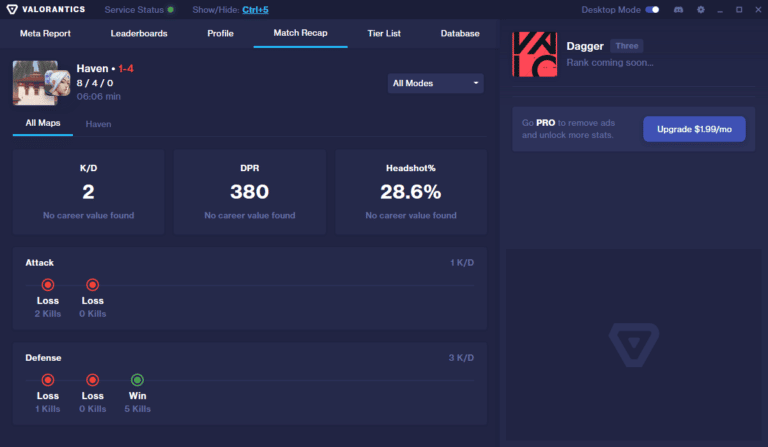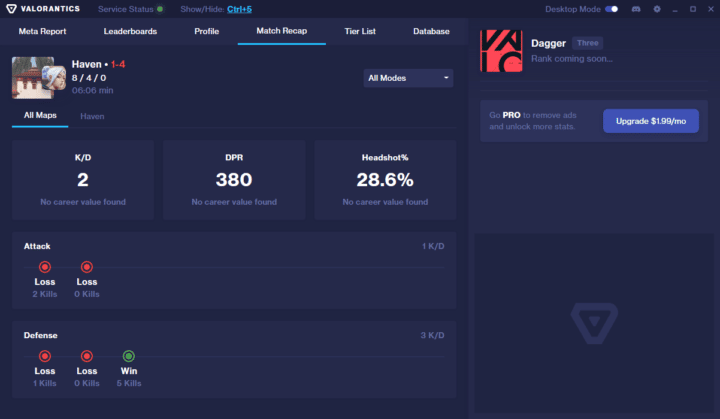 The final way to track your win rate in Valorant is by using an overlay called Valorantics.gg through Overwolf. Overwolf is a powerful platform where users can create, share and monetize apps and mods for different games.
Valorantics.gg is a Valorant tracker application on Overwolf. It displays your win rate, total number of wins, total kills, KD ratio for both attack and defense, total matches, total time played. It also has additional stats like highest kills, death per round, and death per game, among many other personal statistics.
The best thing about using Valorantics is the other Valorant applications that come with Overwolf. These include things such as gameplay recorders, instant replays, and clip editors, among many others.
The biggest downside to Valorantics is that it doesn't track stats if you don't have it running in the background. This means that it'll take up some processing power. However, it has some valuable features like a headshot percentage overlay in-game and a game overview after the match.
The Best Way to Track Your Valorant Win Rate
It's essential to keep your win-rate high if you are looking to climb the ranks. Which makes these trackers important to all Valorant players.
Casual players who are just curious about their stats would be more than fine using the two different online trackers. The online trackers are also great for competitive players who just want to keep track of their win rate.
The overlay applications are perfect for high elo players or players who are focused on trying to improve. Getting the best Valorant mouse or the best laptops or CPUs aren't enough to climb the ranks. Valorantics and Blitz are great applications that you can use to improve your game incrementally.
I think that the additional features that overlay applications have are also great for streamers and content creators as well.
At the end of the day, all these trackers are great in their own right. Simply pick a tracker that fits your needs. Some people want to record their games for reviews, while others just want to simply keep track of your win rate.