You can easily get overwhelmed in a game where each gun has a wide selection of skins that range not only in price but also in design and theme. CS2 weapon skins can reflect your personality and are one of the main ways to stand out in a lobby.
With over 1,000 hours in CS2 under my belt, I've seen my fair share of skins – some flashy, some sleek, all unique. I've handpicked my top favorites to share with fellow enthusiasts. Gear up as we dive into our elite selection of CS2 weapon skins that stand out.
AK-47 | Nightwish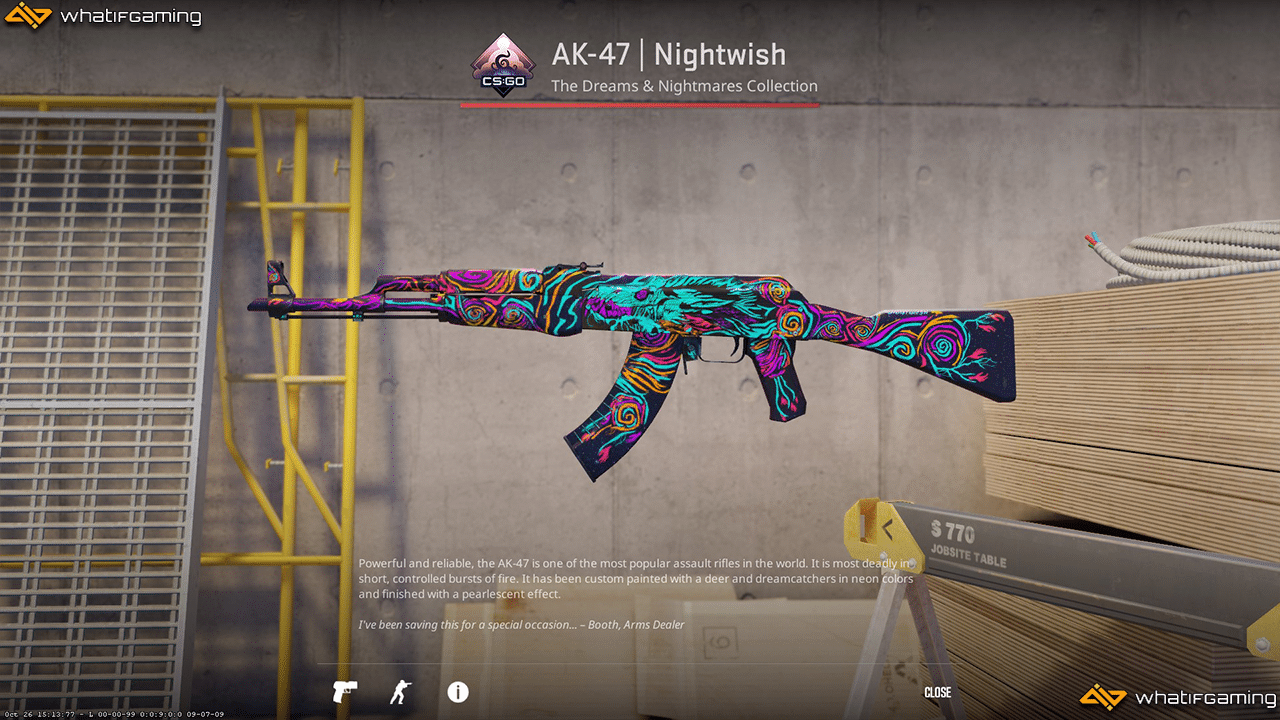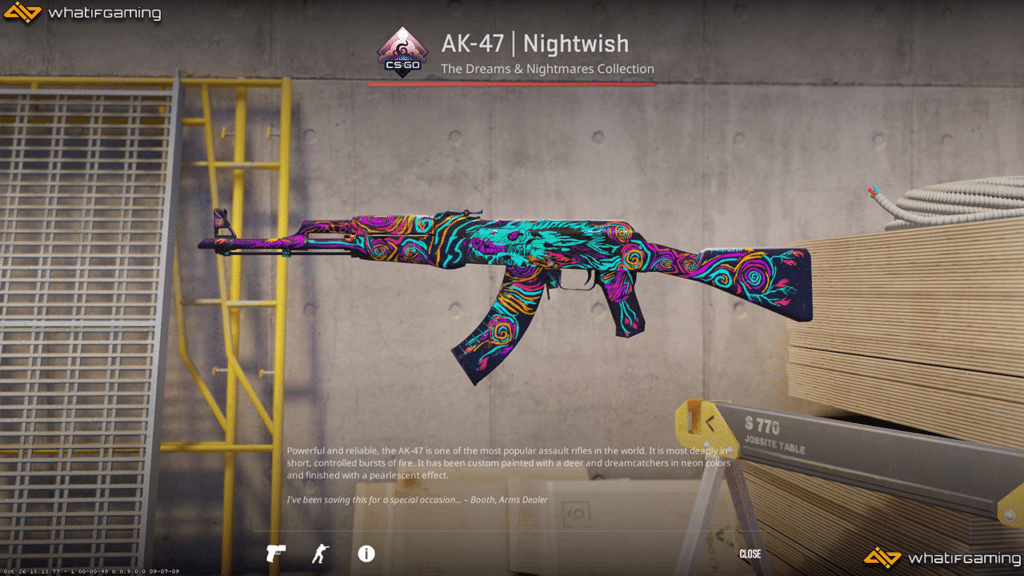 Release Date: January 20, 2022
Case: Dreams & Nightmares Case
Price: $6 – $97
The AK-47 Nightwish skin is one of CS2's most colorful AK-47 skins. It's covered in various neon colors that stick out no matter where you are. Unfortunately, it's not the best skin to use when you're trying to camouflage yourself. It's a pretty stunning (and blinding) skin, though, and looks amazing both near and far.
Butterfly Knife | Marble Fade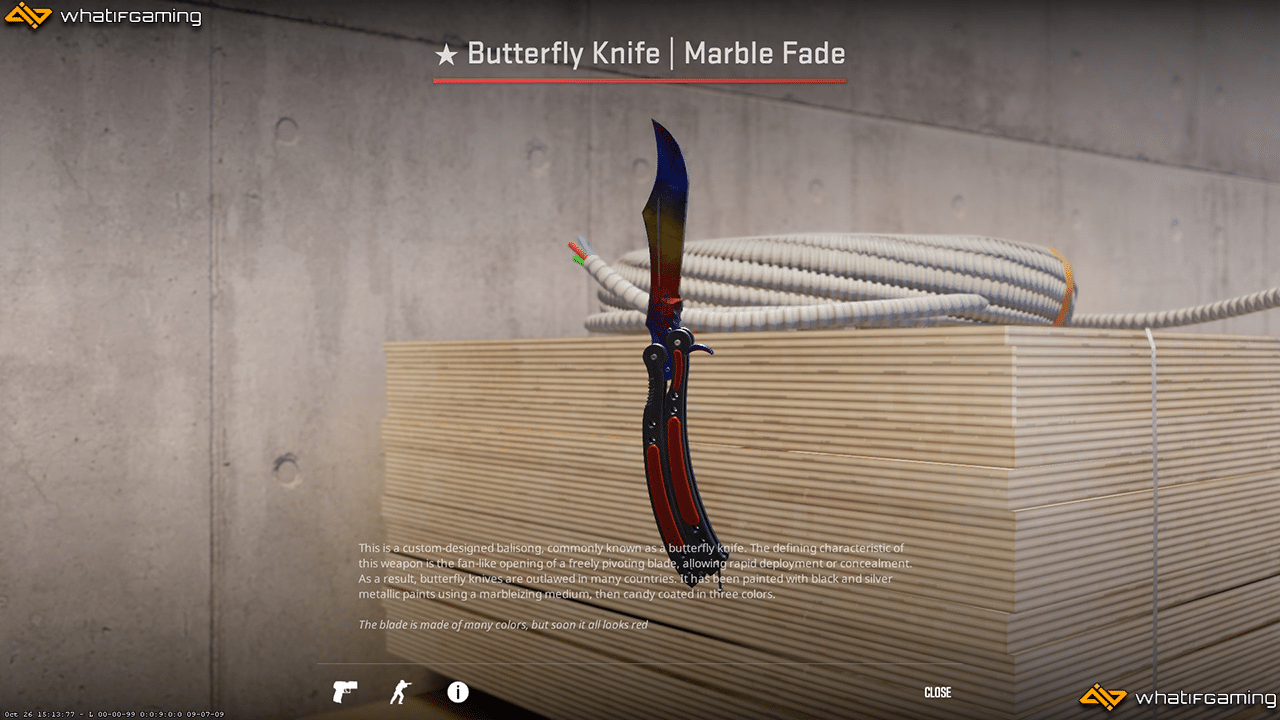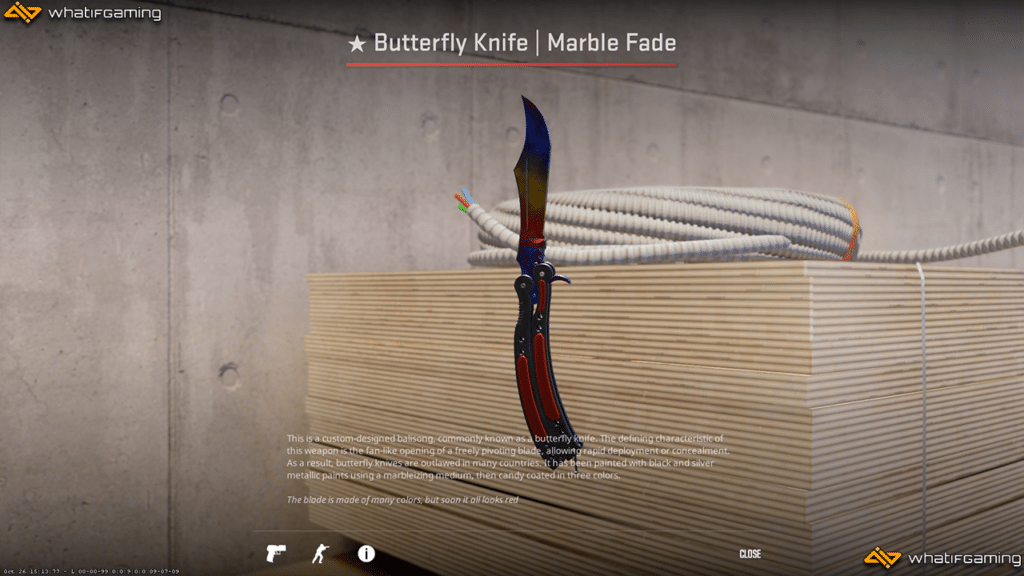 Release Date: March 15, 2017
Case: Spectrum and Spectrum 2 Cases
Price: $1850 – $2010
I don't think that the Butterfly Knife Marble Fade needs any explanation. It's one of the most popular and desired skins in the entirety of the game. The gradient colors, smoky texture, and stylish Butterfly Knife base culminate for exceptional skin in CS2.
AWP | Chromatic Aberration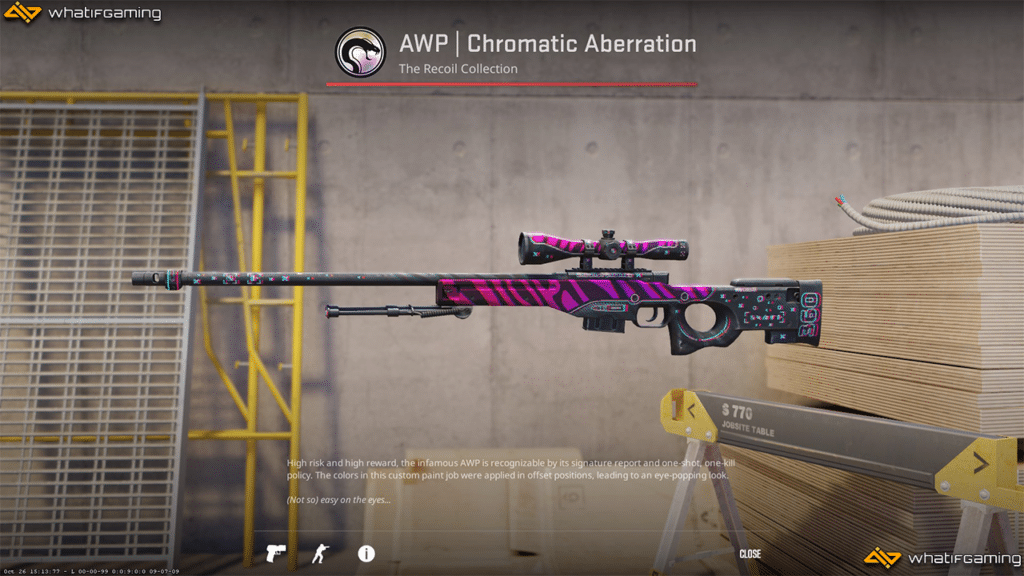 Release Date: July 1, 2022
Case: Recoil Case
Price: $6 – $25
Next up, we have a standout AWP skin with Chromatic Aberration. Typically, AWPs are coated with a plain military green color; instead, it's decorated in neon pink shades. The Chromatic Aberration AWP brings much life to the weapon, even though you often take your enemies' lives with it.
MP9 | Starlight Protector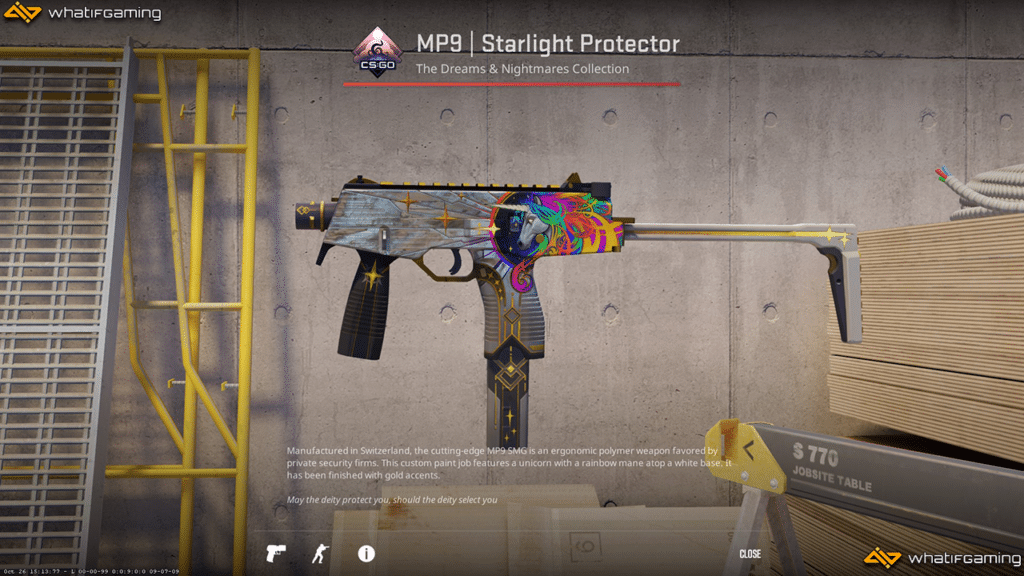 Release Date: January 21, 2022
Case: Dreams & Nightmares Case
Price: $2 – $21
A rainbow-haired unicorn is the main highlight of the MP9 Starlight Protector as it projects a majestic look. The weapon has a white finish with silver, grey, and black accents and tops off the aesthetic with sparkling golden stars.
USP-S | The Traitor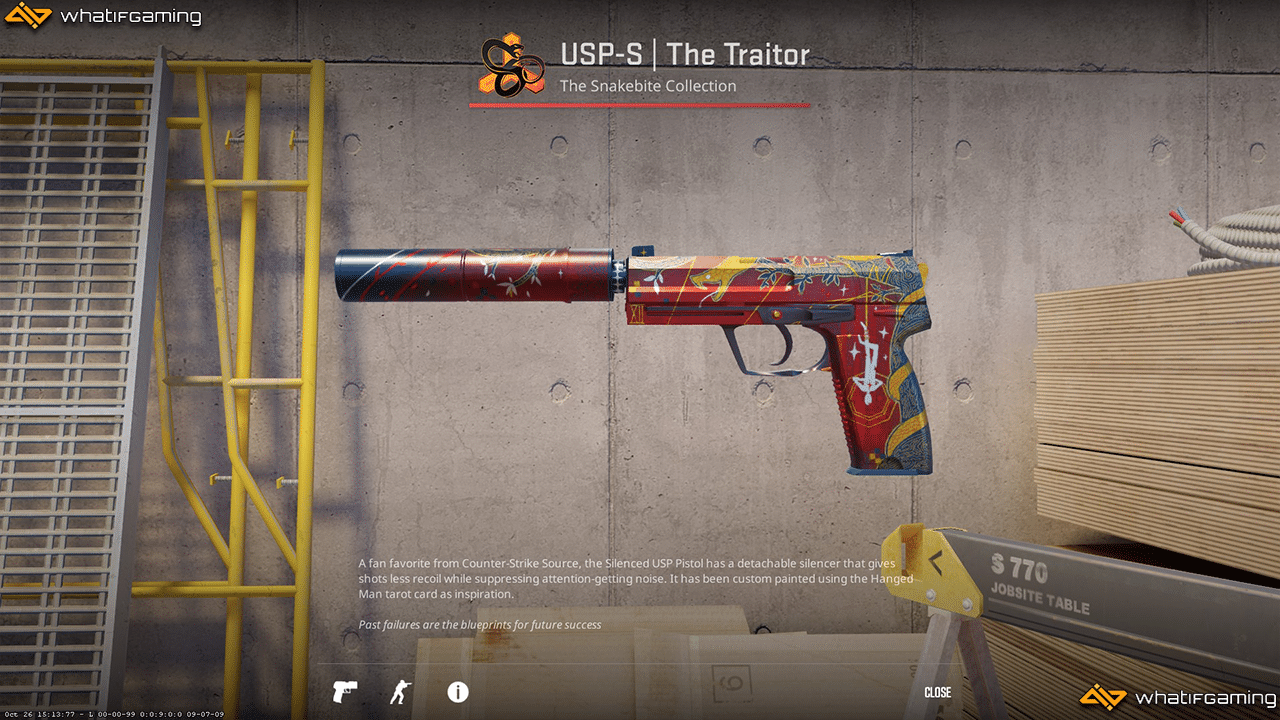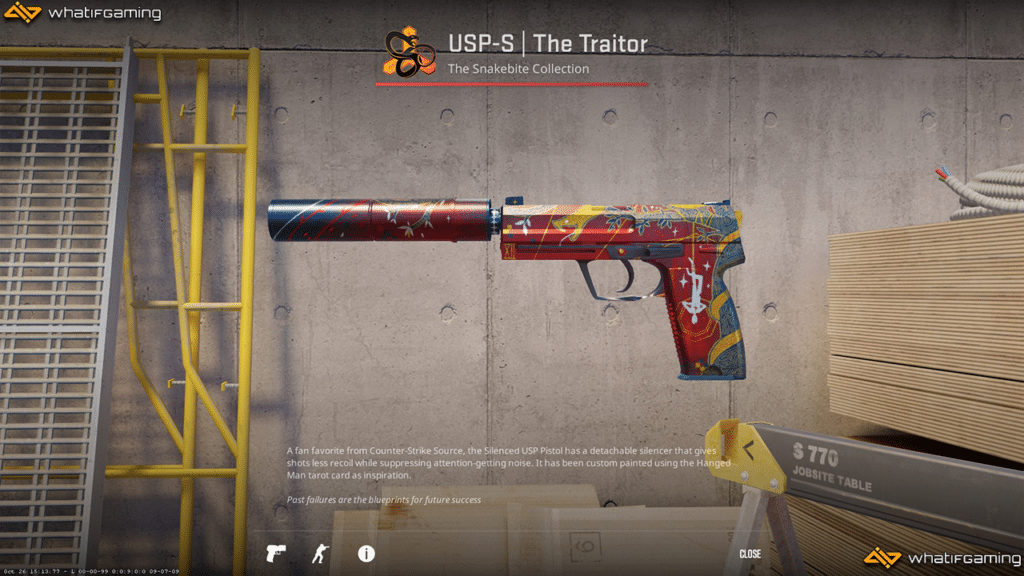 Release Date: May 3, 2021
Case: Snakebite Case
Price: $7 – $48
The Traitor is a tarot card-inspired USP-S skin. It features a red and gold color, bringing luck and success to those who use it. The Traitor is perfect for those clutch lucky shot situations. It's also custom painted with an image of the Hanged Man tarot card with a golden snake and tree branches wrapped around the gun.
Bayonet | Gamma Doppler
Release Date: June 15, 2016
Case: Gamma and Gamma 2 Cases
Price: $790 – $930
It's not surprising to see another knife appearance this high; knives are expensive for a reason. The Bayonet Gamma Doppler presents another metallic gem-like finish that perfectly leverages CS2's engine. It glistens when light shines upon it and is a delight to look at.
AWP | Asiimov
Release Date: February 20, 2014
Case: Operation Phoenix Weapon Case
Price Range: $60 – $260
It's fitting to find the AWP Asiimov on a list of the best weapon skins in CS2 because of its insane popularity. It creates a futuristic look through its glossy white base, along with orange and black accents.
M4A1-S | Golden Coil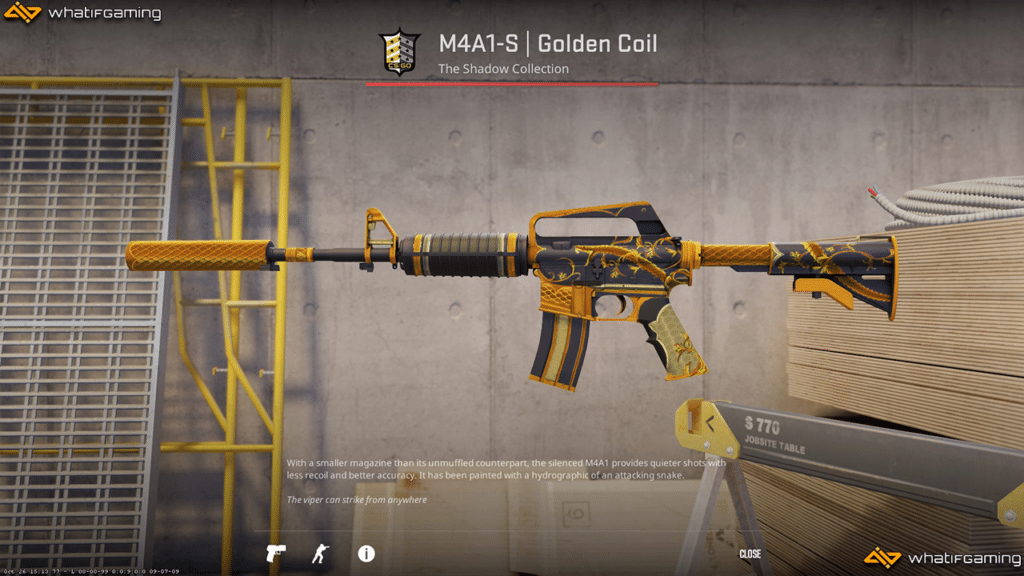 Release Date: September 17, 2015
Case: Shadow Case
Price: $26 – $370
If elegance is more of your style, then the M4A1-S Golden Coil will suit you well. Its main focal point is an aggressive golden viper, ready to strike at anything that comes its way. The golden snakeskin-like decor and floral accents give the majestic look it deserves.
Karambit | Doppler
Release Date: January 8, 2015
Case: Chroma Case, Chroma 2 Case, and Chroma 3 Case
Price Range: $1,150 – $1,300
The Doppler skin is already gorgeous; combine it with the community-favorite Karambit, and it instantly becomes a top-tier CS2 skin. The Karambit Doppler's metallic finish is mesmerizingly beautiful. I'd be crucified if I didn't include it on the list.
Glock-18 | Gamma Doppler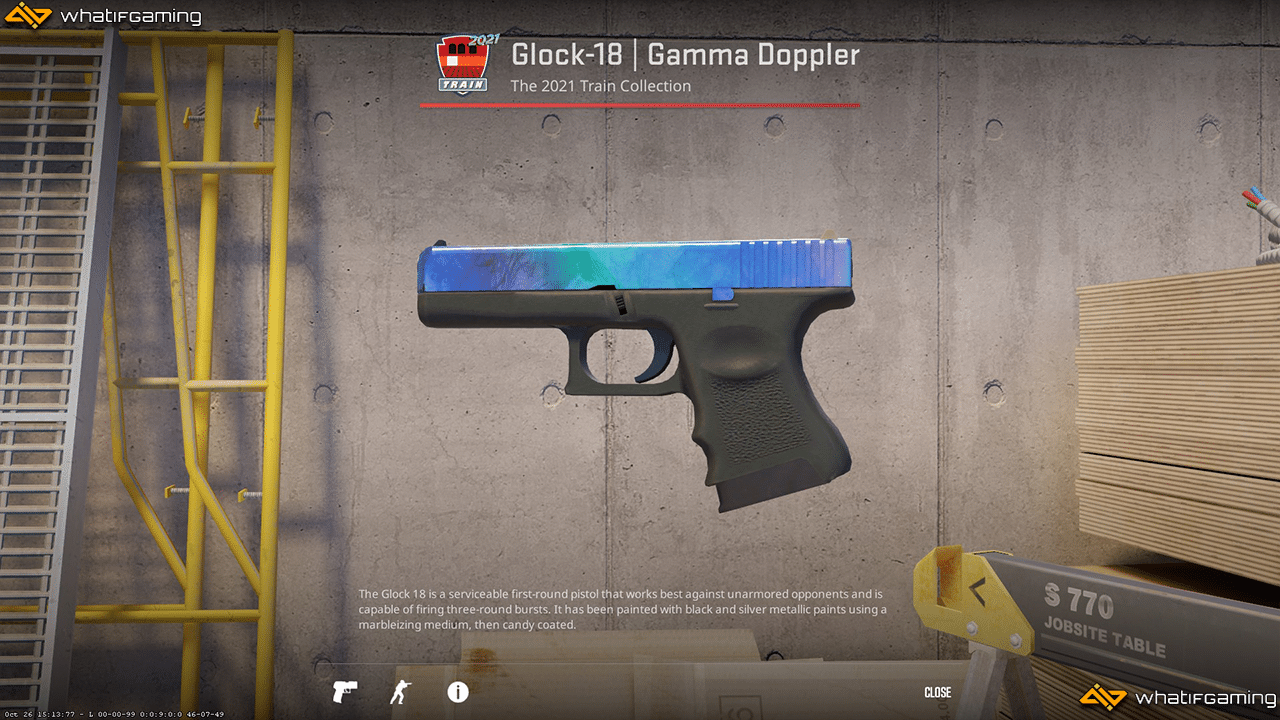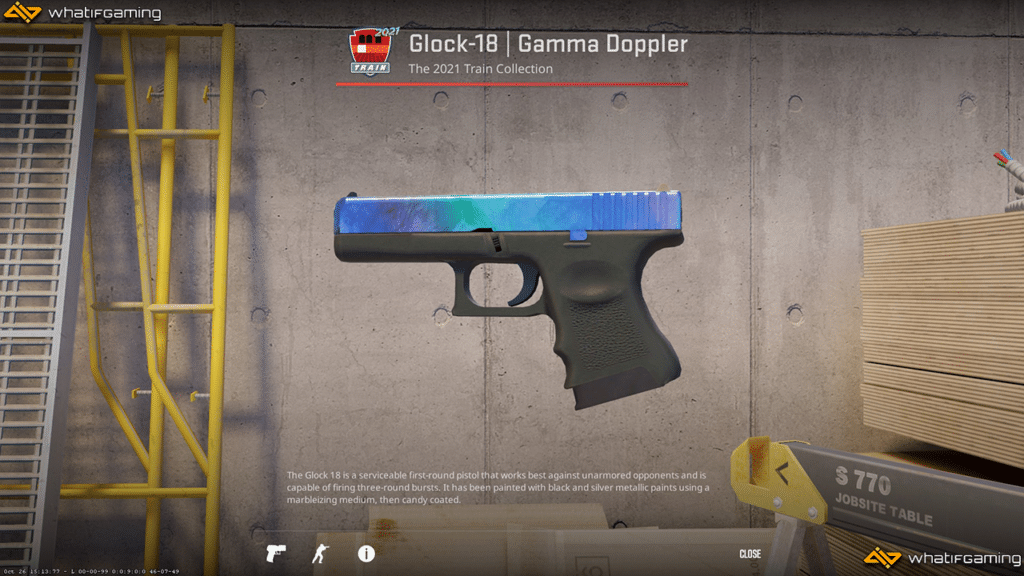 Release Date: September 17, 2015
Case: Shadow Case
Price: $26 – $370
Dopplers will always be relevant in the world of CS. The Glock-18 Gamma Doppler provides a refreshing canvas for a skin that's typically seen in knives. It's already a step above other pistol skins but shines brighter with CS2's revitalized engine.
AK-47 | The Empress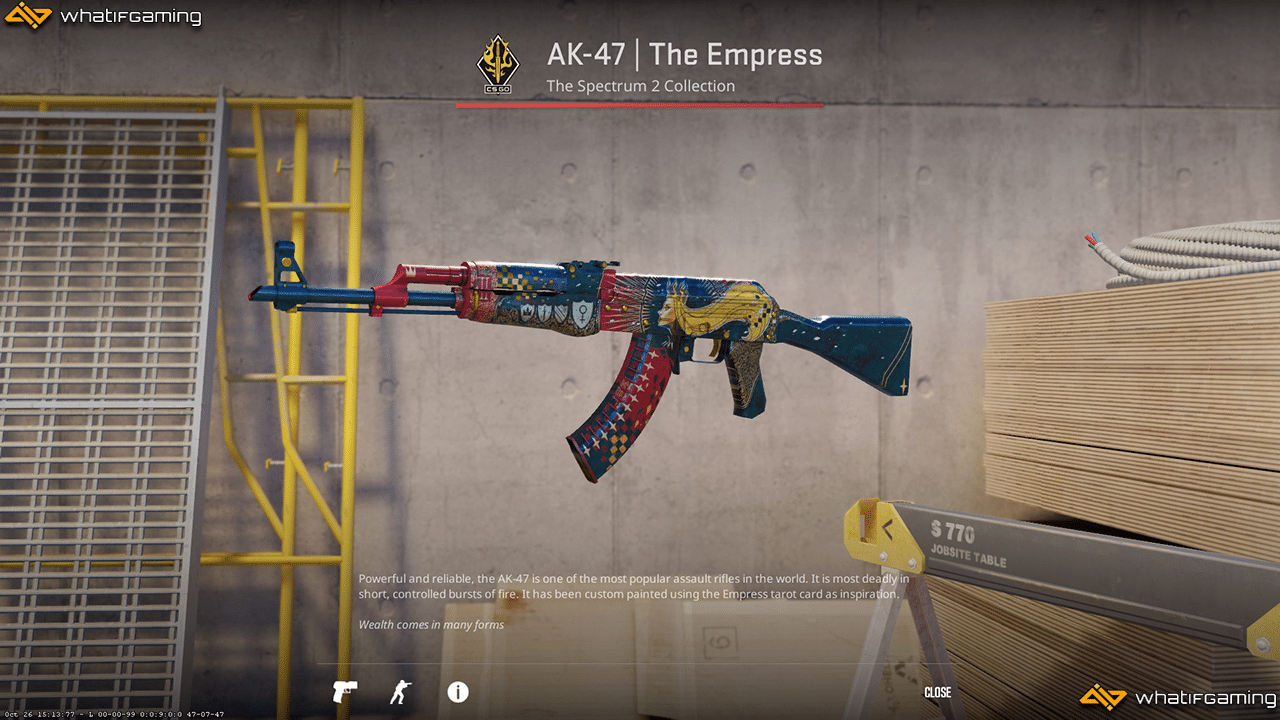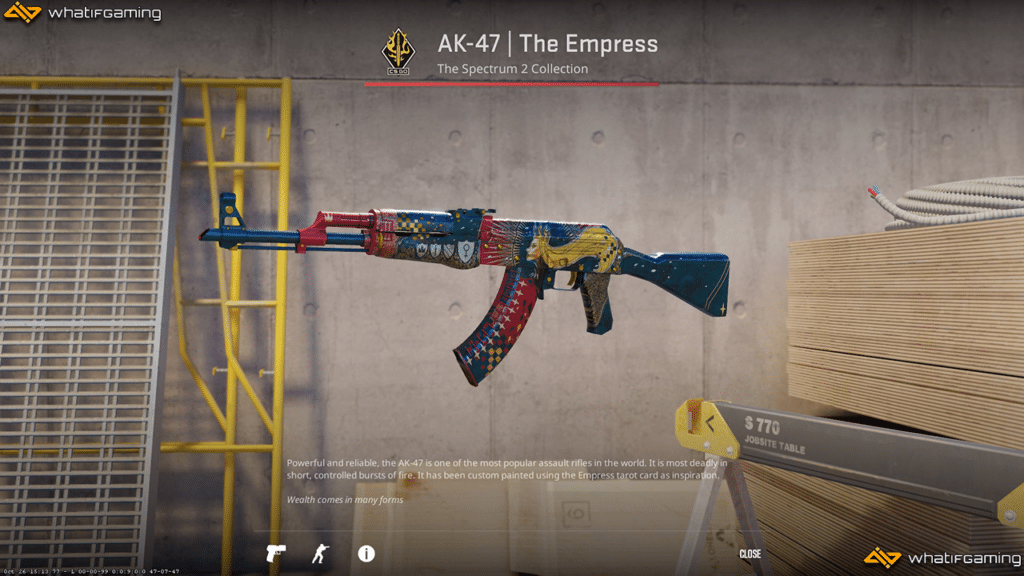 Release Date: September 14, 2017
Case: Spectrum 2 Case
Price Range: $20 – 315
We have yet another AK-47 skin. This time, it's called "The Empress," and it truly lives up to its name. It has an insane-looking design that was heavily inspired by the Empress tarot card. It prominently features the Empress on the gun and has an excellent combination of blue-green, red, black, and gold colors.
M4A4 | The Emperor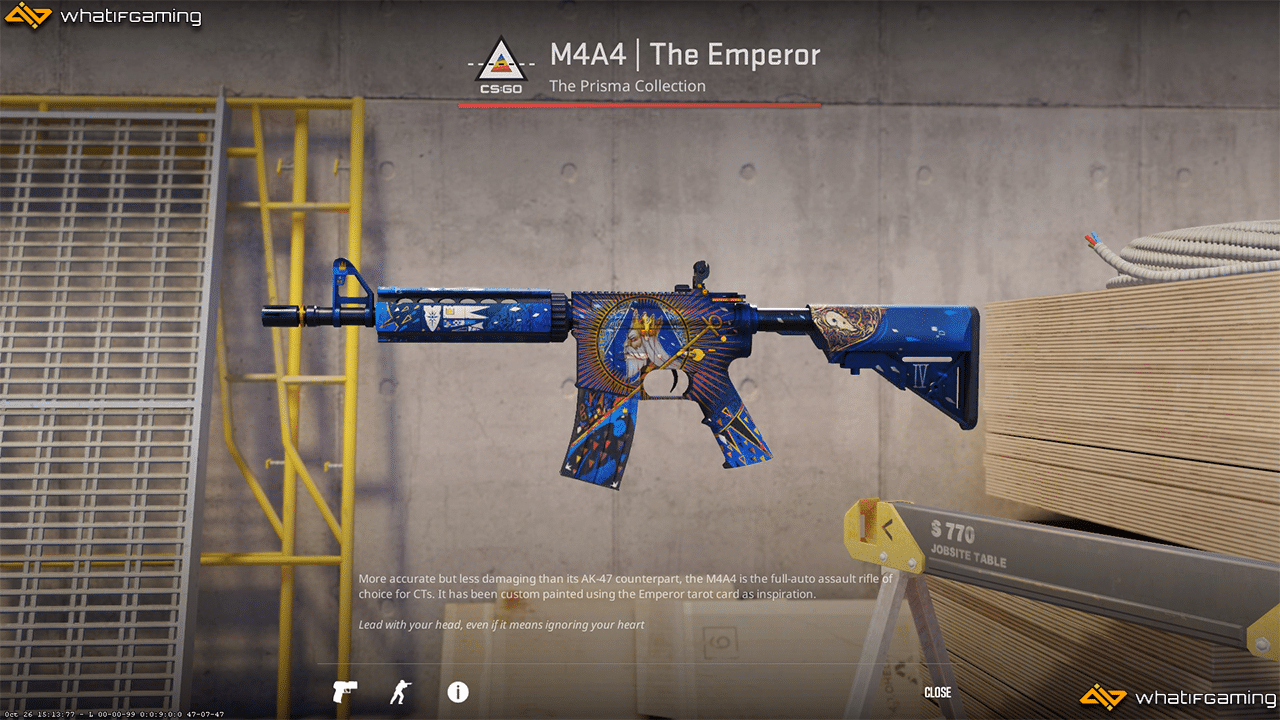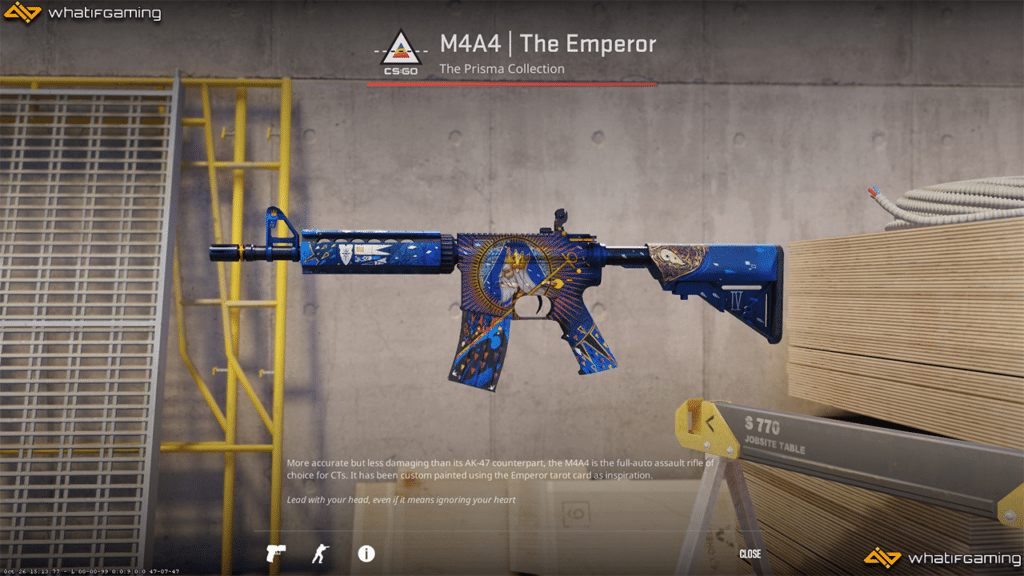 Release Date: March 13, 2019
Case: Prisma Case
Price Range: $7 – $360
Of course, we can't have an Empress without an Emperor. The M4A4 Emperor is the counterpart of the AK-47 Empress skin. It's heavily inspired by the Emperor tarot card. It features an amazing combination of blue, black, white, and gold colors and focuses on the Emperor in the middle.
Glock-18 | Bullet Queen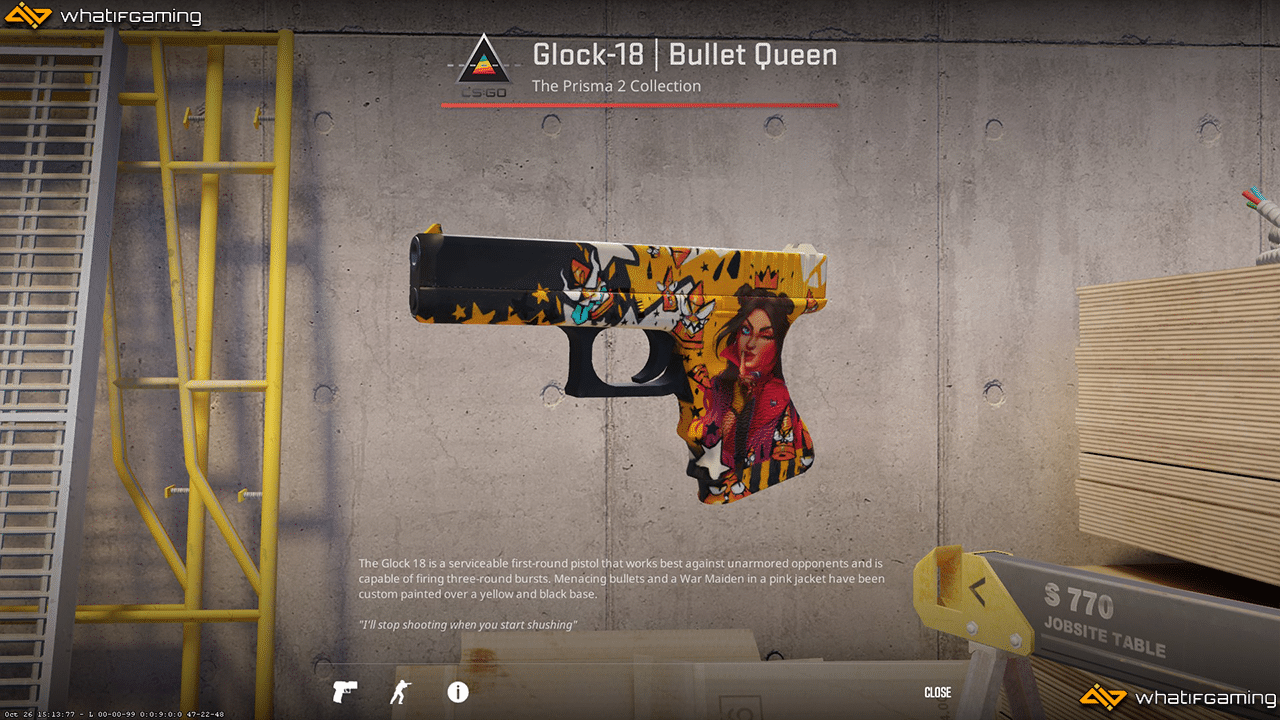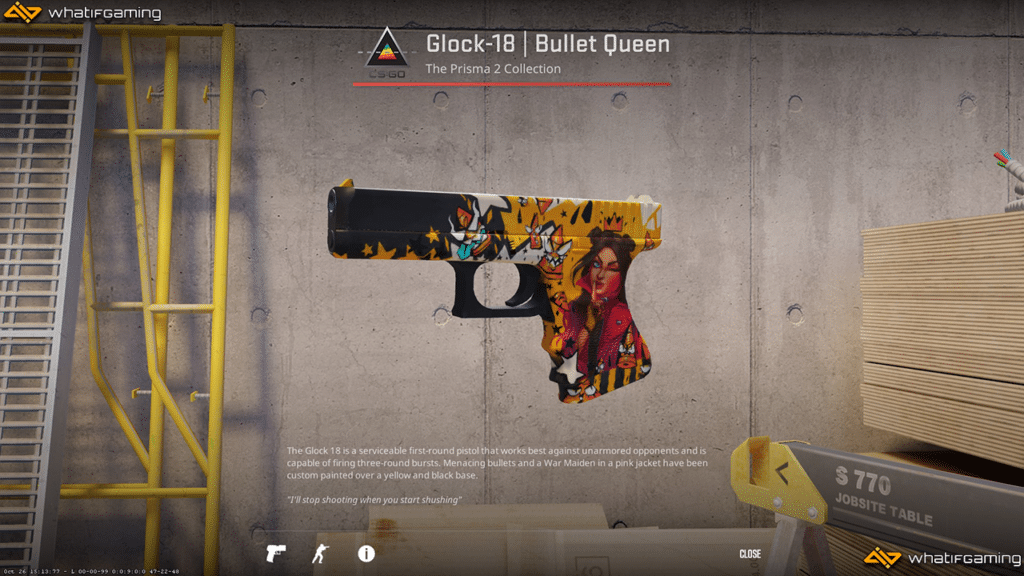 Release Date: March 31, 2020
Case: Prisma 2 Case
Price Range: $4.00 – $155
The Glock-18 Bullet Queen skin focuses on a beautiful War Maiden with a slick pink jacket. The gun also features a yellow and black base, star accents, and bullets with grinning smiles throughout the body.
M4A4 | 龍王 (Dragon King)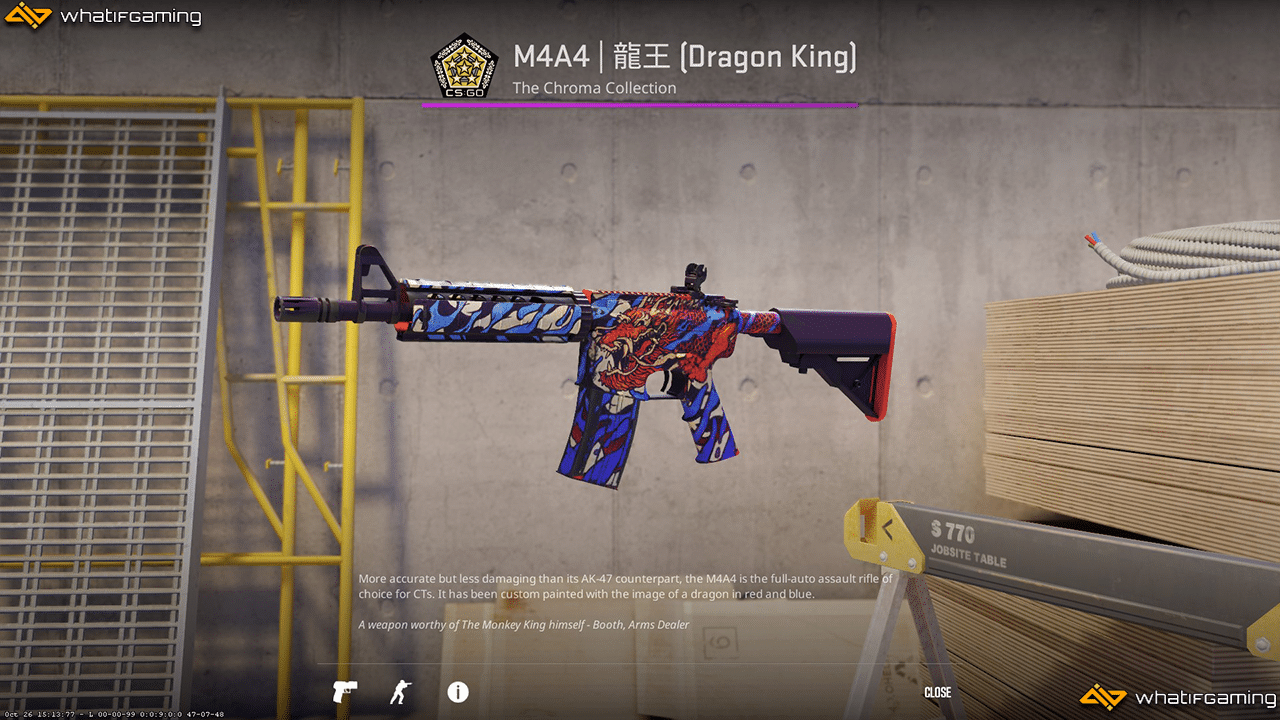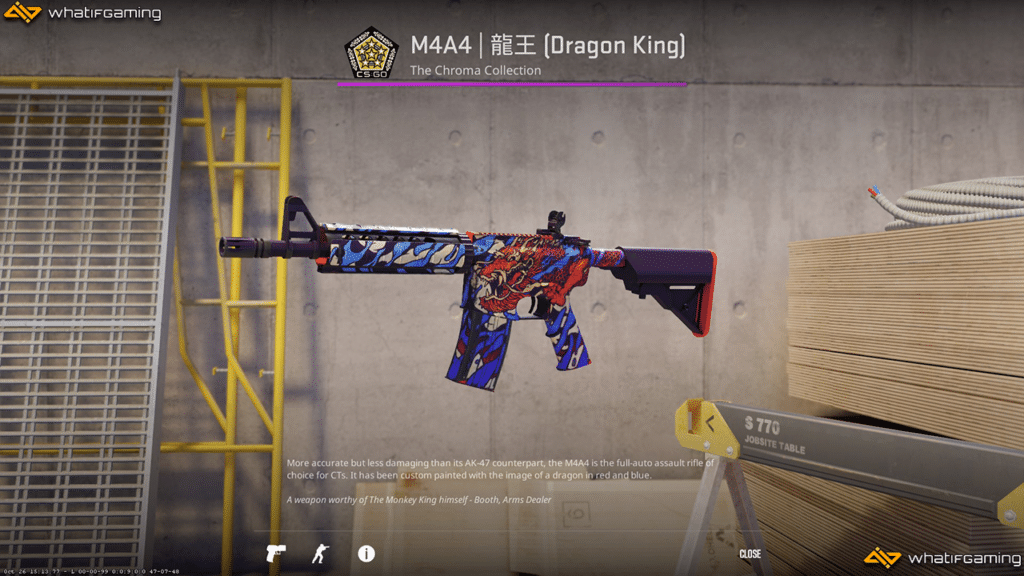 Release Date: January 8, 2015
Case: Chroma Case
Price Range: $5.00 – $65
The M4A4 Dragon King skin features a fully blue-painted body where a red Chinese dragon emerges. It might be an old skin, but it still holds its ground against newer ones, beating them out in both pricing and style.
Desert Eagle | Printstream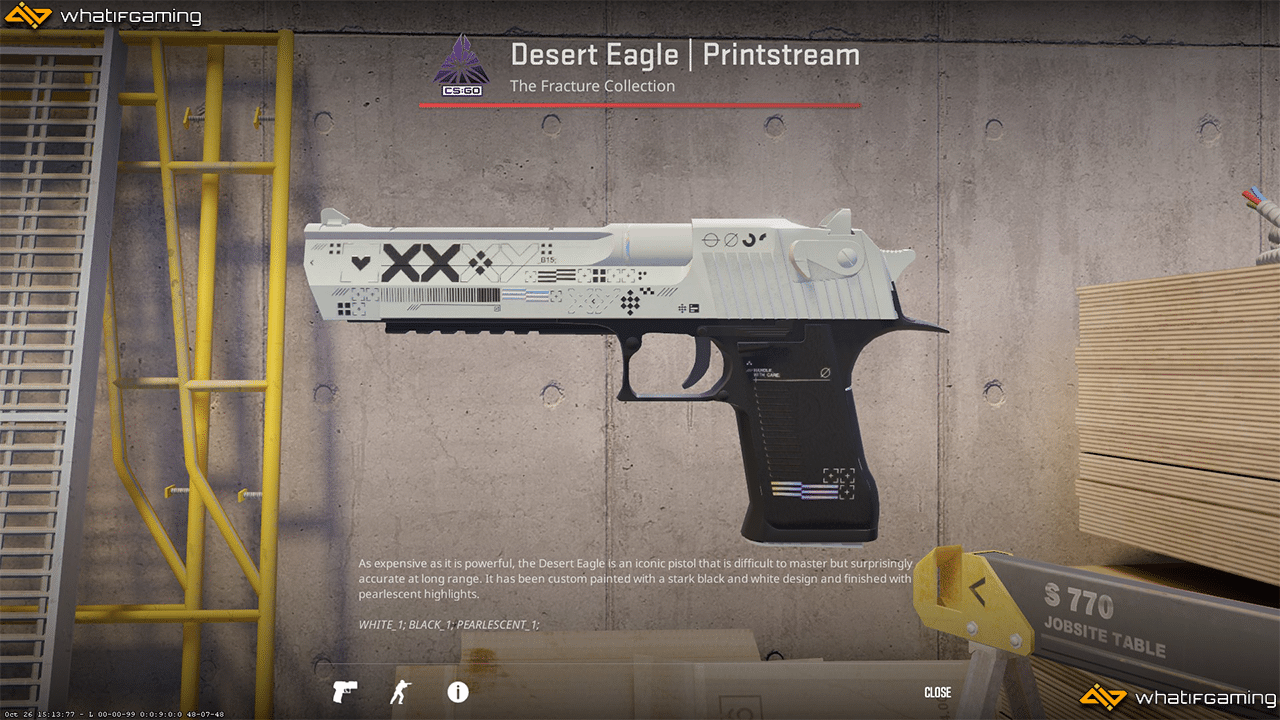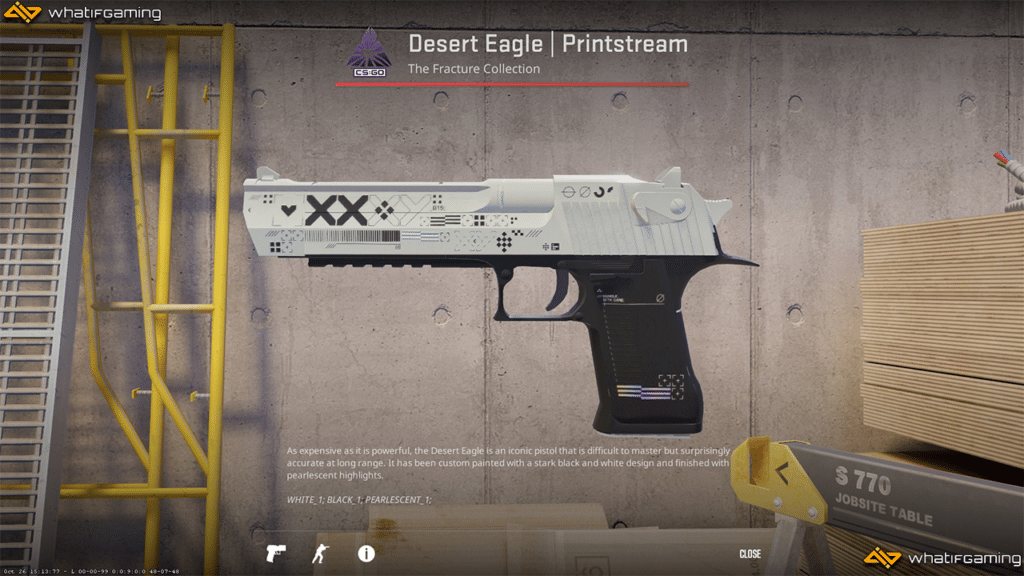 Release Date: August 6, 2020
Case: Fracture Case
Price Range: $24 – $176
The Desert Eagle Prinstream is sleek skin and an ideal addition to an assassin's arsenal. It has a black base finish with a pearly white top color. The whole killer-like aesthetic is finalized by the handful of crosshairs found all over the weapon. You might even find a crosshair you can use in CS2 on the Prinstream Deagle.
FAMAS | Waters of Nephthys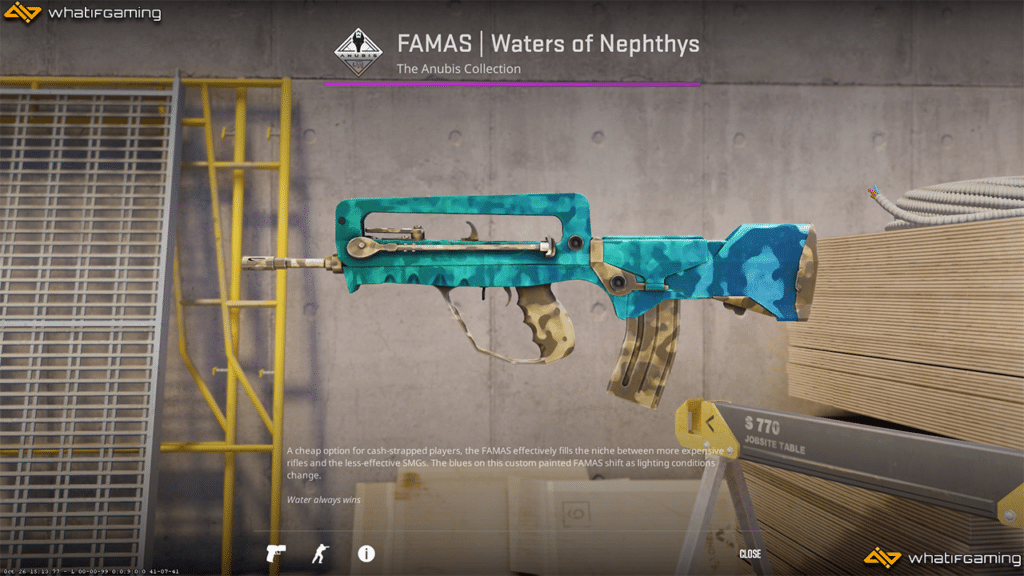 Release Date: April 24, 2020
Case: Paris 2023 Anubis Souvenir and Anubis Collection Packages
Price: $40 – $340
While the Famas might not be as popular as the other rifles, it still offers some fire skins. The Waters of Nephthys is one of the most bedazzling rifle skins as it embodies the beauty of the Nile River in blue and teal abstract patterns. The weapon skin takes full advantage of the new lighting effects and shows how beautiful CS2 can be.
M4A4 | In Living Color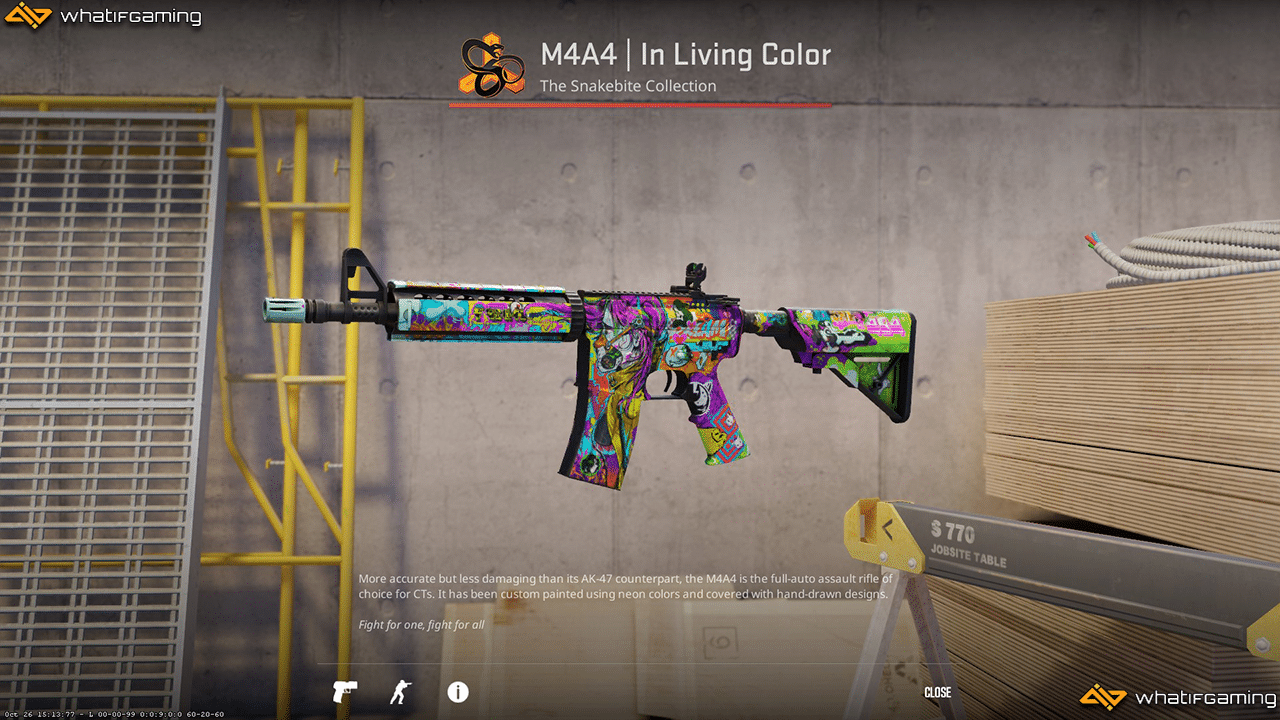 Release Date: May 3, 2021
Case: Snakebite Case
Price Range: $3 – $94
I hope you haven't gotten tired of rifle skins because I have another one up next. The M4A4 In Living Color has a custom-painted graffiti-like art style using bright neon colors. It features an explosion of designs that come together as one fantastic piece.
AK-47 | Neon Rider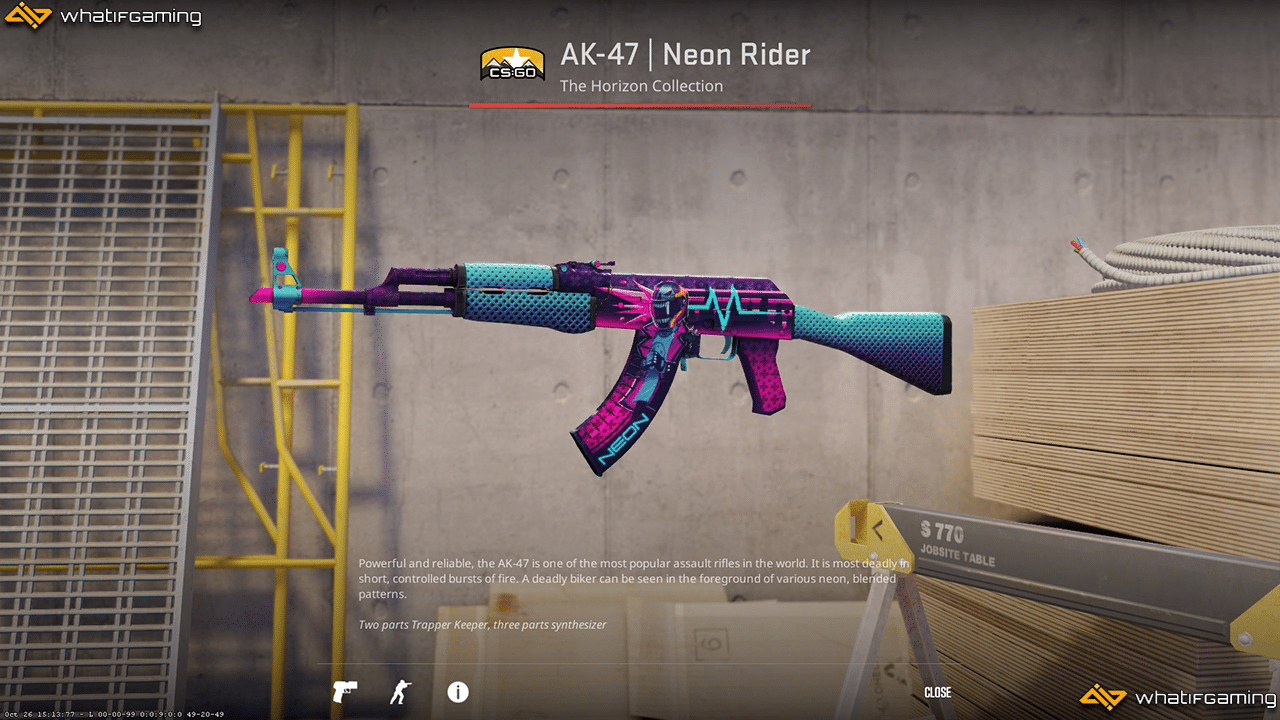 Release Date: August 1, 2018
Case: Horizon Case
Price: $18 – $300
Indulge in a blast of colors with the AK-47 Neon Rider skin. It showcases a brightly dressed biker, complete with a reflective jacket and a devilish helmet. The entire weapon is decorated with abstract patterns in blue, violet, and pink neon colors.
AWP | Neo-Noir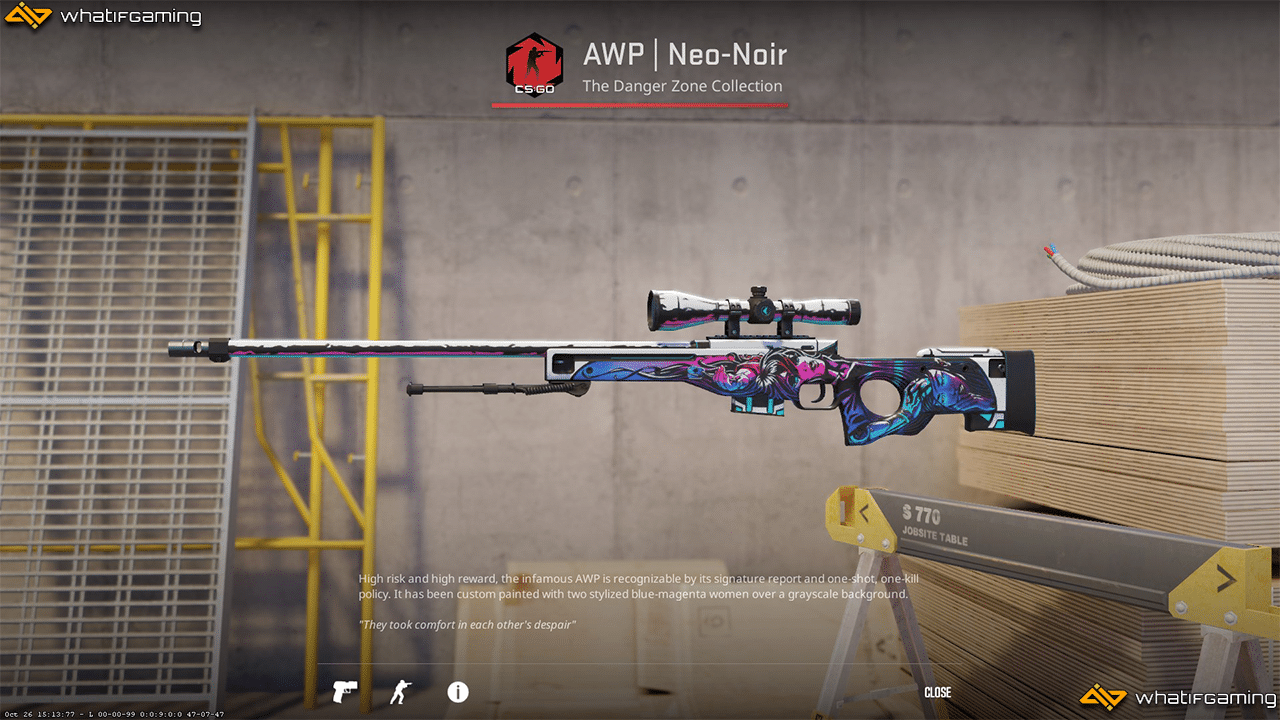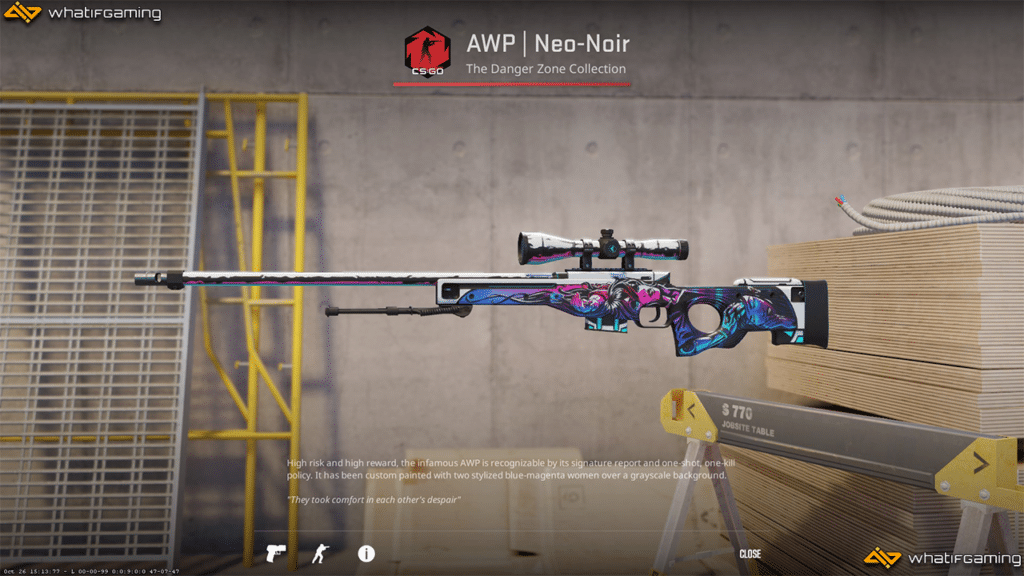 Release Date: December 6, 2018
Case: Danger Zone Case
Price Range: $17 – $81
The AWP Neo-Noir is one of those skins that tells a story within a simple artwork. Two women can be found comforting each other, outlined by pink and magenta colors. The white and black base mimics a comic-like feel. These elements make for a smooth yet heartfelt designon the AWP skin.
Dual Berettas | Melondrama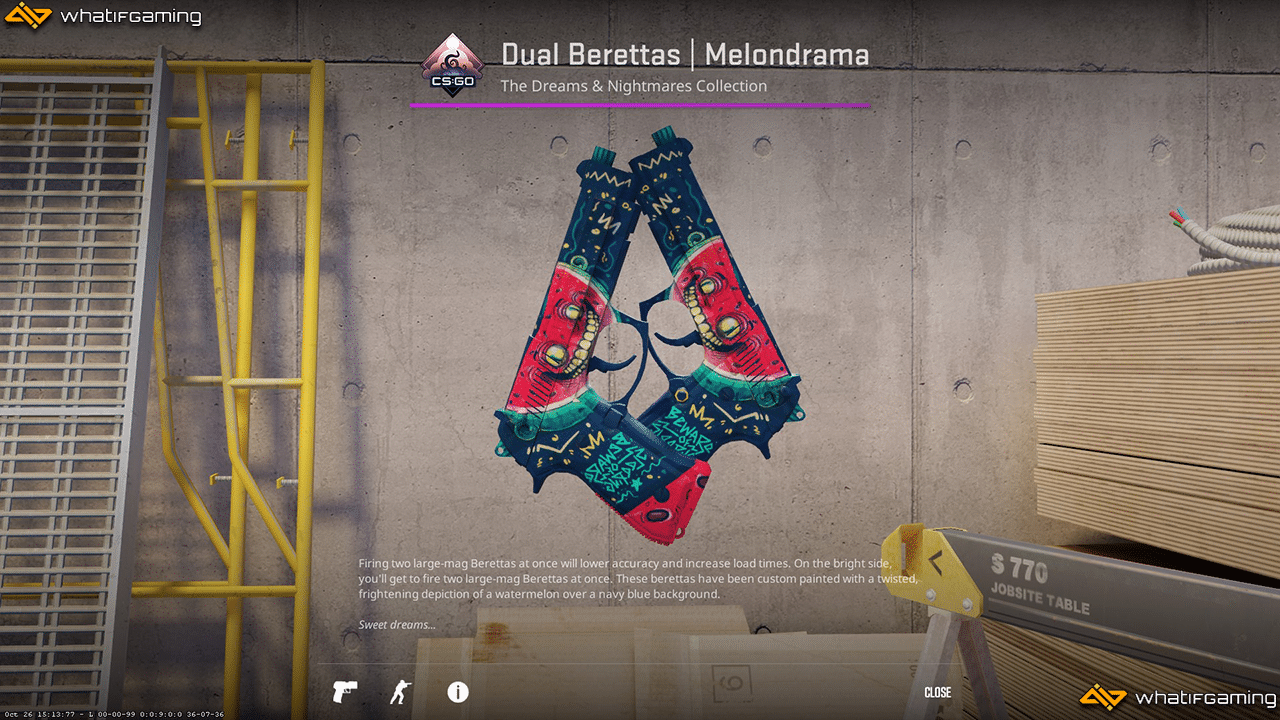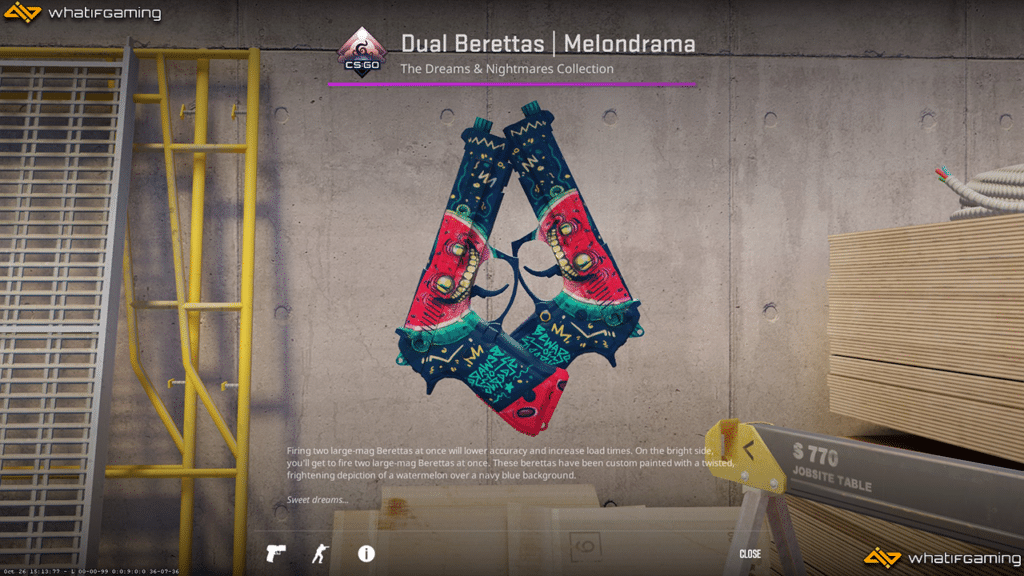 Release Date: January 20, 2022
Case: Dreams & Nightmares Case
Price Range: $1 – $20
The Dual Berettas Melondrama skin features some creepy-looking watermelon faces that are twisted and scary. The skin truly is nightmare fuel. They still look frighteningly amazing, though.
Galil AR | Cerberus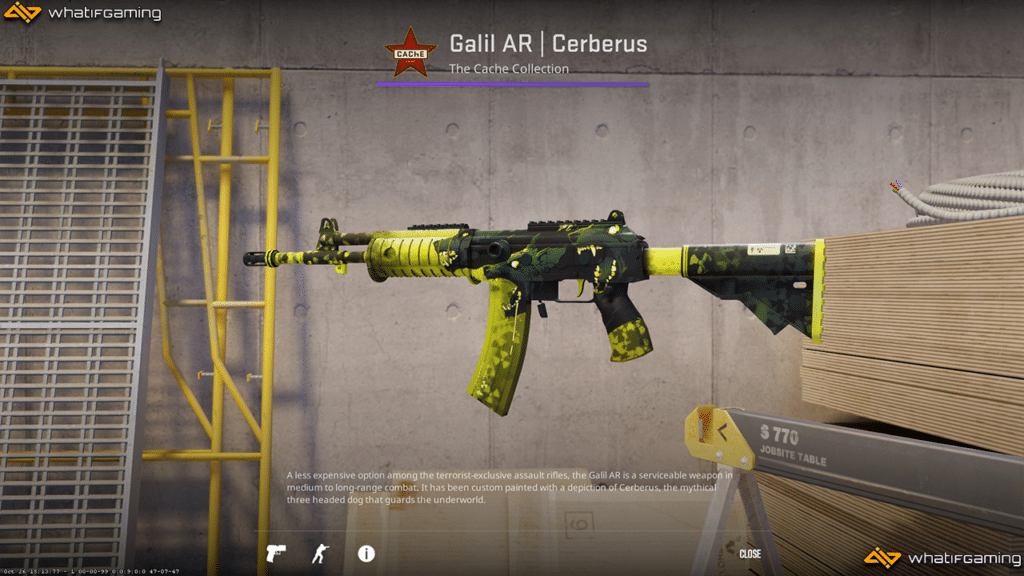 Release Date: August 13, 2014
Case: Various 2014 – 2019 Cache Souvenir Packages
Price: $8 – $320
Kill your enemies with a skin that radiates toxic waste energy. The Galil Cerberus presents the three-headed mythical creature in green and black shades. Despite having a monochromic design, the Cerberus still manages to deliver an outstanding skin.
SSG 08 | Dragon Fire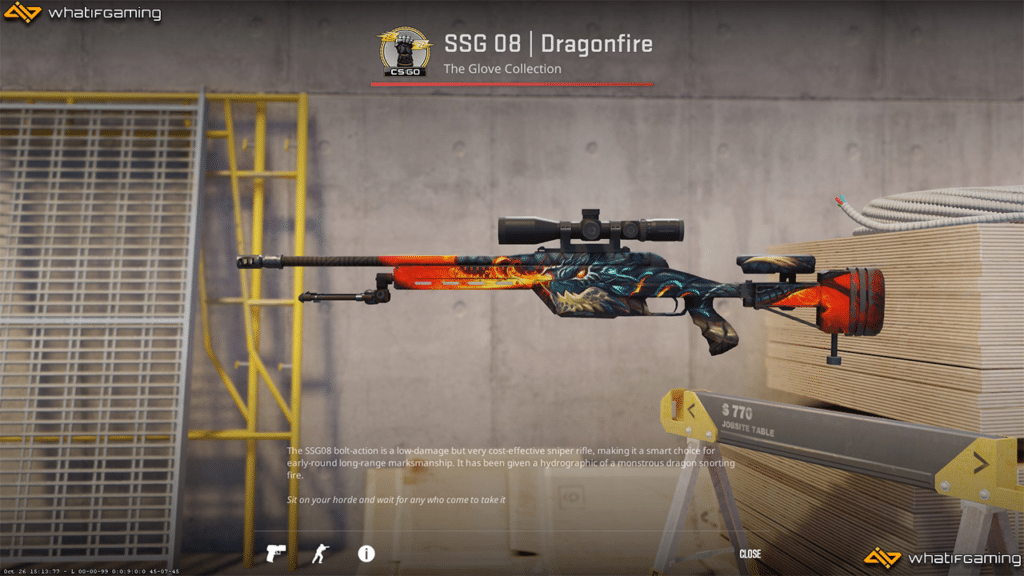 Release Date: November 28, 2016
Case: Glove Case
Price: $9 – $70
There is no shortage of dragon-based weapon skins in CS2, and the SSG 08 Dragon Fire adds more to the mix. The blue-scaled creature shrouds the lower half of the skin while the flames coming out of its nostrils cover the other. It's a gorgeous theme that would've likely been more expensive if it was an AWP skin instead.
P250 | Visions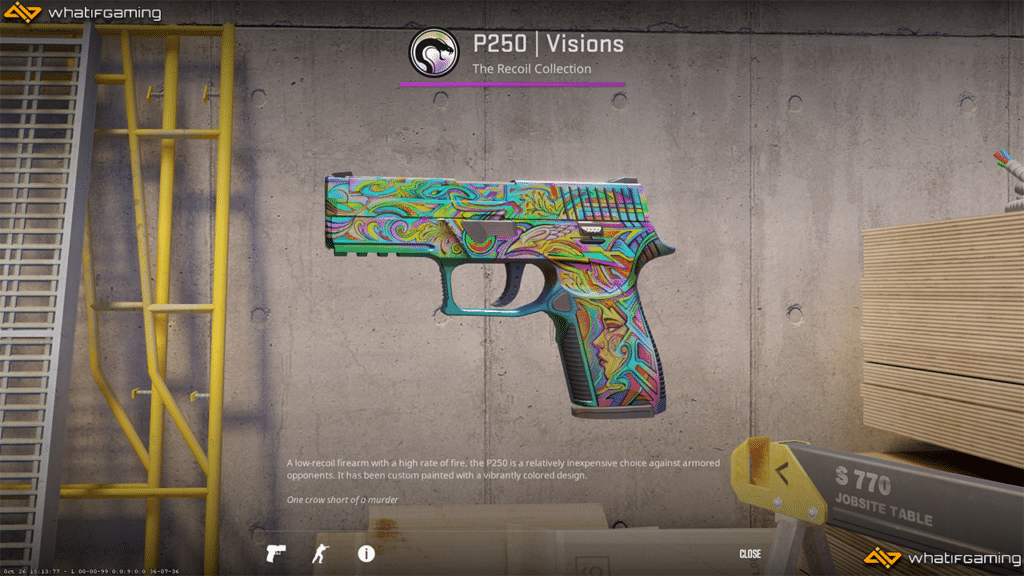 Release Date: July 1, 2022
Case: Recoil Case
Price Range: $2 – $25
The P250 Visions features a color-filled image of a woman and a crow. The skin is inspired by the idea of a psychedelic trance and fully embodies it within the weapon. The burst of colors throughout the gun makes for a trippy experience.
AK-47 | Aquamarine Revenge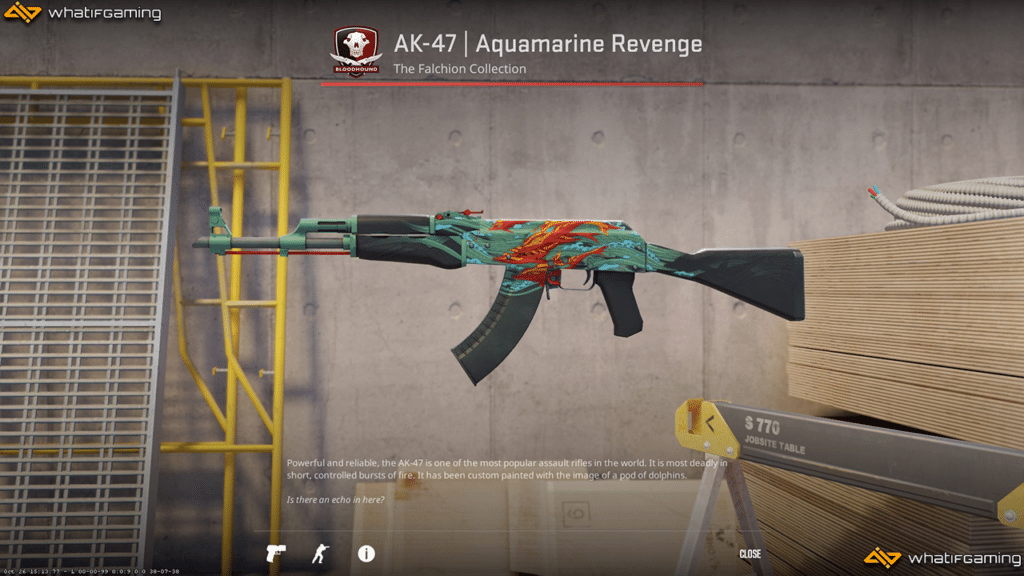 Release Date: May 26, 2015
Case: Falchion Case
Price Range: $13 – $245
The final rifle skin on our list centers around an underwater theme. It has a green and black finish with a custom-painted image of a pod of red, yellow, and blue dolphins swimming through the sea.
USP-S | Monster Mashup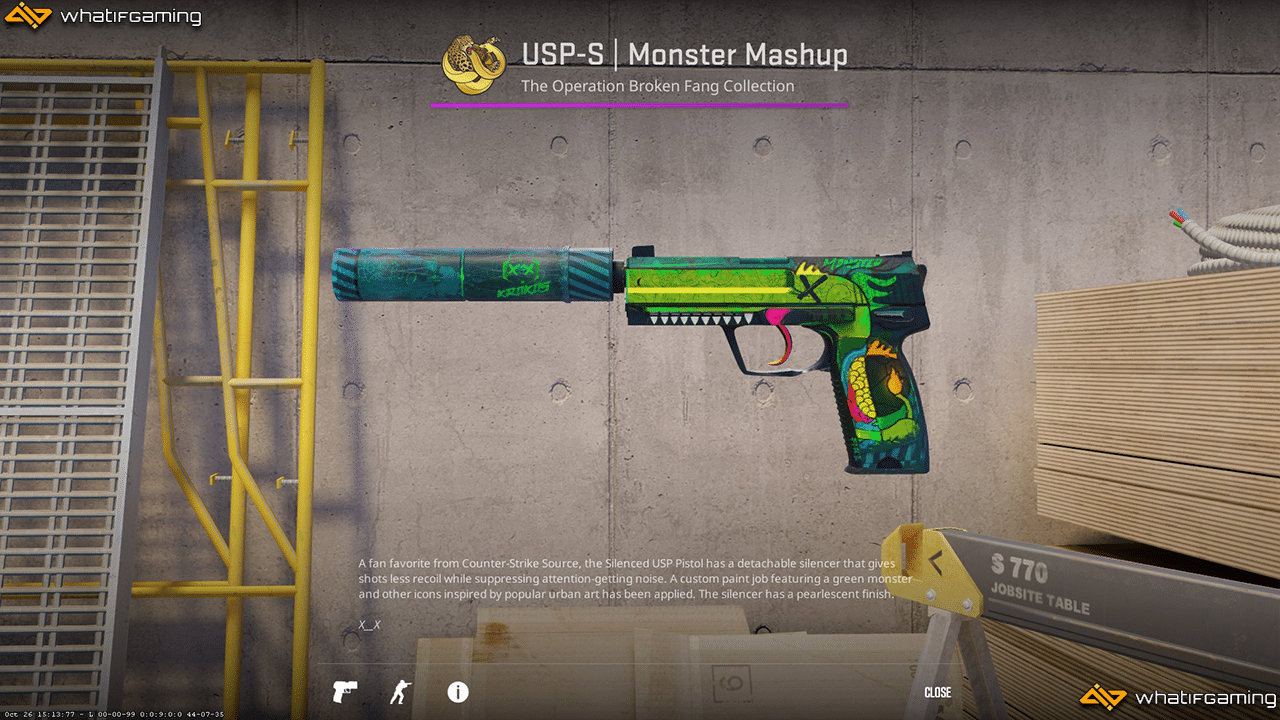 Release Date: December 3, 2020
Case: Operation Broken Fang Case
Price Range: $15 – $75
The USP-S Monster Mashup wraps up our list. It has a casual vibe brought to it by the urban street art design, evident by the graffiti and markings on the skin. The overall theme is focused on a crocodile-like creature whose tongue acts as the weapon's trigger.
Conclusion
In our opinion, the AK-47 Nightwish is the best weapon skin in CS2 because of its excellent combination of colors, separating it from the traditional AK-47 look. Its colorful psychedelic theme helps it stand out among other CS2 skin.
Remember, these picks are all solely based on our respective opinions and what we think the best CS2 weapon skins are. You're free to disagree with any of our choices above and comment your feelings down below.