The world of YouTube used to be filled with people that began their channels in their garages or basements just as a way to have fun with friends. That's actually how most of the people/companies featured in this list began their journey on the platform.
But, these days, YouTube has grown into a billion-dollar industry with insane cash flows the likes of which the internet has never seen before. And, to provide quality content paired with good production value, you definitely need some fancy equipment. That's exactly what we're here to talk about today. Here are four of the best YouTuber studio setups out there.
MrBeast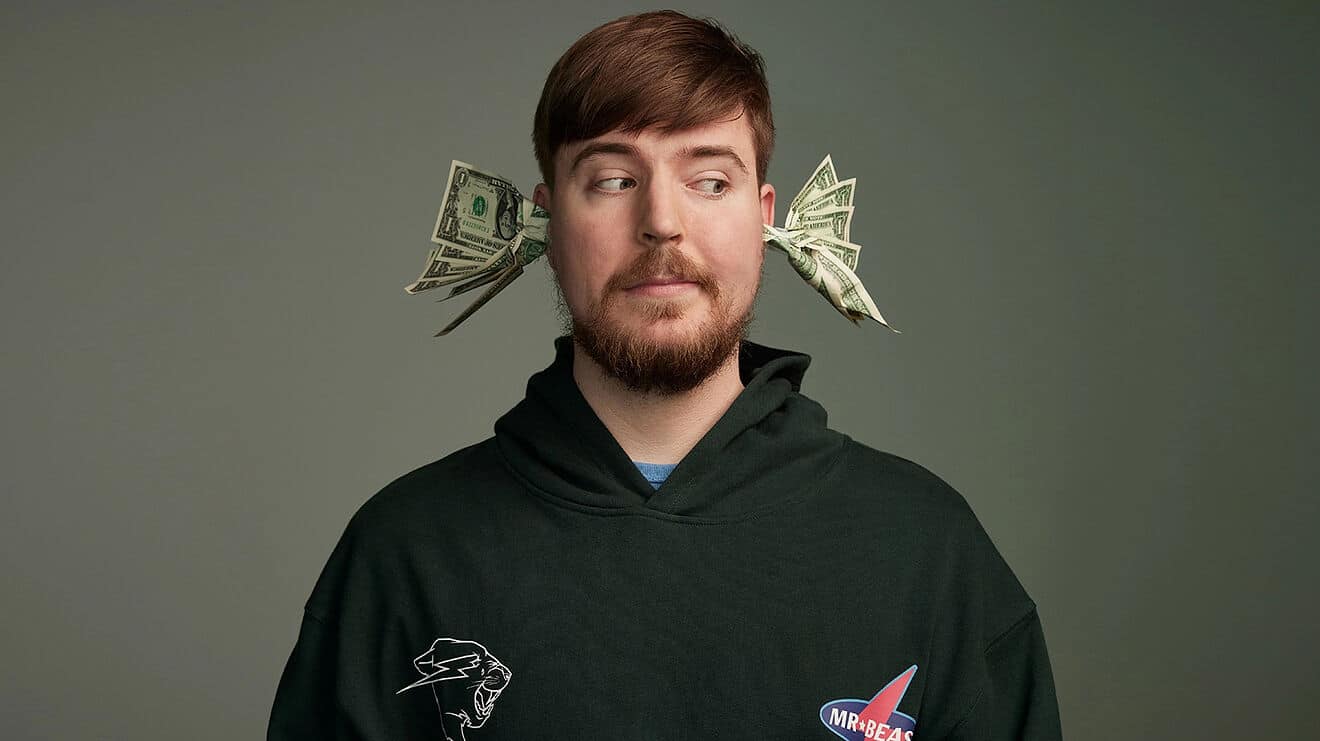 Estimated Value: $14,196,000
There's no doubt that Jimmy 'MrBeast' Donaldson is one of the biggest content creators on the platform. The scale of his channel has grown tremendously over the past few years, with dozens of YouTube channels in tons of different languages with quite a bit of YouTube Play buttons to show his success. At the time of writing, his main channel is at 103 million subscribers, which is an insane number to think about on its own.
So, this was the first time Jimmy ever gave us a peek into how the videos are made for all his channels. The setup reveal came in the form of a collab video between MrBeast and Arun Maini, a.k.a Mrwhosetheboss, a tech YouTuber with 11 million subscribers.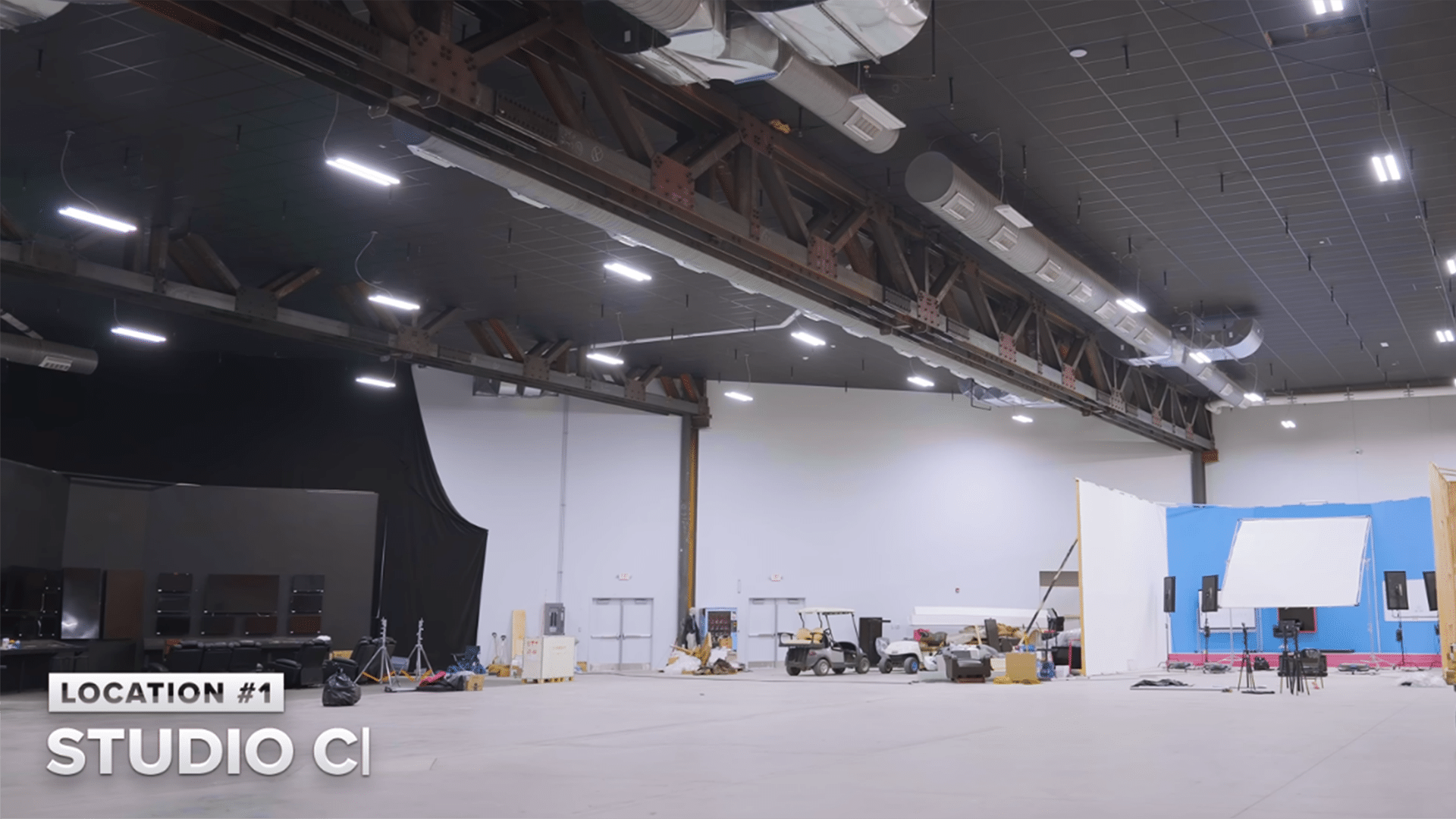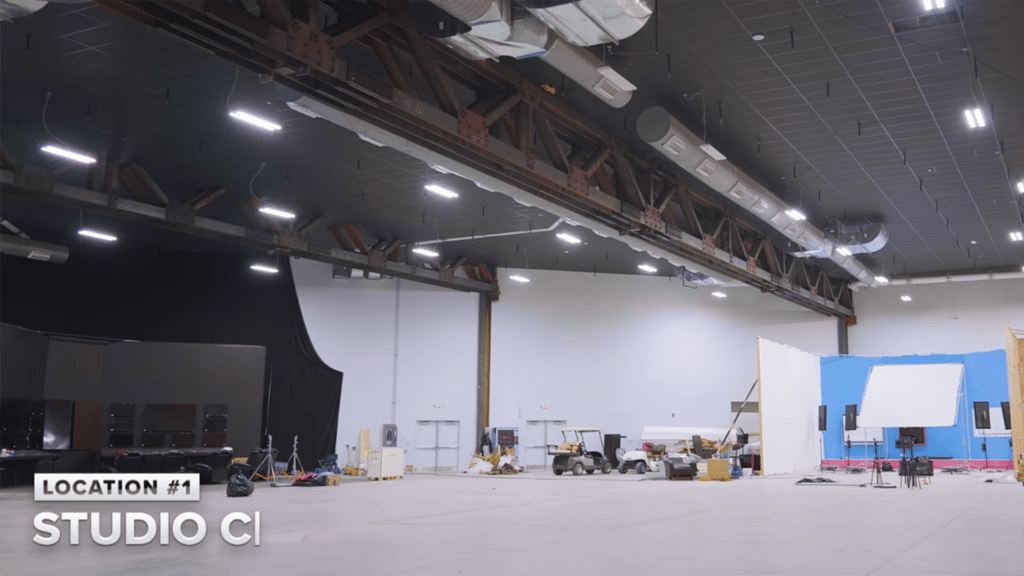 The studio tour starts in one of Jimmy's (several, I presume) studios code-named Studio C.It's a 50,000 sq. feet warehouse with absolutely nothing to separate it. This allows MrBeast to create the enormous sets needed for videos like the Willy Wonka Chocolate Factory. This studio cost Jimmy about $10 million for the building with another $375,000 for the echoless acoustics set up in the warehouse.
Camera Room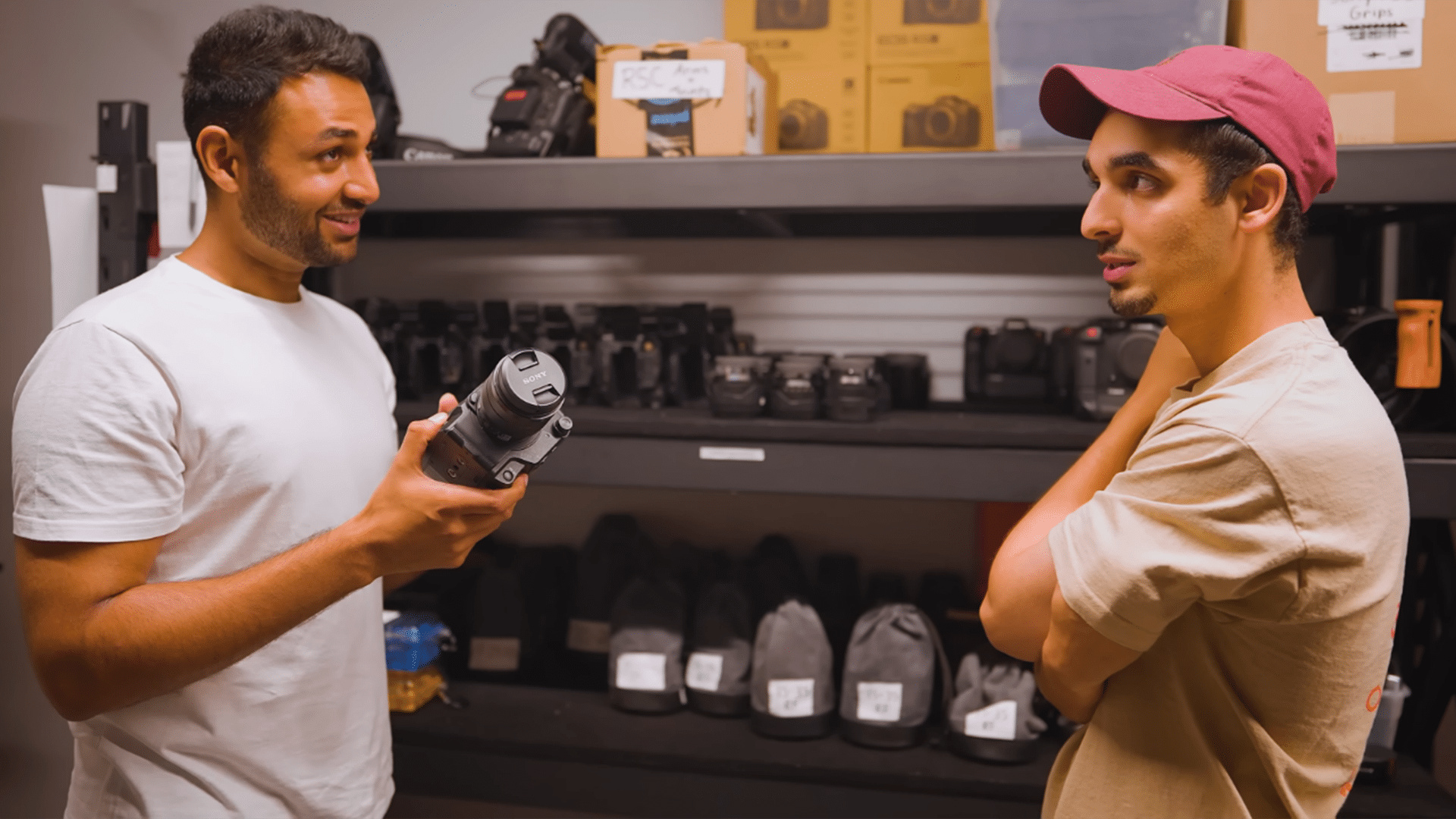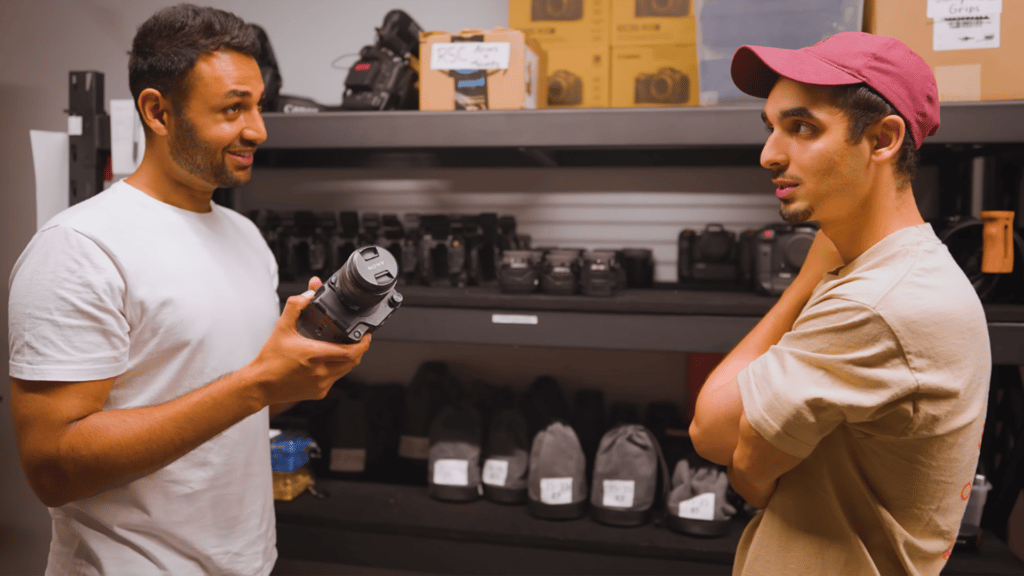 The camera and equipment room alone has over a million dollars worth of recording equipment. They have 26 Sony FS5S' just lying around. This is a camera that costs $6,000 on launch. They have hundreds of lenses ranging from 10mm focal length for wide angle shots all the way up to 300mm for videos that require a lot of zoom.
There are dozens of Sony 4K Camcorders as well for videos that require night shots since this camera has a night vision mode. Apart from that, there are about 50 GoPros and 50 high-quality security cameras just scattered around the room. Finally, MrBeast's setup also includes an FPV drone custom-made by their in-house driver for the drone.
Jimmy didn't go into much detail about the server room, but it's as expensive as you could expect. The server allows his employees to access editing rigs in the building remotely from anywhere in the world. The server setup costs about $400,000.
Editing Room
Pretty much everything about MrBeast's studio is jaw-dropping. But, one particular aspect room that would blow the minds of editors is the editing room. You can expect that Jimmy's editors would have the best machines money can buy, but I didn't really expect them to be THIS good.
The editors can take their picks between Windows and Mac based on their preference. If an editor prefers Windows, they'll get their hands on an HP Z8 with a 24-core Intel Xeon Gold Processor, 256GB DDR4 RAM, 2TB SSD storage, 6TB HDD storage, and Nvidia B Quadro RTX 6000 GPUs. This machine costs a little over $19,000.
On the other side, the macOS machines set up in the office are Mac Pros with similar 24-core Intel Xeon processors, 192GB DDR4 RAM, 1TB SSD storage, and Radeon Pro W6900X GPUs. One of these machines will set you back about $22,000. And, MrBeast has dozens of them lying around.
Gaming Trailer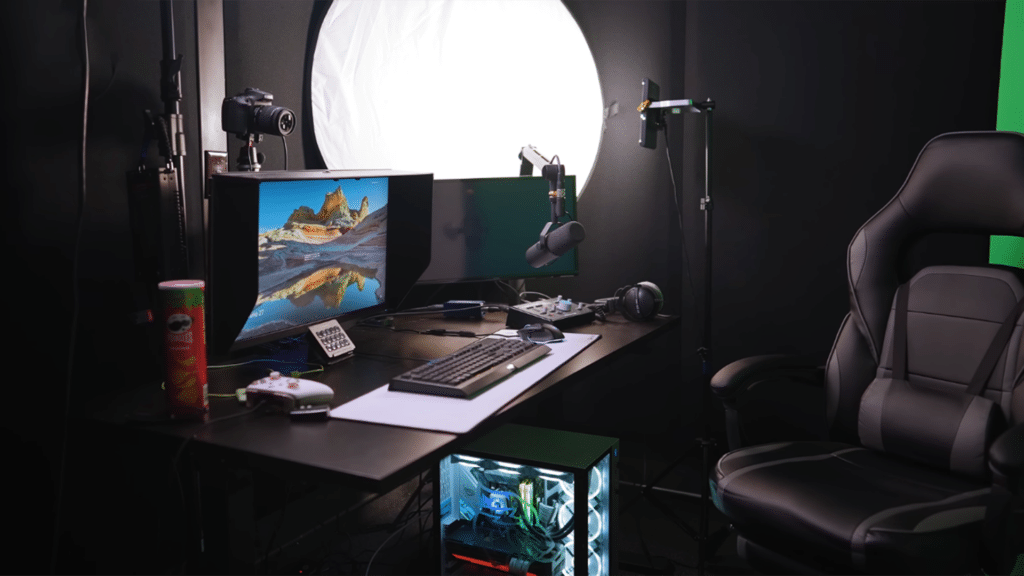 MrBeast also has a gaming channel where he and Chris, Chandler, and Carl group up to film a lot of crazy videos. Each of the four guys have their own individual setups with specific peripherals perfectly suited to their requirements. All these four rooms have been configured with the Elgato Stream Decks to ensure maximum efficiency during their recording sessions. That's not even the exciting part.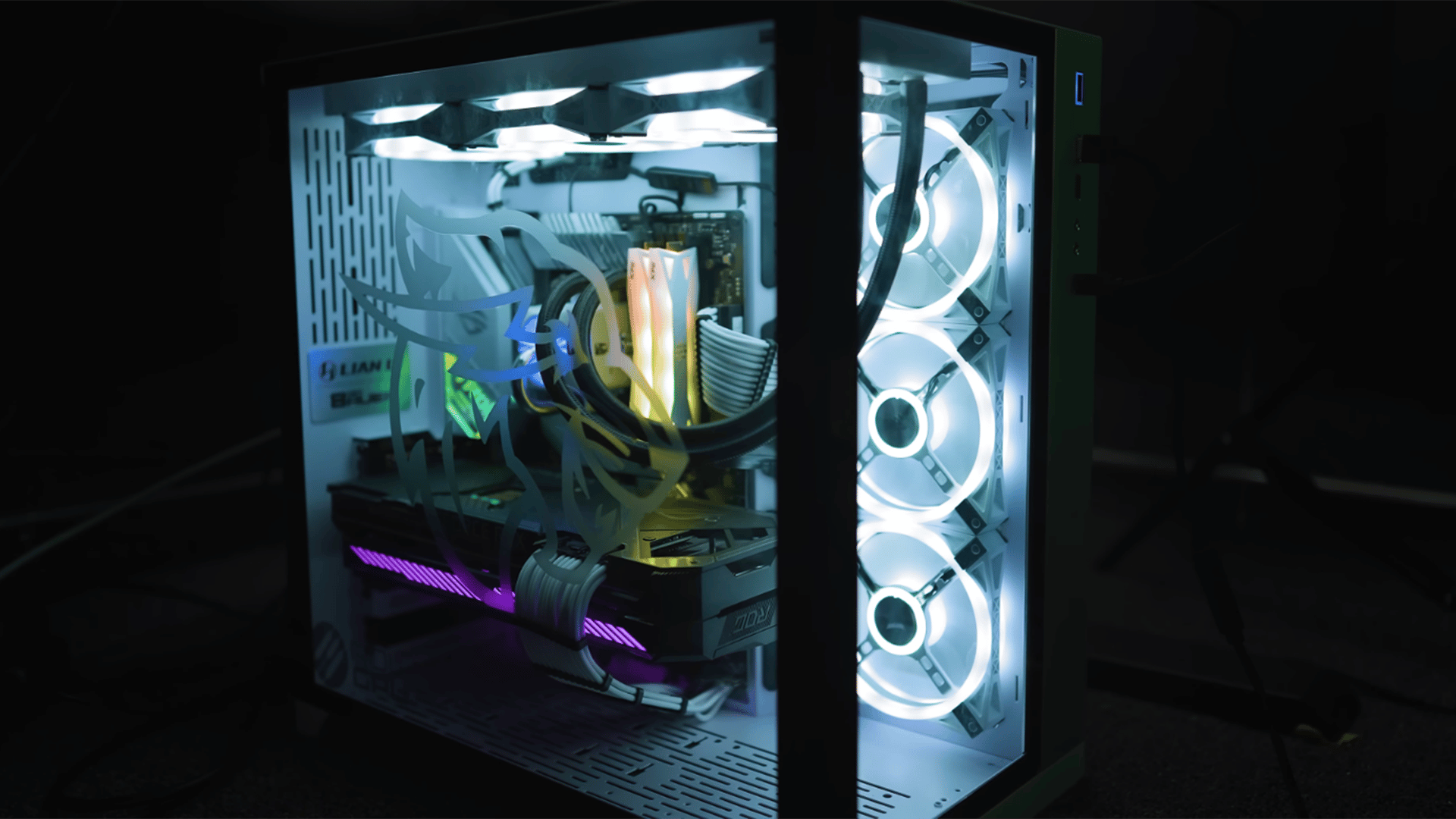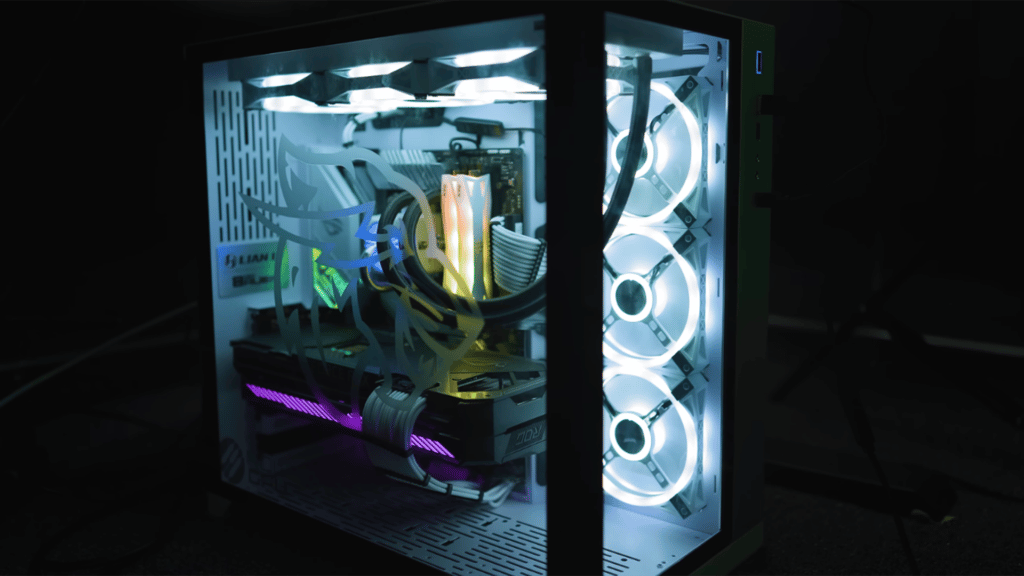 The equipment MrBeast uses to game is nothing short of the best machinery out there. His PC has an Intel Core i9-11900k processor, 32GB RAM, and an RTX 3090 projecting to three 4K 144Hz monitors. One of these setups costs about $15,000. And, MrBeast has replicated the same setup three more times for Chris, Chandler, and Carl.
This isn't even the tip of the iceberg. MrBeast has stacks of cash lying about, 8K TVs that he doesn't even know the prices of, insane download/upload speeds, and hundreds of random iPhones, iPads, MacBooks, and consoles just scattered through the warehouse. None of the other setups on my list even come close to what Jimmy is doing in his various studios.
MKBHD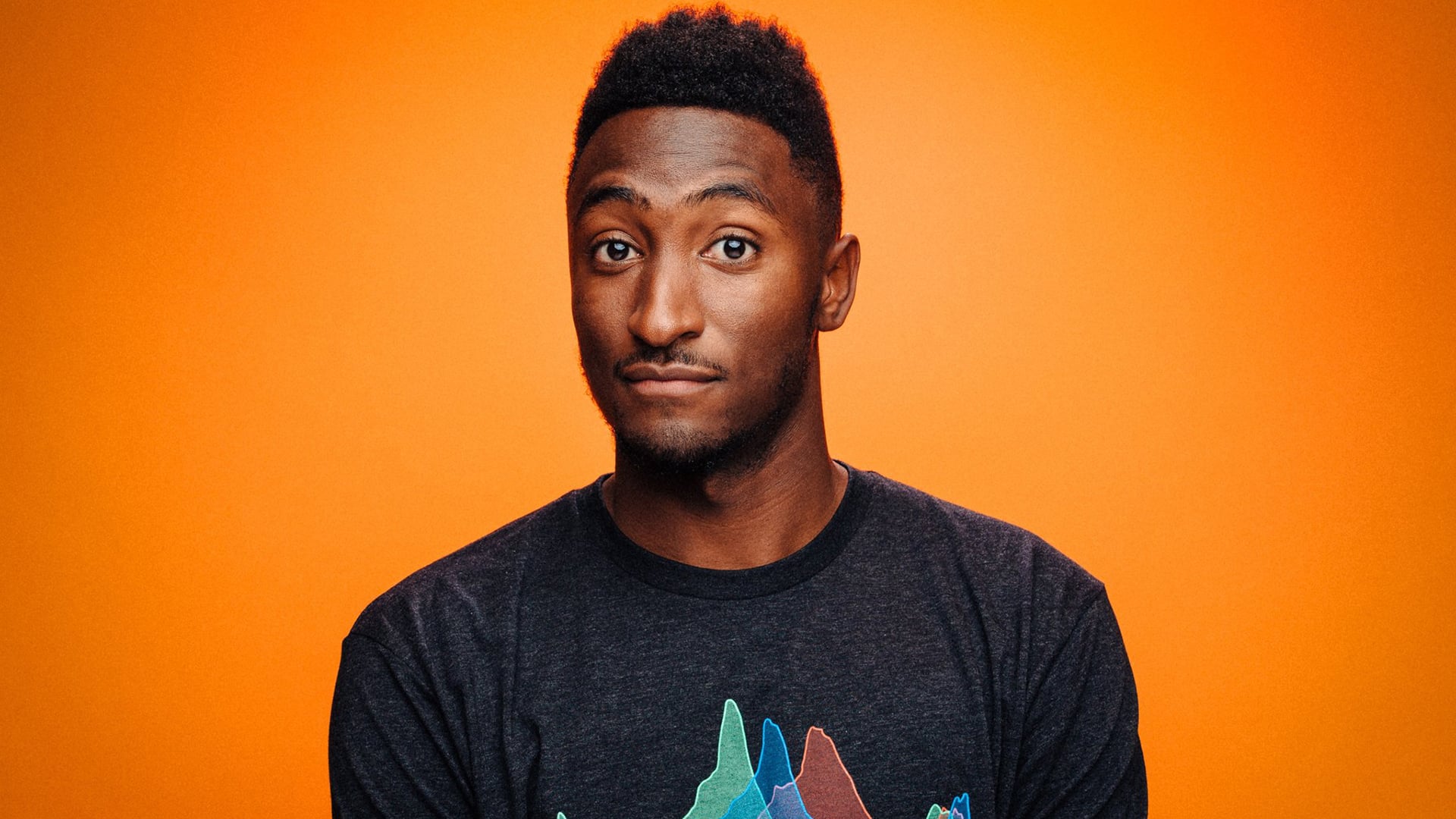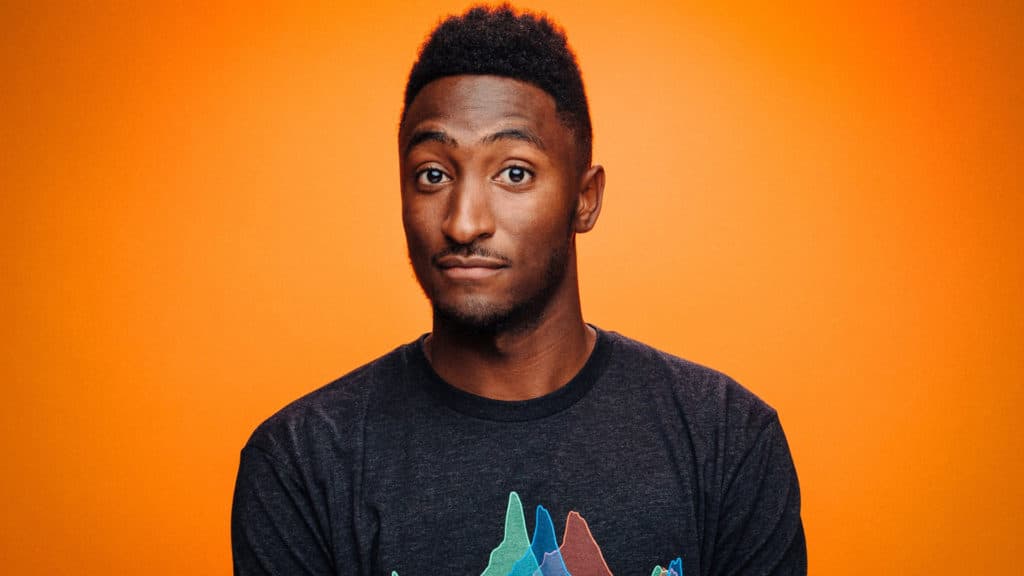 Estimated Value: $1,000,000+
Marques 'MKBHD' Brownlee's studio might not be as flashy as MrBeast, but he has optimized his studio to suit the channel's use case perfectly. Every single room in his office is meant to solve a specific problem and that is exactly what puts his setup on our best YouTuber studios list. Let's talk about everything you'll see in MKBHD's studio.
Individual Setups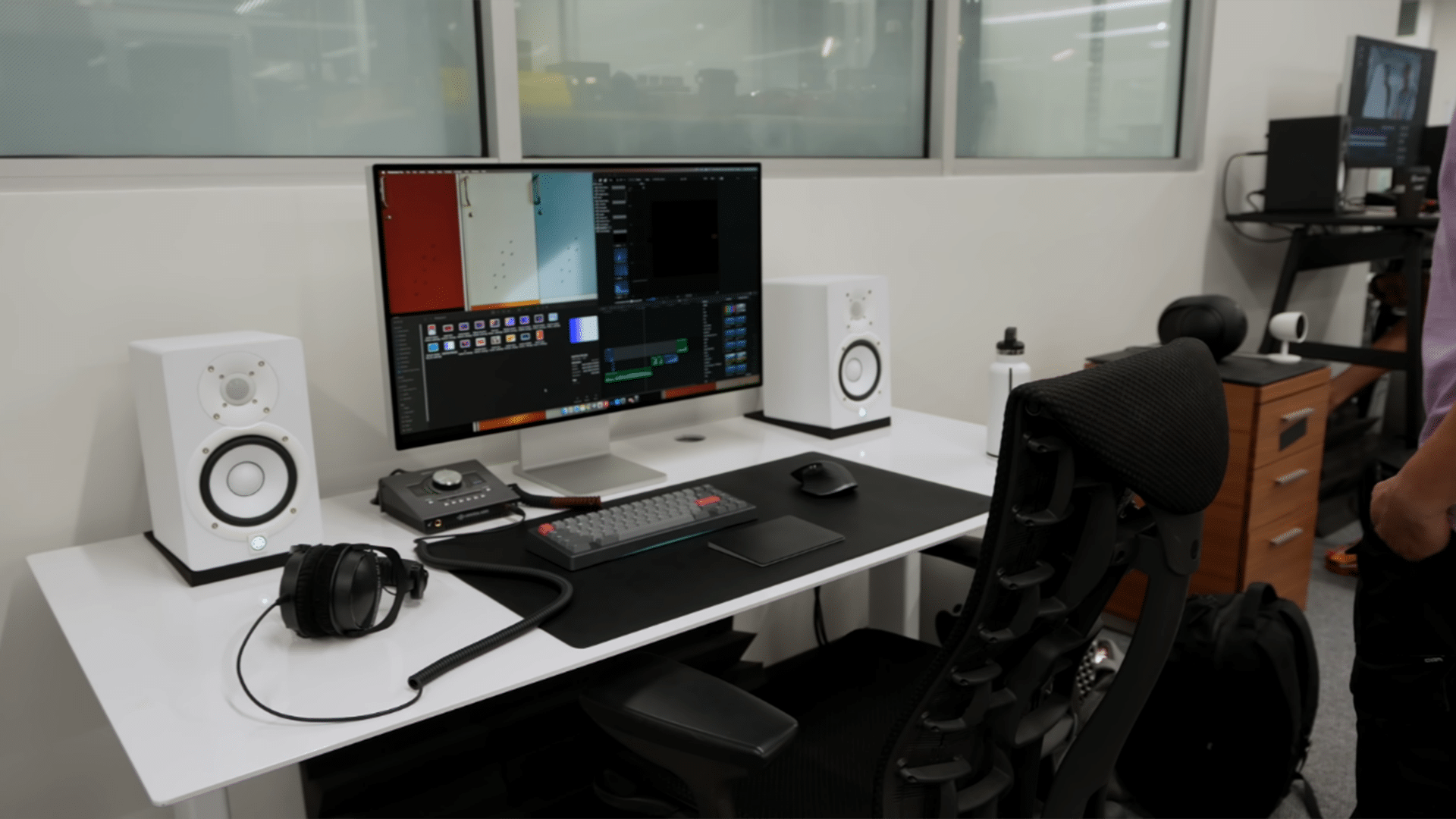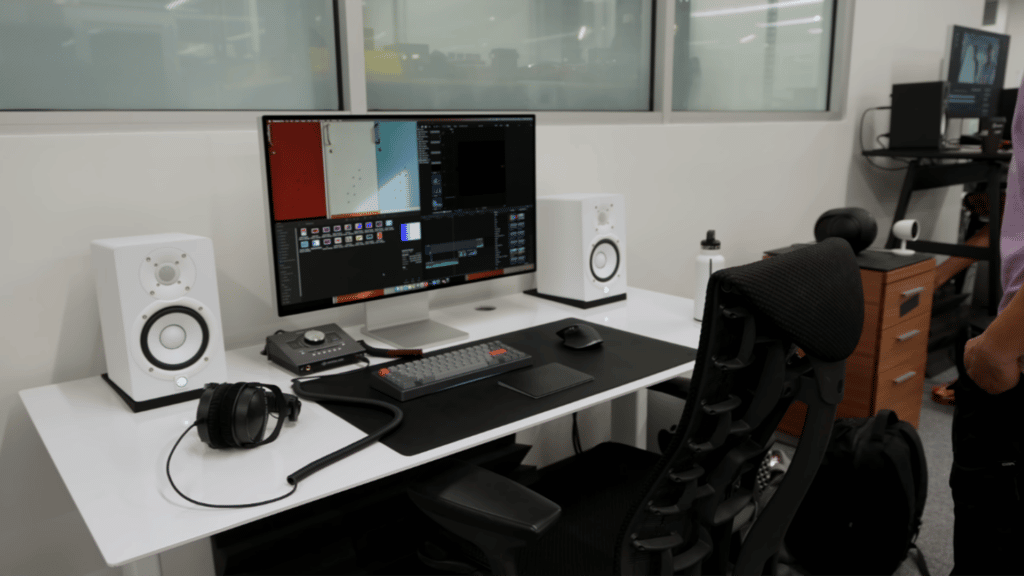 One thing I really liked about MKBHD's setup is how every setup in the studio speaks for itself. Mostly everyone, including Marques, is running a Mac Pro. The exact specs weren't disclosed, so I have no idea what hardware they're running under that hood. But other than that, everyone has something discreet that just describes who they are as a person. I love that MKBHD's offices are modern in that sense, giving their workforce the room to personalize their space.
MKBHD is fond of clean spaces, and his team has adapted his habits in this case. Every setup was super clean, sleek, and designed with the employee's personal preferences in mind. You're going to see all kinds of stuff there from motorized standing desks, Herman Miller chairs ($1000 each btw), a live plant called Gladys, iPads as second monitors, Komodo cameras which have never been used, $2,000 Sennheiser HD 820 headphones, and a bunch of LTT merch (MKBHD and Linus are friends so that part makes sense).
Dedicated Rooms
MKBHD makes a similar kind of content for different pieces of tech. So, it's really convenient for him to personalize rooms for frequent shots. First off, he has a room made specifically for top-down shots loaded with a ton of props and surfaces they can use for the background.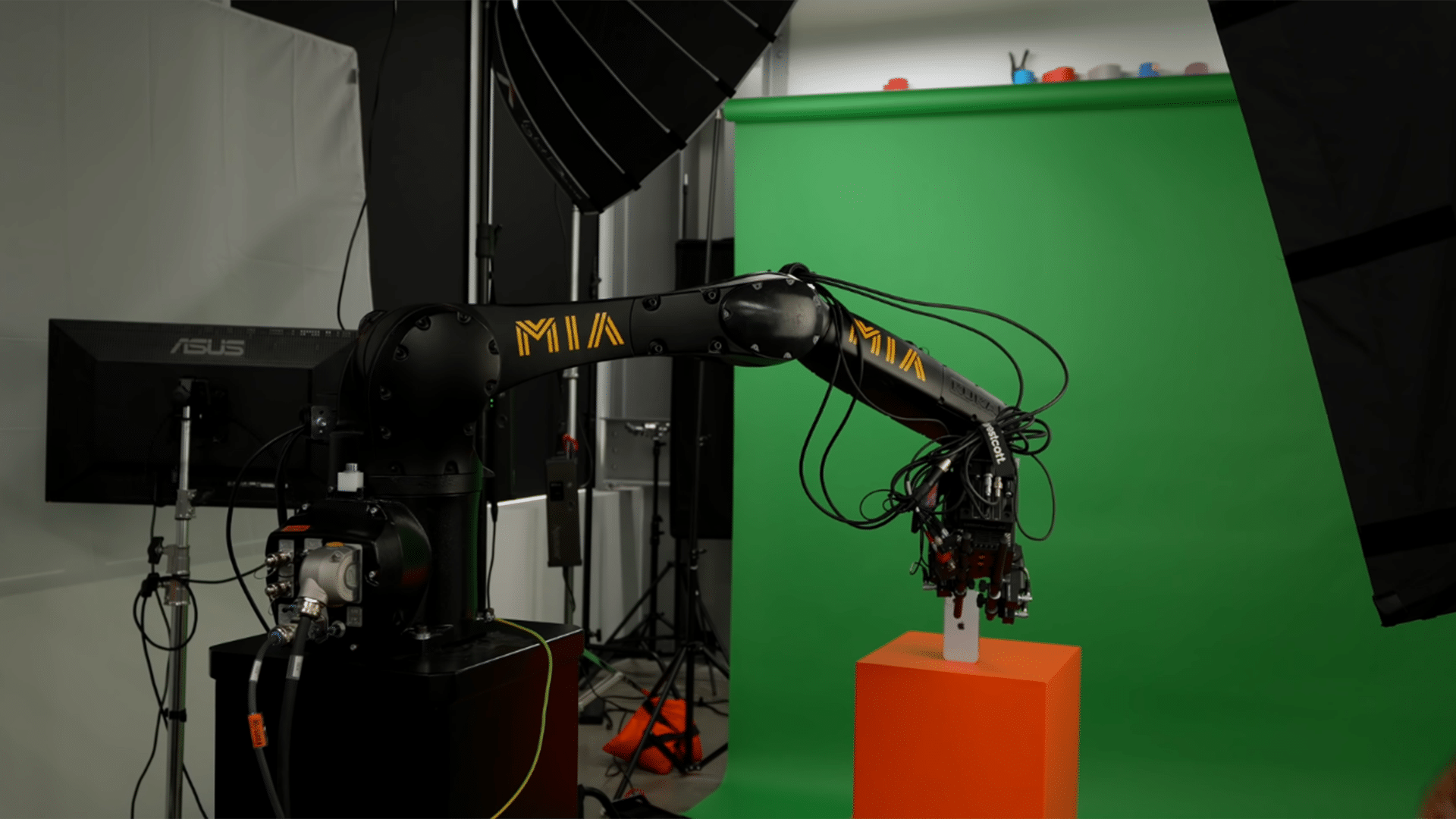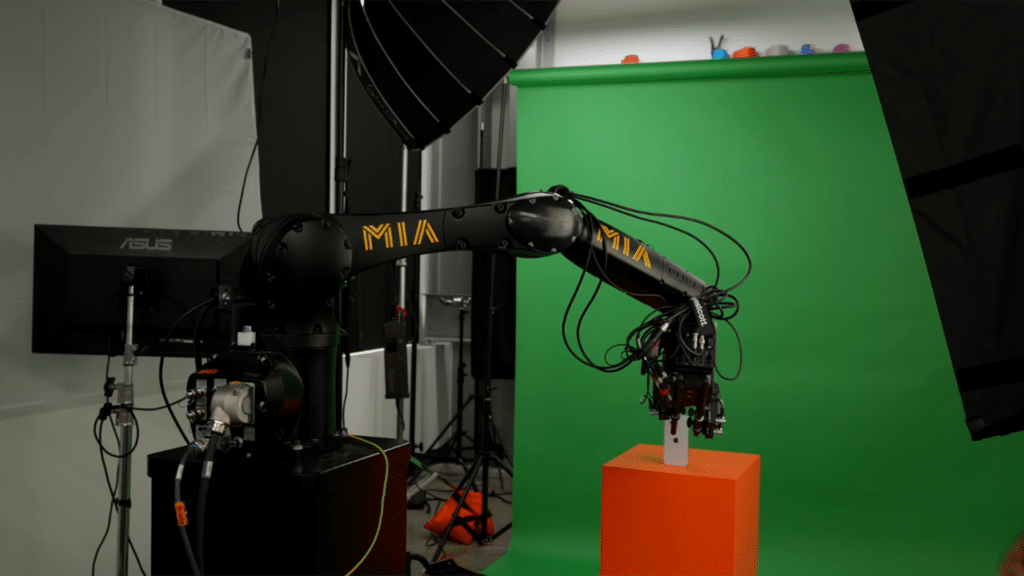 There's a robot room where MIA, a robot arm, holds a high-end camera capable of moving at extremely rapid speeds with precise angles. This $250,000 robot arm is controlled by a simple Xbox Series X controller. This robot arm really puts MKBHD in a league of his own in the best YouTuber studios list because no one else would even think about dropping so much money on a piece of hardware like this.
There's a gaming room that MKBHD uses to review games, stream, and record all times of gaming content. He doesn't really tell us what specs he's running here, but there is a pretty cool ultrawide monitor here. Apart from that, the studio rec room also has a gaming rig with an RTX 3090 hooked up to an 8K TV.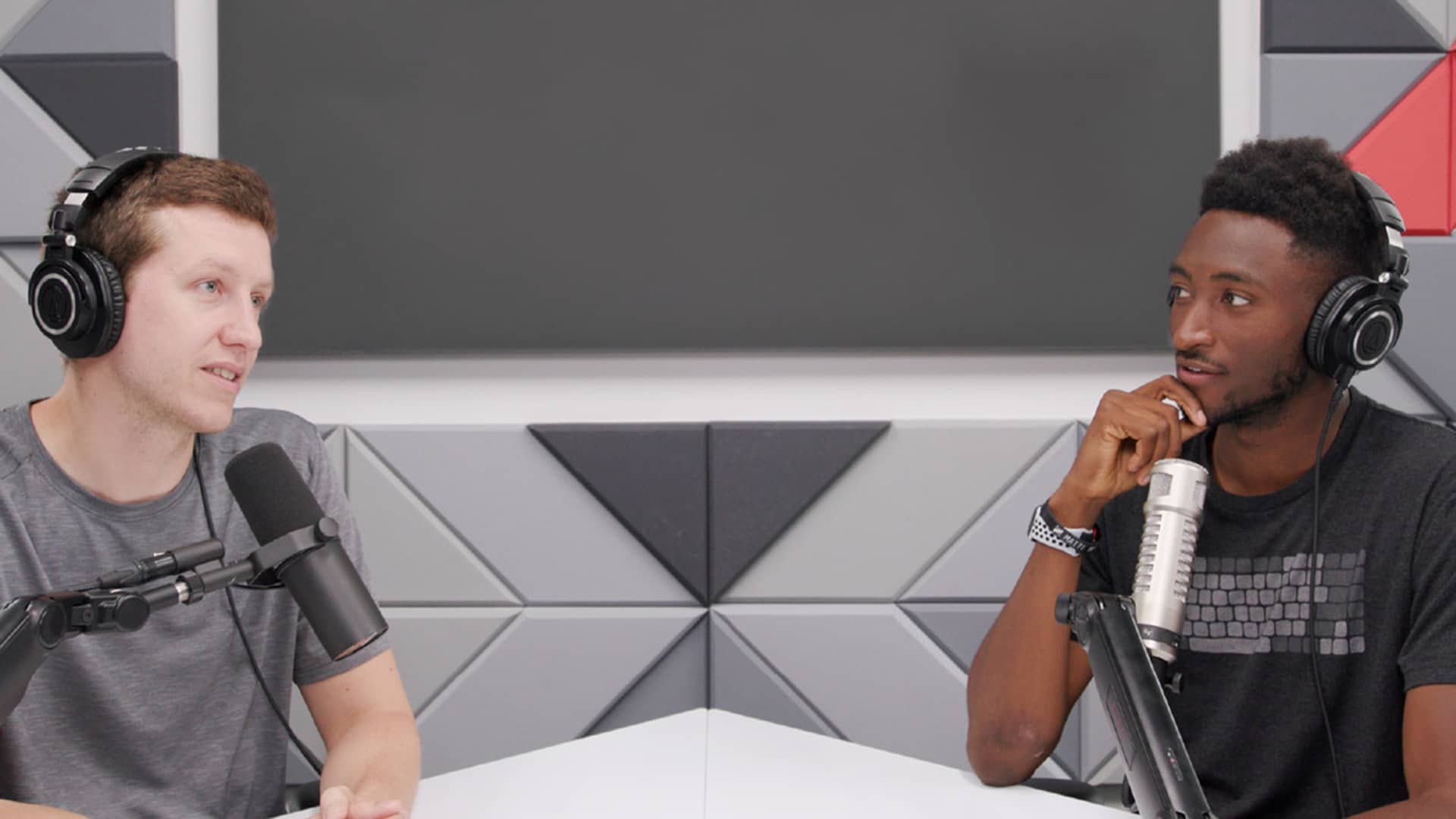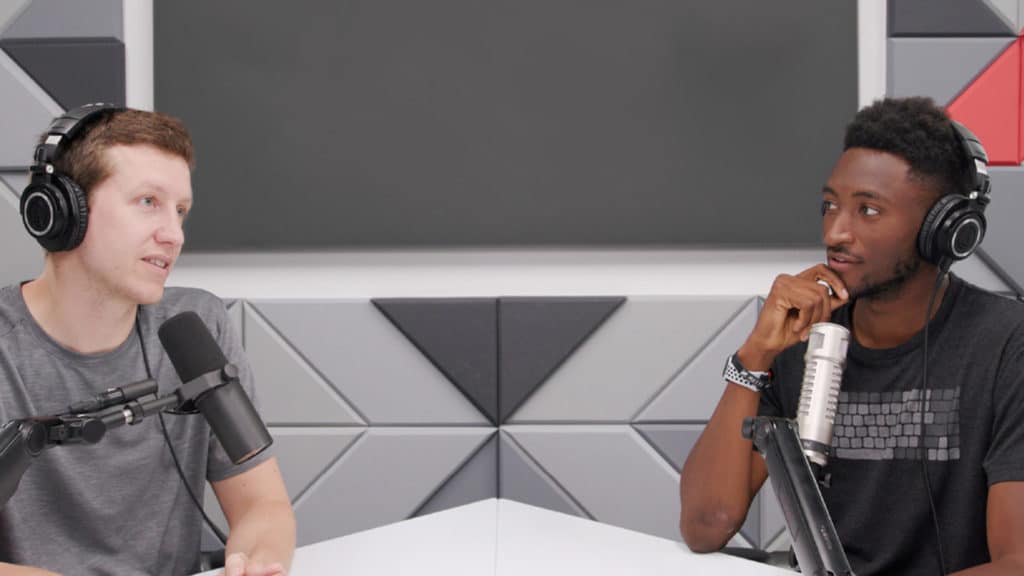 Marques has a dedicated room for his Waveform Podcast, and it's already obvious that the audio here is absolutely spectacular. The room is carefully engineered to ensure the best audio possible for the podcast. The room is carpeted, ceilings are foamed, base traps are placed in the corners, and a huge acoustic wall is placed in the back. Other than that, there are a few Herman Miller chairs for the guests and 3 Canon EOS C300s cameras, each of which costs $11,000.
Every room in the studio has a few standard features that really make the office unique. There are motorized blackout shades everywhere. Rooms where MKBHD records audio have carpeted floors and foamed ceilings. There are soundproof curtains to ensure sounds from the HVAC system don't sneak their way into their videos.
Overall, it's not flashy, but it's definitely a setup streamlined to ensure the best possible production value.
Linus Tech Tips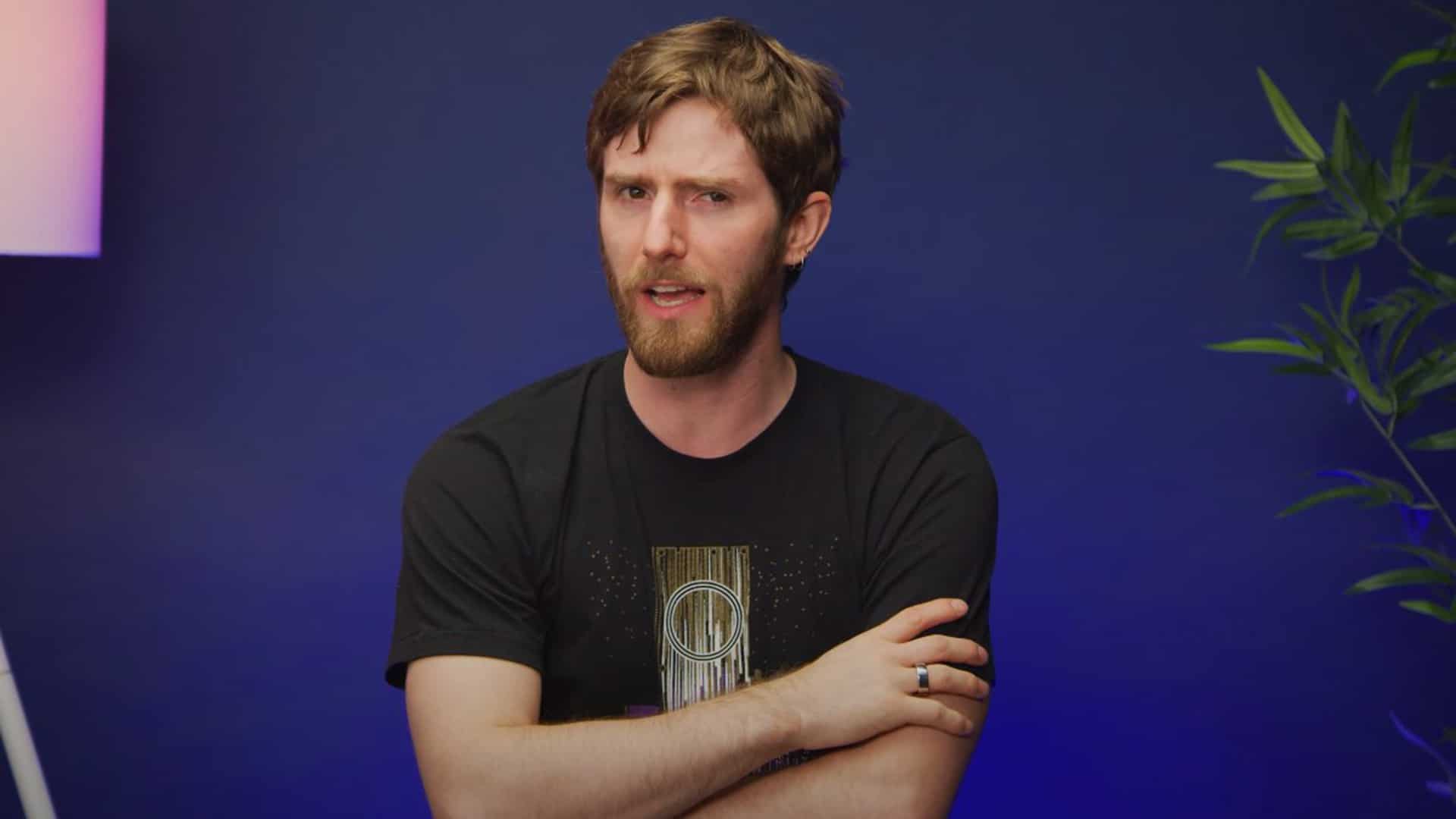 Estimated Value: Unknown
Linus Sebastian is one of the biggest hardware reviewers on YouTube, and he's one of the few YouTubers who have managed to convert a side project into an entire corporation. His studio isn't on my best YouTuber studios list because it has a lot of expensive hardware. It's expensive because every single thing you find in his studio has been tailored to perfection to ensure the utmost efficiency for his team.
So, you won't find one piece of hardware that costs hundreds of thousands of dollars. Instead, you'll find a bunch of small solutions that each cost a ton of money.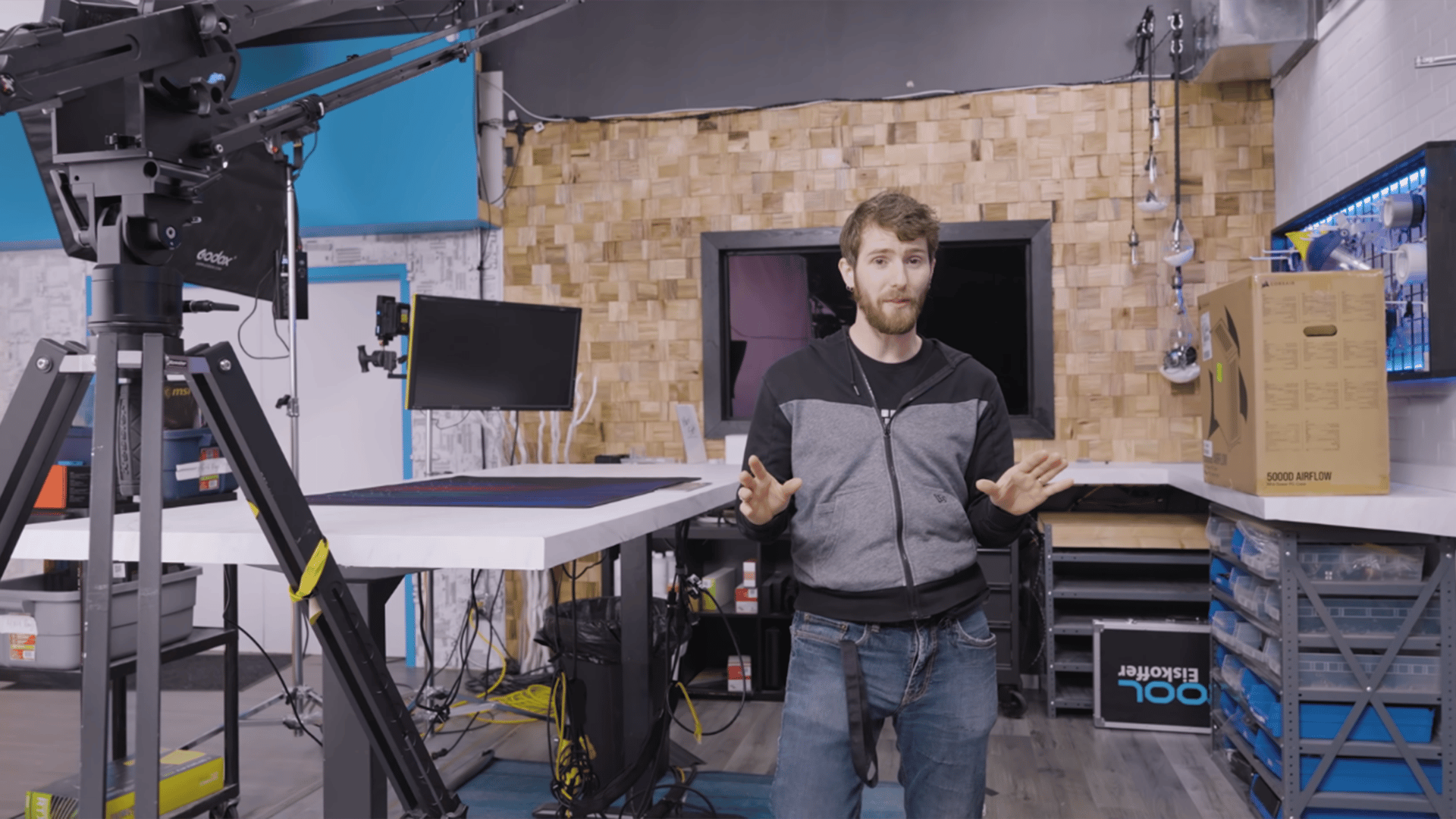 Linus has the studio divided into a lot of different sections, each of which serves a specific purpose. First off, there's the workshop where Linus films a lot of his workbench-style videos where he's testing out a particular piece of hardware. The workbench is also optimized with labeled drawers to make sure Linus or other team members don't have to run around the studio whenever they need to make a small adjustment in the setup.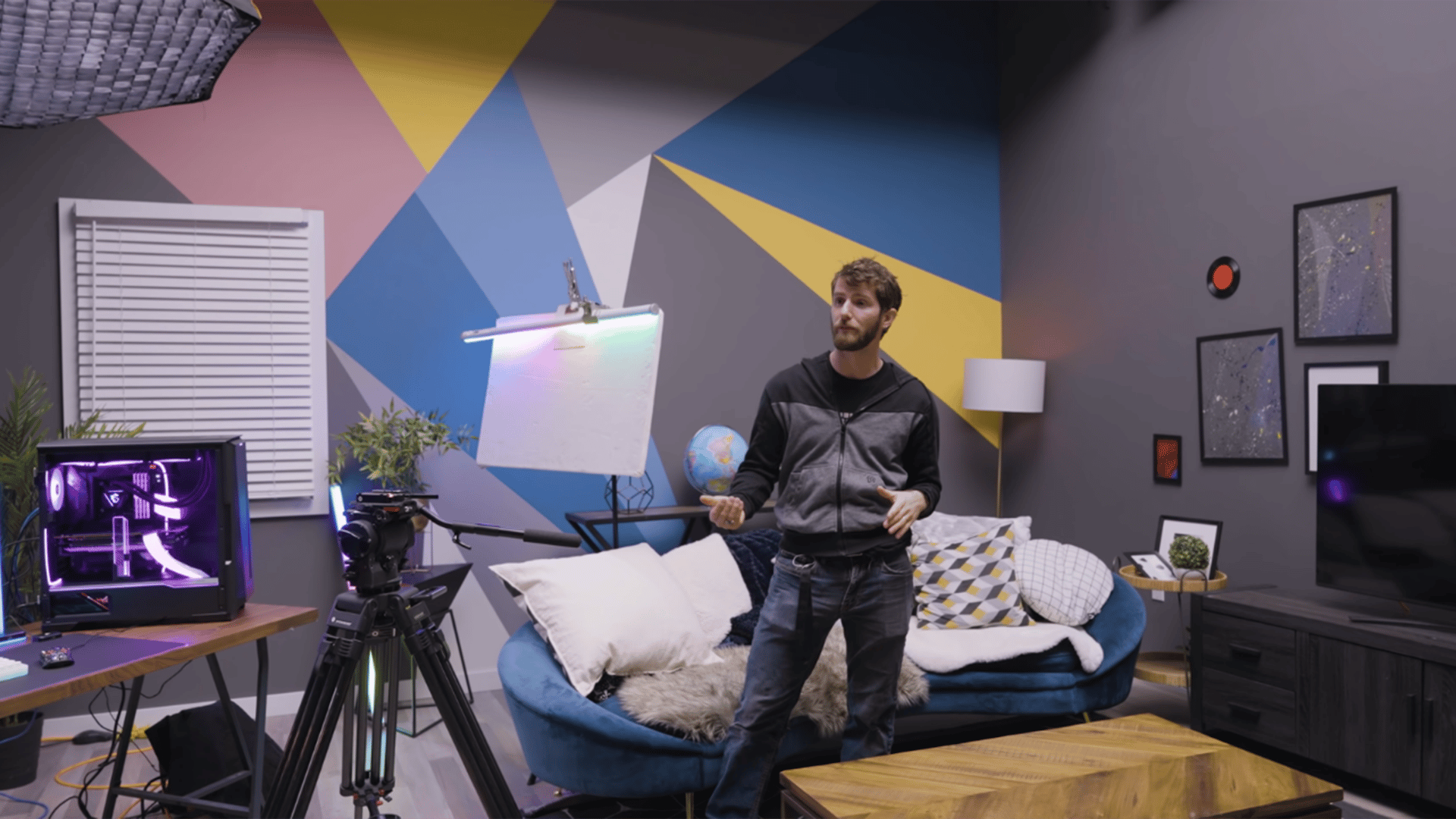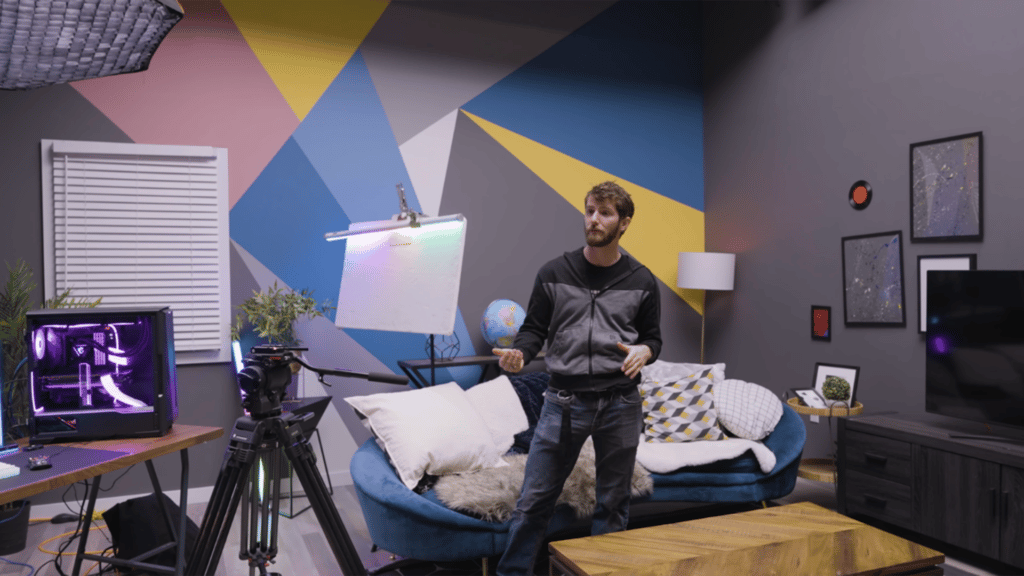 There's a separate apartment-style room meant to create a more comfy, homely vibe for videos that require a more casual setting. This is one of the best YouTuber studios made with creativity and comfort of the audience in mind. This room also has an open ceiling and acoustic foams all around the walls and rafters to ensure better acoustics.
The office space is divided into different sections, with each section dedicated to a specific team. For instance, the writing team sits in a place called the Writers Block (clever pun), the accounting team sits in the Accounting Quarters (clever pun once again), and so on.
We don't really have the specs of the rigs used by the less computing-intensive employees, but the editors are using insane PCs. Every workstation they're using is hand-built by Linus himself. The rigs have 24-core AMD Ryzen Threadripper processors with 128GB RAM and RTX 3090 or Quadro cards that have 24GB VRAM.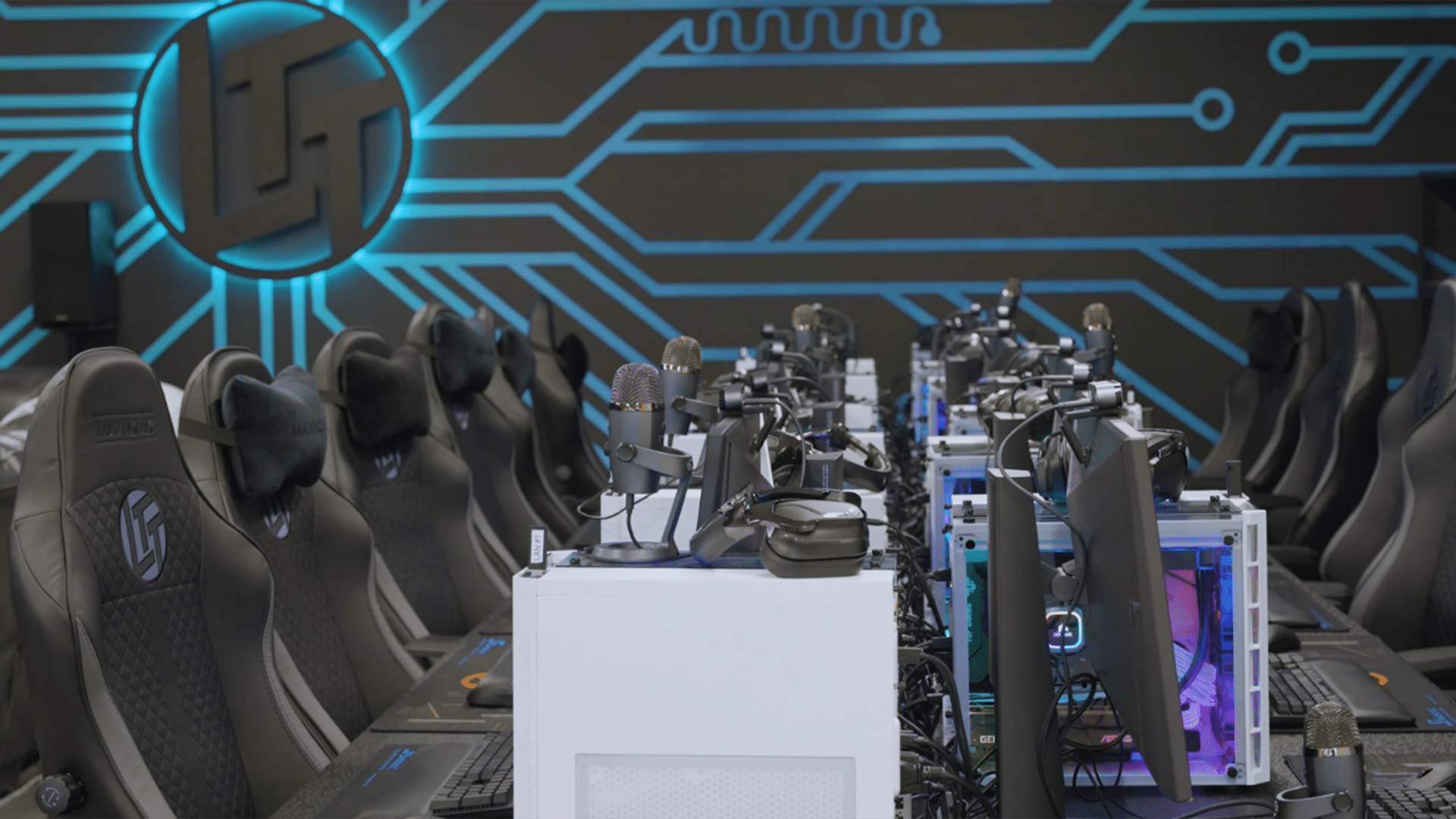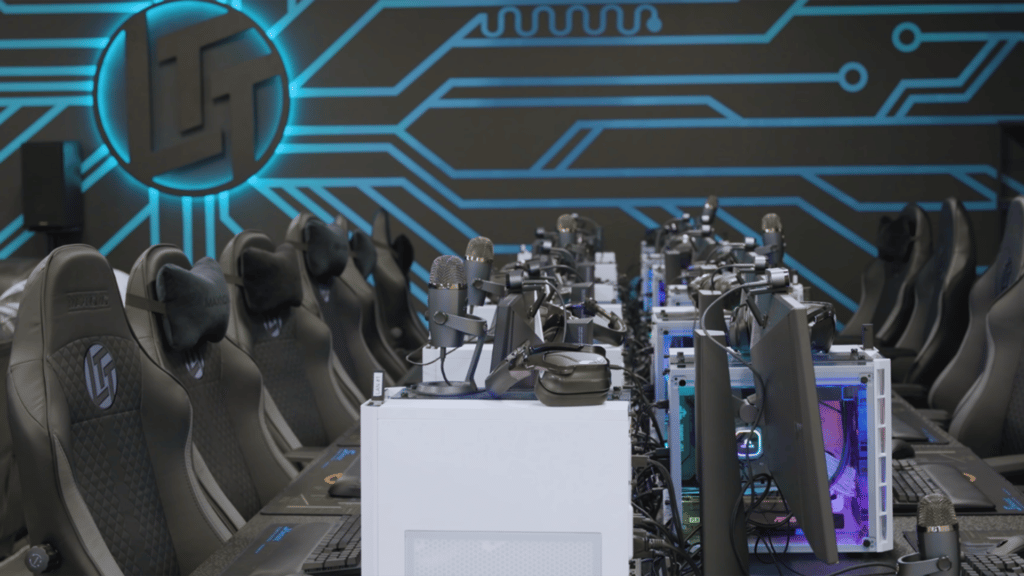 The Linus Media Group lounge is a geek's paradise. On one side, you have a PS5, Xbox Series X, and a Nintendo Switch hooked up to a Sony laser projector. On the other side, you have 12 gaming rigs set up in a 6×6 configuration for LANs between the employees.
It's extremely difficult to understand the actual price of Linus' setup since most of the money he spends is on custom solutions to target inefficiencies, but he's definitely over the 3 million mark in terms of the money spent.
Unbox Therapy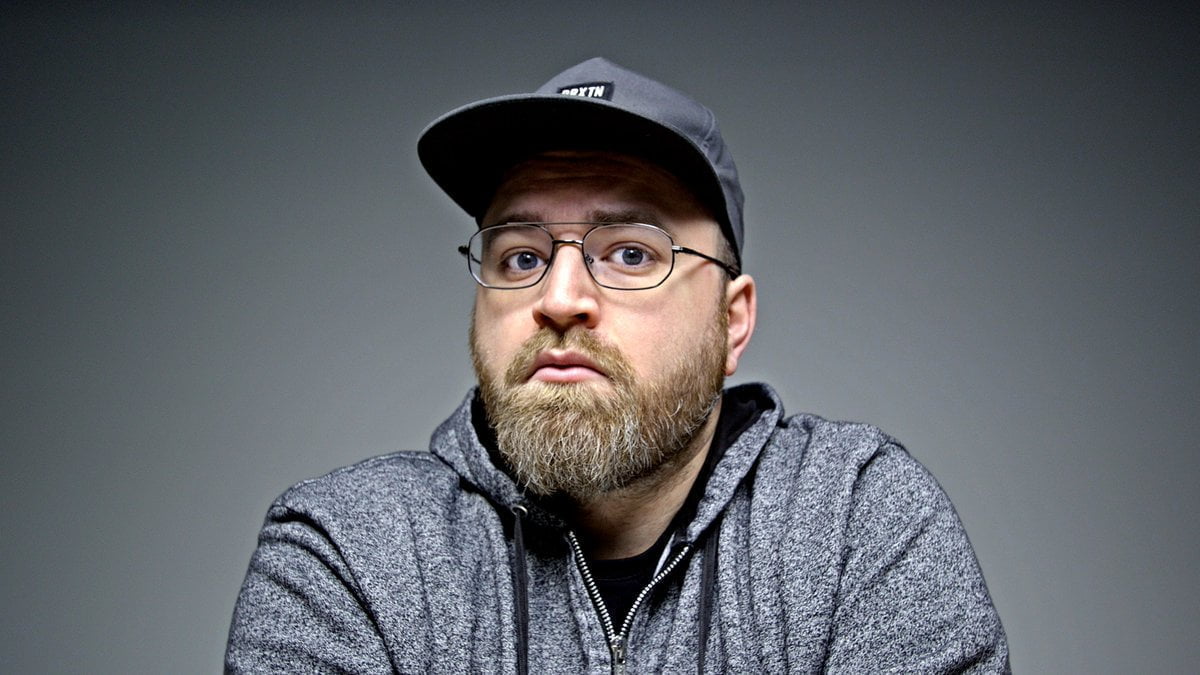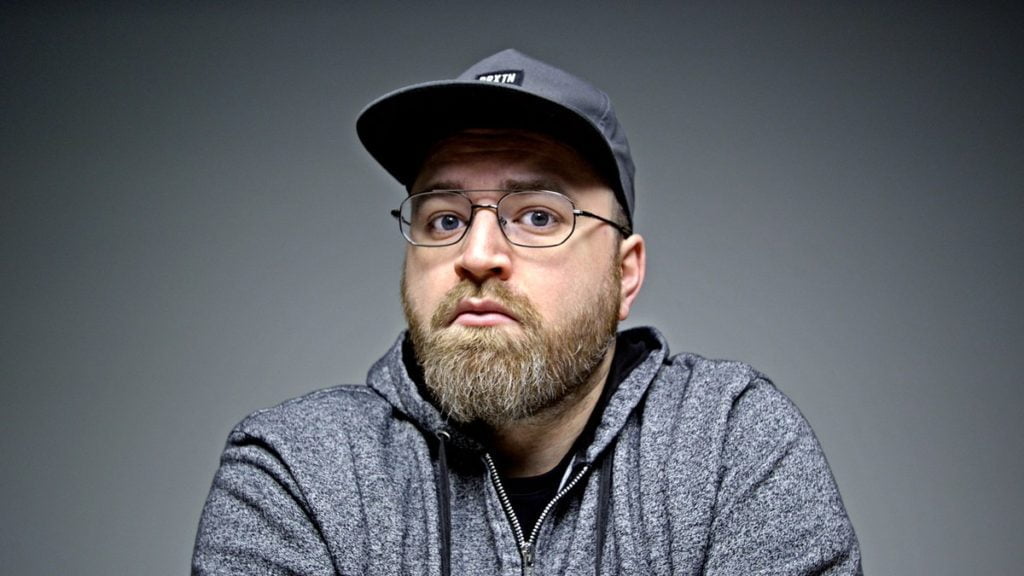 Estimated Value: Unknown
Unbox Therapy is another big name in the tech ecosystem of YouTube. The channel is the brainchild of Lewis Hilsenteger, a Canadian who has 18 million subscribers on Unbox Therapy at the moment. The type of content that he shoots is a bit more limited in terms of creativity, but it's a channel focused solely on hardware reviews, and Lew is able to pull those off brilliantly. Unbox Therapy currently has two main studios where they are recording and both are among the best YouTuber studios I've ever seen.
Let's talk about those individually.
Main Setup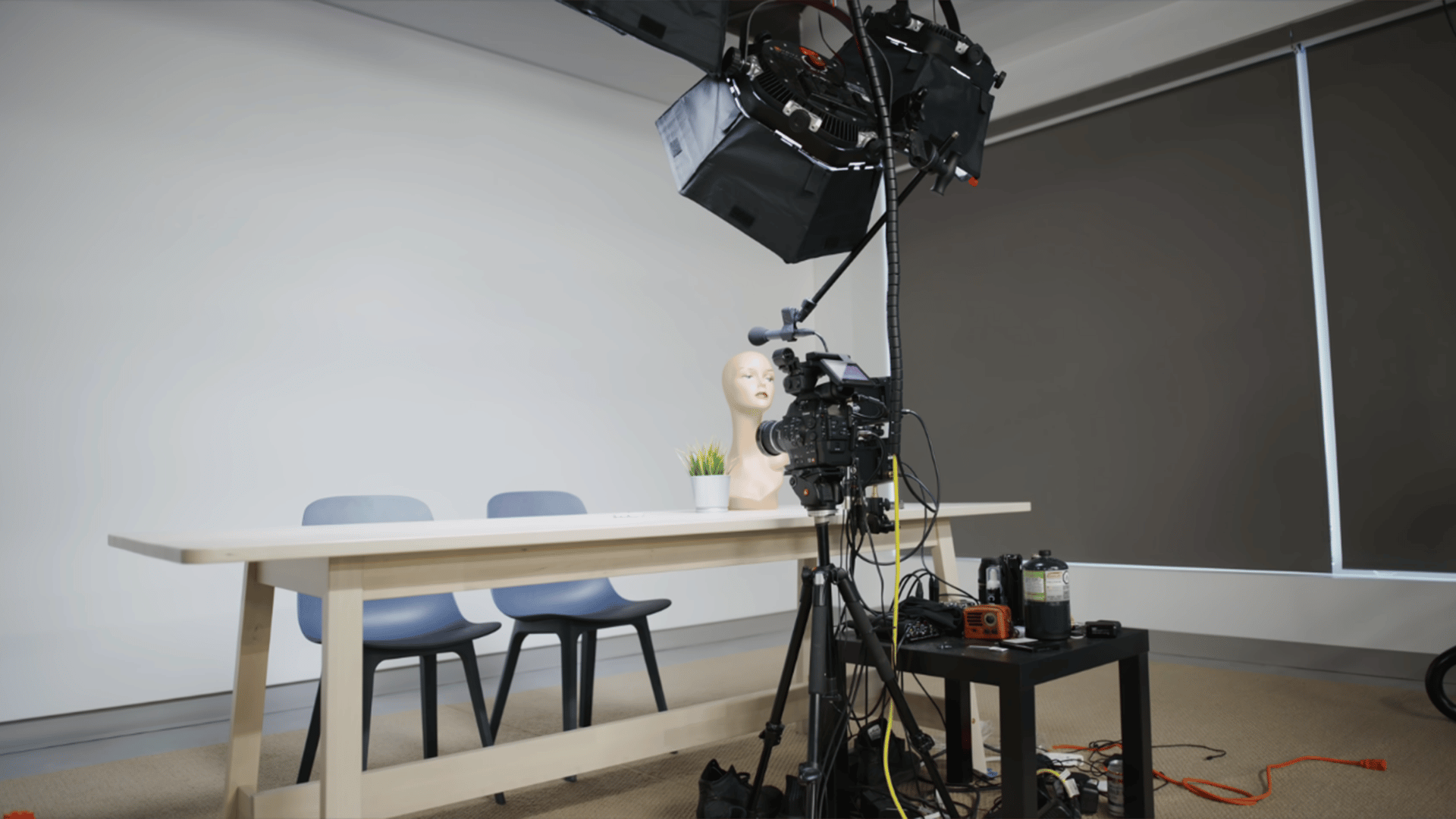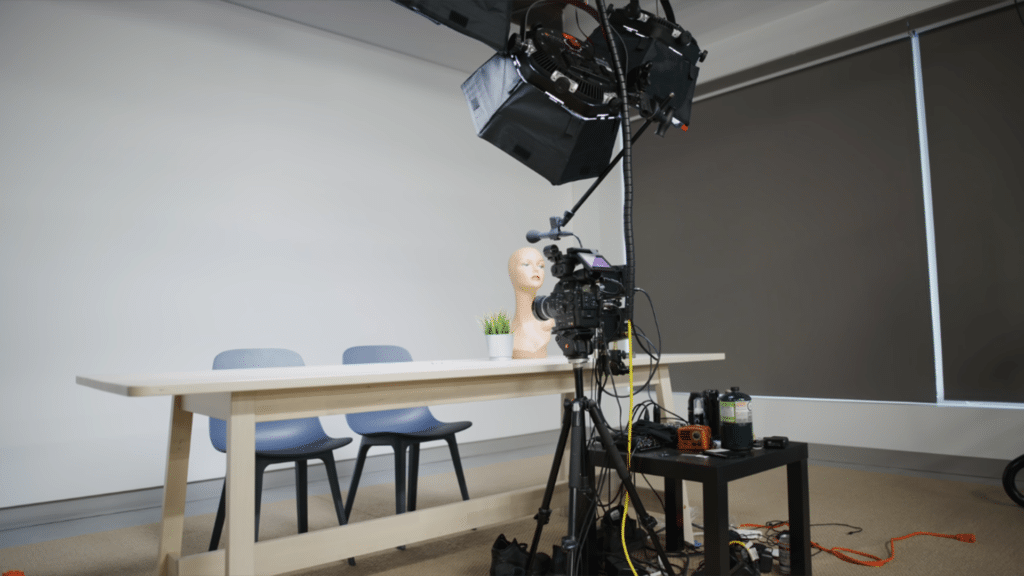 This is Lewis' iconic setup that has been the signature trademark of the Unbox Therapy channel for the last few years. It's a super simple setup with nothing but a desk, a grey backdrop, Lewis, and one or two props just to liven things up.
The camera setup is pretty impressive, though. At the front, Unbox Therapy is running a trio of Canon C500s, each of which cost over $10,000. These cameras are hooked up to Atomos Ninja V 4K recorders. The recorder alone costs $500.
The front camera uses a Tokina 11-16mm lens ($400). The side cameras are hooked up to Sigma 70-200mm lens ($1400), while the top-down camera has a Canon 700-200mm lens ($1000).
As far as audio is concerned, Unbox Therapy uses a shotgun microphone. The audio is recorded and synced to the video separately.
New Setup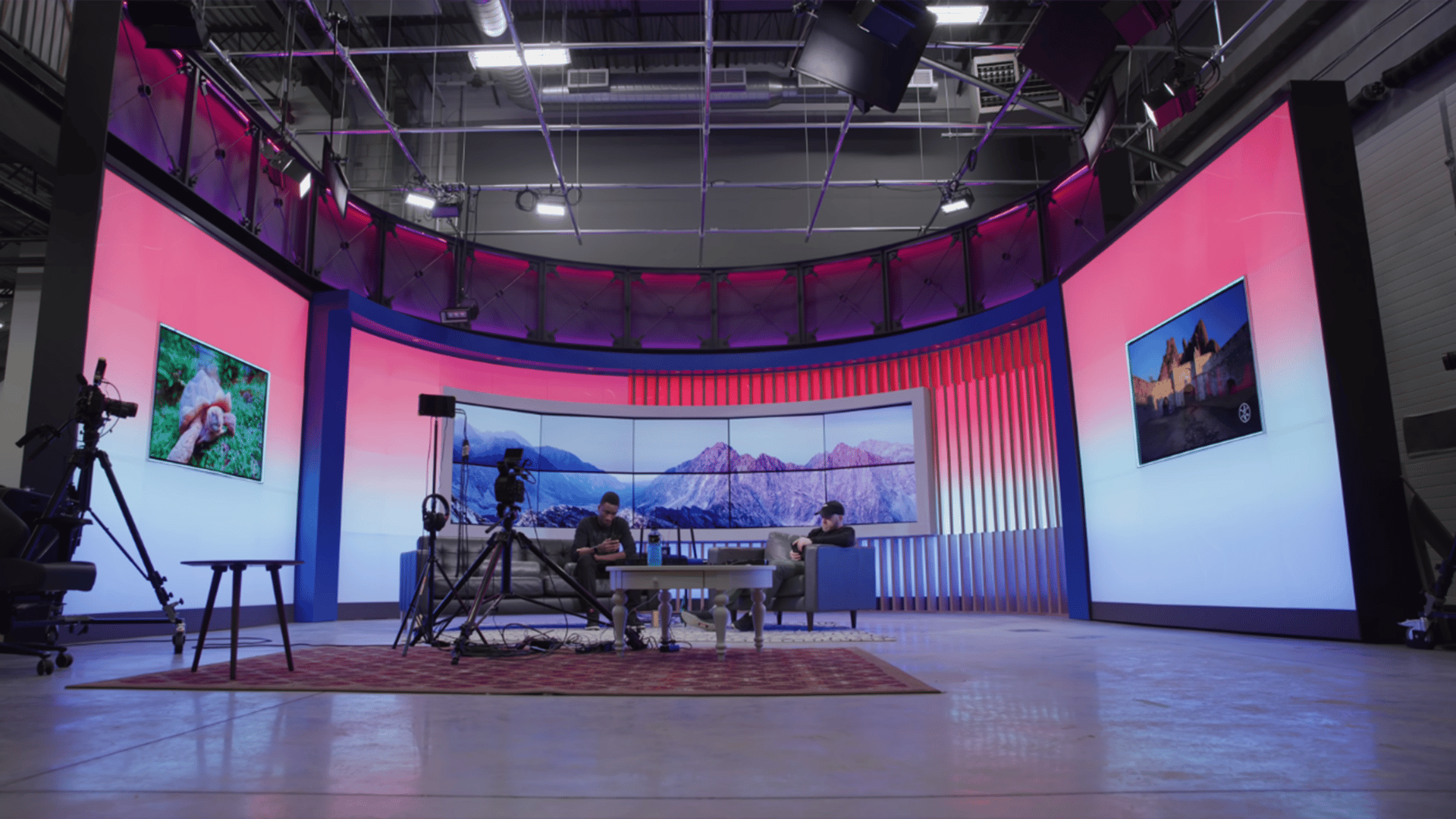 The main setup is cool and all, but it's nothing compared to how absolutely insane the new setup is. It's the best YouTuber studio if you're judging strictly by the aesthetics. On the front, you have the same trio of C500s similar to what the main setup has. The side camera has a similar 70-200mm lens. In the background, Lew didn't go for a big screen for the Unbox Therapy logo. Instead, he's using 10 4K OLED TVs stitched together (approximately $14,000). Apart from that, there are two LG 77" 4K OLED Wallpaper TVs on both sides, each of which costs $10,000.
Closing Thoughts
There are a lot more content creators out there with extremely impressive studious. However, not every YouTuber does studio tours and just randomly guessing what hardware they're running isn't really something I wanted to do.
But, if YouTubers like The Verge, Dude Perfect, Corridor Crew, etc., ever create a studio tour, I'll definitely update this list. If there are people deserving to be on our best YouTuber studios list, it's them.