The Geo Archon, Morax, commonly referred to as Zhongli by Liyue residents, is an indispensable 5-star character famous for his frugality, charisma, and brooding eyes. Players first see Zhongli during the Archon Quest Chapter I: Farewell, the Archaic Lord. The 2nd phase of Genshin Impact 2.4 patch features Zhongli, alongside Beidou, Xingqiu, and Yanfei.
Morax's event banner, Gentry of Hermitage, is available until February 15, 2022. If you're looking to brush up on how to play the Geo Archon or looking for an easy build to follow, you've come to the perfect place. This article will tackle playing and building Zhongli in the most simple yet efficient way possible.
Breakdown of Talents and Playstyles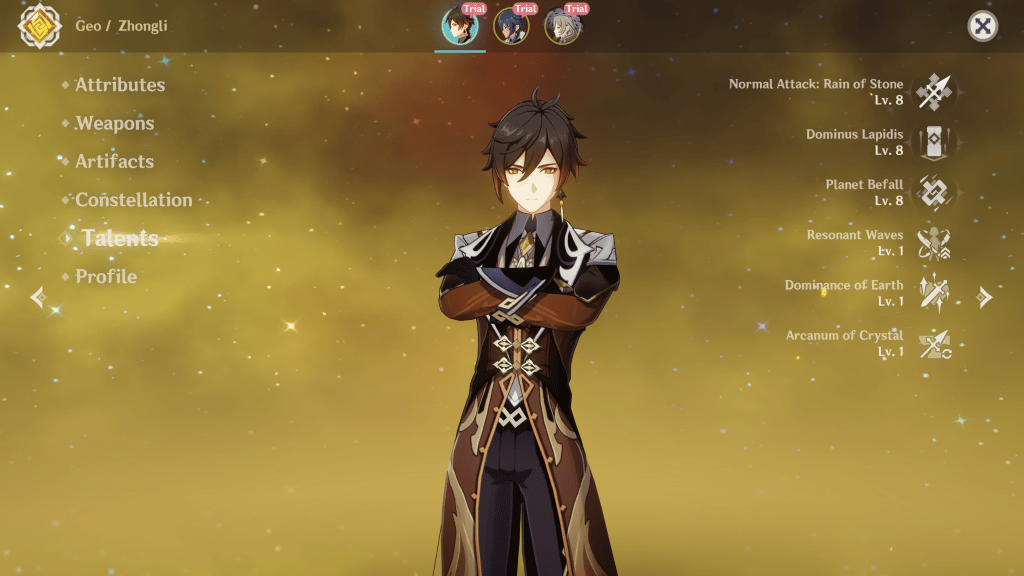 It's a running joke in Genshin Impact that players who run a constant character that provides shields, like Zhongli, for example, tend to forget how to evade attacks in battle. Azhdaha's stomping his feet in anger? Oh, I didn't even notice.
Although Zhongli's talents are fairly simple to understand, he does have multiple ways to be played. You can use the Geo Archon as a pure shielder to protect your characters and reduce the enemies' resistance or as standard burst support relying on petrification and burst damage.
Zhongli's Elemental Skill, Dominus Lapidis, can be tapped or held down to activate. Either option create a Geo construct pillar that, when tapped, deals a bit of DMG and, when held, deals DMG and gives Zhongli a shield. The shield's DMG absorption scales off of Zhongli's Max HP. In addition, the shield reduces the Elemental and Physical RES of opponents by 20%. The shield lasts for 20 seconds, whether tapped or held.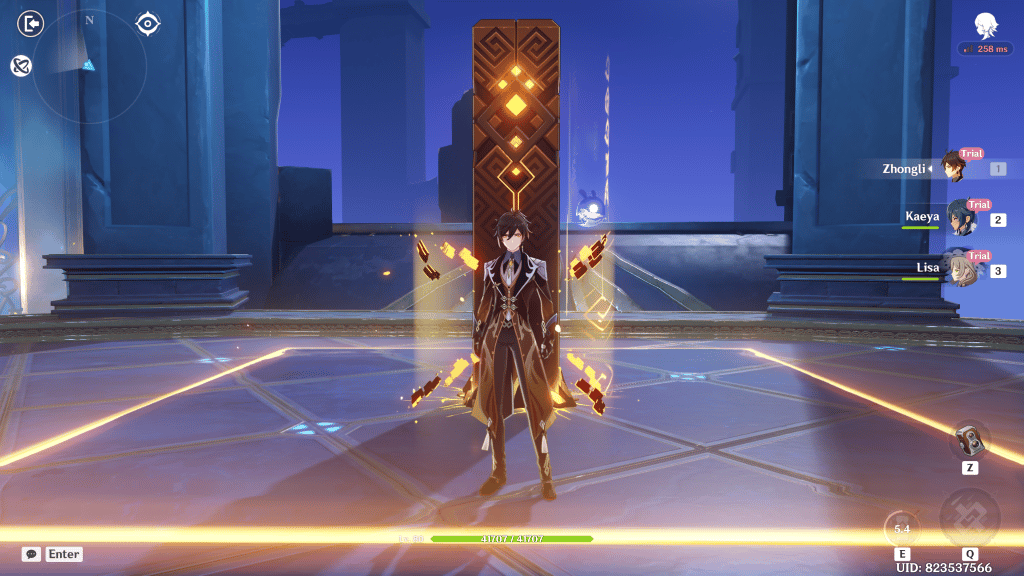 Next up is the Geo Archon's Elemental Burst, Planet Befall. When activated, Zhongli summons a massive meteor to the ground that deals Geo DMG and petrifies enemies caught in the field. The burst has a high DMG scaling and petrifies enemies for up to four seconds. It has a 12-second cooldown and costs 40 Energy.
One of Zhongli's passive skills, Dominance of Earth, is a highly useful ability that helps increase the Archon's DMG output. With the help of the passive ability, Zhongli can deal bonus DMG based on his Max HP. His Normal, Charged, and Plunging Attack DMG is increased by 1.30% of his Max HP. Meanwhile, his Skill and Burst DMG are increased by 1.9% and 33% of his Max HP respectively.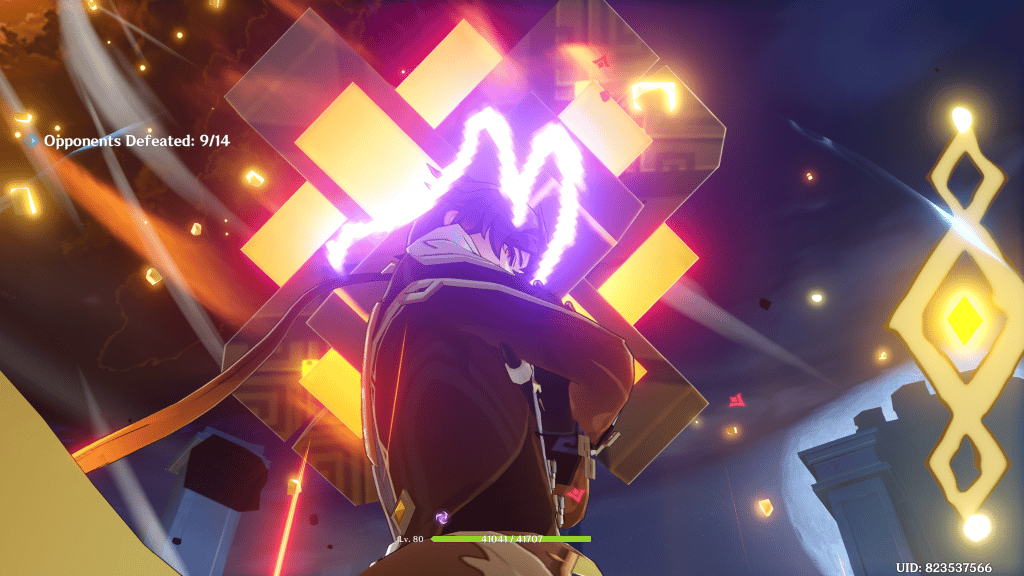 The optimal rotation for a Zhongli team composition typically goes like this:
Activate Zhongli's Elemental Skill (E) to activate his shield and deal Geo DMG.
Swap to your Main DPS and attack enemies.
Switch back to Zhongli when his Elemental Burst (Q) is up; activate.
Swap back to DPS characters to finish off enemies.
Repeat if necessary.
Zhongli is a versatile character that fits in almost any team composition requiring a shield. With that said, let's move on to the next part of the Zhongli build article and talk about his weapons.
Weapons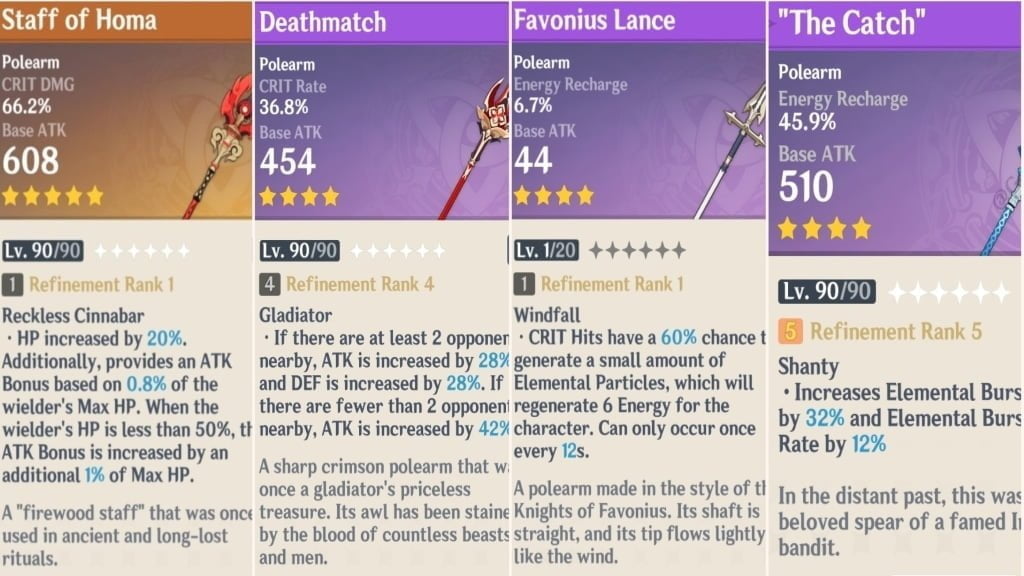 Since Zhongli can be played in multiple ways, his weapons and artifact sets are quite diverse. The following information is taken from popular Genshin streamers Zy0x, Xlice, and IWinToLoseGaming's in-depth Zhongli build.
If you plan to play your Zhongli as a sub-DPS or as burst support, the best weapon slot for his is none other than the 5-star Staff of Homa. This polearm provides a high Base ATK plus a CRIT DMG sub-effect. The weapon's passive increases the user's HP and provides an ATK Bonus. This weapon was made primarily for HP scaling characters such as Morax and Hu Tao.
However, if you don't have this 5-star weapon, you can use the following spears on Zhongli: 4-star Deathmatch for its high CRIT Rate and passive ATK buff, 4-star Favonius Lance for the Energy Recharge substat and passive that generates Energy, or the 4-star Catch for its Energy Recharge substat and passive that increases Elemental Burst DMG and Elemental Burst CRIT Rate.
Artifacts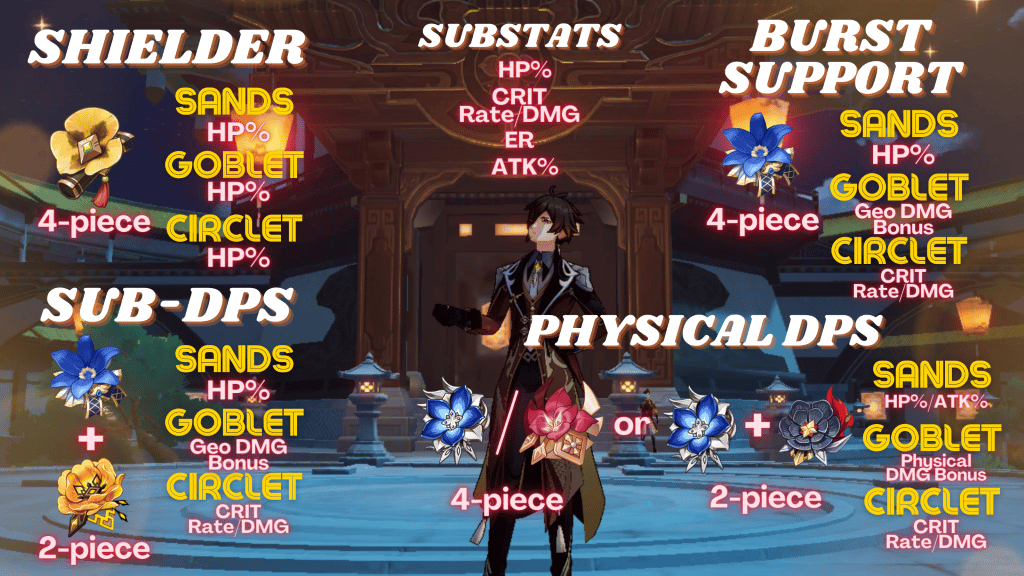 Moving on to Zhongli's artifacts, as mentioned above, there are a few sets you can use on him, depending on his role in your team.
If you're looking to build a general yet strong artifact set on Zhongli that focuses on his shields, you can build a 4-piece Tenacity of the Millelith. A 2-piece Tenacity increases the bearer's HP by 20%, while a 4-piece set increases the ATK of all nearby party members by 20% whenever an Elemental Skill hits an opponent.
Next, if you want to build Morax as a burst support, you can use a 4-piece Noblesse Oblige. Overall, this set increases the Elemental Burst DMG and ATK of the user and party members. Alternatively, as a sub-DPS, you can go for a 2-piece Noblesse Oblige with a 2-piece Archaic Petra.
Lastly, if you're playing Zhongli as a physical DPS you can go for a variety of sets such as a 4-piece Pale Flame, 4-piece Gladiator, or a 2-piece Bloodstained Chivalry paired with a 2-piece Pale Flame.
Here's what you should be looking to get for the main stats. If you're focusing on Zhongli as a shielder, go for an HP Sands, Goblet, and Circlet. For burst support and sub-DPS Zhongli, go for a HP Sands, Geo DMG Bonus Goblet, and a CRIT Rate/DMG Circlet.
Now, for physical DPS Zhongli builders, here's what you should be getting either an HP or ATK Sands, Physical DMG Bonus Goblet, and a CRIT Rate/DMG Circlet.
Substats:
Again, if you're focusing on Zhongli's shield's strength, focus on getting more HP% substats, and more ATK% and CRIT substats for other roles.
Conclusion
How did you build or plan to build the Wangsheng Funeral Parlor Consultant, Zhongli? Let us know in the comments below! We hope this build has steered you in the right direction on how to build the Geo Archon. Tune in next time for another guide!