Fortnite Chapter 4 Season 3 added a ton of new things to do and interact with around the map. One of those things is the new bouncy hop flowers. These were added to the new jungle biome, and they're related to a quest that was added in the new season. That's why, today, we'll be showing you how to bounce on different hop flowers without landing.
Many players have encountered issues with this quest, as it's not really clear where you can find more than two hop flowers clumped together in one area. And seeing as how you'll need more than one hop flower to complete it, we're here to help you. We'll show you where the best spot to do it is located, and the easiest way to actually do the hopping.
How to Bounce on Different Hop Flowers Without Landing in Fortnite
So, Hop Flowers are exclusive to the new jungle biome that was added in the 3rd season of Chapter 4. As previously mentioned, one of the Week 5 quests will have you chain multiple hop flower bounces without touching the ground. First, we have to find a suitable location for this with multiple hop flowers close together.
There is a location just north of Rumble Ruins that has multiple hop flowers close by, and we'd recommend completing this objective here. This place is quite easy to find, and we'll attach a picture of the map below so you know exactly where to go.
Once there, you'll notice that there is a zipline that can take you into a tree. Take the zipline to the top of the tree; this is where you'll see one lonely hop flower. However, you'll soon see that there is also one hop flower below the tree and one on top of a ridge close by. You're going to want to use these three to chain your bounces without landing.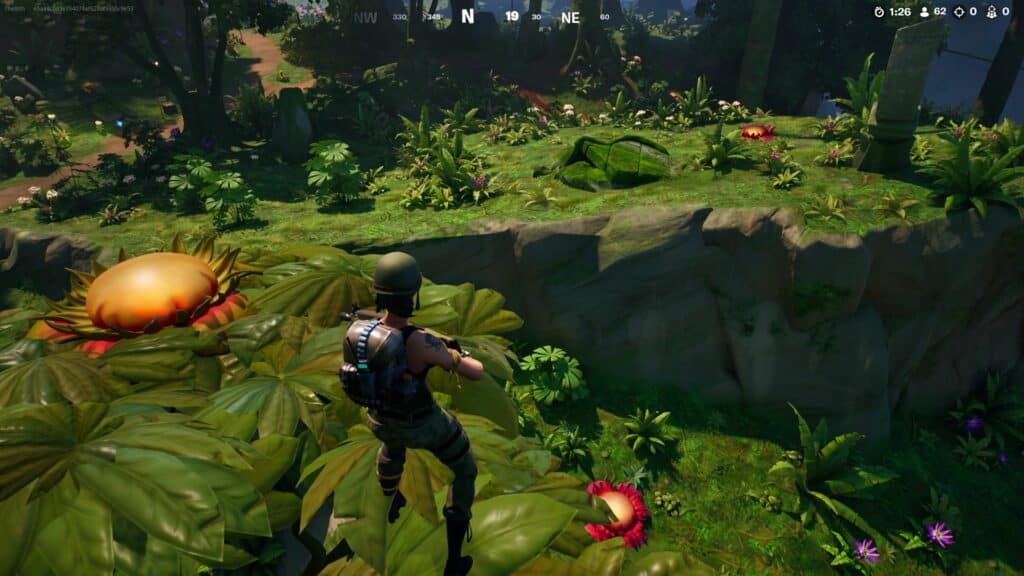 Chaining these three bounces is easier said than done. Especially due to how contested Rumble Ruins is, and how many enemies regularly drop there. If you want to attempt these bounces peacefully, land somewhere outside of Rumble Ruins and get a weapon. As soon as it's safe to approach, zipline into the tree and start bouncing. It may take you a couple of attempts.
Augments can also help you finish this quicker. The "Soaring Sprints" augment can decrease your jump gravity, and thus allow you to chain your bounces easier. With all that said, now you know how to bounce on different hop flowers without landing. Now go out there and get your XP/battle pass tiers.

There are other quests that we've covered. We'd recommend checking out our guide on How to Easily Flip a Vehicle in Fortnite.