It seems that a message from the official Call of Duty app is hinting that there will be a reveal by Activision on social media for the eagerly anticipated Call of Duty Black Ops Cold War to take place in the multiplayer of Modern Warfare (2019). The app outlines a date and time for fans to drop in the game and see the event themselves.
Call of Duty App confirms in-game reveal for Call of Duty Black Ops Cold War
Spotted by CharlieIntel, it seems that there could be an in-game reveal for Call of Duty Black Ops Cold War.
The full image appears below: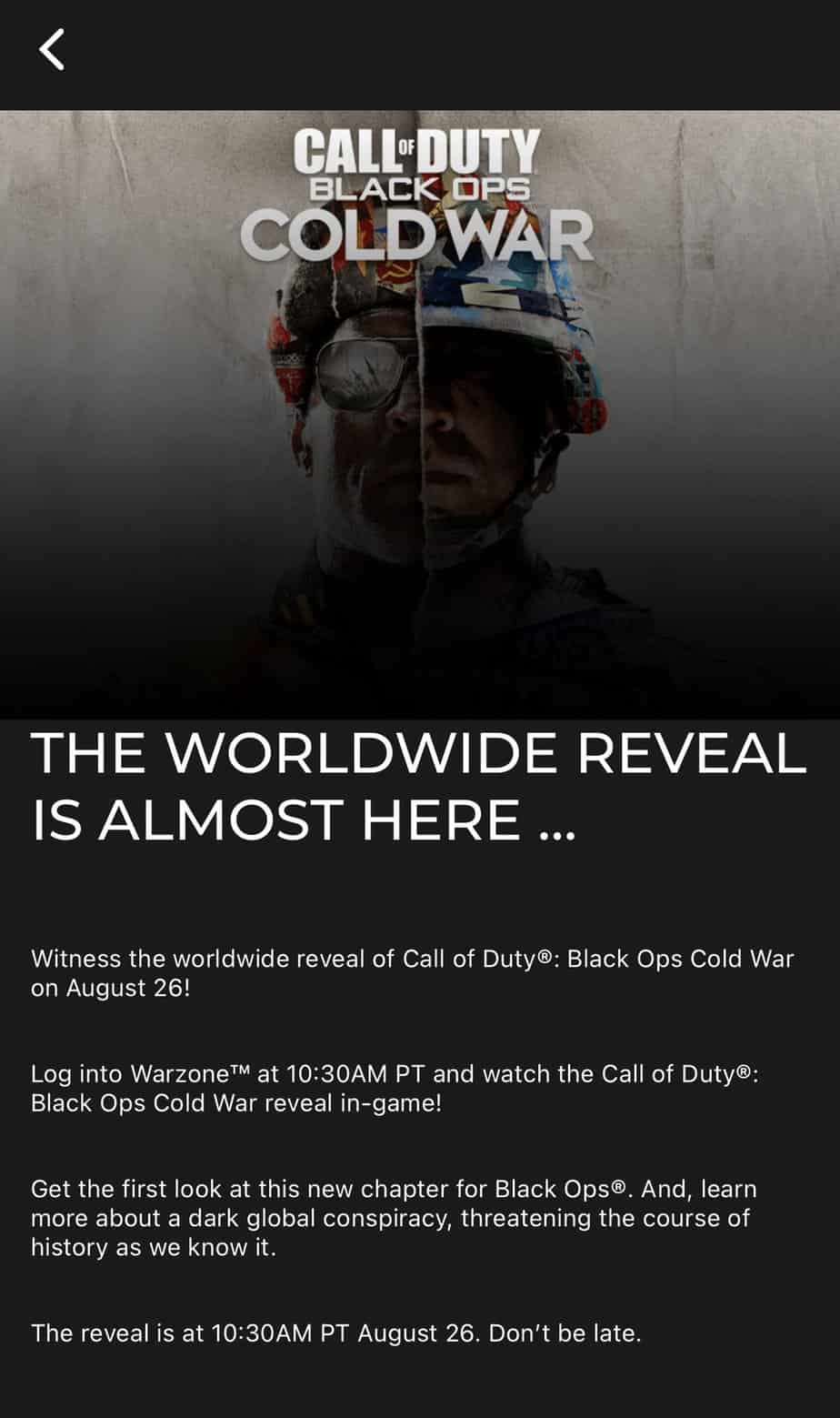 So, the game is set to have an in-game event in Call of Duty: Warzone, the dedicated Battle Royale mode of the game.
The app encourages players to login to Warzone on Wednesday, August 26th, at 10:30AM PT. If you want to know what time that is for you locally, simply put it in Google.
It has been long rumored that the Call of Duty reveal will take place in-game, but there was no confirmation from Activision until now.
It seems that the company is taking a page out of Epic Games play book when they're looking to create hype for a season with in-game events.
With Fortnite Chapter 2 Season 4, there is currently a series of comics one can view at the homescreen for free, along with Thor's hammer Mjölnir in the game as well.
The live event that will usher in the new season is set to happen in Fortnite as well.
By having an in-game reveal in Warzone, Call of Duty is ensuring that there is a maximum reach of viewers for the event.
Hopefully Activision servers will be equipped for the massive influx of new viewers, and fans will also be curious on how Activision will handle the first of its kind reveal in the Call of Duty universe.
Call of Duty Black Ops Cold War is set to be the latest entry in the series and it's rumored to be a soft reboot of the series, similar to Modern Warfare (2019).
What are your thoughts? Are you going to follow the reveal on social media, or queue up for the reveal in the game? Let us know in the comments section below.