It seems that there is a lot of back and forth going on between the gaming leaks community. Call of Duty 2020 is currently going by many different names, with the title card from "The Red Door" calling the game "Call of Duty Black Ops" and one of the first predictions made by Okami13_ calling the game Call of Duty Black Ops Cold War, it seems that we might have a winner with the name choice after a Doritos bag spills the beans.
Call of Duty Black Ops Cold War is quite the mouthful – but easy to eat with Doritos
While many fans were debating on what the name for the coming Call of Duty 2020 entry would be, it seems that the dust has settled on the name.
According to a bag of Doritos with some early packaging, the next Call of Duty entry is indeed dubbed: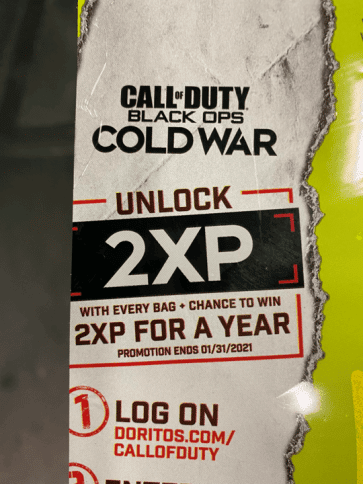 This is the first time that the series is going to have such a lengthy name, and for a game that is yet to be announced, fans are curious how the trailers are going to handle such a bulky name.
Doritos and Mountain Dew, have a good past with Activision, particularly with Call of Duty. So we would put a lot of credibility to this leak.
While the call was made by Call of Duty leaker, Okami13_ many months ago, it seems that their claims of the name stood the test of time after all.
Call of Duty – Where are you?
While Okami may have won the battle, the war for the latest entry is far from over as we have nothing but silence from Activision even now.
We are now entering the longest period without a new entry in the series being announced and fans are getting impatient.
As Activision continues to update Modern Warfare (2019) fans are growing eager and hoping to find a teaser or trailer somewhere in the update files of the game.
For now, all we can do is continue waiting and perhaps the wait will continue into August of 2020. With all the wait Activision is putting fans through, they're going to be setting a lot of expectations sky-high.
What are your thoughts on the latest Call of Duty leak? Let us know in the comments section below.