AMD has struck back against Intel with their release of the AMD 5000 series. With a knack for both performance and power efficiency – the latest chips – which will power many high-end and budget-oriented devices have raked up quite a stir.
CCL, for instance, has just released their Horizon and Nazare series; both equipped with Ryzen 5000 CPUs of varying kinds. With a promise for both persistence and performance, these pre-builts are meant to tackle any task you throw at them, big or small.
The Horizon and Nazare Lineup From CCL
When it comes to prebuilts, the most annoying part about them from our personal experience is the lack of customizability. In essence, most prebuilts have taken the essence of a gaming rig away in favor of highly commercialized SKUs that offer little to no flexibility.
CCL, on the other hand, has taken quite a different, consumer-centric approach. Rather than just release a singular model with a few specification differences that don't cater to everyone's particular needs, this year, we've been introduced to two different models from the brand.
Starting from just under £1285 and going all the way up to £3741, from RTX 3060 Ti's to 3090's – the Horizon and Nazare have it all. We're great fans of the variety that is provided to gamers.
So, since we're always on the lookout for a great deal – we've taken a gander at some of the most compelling offerings from CCL and their AMD 5000 series lineup and have listed them for you, right here!
Horizon 5 AMD RTX – 3070 Ti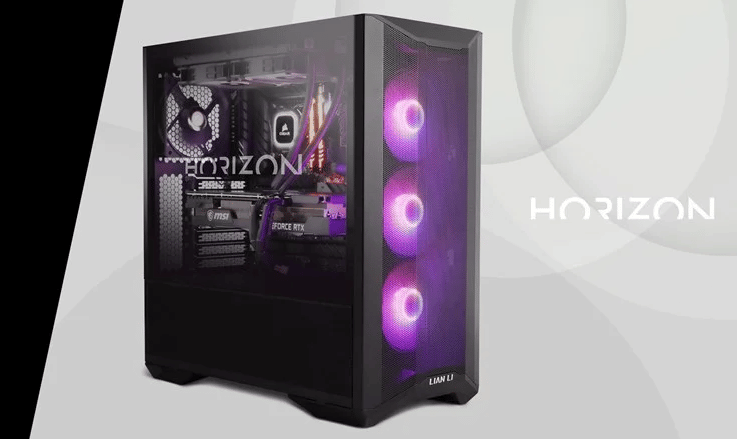 | | |
| --- | --- |
| Specification | Details |
| CPU | AMD Ryzen 5 5600X |
| Memory | 16 GB @ 3200 MHz |
| GPU | GeForce RTX 3070 Ti |
| PSU | 750 W Gold |
| SSD | Samsung 980 1 TB (M.2 NVMe Gen3) |
| HDD | Seagate BarraCuda 2 TB (7200 RPM) |
| Motherboard | Gigabyte B550 AOROUS ELITE AX V2 |
| CPU Cooler | Corsair Hydro Series H100x |
| Case | Lian Li Lancool II Mesh RGB |
| Warranty Duration | 3 Years |
To be honest, we're big fans of this build, coming in at only 1625 at the time of writing this, the combination of a GeForce RTX 3070 Ti with a Ryzen 5 5600X ensures that this build will never let you down. From video editing to play games at 1440p, you'll be in for an absolute treat.
Besides that, the addition of a minimal Lian Li case with a more than respectable 3 TBs of total storage further future-proofs this build guaranteeing that you won't need to upgrade for at least a few years.
Nazara 9390a – RTX 3090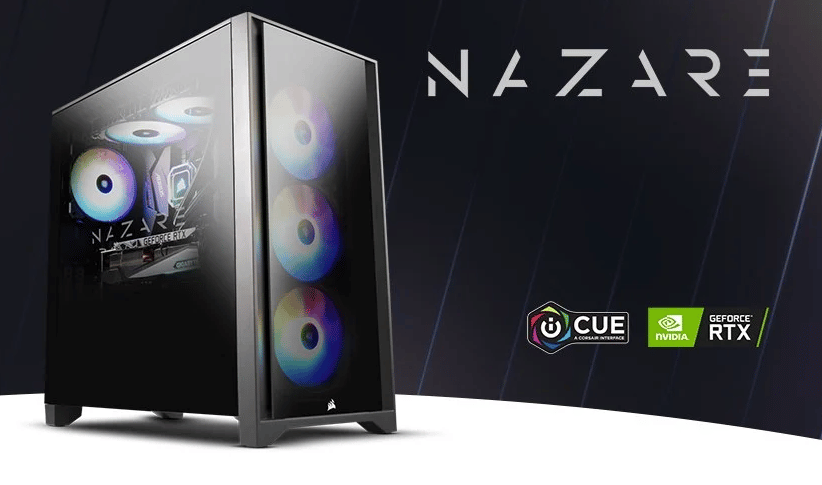 | | |
| --- | --- |
| Specification | Details |
| CPU | AMD Ryzen 9 5950X |
| Memory | 64 GB @ 3200 MHz |
| GPU | GeForce RTX 3090 |
| PSU | 1000 W Gold |
| SSD | Seagate FireCuda 530 1 TB (M.2 NVMe Gen3) |
| HDD | None |
| Motherboard | ASUS ROG Strix X570-E Gaming WiFi II |
| CPU Cooler | Corsair iCUE H150i Elite Capellix |
| Case | Corsair iCUE 4000X RGB |
| Warranty Duration | 3 Years |
In the mood for overkill? The Nazara 9390a has got you covered. Boasting the mighty top-of-the-line RTX 3090 with a whopping 64 GBs of RAM, this PC is meant for those who truly want to take things to the next level.
You'll be able to play games at 4K at a reasonable 60+ FPS, and render videos at blazing fast speeds. With it, you'll also be able to stream and play games at the same time while are you at it too.