A few hours ago, CD Projekt Red (CDPR) confirmed that they got hacked by an outside attacker. Amidst the theft, a lot of confidential company data was stolen, including the source code for their present and future titles such as The Witcher 3 upgrade and Cyberpunk 2077 upgrade.
CDPR Hacked – The company can't catch a break
CD Projekt Red is no stranger to controversy as of late. With the lackluster and chaotic launch of Cyberpunk 2077, the company's latest AAA title, the game is some what in a better state than it was at launch, but far less than an ideal product still, especially on the PS4 and Xbox One.
Unfortunately, today's news isn't about Cyberpunk as much as its about CDPR directly. A few hours ago, CDPR confirmed that they have been hacked by malicious hackers who are now threatening to release their confidential documents and source codes.
CDPR is holding a firm stance against negotiating with the hackers.
Here are zoomed in images of the images in the tweet: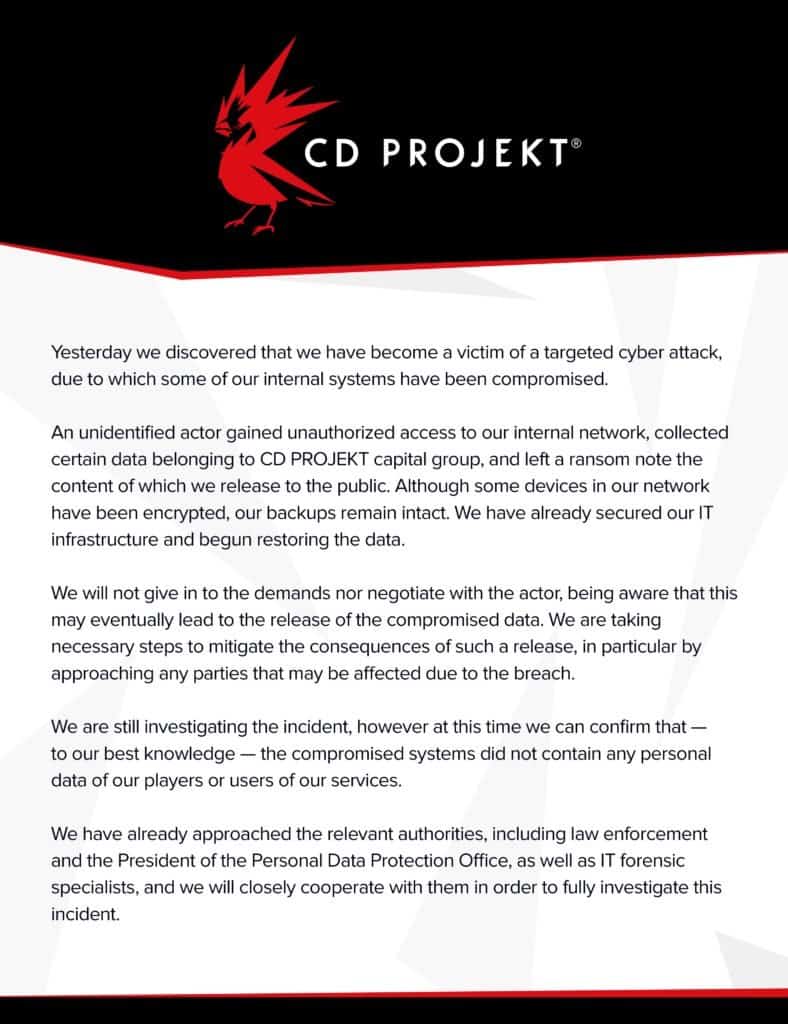 It has been a bad year for video game companies as Ubisoft, Capcom and a number of other companies were targets of hackers in 2020, with Capcom's confidential documents and video game details still coming out bit by bit.
CDPR has confirmed that customer data was not part of the breach. All of the data pertains to CDPR and their operations.
As unfortunate as Cyberpunk's situation is, the company facing a cyberattack of this level is truly saddening.
With the company also set to make amends to players by releasing two major patches, with the next one scheduled for this month, it is now a question if the company will still follow through with their plans for the current quarter in light of this situation.
It will come as no surprise that the hackers will have malicious intentions with stolen company data, but hopefully, no one will seek to use the stolen data as a means to profit.
For now, all we can do is follow the story as more information comes to light.
Let's hope CDPR is able to recover from this hit and wish them the best of luck for 2021.