Coffee Talk Episode 2 is a sequel to the 2020 indie hit that brought about a change in the atmosphere for the casual gamer and fan of pixel art games. In a time when video games rely on heavy action, cutscenes, and other bells and whistles to sell themselves, Coffee Talk is a relatively 'chilled out' experience. You are the barista and owner of a small cafe that caters to routine and new customers, hearing their stories, and acting as either their aid or bump in the road, depending on the brew you serve. In our Coffee Talk Episode 2 Review, we'll take a look at what this new entry offers.
Story
The game takes place in an alternate version of Seattle, in the year 2023. The city has both humans and other humanoid creatures such as ogres, satyrs, and other fantasy-inspired characters. These are people who have various occupations, personalities, ambitions, and goals, and they all come to your cafe for a little escape from their daily routine. The cup you serve them will determine the rest of their night, and that is pretty much all there is to the main story itself.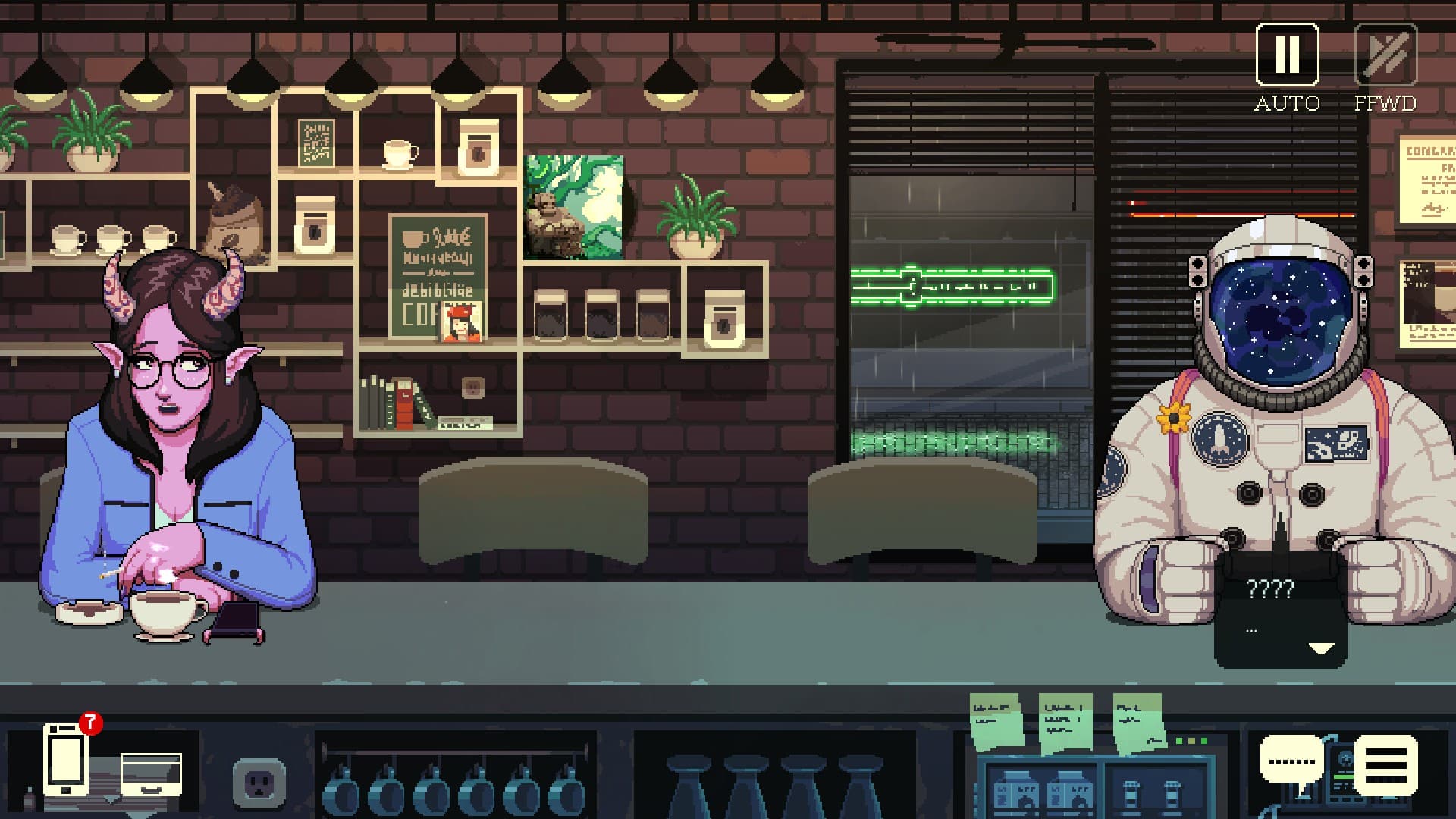 You will meet a wide variety of characters from the original game, and new faces in this entry too. Each of them is memorable and you will need to remember them if you want to get a good ending as each character has a story to tell with the other or through the other. This means you have to listen to what they have to say and help them with their goals where you can.
Graphics
The graphics are minimalist and the emphasis here is on the characters to make them stand out in the story. There are some neat touches to the game such as having a constant flurry of shadows outside your cafe window and watching silhouettes of people and vehicles passing by on the street to really give the world a sense of realism and immersion.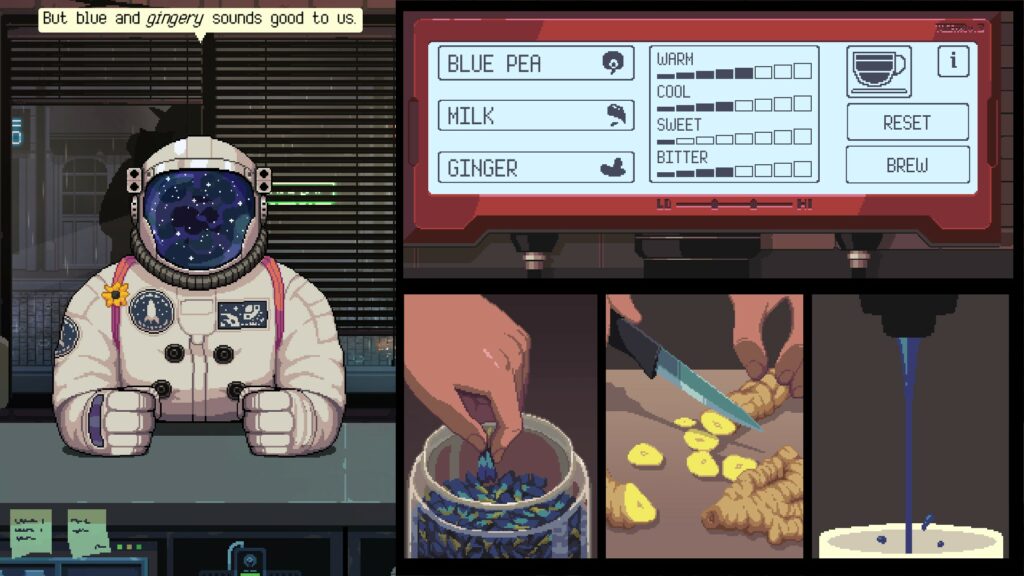 You have the same background throughout the game and that is not a bad thing. It helps you focus on customers first and listen to their stories and help them reach their best possible ending. It also helps that the graphics make it possible for the game to run on virtually ANY device at all. It's one of those games you can play during an office break or between classes due to it not requiring an immense amount of system resources.
The focus of the visuals here is to make the customers stand out, and the drinks you make for them. The presentation does that job brilliantly.
Gameplay
The gameplay loop is simple but doesn't feel monotonous. You listen to your patrons talk, they tell you their order and you either try to follow the recipe and make them their desired (custom) drink, but more often than not, you will have to make them a drink that's off the menu. Unfortunately, messing up the drink could mean a bad ending for that character but that's where you can save scum your way through and learn how to make their drink properly through trial and error.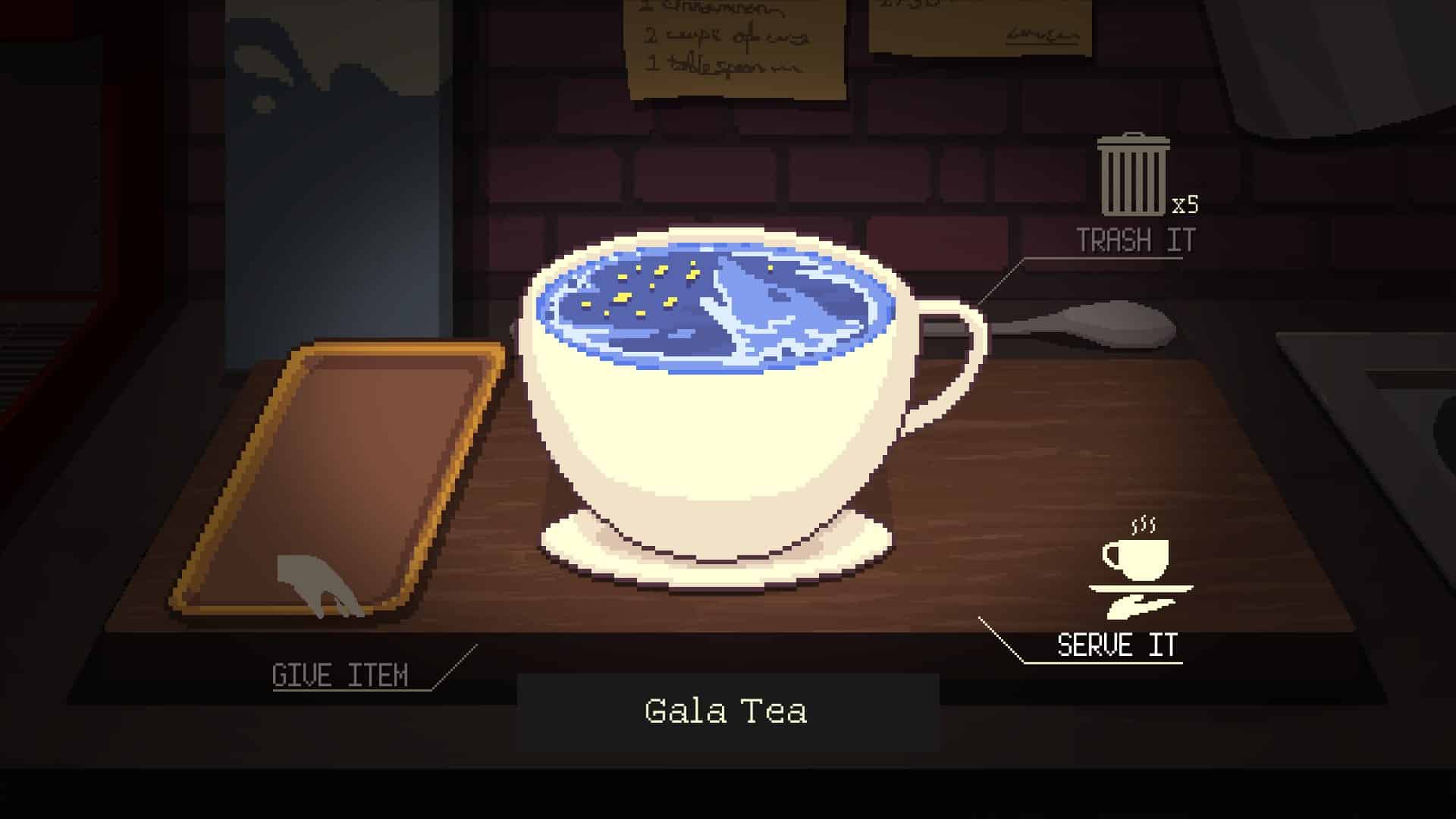 The game has a simple structure. A customer walks in, talks about their day or their latest trouble, and the conversation stops with them asking for a cup. Depending on whether you get their order right or wrong, the conversation takes a fork in the road and makes for either a slightly bitter end of the conversation or a sweeter end. The customers leave, and then you start a new day.
A new feature added to the game is items. You will now be able to give items to customers in the cafe, but only if it was meant for them. These can vary from one person forgetting an item at your cafe or someone leaving an item for a regular customer as a way of flirting with them. You must be diligent in your work and make sure you give the right item to the right person.
Relaxing Loop
All in all, the game has a simple-to-learn loop, and much like other casual indie titles, you can use the save system before taking a custom order and fix mistakes, and to save you time on future playthroughs. You can also have the text auto-scroll when the characters finish talking so you don't have to listen to the same dialog and just wait for them to get to the order. I played the game a lot with it open on my second monitor and on my second playthrough, it was a great feature that helped me skip through the dialog I already knew, without me spamming the left click on my mouse.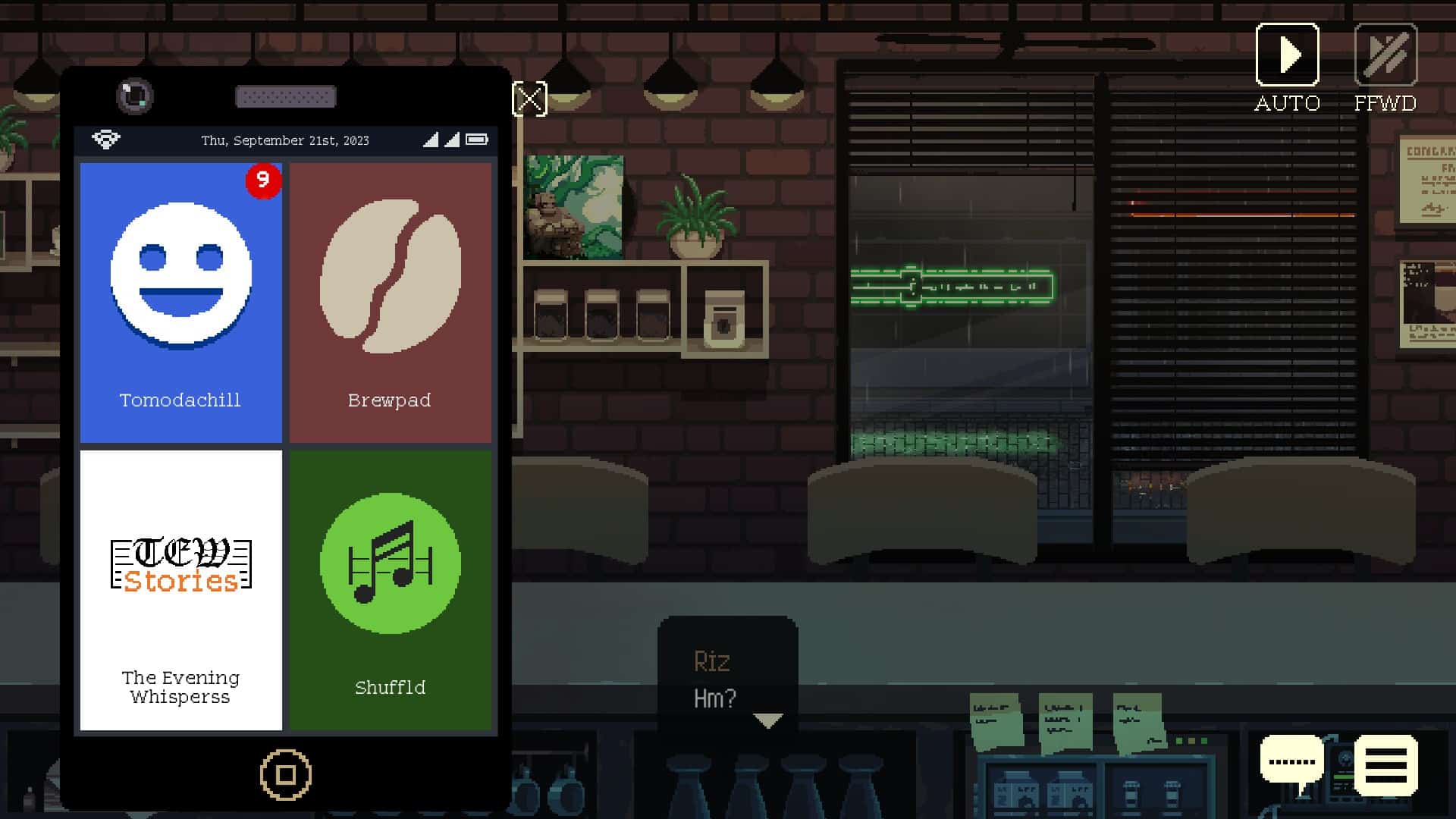 In addition, the game also has a smartphone with a few apps to help with getting into the world of the game. Tomodachill is Instagram and allows you to see posts by people who visit your shop, and like their posts. Brewpad is a guide on how to make drinks, even the custom ones that you have to make for customers, but it's only added if you get their order right, The Evening Whispers is a newspaper that you can read to immerse yourself in the world of the game better, and lastly, Shuffld is the in-game music selection tool you can use to play the soundtrack.
Lastly, the game has an Endless mode option where you just brew drinks until you make a mistake. It's a fun game mode that definitely helps with making the game more versatile, and a feature I thoroughly enjoyed in Papers Please which had the same conditions as well.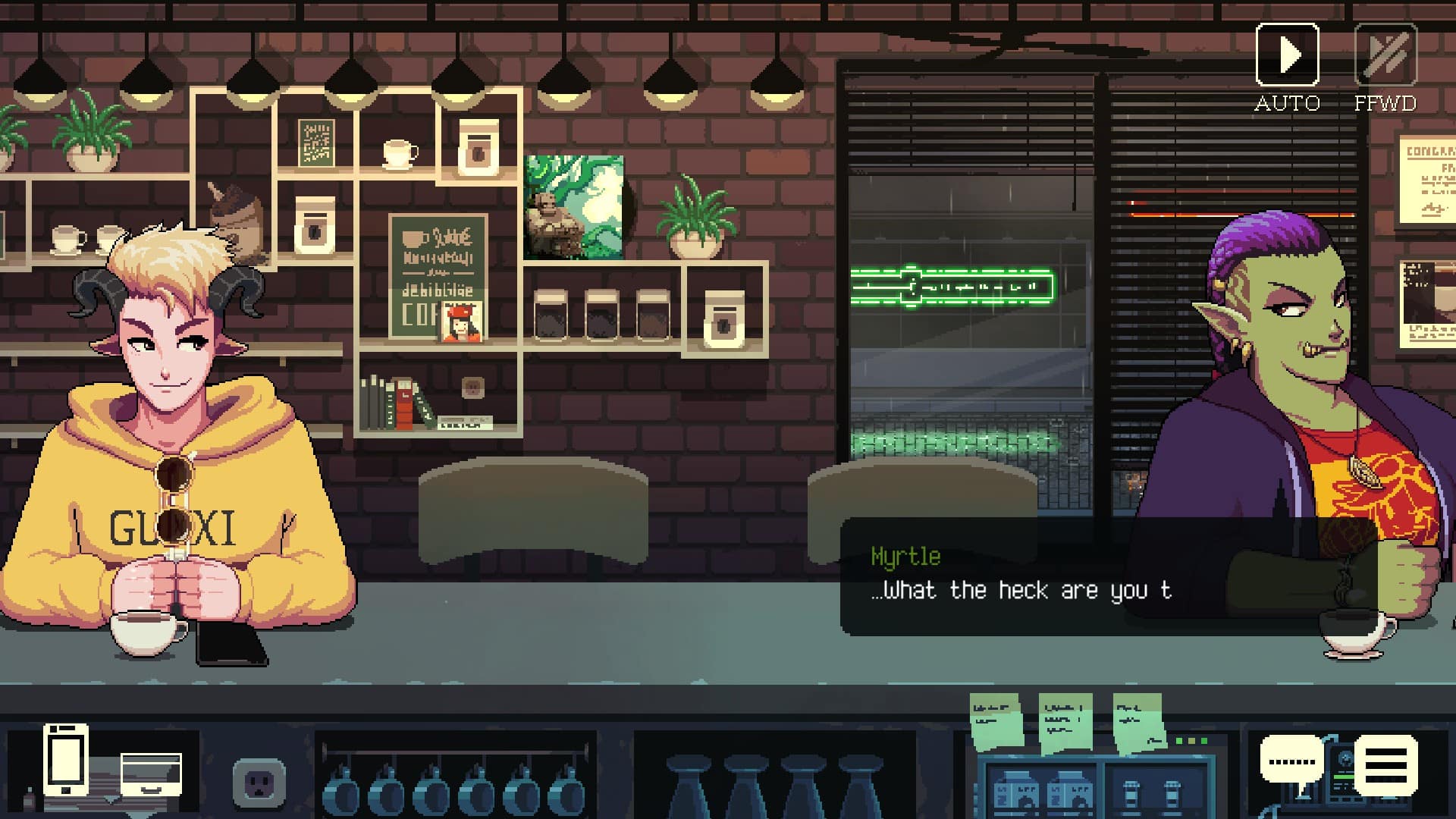 Sound and Music
There is no dialogue or voice acting, the entire game leverages the lo-fi chill beats aesthetic, which really complements the style of the game. The occasional break in the game comes in the form of when you run the coffee machine and its various sounds. The music itself is very chill, mellow, and relaxing, allowing players to just switch off their brains and enjoy a good game with music to match.
In addition to the music, you will hear the weather as well in the game which really adds to the atmosphere, particularly the rain and storm days. Overall, the sound design is catered to delivering an authentic coffee shop experience, and it does that job splendidly.
Conclusion
Overall, Coffee Talk Episode 2 is a great game to help take a break from the present routine of titles that are focused on playing with friends or have a high involvement requirement. The music, visuals, and atmosphere overall is very calm, and welcoming, and offers players an escape while doing it for the characters in the game as well.
If you are looking for a fun, laid-back game that has a rich cast of characters without sitting through hours of cutscenes or the monotony of the daily video game struggle, this game is right for you, especially when you are enjoying a cup of tea or coffee IRL.
What did you think of our Coffee Talk Episode 2 Review? Share what you think about it in the comments below.
This review is based on the PC version of Coffee Talk Episode 2. The key was provided by Stride PR for Chorus Worldwide.