Crash Bandicoot 4 is the latest entry to the series as the latest attempt to revive the once iconic PlayStation platforming marsupial. The fourth entry sees Crash and company return to fight Dr. Neo Cortex across various settings in time and take on brand new platforming challenges. However, the PlayStation Store listing of the game suggests that local multiplayer could be in the cards.
Crash Bandicoot 4 could have local multiplayer
Crash Bandicoot 4 is set to release in October 2020 and will feature a new look for Crash and his friends as they return to fight the returning villain of the series, Dr. Neo Cortex.
In Crash Bandicoot 4: It's About Time, players will be able to play as Crash, Coco and other characters in the series as they traverse through new levels with challenges and obstacles along the way.
However, a curious eye spotted that the PlayStation Store has listed local co-op for up to 4 players.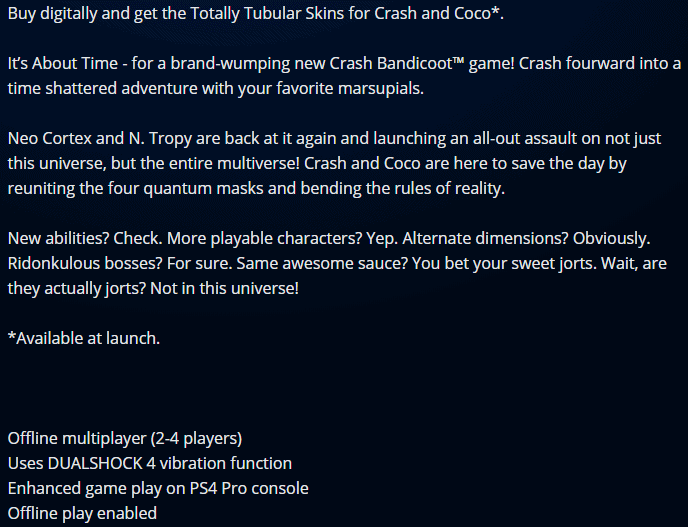 Whats curious about the listing is how there was no mention of it during the gameplay trailers or the announcement trailer. Perhaps this is something Activision or Toys for Bob will touch upon when the game gets closer to release.
Local co-op in a game like Crash could make for an entertaining experience. How it will work and all the workings behind them are still a big mystery, but if the claims of local multiplayer prove to be true, could be a big incentive for families to buy the game.
Crash Bandicoot is getting his first original game after almost a decade of absence from the gaming industry. Crash was at his peak on the PlayStation 1 but popularity began to dwindle as his PlayStation 2 games failed to capture the audiences attention, which was also the downfall of Spyro the Dragon as well.
Crash and Spyro have had appearances in the Skylanders games, but to see the duo return to their former glory is indeed a promising sight. While Activision is still hush on a new Spyro the Dragon, we can hopefully expect news on that once Crash Bandicoot 4 drops in October and Tony Hawk Pro Skater 1 + 2 drop in September. Allowing Vicarious Visions or Toys for Bob to work on returning the dragon to glory.
What are your thoughts on the prospect of multiplayer? Let us know in the comments section.