Headsets have become the preferred audio source for the majority of gamers. Still, there's something to be said about the immersion made possible through rich, room-filling sounds only speakers can deliver. The original Creative Katana was a highly-regarded all-in-one soundbar & subwoofer that made sound in gaming and entertainment take on a new dimension. Stick around for our Creative Katana V2 review and find out if the successor's edge is equally keen.
Tech Specs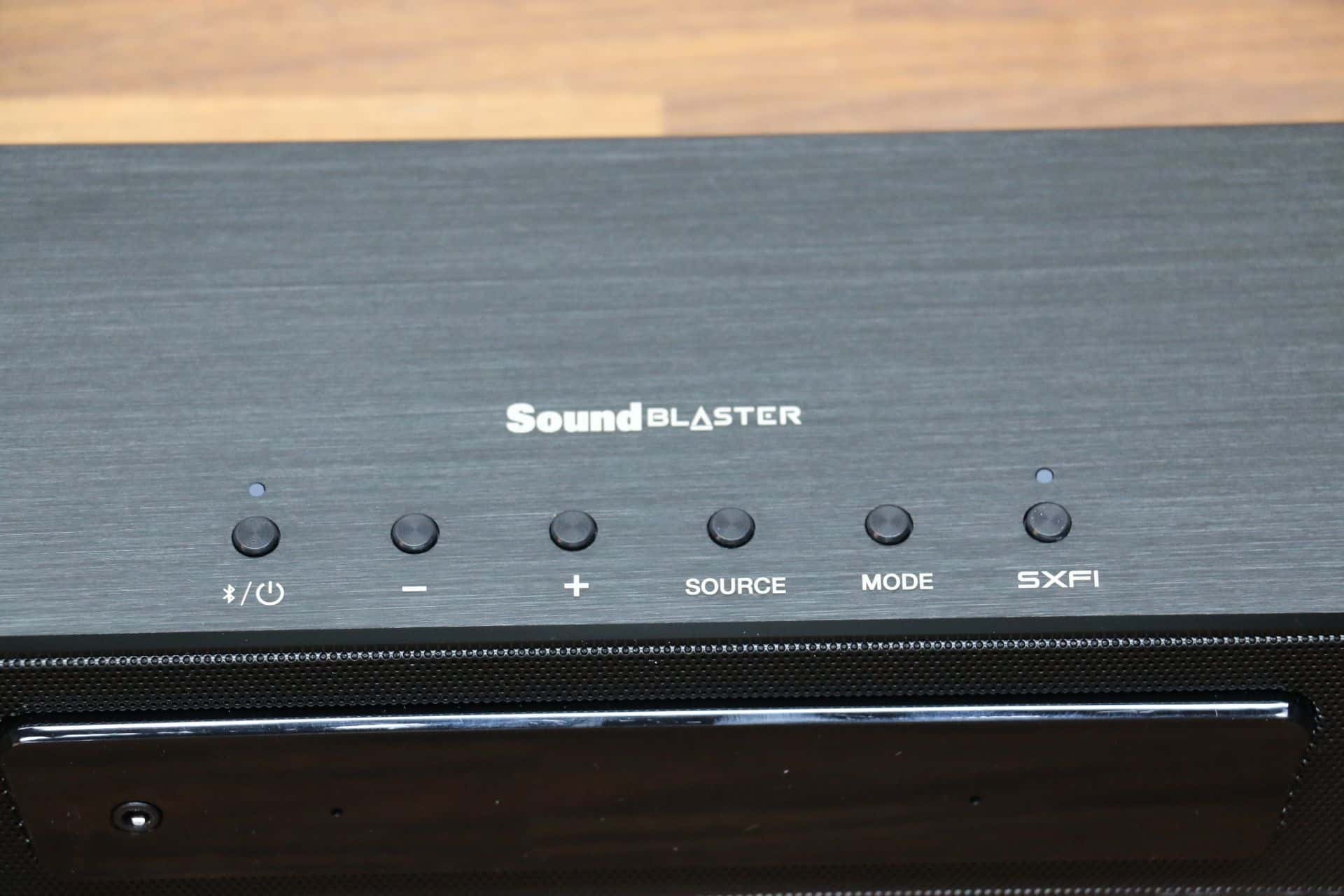 A look at the V2's tech spec table offers interesting insights into what you can expect. For starters, it's smaller than most, so placing it on your desktop won't be problematic. Connectivity options abound, meaning you can use it comfortably whether you're connecting a computer, console, or TV. There are also some welcome improvements over the first Katana, which we'll get to shortly.
| | |
| --- | --- |
| System power | Up to 126W RMS, 250W peak |
| Frequency range | 50Hz – 20kHz |
| Supported codecs | SBC |
| Connectivity | HDMI ARC, Bluetooth 5.0, USB-C, SXFI out, 3.5mm out, AUX-in, optical in, subwoofer out |
| Soundbar speakers | 2 x 2.5" mid-range 2 x ¾" tweeters |
| Subwoofer speaker | 6.5" woofer |
| Microphones | 2x MEMS |
| Dimensions | Soundbar: 23.6" x 3.74" x 2.44 " Subwoofer: 5.9" x 14.4" x 14.4" Remote: 5.9" x 1.57" x 0.78" |
Packaging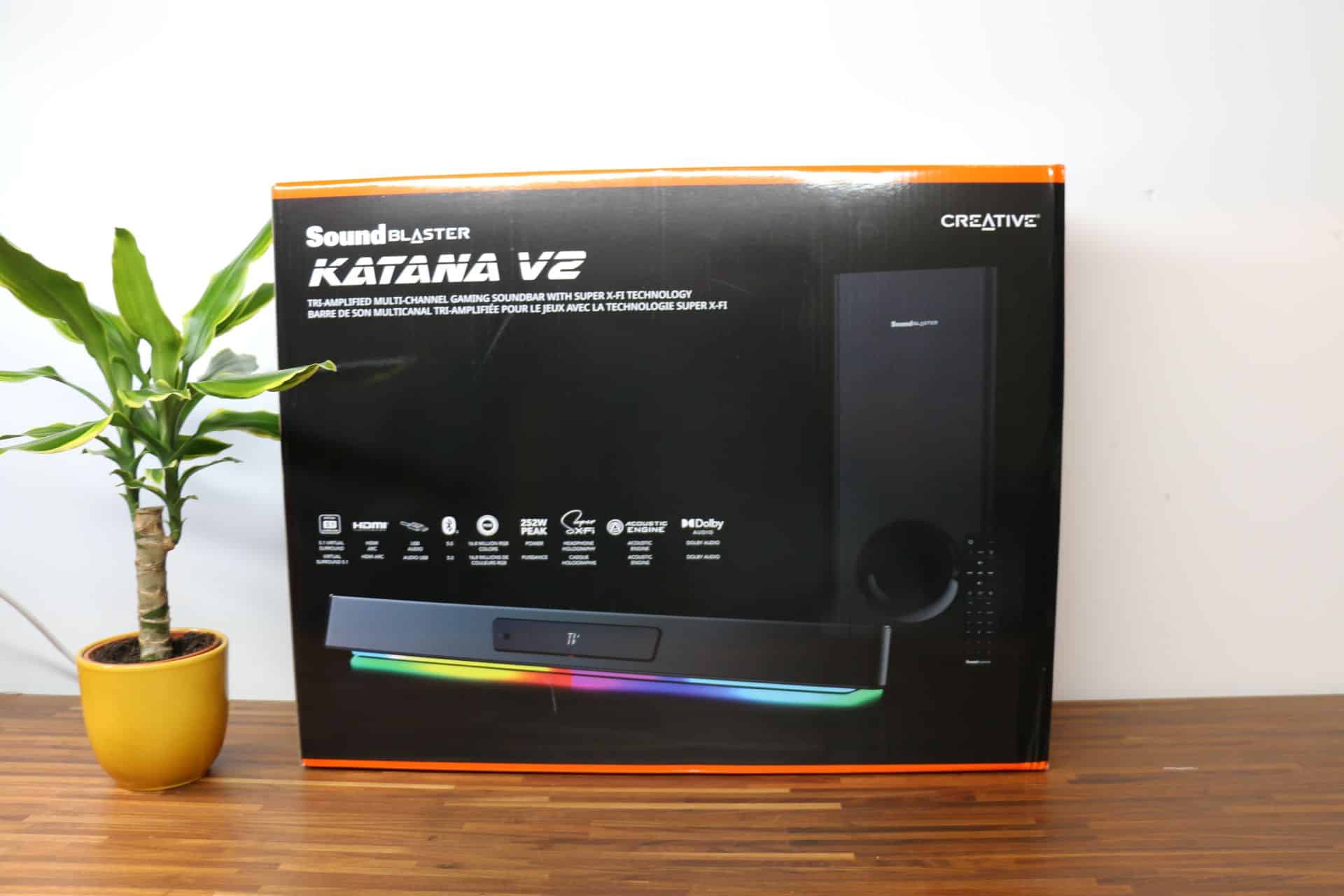 A snazzy black & Creative orange box protects the Katana V2 and has a handle for easier carrying. Its front proudly displays the product, prominently highlighting its RGB feature and the myriad supported standards & technologies. You can find out more about the soundbar or open the box to reveal lots of neatly-placed goodies.
These mostly amount to different cables that accommodate the Katana V2's varied connections. There's also the power supply, a wall mounting bracket, the IR remote, and quickstart guides in various languages.
Design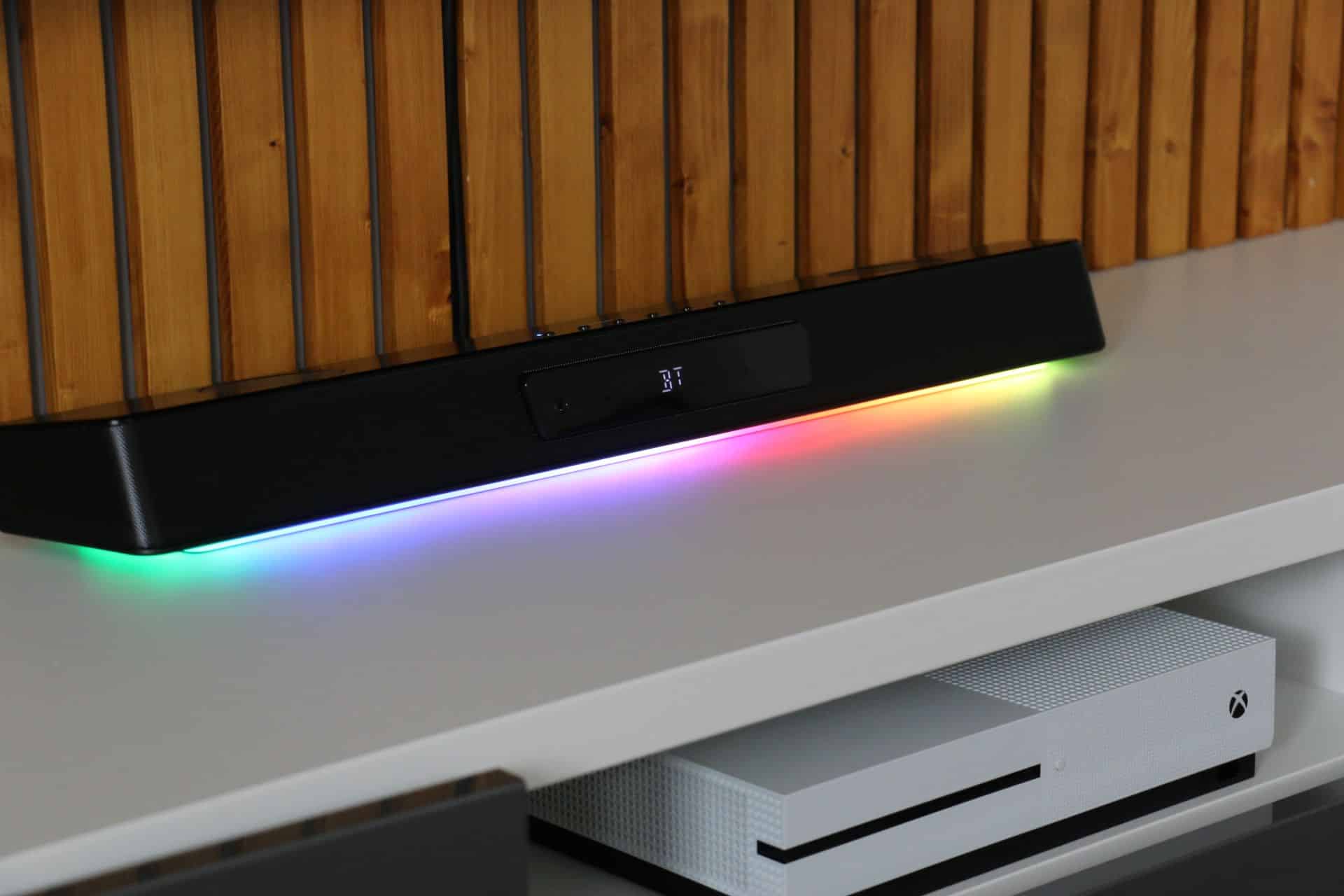 While they're minor, we appreciate the design improvements over the first version. A large metal grille envelops the front and top-firing speakers, giving way to a beautifully brushed surface above. The glossy LED screen is the most significant functional change and displays input info in a white and easy-to-read font. Several frequently used controls stand above it, but the remote does all the heavy lifting.
A thick RGB bar on the bottom signifies the Katana V2's gaming pedigree. It transitions smoothly between more than 18 million colors. Several effects are at your disposal, ranging from the classic rainbow to various pulsating and single-color modes. You may toggle through most presets with the remote or dive deeper into customization using the app.
The soundbar is 23.6 inches long. While that's shorter than many models you'd find under TVs, it's the perfect size to sit under a 24 or 27-inch gaming monitor. The subwoofer has undergone the least aesthetic changes. Gone is the distracting SoundBlaster X logo, and the cone is positioned lower.
Connectivity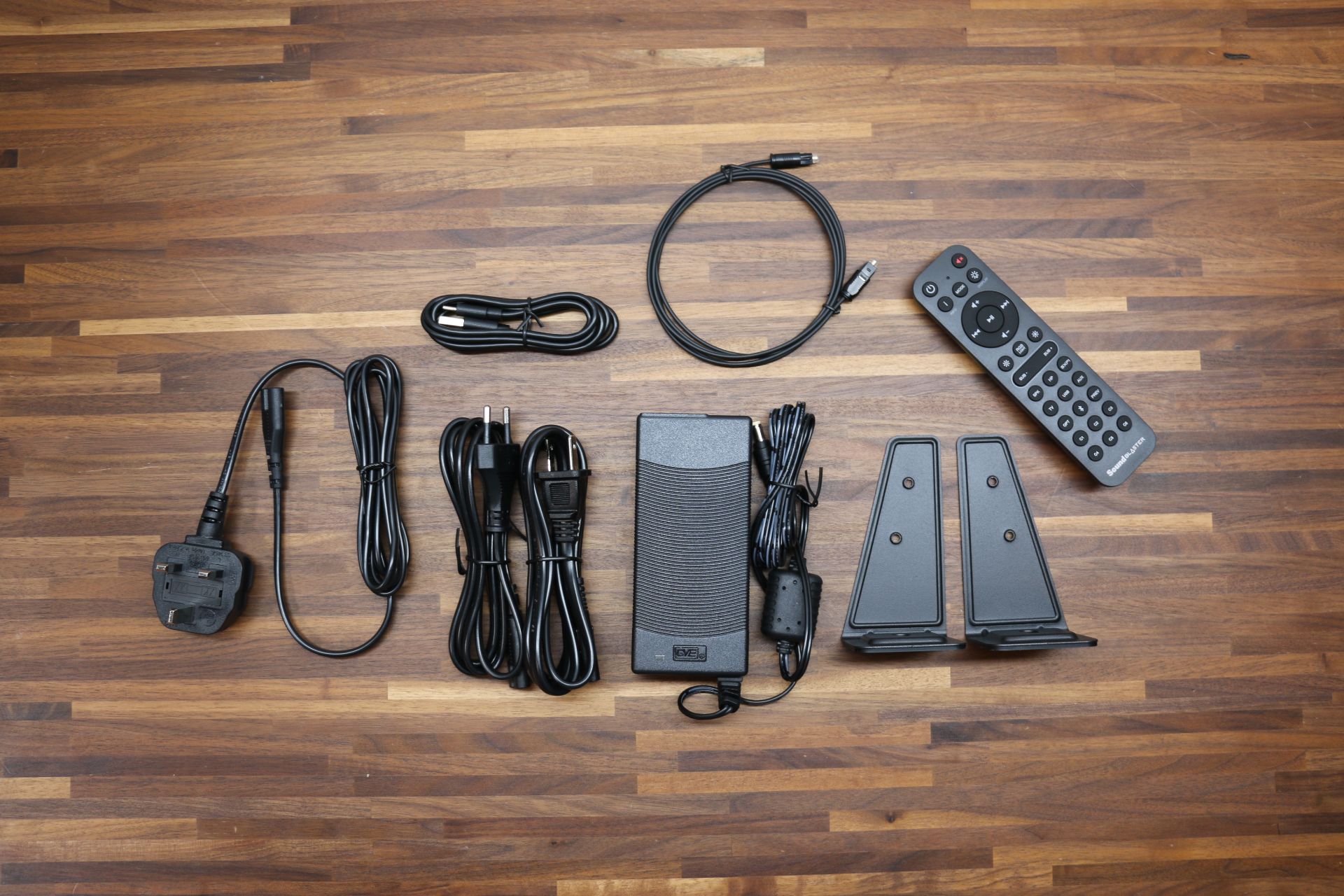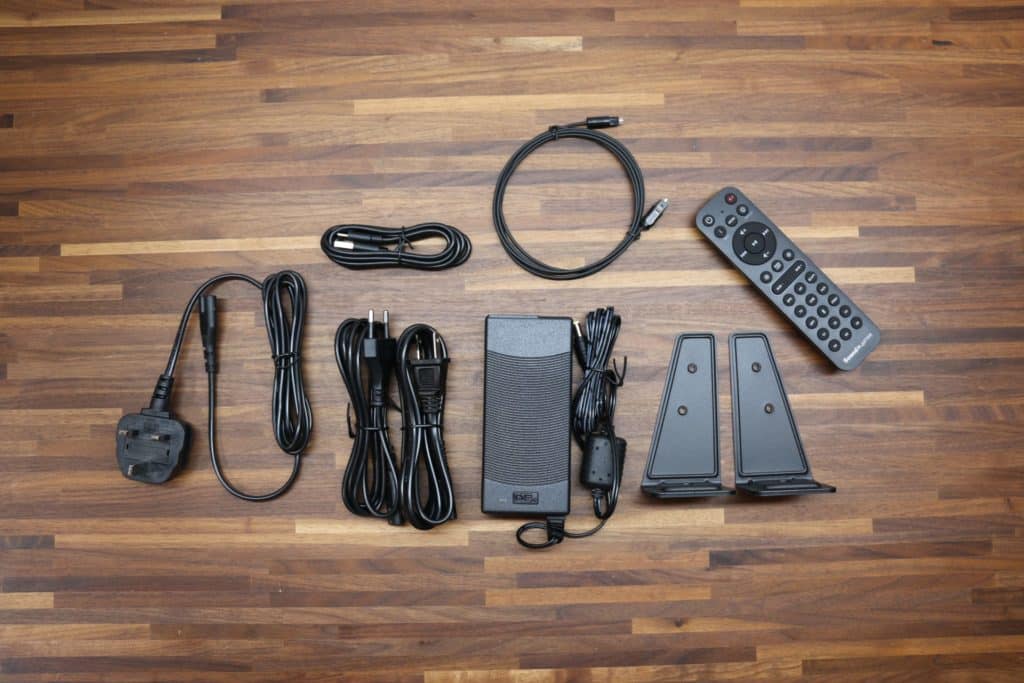 The V1 already offered a versatile port selection, and the successor improves it further. USB-C is here instead of USB-A and can output 24-bit audio at 96kHz. Bluetooth received a bump to version 5.0. The addition of HDMI ARC ensures excellent audio quality when plugged into a TV without causing unnecessary cable clutter. A separate output is there for Creative headsets that support Super X-Fi natively, along with optical and AUX-in as well as an out for the subwoofer.
A convenient 3.5mm input jack is on the front, next to the LED display. It connects to the built-in X-Fi DSP chip to enable the effect on regular headphones.
General Audio Quality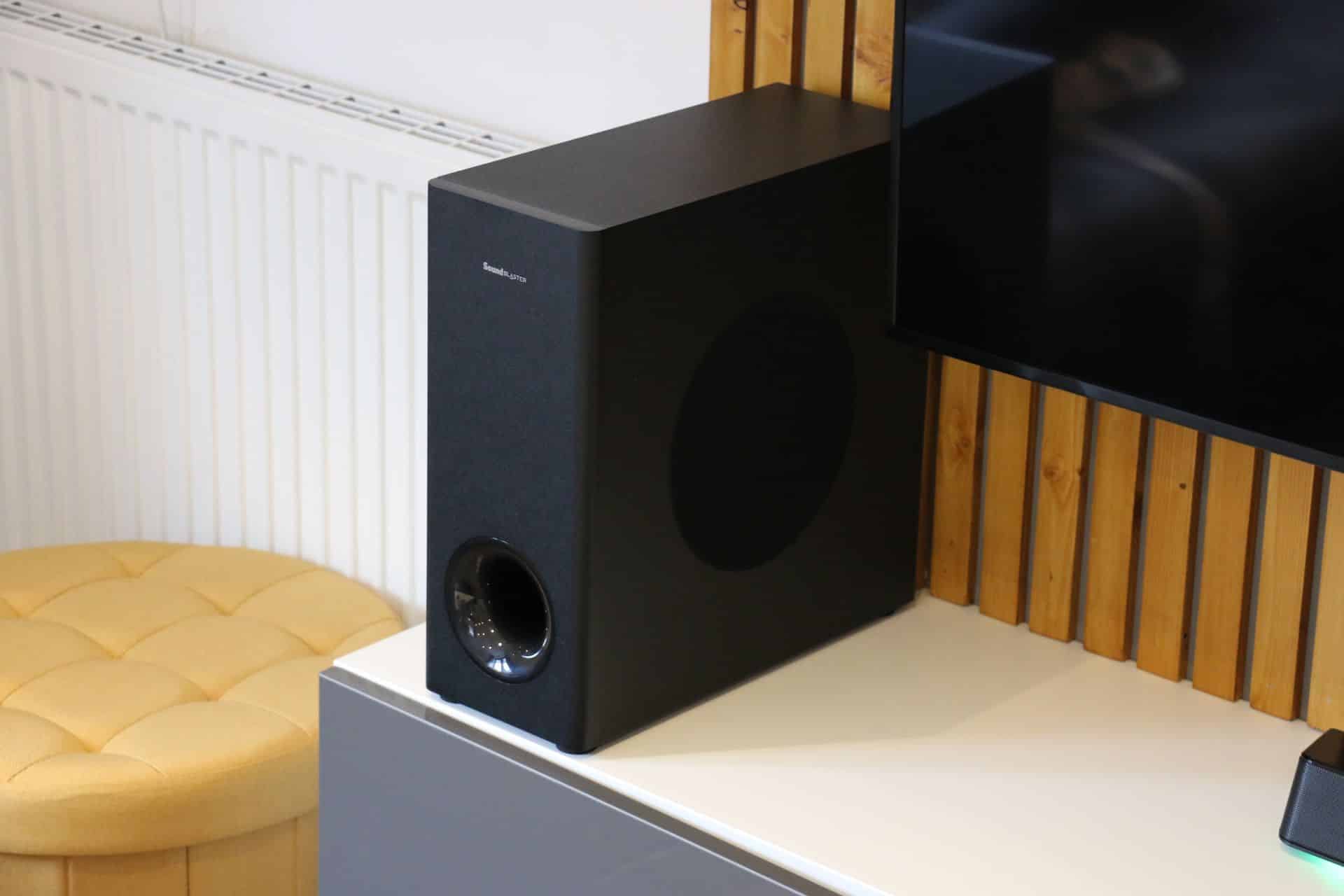 We believe it's prudent to chop the audio section of the Creative Katana V2 review in two. First, we'll look at its overall performance and then examine its gaming features more closely.
Five total speakers make up the Katana V2 aural experience. It has pairs of mid-range speakers and tweeters along with a subwoofer. The overall layout and mid-range driver sizes are identical to the original. The other three drivers are bigger, and the total power output has increased to 250W. The subwoofer's frequency response is 10Hz lower, letting you hear rumble closer to the lower limits of human hearing.
All of these changes translate to a tangible increase in fidelity. Unless they're a recent high-end purchase, any 2.5-inch speakers that currently reside on your desk will have a hard time keeping up with the Katana 2's balanced setup.
That being said, you should keep in mind that this is a thoroughly gaming-oriented soundbar focused on excellent bass delivery and a tight soundstage. It will also work well for binge-watching your favorite shows or action flicks. Highs are reproduced faithfully as well, particularly if you turn Crystalizer on to bring back some of the dynamic range lost by compression. However, audiophiles may find the mids a bit too pushed back for satisfying vocal reproduction.
The soundbar is designed to sit close to you on the desktop and reproduces the most details in that position. You'll have to take care when choosing the volume since the subwoofer gets really loud really fast.
Gaming Features & SX-Fi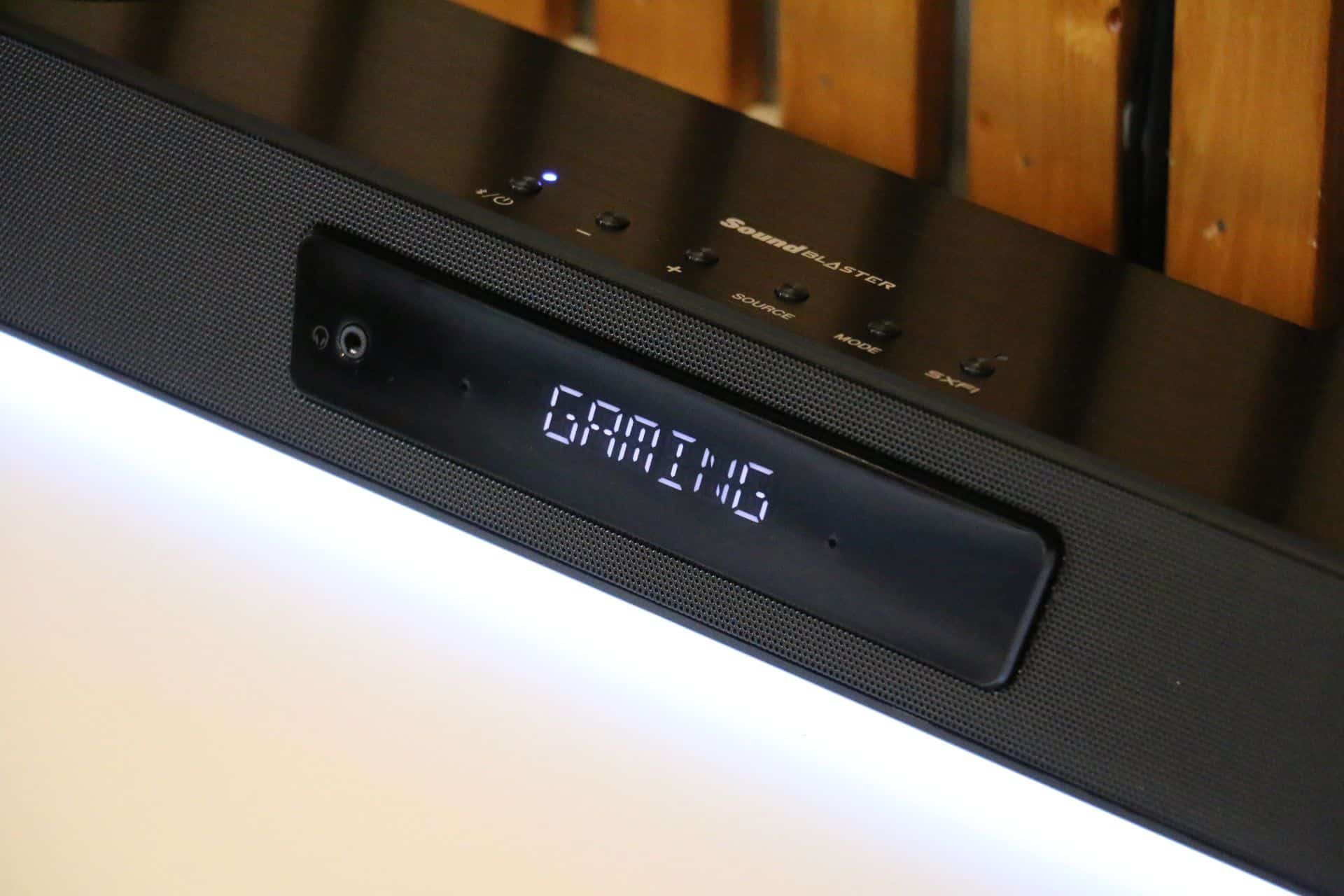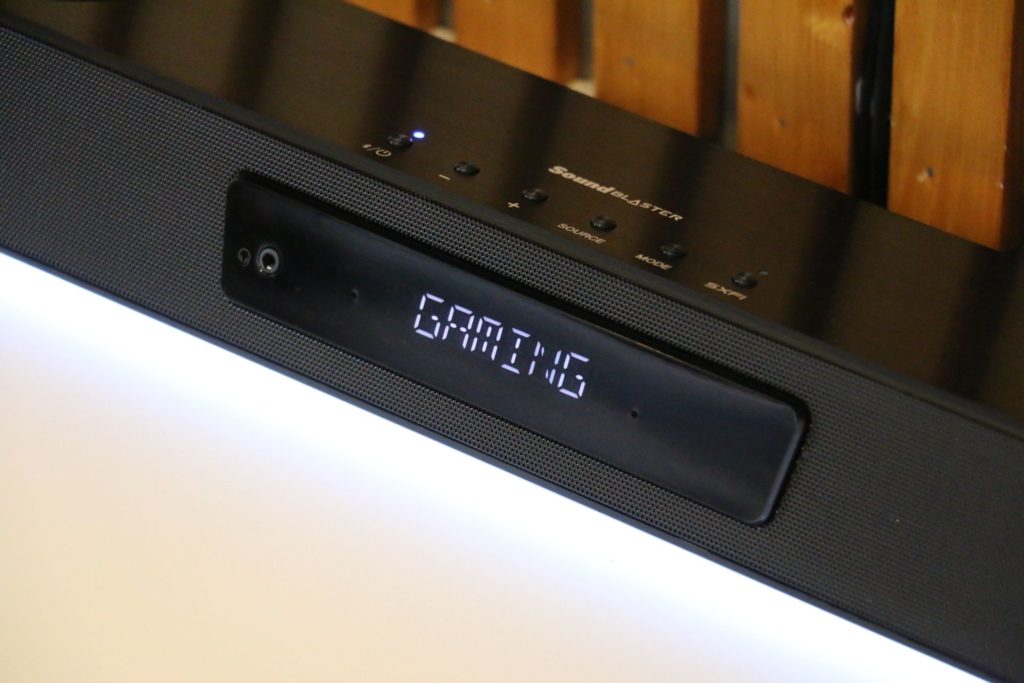 Gaming is the niche the Katana 2 openly caters to, so it's nice to see support for it through Super X-Fi. In its simplest form, the technology uses either compatible headphones or the V2's DAC to simulate a multi-speaker setup that's tailor-made to the shape of your ears. It shines when listening to live performances since it not only lets you pick individual instruments but lets you judge their relative distance.
Creative leveraged Super X-Fi's audio computing prowess to create two gaming-specific augmentations. Each focuses on tweaking the sound profile to emphasize specific audio information to give you an edge against the opposition. As such, turning either on will disable any custom tweaks you made inside the app.
Battle Mode works only with headphones. It adds three-dimensionality to what already feels like surround sound by emphasizing the location of specific sounds like gunshots, weapon reloading, or explosions. It's not yet accurate at portraying verticality, but the boost you get to your ability to judge an opponent's distance and direction can help you close the gap and secure victory.
Scout mode works whatever the output device. It enhances subtle sounds like footsteps or the swish of grass disturbed by someone's passing. Anyone who's even remotely skilled at CS: GO or Valorant can attest to just how crucial picking up on such sound cues can be. Now you'll have a leg up without cheating.
Microphone
The Katana is designed to completely augment or even replace your existing headphones, so onboard microphones aren't surprising. Two MEMS microphones deliver acceptable audio quality when you need to take conference calls or curse your teammates. They're omnidirectional, meaning that people on the other end will hear the clang of your mechanical keyboard or other ambient sounds. Nothing plugging some headphones into the front jack wouldn't remedy, though.
Remote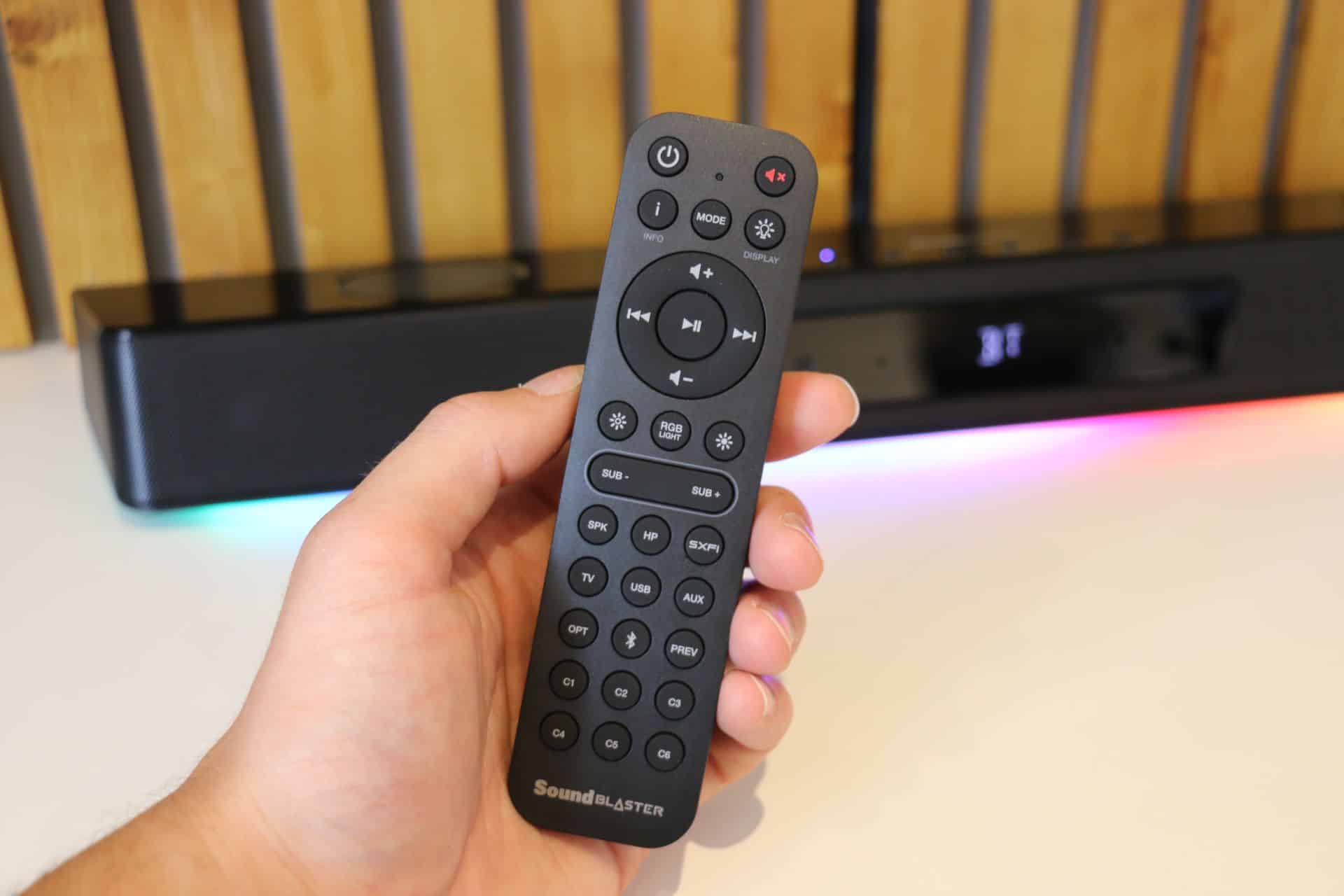 The remote that ships with the Katana V2 is among the better ones in its price range and a clear upgrade of the dinky original. It's large yet ergonomically sound, promising to fit well in most users' hands. The button selection is comprehensive, offering everything from lighting and subwoofer volume adjustments to quick output switching and playback options.
The six buttons on the bottom are arguably the most interesting since they're customizable. You can map their functions using the Creative app and get quick access to frequently used actions that don't have dedicated keys. Mode and RGB Light buttons have preset actions, which you can also modify.
App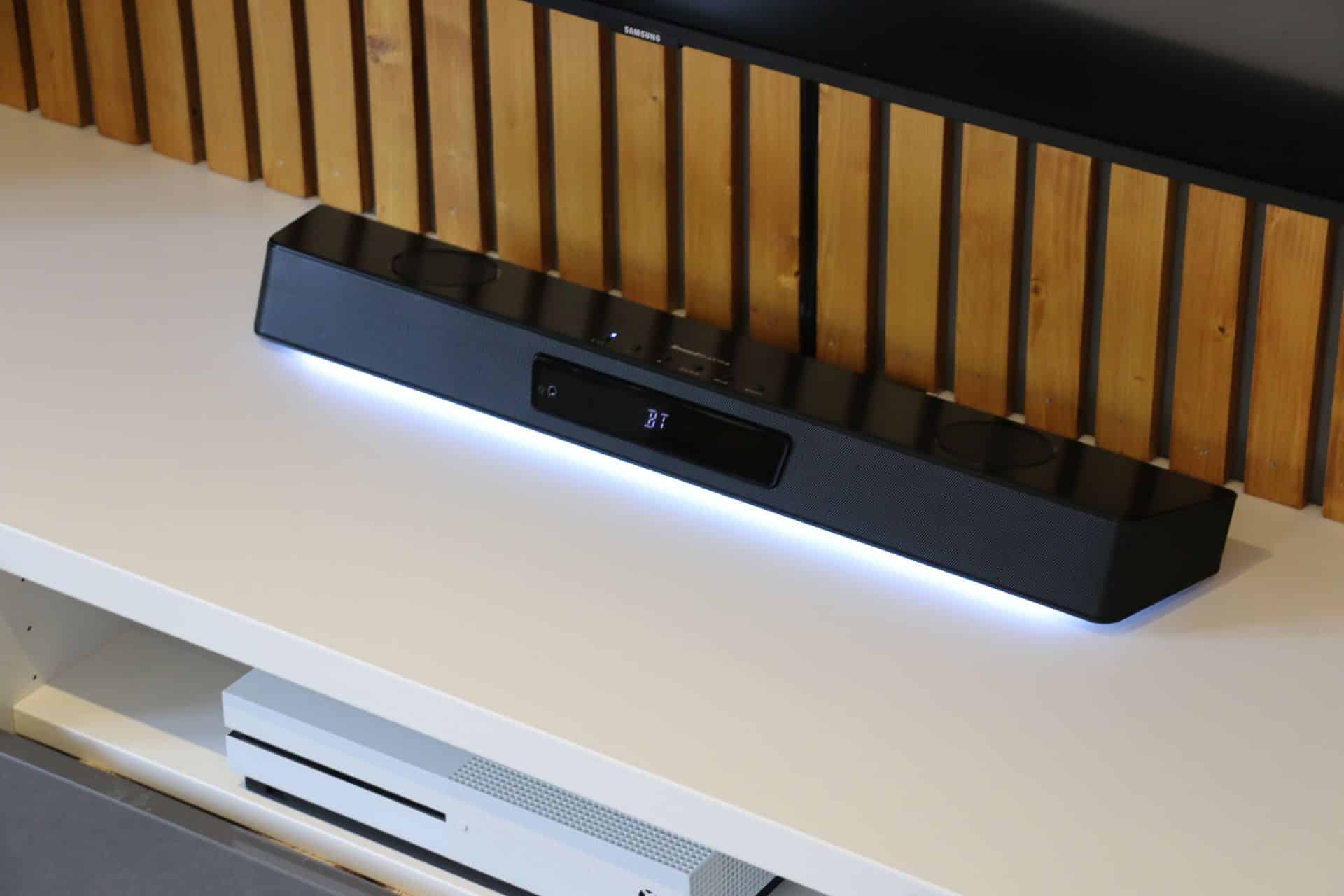 Much of the Katana V2's versatility is thanks to Creative's comprehensive companion app. It's intuitive yet covers every aspect of the soundbar's functionality in great detail. At its most basic, the app allows you to track which connections are in use and facilitates pairing through Bluetooth 5.0. That doesn't even cover 10% of its capabilities, though.
Allowing you to create and edit comprehensive sound profiles is the app's most outstanding feature. You may do this individually for the soundbar as well as any plugged-in headphones. A complete profile consists of several parts. First is the acoustic engine. You can tweak it for more or less surround sound, better dynamic range, more audible dialogue, and less jarring transitions when there's an abrupt volume difference.
The equalizer is among the best in the business. It comes preloaded with dozens of settings tailored to dozens of musical genres or activities like gaming or watching movies. Users who know a thing or two about equalizer curves can even draw their own to create nuanced custom settings. It's even possible to associate unique lighting effects with each profile.
You may access these settings and more independently of creating a profile. These include remapping the remote's custom buttons, setting up a microphone equalizer, engaging SX-Fi, and more.
Conclusion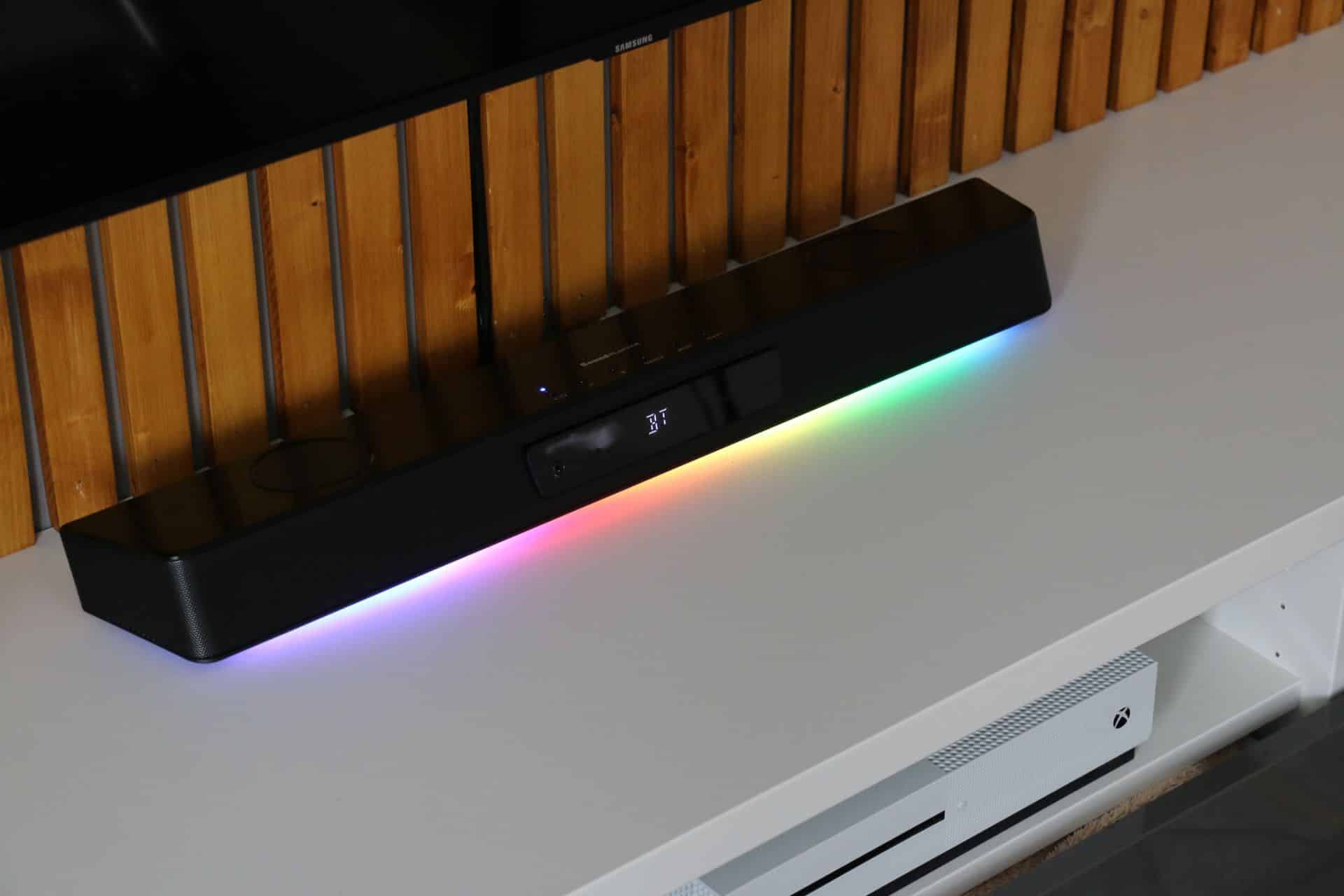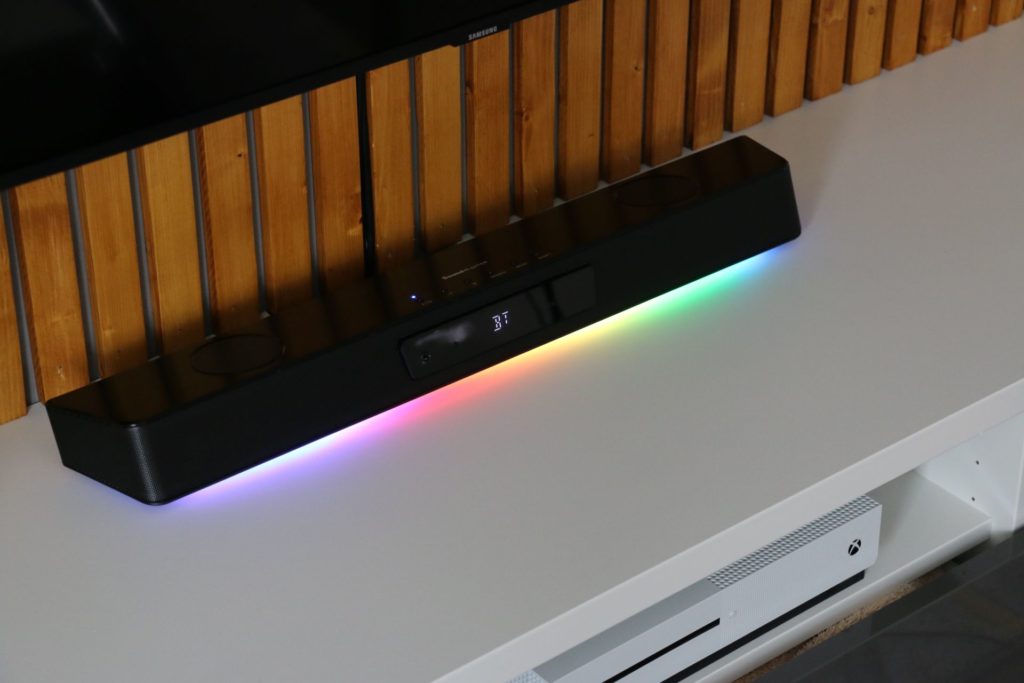 We'll wrap the Creative Katana V2 review up by reiterating our praises. It's a well-rounded soundbar with few nitpicks and even fewer actual flaws. Users who intend to augment their console's or PC's acoustic chops will find it a sizeable upgrade and possibly even a means of getting ahead if they're into shooters. Everyone else will find it a solid soundbar, whether they're into bombastic action flicks or taking music in without an overly critical ear.