Older gamers still fondly remember the Sound Blaster PC speaker days, and it's reassuring that Creative has been going strong ever since. Quality gaming headsets are in demand today, so our Creative SXFI Air Gamer review seeks to determine whether these high-end headphones are another feather in the company's cap.
They're supposed to be, at least on paper. Creative lists intriguing features like quality sound that transcends gaming, two capable microphones, and bespoke audio profiles based on innovative ear & head scanning. Let's find out if these claims hold water, starting with a brief look at some general tech specs.
| | |
| --- | --- |
| Style | Closed-back |
| Weight (with mic) | 11.1 oz |
| Connections | 3.5mm analog, USB-C, Bluetooth 5.0, MicroSD |
| Wireless range | 33' |
| Headphone frequency response | 20Hz – 20kHz |
| Microphone frequency response | CommanderMic – 100Hz – 16kHz NanoBoomMic – 100Hz – 8kHz |
| Battery | Rechargeable LI-ion, 11h/charge |
| Drivers | 50mm neodymium |
| Cables | 6' USB-C, |
| Warranty | 2 years |
Build Quality & Features
It's evident that Creative has put a lot of thought into designing the SXFI Air Gamer from the moment you see the headset in person. The RGB is unobtrusive, everything is made from sturdy materials, and longevity shouldn't be an issue. Let's explore in more detail.
Packaging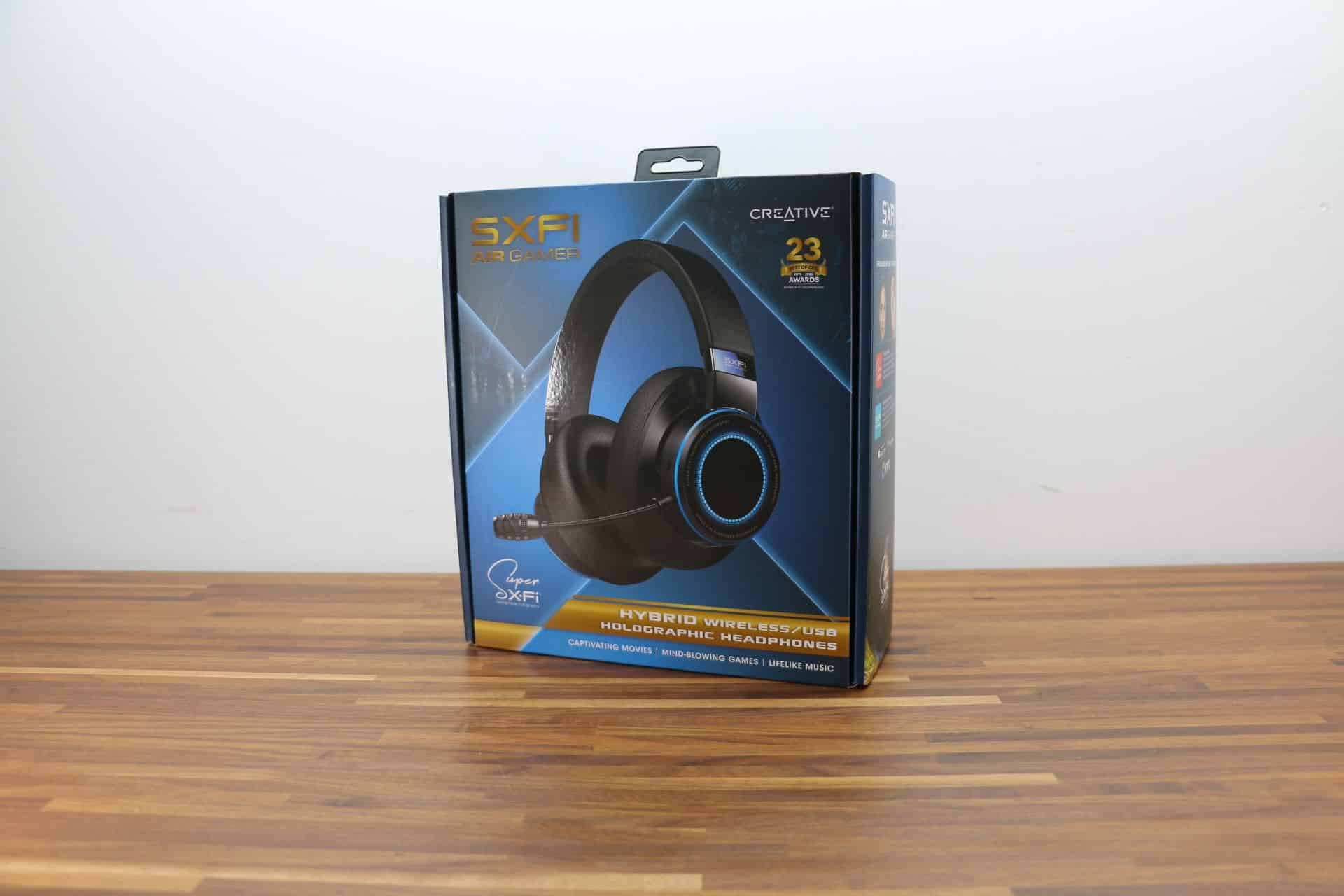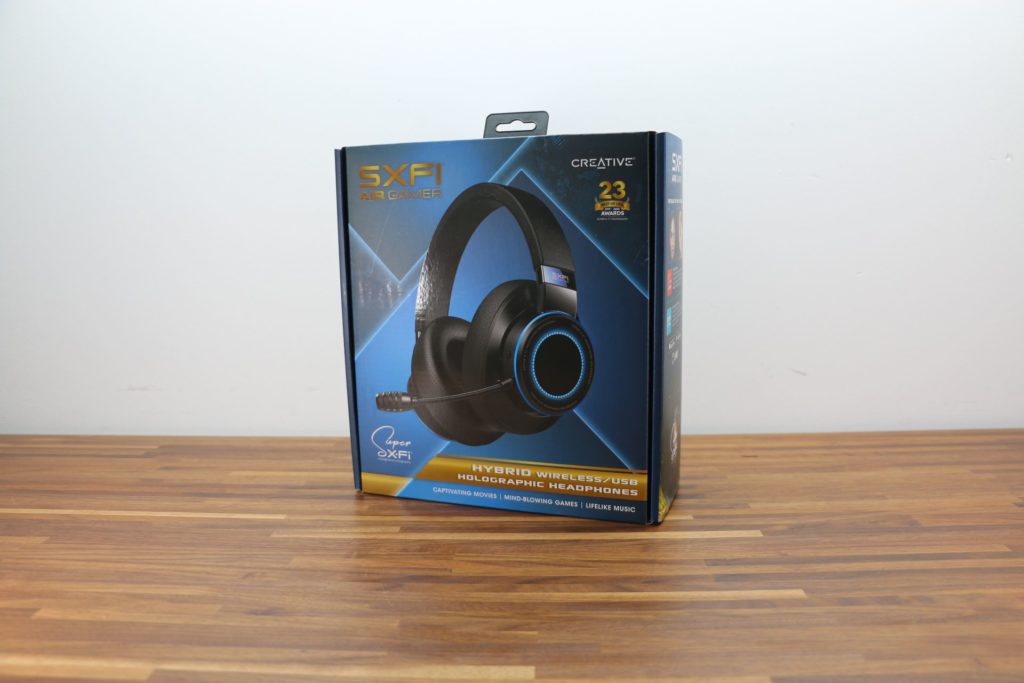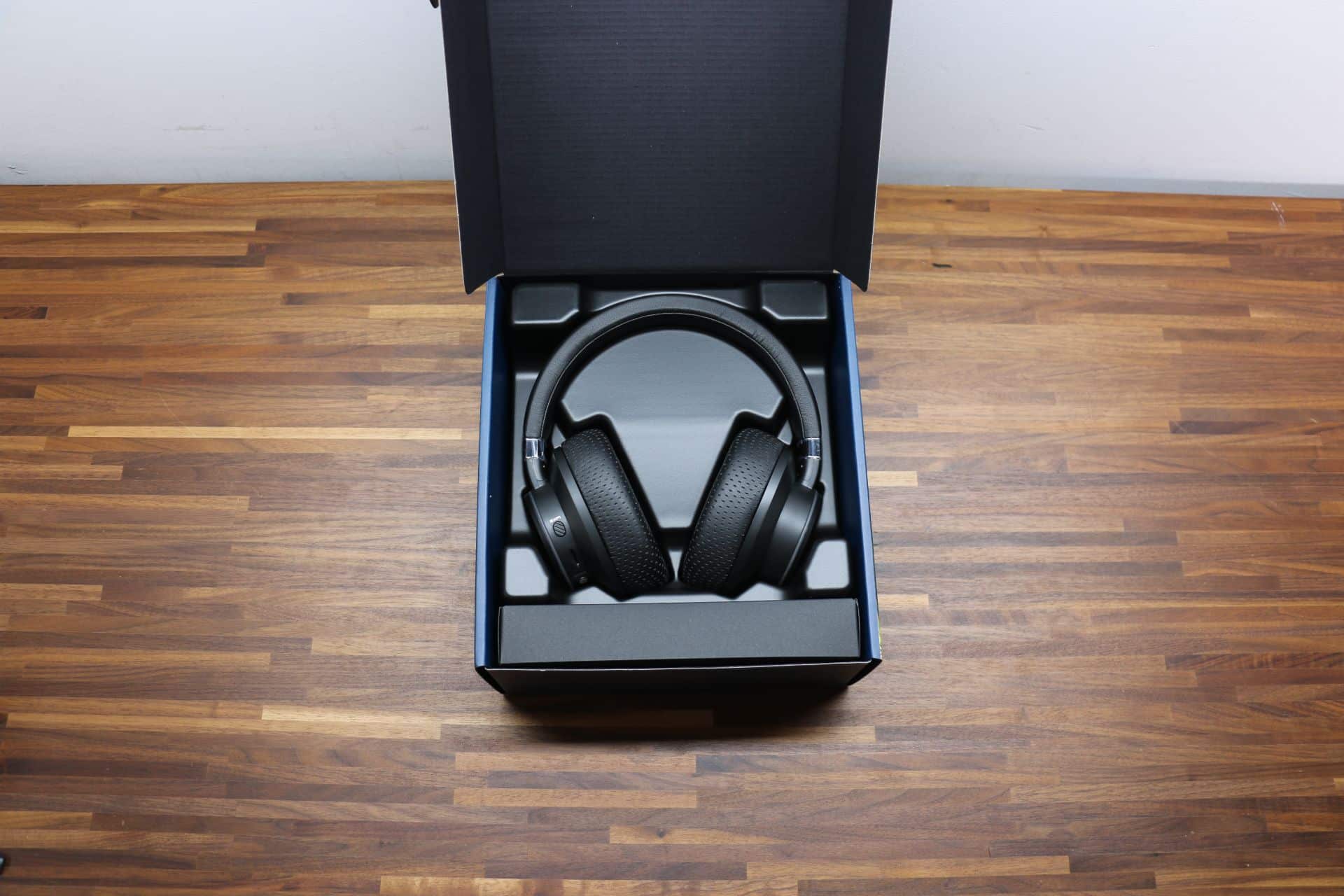 The headset arrives in a sturdy cardboard box that acquaints the user with all of its features. A shell casing inside keeps the SXFI Air Gamer and its accessories protected from bumps. The accessory pool is small, consisting of the two mics, a Kevlar-reinforced 6-foot USB-C cable, and a USB-A adapter. You also get a quick-start guide & card containing info on the 2-year warranty.
Appearance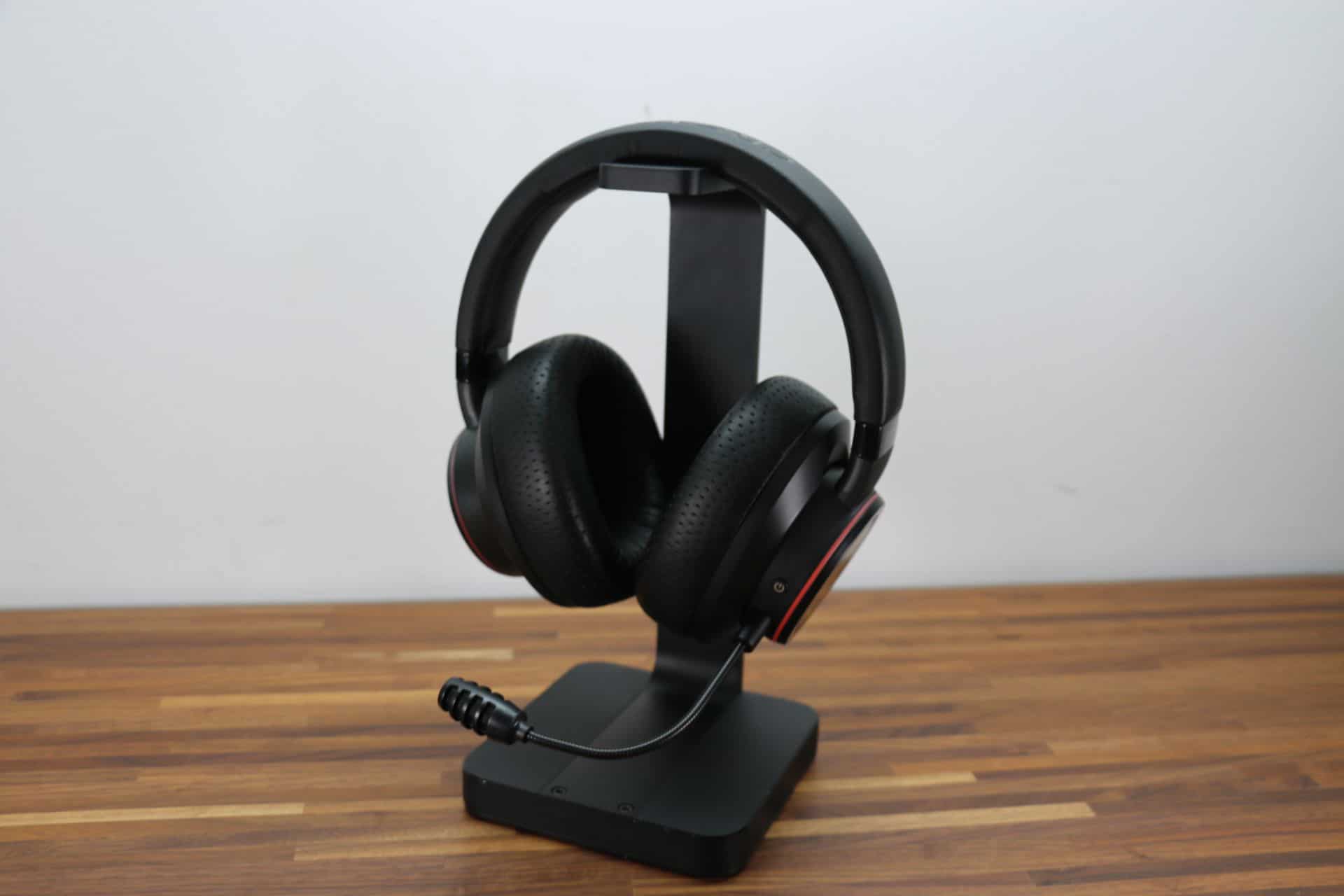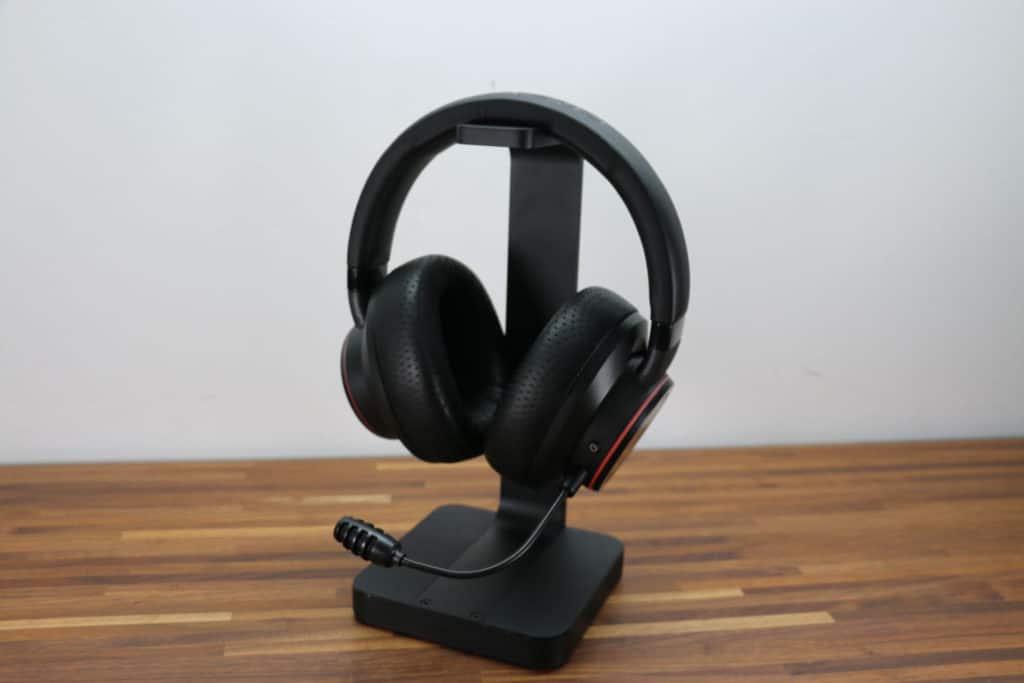 Kudos to Creative for successfully making the SXFI Air Gamer equally attractive to gamers and regular users. It's a decently-sized headset with large ear cups and a predominantly black theme. Wearing it is perfectly acceptable for business Zoom calls while the RGB is off since the design is anything but edgy. The steel frame is adjustable in twelve steps, easily conforming itself to the size of your head while exposing measurements on a metallic surface that add visual interest.
The cups' outsides are heavy plastic, with perforated protein leather covering sizeable memory foam rims. The fit isn't snug, so expect outside noise to be audible. However, the cups are comfortable to use for long stretches because of how accommodating and breathable they are. While we didn't experience irritation or discomfort, some people might take issue with the band since its padding is thin.
The words "Super X-Fi Headphone Holography" appear three times in a circular pattern around each cup. They're small enough to add visual detail without becoming a distraction but large enough for a friend watching you play to see the text & wonder what it's about.
Controls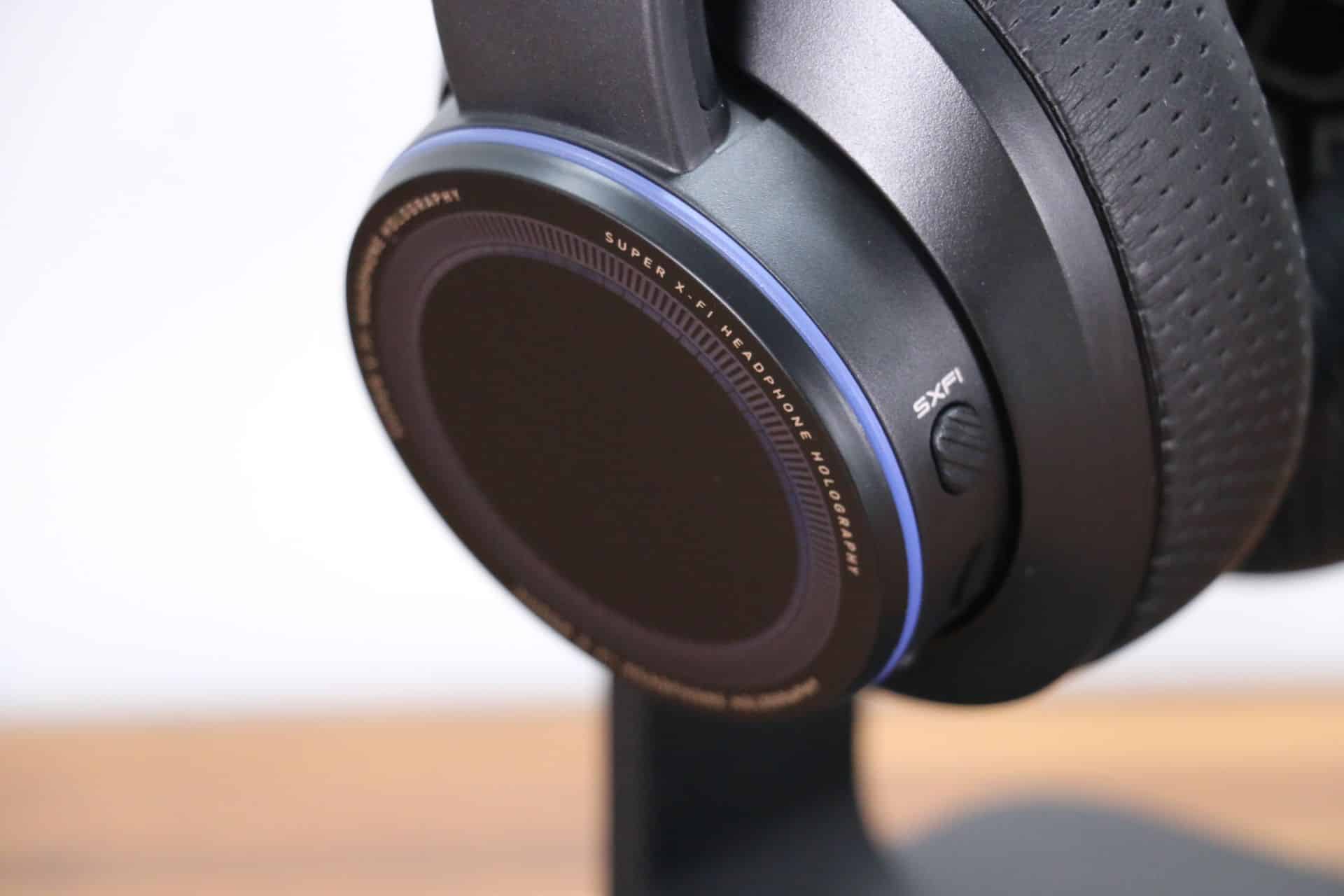 Not having to fiddle with mic settings or volume adjustments on the cable will likely be one of the things users upgrading from a less capable headset appreciate the most. You have access to the most commonly used settings from the adequately-spaced buttons & toggles on the left cup.
The Power button doubles as an RGB controller, allowing you to light each cup's two circular RGB zones in a single color or a pulsating rainbow pattern. Another button cycles between the two SXFI modes or disables them. Lastly, a toggle selects among the SXFI Air Gamer's multitude of audio sources. The left cup is where you'll also find a MicroSD card slot and inputs for digital & analog cables.
OK, so how do you control volume & playback? You guessed it, the left cup, or a touch-sensitive area in its middle if we're being precise. Said area recognizes finger swipes – up/down for volume adjustment and left/right for moving through tracks. Tapping the middle once acts as play/pause, while doing so twice accepts and ends calls. The touch controls feel intuitive and have a high tolerance for flukes.
Connectivity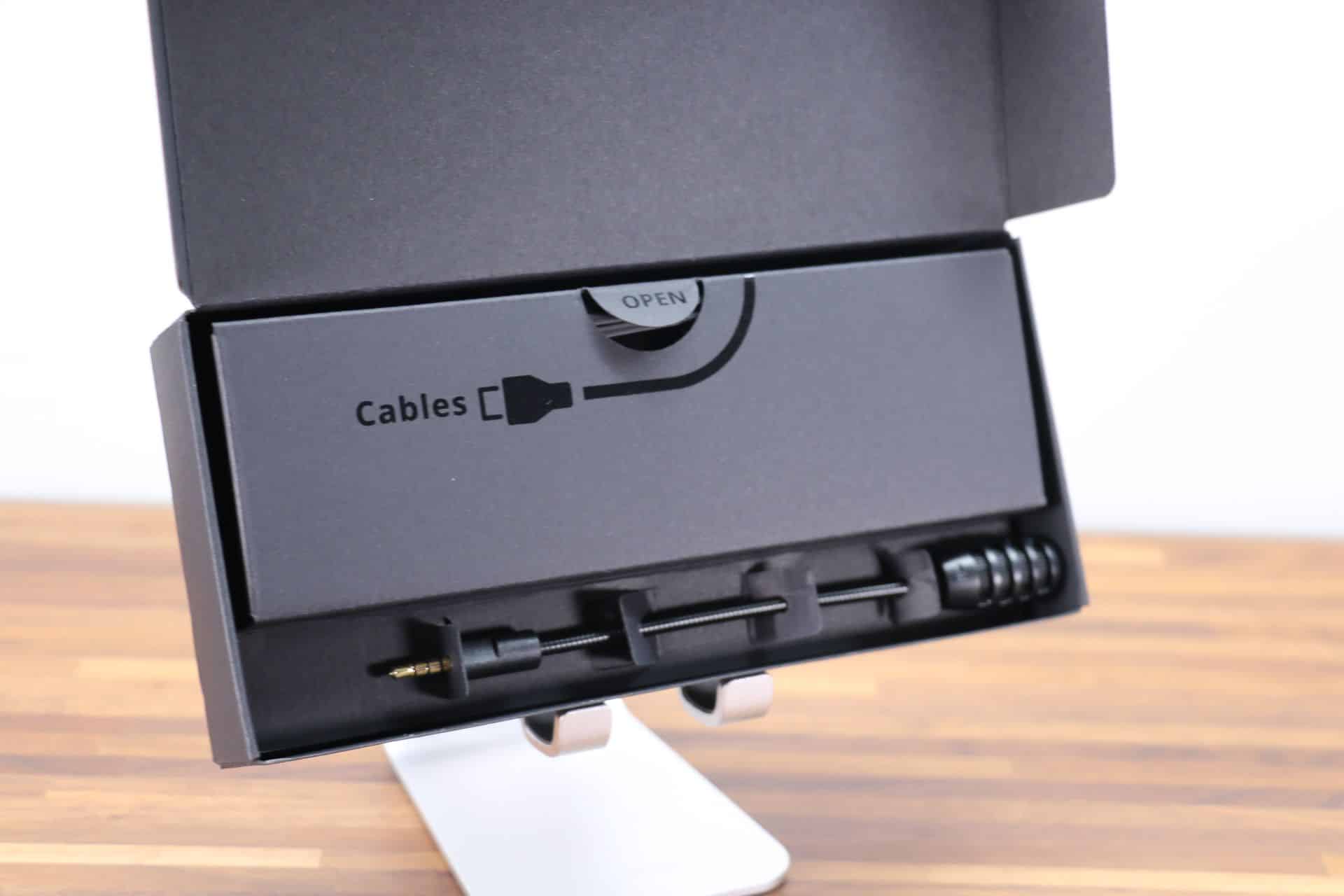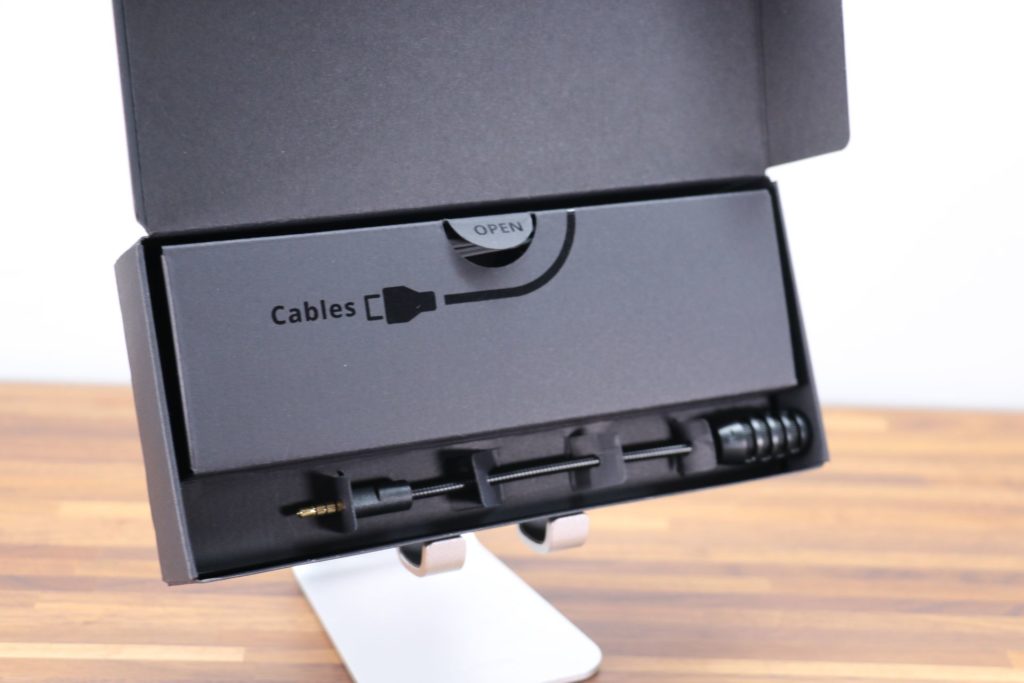 It's safe to say there's no modern multimedia device the SXFI Air Gamer can't connect to. It has USB-C, wireless connectivity via Bluetooth 5.0, or the old-fashioned way through 3.5mm line-in. We recommend you use the USB option when gaming to get access to Super X-Fi, RGB color management, and more.
The MicroSD card slot is handy for carrying all your favorite jams wherever the SXFI Air Gamer goes. It's no substitute for a dedicated media player on your computer or phone, but the audio quality remains the same. It had no trouble reading FLAC, and the controls are as responsive as they are when the headset is otherwise connected.
Battery Life
The headset uses a rechargeable Li-ion battery and can last up to eleven hours. Your mileage may vary according to the loudness and amount of death metal you listen to. Still, we found the assessment to be accurate.
Dedicated wireless headphones have longer use times. We won't ding Creative for this since the wired option you can fall back on is preferable for gaming anyway. It's unnecessary to keep the battery charged if you're using the 3.5mm cord. We recommend you do so anyway since the sound is unmistakably richer while there's juice left.
Apps & Computer Software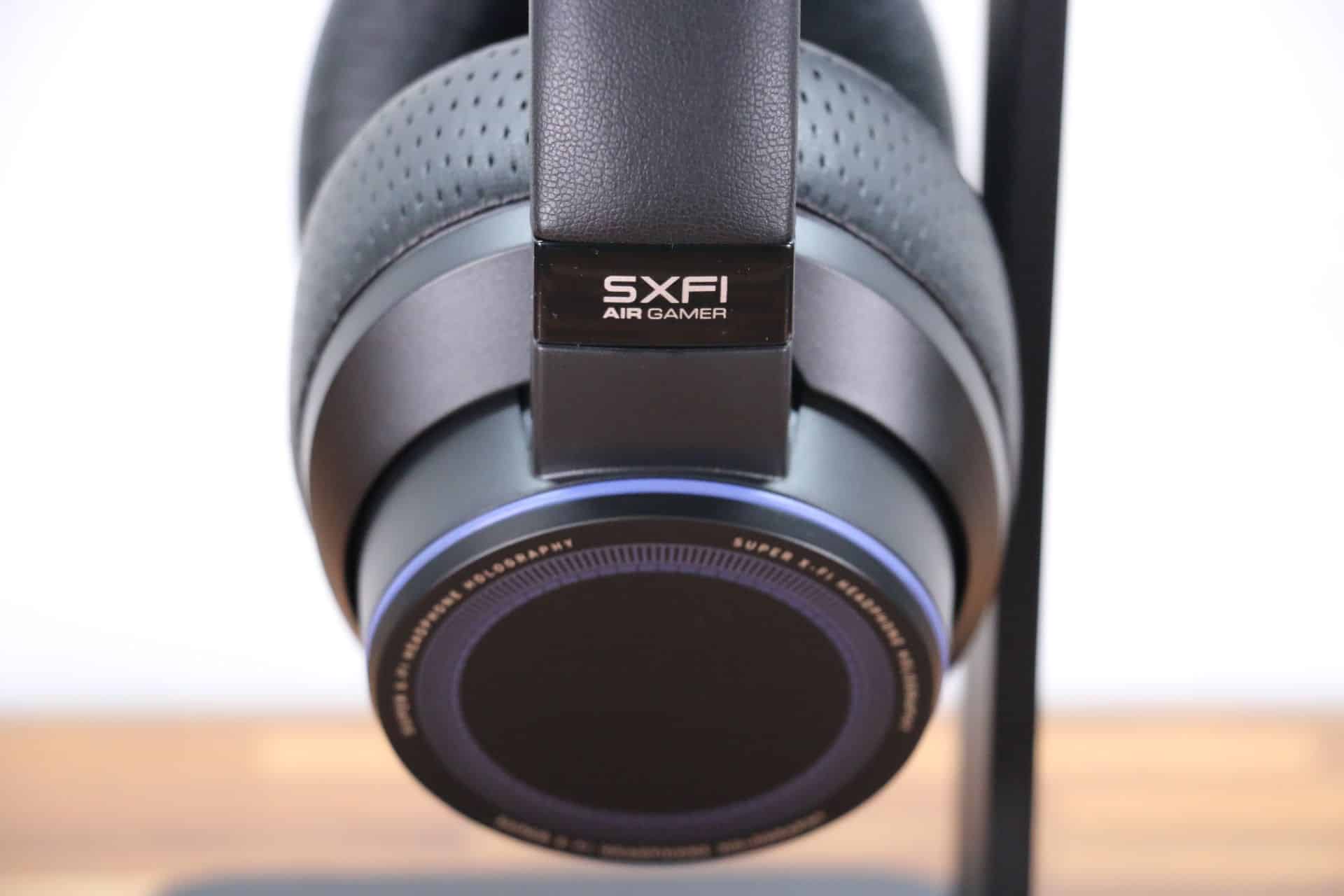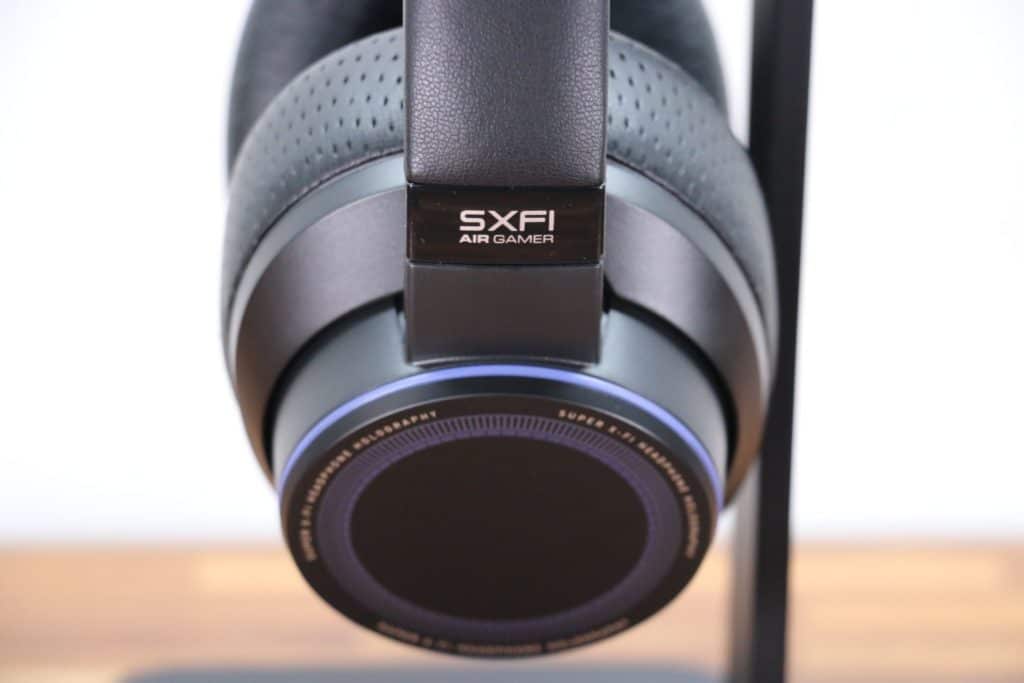 Calibrating the headset to fit your unique aural needs is an essential part of the SXFI Air Gamer experience. We're also glad it's over & done with, as the process needs streamlining. Installing the SXFI app is the mandatory first step as you can't even set up its PC companion app without this.
The main mobile app is straightforward to install and offers welcome features like equalizer presets and an in-app music player. Sadly, the former doesn't carry over to other apps on your phone. Head & ear mapping is a feature that calibrates the software-driven stereo sound effect. It's also a pain you'll be hard-pressed to go through on your own as the scanning process is fiddly. Bringing a friend & arming yourself with patience is the way to go.
Going through this ordeal creates a spatial profile unique to each user. We can't tell whether everyone is getting the best possible experience, but user-specific profiles really do sound different. A second app is required if you want to make custom adjustments to the equalizer and select a different RGB color. Why couldn't a single app manage all of this? The PC version can, so we're unsure what the problem is.
User Experience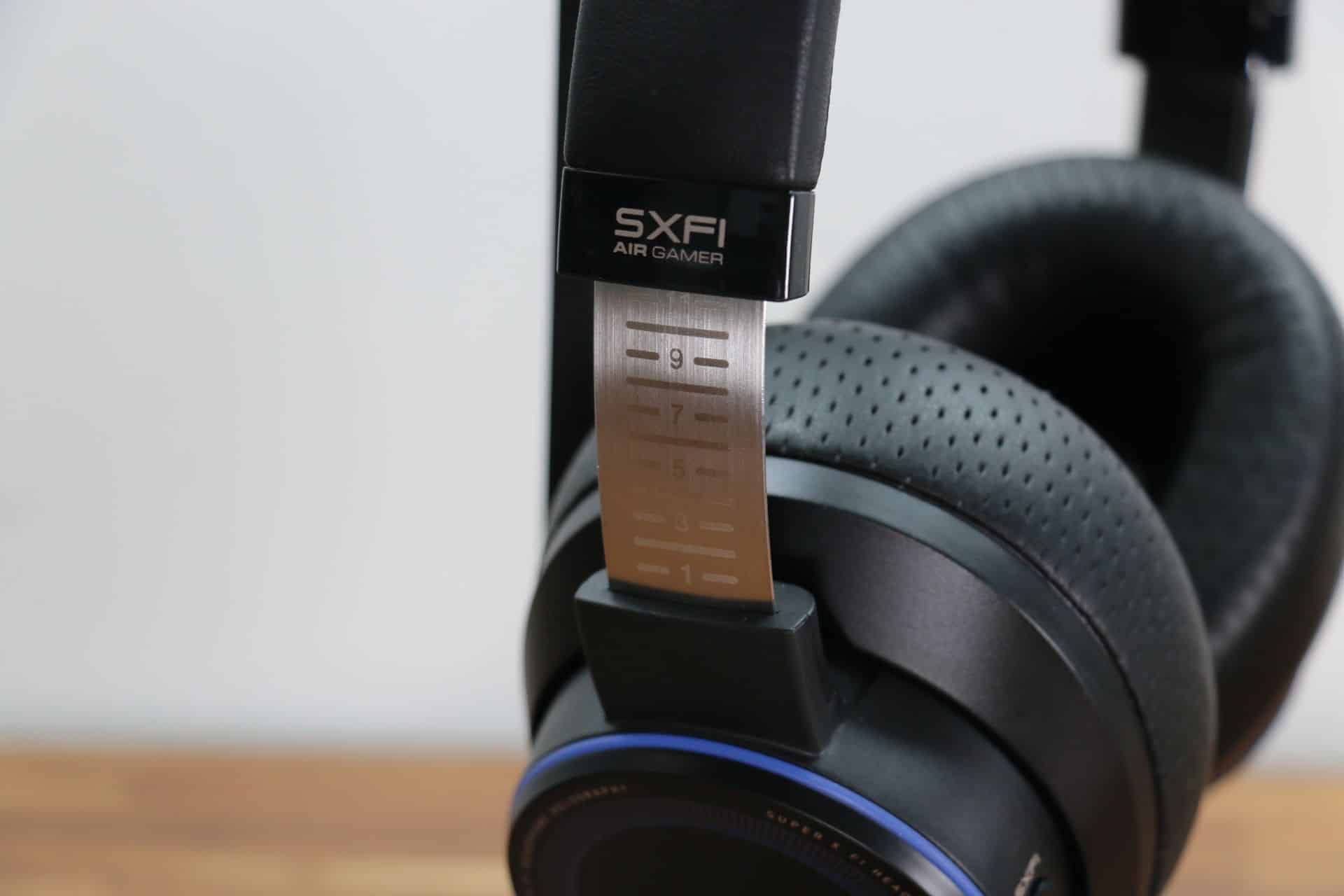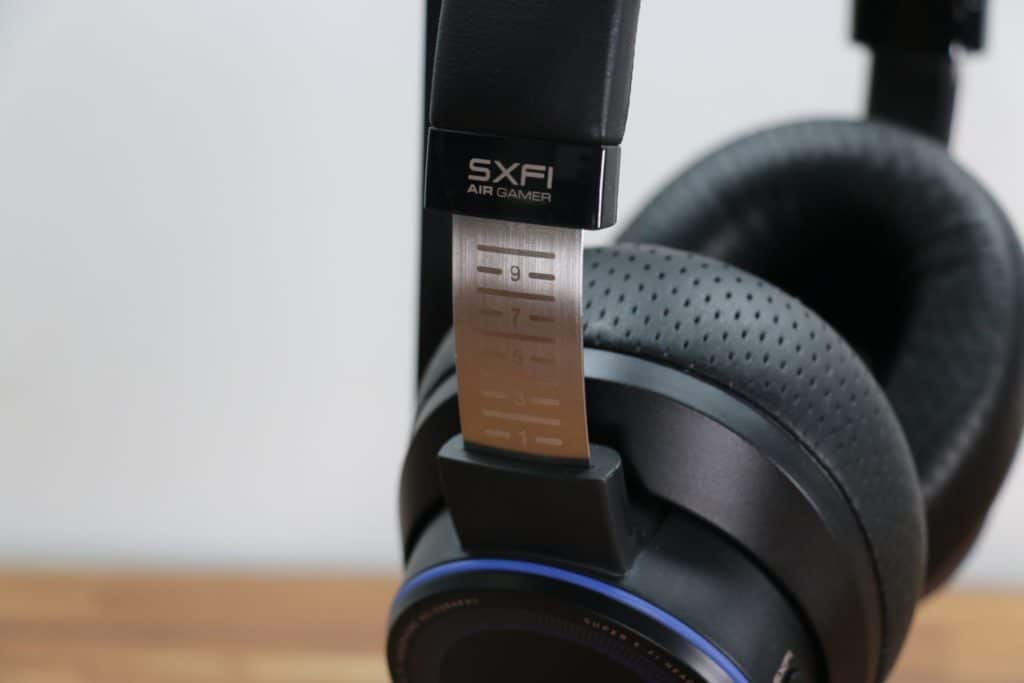 Creative put together a compelling package, but how does the SXFI Air Gamer sound? Its unaltered form already has a finely-calibrated profile and may already be enough for some users regardless of the circumstances. The mids are punchy, and we especially enjoyed how the bass resonates without overstepping into muddy territory. The atmosphere is on point whether you're listening to blues or bombs.
Super X-Fi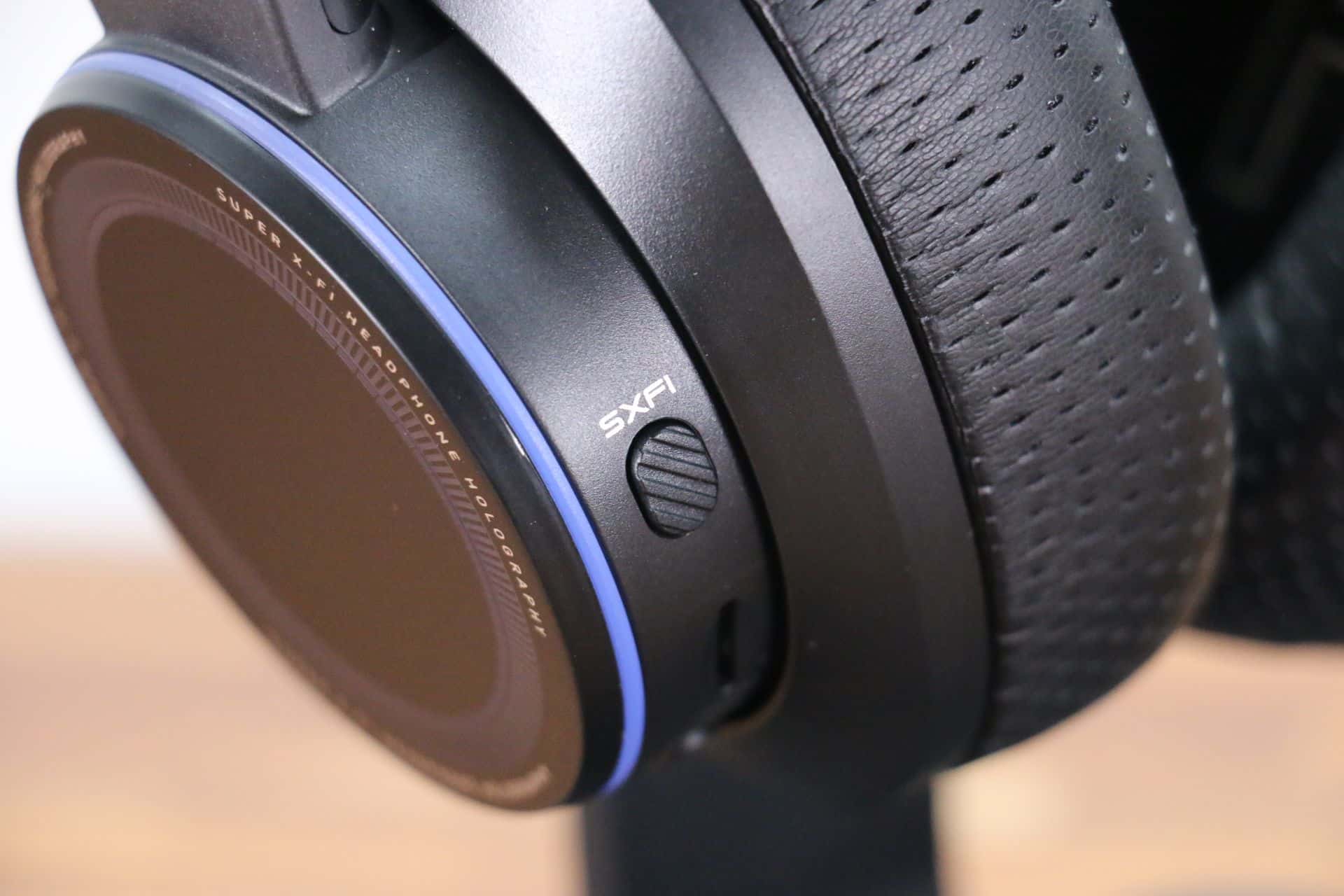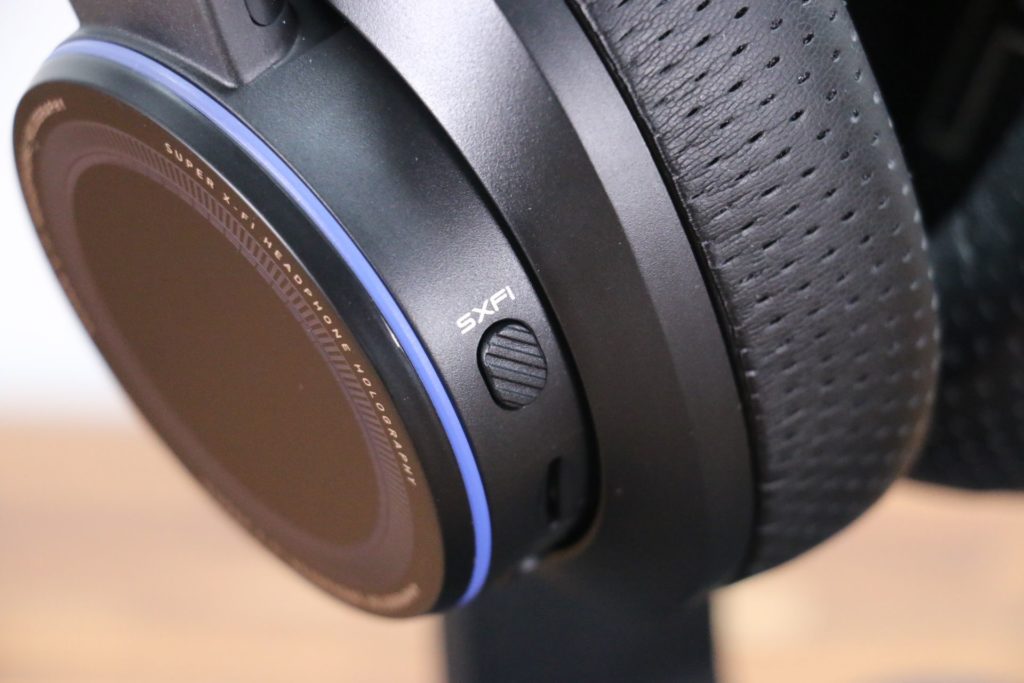 It's finally time for our Creative SXFI Air Gamer review to address the headset's most talked-about feature. Think of Super X-Fi as a virtual, individually calibrated surround system that projects sound seemingly from the space around your head. The two 50W neodymium-magnet drivers, a Super X-Fi ULTRA DSP, and the latest version of the software do an excellent job at creating a nuanced soundscape.
Specifically, turning Super X-Fi on ads depth to your aural perception. The effect is especially evident in the horizontal space, allowing you to pinpoint whether the sound is coming from the front or from your 8 o'clock. There's not much verticality, but we imagine that recreating this faithfully would be much more challenging.
Regular Super X-Fi works best when you're enjoying movies & TV shows that take advantage of surround sound. It's less effective for studio recordings where vocals are prominent since the applied distortion makes them sound unnatural. On the other hand, you should definitely turn the feature on when you're listening to live performances. The impact is most evident when listening to classical music, as it's easier to distinguish from which portion of an orchestra music is currently emanating.
Super X-Fi Battle Mode
Creative touts the Battle version of Super X-Fi mode as a literal game-changer. It's a tweaked profile designed to suppress bass-heavy and unnecessary ambient noises while augmenting others. Far-away gunfire and approaching footsteps become distinguishable earlier, allowing you to duck for cover or lay a trap in time. Battle mode's impact will vary on the games you play, with battle royale-style titles and Rainbow Six Siege reaping the most benefits.
Microphones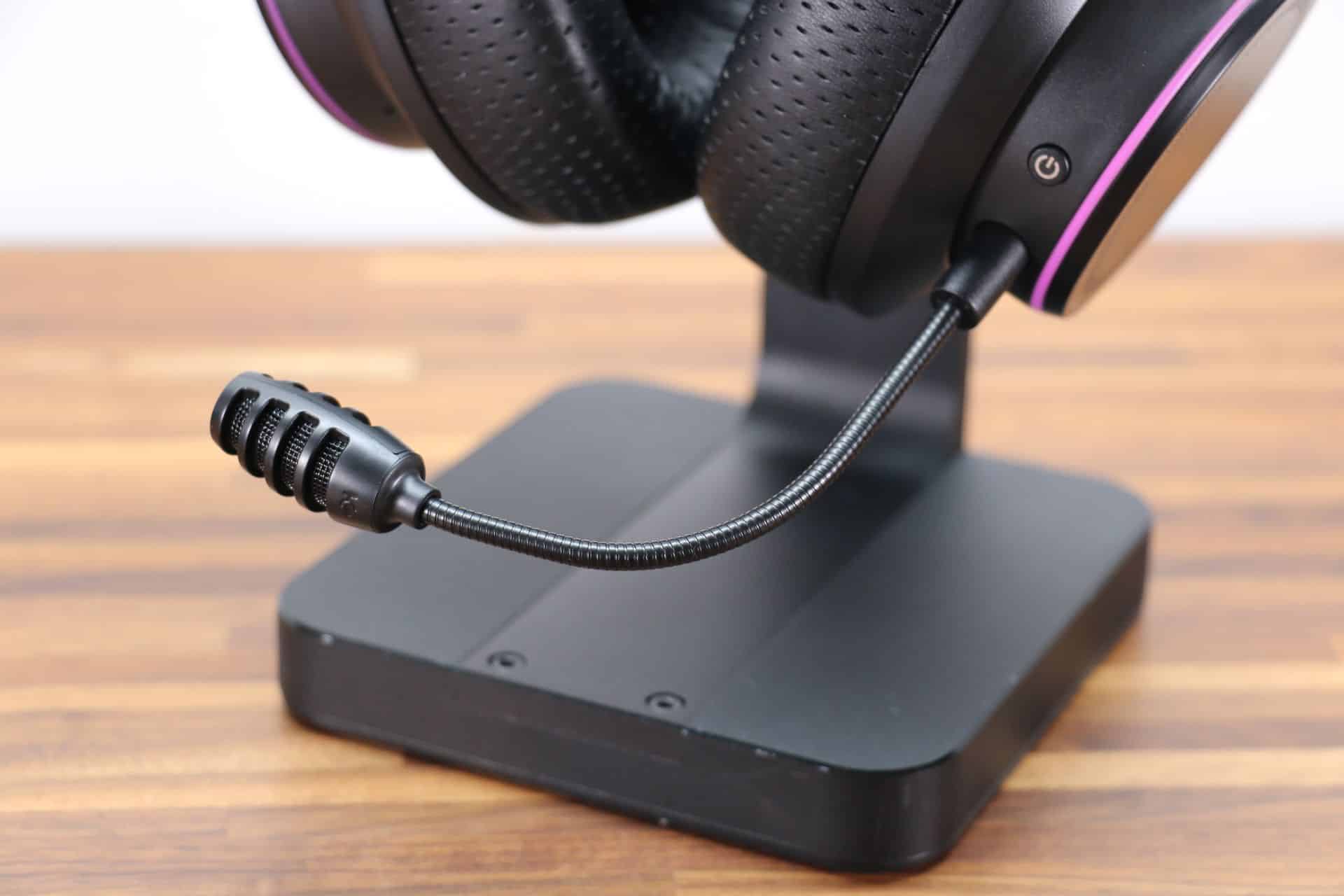 Creative ships the SXFI Air Gamer with two microphones. Gamers will be using the CommanderMic the most since it's clearly the better option. It has a flexible metal arm & a cardioid capsule that picks up sound in the direction of your mouth while being less sensitive to the environment. That results in a voice that's true to life, clear, and isolated from distractions. There's no felt cover on it since a pop filter is part of the design.
The NanoBoomMic is more situational. It's a smaller nub that barely extends from the left cup when mounted & great for when you don't want to lug around the larger mic or be seen with it. The NanoBoomMic will do for conference or telephone calls. Try to have those indoors as it picks up much more ambient noise than the CommanderMic.
Gamerchat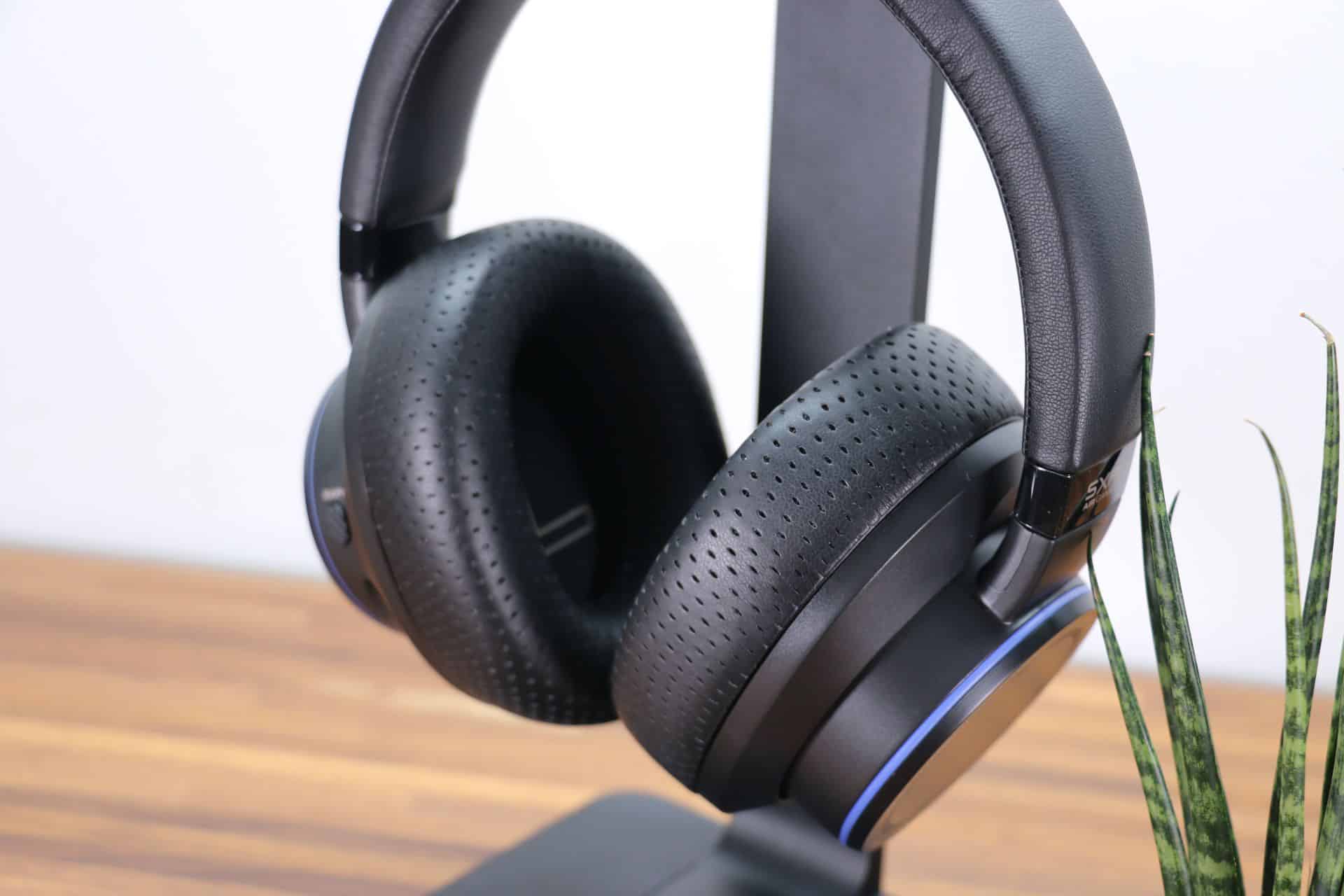 What use would broad connectivity be if you couldn't combine multiple sources? That's the idea behind the Gamerchat function. It lets you simultaneously hear sound through Bluetooth and a wired source. This is useful in two scenarios.
It allows you to set the Bluetooth up on a phone and handle calls without having to leave a heated match. Alternatively, you can use the Bluetooth connection to communicate with others via apps like Discord while playing on the Nintendo Switch since it doesn't have a built-in chat function.
Conclusion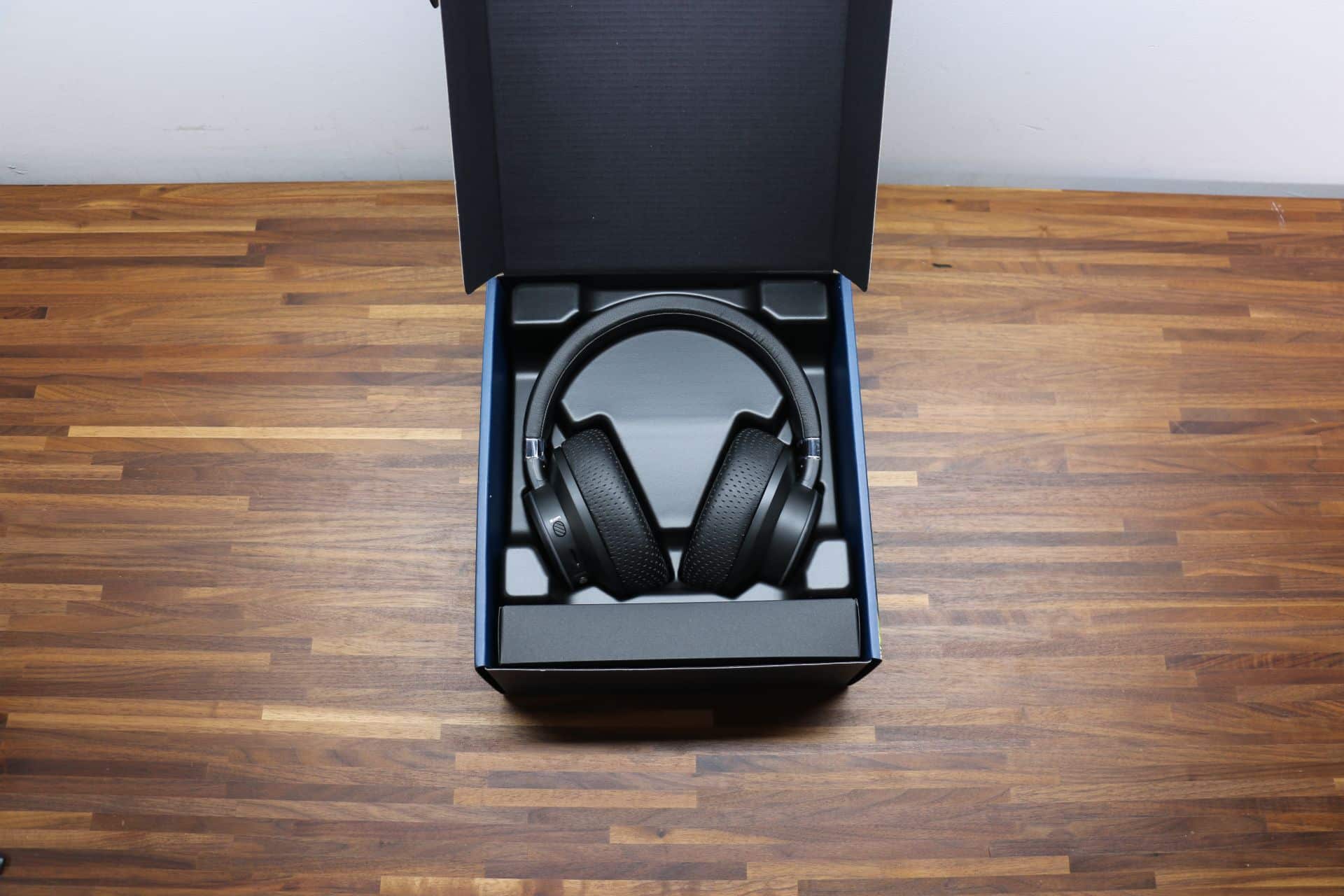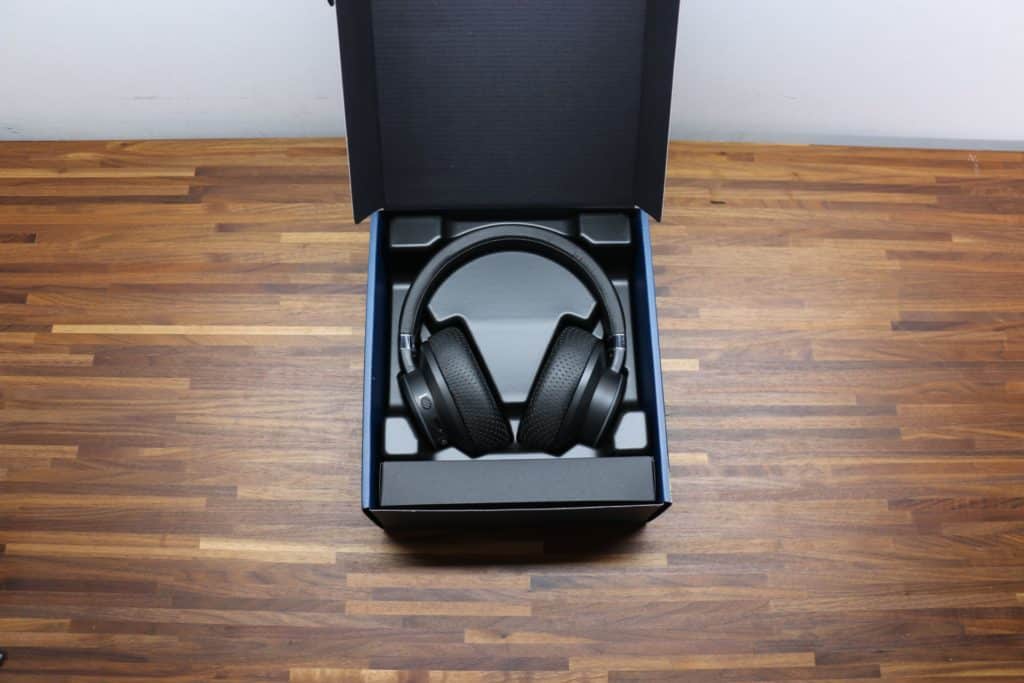 The SXFI Air Gamer provides a surprisingly well-rounded user experience for a headset with so many gaming-centric features. It's comfortable to wear when binging TV shows or going through multi-hour gaming sessions. Audio is neither overly accentuated nor muted, resulting in a balanced profile all but the snobbiest audiophiles will find more than acceptable. The initial asking price was $150, and it was a deal considering what you get. You may be able to find it at a reduced price today, which sweetens the deal even more.
There aren't many gaming headsets that match the SXFI Air Gamer's versatility and general accessibility in its cost bracket. Add tasteful RGB & a successful surround sound implementation, and you've got an excellent basis for gamers who want an aural experience that doesn't lag behind what gaming PCs and the latest consoles can put out visually.