The first PCIe 4.0 SSDs came out three years ago, bringing slightly faster game loading times and a significant bump in transfer speeds for professionals working with large amounts of data appreciate. Most manufacturers scrambled to take advantage of the new generation. Crucial was not among them, choosing to bide its time and work on redefining an old favorite. In our Crucial P5 Plus review, we put the result of this labor through its paces to see whether it was worth the wait!
Tech Specs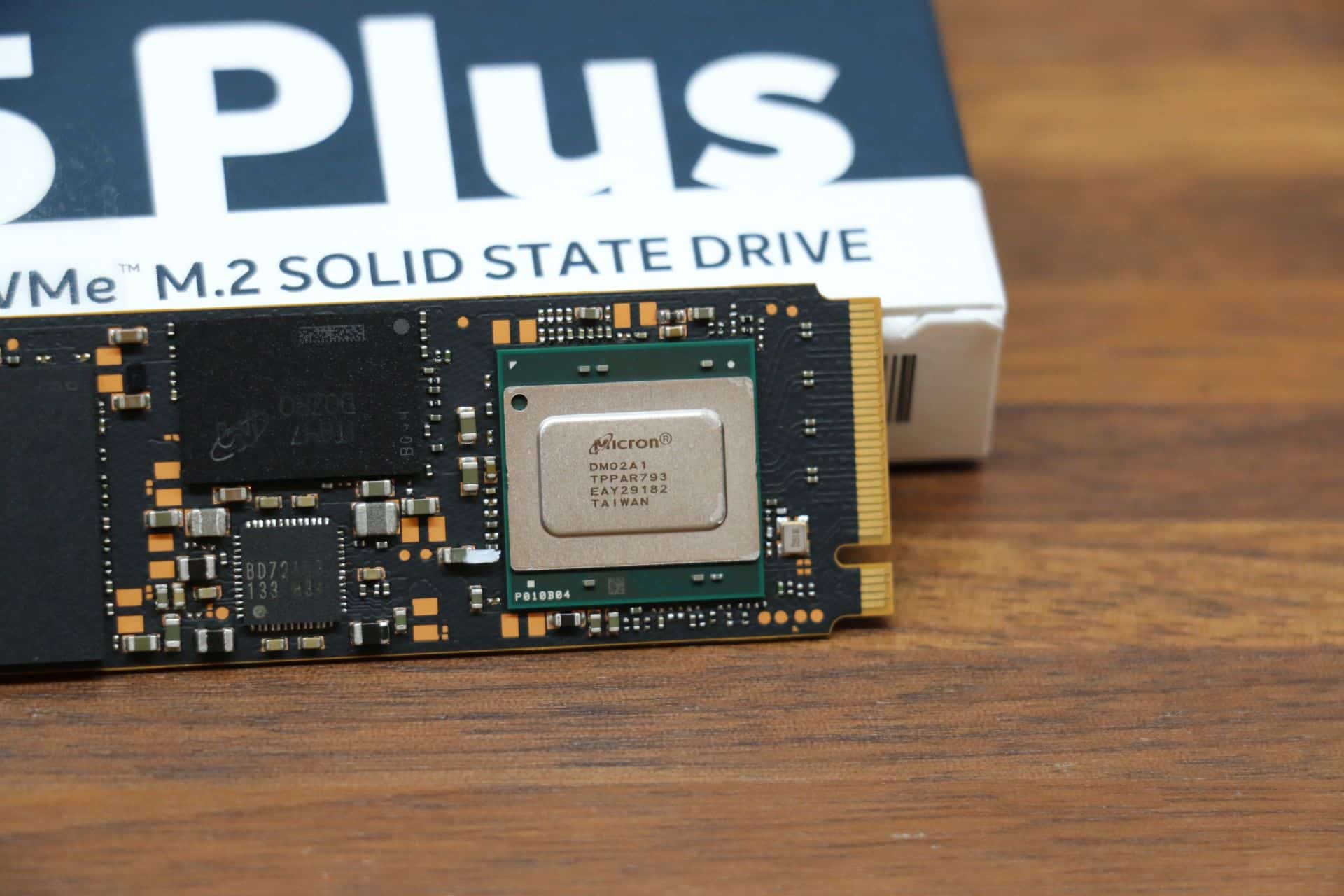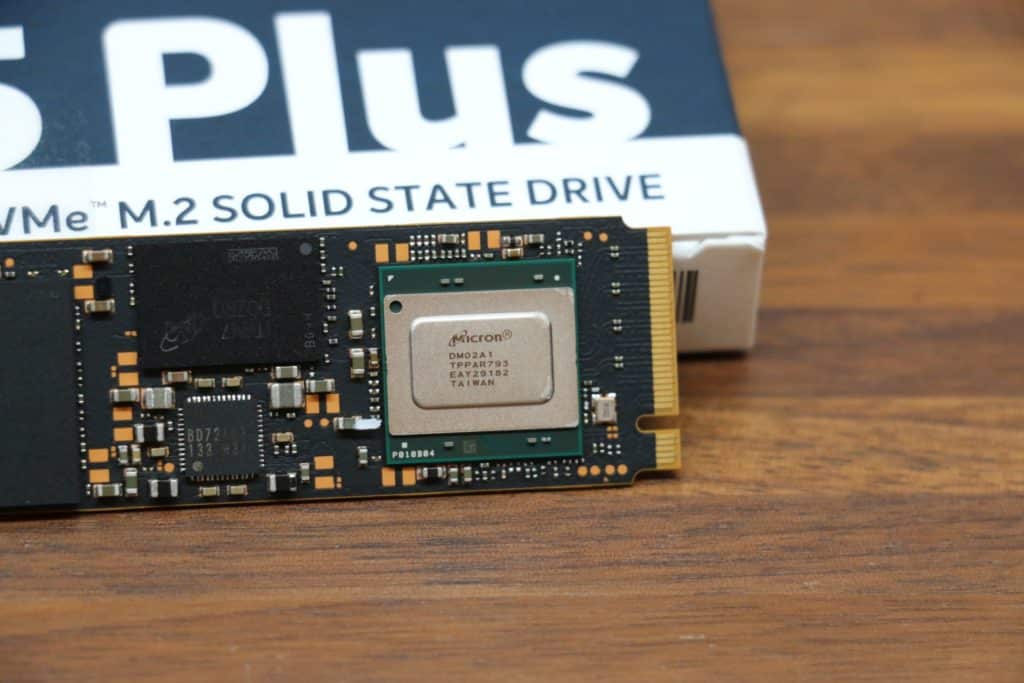 Crucial's relationship with Micron gives it an advantage over the competition. Rather than having to source components from third-party companies, Crucial's drives benefit from technologies Micron developed in-house. This cuts down on manufacturing costs & logistics, allowing Crucial to sell the P5 Plus at an attractive price.
Apart from fully utilizing the PCIe 4.0 standard, the P5 Plus benefits from an improved 176-layer NAND. Its vertically stacked three bits per cell allow for almost twice as many layers than were present earlier – up from 96 to 176. Coupled with a new eight-channel chip, this boosts the drive's longevity while decreasing the latency and expanding its bandwidth.
Some of the more general specs place the P5 firmly within PCIe 4.0 territory without challenging more advanced & expensive models. Read/write speeds of 6.600 and 5,000MB/s are respectable, if not the absolute best around. The same goes for the disk's IOPS capabilities, which trail slightly behind the Cardea Z440 we reviewed earlier this year.
| | |
| --- | --- |
| Form factor | M.2 Type-2280 |
| Interface | PCIe 4.0 x4, NVMe 1.4 |
| Dimensions | 3.14" x 0.86" x 0.09" (80 x 22 x 3.5mm) |
| Weight | 0.3 oz (9g) |
| Capacities | 500GB, 1TB, 2TB (tested) |
| NAND | 176L 3D TLC |
| Controller | Micron DM02A1 |
| Encryption | AES-256 |
| TBW | 1,200TB |
| Max sequential read & write | 6,600MB/s / 5,000MB/s |
| Random 4K read & write | 720,000 IOPS / 700,000 IOPS |
| Warranty | Five-year limited |
Our Sample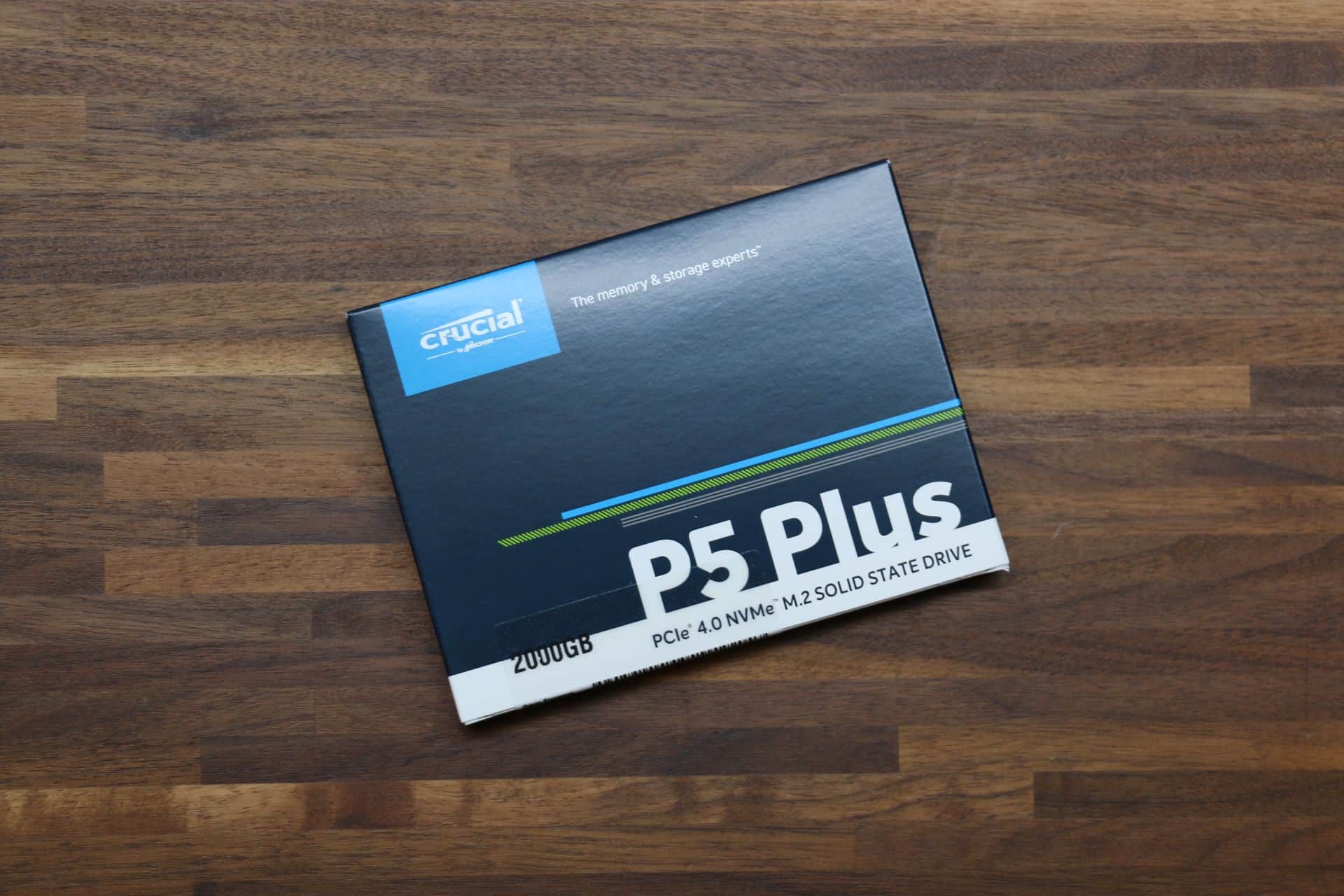 Crucial offers the P5 Plus in three sizes – 500GB, 1TB, and 2TB. We got our hands on the 2TB variety and encourage you to do the same as it comes with various benefits. It's outfitted with a 2GB LPDDR4 DRAM cache, twice as much as the others. More flash memory means better durability, so expect to write 1,200TB of data or more before it gives out.
Then there's the matter of price per GB. The P5 Plus has been out since last year, so you can frequently find it on sale. Taking advantage of such a deal brings the cost down to just $0.12/GB, which is excellent value given the disk's characteristics.
Packaging & Appearance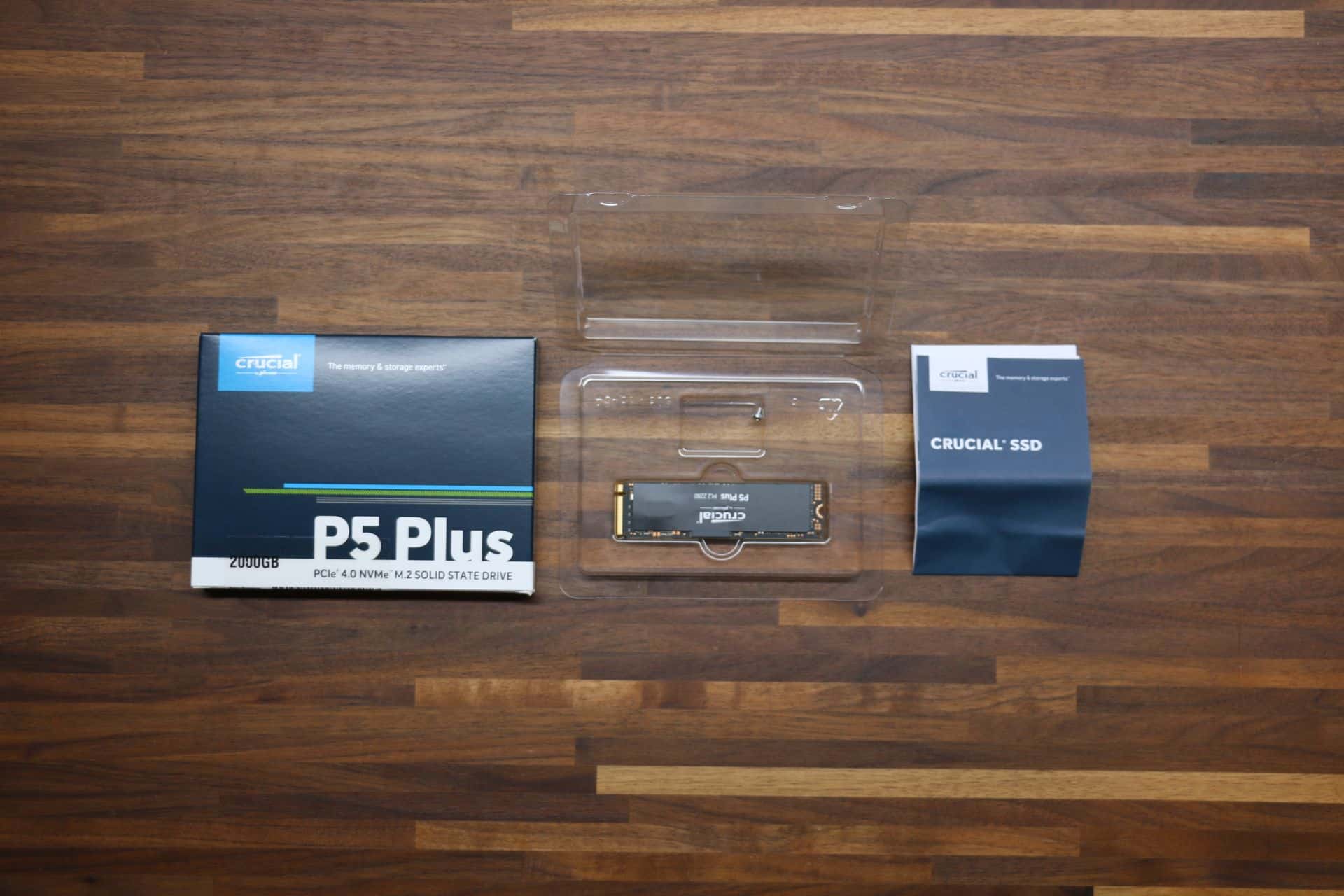 Crucial did not waste resources on elaborate packaging or over-the-top design. The tiny cardboard box is minimalistic and supports a plastic clamshell that protects the drive from vibration. The P5 Plus itself and a quick start guide, and a mounting screw are its only contents.
NVMe drives usually hide under heatsinks or graphics cards, so Crucial didn't see the need to outfit the P5 Plus with anything other than a black sticker. The design is almost identical to the P5's. At 80mm long, the drive is guaranteed to work with any modern motherboard. There's no thermal label like on the Z440. While that makes the P5 Plus more susceptible to heat generation, it also means you'll have an easier time fitting it inside a laptop or your PS5.
Lack of thermal protection is the P5 Plus's only drawback. It runs a bit warm during regular operation, which is nothing to worry about. However, prolonged intensive data transfers can cause throttling. The likelihood of this happening on a PC is small due to motherboards coming with good heatsinks. Laptop users should keep this potential issue in mind when buying.
Crucial seems to be aware of the P5 Plus's thermal troubles since you can get a free heatsink if you order from its site directly.
Software
Crucial accompanies the P5 Plus with two useful programs.
The Crucial Storage Executive is a lightweight tool for monitoring and tweaking your disk's performance. It has a dashboard that shows physical & VRAM usage, remaining space, and whether the firmware is up to date. The S.M.A.R.T. tab keeps track of the drive's overall health – its runtime, number of erasures, read error rates, etc. There's also a section dedicated to hardware data encryption and a setting called Momentum Cache that can speed the P5 Plus up in certain circumstances.
Cloning software from Acronis is included as well. It lets you clone the data and associated configuration settings from one disk to another. This will come in handy if you want to keep your files, games, programs, and OS installation intact without having to reinstall everything on the P5 Plus.
Test Bench, Methodology, and the Competition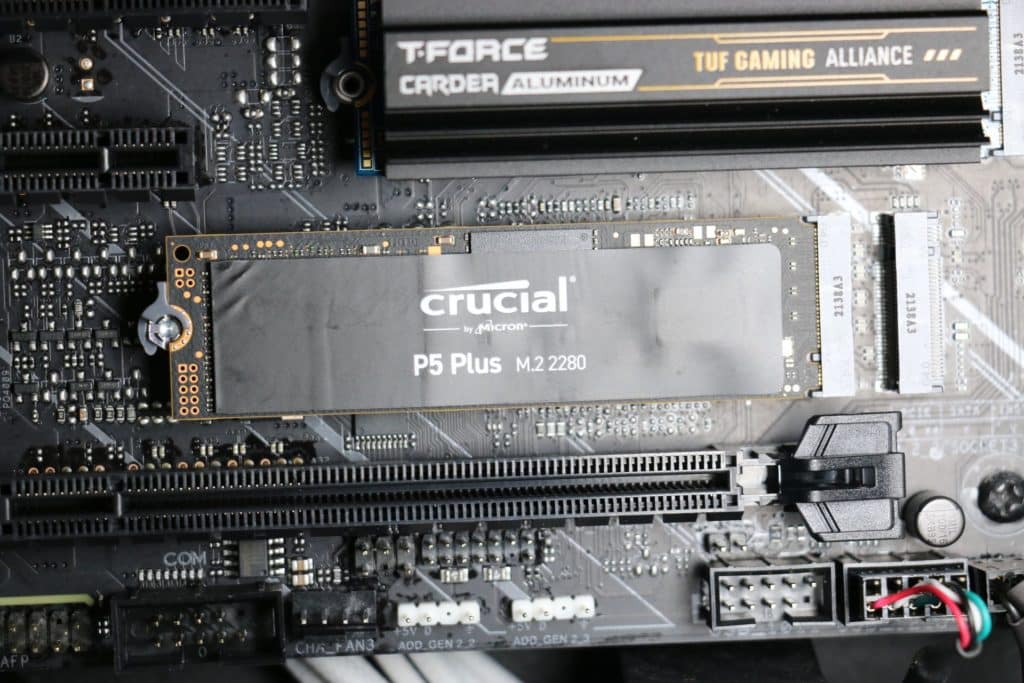 On to the meat & potatoes of the Crucial P5 Plus review – its performance and standing against similar models!
We recently upgraded parts of our test bench with even better gaming hardware. It's now based on the ASUS TUF Gaming Z690-Plus D4 and the excellent Intel Core-i7 12700K. The TUF Alliance version of the Cardea Z440 is our primary drive. There's little to improve on 3600MHz T-Force ARGB Xtreem RAM, so it remains part of the build.
The P5 Plus has to prove its worth against several PCIe 4.0 rivals. The TEAMGROUP Cardea Z440 is Crucial's closest competitor since the drives are similarly priced. Corsair's Force MP600 is in the same ballpark, while the Samsung 980 Pro represents the high-end of PCIe 4.0 SSD capabilities. The disks were formatted in accordance with testing requirements and took up the same secondary M.2 slot.
CrystalDiskMark Sequential & Random Read/Write
CrystalDiskMark is the first tool testers and users alike reach for to get a better idea of their SSD's performance. The sequential portion allows a drive to achieve its limits, so it is a great method of verifying manufacturers' max read and write claims. Put into perspective, the results look like this: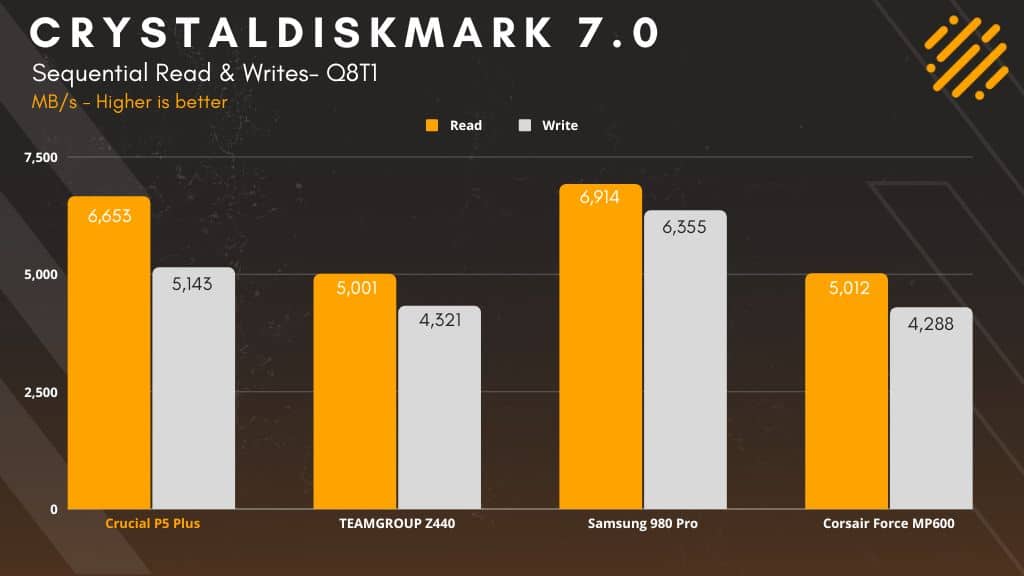 All four drives perform as or better than advertised. The P5 Plus barely exceeds the specified read speed while exceeding the write speed by 100MB/s. The 980 Pro's write speed result is the biggest surprise in the test. It's rated at 5100MB/s yet scores 1,300 more while falling just short of its 7,000MB's writing capabilities.
The Cardea Z440 and Force MP600 have lower read and write maximums, to begin with, so their results are equally reassuring. TEAMGROUP's SSD writes 7.5% faster than claimed, while Corsair's contender passes the test with no outlying results.
4K Random Read/Write
That was the best-case scenario, but how about the worst? The 4K random read/write portion of CrystalDiskMark's testing is designed to test exactly that. It measures how fast a disk can read or write small data chunks occupying random locations. Scoring well here indicates that a disk will be able to run applications quickly and is suitable for installing your OS.
The test's increased challenge and complex nature demonstrates how higher sequential speeds aren't always indicative of overall performance. Both read and write results put the P5 Plus in second place, trailing behind Samsung's more expensive model. All four contenders did well in the writing portion, while the 980 Pro's reading score puts it far in the lead.
AS-SSD Copy Benchmark
With both extremes covered, it was time to see how our competitors would tackle a test designed to replicate the vast majority of real-world cases. AS-SSD's copy benchmark paints a realistic picture of a disk's capabilities by having it copy three types of content.
The ISO File portion copies two image files several GB in size. Programs Folder takes the opposite approach, copying lots of smaller files you'd find associated with various applications. Lastly, Games Folder is a mix of the two as game installations usually consist of several large packed files and multiple smaller ones.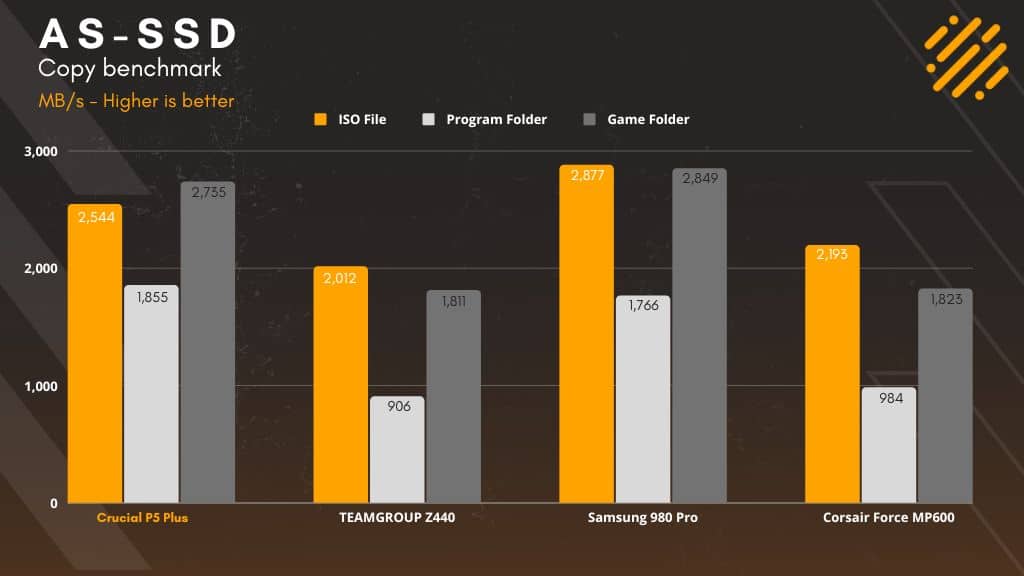 Improvements to the P5 Plus's NAND come to the forefront in this test, placing it in the lead in the file folder segment. This will make it interesting to photographers, 3D artists, and other creatives who regularly work with large batches of smaller files. The 980 Pro is almost as good. However, file folder performance is starkly lower for the two other models.
The ISO file results are more balanced, but it's clear that max speeds continue to have the most sway. Samsung's drive is just 150MB/s short of the 3,000 mark, with the P5 Plus trailing it by 300MB/s. TEAMGROUP's model struggled to keep up, scoring just over 2,000MB/s.
Contrary to expectations, the P5 Plus's mixed file size result is better than the one obtained during ISO copy. It's still slightly lower than the 980 Pro's, but the difference isn't significant. The gap between the third and fourth place is even smaller, but both drives achieve only two-thirds of the performance displayed by the P5 Plus and 980 Pro.
3DMark Storage Benchmark
As our readers are likely to be most concerned with game loading time, we also brought in 3D Mark's Storage Benchmark DLC. It's a battery of tests designed to replicate the most common storage-related gaming practices – installing, saving, loading, and streaming. Several popular games are part of the test, and you get an aggregate score at the end to reflect overall performance.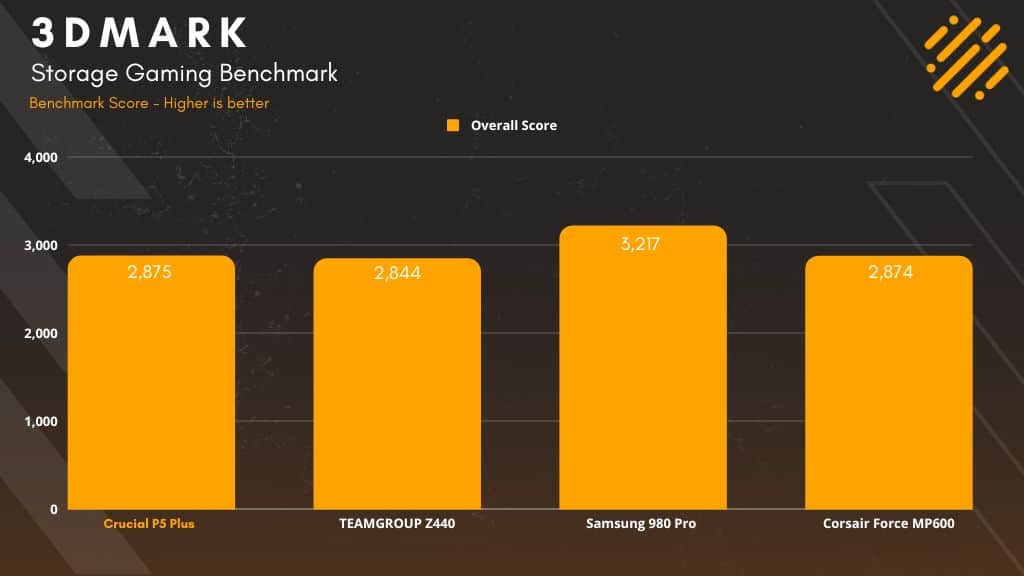 Luckily for the Z440 and M600, 3DMark's test shows much more uniform results. Samsung takes the lead once more, Crucial and Corsair are a hair's breadth apart in vying for second. While it technically comes in last, the Z440 has no trouble keeping pace with the others.
Conclusion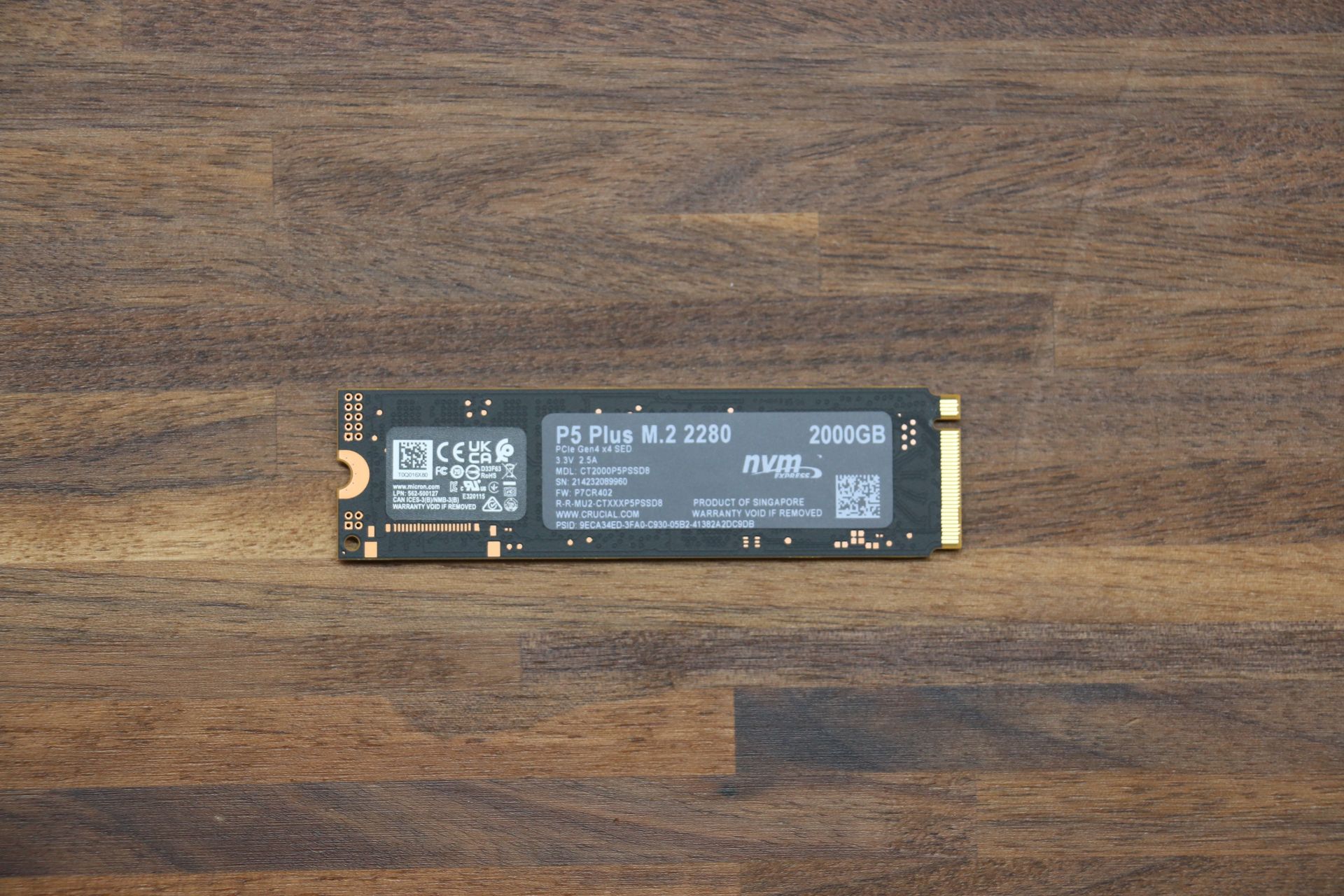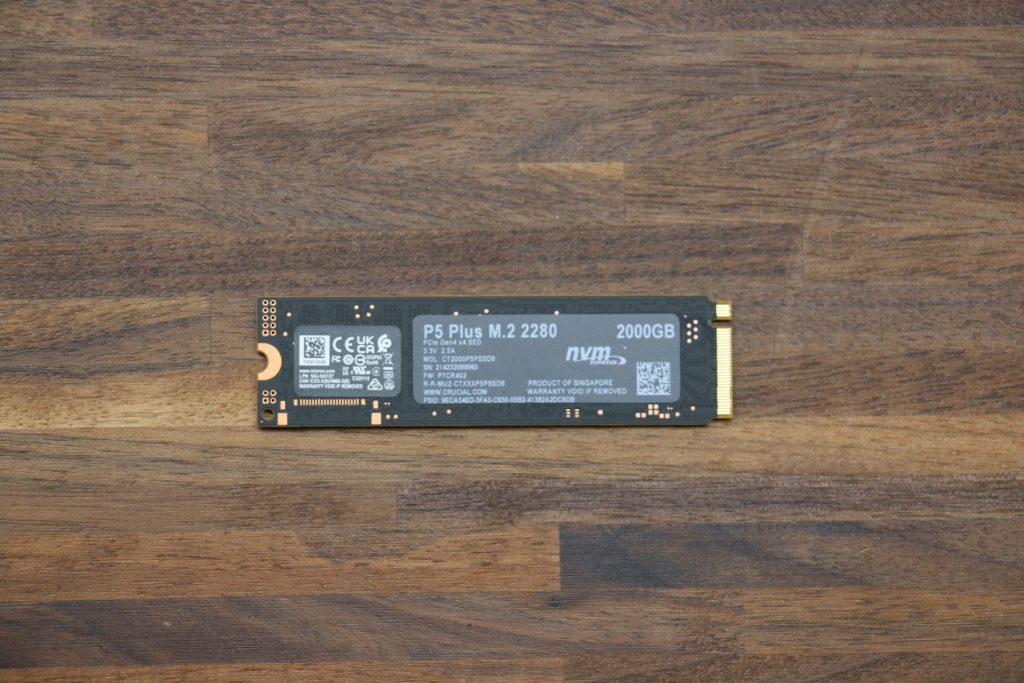 Taking some time to perfect the P5 Plus's design turned out to be the right move. The SSD can hold its own against the generation's finest while letting you put considerable savings towards other components. It's an excellent choice for desktop owners regardless of their needs. As our Crucial P5 Plus review makes clear, there's no reason to whether you're putting together a cutting-edge gaming rig or need more reliable high-speed storage for your projects.