Crysis Remastered gameplay leaked ahead of EA's July 1st show which was supposed to showcase the game. The Microsoft store put up the listing for the game early and some achievement tracking sites also put up the achievements for the game as the achievements had entered the database.
Crysis Remastered gameplay leaked – What is old is now new
UPDATE: The game has been delayed to a later date.
Crysis Remastered was announced by EA earlier this year and while fans were excited to play the game once more, EA had shared few details about the game.
Thanks to Walking Cat (H0x0d) on Twitter, who watches the Microsoft Store like a hawk for spotting Crysis Remastered on the Store.
Here is your first look at the gameplay for Crysis Remastered:
According to the Microsoft Store listing, the game supports 4K Ultra HD and HDR10, this is a big improvement for a game that is over a decade old.
Here are some screenshots of the game:
Crysis Remastered is set to come out on the PC, Xbox One, PS4, and the Nintendo Switch. The Microsoft store also shared some extra details: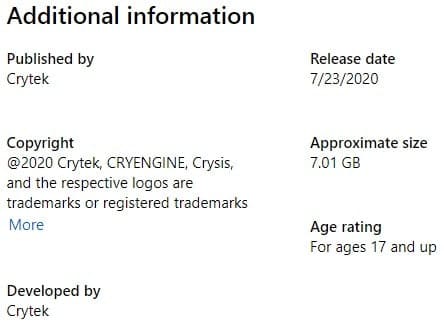 We also know the size of the game on the Xbox One which should also be the size on PC and PS4, but this should be subject to change.
Another interesting detail to note here is the release date of 23rd July, 2020. This means fans will not have to wait long to play the game.
While the price of the game is still a looming mystery, we should have that when EA officially reveals the game tomorrow.
The games achievements are also out – and this isn't going to be an easy game. Completing the game on Delta difficulty is definitely going to be a challenge.
However, veterans of the FPS genre shouldn't have much difficulty, just patience.
While there is still much to know about the game, we can still look forward to EA's show on July 1st.
Crysis Remastered is definitely a game many gamers are looking forward to playing once again
With current-gen hardware this game should run like a dream.
What are your thoughts on Crysis Remastered? Let us know in the comments section below!