As the days pass, the Cyberpunk 2077 chronicles keep compounding. From a botched release to undelivered promises, CDPR has had a tough time delivering the Cyberpunk experience they wanted. But after an underwhelming 1.1 patch, have they really understood the magnitude of disappointment fans are feeling? Hopefully, this is the case since the developer has revealed that the Cyberpunk 2077 1.2 patch is coming soon.
Earlier today, CDPR unveiled Cyberpunk 2077 patch 1.2 notes and revealed it will be coming soon. The list of changes is long and promising, but we are yet to see it in action.
Cyberpunk 2077 Patch 1.2 Details
The patch without a release date came with a lot more notes than its predecessor. From gamebreaking bugs to quality of life improvements, there was a lot in there.
You may want to read the whole patch notes if you were affected by very specific bugs. That's because not all issues affected everyone, yet some of them made the game unplayable. But for the most part there were certain highlights that show that the Cyberpunk 2077 patch 1.2 is going in the right direction.
The most flashy change would have to be "Enabled Ray Tracing on AMD graphics cards. Latest GPU drivers are required". This may only affect a tiny subset of players, but it is a major change that was long overdue.
However, the more important change came for console players not PC. Last-gen console players to be specific. It is impossible to pinpoint one line, but Cyberpunk 2077 patch 1.2 should "fix the most prominent problems gamers are facing on last-gen consoles." It has already been a few good months since the game was unlisted from the PS Store. So, it will be interesting to see if the patch can make the game playable enough for sony to pull back their wrath.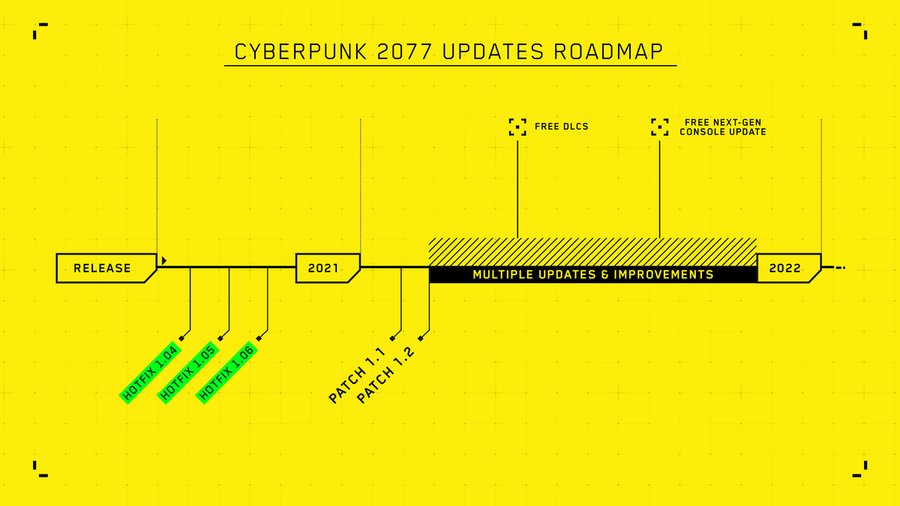 Still, noone would argue this patch should make Cyberpunk the game it was advertised yet. According to CDPR's own roadmap, we should be seeing more and more improvements to the game throughout the year. And although now is free-DLC-time, we should be getting fixes. However, this marks the last major patch of the year. So, hopefully Cyberpunk 2077 plays like a (hastily) finished game on last-gen consoles now.