Cyberpunk 2077 is a game that made history for all the wrong reasons. It was a game that was marred in controversy before release and even with the release, the game was a walking catastrophe and a PR Nightmare for the much-beloved Polish developer, CD Projekt Red (CDPR). It seems that the studio is committed to fixing the game as Cyberpunk 2077 Patch 1.21 is rolling out for all platforms.
Cyberpunk 2077 Patch 1.21 – Fixing the game, bit by bit.
Before the release of Cyberpunk 2077, CDPR was seen as the studio that could do no wrong. With the release of their most prolific to the world of video gaming with The Witcher trilogy that also got made into an equally critically acclaimed Netflix series.
Fans had great hopes and optimism for Cyberpunk 2077 even though it was a step away from what they usually expected from the developer, but they were excited none the less.
With all that said and done, late last month, CDPR released their second milestone patch for all platforms, Patch 1.20.
Now it seems, that CDPR has rolled out a minor patch to further fix things with Cyberpunk 2077. Patch 1.21.
While the patch notes are not as lengthy as the other major patches, but it does bring a lot of much needed fixes to the game.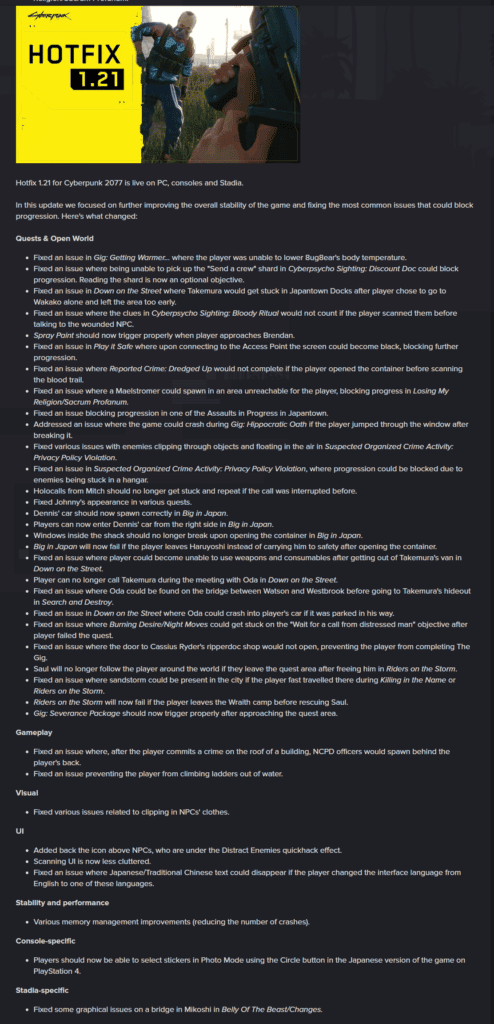 Unfortunately, the best way to play the game is still on the PS5, Xbox Series X, and PC. Despite all the patches, the PS4 and Xbox One versions of the game are still very limited in capability and are prone to crashes and more.
CDPR has a long way to go with Cyberpunk, so much so that they have canceled development of the multiplayer portion of the game.
How the company plans on recovering from this debacle and also pushing out the real next-gen version of the game within 2021 is also going to be a herculean task for the Polish developer.
For now, if you are still playing the game, the new patch should be something you should download immediately.
What are your thoughts on the fixes being deployed by CDPR? Let us know your thoughts in the comments section below.