Deadly Premonition 2 is a sequel to the 2010 cult-classic Deadly Premonition. The game was released exclusively on the Nintendo Switch in 2020 and while the game once again garnered a mixed reception in terms of critical and commercial metrics, it still managed to keep the mystery alive. It seems that the plot is going to thicken when Deadly Premonition 2 for PC releases later this year on Steam.
Deadly Premonition 2 For PC – Coming Soon?
Whether you hate it or loved it, Deadly Premonition 2 was a decent sequel to a game that was already very divisive. A game that had a love/hate relationships with fans across the world.
When Nintendo announced that Deadly Premonition 2 would be a Nintendo Switch exclusive, fans were disappointed yet pleased. The decade old game would finally get a sequel, but would be a console exclusive.
It seems that Thunderful Group, a Swedish publisher, released their annual report today, and on page 18, mentions them releasing Deadly Premonition 2 For PC on Steam.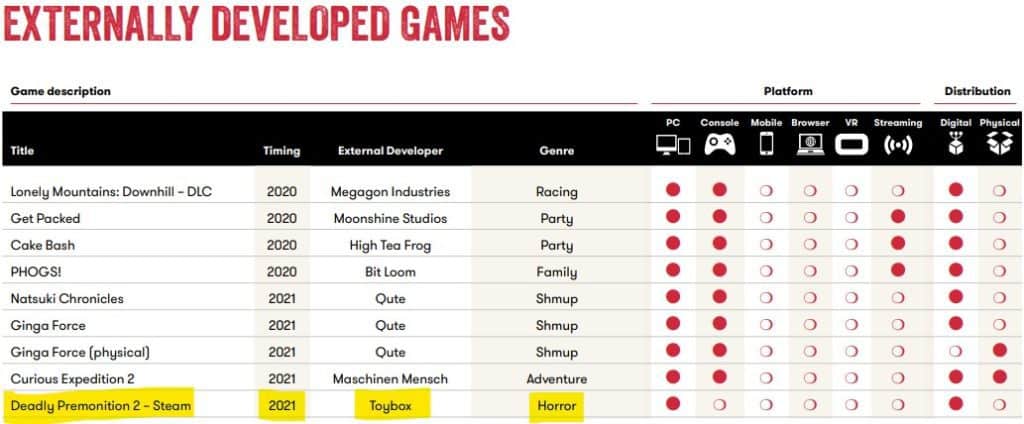 It seems that Toybox Inc. and the other developers that worked on the Nintendo Switch version will return to work on the PC version.
So far it looks like the game will only see a digital release with no mention yet of a physical release, that is something that could be put into consideration with Limited Run Games when the time comes.
It comes as no surprise that this was bound to happen. The game was published by Rising Star Games and not Nintendo themselves. This does confirm many fans speculated that this could mean the game is a timed exclusive on the system.
While Deadly Premonition 2 was far from perfect on launch and had its fair share of technical issues, we can hope that this won't be one of those occasions where modders won't have to come to the rescue of the game.
While we don't know when the game is set for an announcement or a release, we would definitely keep our eyes peeled on upcoming digital events where it can potentially be announced.
What are your thoughts on the news of Deadly Premonition 2 For PC? Let us know what you think in the comments section below.