Death Stranding was Hideo Kojima's first game released under his own studio, Kojima Productions at the tail-end of 2019. The game has since been released on the PS4 and even on the PC with significant visual enhancements and improvements added to the latter. However, there are talks of a Death Stranding Extended Edition for PS5 that brings improved visuals and additional story for the PS5.
Death Stranding Extended Edition for PS5 – Will It Be An S Rank Delivery?
Death Stranding Extended Edition for PS5 Is said to be a visual enhancement of the 2019 game brought to life on the PS5. In addition, the insider also teases some new story content.
This is where fans will feel amiss since Hideo Kojima isn't known for putting in story content in his games as post-launch content. At least none of the games he made under Konami.
The leak comes from ResetEra user Navtra who correctly predicted Final Fantasy XVI and many other things at Sony's PS5 event.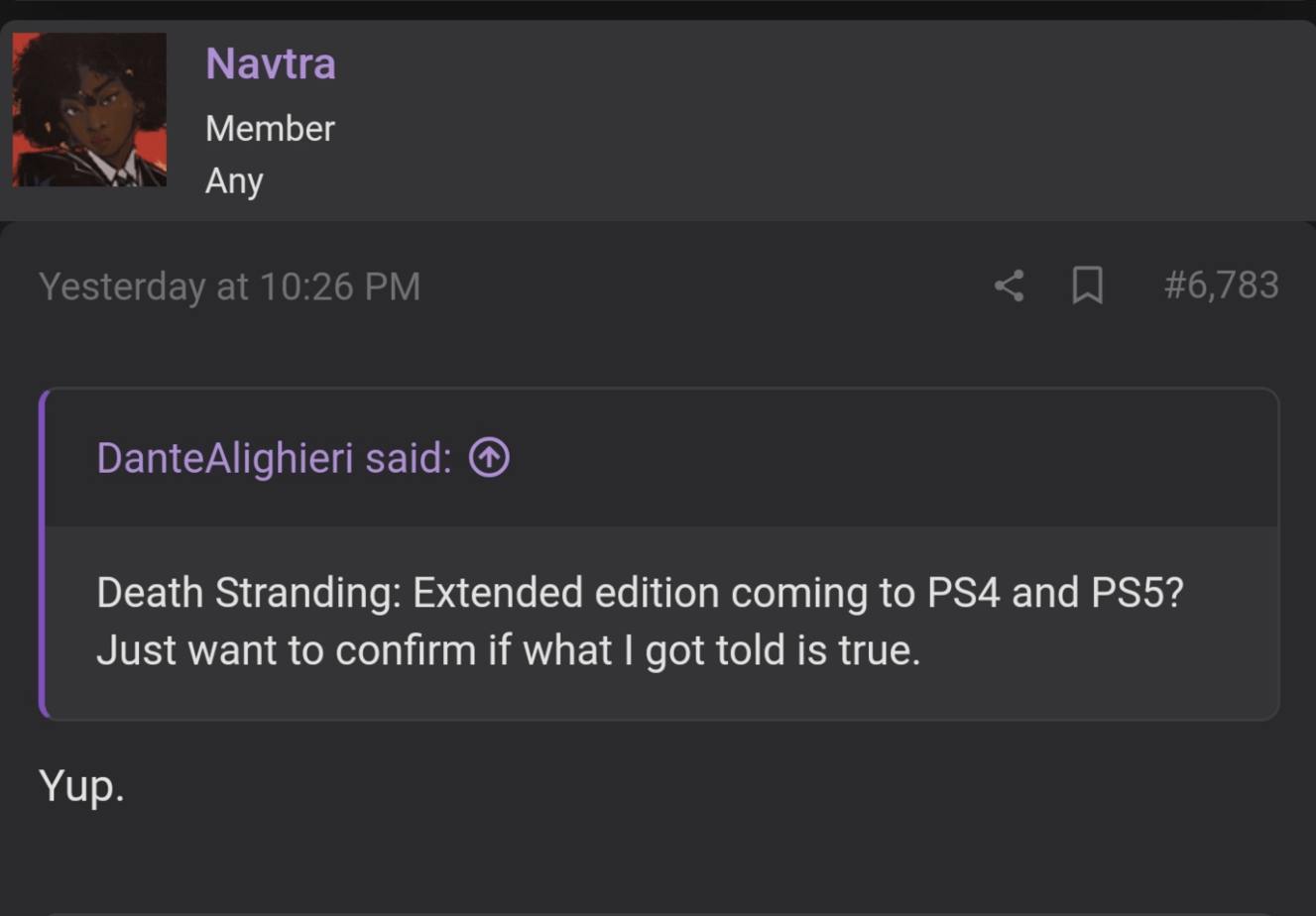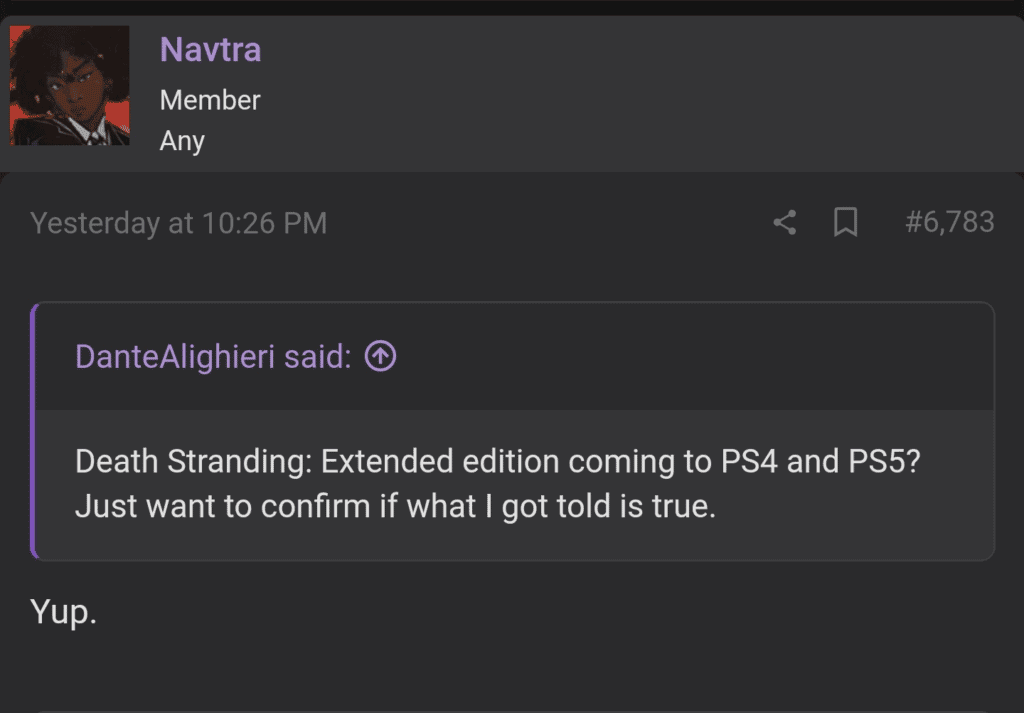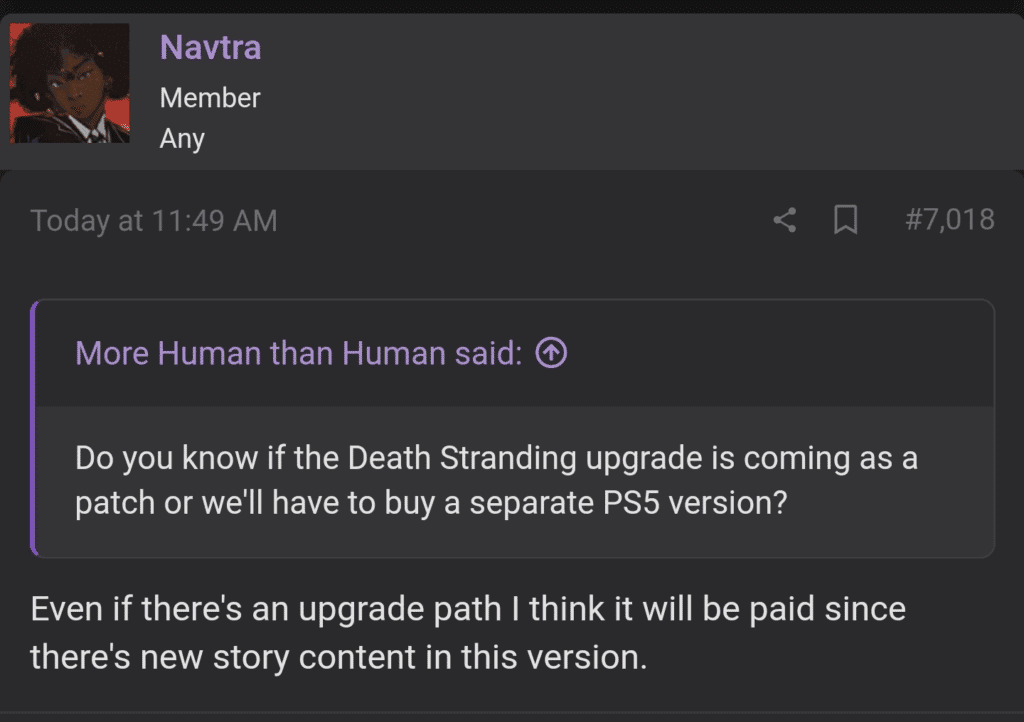 Considering they have already proven a track record, this helps add to their credibility very easily.
What makes us scratch our heads however is Hideo Kojima releasing story-content as post-launch DLC.
Yes, we did have Metal Gear Solid 2: Substance and Metal Gear Solid 3: Subsistence but those didn't add much to the story as they did side-activities for their games.
Perhaps releasing story DLC was a constraint on Konami's part, but we won't know definitively until said rumor comes to pass.
While Death Stranding story does close itself up very nicely and there are little to no plot holes to close up, our curiosity is piqued when we hear mention of additional story in the game.
The game released on November 8, 2019 for the PS4 and July 14th, 2020 on the PC. Perhaps the announcement will come soon? At earliest, could drop on the 1 year anniversary of the PC version if we had to give our best guess.
Do you believe that there is more to explore in the world of the UCA? Will we see more of Sam Bridges? Only time will tell if we will actually see more content for the game.