Destiny 2's 2022 Solstice Armor, along with some additional Eververse items and a new handcannon, have been datamined.
Despite not launching until the middle of July, dataminers have managed to pull a little bit of information regarding the new cosmetics coming to Destiny 2 with Solstice 2022. This information comes via EntityBrother and DestinyTwoLeaks on Twitter.
We don't know much about Destiny 2's 2022 Solstice armor set yet. What we do know, though, are the names of each of them:
Hunter – Phosphorescent Prism.
Warlock – Scintillant Prism.
Titan – Candescent Prism set.
With how early days it is, we haven't got full datamines for each class' full set of armor. Rather, we know what the Hunter Chest will look like, what the Warlock bond will look like, and what the Titan set is called (the Titan items still have placeholder images on Light.gg).
Unfortunately, we don't have any images for the new armor. Light.gg has a thumbnail for both the Warlock Bond and Hunter Chest, as well as 3-D renders, but there's no way to tell how these armor pieces will actually look in-game right now.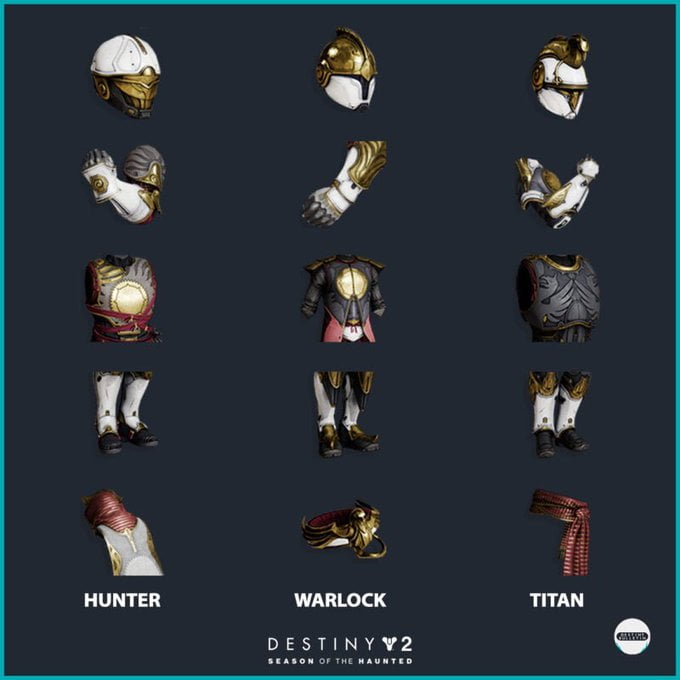 Update: The Destiny 2 Solstice 2022 armor sets have finally been added to Destiny's API. This means we now know what they look like. Credit to DestinyBulletn on Twitter for the above mockup of all three armor sets.
Destiny 2 2022 Solstice Eververse Items
On top of the few scattered bits of armor that have been datamined, we've also got a look at a handful of Sparrows, ships, and Ghost Shells coming to the Eververse store with Solstice 2022.
The crab Sparrow, in particular, stands out to me. It reminds me of the Spider Sparrow from the Festival of the Lost, albeit a lot less spooky. I'll 100% be purchasing it with Bright Dust once it hits the Bright Dust store.
Beyond that, the Ghost with the donut float is cool, as is the bumper-car Sparrow. The other Destiny 2 Solstice 2022 items don't look too impressive, but I'll hold judgment until we actually get a look at them in-game.
Once more leaks and datamines come out, you'll see them here.