Destiny 2 is finally coming to the Epic Games Store – free with the Destiny 2 30th Anniversary pack.
Bungie's August 23rd Destiny 2 showcase came with a whole bunch of surprises – including a host of new crossovers. Destiny is pushing more into the mainstream than ever before. We're seeing collaboration with Fall Guys, Fortnite, and the expansion of Destiny 2 onto the Epic Games Store.
As a part of that Epic Games Store deal, new players will also get the Destiny 2 30th Anniversary pack free of charge. On top of that, all free-to-play Destiny 2 players will have access to every single DLC, regardless of platform, until August 28th – making it the perfect time for new players to dive in headfirst.
Epic Games Store Destiny 2 Players Get the 30th Anniversary Pack for Free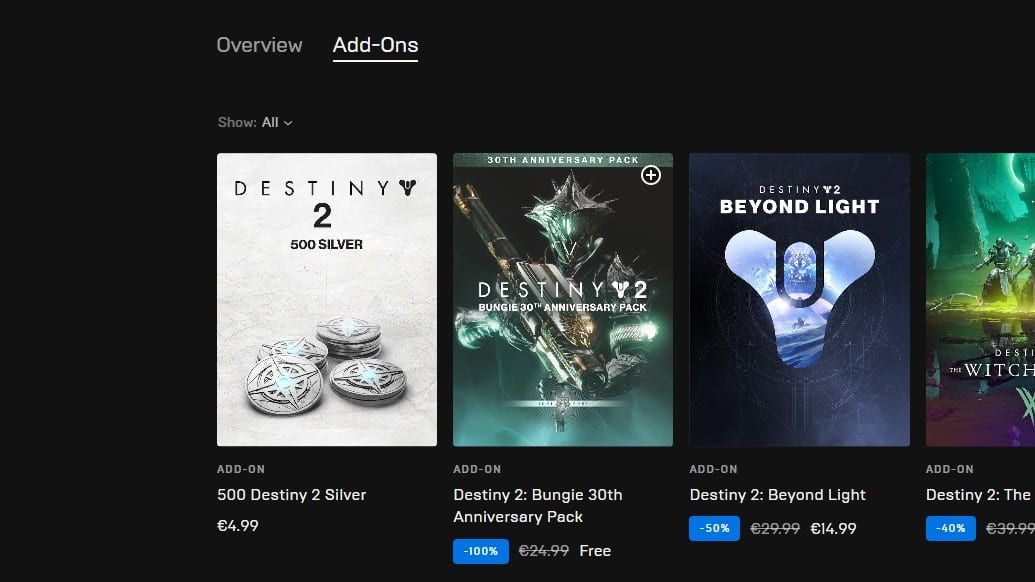 To unlock the 30th Anniversary Pack on the Epic Games Store, all you have to do is add Destiny 2 to your library. You don't actually need to purchase a premium version of the game. This means all free-to-play players will also gain access to the Anniversary content.
The 30th Anniversary Pack comes with a whole bunch of stuff that's added to the free-to-play Dares of Eternity activity. It gives players access to a remarkable number of cosmetics all of which pay homage to Bungie's storied past.
More importantly, though, is the fact that it gives players access to both the Grasp of Avarice dungeon and the Exotic Gjallarhorn rocket launcher. This is one of the best weapons in all of Destiny 2, so new lights (new players) should have a blast using it.
Beyond that, the pack doesn't offer too much more. It's far from offering the same kind of value that a full-fledged DLC would. Still, if you've been on the fence about buying Destiny 2 so far, now's the time.