The Destiny 2 Iron Banner daily challenge is a new edition that's come with Season of the Haunted. It's an extra daily to complete for some Pinnacle gear, and that's something we can all get behind – anything that helps with the Destiny 2 grind is appreciated.
There's a fair amount of confusion building up around the idea of Destiny 2 daily Iron Banner challenges, though, purely because of how Bungie has labeled them. We're here to clear that confusion up.
What are Destiny 2 Iron Banner Daily Challenges?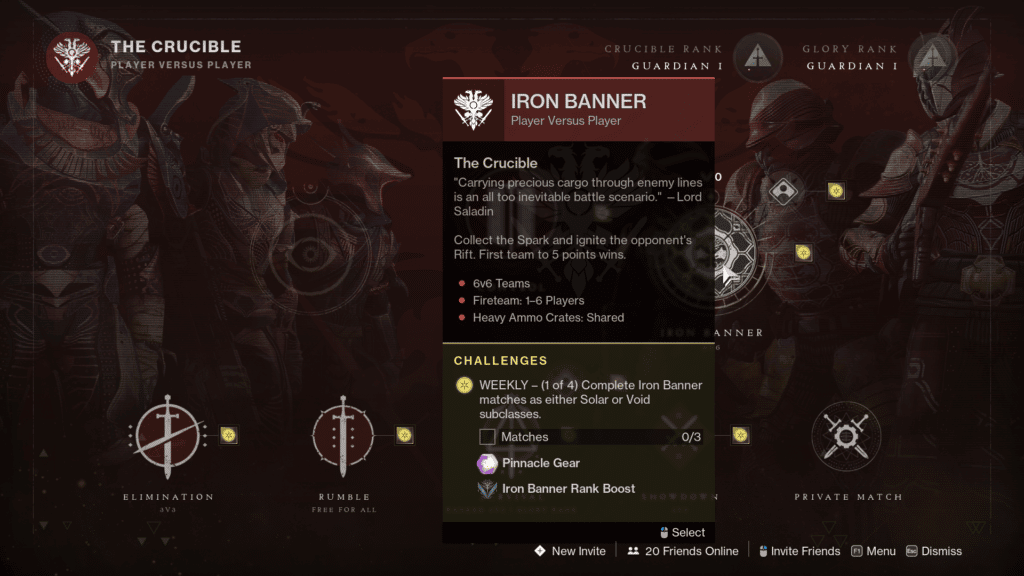 Destiny 2 Iron Banner daily challenges are completely separate from the Forging Iron quest and your old Iron Banner bounties. You don't need to pick your challenges up or activate them anywhere.
Instead, you can see your Iron Banner daily challenge when you hover over Iron Banner in the Crucible playlist. For all intents and purposes, it's just another challenge like your weekly Strike or Gambit ones.
How the daily challenge works is that there is a set of four total challenges, released individually over the first four days of the event. There are only four versions of the daily challenge, so if you've done them all, you won't have access to any more until the next time Iron Banner comes around.
Where the confusion lies is in how Bungie labeled the challenge – it's labeled as "weekly" rather than "daily". That's not necessarily incorrect, there are four daily challenges as a part of a whole weekly rotation. However, it's far more convoluted than it needs to be.
For your own sake, ignore the whole "weekly" part of the Iron Banner daily challenge. All you need to know is that every week Iron Banner is active, there is a set of four challenges with one released every day for the first four days.
What is the Destiny 2 Iron Banner Daily Challenge?
The first Iron Banner daily challenge is to complete three matches using either a Void or Solar subclass. This needs no explanation, just play your games with the relevant subclass equipped and you'll complete the challenge.
For each subsequent challenge, you just need to play more games with a Void or Solar subclass. That's it, there's nothing else to it. Just play some games and you'll complete the challenges.