Out of every weapon returning to Destiny 2 in Festival of the Lost 2022, the Jurassic Green pulse rifle should have you excited the most. Not only is there a monster Jurassic Green PvE god roll, but it's a beast of a weapon in PvP, too. I'm going to go over both rolls and explain to you what it is that makes this gun so damn good.
I'll break down both of these Destiny 2 Jurassic Green god rolls perk by perk, explaining my logic in choosing each column, and offering up some plausible alternatives. There's a time limit on how long this thing is going to be around for – so stop wasting time and get grinding.
Destiny 2 Jurassic Green God Rolls
Jurassic Green God Roll for PvE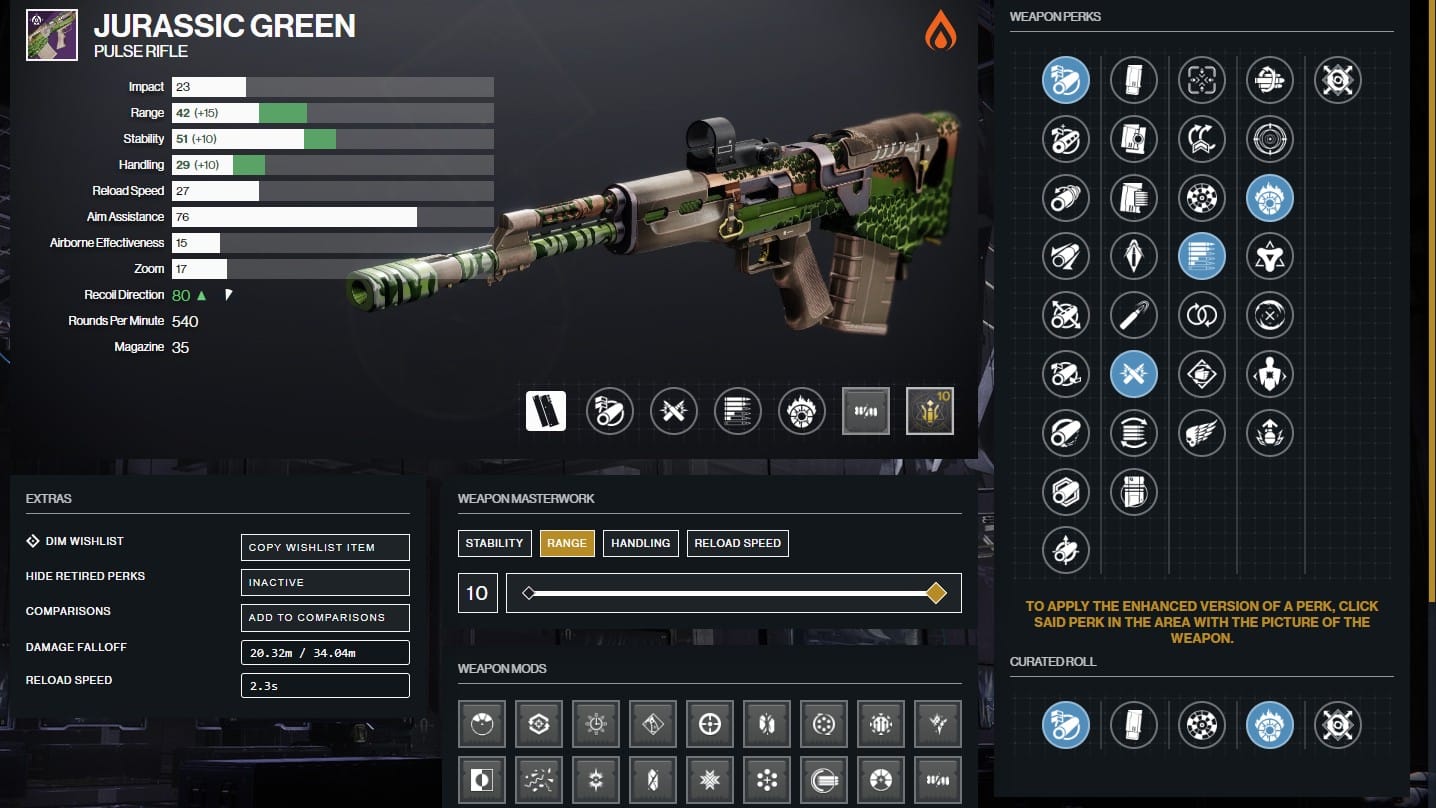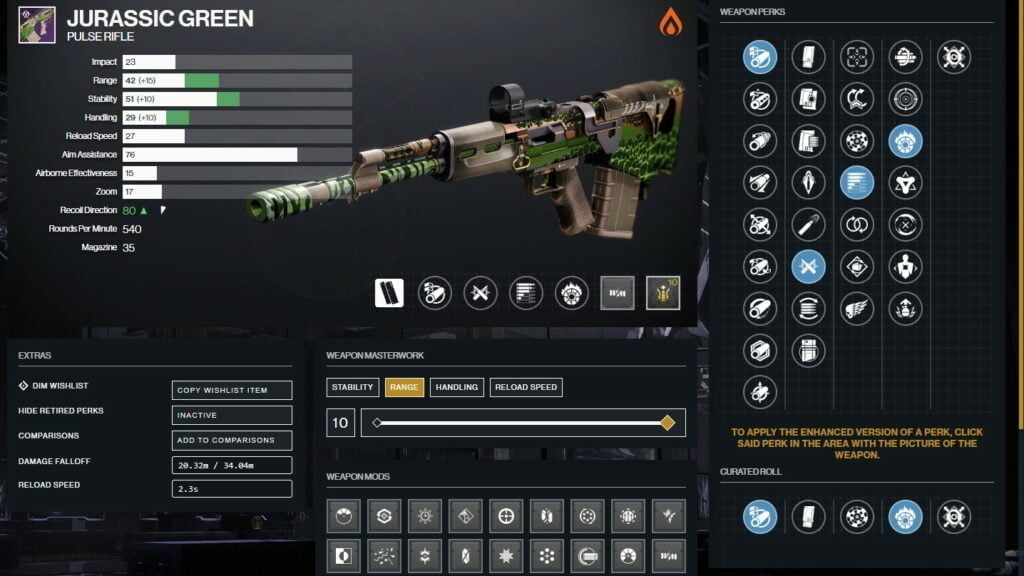 Arrowhead Break
Ricochet Rounds
Subsistence
Incandescent
This Jurassic Green god roll is the creme of the crop for Festival of the Lost 2022 weapons. Incandescent is arguably a top-five perk for PvE AD-clear, along with Volt Shot. Up until now, Zaouli's Bane and the Calus Mini-Tool have been the community's go-to Incandescent weapons, but Jurassic Green may just give those guns a run for their money.
Before the fun stuff, though, we have to go over the combination of Arrowhead Break and Ricochet Rounds. Jurassic Green, as is, doesn't have great range. There's an argument to be made for a barrel like Small Bore, but that ultimately all comes down to personal preference.
Similarly, Ricochet Rounds can also be justifiably swapped out – granted, only for other column-two range perks like Armor-Piercing and High-Caliber Rounds.
Of course, barrel and ammo perks are secondary to the good stuff. Up until now, the S-tier Incandescent rolls we've gotten have been Grave Robber/Incandescent and Explosive Payload/Incandescent. Subsistence and Incandescent may just be superior to both of those – granted Explosive Payload serves an entirely different purpose compared to ammo-economy perks.
All your kills will make things explode and return bullets to your mag. Which, in turn, means you can blow more stuff up before you have to reload. This Jurassic Green god roll is the bane of Goblins and Dregs all over Sol.
If Incandescent isn't your thing (for some strange reason), you can swap it out for Andreneline Junkie and you'll still have an S-tier PvE AD-clear weapon in this gun.
Jurassic Green God Roll for PvP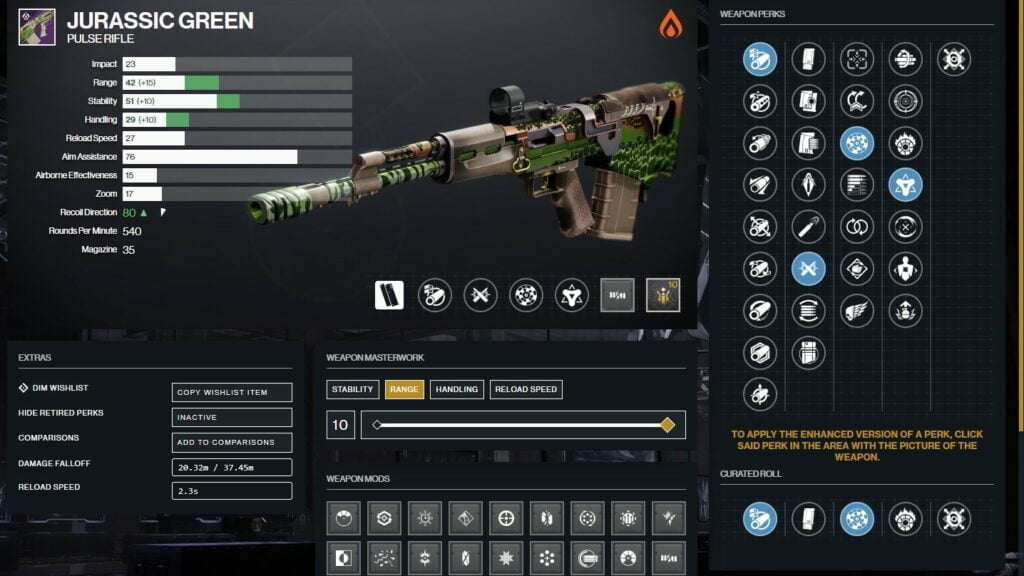 Arrowhead Break
Ricochet Rounds
Rangefinder
Golden Tricorn
On top of being an incredible PvE weapon, Jurassic Green stomps in the Crucible, too. Pulse rifles are in a really strong spot in the META right now, meaning Jurassic is going to put up numbers almost regardless of what perks you're running.
You'll still want to optimize, though, which is why I'm opting for Arrowhead Break and Ricochet Rounds again. Like before, you can swap these out as you see fit – provided you're still maintaining some sort of range buff across the two perks. The way in which you do that is up to you.
Jurassic Green has 27 base range. That's pretty terrible, hence why we use our ammo perk to compensate for that. In PvE, it's not as noticeable. In PvP, though, having less range hurts considerably more. That's why I'm opting for Rangefinder here. It's going to give us more range while we're ADSing, resulting in a more consistent time-to-kill.
To top that all off, we've got Golden Tricorn. Tricorn is a phenomenal perk that a lot of people are sleeping on. With it, getting a kill with Jurassic Green will give us 15% more damage for seven seconds. That's pretty good, albeit not incredible. However, if we get a matching elemental ability kill – in this case a Solar grenade or melee kill, that buff is increased to 50% more damage for 10 seconds.
That's stupidly powerful, especially in PvP. If you're talented with your nade placement, you'll be able to keep that buff up pretty regularly, and trust me when I say nobody is outgunning a Jurassic Green with 50% more damage.
The Jurassic Green pulse rifle is the clear winner of Festival of the Lost 2022. Not only is it incredible in PvE, but it's a PvP powerhouse, too. If there's one weapon you hunting during FotL this year, it should be this one.