These two Destiny 2 Midha's Reckoning god rolls have been curated by me to bring out the weapon's potential. I've been playing Destiny since day one of Destiny 1, so I've got a fair bit of experience when it comes to weapon god rolls. It comes from a place of knowledge when I say these Midha's Reckoning god rolls are particularly powerful. It's a very versatile weapon with a lot of options for both PvE and PvP.
The only way to get Midha's Reckoning is through the King's Fall raid that was remastered for Destiny 2 during Season of Plunder. So, if you're a solo player, now's the time to get yourself over to an LFG. Midha's Reckoning is only touching the surface of how powerful the King's Fall weapons are. The hand cannon, Zaouli's Bane, is a contender for the best weapon in the entire game right now – so make sure you're getting your weekly clears in.
Destiny 2 Midha's Reckoning God Rolls
Midha's Reckoning God Roll for PvE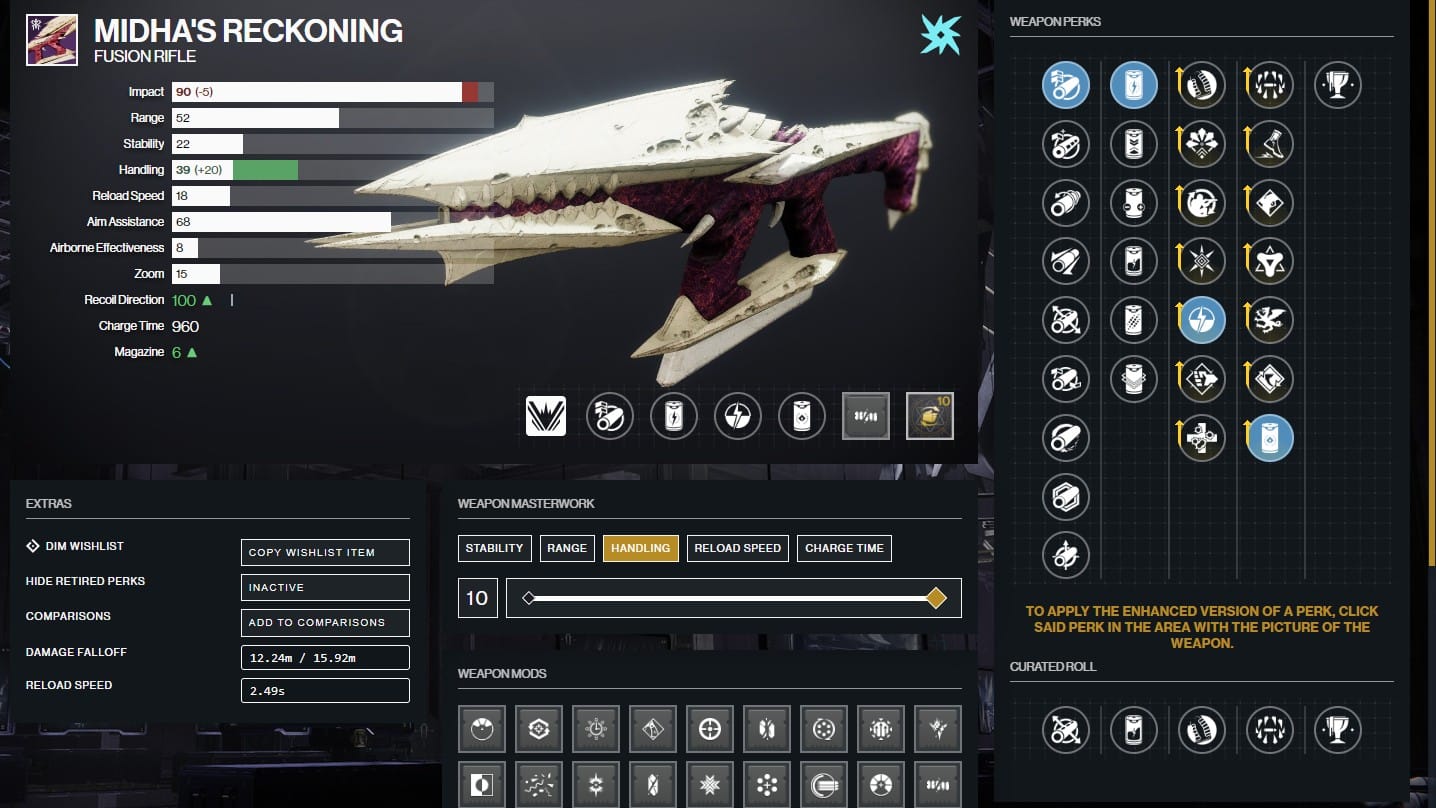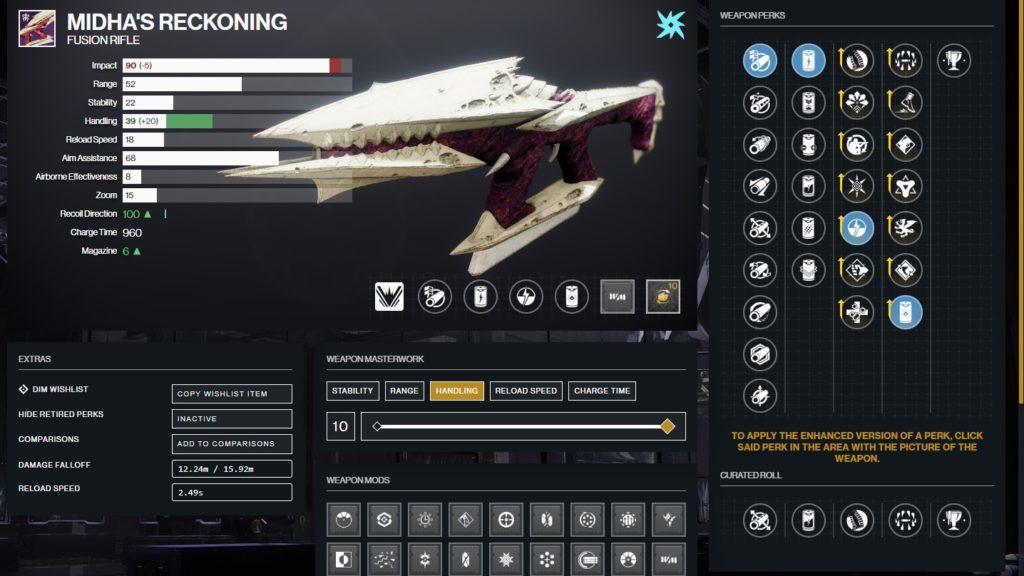 Arrowhead Break
Accelerated Coils
Backup Plan
Reservoir Burst
Any Reservoir Burst fusion rifle is going to perform very well, and this Midha's Reckoning god roll is no different. Starting off, I'm running Arrowhead Break and Accelerated Coils. Arrowhead is a safe pick on pretty much any weapon and any roll. Improved handling is always nice, as is having the improved recoil direction.
Accelerated Coils is generally going to be your go-to ammo perk for both regular fusions, as well as linears. You lose a bit of impact, sure, but that increase in charge time makes a massive difference both for boss DPS (which this roll isn't optimized for), and general AD/Major killing.
Particularly, Accelerated Coils works very well with Backup Plan. Both perks decrease this Midha's Reckoning god roll's charge time – letting you pop off a shot almost immediately after switching from your primary to it. This is further enhanced if you're running a fusion rifle dexterity mod.
Now, why is being able to quickly get a single shot out important with this weapon? Because we're running Reservoir Burst. If those unaware, Reservoir Burst is an S-tier fusion rifle perk that makes the first shot in your mag deal 25% more damage – and more importantly, if that shot kills something it makes it explode. If you've ever used the Null Composure fusion rifle, it's this perk that makes that weapon so good.
This entire Midha's Reckoning god roll revolves around making the most of Reservoir Burst. However, that's not the only "god roll" option you have for this weapon in PvE. You could opt to go for something that centers around Vorpal for more boss DPS. Ideally, you'd have two Midha's Reckonings – the one I described for AD/Major clearing, and one for boss damage.
Midha's Reckoning God Roll for PvP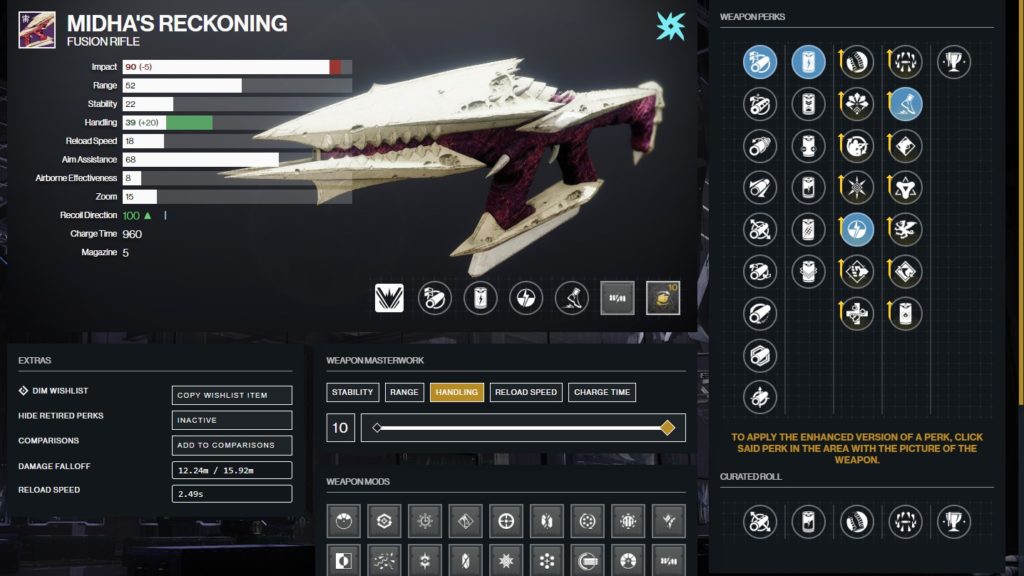 Arrowhead Break
Accelerated Coils
Backup Plan
Kickstart
Let me just say that I've never been a fan of fusions in PvP, even when they briefly took over the META. I don't like Destiny 2's PvP in general, but even less so when I'm dealing with fusion rifles.
With that information in mind, I'm opting to keep three of the four perks on this Midha's Reckoning PvP god roll that same as the PvE variant. Some PvP masterminds might disagree with me, in which case they're probably right. This is my take on the weapon, though.
Ultimately, my goal with this roll is the same as my PvE one – I want to make sure I can get out a shot as fast as possible at a moment's notice. Accelerated Coils and Backup Plan both support that goal, so I see no reason to change them.
Same with Arrowhead Break. It's just a high-quality barrel perk that you can slap on just about anything. Kickstart, like these other perks, works towards getting high damage out quickly. The perk gives you 20% more damage if you fire it during a slide after sprinting. If you've spent any longer than 30 seconds in the Crucible, you know how common this type of maneuver is.
So, altogether, Backup Plan is letting us switch quickly mid-gunfight, and Kickstart gives us more damage on that initial shot. You'll be the bane of Control with this Midha's Reckoning god roll, provided you can hold your own in the Crucible in the first place.
There are a lot of really interesting and unique god roll possibilities for the Midha's Reckoning. These are my take on the gun, but feel free to experiment yourself. There's a lot to explore with the King's Fall weapons, so take your time and have fun.