These two Destiny 2 Planck's Stride god rolls aren't too powerful, but they're the best you're going to get out of this machine gun. Season of Plunder brought us a lot of really powerful weapons, but Planck's Stride isn't really one of them. Then again, it's been quite a while since machine guns were anywhere near the META in Destiny 2.
All the same, I've gone and put together two Planck's Stride god rolls – one for PvE, and one for PvP. It's not the worst machine gun in the world and actually makes for a pretty decent AD-clear weapon, so consider trying it out.
Destiny 2 Planck's Stride God Rolls
Planck's Stride God Roll for PvE
Arrowhead Break
Accurized Rounds
Grave Robber
Swashbuckler
It's a shame that Planck's Stride can't roll with Voltshot. If it could, it could've potentially been one of the best AD-clear weapons in the game, granted it would still be a heavy weapon. All the same, it does have some decent rolls that give it a little bit of potential in your average PvE activities.
Starting off, I'm running Arrowhead Break and Accurized Rounds. As always, your barrel and ammo perks aren't super important compared to columns three and four, but if you want to fully min-max, these are the two options you should be looking at.
Arrowhead Break is consistently great on whatever gun you're using it on, and Accurized Rounds helps to make up for the Planck's Stride's relatively low range stat. If you wanted to pump that range even further, you could swap out Arrowhead in favor of something like Full Bore.
Grave Robber isn't a perk I'm used to taking on god rolls, but since running it as a part of my Hunter Solar build, I've grown to love it. The perk will reload your magazine whenever you get a melee kill. For weapons like Planck's Stride that have massive, long reload animations, this is a game changer – especially since it synergizes so well with our last perk, Swashbuckler.
Swashbuckler is one of the best damage-based perks in all of Destiny 2, and it's easily the best option that this weapon has access to in column four. It's a stacking perk that increases the weapon's damage for every kill you get with it, up to 33% at five stacks.
Swashbuckler is unique, though, in that melee kills also count to keep your stacks active. You would typically lose your Swashbuckler damage bonus when you have to spend time reloading something like Planck's Stride. However, with Grave Robber, your melee kills won't only keep that buff active, but they'll fully refresh your magazine, too.
Planck's Stride God Roll for PvP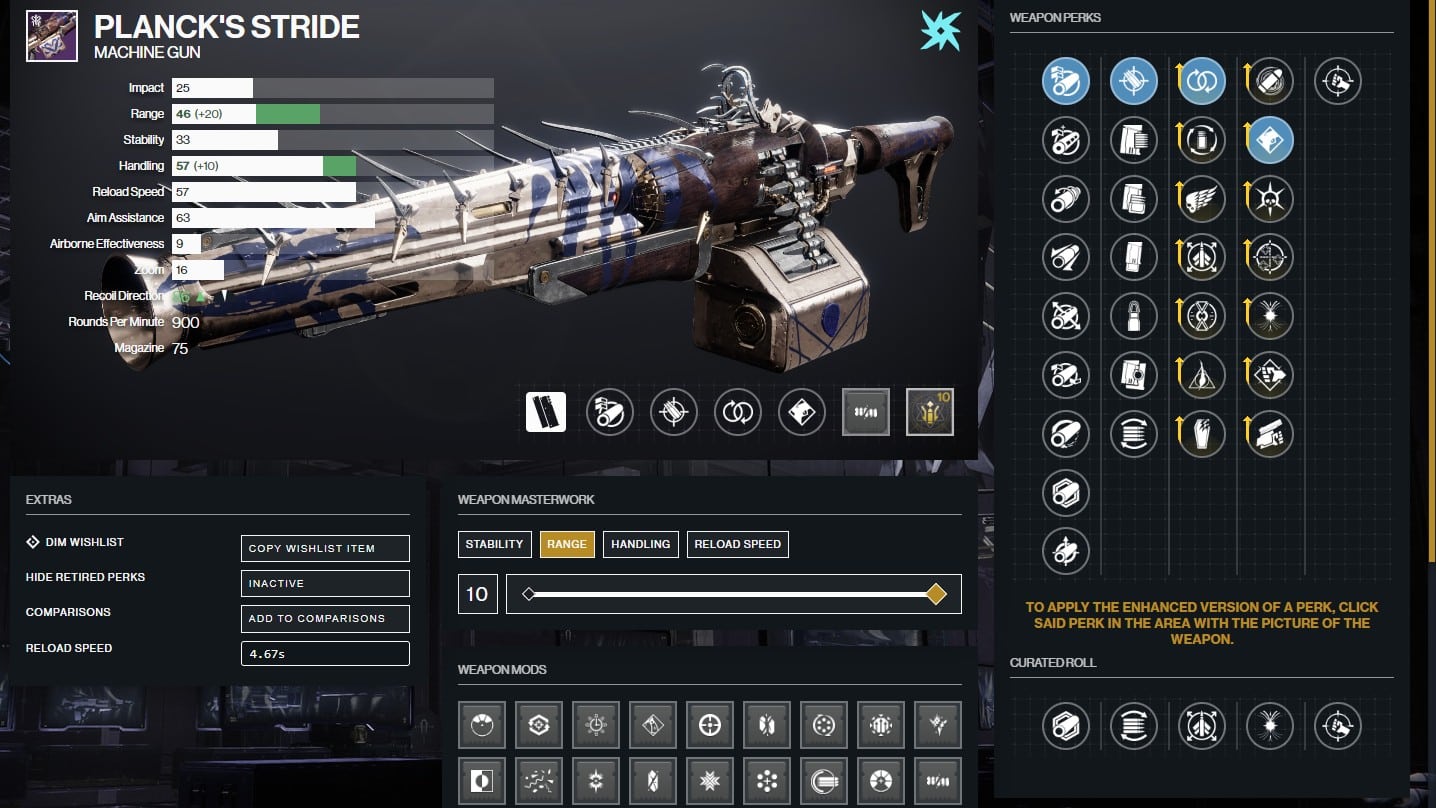 Arrowhead Break
Accurized Rounds
Perpetual Motion
Tap the Trigger
Machine guns are pretty great in PvP regardless of what roll you've got on them. The inherent power they have makes all of them viable in the Crucible, but if you're all about squeezing maximum value out of your weapons, this is the roll to craft.
I'm keeping Arrowhead Break and Accurized Rounds in this roll, for very much the same reasons as the PvE Planck's Stride god roll. Again, swap out Arrowhead if you want more range, but it won't make too big a difference.
The biggest difference between these rolls is in columns three and four. I'm using Perpetual Motion and Tap the Trigger here, two lesser-used perks that often go overlooked – although they're far from S-tier.
Perpetual Motion is going to buff you while you're moving – something that you should always be doing in the Crucible. At tier one, you'll get five reload speed, handling, and stability. Tier two is harder to achieve, requiring you to be moving for ten seconds as opposed to two. However, it offers you +15 in those stats to make up for it.
Tap the Trigger doesn't have any sort of difficult activation requirement like that. All you have to do to trigger this perk is fire the weapon. When you do, you'll get +40 stability, -50% recoil kick, and -10% accuracy cone size. These effects only last for half a second, but that's more than enough time to effectively wipe a guardian out of existence provided you hit your shots.
These Planck's Stride god rolls aren't the best weapons in the META by any means. However, they are powerful enough to see you through a lot of regular activities and encounters. Just don't go bringing one into Grandmasters or top-tier Trials games.