Diablo 4 is easily one of the biggest releases of July 2023, second only to Final Fantasy XVI. The game is currently out on all major platforms and while fans were disappointed that it was not part of Game Pass, an app in Brazil may have accidentally leaked the arrival of the latest Activision/Blizzard title to Game Pass, but it could equally be a glitch.
Diablo 4 On Game Pass, Real Or Mimic? You Decide
UPDATE: Mike Ybarra has debunked the rumor.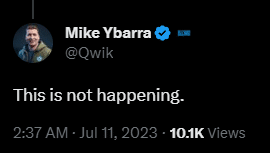 A Brazilian smartphone app by the name of Pic Pay which appears to be an app to buy prepaid gaming gift cards has a banner ad that shows Diablo 4 on Game Pass. While this could just be an error, it could also be something for fans to watch out for in the future.
Twitter user ebragaf shared a video showing the banner ad, so take that as you will.
While Pic Pay is far from being a reliable source of information or leaks, this could have been a premature announcement done by the company, or it could also be another case of getting our hopes up for nothing, as was the case for Cyberpunk 2077 coming to Xbox Game Pass.
While the idea of the title coming to the service would be a massive deal for many, we will have to wait and see what comes in the future.