Today we're going to talk about the three different mouse grips. We'll explain each mouse grip to help you figure out the best grip to use.
The way you hold or grip your mouse can have a huge effect on how you aim and use the mouse in general. Knowing the benefits and drawbacks of each grip type can help you decide on what mouse grip to use, depending on your playstyle.
Overall, there isn't one right mouse grip. It will mostly depend on what you're comfortable with, the size of your hands, and the size of your mouse. However, it's definitely important to know the differences between them so that you can choose the best mouse grip for you and become consistent with it.
The Three Different Mouse Grips
As mentioned before, there are three different grip types. Join us as we discuss the differences, advantages, disadvantages, and hand positioning of each mouse grip type.
Palm Grip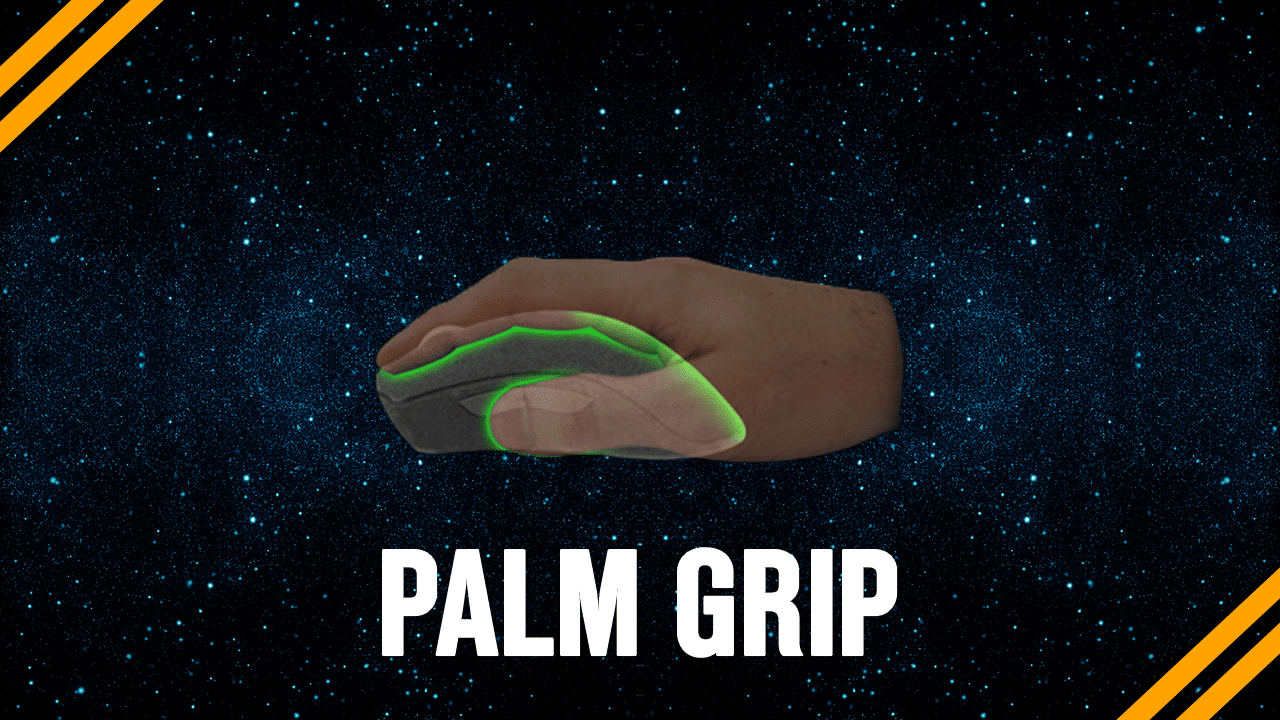 The palm grip is the most popular and most used grip out of the three. From the name itself, you can probably tell that the palm grip mostly makes use of the palm when handling the mouse.
Your entire hand and palm rest on the back of the mouse while your fingers lie straight on top of the buttons. This is a comfortable and relaxing grip to use since your whole hand is basically resting on the mouse.
Palm grip is the natural grip that most people use, especially non-gamers. It's good because it doesn't cause any tension in your fingers or wrist. It's a great grip to use in any game, from Minecraft to Valorant or even daily activities.
Overall, the palm grip is the most ergonomic mouse grip to use. It's best for players who aim with their arms and do large movements over the course of a game. It's perfect to use in games like Overwatch and Apex Legends, where tracking is a huge part of the game. However, it's also a great option in other FPS games like CS:GO, and Valorant, where tracking plays an important aspect as well.
Your aim sensitivity can also help change your grip style. For palm grip, it's generally better to have a low aim sensitivity in-game to have a more precise aim, especially during large movements.
Best Gaming Mouse for Palm Grip Users
Generally, medium or large-sized mice are better for palm grip users. This is because having a larger shell can allow more space where your palm can rest.
| MOUSE | MOUSE SIZE | DPI | WEIGHT |
| --- | --- | --- | --- |
| Logitech G Pro Wireless | M/L | 25600 | 80g |
| Logitech G703 | L | 25600 | 107g |
| Glorious Model D | M/L | 12000 | 68g |
| Razer Mamba Wireless | M/L | 16000 | 106g |
| Razer Deathadder V2 | M/L | 20000 | 82g |
Any of these mice would be perfect for palm grip users. Feel free to check each one out and find a gaming mouse that fits your palm grip needs. There are also tons of other gaming mice out there that can be used with a palm grip, but these are just the ones that we think are best.
Claw Grip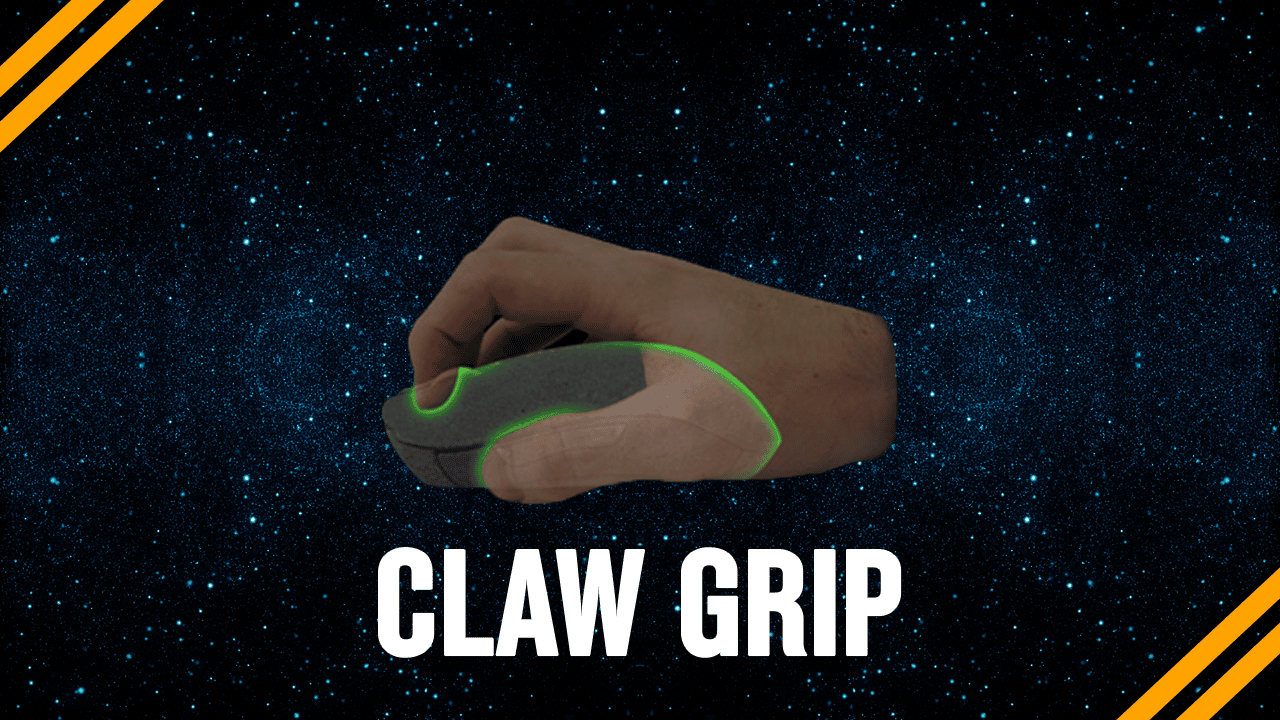 The claw grip is a popular mouse grip among gamers and professional players. It's a great grip to use, especially in FPS games where precision, quick adjustments, and fast flicks are widely used. The claw grip is also great for rapid clicking because of the arch on your fingers.
The backend of your palm still rests on the mouse, but your fingers are curled on top of the mouse buttons. Using a claw grip can be more straining than using a palm grip because you primarily use your fingers and wrist to position the mouse. It's basically the middle ground between a palm grip and the fingertip grip. Allowing you to get a taste of both worlds.
The claw grip is perfect for wrist aimers with high DPIs. It allows for precise movements, more wrist control, and more dexterity. The claw grip allows you to have faster and more precise movements because your whole palm isn't resting on the mouse.
The claw grip allows for faster but precise movements. It's perfect for people who aim with their wrist, although it can cause fatigue on their fingers. It's also very easy to find gaming mice that you can comfortably use the claw grip on.
The claw grip is definitely a good grip to use in FPS games like Valorant or CS:GO. Just make sure to use the right sensitivity in the FPS games that you are playing.
Best Gaming Mouse for Claw Grip Users
Usually, small or medium-sized gaming mice are better for claw grip users. Finding a mouse with a relatively low-profile shell will allow you to be more comfortable when using a claw grip. Light gaming mice are also better since they make it easier on your wrist, especially when performing fast flicks.
| MOUSE | MOUSE SIZE | DPI | WEIGHT |
| --- | --- | --- | --- |
| Logitech G Pro Wireless | M/L | 25600 | 80g |
| Endgame Gear XM1r | M | 19000 | 107g |
| Cooler Master MM720 | S | 16000 | 68g |
| Razer Viper Ultimate | M | 20000 | 74g |
| SteelSeries Rival 3 | S/M | 8500 | 82g |
All of these mice are great in their own right. Just make sure to check each one out to find the best mouse that you feel comfortable with. There are hundreds of other great choices for claw grip users out there, but these are the ones that we think will best suit your gaming needs.
Fingertip Grip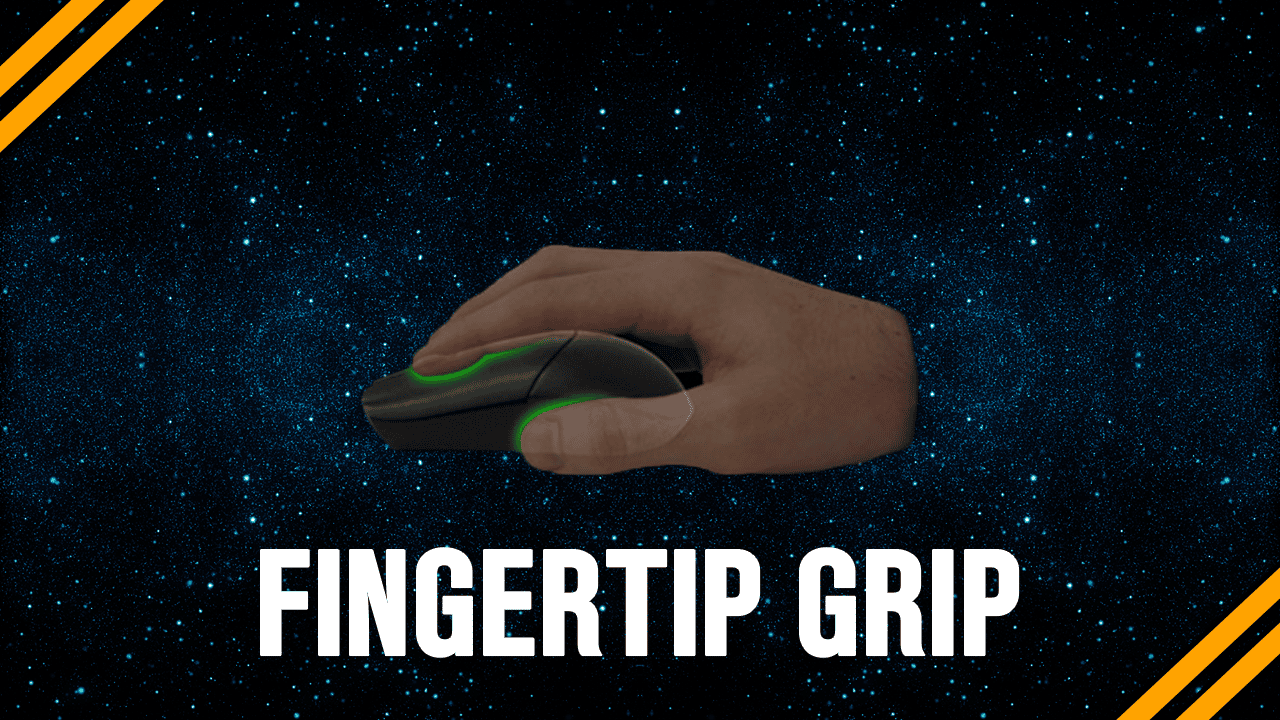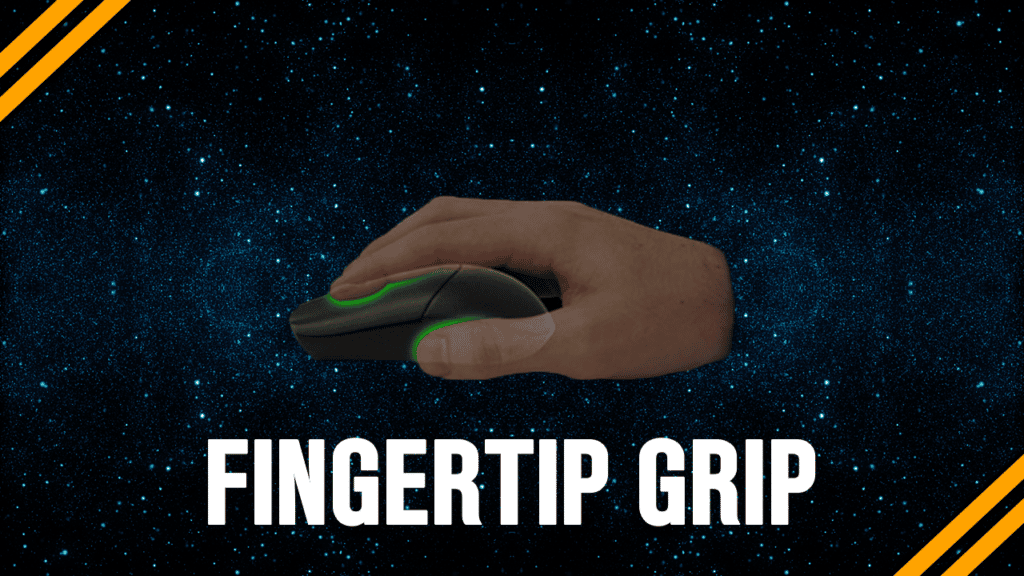 Finally, we have the fingertip grip. This grip might possibly be the hardest grip to use out of all three mouse grips. This is because of the position of your fingers while having little to no support resting on the mouse itself.
When using the fingertip grip, your fingers also have a slight arch like the claw grip, but your palm doesn't touch the shell of the mouse at all. This position can be quite tiring, especially during long gaming hours. However, it does give you excellent dexterity, insane speed and precision, and great finger control.
The fingertip grip is generally better for people who aim using their fingers and wrist with a high DPI in most games. This allows them to perform insane micro-adjustments at high speeds without sacrificing precision or accuracy.
Generally, the fingertip grip is only used by experienced professional players who want to refine or fine-tune their aim. It's a difficult grip to master but can be rewarding if it's suitable to your playstyle and aim style.
The fingertip grip is the most accurate grip that allows for great verticality. Hitting headshots on jumping opponents is probably easiest done using a fingertip grip. A lot of professional players also like using the fingertip grip because you can easily adjust your aim without even moving the position of your wrist.
Best Gaming Mouse for Fingertip Grip Users
For fingertip users, it's recommended to use smaller and lighter gaming mice. Since you aren't resting your palm on the shell of the mouse, all you need is a small and light gaming mouse perfect for CS:GO or Valorant.
| MOUSE | MOUSE SIZE | DPI | WEIGHT |
| --- | --- | --- | --- |
| Razer Viper Mini | S | 8500 | 61g |
| Logitech G Pro X Superlight | M | 25600 | 63g |
| Xtryfy MZ1 Zy's Rail | S | 16000 | 56g |
| Razer Orochi V2 | S | 18000 | 60g |
| Glorious Model O – | S/M | 19000 | 58g |
These are some of the best gaming mice for fingertip users of all hand sizes. Note that these aren't the only ones that work with a fingertip grip. These are only our recommendations. Feel free to use these gaming mice as a guide to help you find the best one for your fingertip grip.
Those were the three different mouse grip types, including the advantages and disadvantages of using them. Finding the right mouse grip for your hand size can lead to you having a better and more consistent aim in the long run.
Remember to use a mouse grip style that you are comfortable with. You don't have to use a grip style because your favorite player or streamer uses it. Everyone has their own preferred grip style that they are most comfortable with. Experimenting with different grip styles and mouse sizes is one of the best ways to find the best mouse grip for you and your hands.