I was browsing through a lot of Gamescom 2021 demos this week and I stumbled upon this indie game from Toukana Interactive called Dorfromantik. I played it and I never knew that I'll get hooked with the game loop with more than 4 hours of playtime.
And from all the games that I tried, this was one of the demos that I was immersed with the most.
So here are my quick first impressions of this unique city-builder from a four-man team of game design students from Berlin and why this procedurally generated hexagonal puzzle game is worth investing in with this Dorfromantik review.
A Colorful and Zen Art and Soundtrack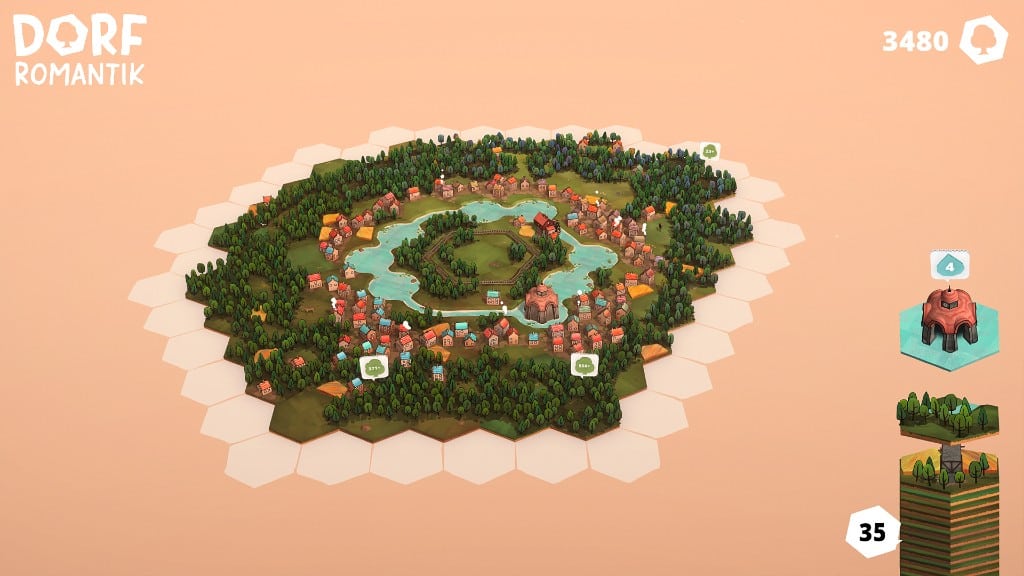 The first few minutes of diving into the game, I already felt that sense of relaxation just from listening to the soundtrack plus the artwork is dynamic.
Like for example, you built a green village biome and you have a desert or black forest biome. While building your city, the hexagon's design adjusts to the present biome that's placed on the board.
The tutorial's pretty easy to follow. However, for those who are new to puzzles and city-building, they might get lost along the way on how to do the city quests. But after a couple of sessions, you'd be able to figure out how to get better scores out of Dorfromantik.
Quick trivia: Dorfromantik is a German word that translates to "village romanticization". After hours of playing the game, I already fell in love with the art and relaxing music.
Building Quests Are Simple But Enough To Get You Hooked
Now for the next portion of this review is how they pulled off the gameplay loop. While you build your city, some tiles will give you specific quests.
In Classic Mode, you start with a limited number of tiles and the game finishes once you've run out of tiles to play or if your current board cannot place any more tiles. So this is where the quests come in.
Once you complete a tile quest, you're given extra tiles to work on giving you longer playtime, letting you score higher points.
For example, a tile with a number and '+' sign indicates that you can go beyond the requirement. On the other hand, whole numbered tiles strictly tell you to only place the exact number of structures — going over or beyond will not give you additional points.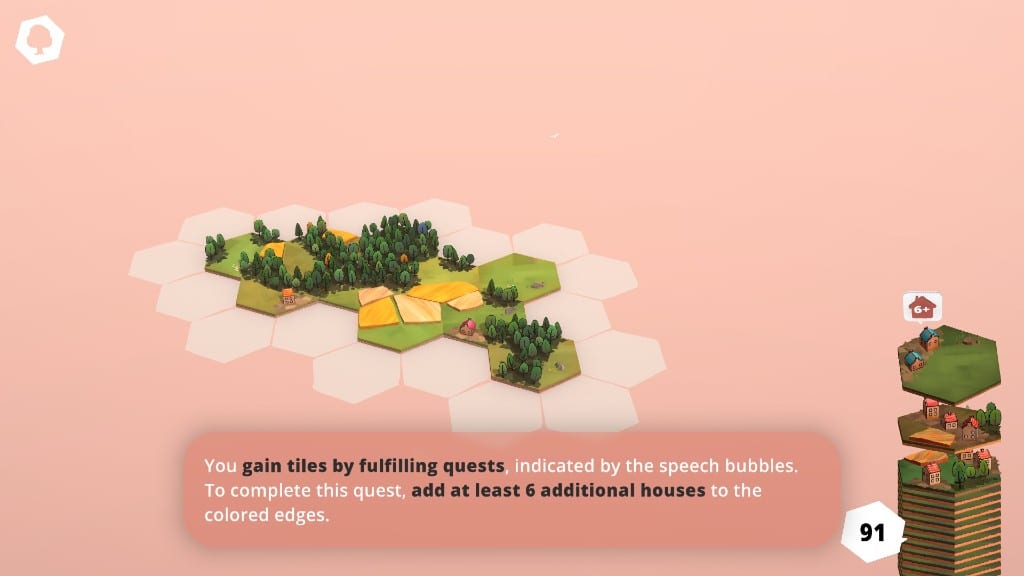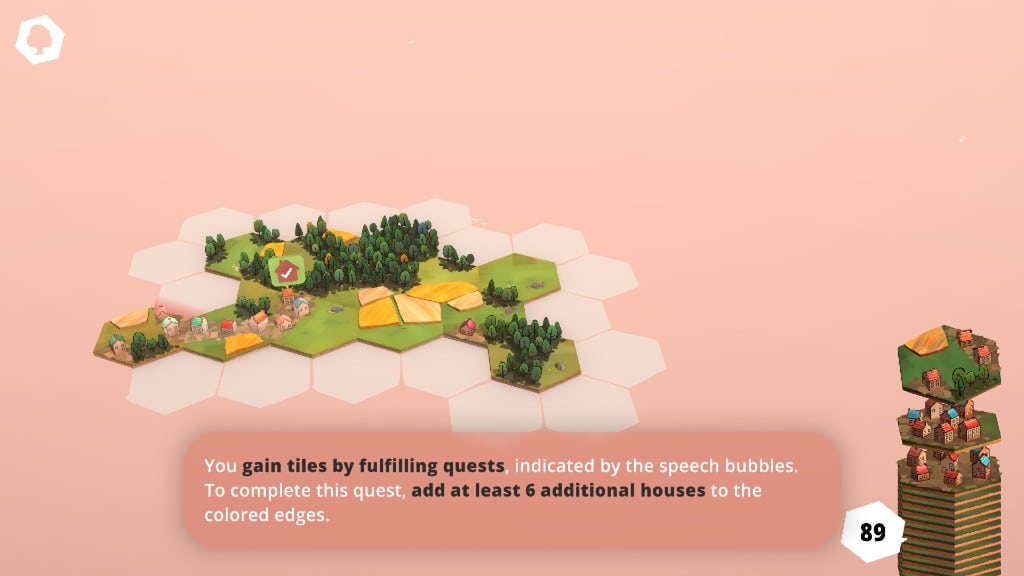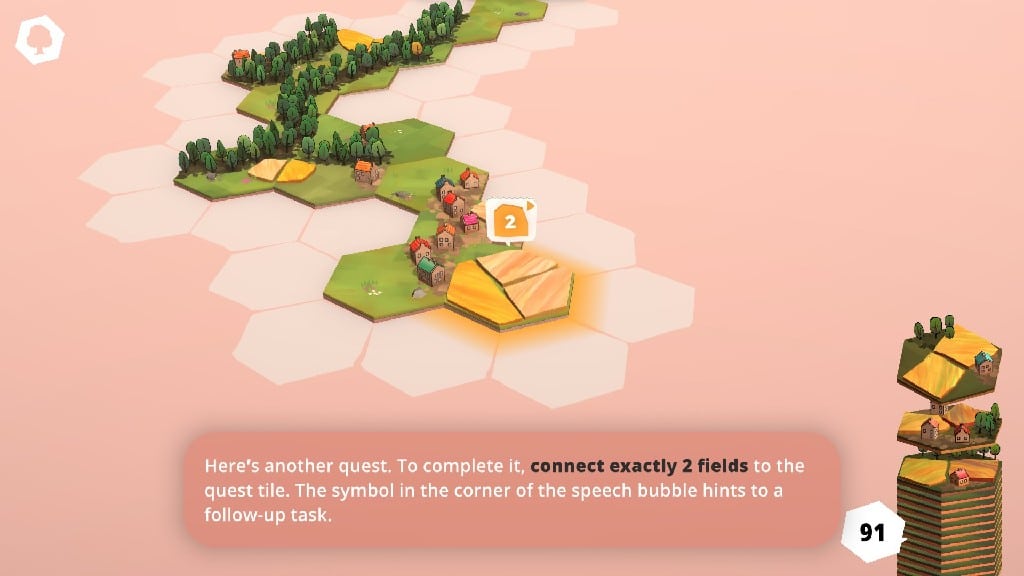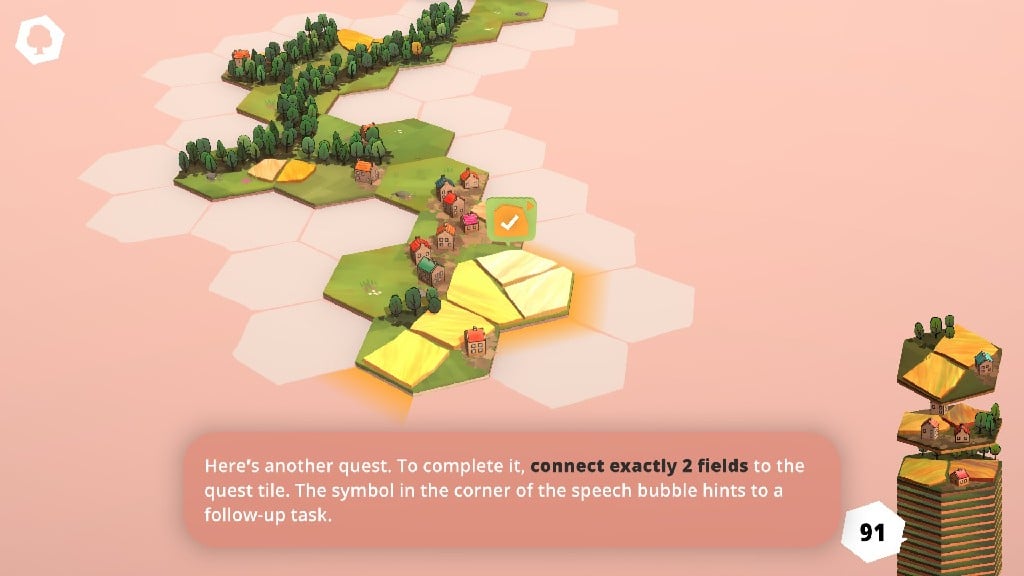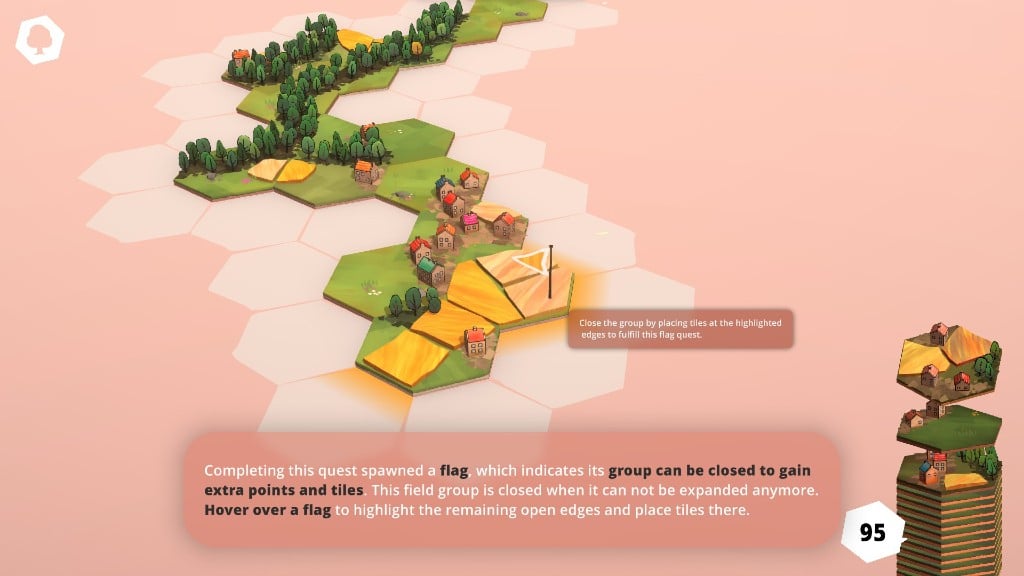 Probably the closest tabletop that I can think of when I play Dorfromantik is Carcasonne which is also a tile-placement game that also focuses on getting a high score through city-building.
The only issue that I see here that most players over at the Steam reviews are requesting is an "undo" function for this puzzle game.
I think that playing Dorfromantik without an "undo" function adds more to the puzzle challenge. But then again, if the team wants to cater to the casual fan base, they must add this feature.
The game roadmap looks promising as well as they have already added Creative Mode in this year's Gamescom 2021.
This mode lets you create unlimited tiles and this is where you can show your artistic side to the community without worrying about high scores.
You also have a chance to unlock a number of rewards the longer you play the game so can create more beautiful hexagonal cities.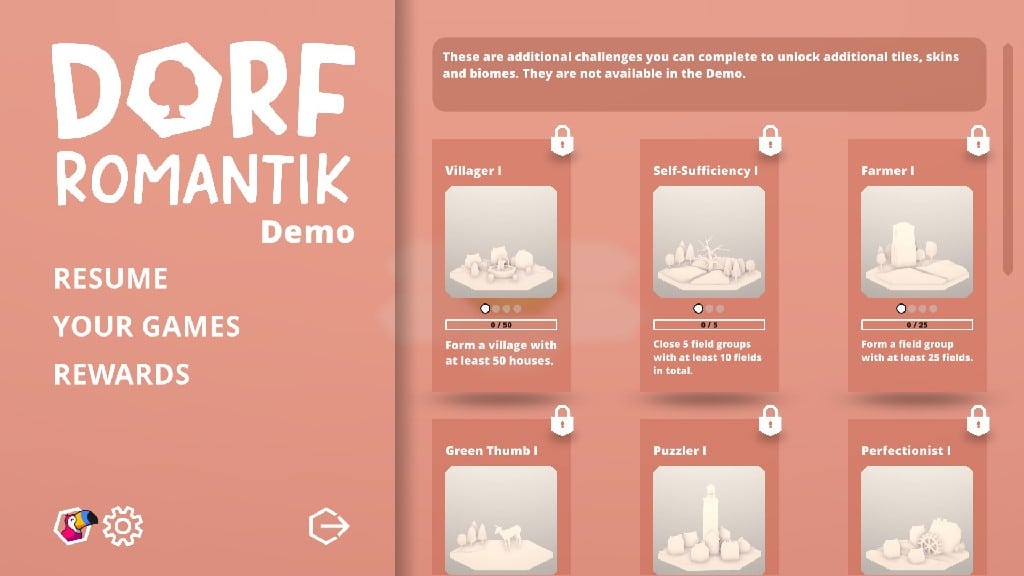 Currently, the demo version lets you play up to 75 tiles in both Classic and Creative Modes but this is already enough to entice you to buy the full game.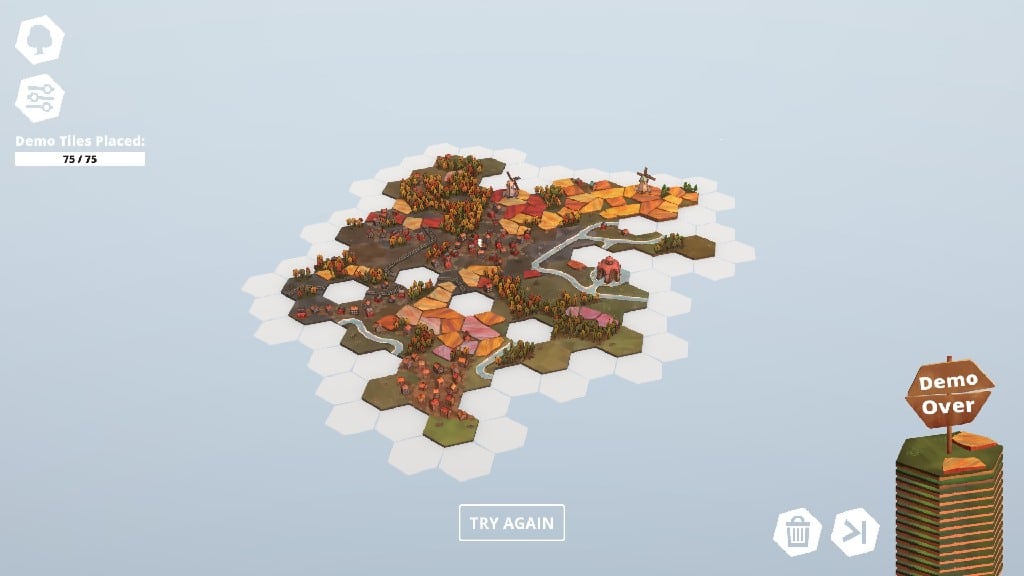 The Verdict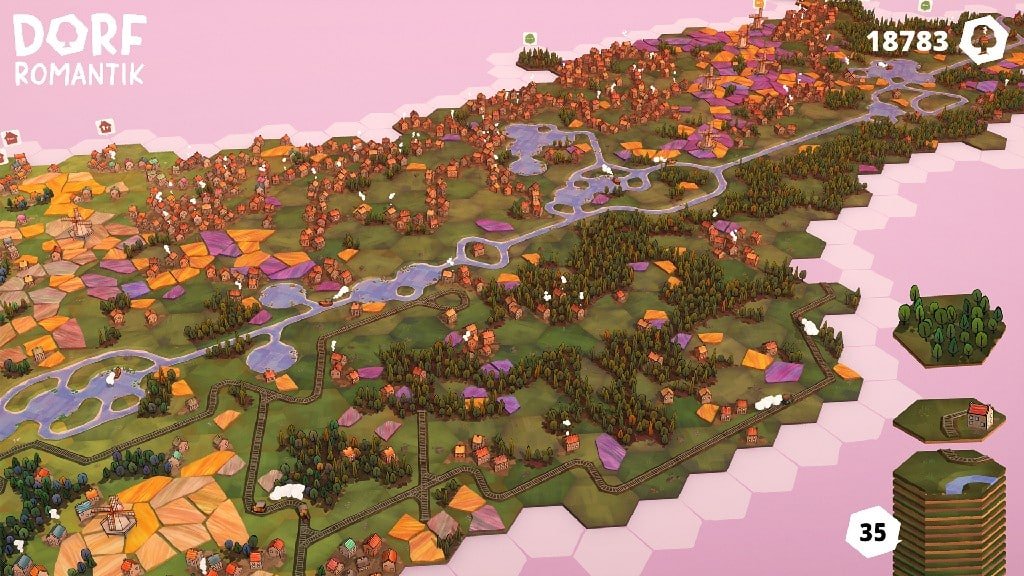 Don't get me wrong, I still love the popular city-building games like SimCity, Tropico, Cities: Skylines, and Civilization series. But we can look at Dorfromantik from multiple perspectives.
Looking at this game from a casual and tabletop gamer, this is an immediate buy especially for those who love puzzles and city-building.
If ever you get too overwhelmed with the city-building mechanics and strategies of the mainstream titles, Dorfromantik could be a great game to start with.
If you want to look at this game from a competitor's view, then you'll have plenty of time to immerse yourself in beating your high scores in optimizing the biggest hexagonal city that you could ever create from the procedurally generated tiles.
Overall, Dorfromantik is definitely recommended for players who admire puzzles and architecture. Either you have a peaceful time creating random cities or get stressed in pushing yourself in topping the leaderboards while building an optimized city.
Who knows, this game could turn into an eSport someday. Just look at Stardew Valley — creator Eric Barone is hosting a tournament with over $40,000 prize pool next month.
We hope you enjoyed this Dorfromantik review. If you like this game, feel free to get it on Steam and play it for yourself or gift it to someone who loves to build in general.
This review is based on the PC version of Dorfromantik. The key was provided by Toukana Interactive