DREDGE is my game of the year, and I make no secret of it. I've been bugging people to play it ever since I rolled credits on it, and the announcement of the DLC meant I could take a break from that as I plow through the icy waters of The Pale Reach. In my review of this DREDGE expansion, I'll take a look if this is a voyage worth embarking on.
The Pale Reach
Look, if you wanted to play more DREDGE in a new biome, this is exactly what it is. There aren't any major additions, or mechanics here, but you're getting a few more hours of content involving the same mechanics as the base game. Just like the base game though, none of the content here feels tacked on, repetitive, or boring to engage with.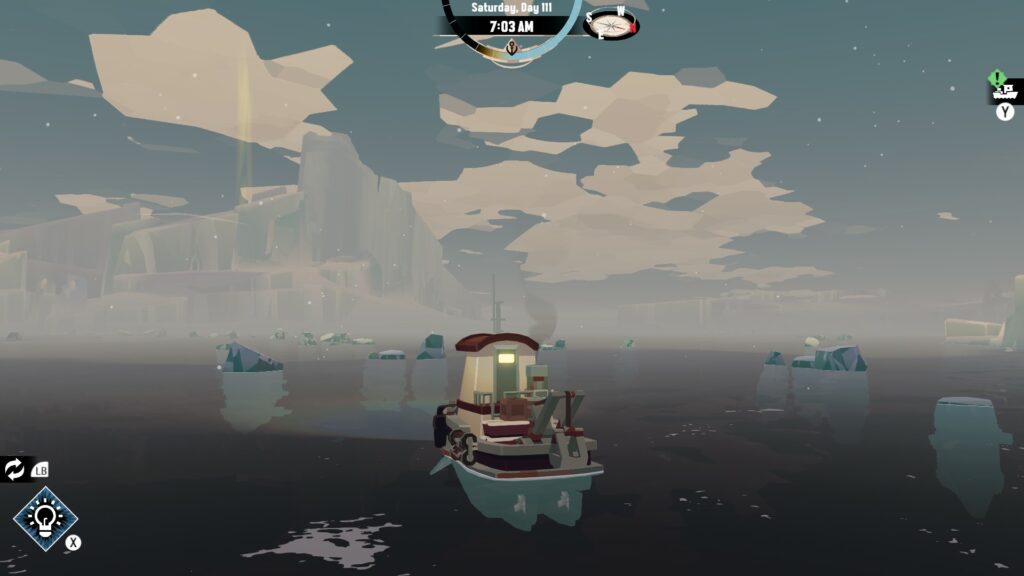 You can access The Pale Reach at any point in the game, and it's as simple as traveling south. If you have a better engine like I did, you'll get to that part in a few minutes. The sudden shift in the environment and introduction of icy water is as impressive as ever, and you're immediately greeted with an incredible interaction involving one of the many leviathans in DREDGE.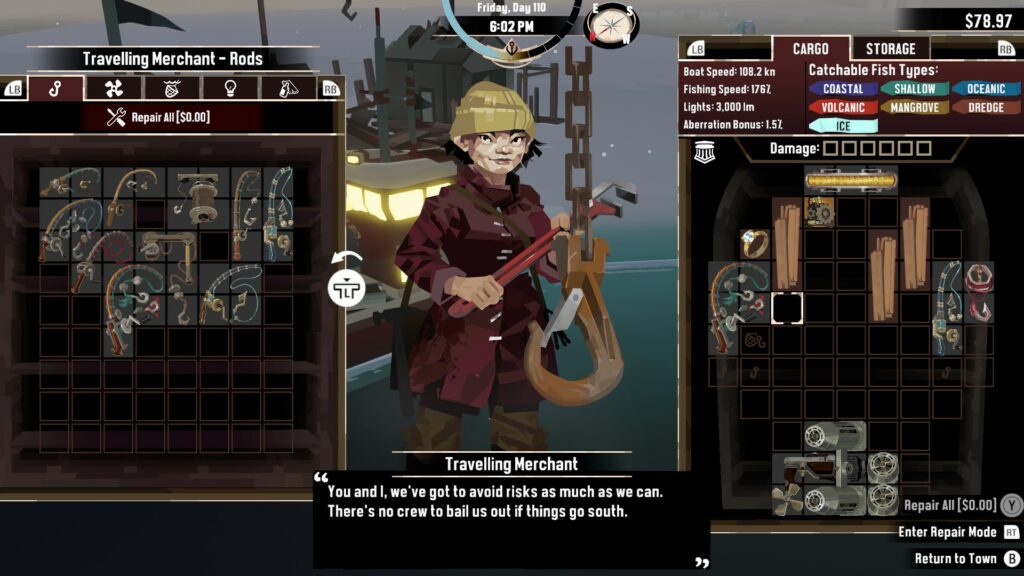 The first face you'll likely meet is of the trusty Travelling Merchant whose location you'll want to mark right away. She has all the things you'll need in this journey, including the Fish Market, and Shipyard. Apart from repairs, new tools, and supplies, you can also give her parts for a new device that'll let you smash through blocks of ice. It's pretty satisfying.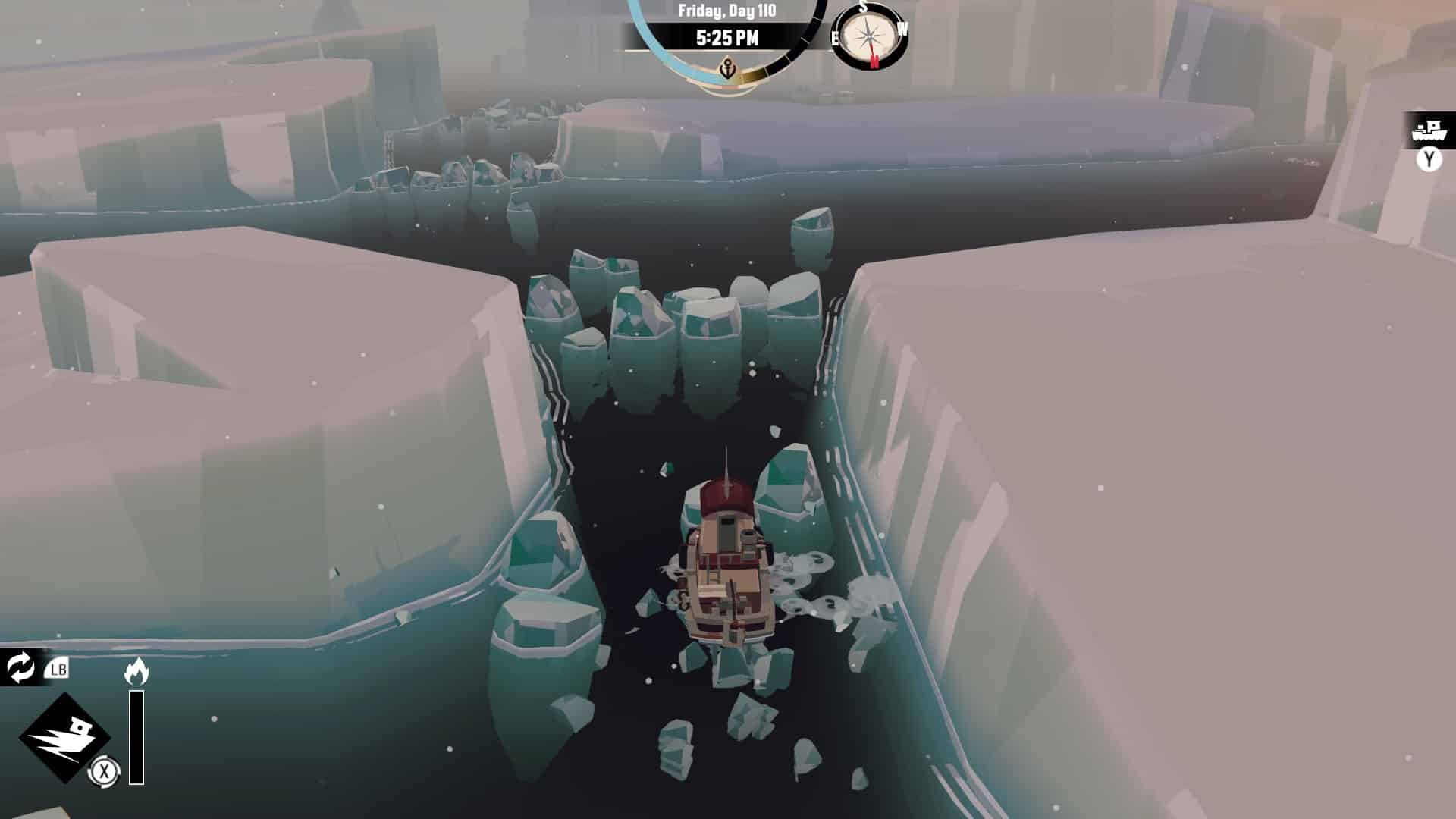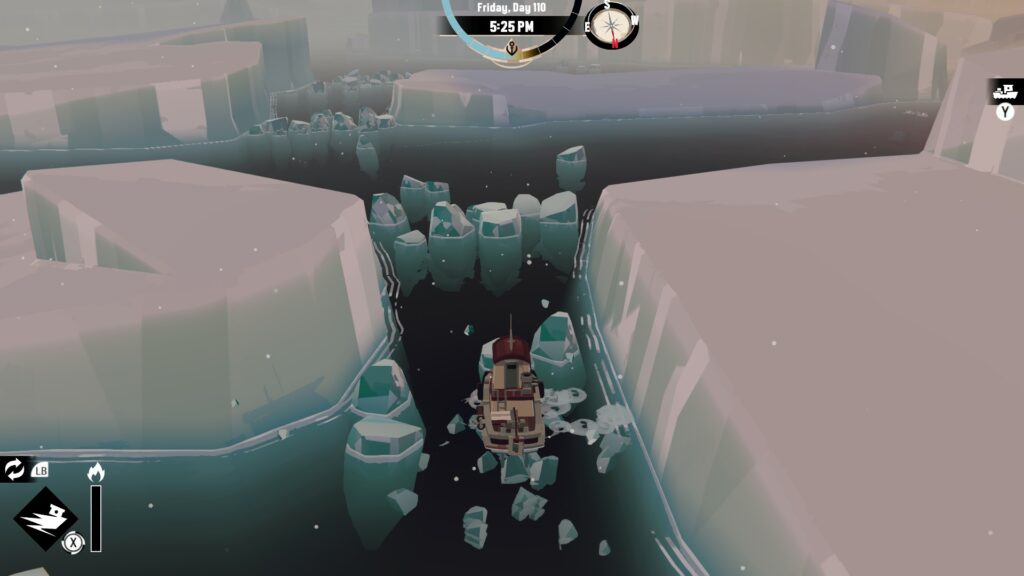 Overall though, this is just like visiting any other major location in the base title, and you'll take on multiple quests that can be completed in any order.
Ice Fishies
With the new region, there are more fish to catch as well. This time, you'll need an ICE rod to catch the different types of fish and proper nets for crabs as well. The new designs fit the biome, and I had fun going through the new entries in the encyclopedia to see all sorts of mutated variants I caught as well.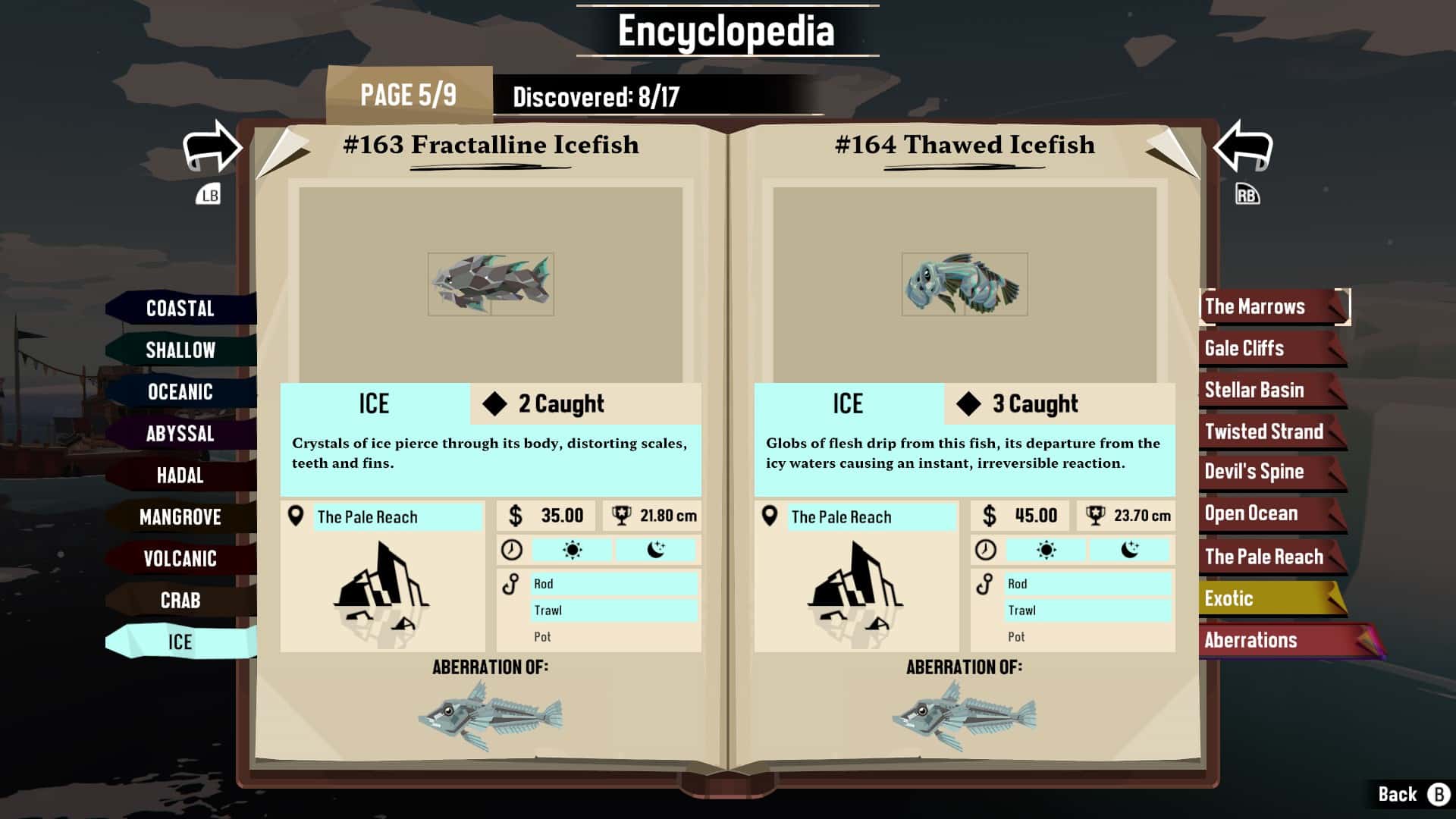 Fishes aren't just a source to make money now but are tied into this bait mechanic that was explored briefly in the main title as well. I won't spoil much because this isn't some huge expansion, to begin with, but it involves the "monster" of this region who will actively try to ruin your day and boat.
As usual, you'll move around, and get hit by ice because you overestimated your skill in navigating wide tight corners, and lose some previous fish along the way. Despite the constant damage to your hull, DREDGE is still a pretty relaxing title, and the Tetris fish management, paired with the simple mini-games never gets old.
What's in the Ice?
The fishing and new biome are great, but there's also a Lovecraftian mystery surrounding these treacherous waters, which you'll find out more about by interacting with frozen members of an expedition crew that clearly aren't having a great day/decade. I had great fun finding out what exactly happened here, and if it ties into the larger narrative.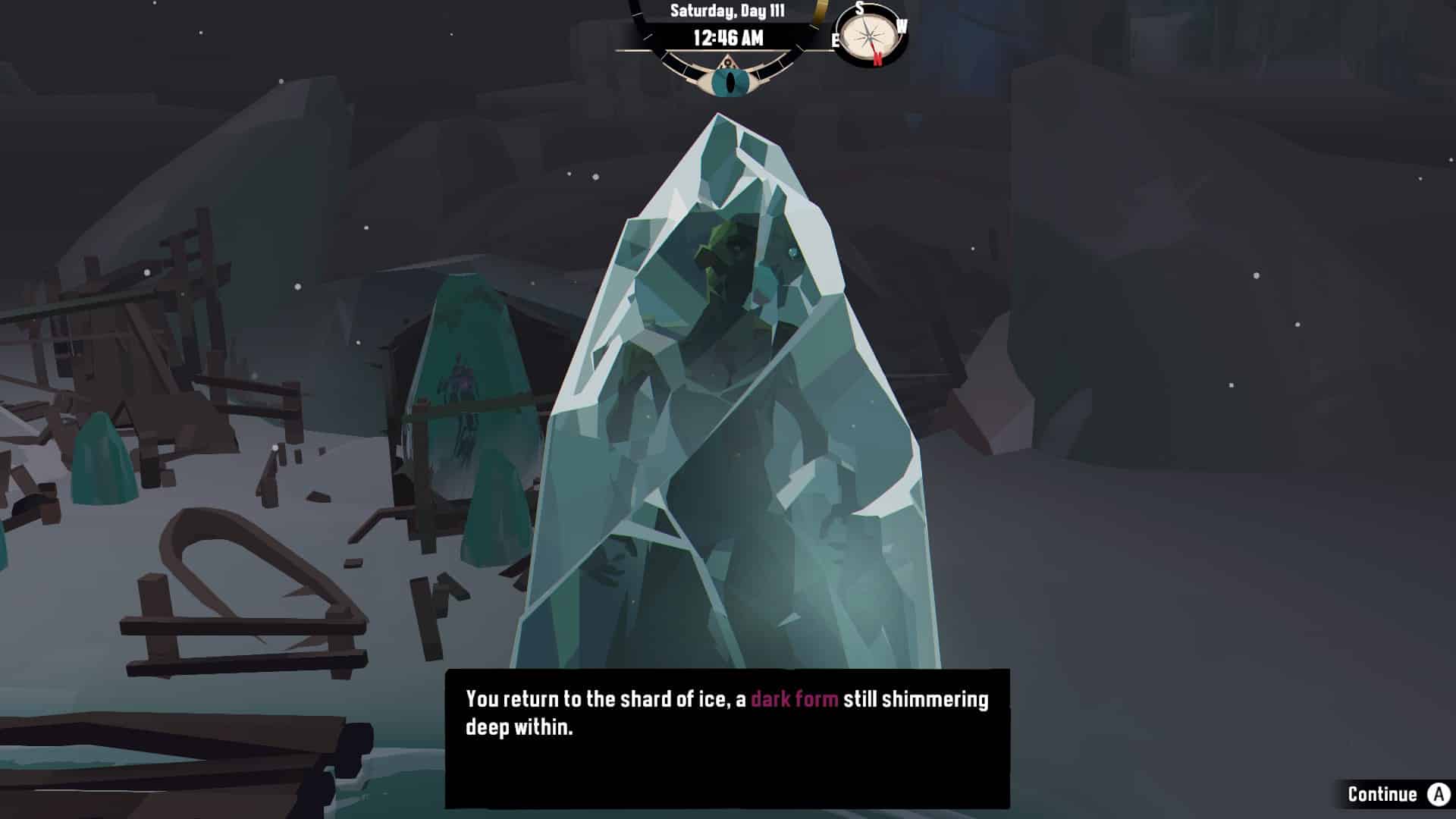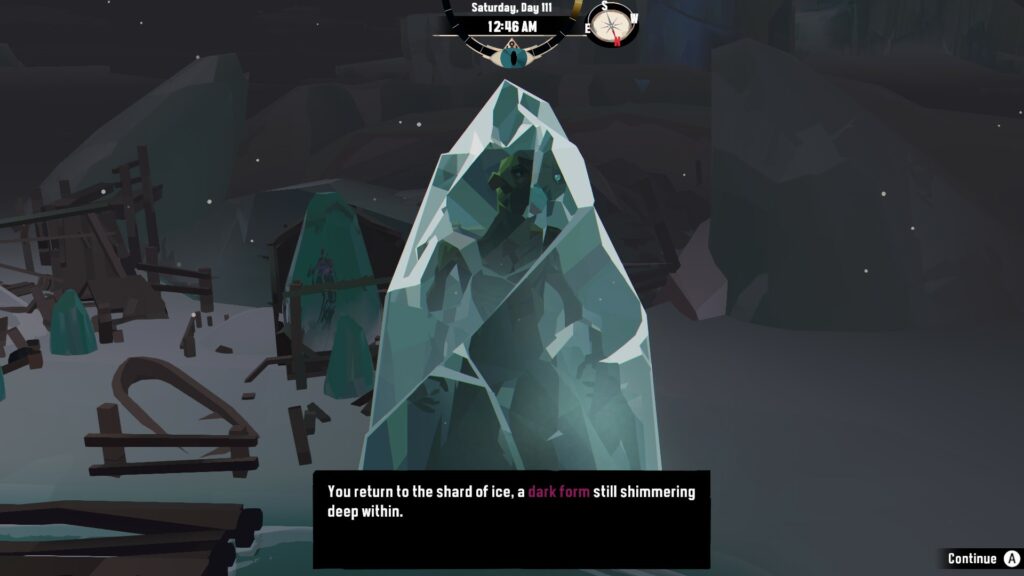 It's not a long mystery by any means, and you'll likely get through the entire DLC in around 2 to 3 hours. If you have late-game equipment, it might be even shorter. There's not a lot to say without spoiling the new mystery, so I'll leave it at that.
Steam Deck Experience
Previously, I played DREDGE on my PC, but for the expansion, I opted to try it out on the Steam Deck which I recently purchased. It's a perfect handheld experience, and DREDGE runs effortlessly on the Deck with a locked 60 FPS throughout. I'm planning on replaying the entire game on the device, and if you're on the fence, I certainly recommend giving it a try, because I think the controls, and presentation fit the handheld setting quite well.
Closing Thoughts
Overall, if you're looking for more DREDGE, this is exactly what you're getting. The Pale Reach is a small expansion with enough content to give you an excuse to return to the dark world created by Black Salt Games and catch some fish. It's a polished adventure that's relaxing, and creepy at the same time with enough variety in its activities to last you a good few hours.
What did you think of our DREDGE The Pale Reach Review? Share what you think about it in the comments below.
This review is based on the PC version of DREDGE: The Pale Reach. The key was provided by Team17.