Dusk Golem is a known leaker with an almost impeccable track record. While their leaks have been on the nose with regard to Resident Evil leaks, the Cheshire Cat falls short of leaks accuracy when it comes to Silent Hill rumors. However, a series of tweets from Dusk bring us up to speed on two Resident Evil games, a small Shenmue title, Monster Hunter for the Nintendo Switch, and more.
Dusk Golem says it all
In a series of tweets, Dusk Golem has shed some light on several rumors, all at once.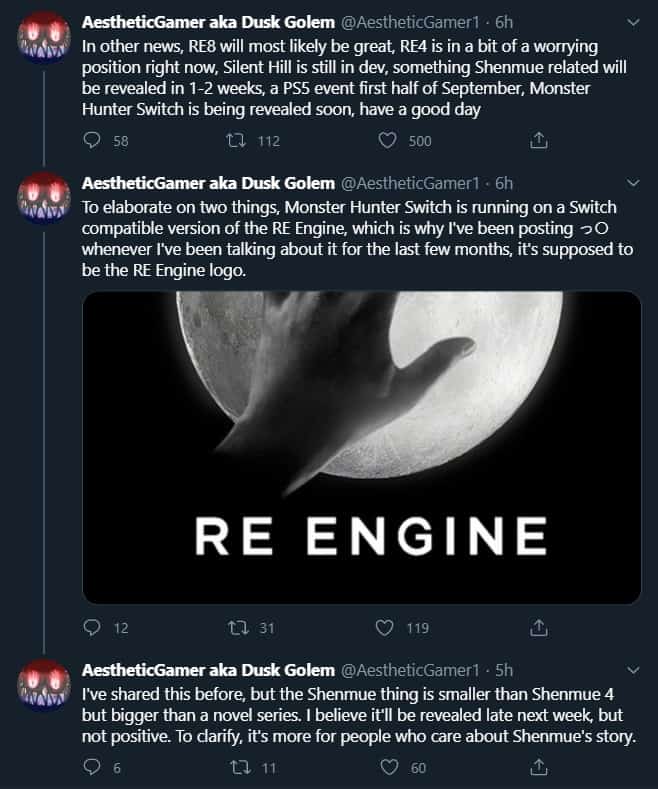 You can see the main series of tweets below:
The main takeaways from the tweets are as follows:
Resident Evil 8 is shaping up nicely
Resident Evil 4 Remake/Remaster development may be in jeopardy
Silent Hill is still in development
A small Shenmue game that is probably the same scope as Uncharted: Lost Legacy is set to be revealed in 1-2 weeks
A PS5 event will take place in the first half of September
A brand new Monster Hunter game is coming to the Nintendo Switch, powered by the RE Engine.
Fans are confident about the information provided by Dusk Golem with regard to Resident Evil games, but despite all the claims, Silent Hill is still lost to the fog.
The additional details Dusk shares all pertain to the potential of upcoming announcements and reveals.
Shenmue 3 released earlier this year to mixed reviews and reception, with Shenmue 4 potentially in development. So the new game could be a filler between Shenmue 3 and 4.
A PS5 event is also said to take place in the first half of September, whether as a State of Play or otherwise wasn't specified.
Lastly, the idea of a new Monster Hunter game coming to the Switch powered by the RE Engine is making some fans skeptical.
The RE Engine is truly Capcom's magnum opus as it was the crux for the revival of the Resident Evil series.
However, despite the power of the engine, it still is hampered on the Nintendo Switch, as evident by Resident Evil 7 Cloud Version.
The game is essentially streamed to the console similar to Google Stadia or GeForce Now.
Due to this, fans are unsure if the RE Engine has been updated since then to actually run a fluid Monster Hunter game on said engine, powered by Nintendo's hardware.
What are your thoughts on all the rumors of everyone's favorite resident Cheshire Cat? Let us know in the comments section below.