Dying Light 2 is a game that fans have been waiting for and while the release date is not yet public knowledge, a new promotion could hint at a potential Dying Light 2 release date window for the game. The only catch is you need to buy a select piece of ASUS hardware to get your free Dying Light and Dying Light 2 key.
Dying Light 2 release date window possibly revealed by ASUS
According to a new promotional event being held by ASUS, people who buy select ASUS hardware between 1st July 2020 and 31st August 2020, will let buyers redeem their keys for Dying Light and its sequel.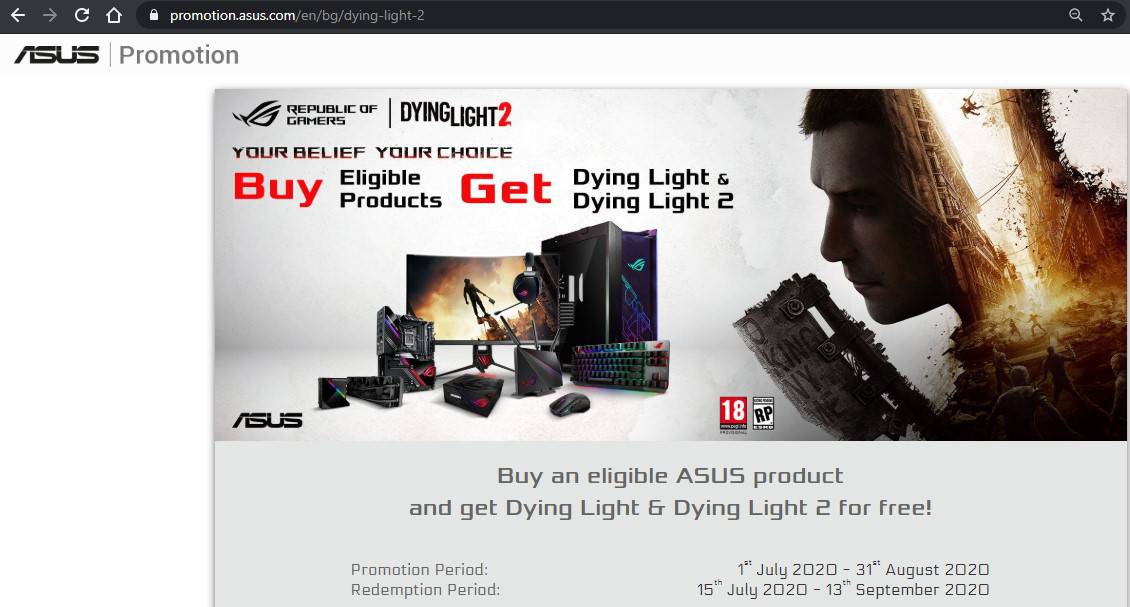 You can find a complete list of hardware that is eligible for the event on their website. It consists of monitors, GPU's, motherbaords, and other gaming accessories, so you have plenty to choose from.
When we last heard an update of the game, it entered the final stretch of development. This means a 2020 release date is definitely possible, especially when this is the year of the eighth generation of gaming consoles. If Techland has plans on releasing the game this year, this promotion could mean that the release date could be announced very soon.
According to the promotional material, the redemption period starts on 15th July 2020 and ends on 13th September. This is an almost 3 month long window when people can at least have the game on their digital accounts, ready to download when it releases.
By the current conditions, the earliest the game can be released is 15th July, which is extremely unlikely and the latest the game can be released is 13th September. Or anywhere in-between.
Dying Light 2 got a lot right where Dead Island fumbled. It was able to do zombie survival and parkour very intuitively and made Dying Light an instant smash hit with fans and critics.
July is the second major gaming month, so if Techland is going to share a release date, it will have to be soon.
What are your thoughts on the potential release date window for Dying Light 2? Let us know your thoughts in the comments section below!