EA Sports WRC is officially being developed by Codemasters and is coming to multiple platforms including PC, PS5, and Xbox Series S|X in November. The title is up for pre-purchase, and there are a few bonuses that come with the standard edition. Here is the official EA Sports WRC pre-order bonus you'll receive for an early purchase.
EA Sports WRC Pre-Order Bonus
If you pre-order EA Sports WRC, you'll receive 3-Day Early Access, livery, and apparel packs for Ford, Toyota, and Hyundai, as well as a VIP Rally Pass for 5 in-game sessions.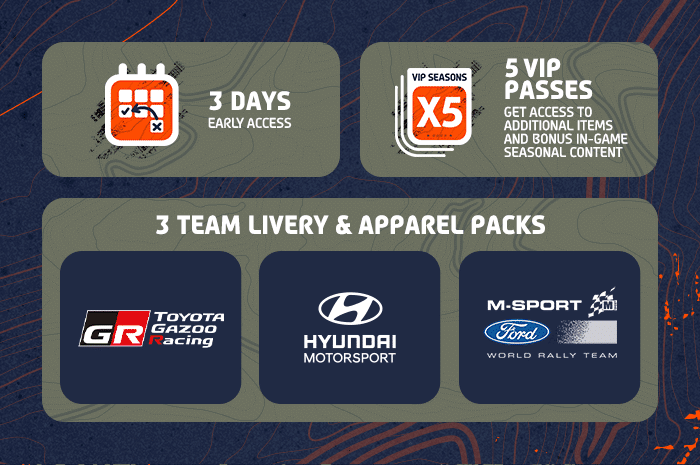 So, if you pre-order the title you'll get to play 3 days early and enjoy 5 VIP passes which grant you additional items and bonus in-game season content, as well as 3 team livery and apparel packs.
This is a combination of cosmetic and gameplay bonuses that will definitely give you an edge in the early hours of the game.
Pre-Order EA Sports WRC
You can now pre-order the game from the following links.
EA Sports WRC Release Date
The game is coming to PC, Xbox Series S|X, and PS5 on 3rd November 2023.
While you're here, make sure to check out our other pre-order guides for other upcoming releases, including Ghostrunner 2, Lords of the Fallen, and EA Sports FC 24.
What do you think of the EA Sports WRC Pre-Order bonus? Do you think it warrants an early purchase? Share your thoughts in the comments below and let us know.