F1 22 is an upcoming racing game from Electronic Arts, and Codemasters. This is the latest entry in the long-running series from Codemasters, and you can read more about it here. The title is coming to current, and last-gen consoles as well as PC via Steam, Origin and Epic Games Store. Fans interested in buying the game early can now pre-order it as well. Though, what F1 22 Pre-Order Bonus Content will you get for doing so? Here is everything you need to know.
F1 22 Pre-Order Bonus
Fans can now pre-order the title on PC via Steam, Epic Games Store, Origin, PS Store, and the Xbox Store. The Pre-Order bonus content is the same across each platform, and here is what you get.
F1® Life Starter Pack
F1® 22 New Era Content
5,000 PitCoin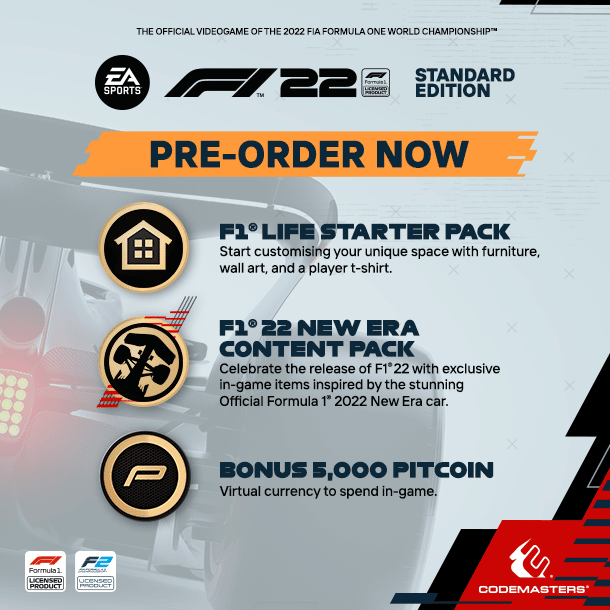 PitCoin is the in-game currency that can be spent on the F1® 22 Podium Pass and Item Shop.
The bonuses above are if you pre-order the Standard Edition of the game. If you pre-order the Champions Edition before 16th May, you will get the following content.
Limited-time bonus: Miami-Themed Content Pack
Only the highlighted bit, which is the Miami-Themed content pack is time sensitive. You get everything else in the Champions Edition either way.
This edition also includes the following additional content.
3 days early access
F1® Life Starter Pack
F1® 22 New Era Content
New My Team Icons
18,000 PitCoin
As we mentioned before, you don't get any extra content for buying the game on any specific platform. This is true for the PC storefronts, as well as consoles.
F1 22 Release Date
F1 22 is coming to PC, Xbox One, Xbox Series S|X, PS4, and PS5 on 1st July 2022. Owners of the Champions Edition get to play it 3 days early, however.
If you are interested in the PC version, make sure to check out the system requirements as well. We have a pre-order bonus guide for the upcoming Sniper Elite title as well, so make sure you read that too.
What do you think of the additional content? Do you think it warrants an early purchase? Share your thoughts in the comments below and let us know.