A Twitter account claiming that Interplay Entertainment's supposed relaunch was finally called out by the real studio as being fake.
An account named @InterplayEnt, which has now been shut down, had been posting since last week. The Twitter handle was claiming that a full-blown relaunch of the studio was in the works, including a complete revamp of the website. They'd also mentioned that an official announcement would come up on July 28.
@InterplayEnt then proceeded to post about the relaunch's ambition: to release new titles for its well-known series, such as Fallout, Baldur's Gate, etc. The same post mentioned that some of its old series such as Messiah and ClayFighter would see new games coming out.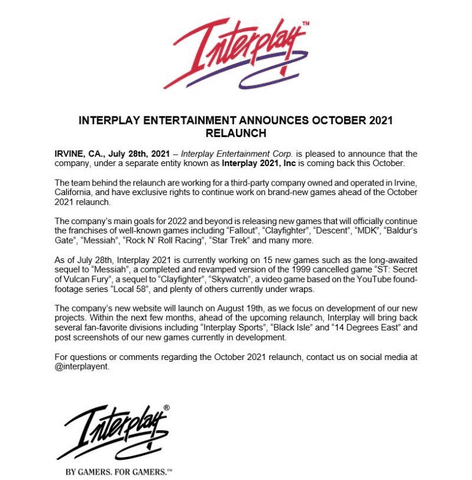 For that added personal touch, the fake account even went as far as using Interplay's old slogan, "By Gamers, For Gamers".
Interplay's Fake Relaunch Didn't Make Sense Anyway
Regardless of the efforts that were put into creating those claims, people quickly understood that they had close to zero substance. After all, Larian is already working on a new Baldur's Gate game, while Bethesda has a firm hold on the Fallout franchise. It made absolutely no sense that Interplay could suddenly be releasing new titles for those series – despite being their original creator back during the studio's glory days.
If anything, Bethesda actually went to court with Interplay regarding the Fallout franchise's license rights.
Interplay's real Twitter account, @InterplayGames, caught on to the act and proceeded to discredit those fake claims. Their Tweet reads: "We have found that there are accounts impersonating Interplay across social media platforms […] Statements made by any other accounts do not represent Interplay. We appreciate those that have brought the offending accounts to our attention."
It didn't take too long for Interplay's fake relaunch to be called out.
Twitter then shut down the fake Interplay account, but no details have emerged regarding the individual(s) behind the act. If anything, the turmoil managed to spur some fans into asking Interplay to revive some of those franchises. If that was the fake account's real goal, it was certainly achieved to some degree.
Interplay's golden age has come and gone. Their latest game, Dungeons & Dragons: Dark Alliance, received mixed reviews with many claiming it to be an unfinished product.