Far Cry 3: Blood Dragon is a standalone DLC that was released in 2013. It was praised for the 80's aesthetics, great comedy, and is one of the most unforgettable forms of DLC content offered by a game for its time. It seems that Far Cry 3: Blood Dragon Classic Edition has been rated for all current platforms.
Far Cry 3: Blood Dragon Classic Edition Rated
Far Cry 3: Blood Dragon Classic Edition has been rated by the ESRB and it covers every major system you can think of. Yes, even Google Stadia.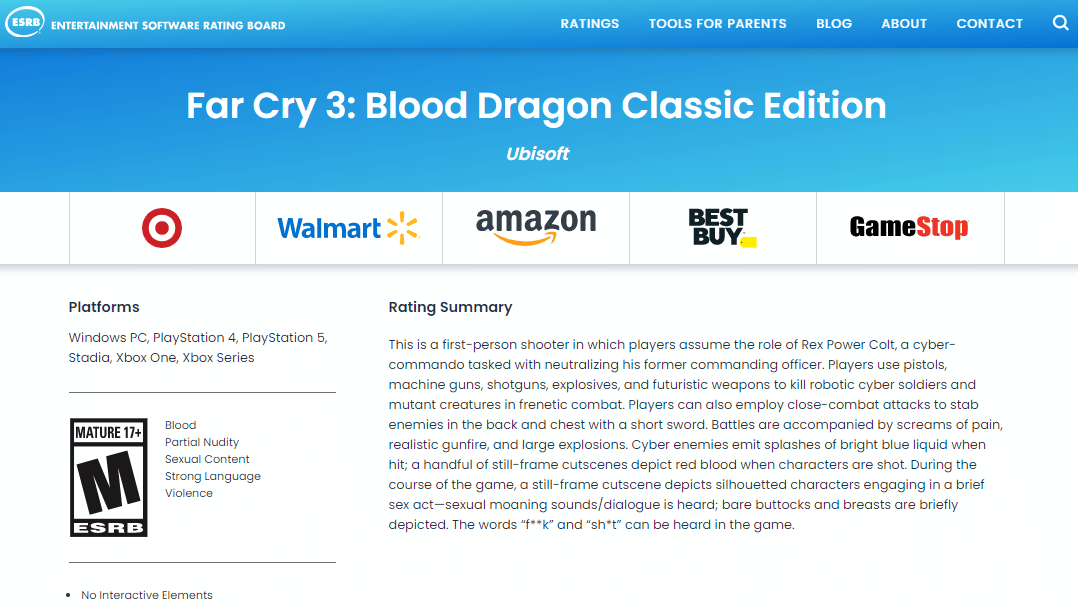 You can see the listing for yourself on the ESRB website.
Perhaps with the classic edition, we imagine renewed visuals, with 4K/60 FPS, perhaps with HDR support slapped on?
While this is still early, we don't know how this DLC will be marketed. Perhaps it will be tacked on as a pre-order bonus for Far Cry 6 or it could be a part of the season pass of the game.
We don't know all the details yet, but we do know that a better version of the action-packed DLC is absolutely in the cards for fans who have been waiting eagerly for a reboot.
In 2018, Ubisoft re-released Far Cry 3 Classic Edition for the PS4, but it didn't include Blood Dragon, and with the release of the new PlayStation and Xbox Consoles, bringing visual and performance enhancements should be a fairly simple task for the company.
While we don't have full details on the DLC you will have to wait for Ubisoft to make an announcement in the future.
With Far Cry 6 drawing closer each month, we can hope that the company does share some news in the weeks that follow, as fans are eagerly waiting for an update after the last gameplay presentation.