Another day, another Far Cry 6 leak. This time the leak comes from PlayStation Singapore Store. Far Cry 6 Gold Edition on the PlayStation Store is listed at 119.99 SGD which is roughly $86 USD. $80 USD is the recurring price for the Gold Edition of Ubisoft games that includes the Season pass.
Far Cry 6 Gold Edition may have hinted the return of an animal companion
It seems that an early listing of Far Cry 6 Gold Edition on the Singapore store has hinted at the potential return of an animal companion.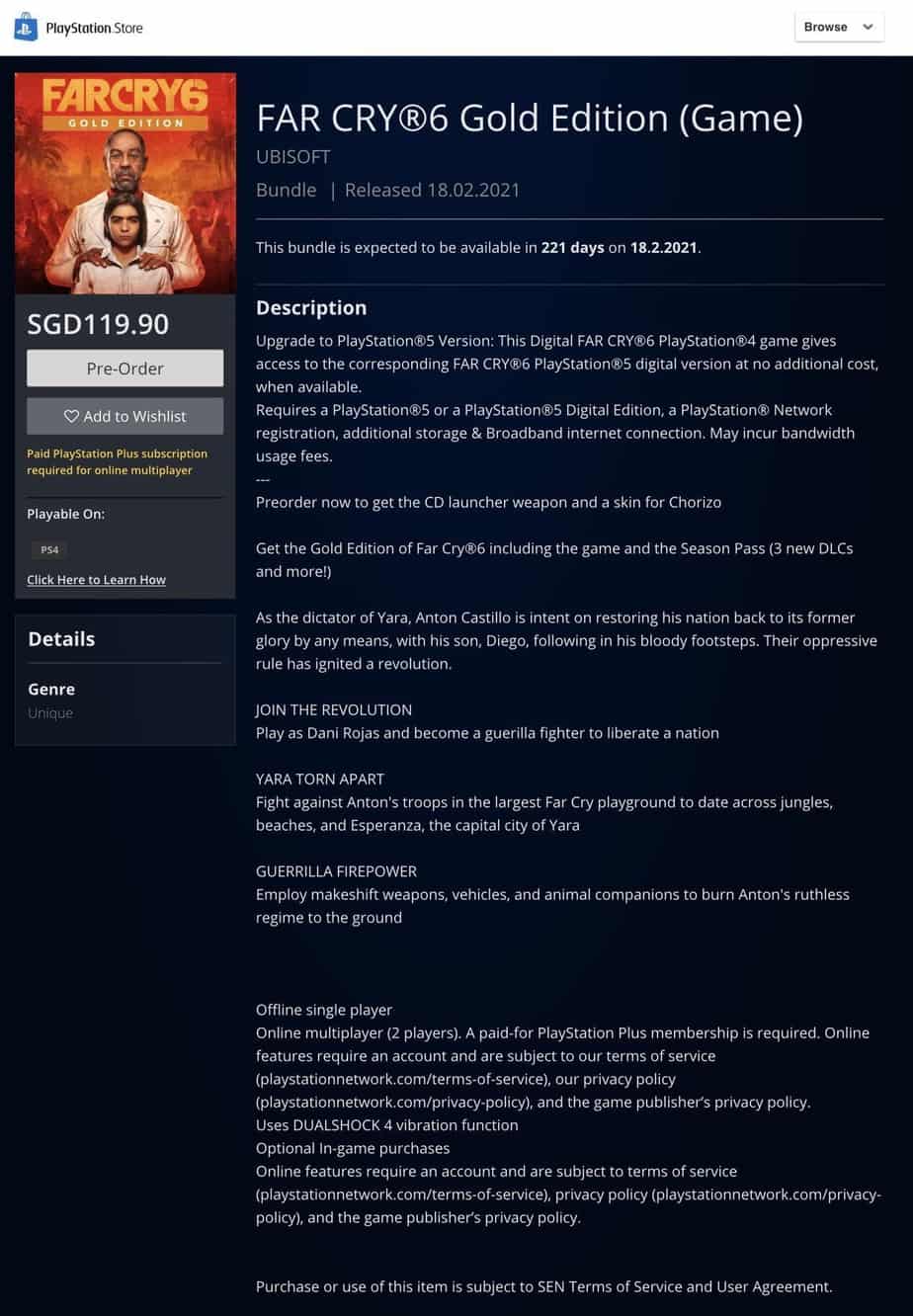 Early in the description, you can see "Preorder now to get the CD launcher weapon and a skin for Chorizo".
The CD launcher is a joke weapon in the game like the shovel launcher in Far Cry 5, but a skin for Chorizo could imply that its a skin for a possible animal companion.
Animal companions have become a big part of Ubisoft games, particularly in the Assassins Creed games.
Assassins Creed Origins and Odyssey both use Eagles as their animal companions, to help spot and mark enemies, survey the map and other jobs.
Far Cry 5 saw the popularity of Animal companions with Boomer the dog and Cheeseburger the bear.
Assassins Creed Valhalla also has a Raven as an animal companion, but it fits well with the lore of Vikings.
Perhaps the popularity of these animals has inspired animal companions to play a role in this installment of Far Cry.
The Gold edition also confirms a season pass with 3 DLC, and more content. Plans for the DLC have yet to be outlined, but we can assume some story DLC included.
Ubisoft Forward is now less than a dozen hours away and the leaks won't stop coming. Let's hope we don't get another Assassins Creed Valhalla leak.
With Ubisoft Forward later today, we will finally get details on games fans have been waiting for.
Far Cry 6, Assassins Creed Valhalla, Watch Dogs Legion are only a few games that are set to make an appearance at the show.
Hopefully there are more games that will surprise us.
What are your thoughts on the latest leak? Let us know your thoughts in the comments section.