Some interesting developments in the last couple of days regarding two titles that are set to come to the Nintendo Switch. Paired with Nintendo's history of always having a Nintendo Direct happen in February of the year, we can expect this years February Direct to be packed with a couple of surprises, thanks to some discoveries over at the subreddit, GamingLeaksandRumours.
February 2023 Nintendo Direct Could Be a Big Show
Nintendo has a good track record of hosting a Nintendo Direct in February. It stands to reason that there will be a February 2023 Nintendo Direct as well, particularly with a huge title arriving on the console, namely, Legend of Zelda: Tears of the Kingdom. In addition, it looks like there has also been some action happening in the background too which hints toward Advance Wars 1 + 2 Re-Boot Camp joining the announcements too.
The title was previously spotted on Amazon Mexico but has now been spotted on BestBuy & Walmart Canada. Advance Wars was previously put on hold for a release date due to the war in Ukraine, but it seems that the title could be coming in 2023 and may get announced at the direct.
In addition, Advance Wars and Tears of The Kingdom have gotten some backend updates which was spotted by lbabinz on Twitter.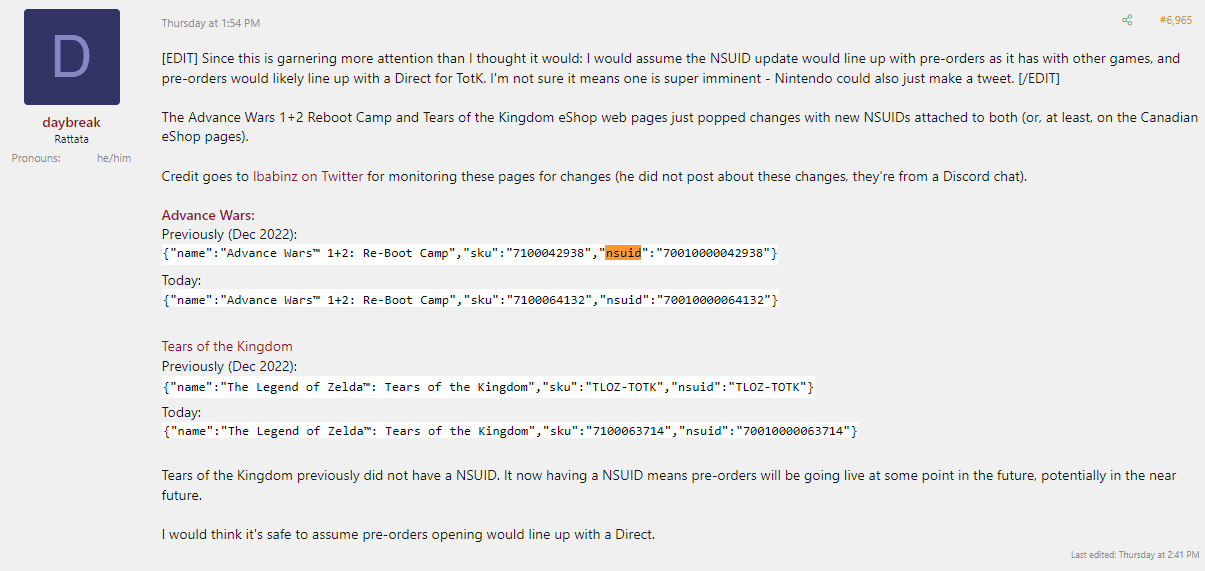 Both titles now have a NSUID, which means that both titles are very likely to announce pre-orders at the Direct as well.
Legend of Zelda: Tears of the Kingdom currently has a release date of May 12th, 2023, while Advance Wars still does not. We can also hope to get more gameplay on both titles at the direct, especially for Zelda, for which fans are eagerly anticipating to hear new features about what could be the last big outing for the title on the Nintendo Switch.