VALORANT may be a free-to-play shooter at heart, but it has enamored its player base with paid weapon skins that serve as aesthetic vessels of joy and opulence. And what's more iconic in the world of FPS shooters than a good knife skin?
While some players are turned off by the idea of spending cold-hard cash for pixels on the screen, there's no denying the appeal of a well-designed and coveted item.
That said, let's look at the best VALORANT knife skins in the game right now!
Araxys Bio Harvester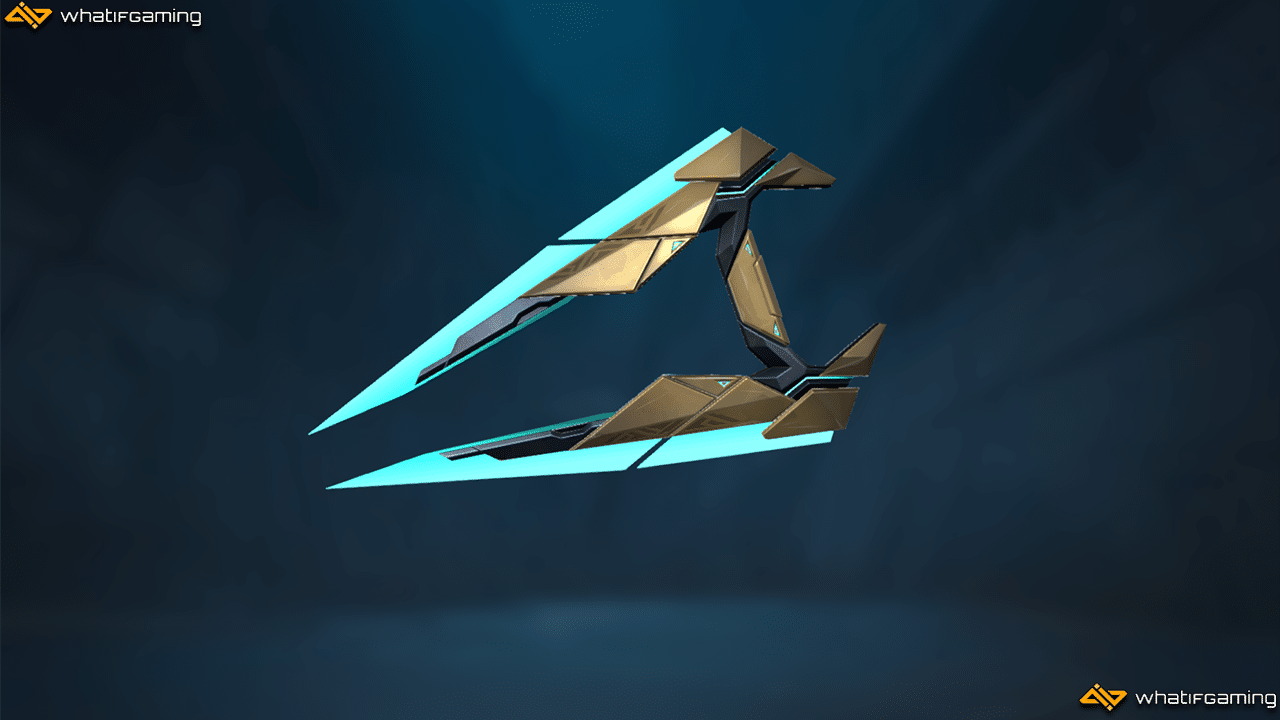 Release Date: January 10, 2023
Price: 4,350 VP
At the top of our list is none other than the Araxys Bio Harvester. This one-handed melee looks and feels like alien tech in your hand.
It has a golden handle with a light blue blade that glows once upgraded. It also has purple, black, and silver variants. The Araxys Bio Harvester is one of the few skins in the game where all the colorways are bangers.
The inspect animation will never fail to amuse you. The different parts of the base will levitate with a satisfying gravity-defying sound. The slashing and stabbing effects leave a slight glow in its path that tops off an already amazing knife.
Here's what the knife sounds like in-game:
RGX 11z Pro Firefly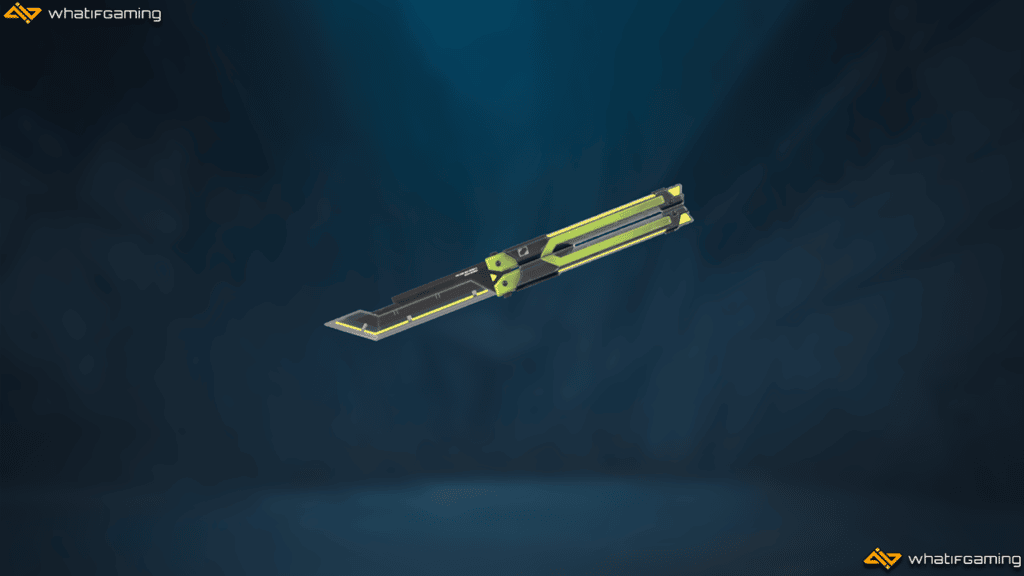 Release Date: April 27, 2022
Price: 4,350 VP
If you enjoy spinning the Butterfly Knife animation in CS:GO, the RGX 11z Pro Firefly in VALORANT offers the same visual stimulus that you know and love.
Released on April 27, 2022, the same day the previous Episode 4 Act 3 Battle Pass was released, this knife is the newest one released among the knives on the list.
While butterfly knives like the Recon Balisong have long been found in countless VALORANT maps and games, the vibrant and colorful design of RGX 11z Pro Firefly makes it slightly a better pick.
But if your preference lies in the Recon Balisong, then hey, we don't blame you for that either!
Here's what the knife sounds like in-game:
Xenohunter Knife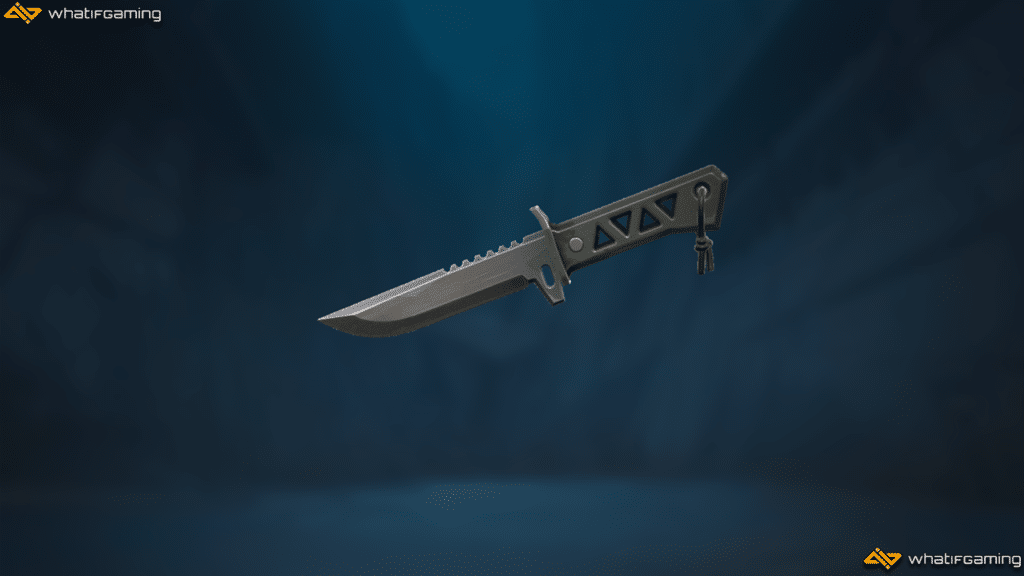 Release Date: June 8, 2022
Price: 3,550 VP
For players who find most VALORANT weapon skins too over-the-top and want something simple yet dashing, the Xenohunter Knife is the way to go.
Featuring a sleek and shiny silver blade with a black leather handle, the Xenohunter Knife doesn't come with a whole lot of frills. It doesn't even have any color variants to choose from—just the default skin and one animation upgrade. But that's exactly what makes it so attractive in the first place.
The minimalist design of the Xenohunter Knife makes it look like a dangerous yet practical weapon, perfect for those who want a realistic knife. This skin also closely resembles an M9 Bayonet, which is a knife specifically designed for close-quarters combat.
Here's what the knife sounds like in-game:
Terminus A Quo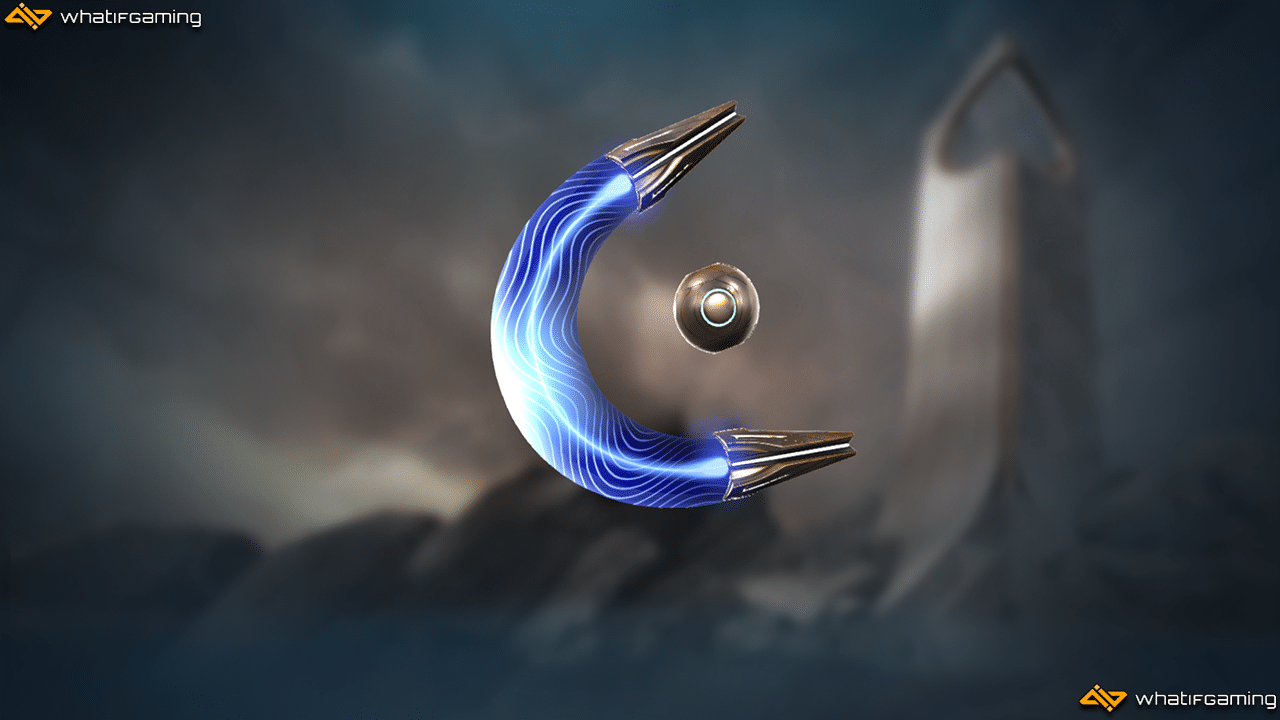 Release Date: September 21, 2022
Price: 4,350 VP
The Terminus A Quo is another futuristic one-handed melee knife in Valorant. It's part of the community-loved ChronoVoid Collection.
Its handle looks like a microbot from Big Hero 6 with a glowing laser edge as its blade. The Terminus A Quo can easily melt through skin, metal, and everything in between. Aside from its base gold and blue edge, there are also purple, red, and black variants.
It fully collapses into a levitating metal sphere that you pass from hand to hand when inspecting. It easily has one of the best inspect animations in the game, and that alone makes it one of the top Valorant skins worth spending your VP on.
Here's what the knife sounds like in-game:
Elderflame Dagger
Release Date: July 9, 2020
Price: 4,950 VP
Next up is the Edlerflame Dagger. The Elderflame Dagger was the first Ultra-tier knife skin introduced into Valorant. It also came with a hefty price tag.
The Elderflame Dagger is carved from a dragon's scaly skin with three small claws sticking out from the base and a larger sharp claw acting as the edge. It's a fantastic concept that dropped a ton of jaws when it was first released.
When upgraded, the knife gets a fiery burning edge with black smoke. It doesn't have other colors aside from the brownish base color. It would've been much higher on our list if it had more variants and different fire shades.
Here's what the knife sounds like in-game:
Celestial Fan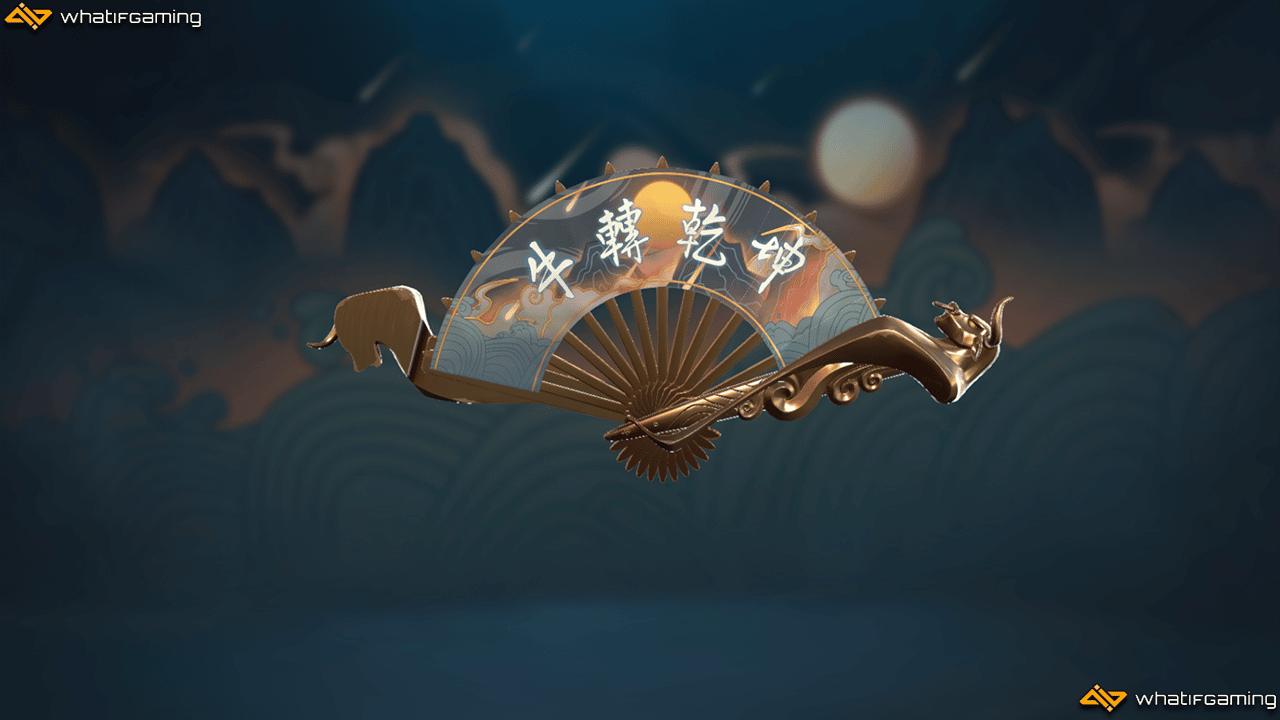 Release Date: February 18, 2021
Price: 3,550 VP
From its unique draw animation to its thematic design, there's nothing quite like the Celestial Fan in VALORANT. Released during Chinese New Year, this melee weapon unashamedly pays homage to its date of origin—the Year of the Ox.
The blade is inspired by traditional Chinese folding fans, complete with a gradient of blue and warm colors and Chinese symbols sprawling the entire length of it.
When inspected, you see the fan in all its glory. In its default state, however, you can see the tip resembling an ox with sharp horns—presumably, the part that does the slicing and dicing.
In its design alone, the Celestial Fan shakes up the typical knife dynamic quite remarkably. For players looking to add some zen to their inventory, the Celestial Fan's a good choice.
Here's what the knife sounds like in-game:
Sovereign Sword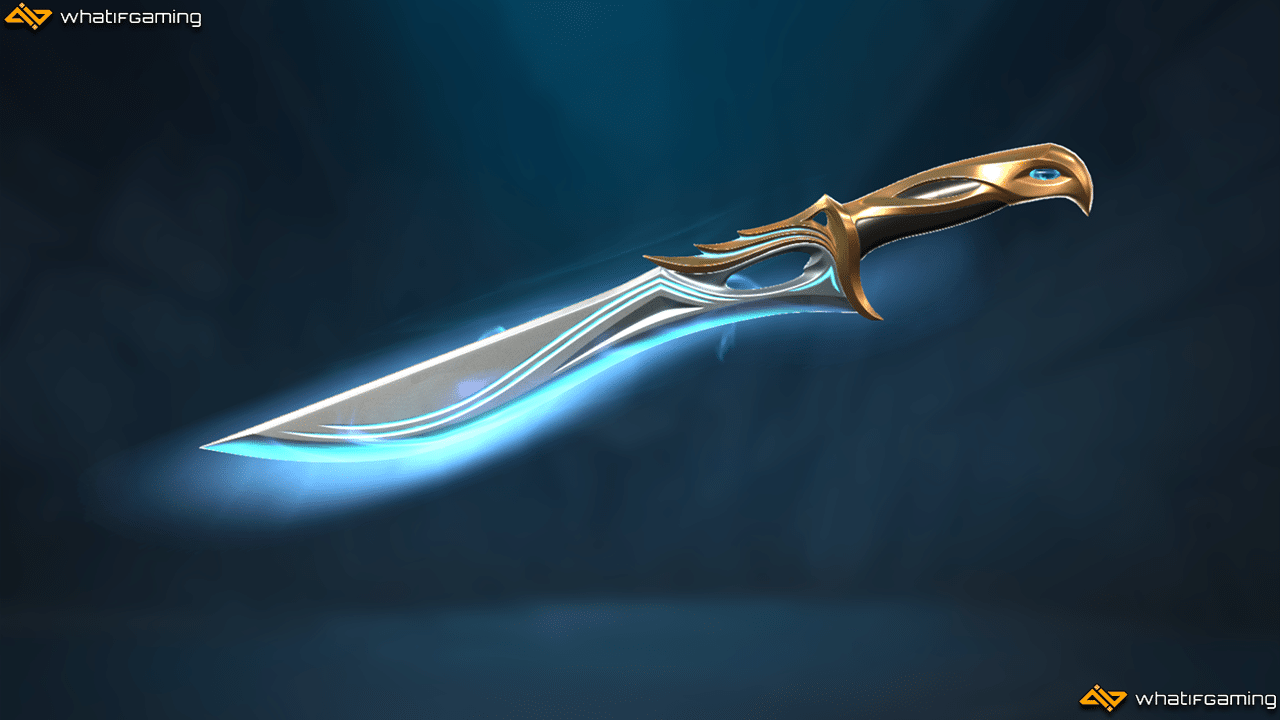 Release Date: June 13, 2020
Price: 3,550 VP
One of VALORANT's first premium swords is next on our list. And with its luxurious grip and shiny blade, it's hard not to see why.
The Sovereign Sword is the main knife in the Sovereign Collection. It has a golden grip, a golden crossguard, and a blade with a curved edge. A hole has also been cut out of the sword's blade, presumably for better aerodynamics.
Upon inspection, the sword's length measures from the screen's tip to tip—much longer than the game's default knife. And after each slash, you can hear a subtly creaky and swordlike "whoosh" as the blade cuts through the air.
But the magic doesn't stop there. Upon leveling up, a majestic sky-blue glow emanates from the sword's blade, making it look even cooler to look at.
Here's what the knife sounds like in-game:
Reaver Karambit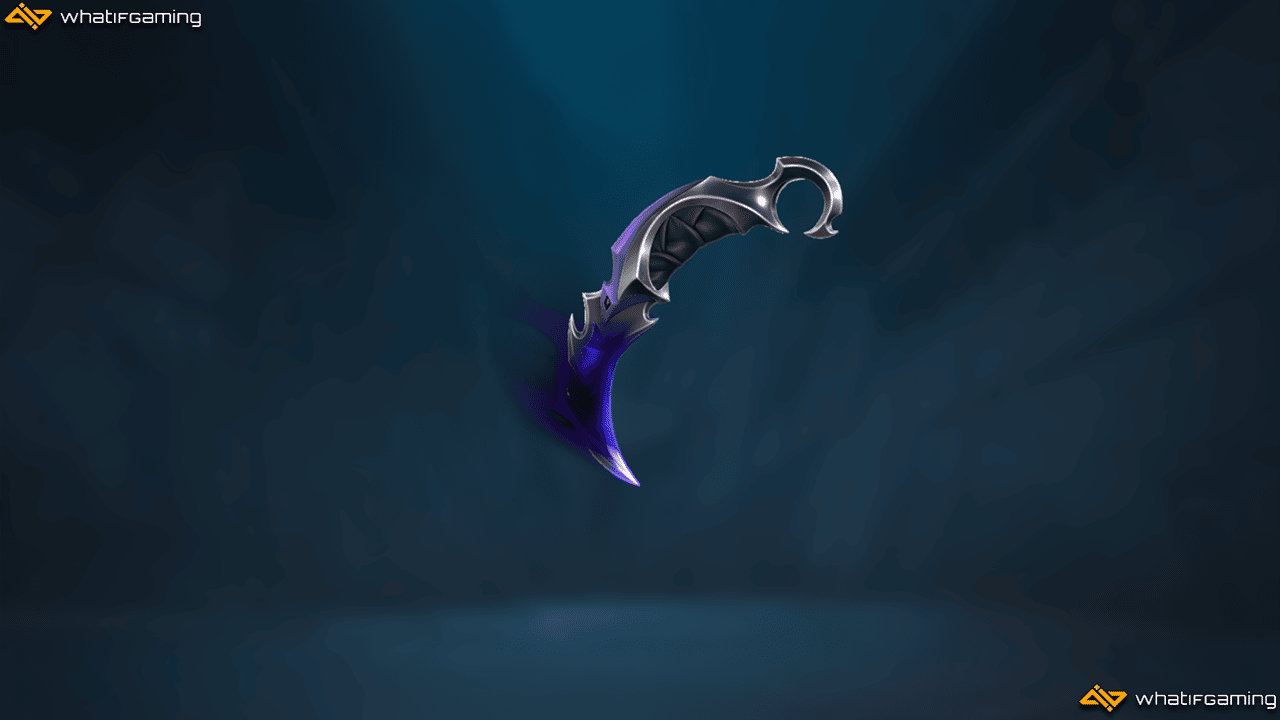 Release Date: August 10, 2022
Price: 4,350 VP
Karambit skins have always been a catch in the FPS space since their debut. And with the old Reaver collection getting a big rehaul, the beloved Reaver Karambit is back on the map and better than ever.
With a crescent-shaped safety ring, a default black leather handle, a purple-coated spine, and a crooked outside edge, this Karambit is a knife skin with exquisite layers of detail that continues to be a fan favorite.
The darker palettes make the knife look dangerous, all while maintaining an air of allure. But aside from its default black color, it also has magenta, white, and blue colorations.
If you want a violet smoke of air to follow each swing, this knife also comes with a nifty VFX that makes each swing look satisfying.
Here's what the knife sounds like in-game:
Champions 2022 Butterfly Knife
Release Date: August 23, 2022
Price: 5,350 VP
This galaxy-inspired VCT Champions 2022 Butterfly Knife is a true beauty. Featuring a swirling nebula as the knife's backdrop, a shiny, gold midsection, and a dark violet handle, there's no other butterfly knife skin in VALORANT that screams class as much as this one.
This knife has been released at about the same time as the VCT 2022 Championships, where some of the world's best VALORANT players compete for the trophy and the title of the best team.
One particularly notable feature of this knife is the "Champion's Aura" animation you can get if you upgrade it. This is most noticeable in Deathmatch games, where each 5th skill in the scoreboard (up to 25th) modifies the weapon skin by making the galaxy look clearer. If you're top fragging with at least 25 kills, you also witness a rare special trophy animation upon inspecting the skin.
Here's what the knife sounds like in-game:
Blade of Chaos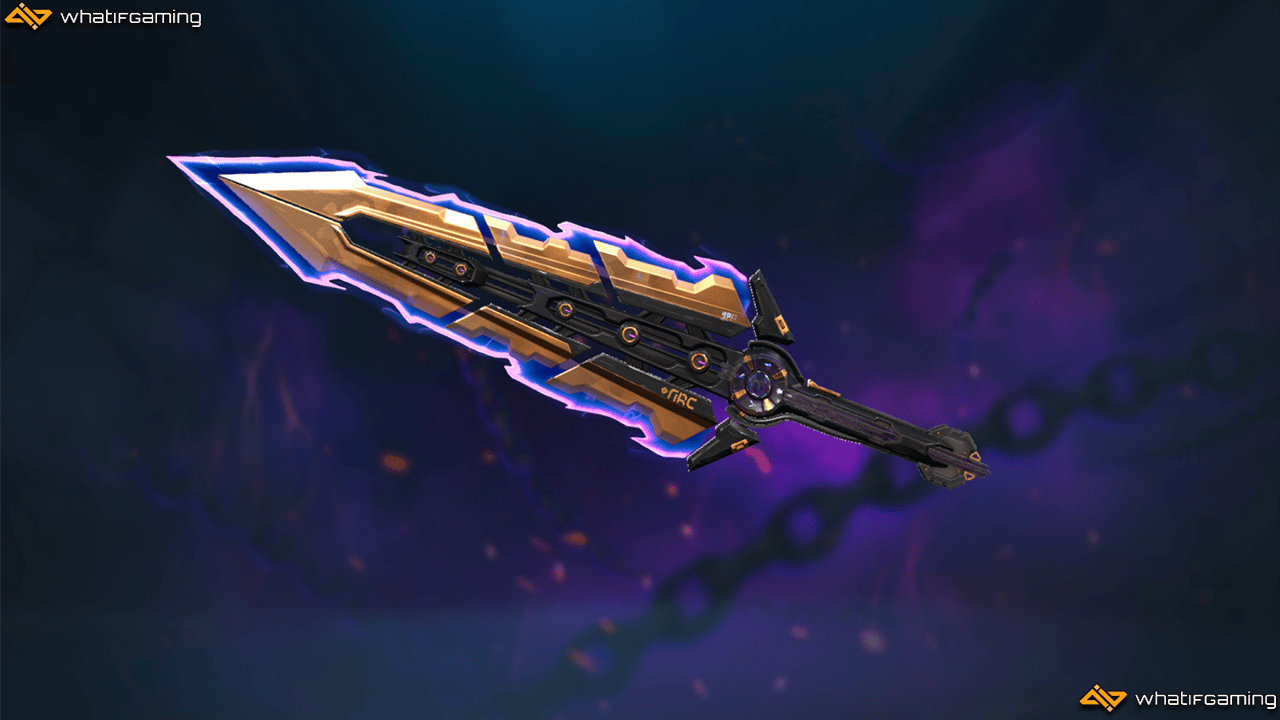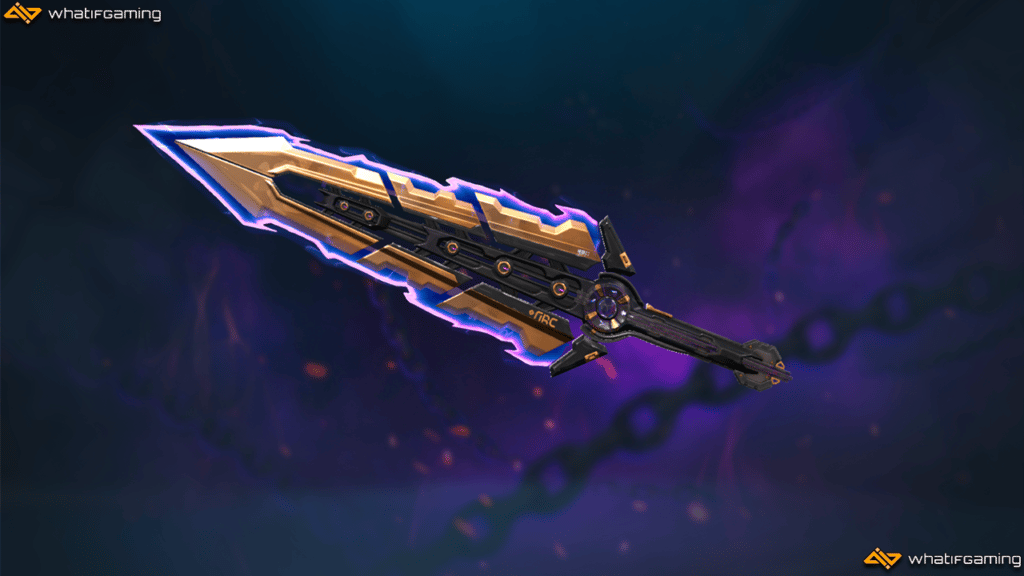 Release Date: July 22, 2022
Price: 4,350 VP
The Blade of Chaos is the perfect electrifying Valorant knife skin if you like hefty melee weapons. It's a chonky boi that makes you feel like you're wielding a great sword in Valorant.
It features a black base with a gem in the middle that powers the fire-like electric border around the weapon. There are also green, white, and blue variants.
The inspect animation isn't anything too crazy, but it does "recharge" your weapon giving a cool effect. The thrusts and swings feel like it's taking everything in your power to move the weapon. Jett might have some trouble lifting the Blade of Chaos up.
Here's what the knife sounds like in-game:
Prime 2.0 Karambit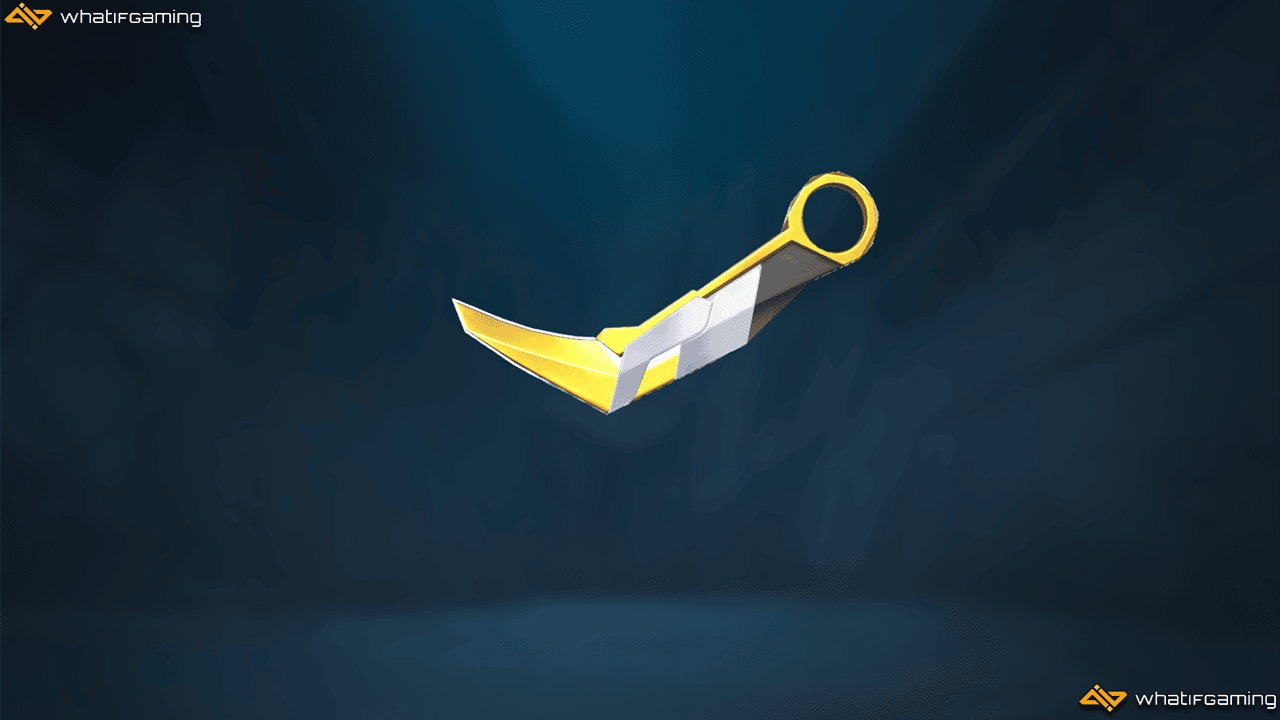 Release Date: March 2, 2021
Price: 3,550 VP
The Prime 2.0 Karambit is the epitome of style and suaveness.
Featuring a golden safety ring, a half-coated gold, and metal blade, and a sharp, pointy edge, this weapon is a good choice for any VALORANT player looking to buy their first knife.
While its popularity has dwindled as a result of its age and the introduction of better-looking melees, this classic knife still looks, if I may say, at its prime.
Ultimately, it's up to you if you want to upgrade its VFX or not, as some would say the base model has a much cleaner pull-out.
Here's what the knife sounds like in-game:
Oni Claw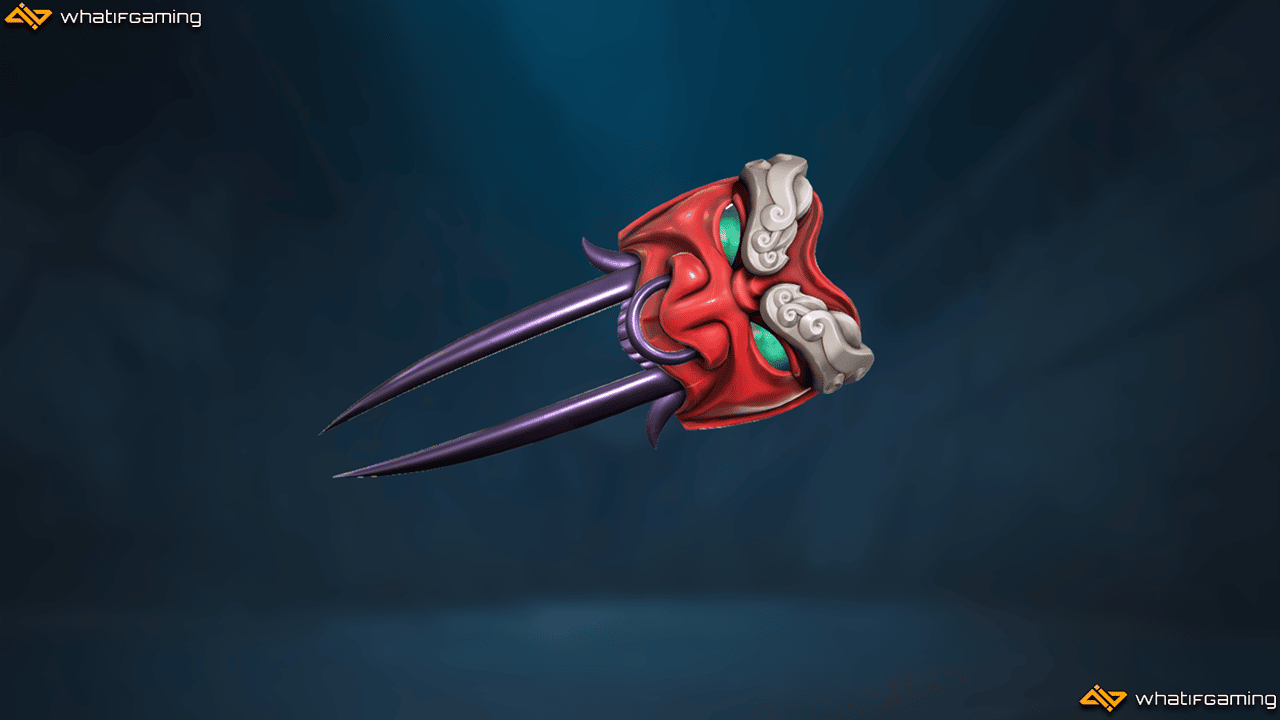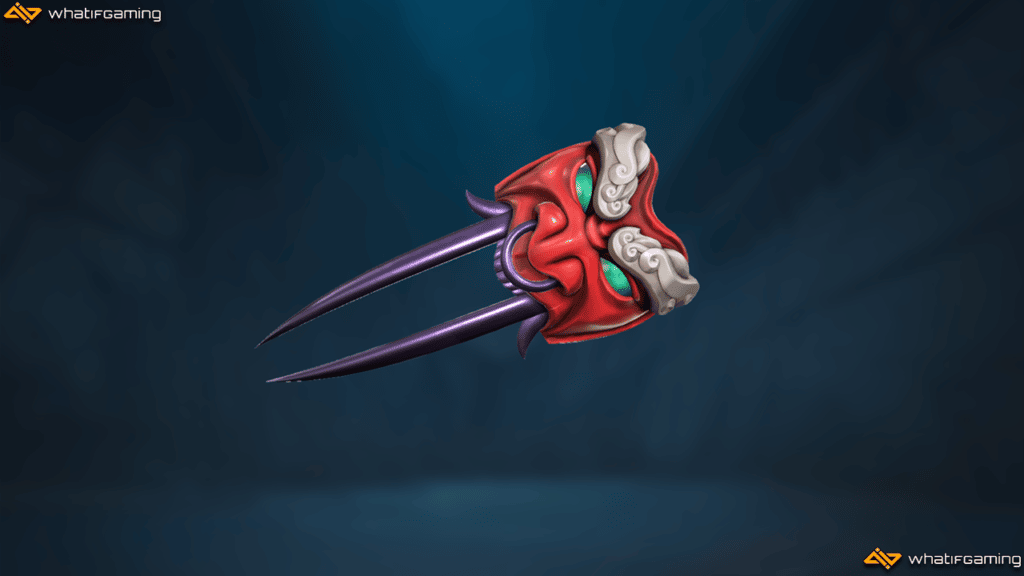 Release Date: July 21, 2020
Price: 3,550 VP
The Oni Claw is another community-favorite Valorant knife skin because of its unique look and theme. It's also one of the cheaper ones on our list, making it an easy pick.
It's a small profile weapon that's in the shape of a demon's face, with its fangs acting as the blade. The skin also gets surrounded by a green demonic aura running through the weapon's eyes and nose. There are no other variants aside from the base red version.
Unfortunately, it doesn't have a unique inspect animation. However, the glowing aura redeems the skin, still making it one of the best knives in Valorant.
Here's what the knife sounds like in-game:
Glitchpop Axe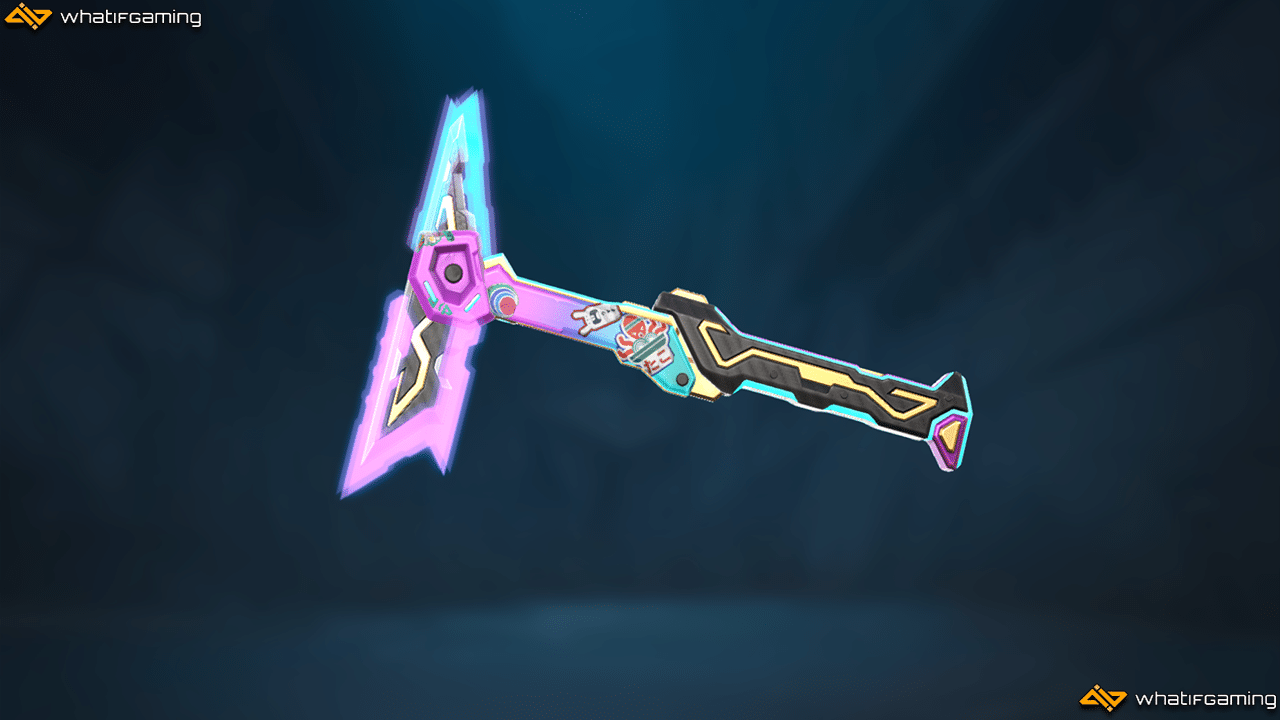 Release Date: February 2, 2021
Price: 4,350 VP
The Glitchpop Collection is one of the first few skins that got a second bundle. The Glitchpop Axe was released as a part of the Glitchpop 2.0 bundle. It instantly became a favorite because of its unique collapsible design.
One of the Glitchpop Axe's most recognizable features is its bright and colorful design. Of course, we can't forget the kawaii stickers scattered on the axe. It also has a light blue glow that outlines the weapon.
Every time you pull out the Glitchpop Axe, you get a fresh new color for its blade. The satisfying robotic chirps are also something to look forward to as the axe assembles when you pull it out.
Here's what the knife sounds like in-game:
Waveform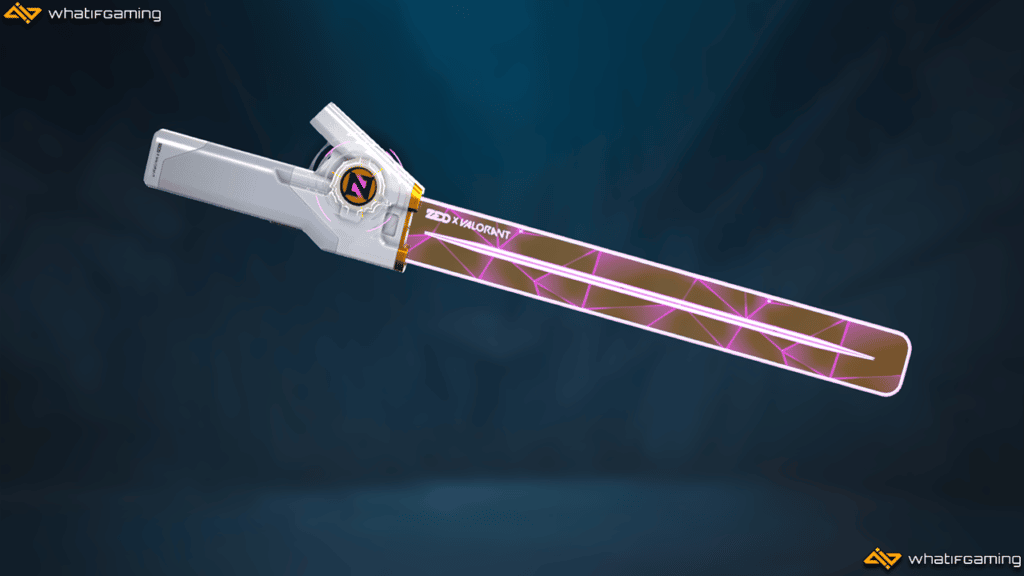 Release Date: September 8, 2021
Price: 5,350 VP
Have you ever wanted an RGB knife with built-in sound effects accompanied by sound waves? Look no further than the Spectrum knife—a weapon created in partnership with the artist ZEDD.
What makes this VALORANT knife so special is its satisfying sound animations that move to the beat of its own sound effects. On top of that, the knife's upgraded VFX changes color cyclically, from red to blue to green.
Perhaps one downside is its hefty price tag-the largest of any knife in the game currently. But if its higher price doesn't deter you, it's a good knife to jam to as you smash Y (or whatever your VALORANT keybind is for weapon inspection).
Here's what the knife sounds like in-game:
Yoru's Stylish Butterfly Comb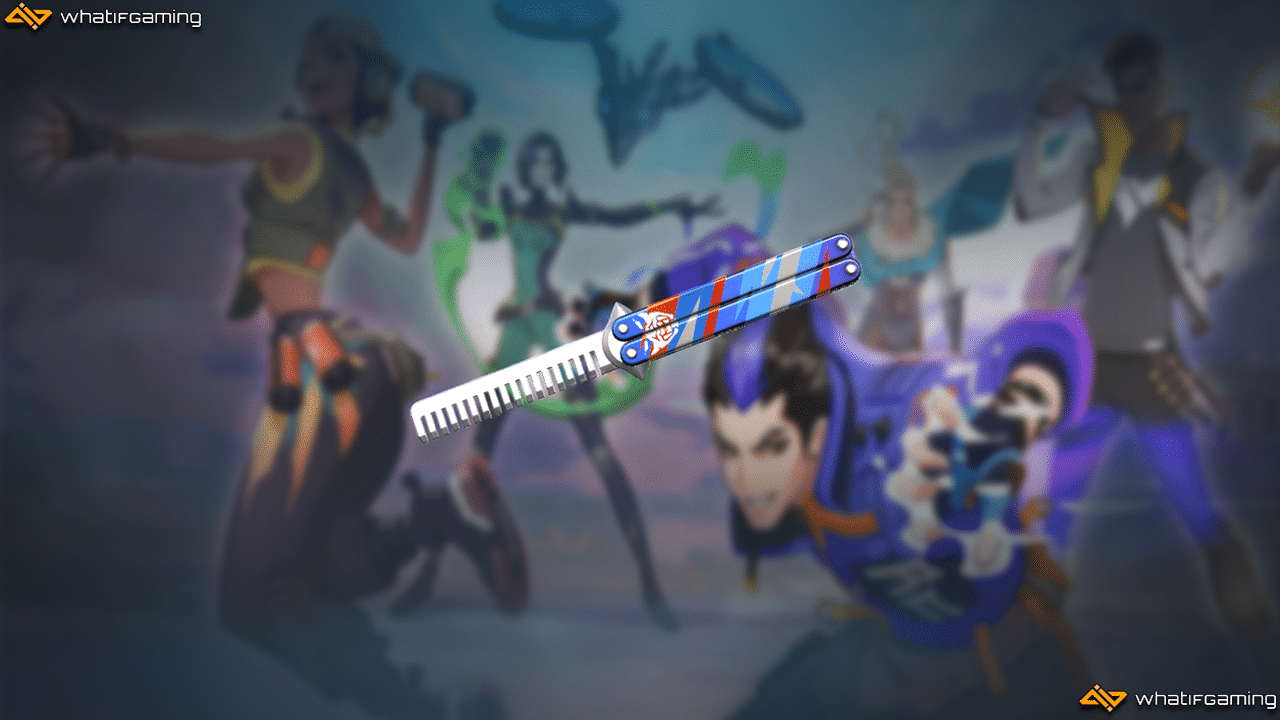 Release Date: September 22, 2021
Price: 3,550 VP
Yoru's Stylish Butterfly Comb comes from the VALORANT GO! Volume 2 collection, which features various VALORANT characters on weapon skins.
While this skin is as formidable as any VALORANT knife, we can't help but pin this weapon skin to Yoru's devilishly good-looking hairdo. Does he use this metallic device to get himself pampered and ready for the battlefield? We can only speculate.
Jokes aside, this butterfly knife features a clean blade and symmetrical crooked gaps in its teeth, like a comb. The center of the knife features an animated depiction of an Ulting Yoru, and the handle is painted with red, white, and blue brushes.
Simple and clean, Yoru mains wielding this weapon is as natural as baby turtles reaching for the ocean.
Here's what the knife sounds like in-game:
Conclusion
The Araxys Bio Harvester claims the top spot on our best Valorant knives list. There's no doubt that this piece of alien tech delivers style and amazement beyond compare.
These VALORANT knife skins don't affect gameplay in any way, shape, or form, nor do they help improve aim. The author ranks them purely based on their aesthetic and visual qualities.
What's your favorite knife to use in Valorant? Comment it down.