We previously reported that Final Fantasy 7 Remake could be one of the games for the March 2021 PS+ Game, but it seems that Sony's own Japan site has prematurely spilled the beans. Unfortunately, the free version will not grant you the PS5 version for free like with Maneater.
Final Fantasy 7 Remake Could Be a March 2021 PS+ Game
UPDATE: PlayStation Netherlands has just put up the PS+ Games early.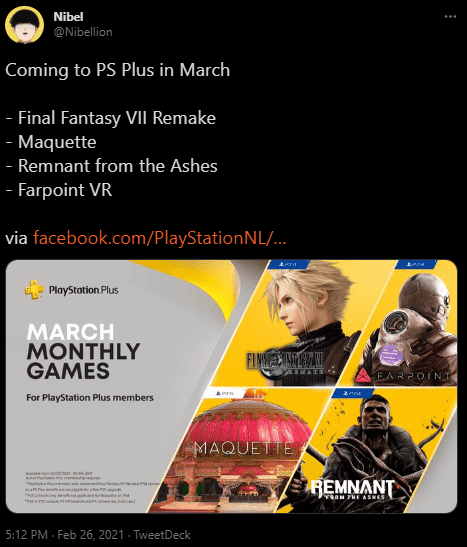 Final Fantasy 7 Remake had a blowout presentation yesterday with the announcement of Final Fantasy 7 Remake Intergrade.
This brings the usual bells and whistles to the game such as improved lighting, textures, view distance, fog, details, faster loading times etc. And the addition of a brand new story DLC that is coming to the PS5 with no news of whether the PS4 will see it.
On Sony Japan's official page for Final Fantasy 7 Remake, there is a small paragraph there that mentions PS+.
When we run the translation, this is what we get: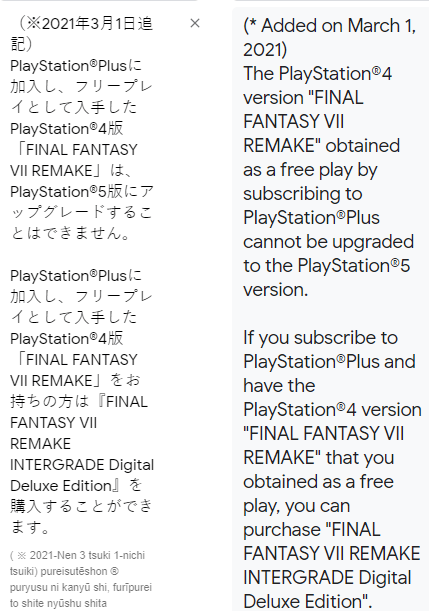 While this was translated using Google Translate, what other role could PS+ have in Final Fantasy 7 Remake which unlike Final Fantasy XV doesn't have a multiplayer mode (yet)?
This could help give truth to the rumor that Final Fantasy 7 Remake is definitely one of the PS+ Games for March 2021, and while we are nearing the end of the month, Sony should have announced the games line-up yesterday, so we can hope that today or tomorrow will be the final days of silence from Sony.
Final Fantasy 7 Remake is a title that many fans and gamers alike thoroughly enjoyed playing when it first released in 2020, and while there are still those who have yet to play the game, this is a shining opportunity for them to enjoy Square Enix's latest title without the need of waiting for it to go on a sale.
The game is still exclusive to the PS4 until April 20th, and while a PS5 version has been announced, we will have to wait and see what lies in the future of the game for PC and Xbox consoles.
What are your thoughts on Final Fantasy 7 Remake as a March 2021 PS+ Game? let us know in the comments section below!