Fnatic isn't the most recognizable brand in the gaming hardware space, yet they've been releasing quality products over the last few years. The company prides itself on learning from its shortfalls and making its peripherals as good as they can be. This means it's always exciting to write about their products, and this Fnatic BOLT review is no different.
The BOLT is Fnatic's latest attempt at a gaming mouse and attempts to learn from the weaknesses of their previous products. An accurate, reliable wireless mouse at this price point is definitely something to pay attention to. Especially when the battery life boasts a maximum of 210 hours between charges.
However, all is not quite as great as it seems. While the Fnatic BOLT has the potential to become the go-to wireless mouse for serious gamers, it's few weaknesses may just stop it short of achieving this goal.
Tech Specs
Dimensions – 4.7" x 2.1" x 1.5"
Weight – 69g
Buttons – 6
Switches – Kailh GM 8.0
Memory – 4 Profiles, 4 DPI Stages
Sensor – PixArt PMW3370
Cable – USB-C to USB-A
Connectivity – Wired, 2.4GHz wireless, Bluetooth
Battery life – 110 hours 2.4GHz wireless, 210 hours Bluetooth
Packaging & Contents
It's always nice when care and attention have been given to the packaging of a product. As soon as you slide off the sleeve, you're treated to a nicely designed box for the BOLT. Inside, the mouse is cradled safely in its cot, immediately drawing your eye to its sleek design.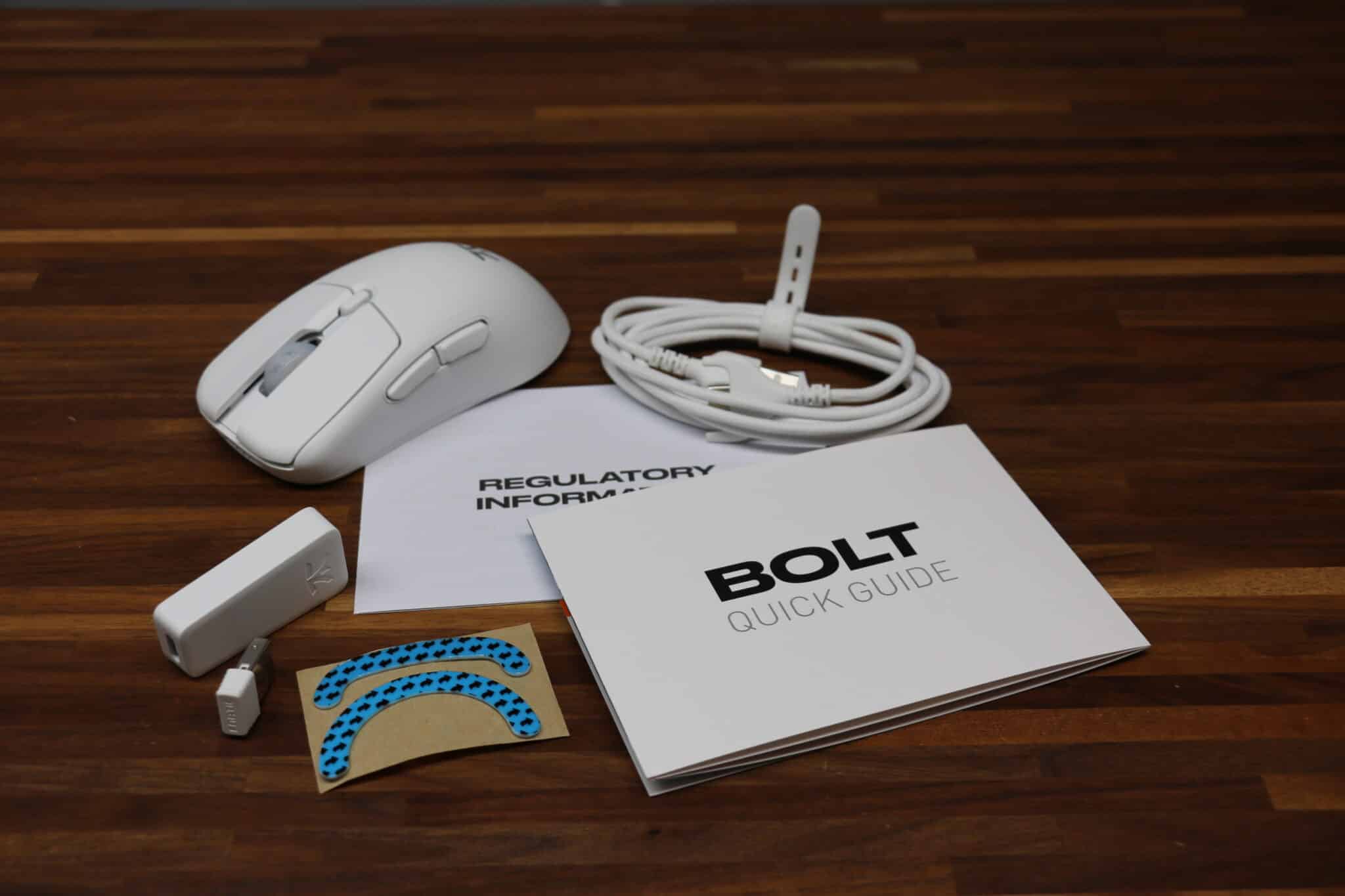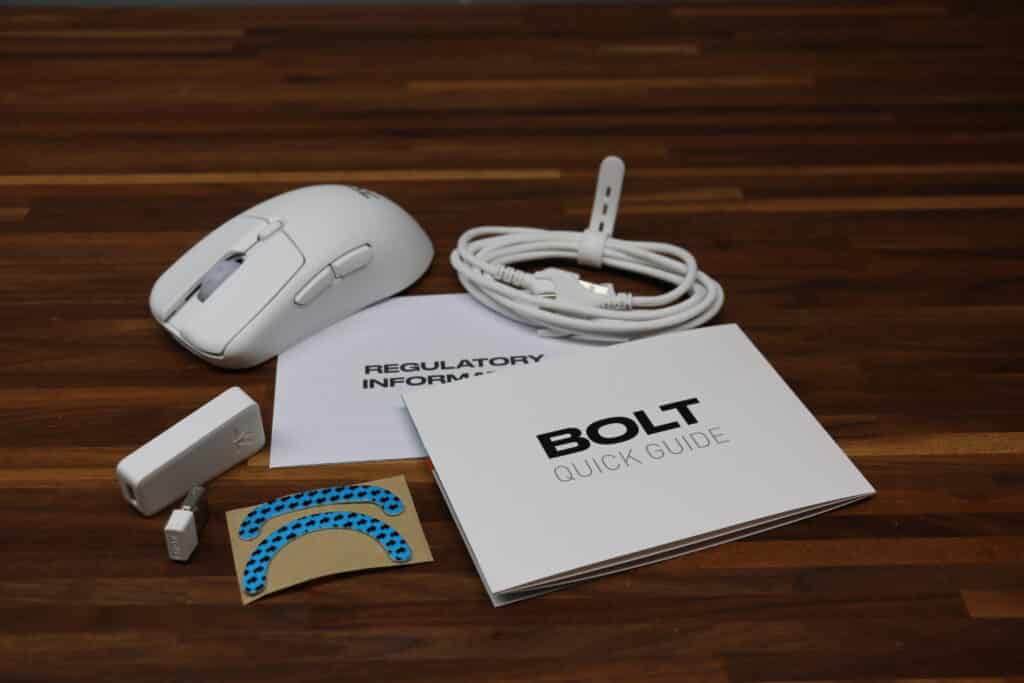 The box contains:
Handy quick start guide
Replacement skates
Lengthy USB-C to USB-A cable
Extender dongle
The Fnatic BOLT
It's a standard presentation for wireless mice of this caliber, though the extra skates are a great touch that is often overlooked. Presuming that this mouse will be used for intense gaming sessions, it's good to know you've got a backup when you eventually wear the stock ones down.
Build Quality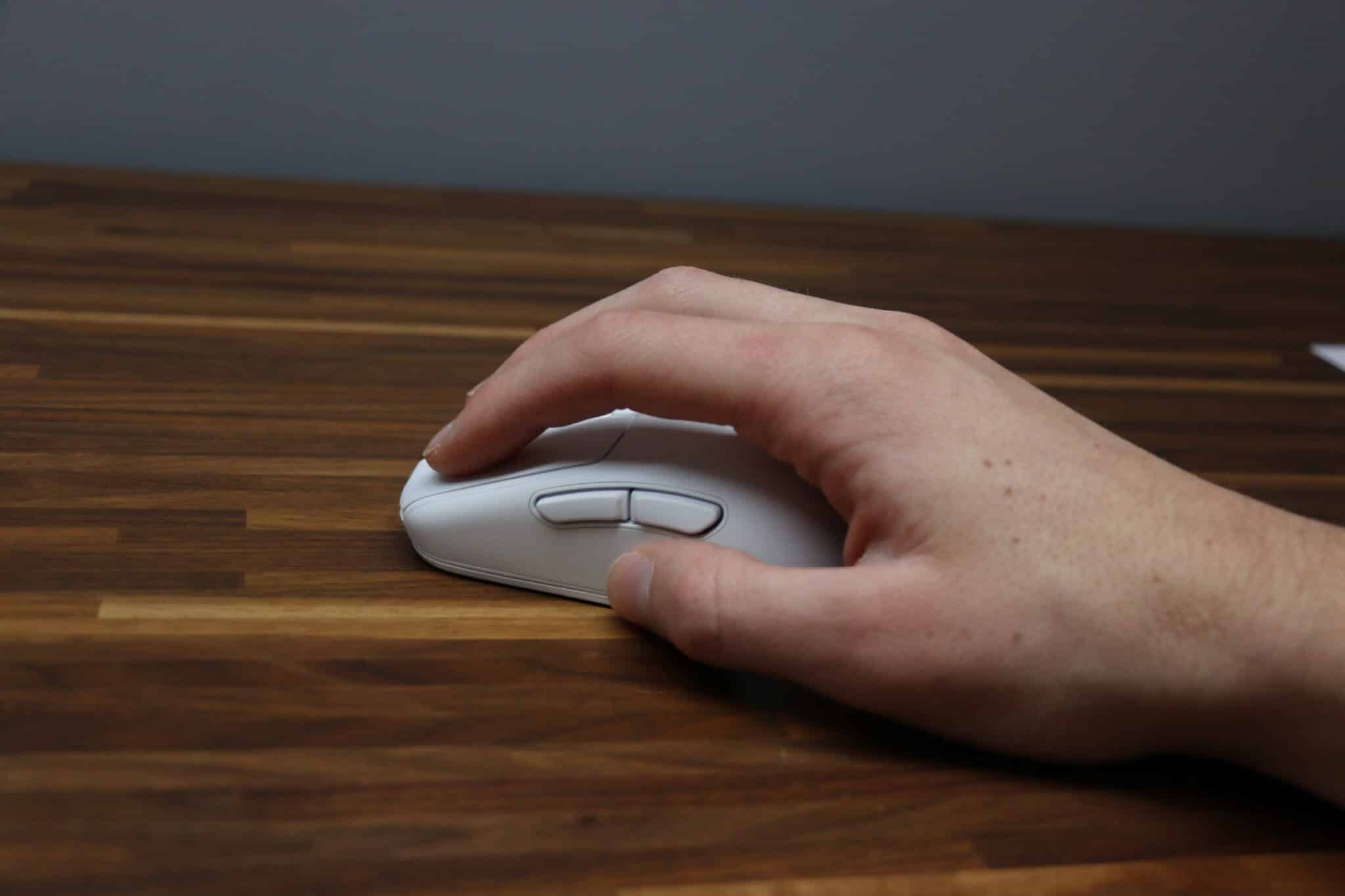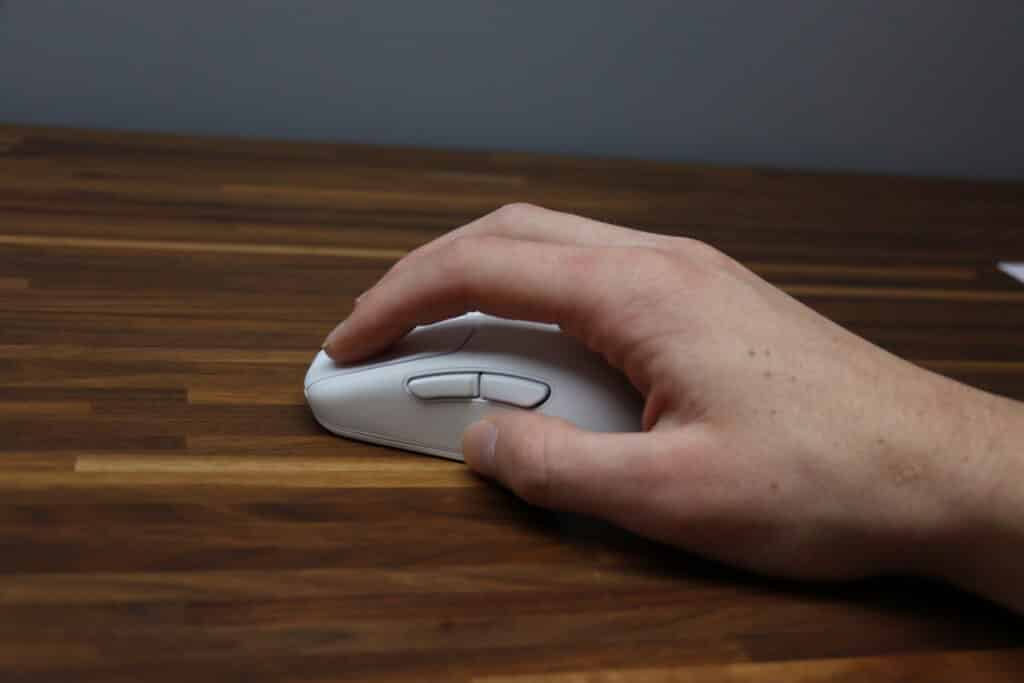 Boasting a no holes design, the BOLT does feel sturdy and smooth. Taking on a more unusual shape than your typical wireless mouse, the BOLT has a more compact and curved front.
The texture on the plastic does at times feel too sleek. During intense use, your hand can slip off the mouse infrequently. Couple this with its shape, and you may find yourself wishing the BOLT had a bit more grip to it. While this isn't a deal-breaker by any stretch, it definitely holds it back during chaotic moments.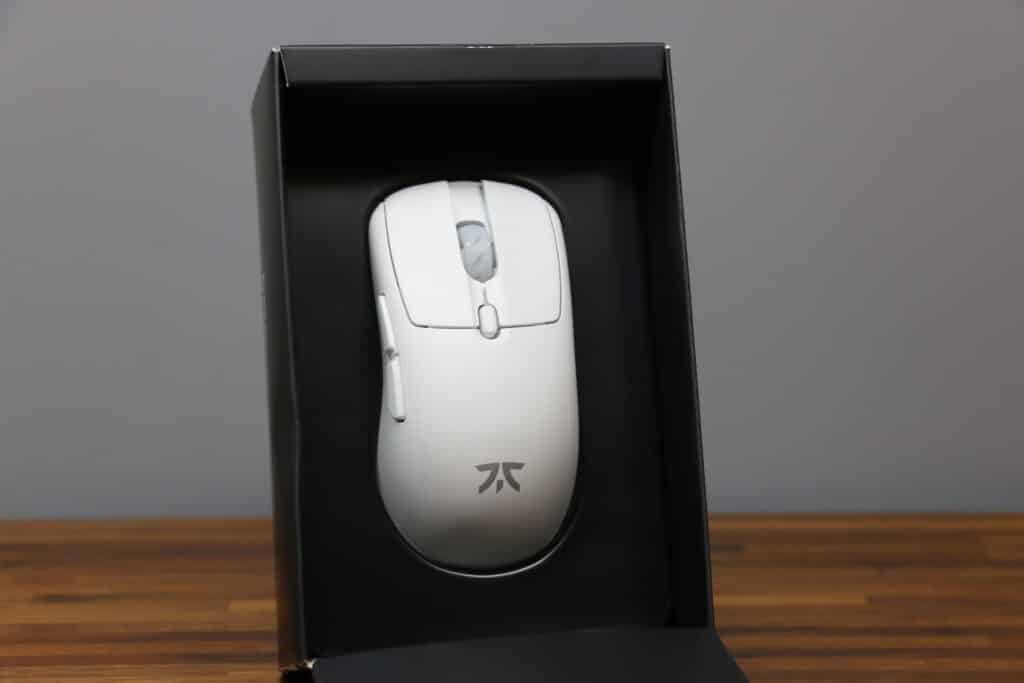 On the other side of the coin, even though it can be slick, the BOLT never feels too slippery. No matter how long it's in use, the texture of the plastic stays dry. It's also a breeze to clean, which is imperative when you're dealing with a white mouse.
Feeling wide at the front, it has a good feel when being moved about. On a typical smooth surface, the skates work wonderfully. Providing a decent amount of resistance, it's a pleasure to take aim and shoot on a variety of desks. Depending on your personal preference, the feel of the mouse may take some getting used to. If a claw grip gaming mouse is what you're looking for, however, this could very well be perfect for you.
Buttons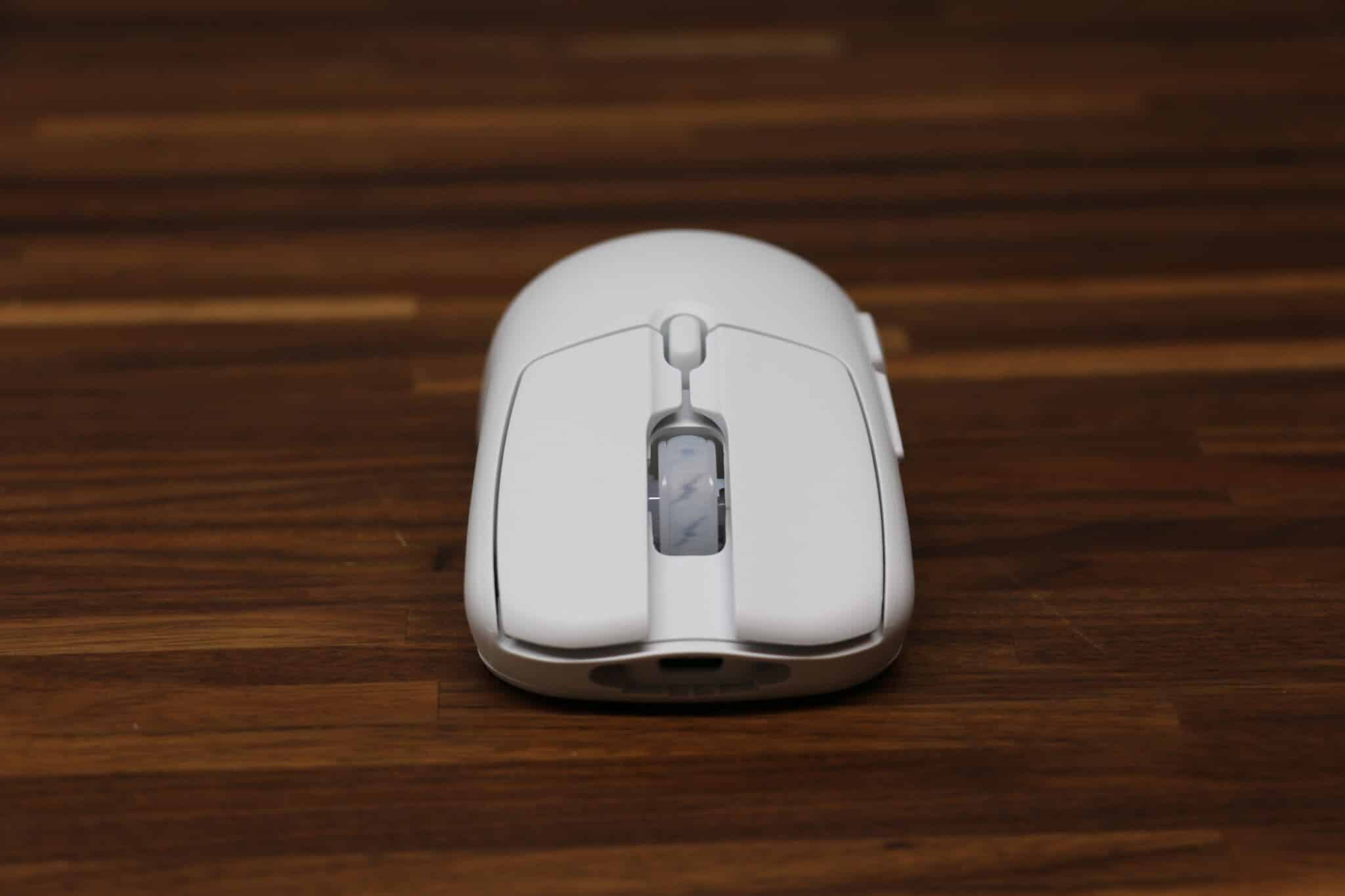 As should be expected with gaming mice, the BOLT houses Kalih GM 8.0 switches for its main buttons. The biggest critique to take away from this Fnatic BOLT review is that even though the BOLT has tried-and-true switches, the main buttons don't feel nearly as good as they should. They're accurate, and there's nothing mechanically wrong, but with repeat presses with less-than-delicate pressure, they can feel loose. If you're used to high-end gaming mice, this is likely something you'll notice pretty quickly.
The scroll wheel, however, is practically perfect. It never slips and it's as accurate as you could ever want. Clicking it doesn't require too much pressure, but also needs enough that you won't accidentally hit it while scrolling. It feels durable, and its precision will surely hold up for many, many hours of intense gaming. When compared to the always incredible wheels of the MX Master series of mice, it stands strong. This is one of the best parts of the product, and one place Fnatic has really knocked it out of the park.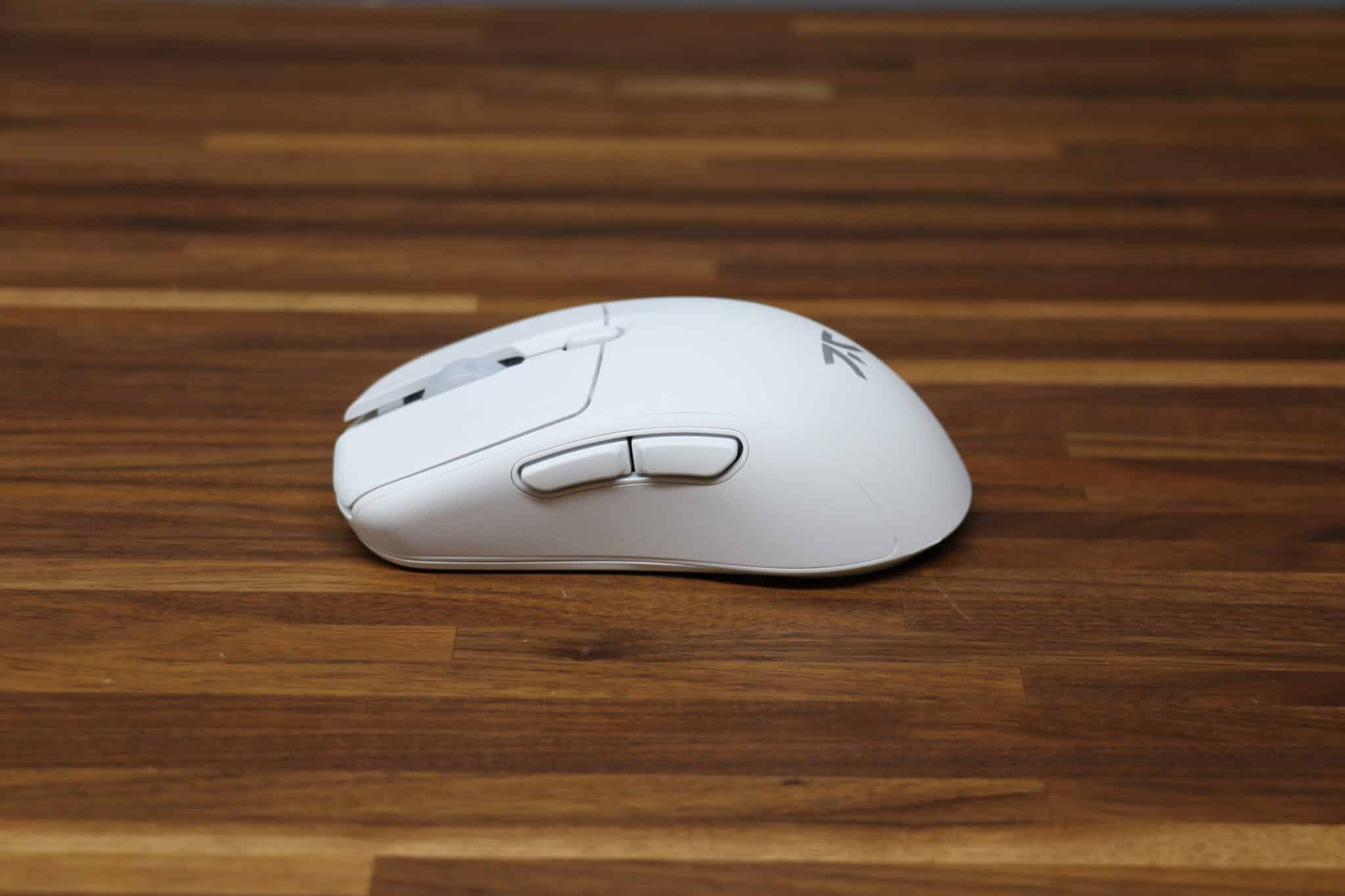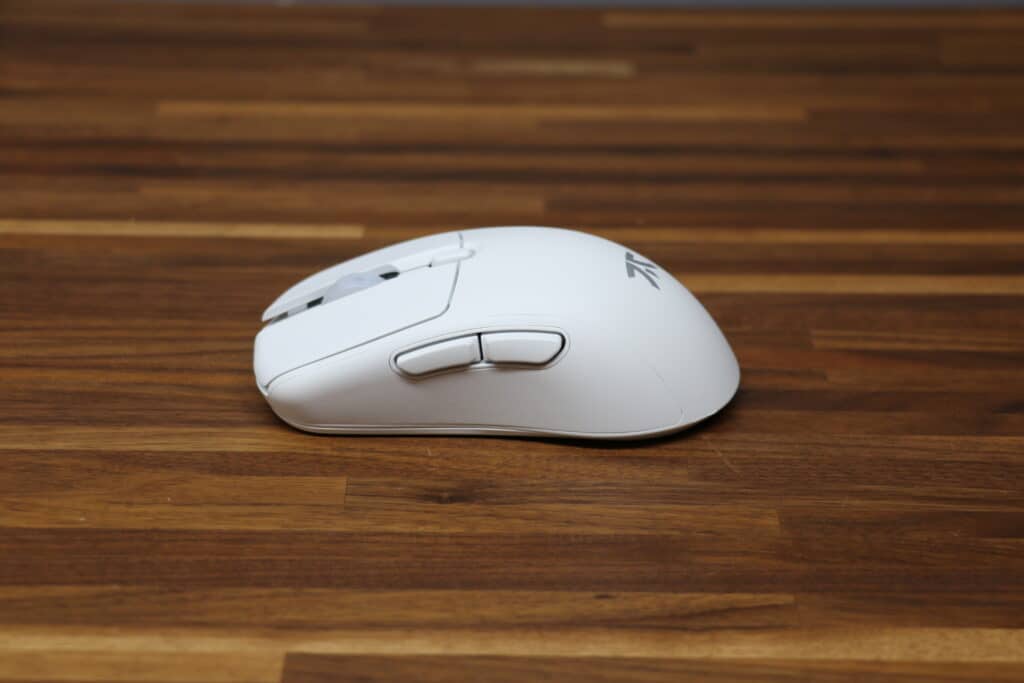 Similar to the main buttons, the two side buttons are less than ideal. They come so close to being great, but miss the mark. Again, they're accurate and work as intended, clicking nicely the majority of the time. But with the right pressure and angle, they can feel flimsy. For this price and the rest of the genuinely incredible features, it probably isn't a big deal, but the feel of a mouse is very important when you're in-game, and using these side buttons can easily impact your experience.
Weight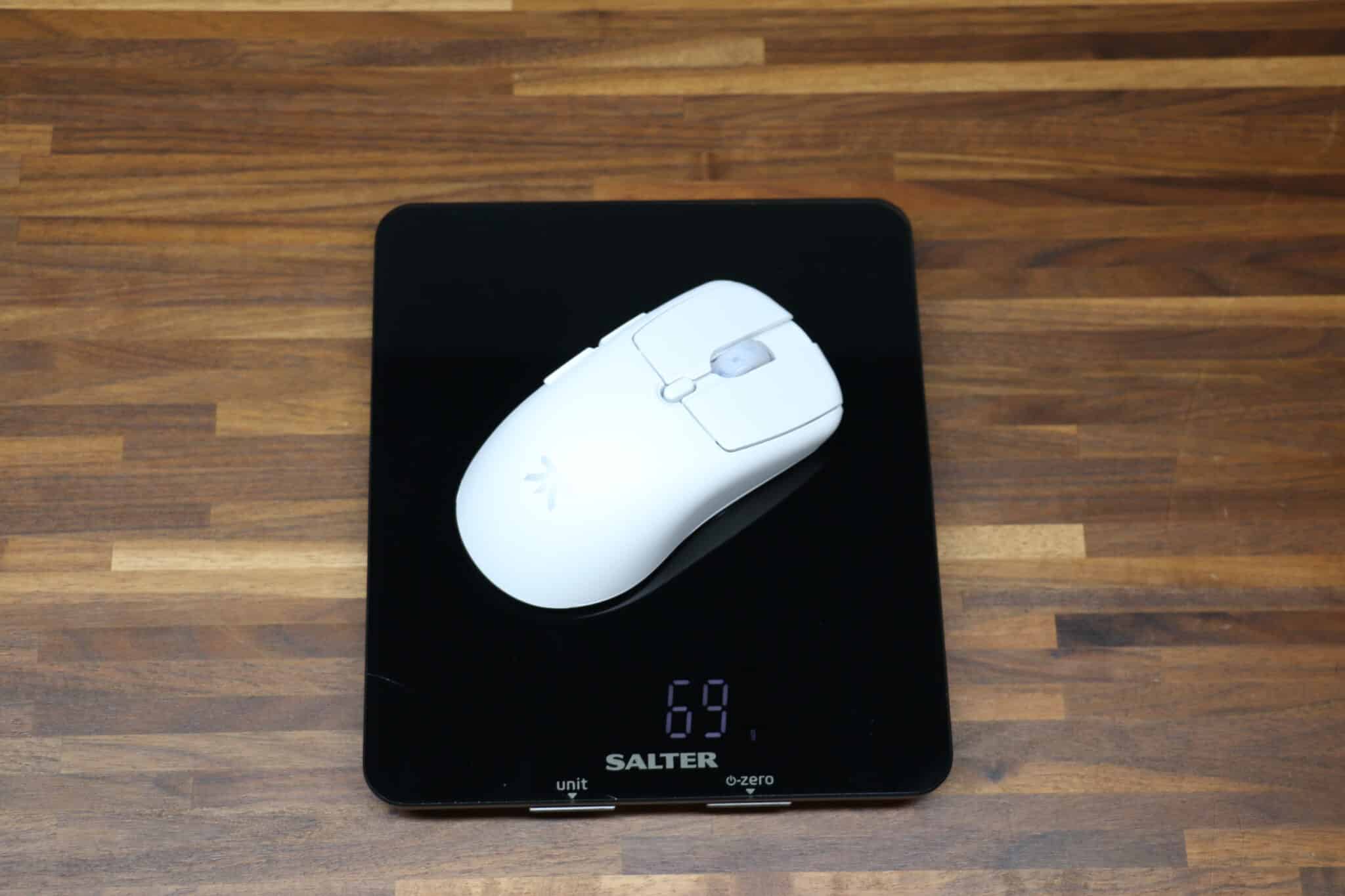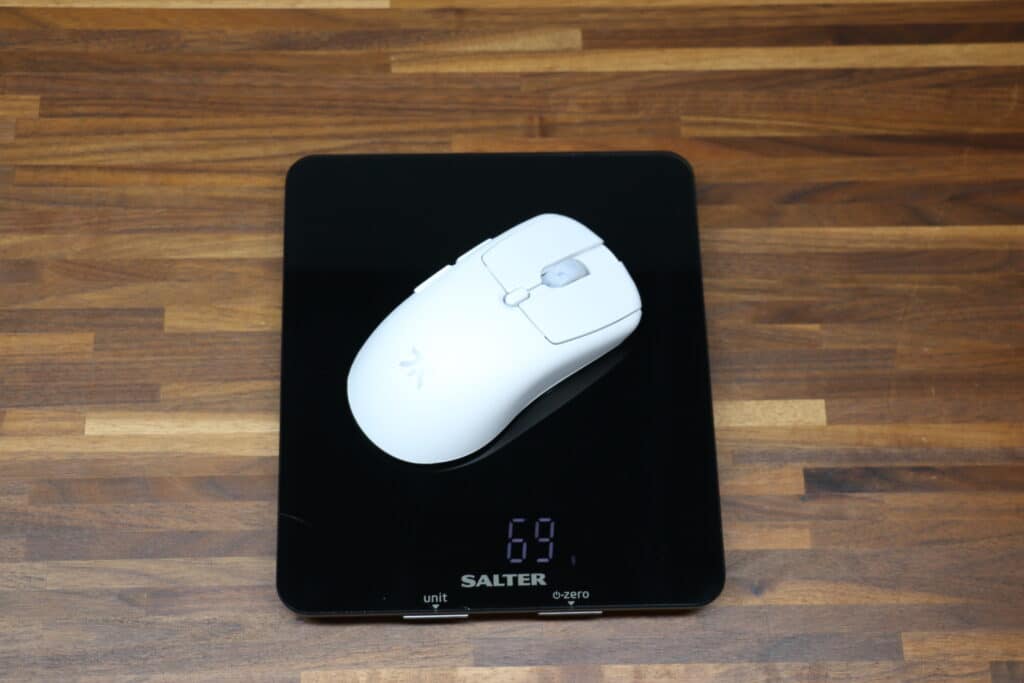 It wouldn't be much of a Fnatic BOLT review if we didn't inspect the weight. Coming in at a decent 69g, the BOLT hits the nice middle ground of being lightweight, but not too flimsy or cheap. It feels good to use but is portable enough to bring with you pretty much anywhere.
If you're looking for the lightest mouse the market can offer, perhaps something akin to the Razer Viper Mini would be more suitable. However, if your preferences lean toward a sturdy weight with a good feel, the BOLT definitely achieves this. While there's really nothing you can do to increase the weight should you want a bulkier feel, for gaming it's really a not an issue.
User Experience & Sensor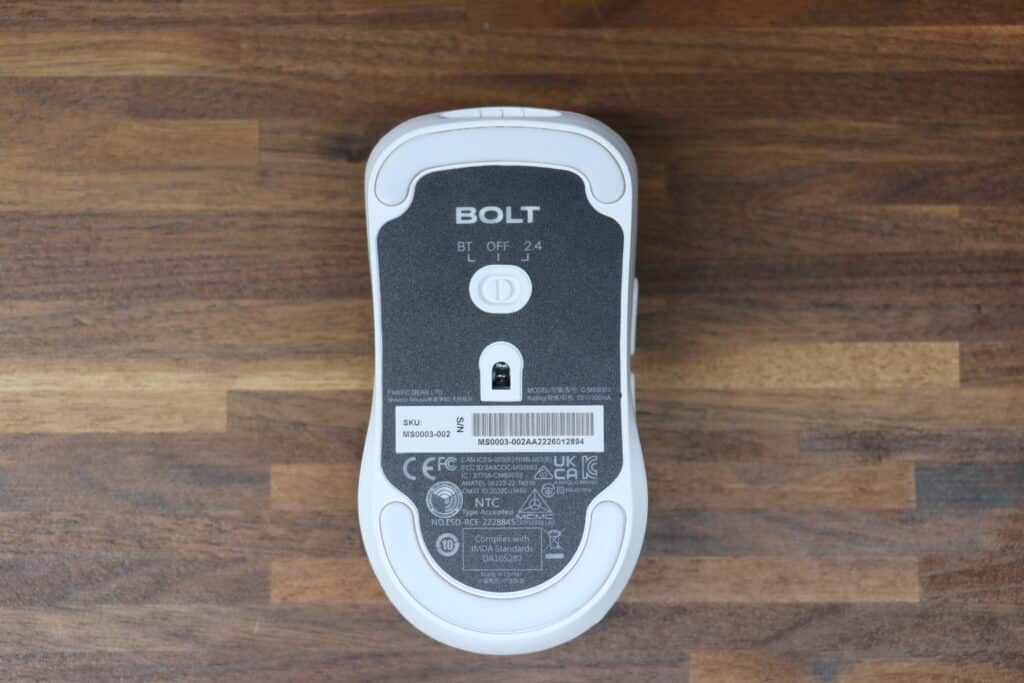 The Fnatic BOLT feels very precise. The stock skates make it more of a methodical gaming mouse when compared to competitors. It's not the fastest, but it trades the twitchy speed for accuracy. It slides with conviction, and aiming with it feels natural. Extremely high-quality output for a wireless mouse, that's for sure.
Fnatic continues to play it safe with the sensor. Sporting the always fantastic Pizart 3370, there's no reinventing the wheel here. But not having a lot to say in this regard is a good thing. The BOLT tracks with precision with no stutters, glitches, or drops. It does exactly what you want it to, so you'll have to find another excuse for that missed headshot.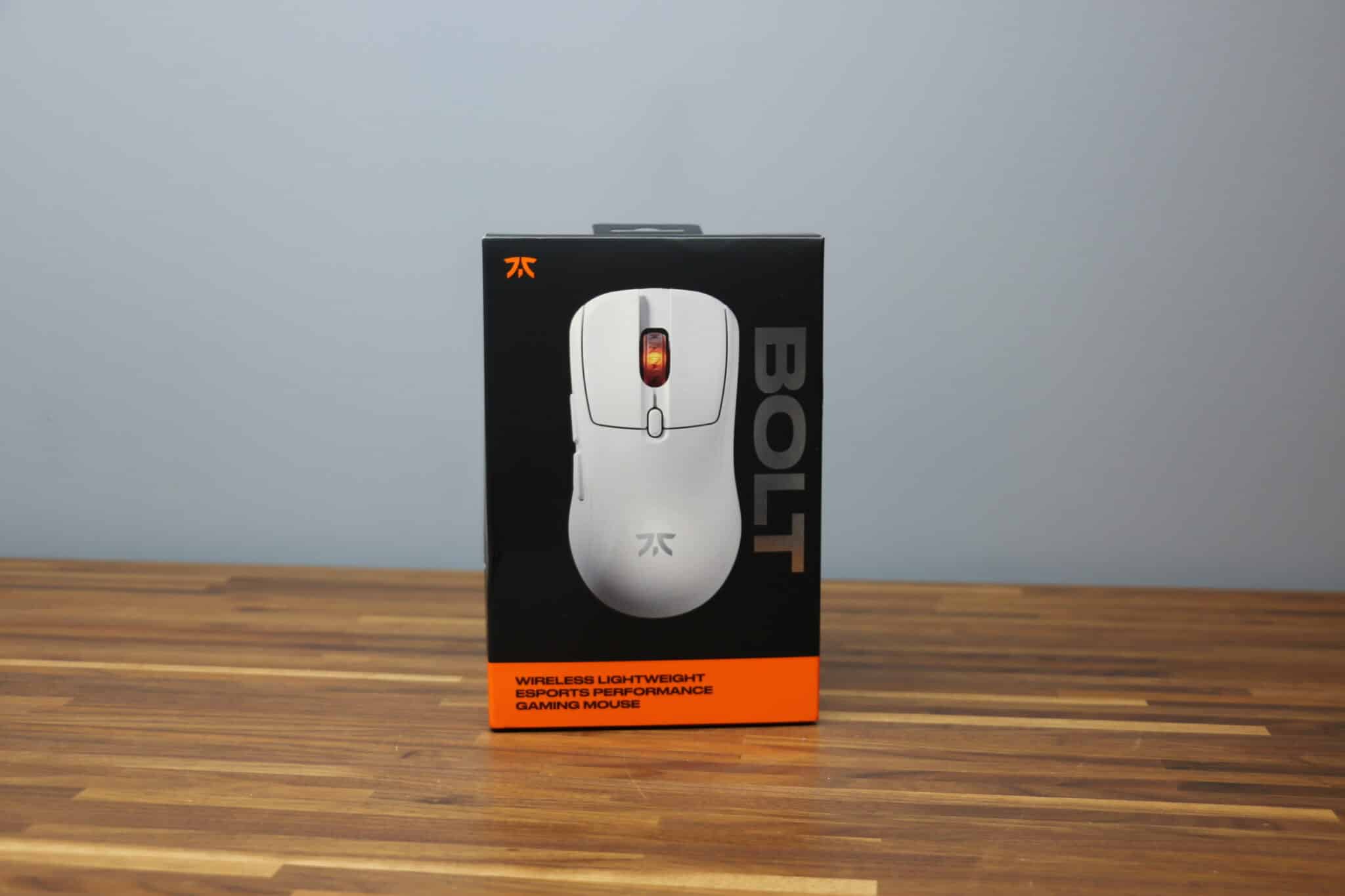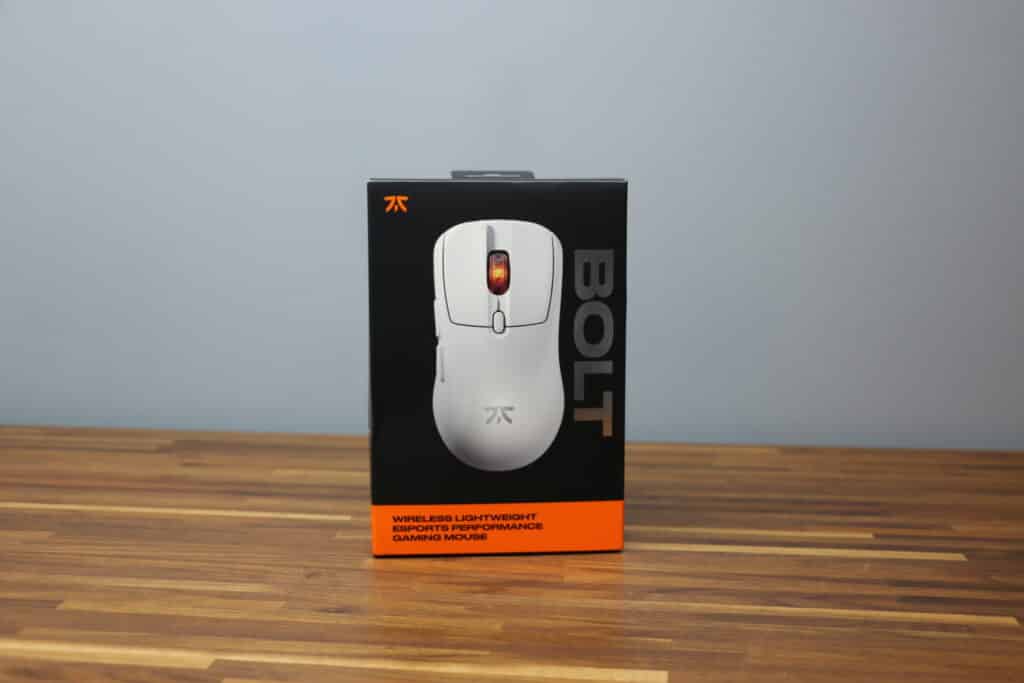 When it comes to games, tactical shooters are the BOLT's specialty. Aiming in CS:GO in particular is a joy, which makes sense given that Fnatic is known for its presence in the CS:GO Esports scene. Thanks to the sometimes loose feeling buttons, any shooter that requires more chaotic shooting, unfortunately, falls short. However, a MOBA like DOTA feels great to play with the BOLT.
While the BOLT handles work programs fine, it doesn't do anything outstanding in this field. You won't find yourself swapping from this gaming mouse to a specific work mouse, but if working is your main priority, you'll find little use for the BOLT's more specialist features.
Battery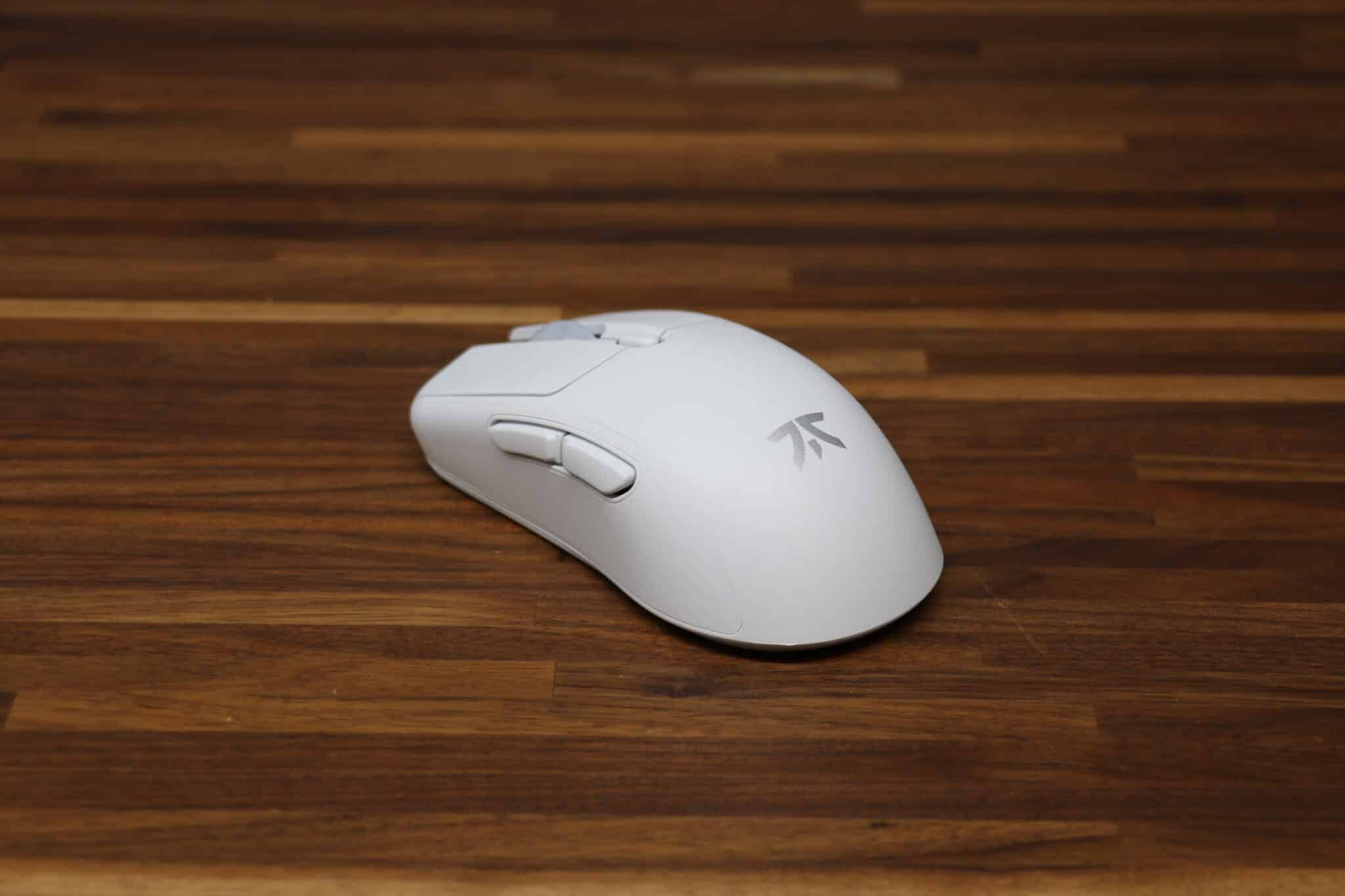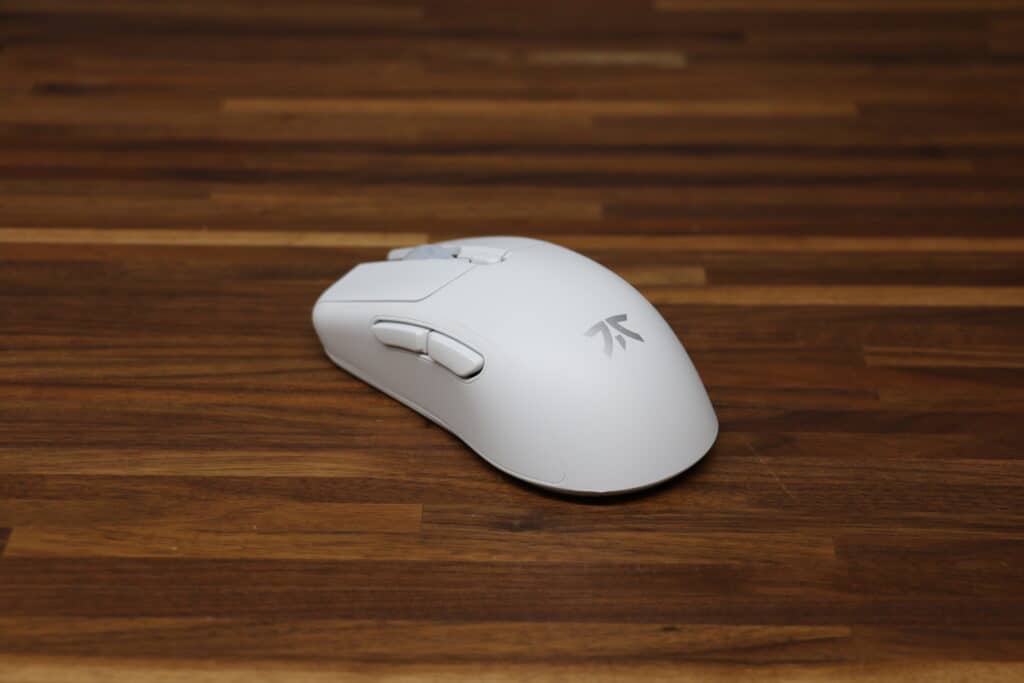 It's important that a wireless mouse can keep up with you, and thankfully, the BOLT manages this by fitting a pretty hefty battery into its light, compact frame. With an impressive 110 hours of playtime on the standard 2.4 GHz wireless mode, and 210 hours on Bluetooth, you won't be rushing to charge it every day.
Connectivity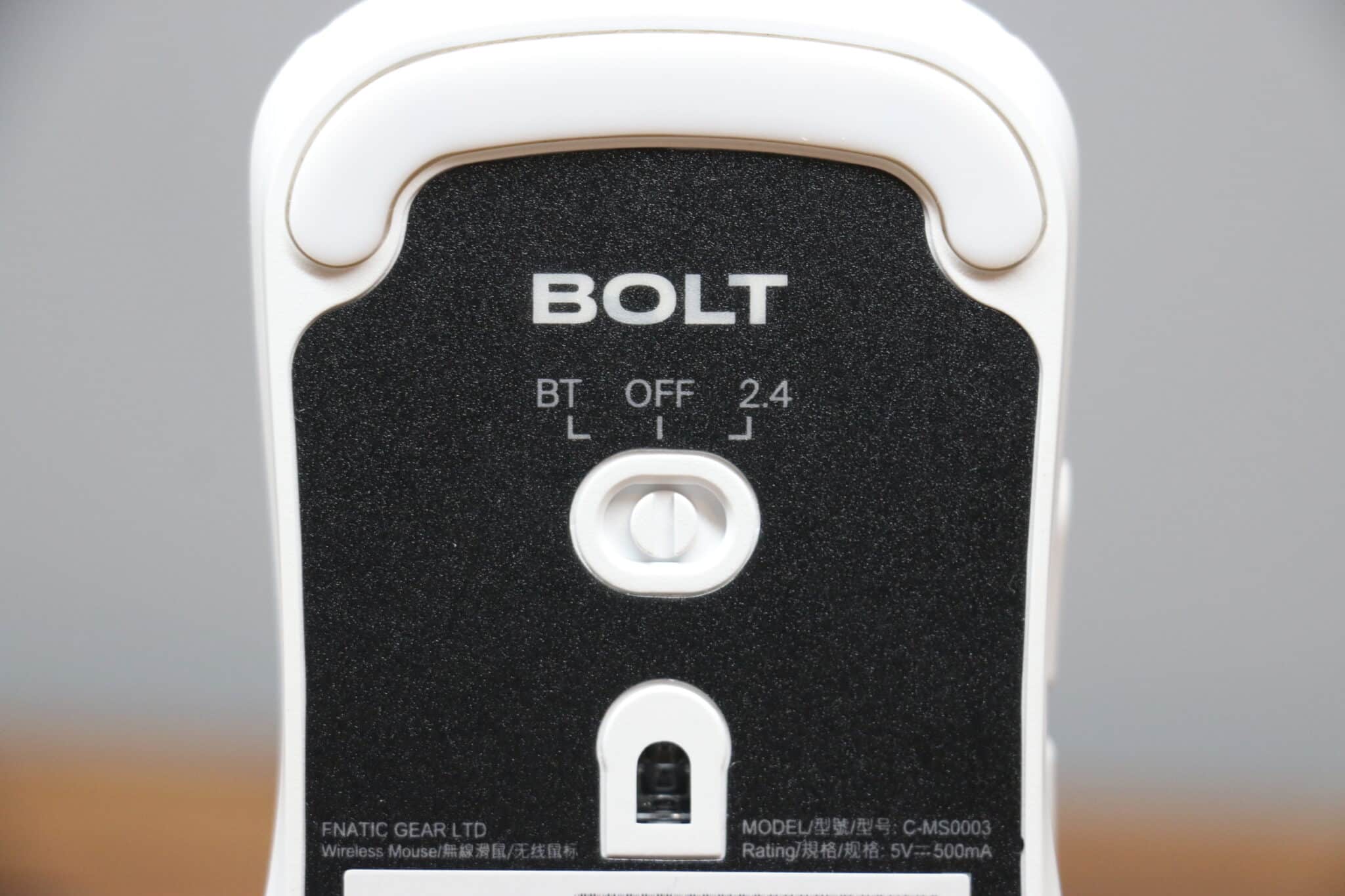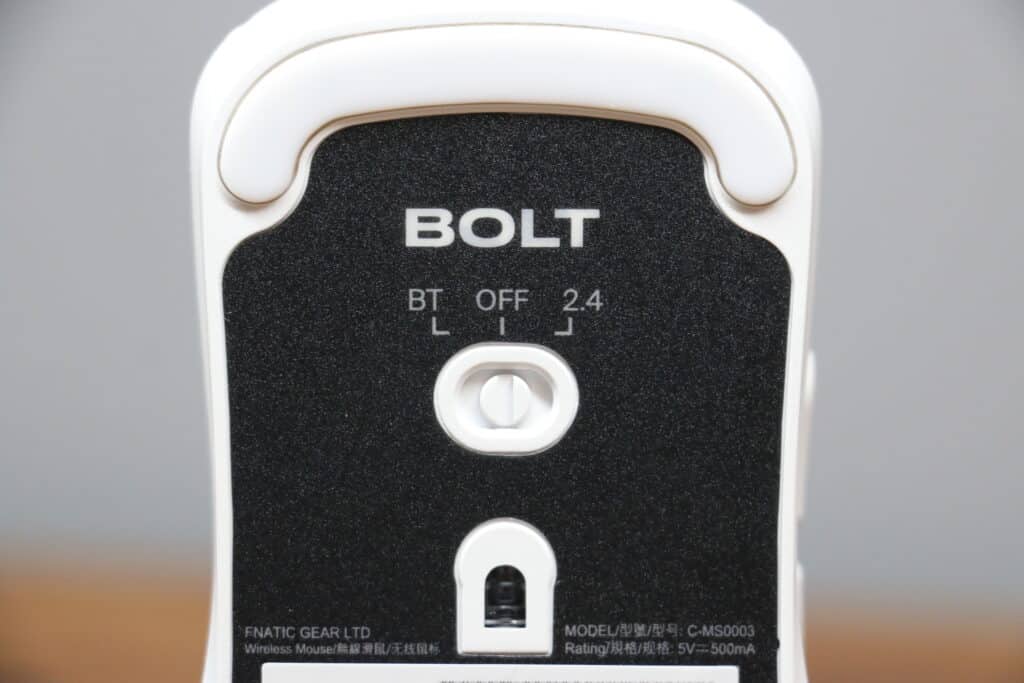 With a nice switch on the base that swaps the BOLT from the 2.4 GHz mode to Bluetooth, it's easy to swap it between devices. Both the 2.4 GHz mode and Bluetooth have practically no issues at all in regard to connectivity. Naturally, a 2.4 GHz wireless connection is going to have more input lag and latency than a wired connection, but even with these technical limitations, the BOLT is stellar.
This is a dependable wireless mouse that allows you the freedom to move about without having to worry that you're going to face a stutter and find yourself waiting to respawn. On 2.4 GHz wireless, it works reliably at a reasonable distance from your rig as well, which is perfect if you sit a distance away from your device.
Software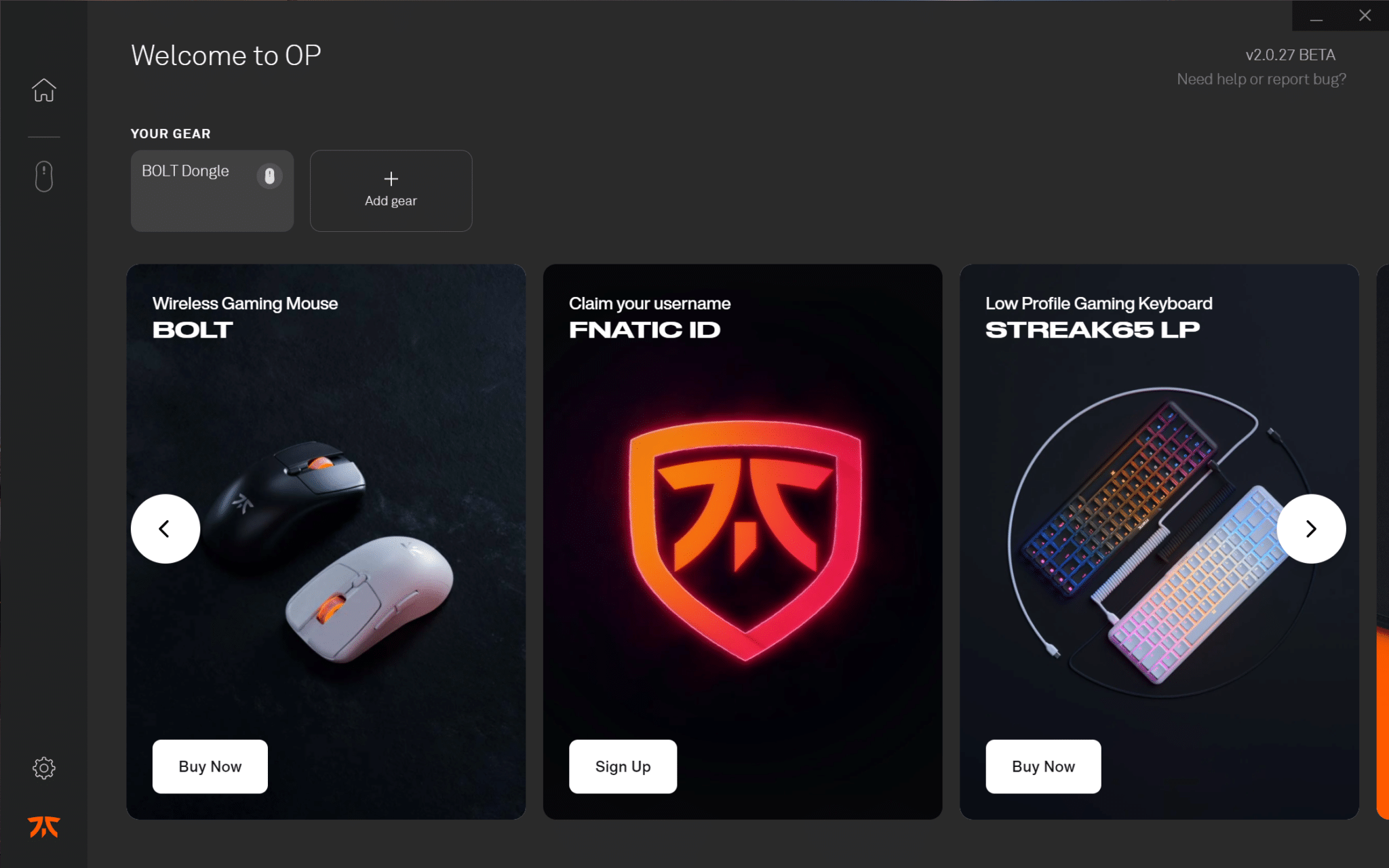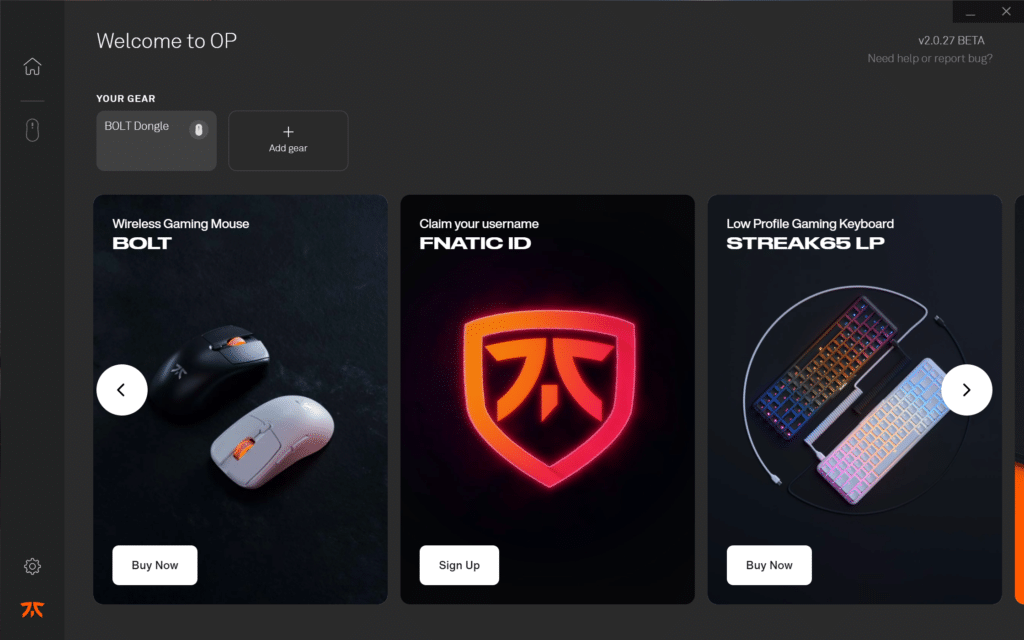 Fnatic OP is the name of the proprietary software that's required to tune the BOLT. However, if you're happy with the four preset DPI steps, you don't need to deal with them at all. The BOLT will work out of the box without any other software requirements.
The interface of Fnatic OP is modern and intuitive, but the program can be unstable. Be prepared to face the odd crash when you're trying to tweak the BOLT to your specific preferences. The options offered by the program are a welcome sight. By using it, you can customise your DPI steps, debounce time, and LOD. A glaring oversight, however, is the inability to rebind your buttons. This is an expected function for this type of software and yet it's nowhere to be found.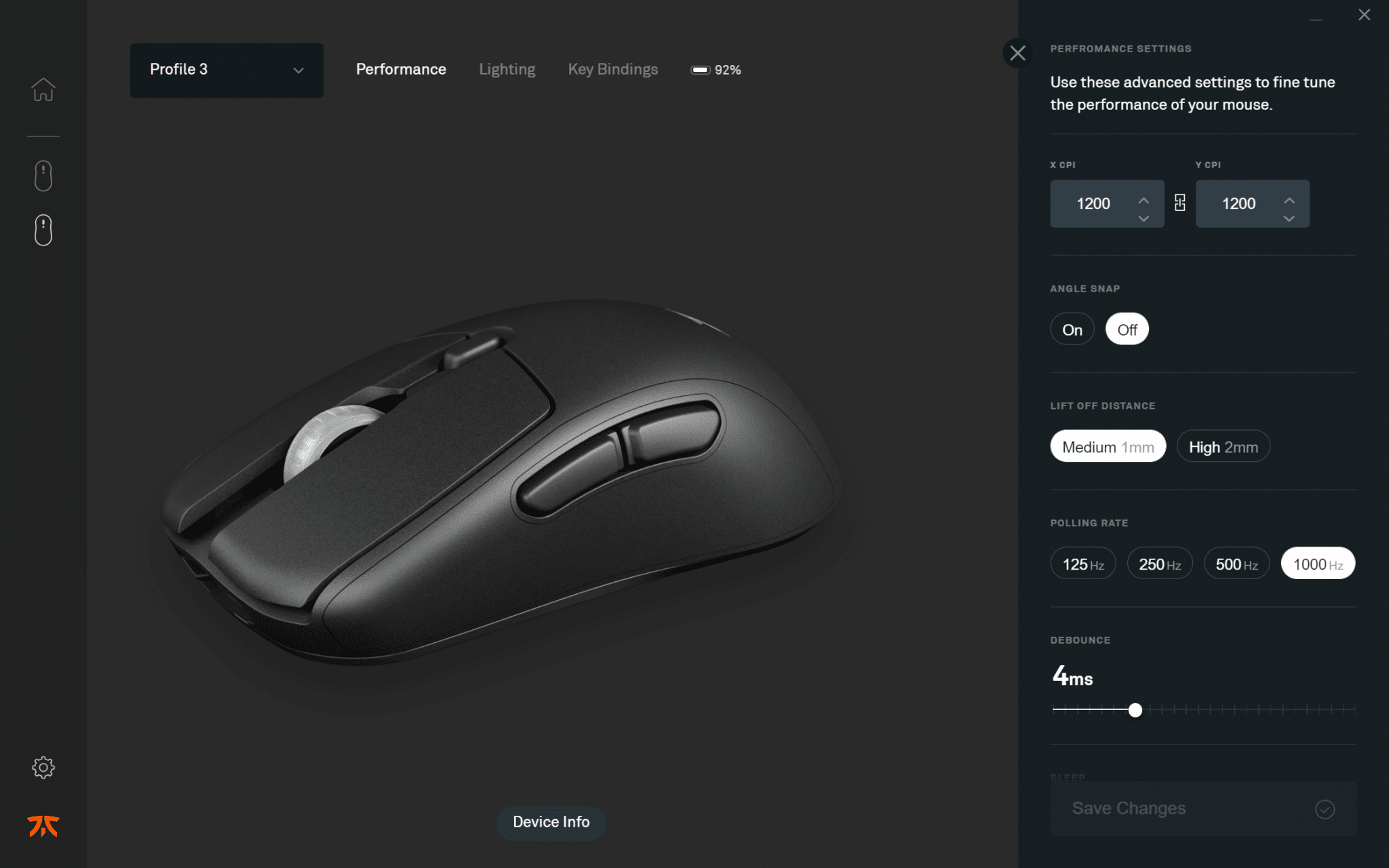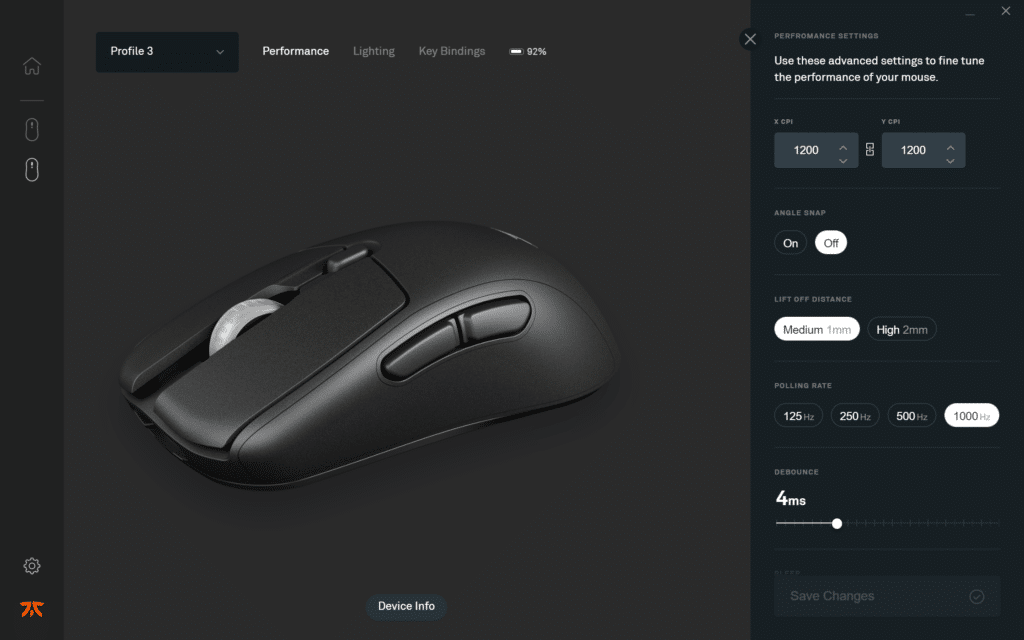 While the software does mostly what you need it to, there's an annoying implementation that gets in the way of this whole system. The problem is, you may only customize the BOLT's functions and settings while it's plugged into your PC. This means if you want to quickly change a setting on the fly, you'll have to plug your mouse in to achieve that. This becomes very irritating in the middle of a gaming session.
Conclusion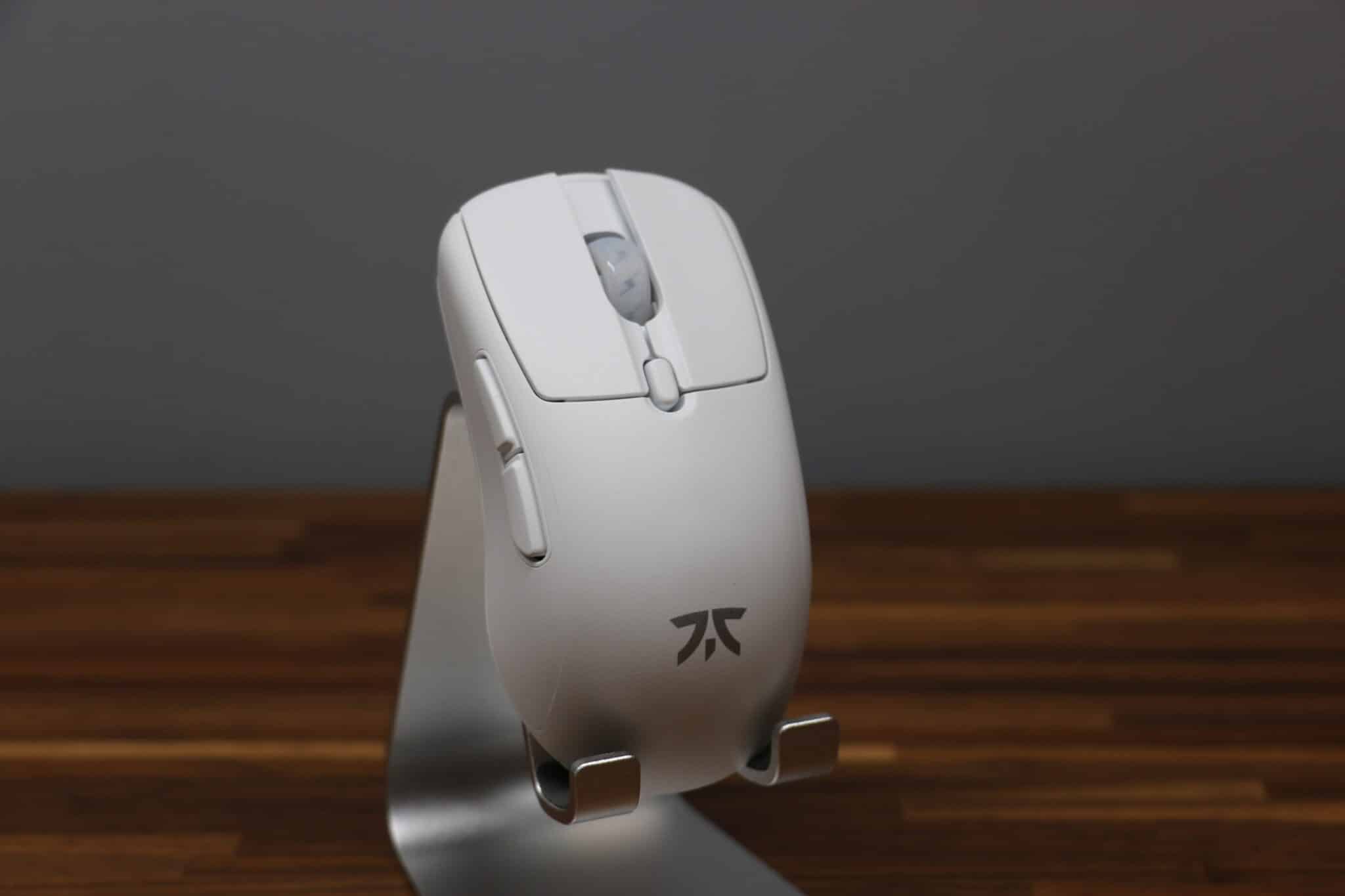 The Fnatic BOLT feels like it's trying so hard to be one of the best in the wireless gaming mouse space. However, a handful of small issues become major annoyances that hold the whole product back. Other wireless gaming mice may be a little more expensive or a little heavier, but they'll often provide a better experience overall.
The foundations are nearly perfect, but it's the little details that make a gaming mouse stand out above the crowd, and it is the little cracks like the loose buttons and lack of grip that make the Fnatic Bolt fall apart. If you're not the most hardcore gamer and likely won't be bothered by the small problems that are presented here, you'll struggle to find a better wireless gaming mouse at this price point. However, if you are used to the best, this, unfortunately, will be a miss.
If there's a revised version of the Fnatic BOLT that launches later down the line, it will no doubt make waves. But for now, it's a near-perfect product with multiple blemishes that get harder to ignore the longer you look.