Fortnite Operation Snowdown Quests Are the winter themed quests that are going to be added to the game shortly that will have multiple steps and will award players cosmetic items. Get an early look at the missions and the challenges ahead of you with these challenges.
Fortnite Operation Snowdown Quests – A Very Fortnite Christmas
Fortnite Operation Snowdown Quests Are going to be time-limited quests that will lead up from Christmas and probably into early 2021. There will be a quest every day, and each day will reward you a unique cosmetic item.
You can have a look at the items and quest requirements, in addition, each of the challenges will be released one day at a time, and completing all quests will award you with two sets of cosmetic skins.
Here is a list of all the challenges: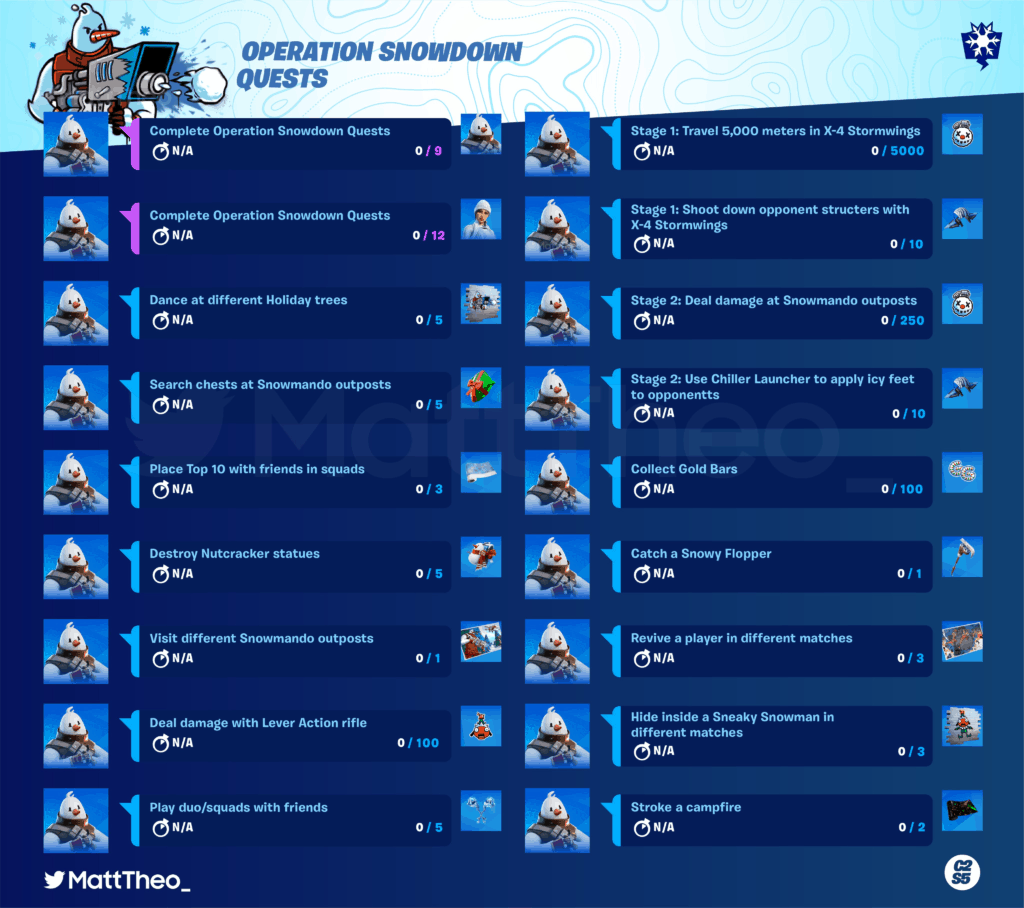 Fortnite has been frequently doing winter-themed events, with last years one tying in with the release of Star Wars: The Rise of Skywalker which combined cosmetic items from the movie as well like the Millennium Falcon.
This year, will just focus on in-game events and challenges, with each set of cosmetics tied to a daily challenge for players to complete.
Each challenge will also reward 15,000 to 20,000 XP, which adds to your battle pass progression, and some of these challenges can be knocked out within a couple of minutes for even the most novice of players.
While it is not yet known when the challenges will go live, we should expect them to go live any day now, and for fans to be doing the challenges swiftly.
A lot of these challenges can be knocked out in Team Rumble, but you can have equal luck doing them in Solo's, Duo's and Squad games.
With Operation Snowdown yet to launch, these challenges look like a fun and inviting way to game with friends, considering how only a few games do winter themed events, and Fortnite's events do tend to be a cut above the rest.
What are your thoughts on the challenges? Which one do you see giving you a hard time and which one do you see as the least challenging? Let us know in the comments below!