Meeting new people and partaking in various activities in the world of VR can be exhilarating. Luckily, VRChat does a great job of doing all those things. However, if you want to get a breath of fresh air while having a similar experience, we will show you 8 games like VRChat that you can play right now.
Before we talk about the games, I would like to state that not all of the games will support VR. Instead, some of them are used to meeting new people and taking part in fun activities like you would in VRChat. With that said, let's dive right in and get started.
Rec Room
Release Date: June 2016
Platform: PlayStation 4, Android, PlayStation 5, Oculus Quest, Xbox One, Microsoft Windows, iOS, Xbox Series X and Series S
Rec Room is a great alternative to VRChat since it features a massive community that is quite active. Plus, the best part is that this is a kid-friendly experience, so you can let your kids play it without any worries.
That doesn't mean it isn't fun for adults. You can hop right in and have a great time and laugh all day while you play Rec Room. It has an integrated game creation system that allows players to create unique games that they can try out and play.
This keeps the entire experience fresh, and you can easily find yourself playing tons of games that the community created. Some of the games are in-depth, while others are casual – so there is everything for everyone.
Horizon Worlds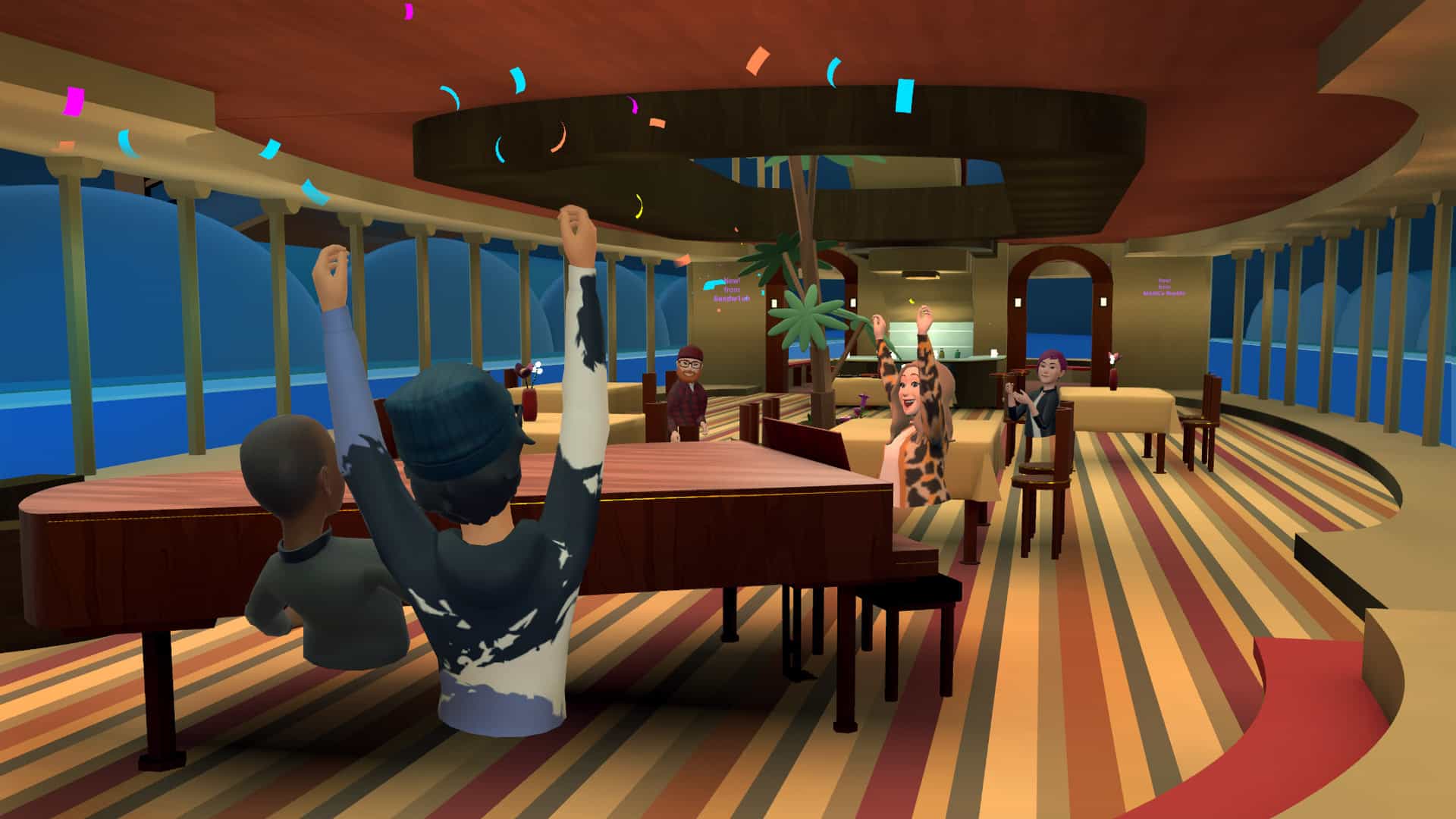 Release Date: December 2021
Platform: Oculus Quest, Microsoft Windows
Horizon Worlds – not to be confused with the Horizon series on the PlayStation – is a VR game that has an integrated game creation system. Players can move around and interact with each other in various worlds that host events, games, and social activities.
Plus, you can even create your own games with different rules that everyone can play. This is a great feature that keeps the game fresh, as there are always new games to try out. Since there are all types of games in Horizon Worlds, you can expect to find something that you'll love.
Players can also trade or sell their digital items in this game, which can allow them to earn money. If that's not your cup of tea, then you can avoid that altogether and play the game just for fun.
Oasis VR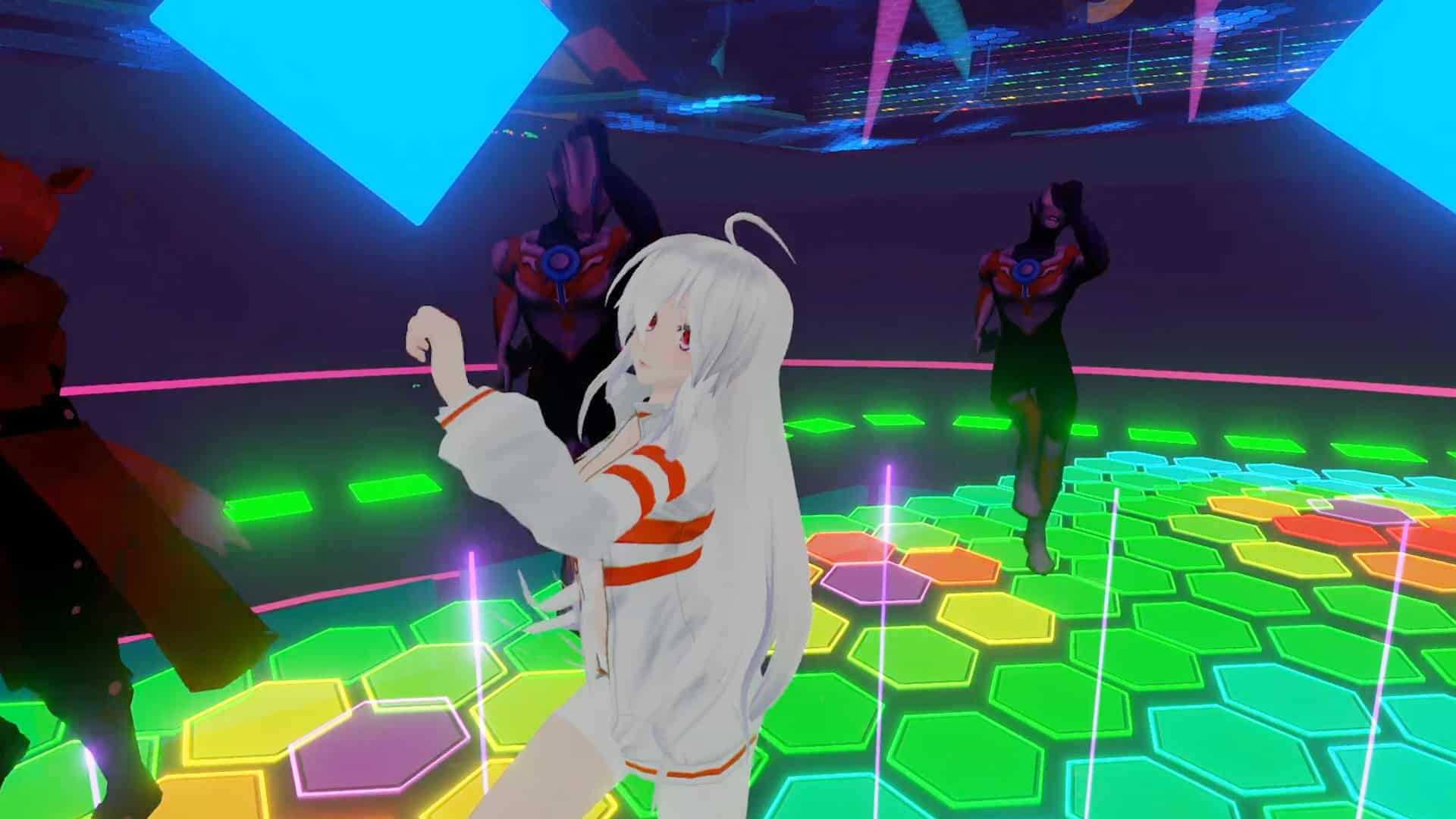 Release Date: December 2019
Platform: Microsoft Windows
Oasis is an amazing virtual environment where you can make new friends around the world. You can chat with them, play poker, go bowling, or even arrange a home party in several virtual worlds.
Just like in VRChat, you can create your own avatar and have a great time exploring the wonderful world of Oasis. Plus, if you like anime, this is the perfect VR game for you as well. It is also free-to-play like VRChat, so you don't have to spend anything to have a great time.
Gaia Online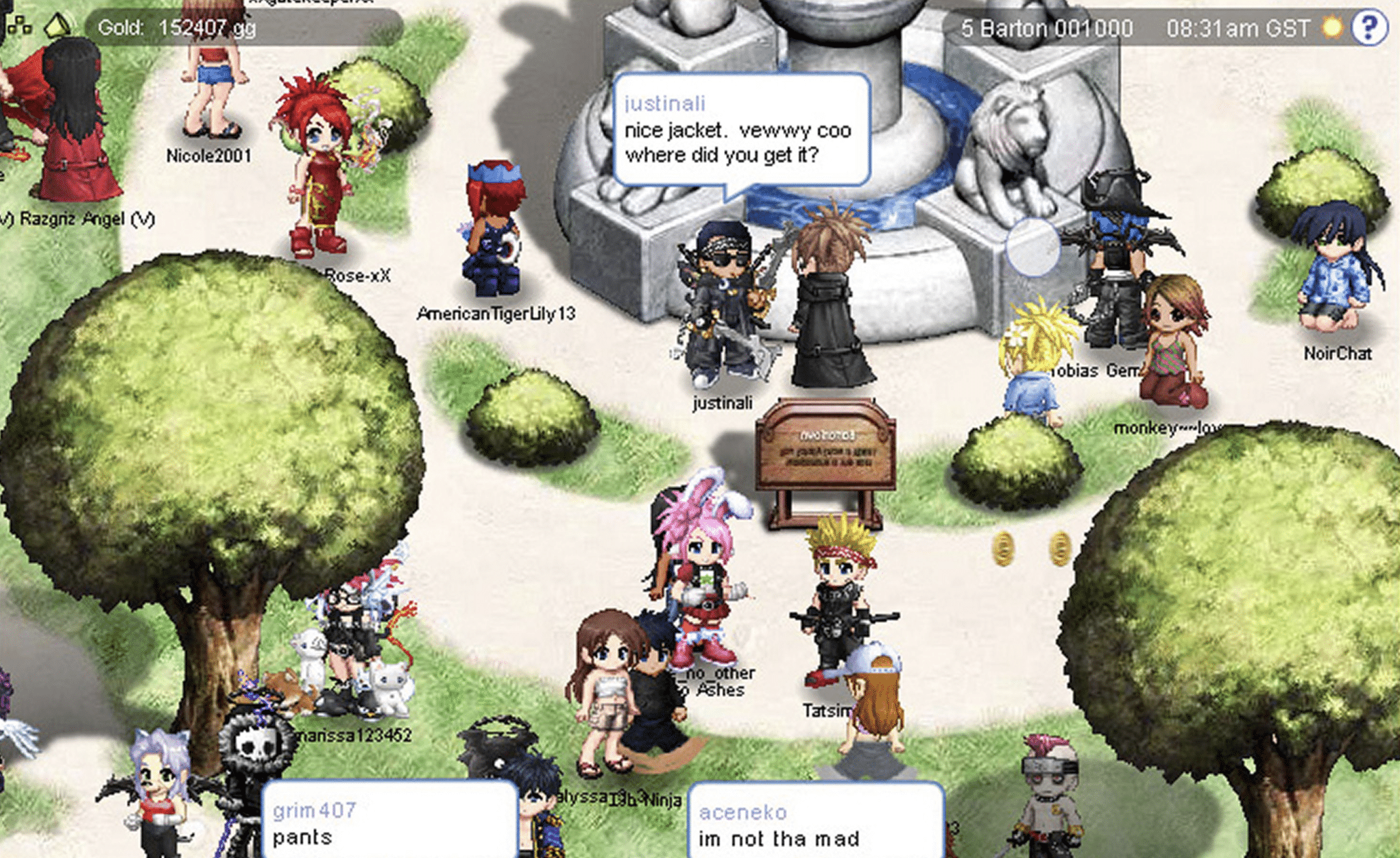 Release Date: February 2003
Platform: Microsoft Windows
Before we talk about Gaia Online, I would like to state that the game is quite old. However, it is still fun to play, and the community is absolutely massive.
Gaia Online is a superbly developed online and 3D Social Networking Virtual World Simulation that takes you to a new dimension of online gaming. The game lets you be part of the huge game world by creating and customizing an online anime character for yourself.
Like VRChat, you can talk to other people, participate in various activities, and play tons of games as well. Plus, the game allows you to build entire towns, ride cars, solve a lot of fun puzzles, take part in fights in differently situated arenas, and travel from one part of the huge game world to another.
IMVU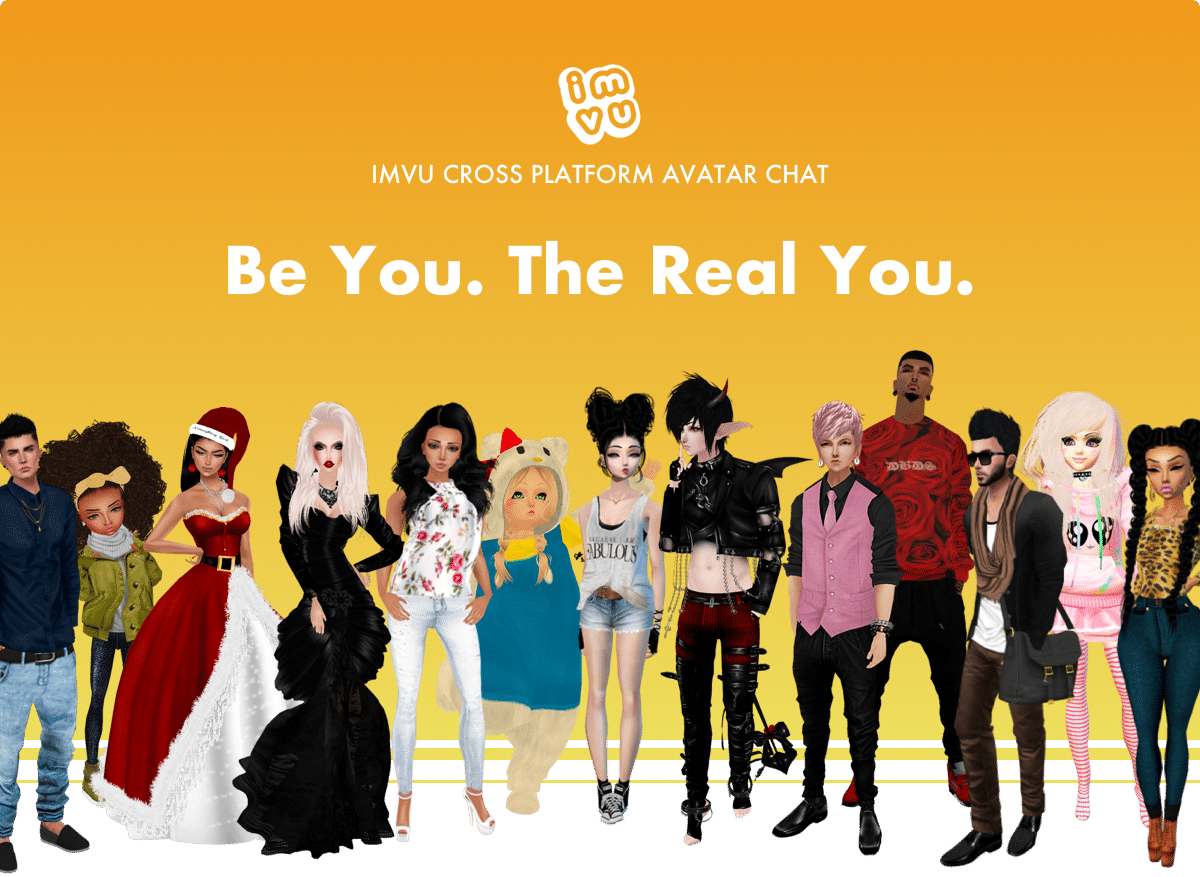 Release Date: 2004
Platform: Android, iOS
IMVU is a Browser-based free-to-play MMORPG and Social Interaction Virtual World Simulation. Having more than 10 million registered users online, you can expect the game to have a massive community that you can interact with.
You can create and customize your own virtual avatar according to your preference which allows players to immerse themself in the game. The main premise of the game is to hang out with other players and make new friends, just like you would in VRChat.
IMVU features a massive world with tons of cool maps that you can roam around without any worries. Plus, you can expect a user-friendly and safe environment which is a great thing.
Small Worlds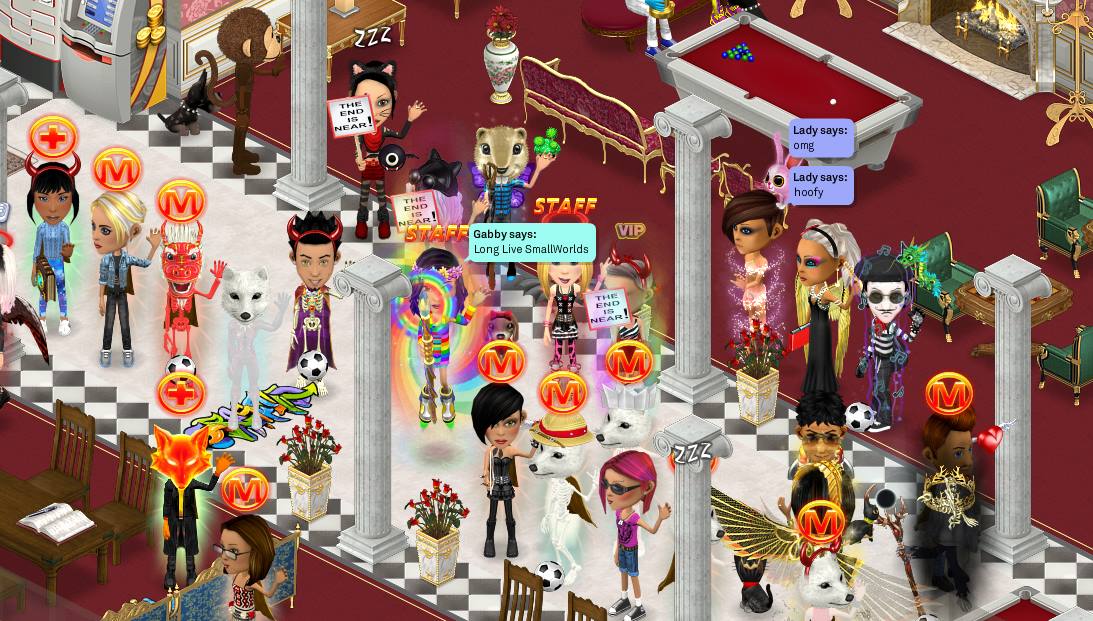 Release Date: December 2008
Platform: Microsoft Windows (browser-based game)
Small Worlds is a great Browser-based Social Networking MMORPG and virtual world where you can meet tons of cool people. With over 20 Million users, you will always find someone playing the game and can interact with them without any worries.
You can go to parties and talk to people and even trade items with them. This allows you to create a perfect avatar that you can be proud of. The best part is that you can even build and craft things which is a cool mechanic in the game.
Line Play
Release Date: December 2012
Platform: Android, iOS
Like VRChat, Line Play allows you to create your virtual avatar according to your style and changes different clothes that suit you. The best part is that the game adds tons of new items regularly so that you can always find what you are looking for.
Each character in the game has its unique room and garden as well as personality. You can use thousands of decorations and items to make the room beautiful and can interact with thousands of people around the world.
You can take part in various mini-games while meeting new people and having a great time.
Our World
Release Date: April 2008
Platform: Web Browser, Android
Finally, let's talk about Our World, another game like VRChat. This is an Online Virtual World and a social MMORPG Simulation that has a large player base. You can hop on at any time and still find players roaming around various areas in the game.
The best part is that you can create your own avatar and get hundreds of items to customize as well. You can even trade with other players in case you find an item that you really need. Like in VRChat, Our World allows you to partake in various activities which are extremely fun, and you can spend hours playing them.
Conclusion
And there you have it; those are 8 games like VRChat. If you love playing VRChat and are craving a similar experience, make sure that you try out some of the games mentioned on this list. They not only feel similar, but some of them also have a lot of familiar mechanics as well.
What do you think of VRChat? Which game do you think feels similar to it? We would love to hear which game you found to be the best on this list in the comments below!