The Genesis Rhod 500 is one of the newest keyboards released by Genesis. Take a look at our Genesis Rhod 500 review and find out if it's the keyboard for you.
Genesis isn't exactly one of the top gaming brands out there today. Still, they do produce some pretty good and budget-friendly products. We loved the Genesis Xenon 800 RGB gaming mouse and think that it offers some pretty fantastic value.
Now it's time for our Genesis Rhod 500 review. We will talk about its price, specifications, first impressions, software, design, feel, and performance. We will give an overall rating and final verdict if the keyboard is good for its price.
Price and Specifications
Genesis usually produces budget-oriented gaming products, and the Rhod 500 is no different. It comes in at only $27 and even less if you can find it in some sales. It's a reasonable price for a keyboard and definitely marketed towards budget gamers.
First up, it is only a membrane keyboard and not a mechanical keyboard. You won't get any of those satisfying clicks that come with a mechanical keyboard. Membrane keyboards are completely fine for casual gaming, but they might put you at a disadvantage if you are a competitive gamer.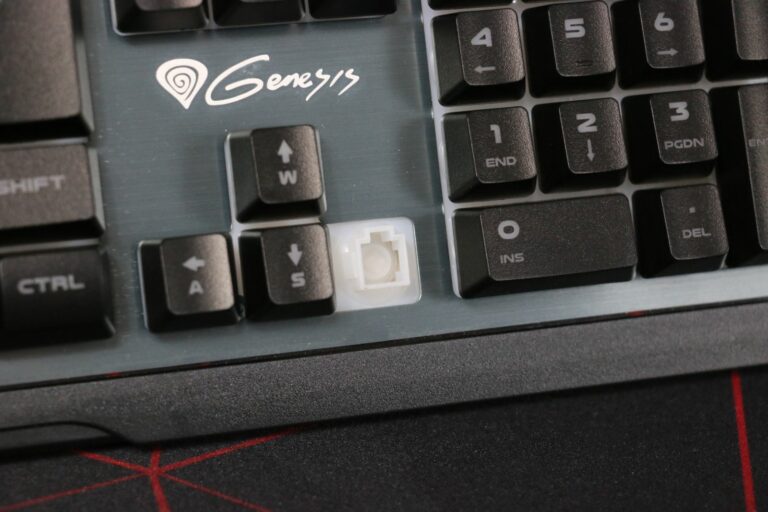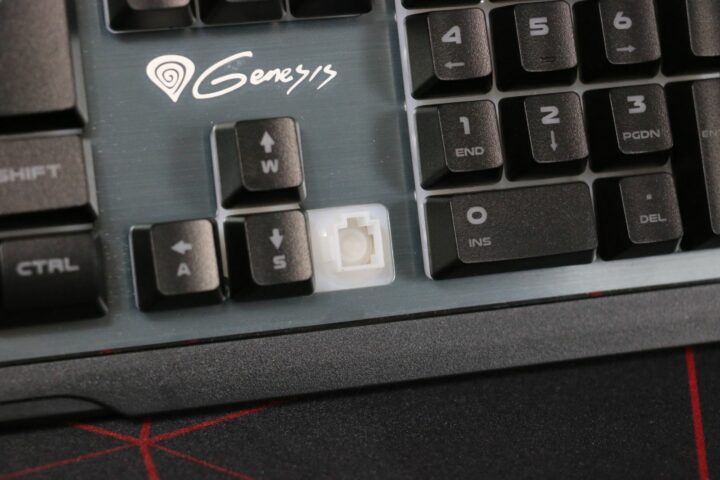 The Rhod 500 is a full-sized standard 104 key keyboard, also known as the 100% keyboard. There are a few different keyboard sizes, and the 104 key is the biggest and longest one. This is perfect for people who use the number keys often and is also great if you have a ton of space at your desk.
The keys are rated for a 10 million press lifetime, have an actuation force of 55 grams, an actuation point of 2.5 mm, and a response time of 8 ms. Compared to mechanical switches, the actuation point is slightly higher, but the actuation force is just about right.
Surprisingly enough, it's a relatively light keyboard at 631 grams, given that it has an aluminum frame. This makes the keyboard more durable and fit for those intense clutch situations. It also has a 180cm cable length, which should be more than enough as long as you have your PC close to you.
Of course, it wouldn't be a gaming keyboard if it didn't have RGB. You can also control the RGB settings using the keyboard's downloadable software.
The Genesis Rhod 500's height is 36 mm, with a width of 159 mm, and is 466 mm long. Overall, it's a relatively long keyboard, which is expected from a full-sized keyboard. Even though it's quite long, it's pretty stable and has some non-slip rubber feet.
First Impression
Before my Genesis Rhod 500 review, I already noticed the clean and sleek aluminum finish. At first, I honestly thought that it was a mechanical keyboard. I was disappointed to find out that it wasn't, but everything made sense when I saw the price.
Personally, I'm a fan of 60% mechanical keyboards. They just give me way more space to work with. But I do think that the Rhod 500 is a good keyboard for people who need the Numpad. The RGB does look great on it, though, and being able to control it is definitely a plus.
The keyboard was pretty stable, had a solid base, and the flip-up feet gave it a good typing angle making it pretty comfortable to use. It also had indicators for the num lock, caps lock, scroll lock, and win lock.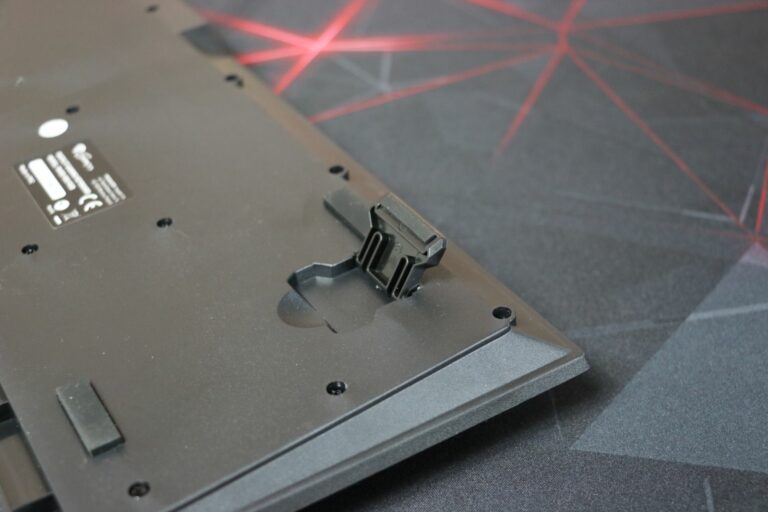 The Enter key also follows the more traditional "L" shape rather than the new elongated one. I personally think that the elongated one is better, but that's honestly just my personal preference. Other than that, nothing else stood out, and the design was pretty straightforward.
Genesis Rhod 500 RGB Gaming Keyboard Performance Review
The gaming keyboard performs as advertised. Pressing multiple buttons wasn't an issue, thanks to its anti-ghosting feature for up to 19 keys. It also has onboard memory, which saves the user's settings and loads them once the keyboard is powered.
All 104 keys worked fine and didn't run into any issues. Additionally, the 12 multimedia keys built into the functions key work perfectly as well. They also have a feature where you can swap the arrow keys and the WASD keys, depending on your preference.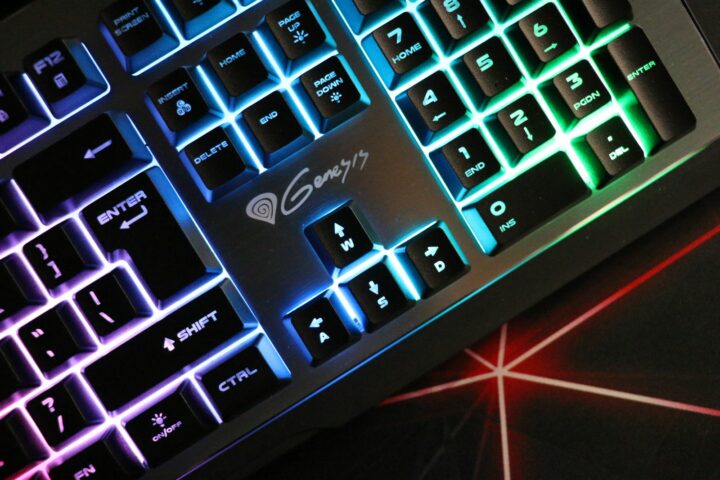 Honestly, the biggest issue here for me here is the 8 ms response time. This is considerably slow for a "gaming keyboard." There are simply times where a faster response time is needed to get consistent and precise timings, especially for competitive games.
Unfortunately, the 8 ms response time makes the Rhod 500 probably not one of the best keyboards for CS: GO or Valorant, where precision and timing are crucial. For offline or solo games, I don't think it matters as much.
Genesis Rhod 500 Feel Review
Membranes are simply not as good as mechanical switches. I don't think anybody will argue with that. That being said, mechanical keyboards can be pretty expensive, and the cheap ones are simply not worth it.
Over the years, membrane keyboards did improve and feel better today more than they ever did before. You can still get a pretty good gaming experience even when using a membrane keyboard.
The sturdiness of the Rhod 500 is great. It's also pretty stable even with the feet up. I personally prefer typing at an angle, and the feet do their job well. Although the keys don't provide a satisfying click, they're good enough for casual gaming and don't feel too mushy when pressed.
Overall, the Genesis Rhod 500 feels and sounds better than most membrane keyboards.
Genesis Rhod 500 Software Review
The Genesis Rhod 500 gaming keyboard also comes with its own software. You can download the Rhod 500 RGB software through the Genesis website. At first glance, the UI is very simple and easy to understand.
There are only three different tabs, Key Setting, LED, and Macro. The software is actually surprisingly powerful for a sub $30 keyboard. Unde the Key Setting tab, you can select different profiles, set the F1 to F12 keys, and reprogram the functions of every key. This is a feature that even some high-end keyboards don't have, so it's nice to see it on a budget device.
The LED tab controls the RGB and allows you to choose from 11 different lighting profiles. Unfortunately, the keyboard doesn't have individual key lighting and instead uses seven different lighting zones.
Finally, we have the Macro tab. This tab is dedicated to creating and registering different macro commands for your keyboard. These are very helpful when it comes to productivity and even when it comes to gaming.
Final Verdict
During my Genesis Rhod 500 review, I was excited to explore its features. It offers a ton of different features that other keyboards within its price range fail to deliver on. It provides a good enough gaming experience to be considered when thinking about buying a budget keyboard.
Even though it doesn't have mechanical switches, the membranes work completely fine and should be great for casual gaming and offline games. You definitely have to give up a few things and features, but it's still a $30 keyboard at the end of the day, and you get what you pay for.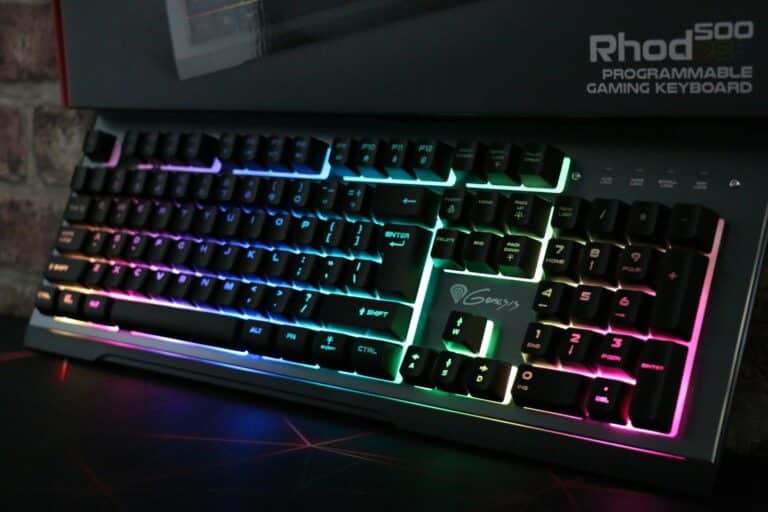 It might be hard to use this keyboard to play competitive online games like Apex Legends, Valorant, or Warzone. So if you're planning to go pro in an esport, you should probably invest in better hardware. However, I do think that the keyboard is suitable for beginners or gamers on a very tight budget.